Pasta alla Genovese is a beloved dish in the Campania region of Italy, particularly in Naples. Despite its name, this dish has no connection to Genoa, the capital of Liguria. Instead, it's a culinary gem that has its roots firmly planted in the rich soils of Naples.
The name "Genovese" is quite common in Campania, and it's believed that the dish might have been named after its creator. Another theory suggests that the name could be a corruption of the words "ginevra" or "ginevrino," referring to the Swiss canton of Geneva, known for its extensive use of onions in its cuisine.
The recipe for Pasta alla Genovese is simple yet flavorful, consisting of a slow-cooked sauce of onions and beef or veal. The onions are cooked slowly until they become a rich, creamy sauce— accentuated with a splash of white wine. The pasta, typically a large, cylindrical type like rigatoni or ziti, is then tossed in this savory sauce. The result is a hearty, comforting dish that's a true representation of Neapolitan cuisine.
Where's the macaroni?
In Italy, the term "maccheroni" is often used as a general term for dry pasta, especially in the southern regions. In the United States, "macaroni" is often used to refer to a specific type of small, elbow-shaped pasta. However, in Italy, "maccheroni" can refer to a variety of pasta shapes, not just the elbow-shaped pasta that's familiar to many outside of Italy.
In the context of the Pasta alla Genovese recipe, "maccheroni" is referring to a type of pasta that's suitable for the dish. The recipe suggests using "mezzani" or "ziti," which are both types of tubular pasta. These shapes are ideal for Pasta alla Genovese because their hollow centers and ridged surfaces are perfect for holding onto the rich, slow-cooked onion and beef sauce.
So, when you see "maccheroni" listed in traditional Italian recipes, it's often best to look at the specific type of pasta that's suggested in the recipe, as the term "maccheroni" can refer to a variety of pasta shapes depending on the context and the region of Italy.
---
Watch the Video Recipe!
We don't yet have a video recipe for this dish. Instead, check out our recipe for another meaty pasta sauce: Wild Boar Ragù!
---
Subscribe to our YouTube Channel
More video recipes? Subscribe to our YouTube Channel (it's FREE) and click the bell to get notifications when we release a new video recipe!
---
Pasta alla Genovese is a hearty, flavorful dish that embodies the essence of Neapolitan cuisine. Its rich, slow-cooked sauce, combined with the robust flavors of beef and salami, creates a pasta dish that is both comforting and deeply satisfying. Whether you're a fan of Italian cuisine or just love a good pasta dish, Pasta alla Genovese is a recipe worth trying.
---
Our Summer Pasta Cookbook!
---
More Meaty Italian Pasta Recipes!
Wild Boar Ragu Sauce with Pappardelle Pasta
This is the beloved Wild Boar Ragù Sauce traditionally served in Italy with pappardelle pasta. If you can't find wild pig (aka wild boar) in your neck of the woods, you can substitute boneless pork, beef, bison or lamb. 
Check out this recipe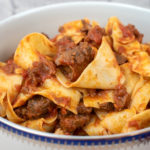 Authentic Pasta Amatriciana Recipe
Learn how to make Pasta Amatriciana like an Italian. This is the traditional Pasta Amatriciana recipe (published by the Amatrice Chamber of Commerce) with spaghetti, guanciale, white wine, olive oil, red pepper, tomato and pecorino cheese. You won't believe how easy this spaghetti recipe is!
Check out this recipe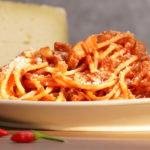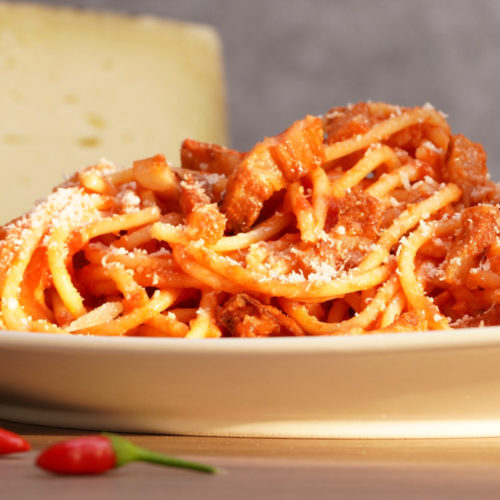 Pasta alla Norcina Recipe (Truffle Pasta with Sausage and Ricotta)
A traditional truffle pasta recipe from Norcia in Italy! 'Pasta alla Norcina' has truffle, sausage, onions and a creamy ricotta cheese sauce.
Check out this recipe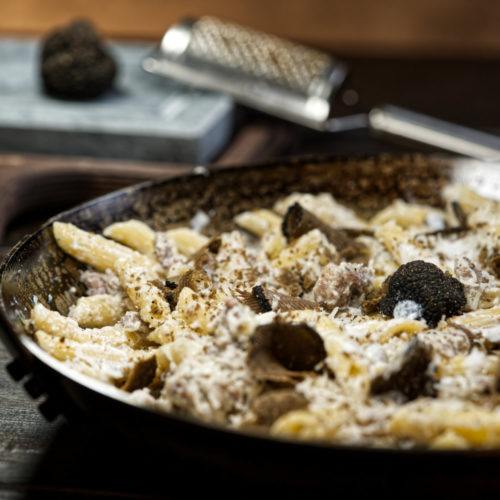 ---
As an Amazon Associate, we earn from qualifying purchases. What does this mean? At no extra cost to you, PIATTO may earn a small commission if you click the links and make a qualifying purchase.
---
Pasta alla Genovese: A Neapolitan Recipe with a Misleading Name
A savory sauce for pasta, rich with meat and onions! This is a traditional Neapolitan recipe and is frequently served with ziti or another tube pasta.
Ingredients
1

lb

beef

a cut like chuck roast or pot roast would work well

1

lb

onions

thinly sliced

2.6

oz

Neapolitan salami

½

rib

celery

finely chopped

½

carrot

finely chopped

2

cherry tomatoes

¼

cup

white wine

¼

cup

olive oil

extra virgin

3 ½

tbsp

butter

unsalted

½

cup

Parmigiano Reggiano

grated

½

cup

Pecorino Romano

grated

1

pinch

fine salt

or to taste

2 ½

cups

tube pasta

preferably ziti or mezzani
Instructions
In a large pot, combine the beef, oil, butter, sliced onions, diced salami, chopped celery and carrot, and halved cherry tomatoes.

Add one cup of water, cover the pot, and cook on low heat, stirring occasionally.

After about two hours, when the water has reduced and all the ingredients are cooked, remove the beef and increase the heat.

Brown the sauce, stirring with a wooden spoon to prevent it from sticking to the bottom of the pot. Add the wine in stages, allowing it to evaporate each time.

Once you have a glossy, dark sauce, return the beef to the pot, add a half cup of water.

Check the seasoning and let everything simmer on low heat for about ten minutes.

Meanwhile, cook the tube pasta to al dente. Drain the pasta and toss it in the sauce, reserving some of the sauce for the beef.

Serve the pasta with a sprinkle of both grated cheeses. Buon appetito!
Notes
Variations!
Some variations of this recipe also include prosciutto or a piece of pork muscle known as "gallinella."