One of Sicily's most famous desserts! This authentic Sicilian Cannoli recipe was filed with the Accademia Italiana della Cucina and is considered one of the regions most traditional desserts. We've translated it into English below for your convenience.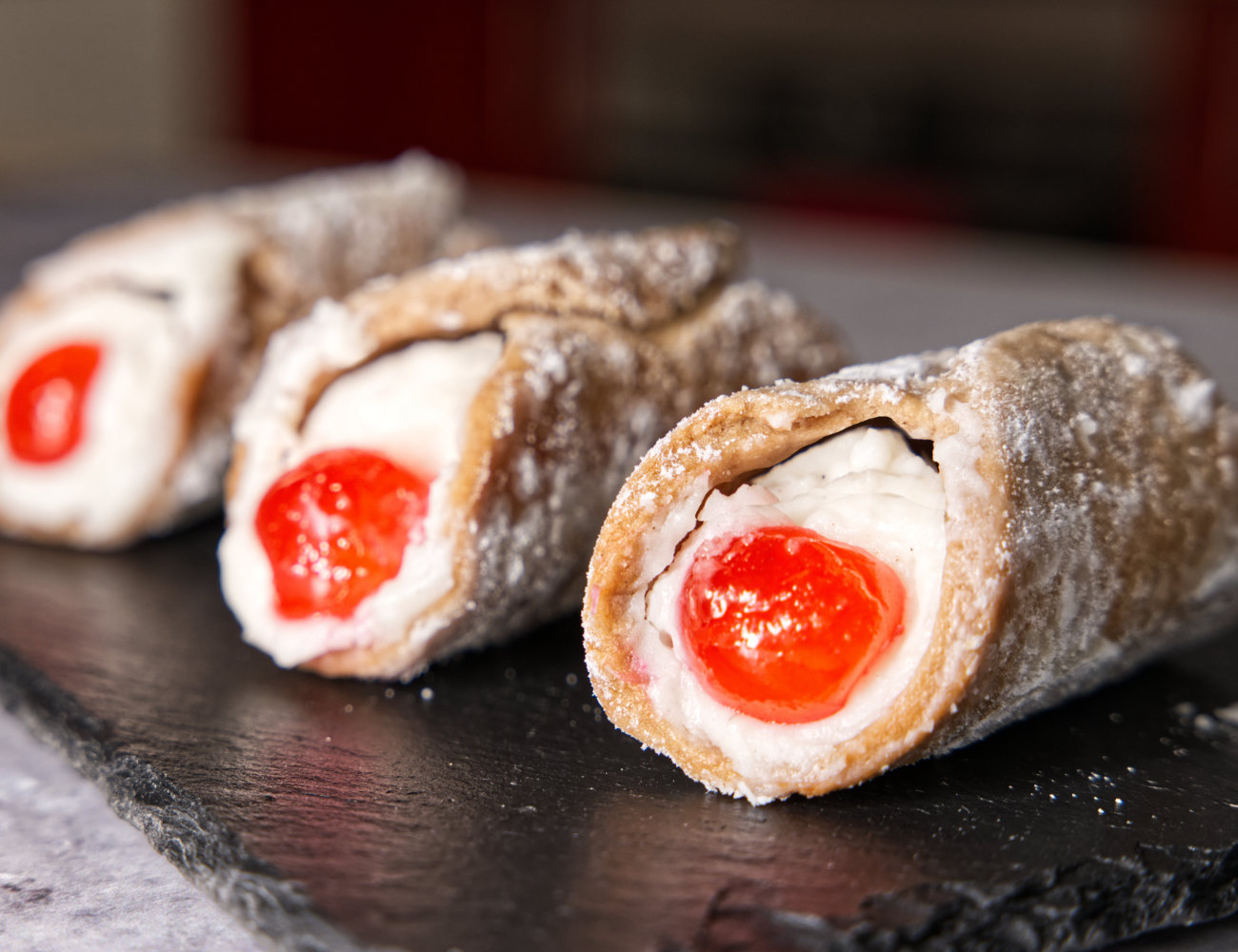 Sicilian Cannoli Ingredients
Ingredients for 12-15 cannoli
For the Shell:
flour: 250 g
lard: 25 g
marsala wine or vinegar: 2 tbsp
granulated sugar: 2 tsp
unsweetened cocoa powder (dark): 2 tsp
fine salt: 1 pinch
white wine for kneading the dough
olive oil and lard for frying
For the Cream Filling:
dry ricotta (whole milk): 500 g
fine sugar: 200 g
dark chocolate cut into pieces
Garnish:
candied orange —or candied 'zuccata' (a particular variety of squash) or finely chopped pistachios
powdered sugar
How to Make Sicilian Cannoli
Make the Cannoli Pasta Dough
In a large mixing bowl, mix together the white wine with the pasta dough ingredients for the shell. Knead it well until you have obtained a pasta dough that is homogenous and compact.
Form the Cannoli Shells
Let the pasta dough rest for half an hour. Then roll it out into a thin sheet. Cut the pasta sheet into ovals that are around 15 cm long and 12 cm wide.
Wrap each pasta oval around a cannoli form, lengthwise. The cannoli forms should have a diameter of around 3 cm. Seal the edges of the cannoli pasta dough together with a bit of beaten egg white, taking care not to squeeze the pasta onto the cannoli form.
Fry the Cannoli Shells
The cannoli shells are then fried with their forms in a generous amount of olive oil with a third of lard, until they have a nice brown color. Transfer to the fried cannoli shells to an absorbent towel, then gently pull out the cannoli forms from the shells when the cannoli shells are cold.
Prepare the Sicilian Cannoli Filling
Prepare a soft cream with the ricotta cheese and the sugar by passing the mix through a thick sieve. To the cream, add the chocolate and fill the cannoli that are dusted with powdered sugar and garnished with either candied orange, candied 'zuccata' or with finely chopped pistachio.
NOTE: Cannoli shells should be filled and garnished just before they are served! After a few hours, in fact, they will soften and lose the crunch that characterizes the exquisite harmony that [the dessert] has.
History of Sicilian Cannoli
The cannoli, together with cassata, are desserts that qualify as the most traditional Sicilian pastries. This was a typical carnival dessert that today is present in bakeries all year round. Medium-sized cannolis are prepared everywhere, however in Palermo they are also prepared as 'cannulicchi' with the dimensions of a finger. In 'Piana degli Albanesi' on the other hand, they are prepared unusually large in size.
---
This English translation is Copyright PIATTO LLC © 2022; All rights reserved.
---
Another Italian dessert that features sweet pasta dough? They are Italian Carnival Cookies!