In this PIATTO™ guide, you'll learn how to clean mushrooms before cooking them in just two easy steps! Mushrooms are a popular Italian ingredient so this is a great skill to have if you are planning to make Italian food.
Why Cleaning Mushrooms is Important
Cleaning mushrooms before cooking them is important because wild-foraged mushrooms can be very, very dirty.
What about cultivated, store-bought mushrooms? They need to be cleaned as well! First of all, commercial mushrooms are often still dirty to the naked eye. Further, even commercial mushrooms that look clean can have pathogens coming from the compost they were grown in or from the equipment used to process them. These pathogens can cause food-borne illness. Yuck!
Heat of course will kill most of these pathogens, so the bigger concern is if you plan to serve the mushrooms raw.
Keep reading to find out the best mushroom to use if you want to eat mushrooms raw!
How to Clean Mushrooms in Easy 2 Steps!
1) Brush off Loose Dirt
Use a clean brush that you use only for food to wipe the loose dirt off the mushrooms. You can even use a cheap toothbrush to do this job!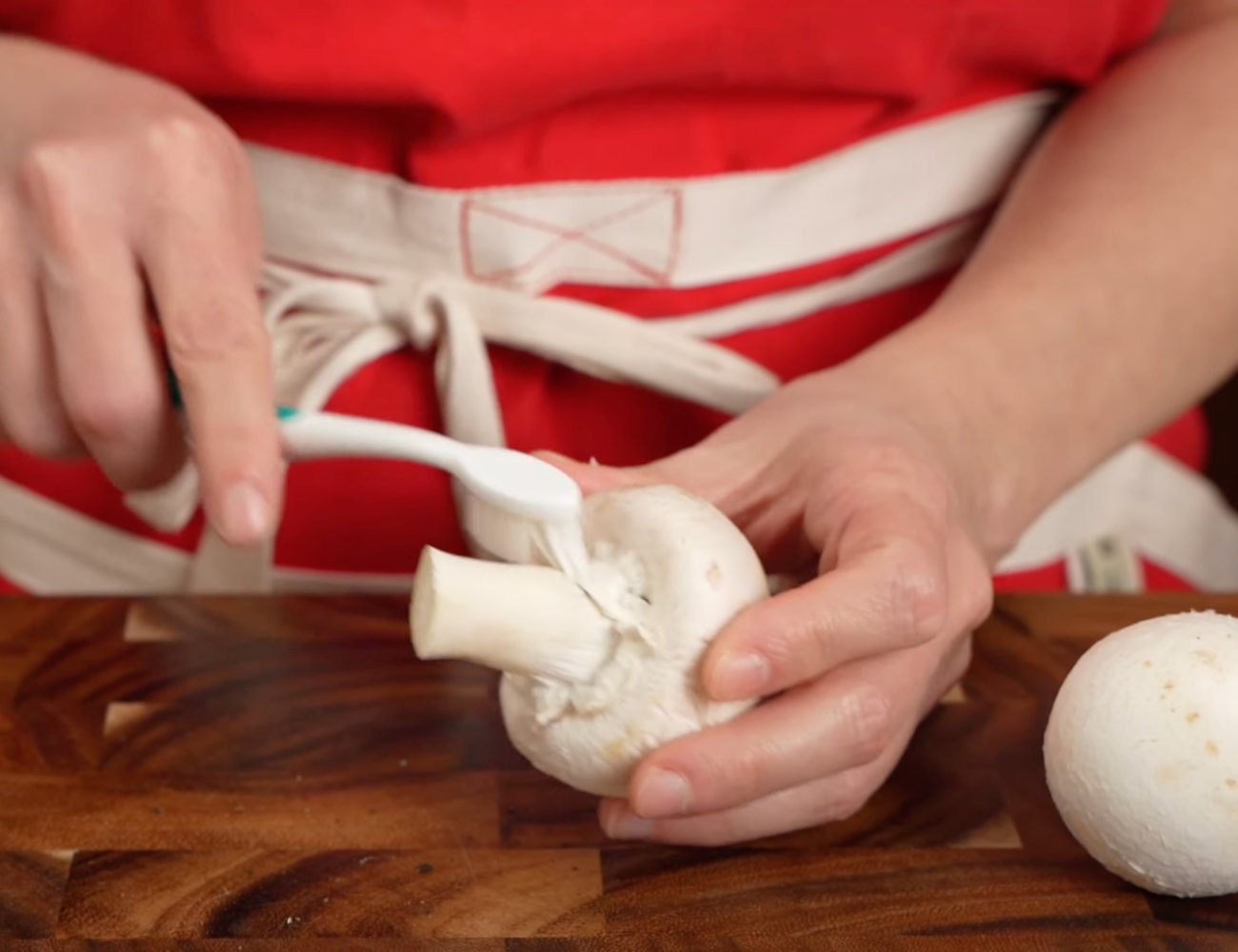 Then, cut off the bottom of the mushroom stem—remove as much as is necessary to remove the dirt.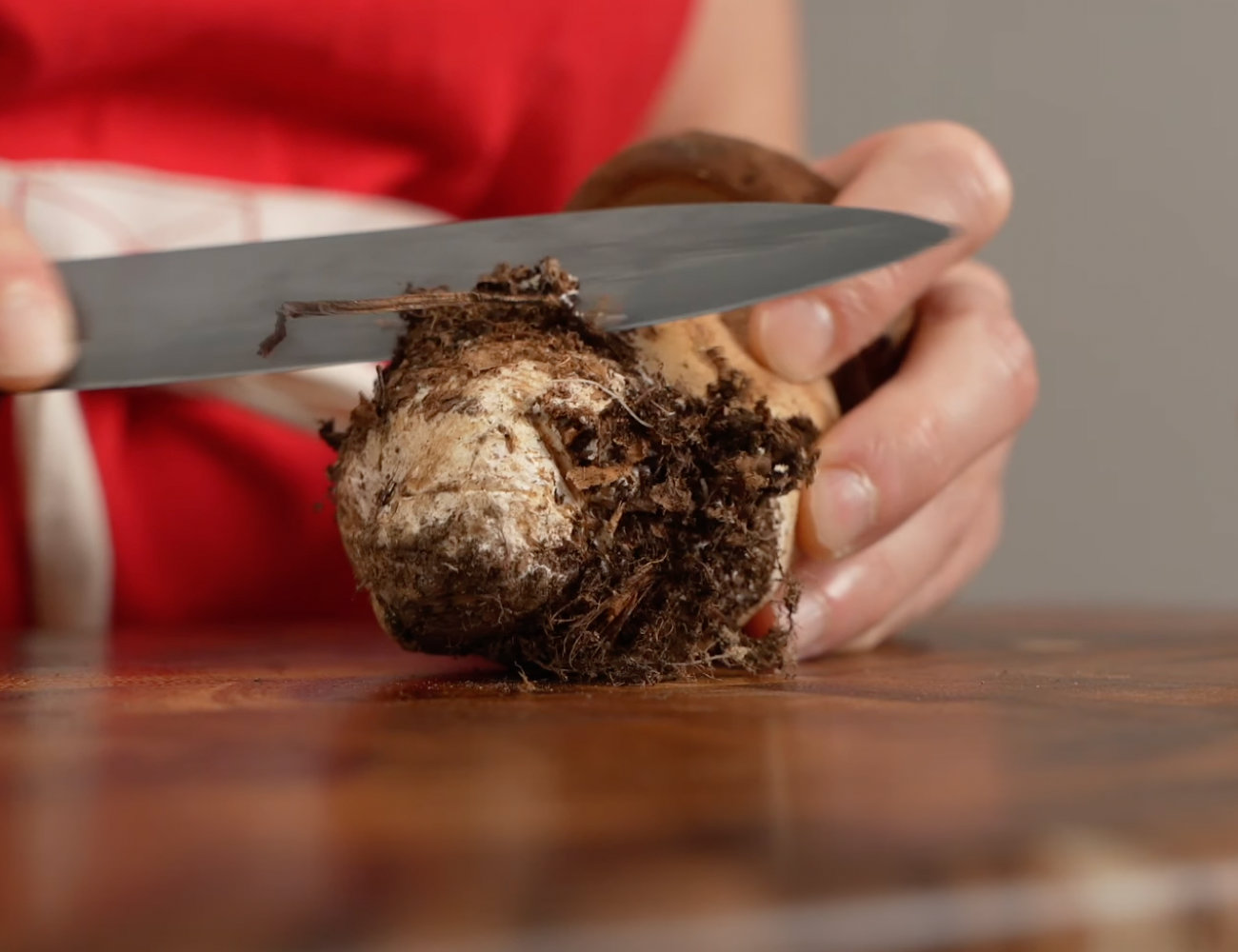 2) Wipe Clean with Water
Now, wipe the mushrooms clean with a damp cloth. Or, give the mushrooms a very quick rinse and wipe them dry immediately. Do not soak the mushrooms in water! Why? Mushrooms easily soak up water like a sponge. So, soaking mushrooms will change their taste and texture. The rule of thumb?
A quick shower? OK! A bath? NO!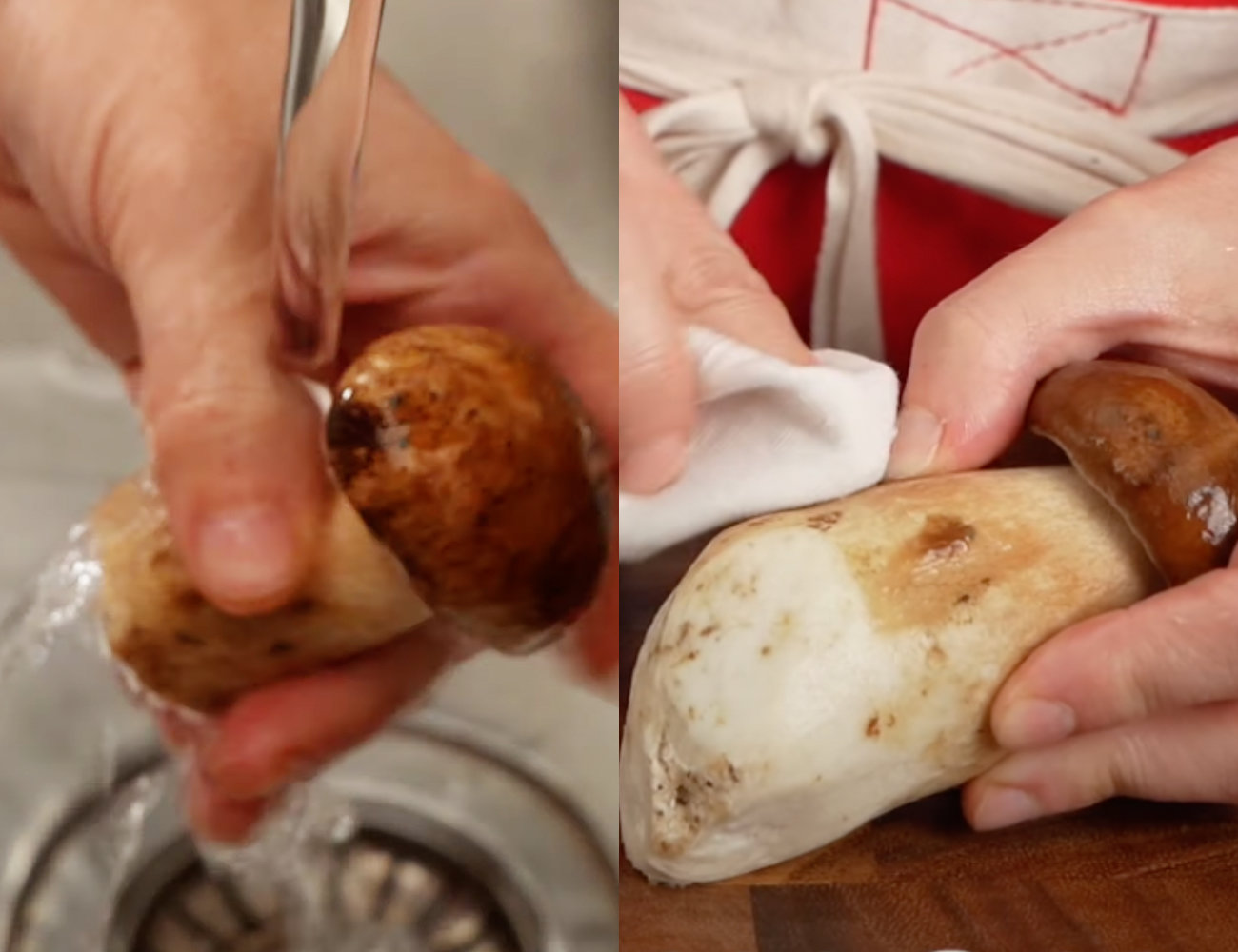 Want mushrooms even cleaner?
Keep reading if you want a super clean mushroom for eating raw or just for peace of mind!
Watch the Video Recipe!
Learn how to clean several types of mushrooms in this video guide! You can apply the tips in this video to wash mushrooms of many different varieties including: button (also called champignon mushrooms or crimini), porcini, chanterelle, portobello, and even red pine (also known as saffron milk caps)!
Subscribe to our YouTube Channel
More video recipes? Subscribe to our YouTube Channel (it's FREE) and click the bell to get notifications when we release a new video recipe!
The Cleanest Mushrooms
If you prefer very clean mushrooms—for your own peace of mind or in order to serve the mushrooms raw—it's best to reach for the button mushroom!
Why? Button and crimini mushrooms have a membrane between the mushroom cap and stem. This membrane protects the gills of the mushrooms (which are hard to clean) from the elements.
In addition to following our guide for how to clean mushrooms in two steps, you can go one step further with a button mushroom.
Use a paring knife to simply peel the entire outer skin of the mushroom like a piece of fruit! Check out the video below to watch us do this. By doing this, you remove the entire outside of the mushroom!
---
As an Amazon Associate, we earn from qualifying purchases. This means at no extra cost to you, PIATTO may earn a small commission if you click the links and make a qualifying purchase.
---