There are many theories about the birth of one of Italy's most famous dishes: the Spaghetti Carbonara recipe. In this article, we'll investigate one popular theory in Italy itself: that the original spaghetti carbonara recipe was invented for Allied forces in Rome after liberation by a famous WWII chef .
This theory is related to the legend that Spaghetti Carbonara was created to use WWII 'K-Rations' ingredients. For a more detailed summary of the Spaghetti Carbonara and K-Rations debate, check out our other article.
Prefer to start cooking? This is the Spaghetti Carbonara recipe considered traditional in Italy today! Keep reading to find out how different it is from the probably original Spaghetti Carbonara recipe.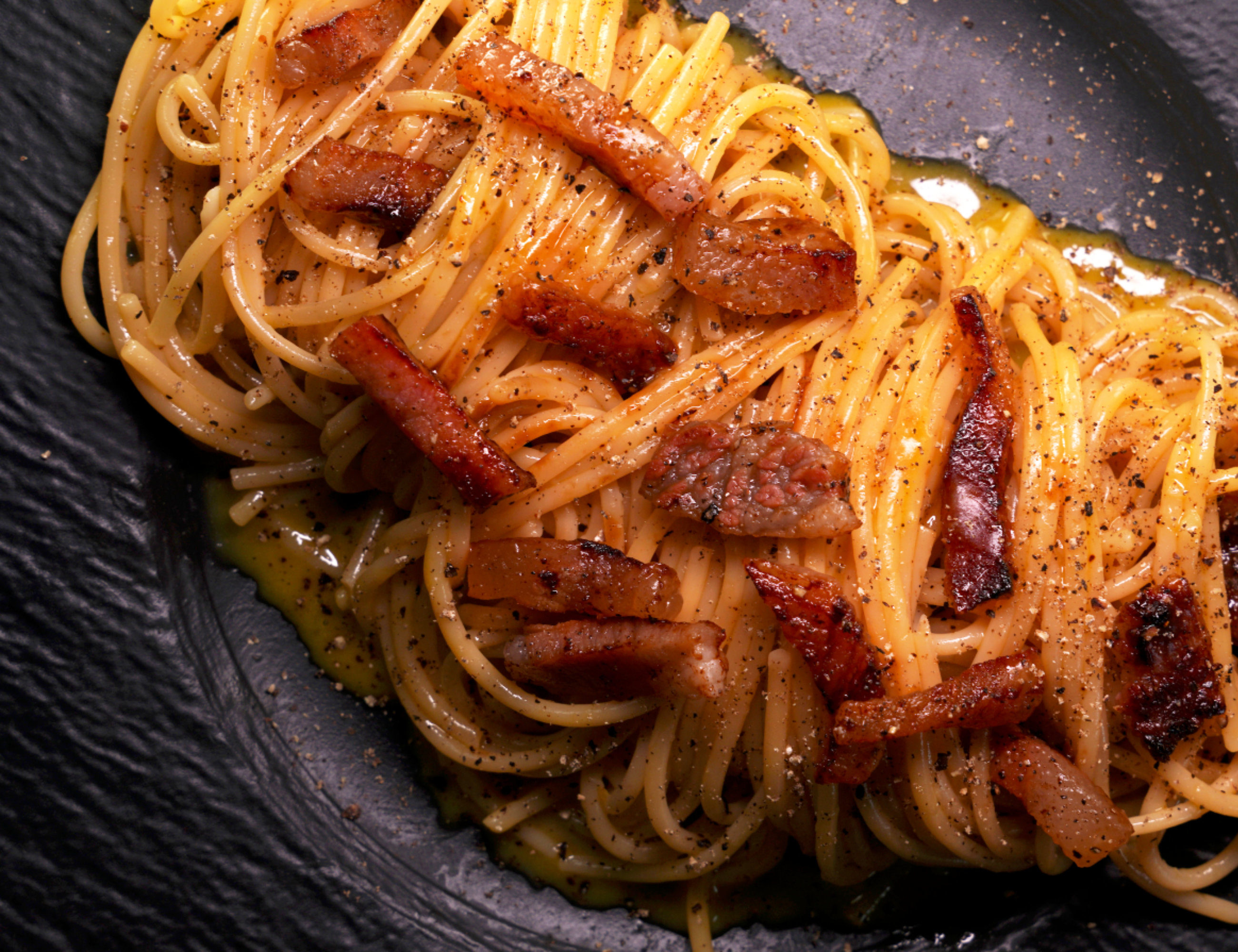 Watch the Video Recipe!
If you prefer to watch a video recipe, click on the video below.
Subscribe to our YouTube Channel
More video recipes? Subscribe to our YouTube Channel (it's FREE) and click the bell to get notifications when we release a new video recipe!
Birth of the Spaghetti Carbonara?
According to a popular legend (even in Italy), the Spaghetti Carbonara was born during WWII when American troops liberated Rome in 1944.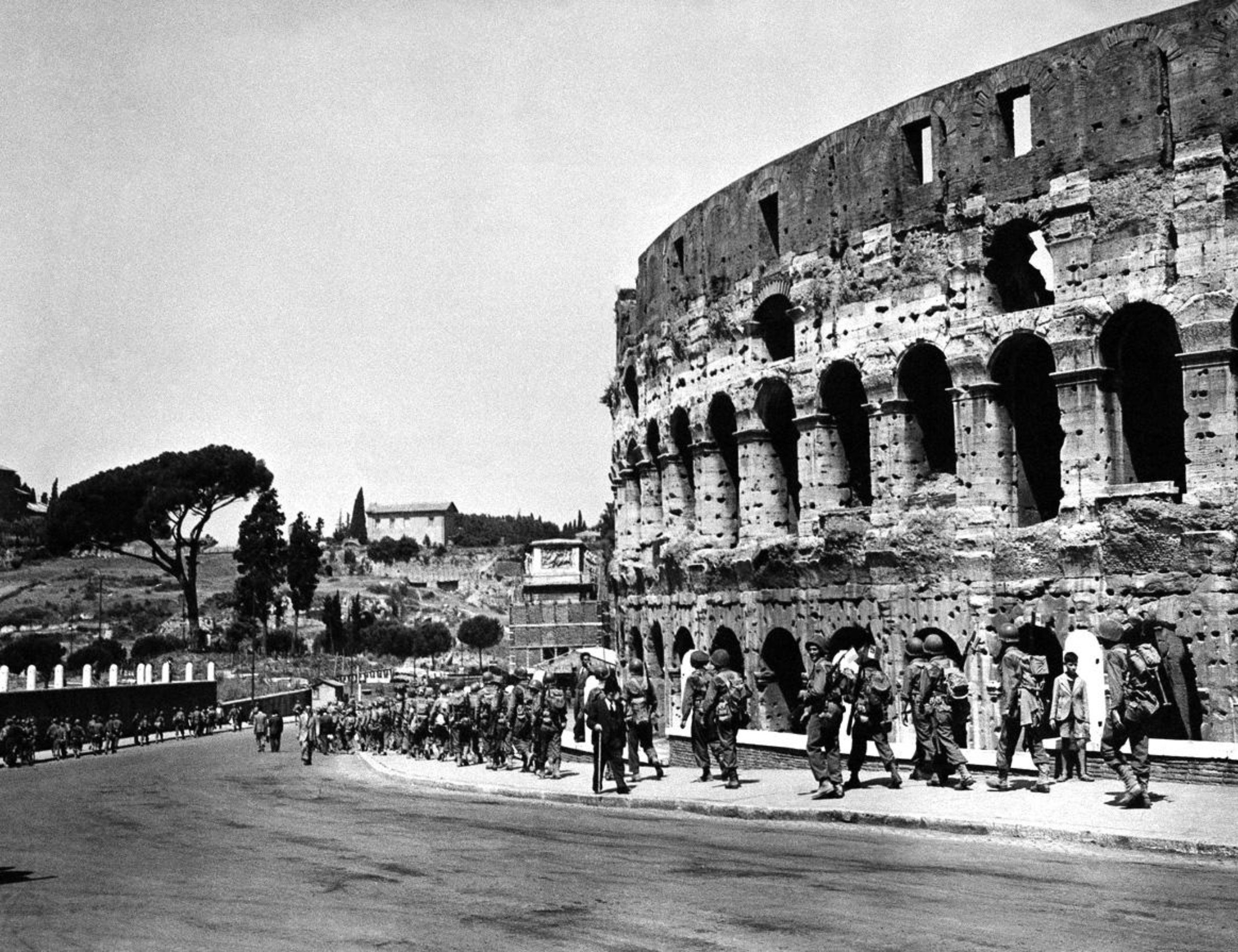 American troops in Rome had need for a recipe that utilized ingredients they had on-hand as a part of their food and meal rations. Local Rome chefs got involved and created the Pasta Carbonara by combining some eggs (or egg product) and bacon with cheese and Italian pasta (spaghetti).
Invented by Chef Renato Gualandi?
One of the most popular theories accepted in Italy today is that the Carbonara was created by one Chef Renato Gualandi. Why do we think Renato created the original Spaghetti Carbonara recipe? Well, first because he claimed he did in his memoirs! Secondly, his account of the ingredients he used are consistent with the ingredients that would have been available to him if Americans asked him to create something using the rations on hand.
Evidence Supporting Chef Renato Gualandi
In his memoirs (Erbissima), Renato says he was tasked with creating an impressive dish for Allied troops with ration ingredients. According to Renato, his dish debuted in the Italian seaside city of Riccione (just outside Rome) on September 22, 1944 when he prepared a celebratory lunch for the British Eighth Army and the American Fifth Army.
What Was in the Original Spaghetti Carbonara Recipe?
We struggled to find Renato's actual memoir, as it seems to only be available in print. However, one English translation has Renato saying this: "The Americans had fantastic bacon, delicious milk cream, cheese, and egg red [dried?] powder. I put it all together and served this pasta to the generals and officers for dinner. At the last moment, I decided to put black pepper which gave off an excellent flavor."
This version of events was given even more credibility when Chef Igles Corelli (of the Gambero Rosso program "Il gusto di Igles") interviewed a colleague of Renato's named Silverio. Silverio had this to say about his friend's original Carbonara recipe:
"So, Gualandi assembled what he could: powdered milk, freeze-dried egg, bacon and melted butter. The result was a dish of great delicacy, where it was not so much the egg, but the melted cheese that created that sloppiness that would have conquered the diners."
So: powdered milk, freeze dried egg, bacon, butter, black pepper and meltable cheese. Did American troops have these ingredients in their rations? Yes!
Original Carbonara Recipe: Likely Ingredients
One often repeated legend attributes the Carbonara to using ingredients from not just any American WWII rations, but specifically 'K-Rations.' K-Rations were emergency pre-prepared, pre-cooked meals.
K-Rations came in breakfast, lunch and dinner units. They looked like this: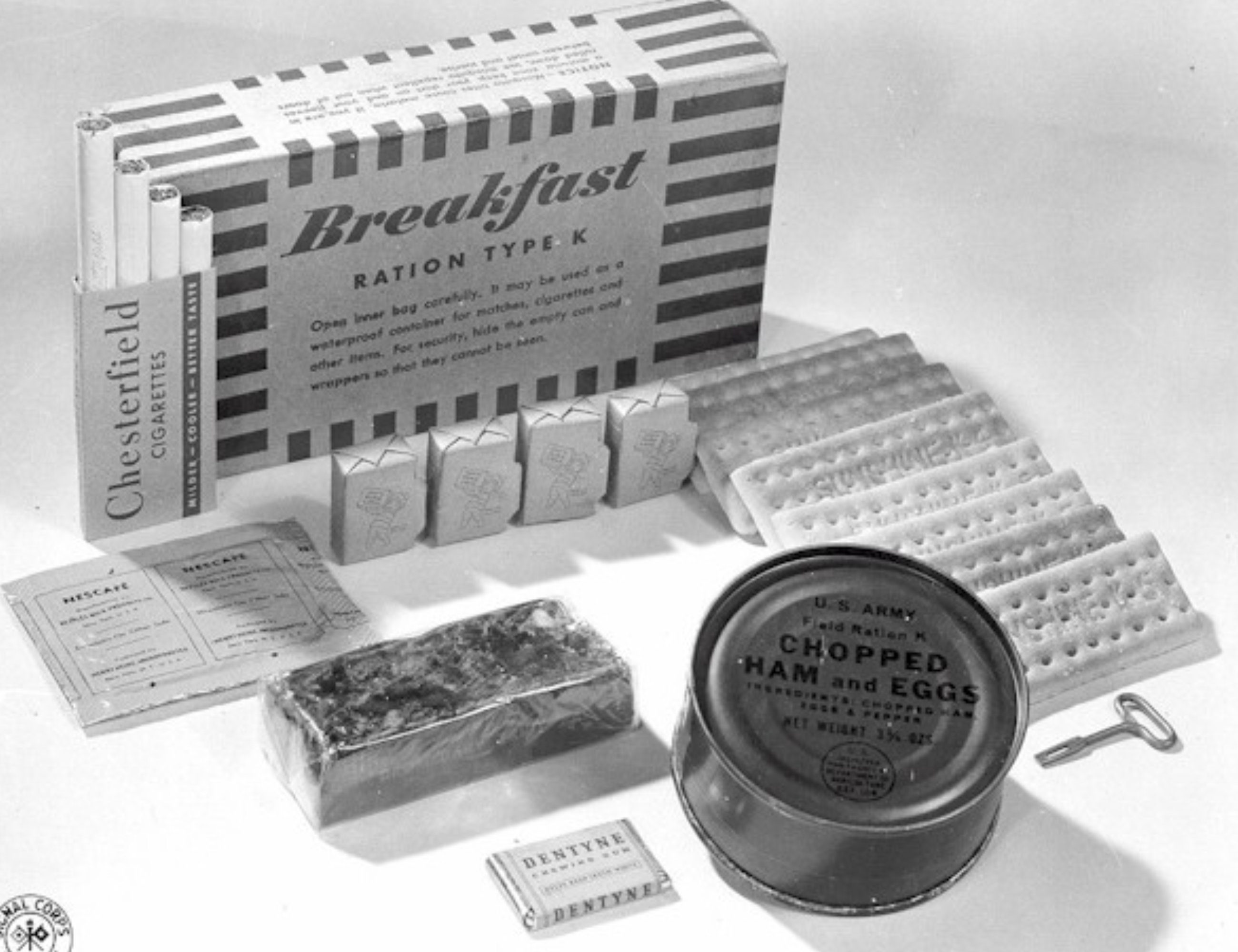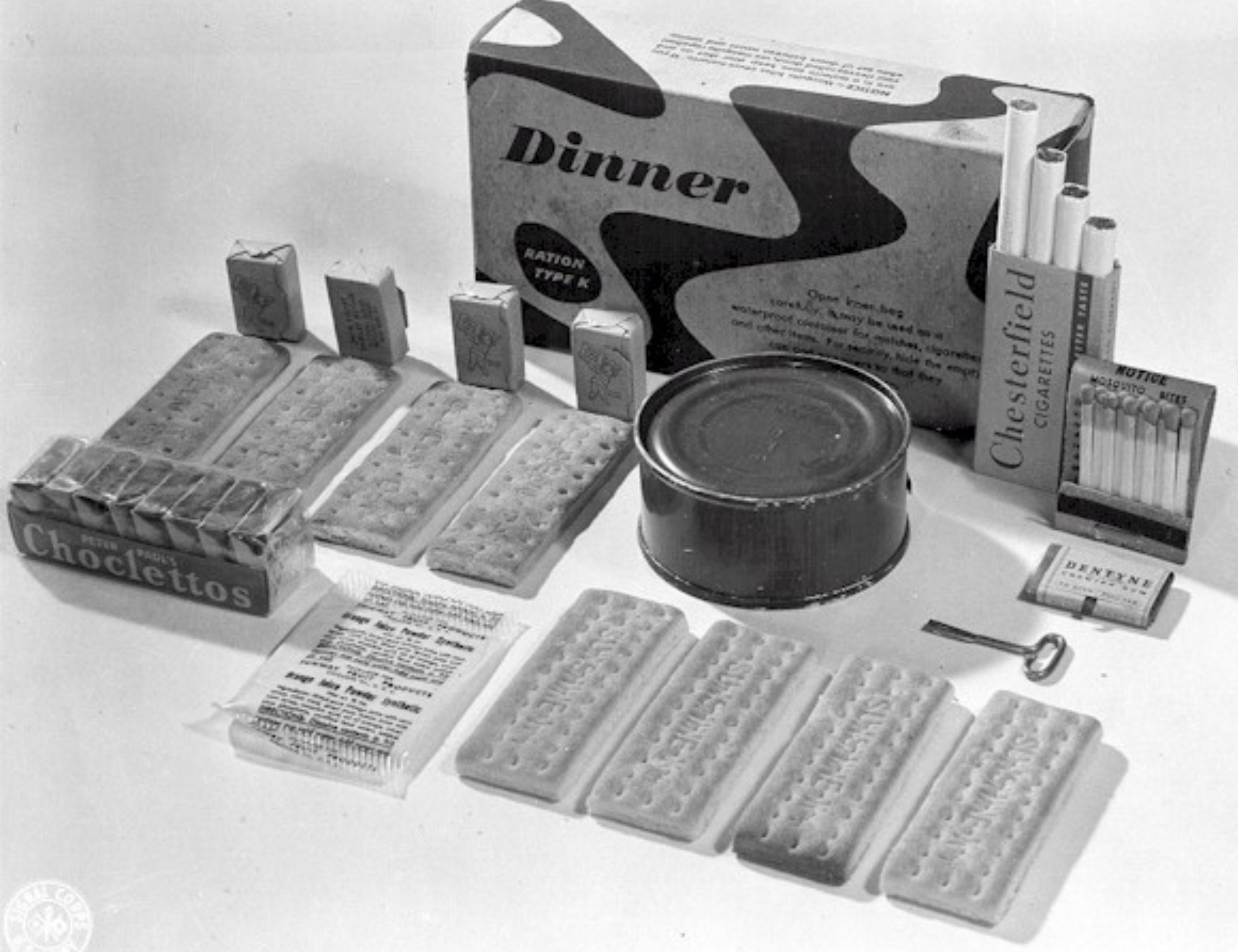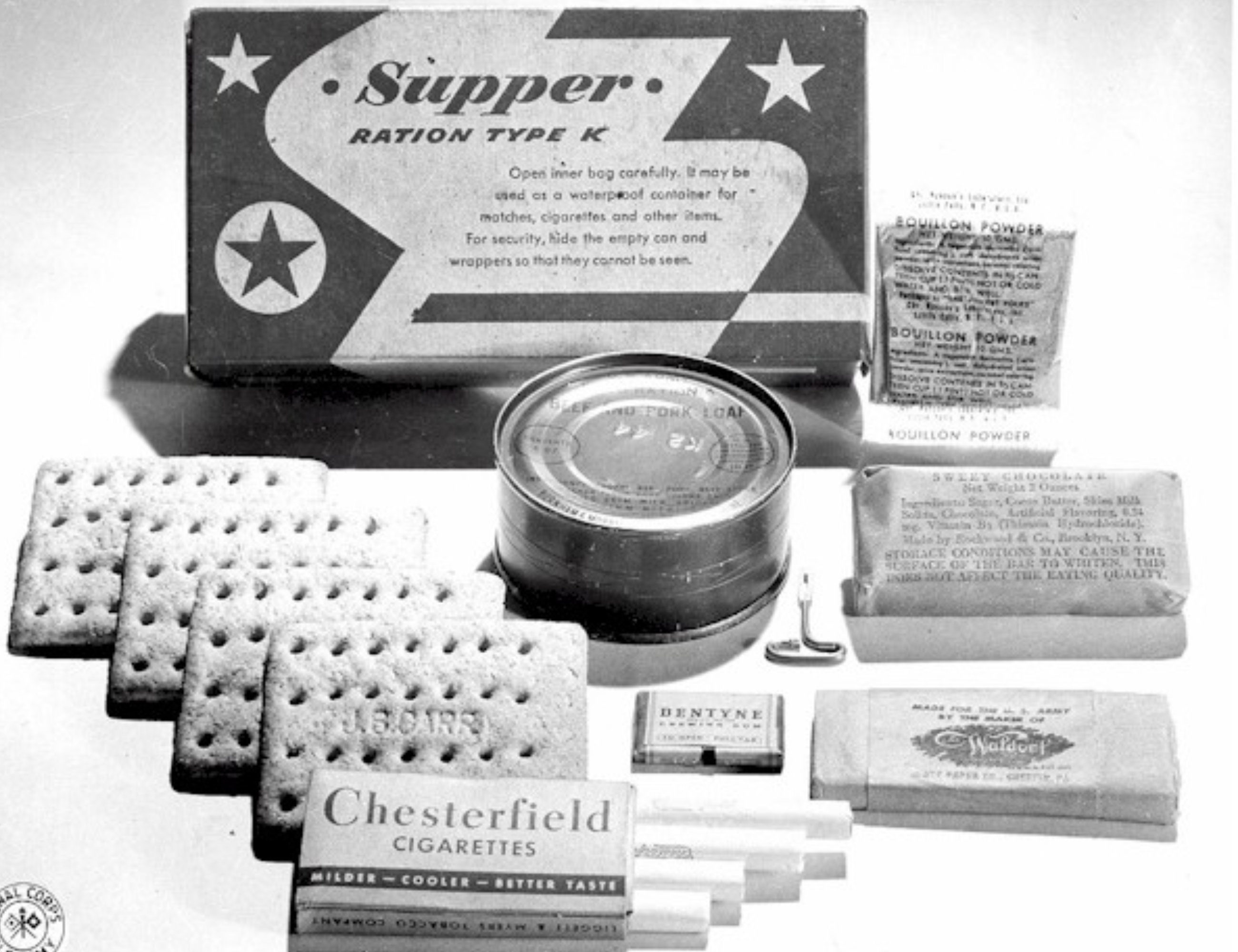 There were limited versions of these K-Rations and we know what was in them.
If the K-Rations were indeed used as ingredients in the original Carbonara in any way, then the original carbonara recipe must have had one of these ingredients:
Canned Chopped Ham and Eggs – That means cooked ham and eggs, chopped.
Canned Processed Cheese with or without Bacon – This seems to have been like Velveeta cheese with some bacon. Later versions had no bacon. So, like a spread and the bacon came with the cheese—the bacon wasn't separate.
Canned Pork Luncheon Meat – Think Spam! You could have theoretically sliced it and tossed it in a pan… but this is far from ham or bacon.
If we believe Renato, we can dismiss the chopped ham and eggs and the canned pork luncheon meat which aren't in his stated recipe. Also, including them would create a pretty strange Carbonara that is arguably too far from what is considered traditional today.
So, that leaves us with processed cheese with or without bacon. This processed cheese was likely very similar to the Kraft Foods 'Velveeta' products that don't require refrigeration— products you can find on the shelf today. Velveeta in fact was a company and a product already known during WWII. This processed cheese would have been American or Swiss. It would have (like processed cheese today) melted wonderfully and had a long shelf life.
More evidence that Renato probably used processed American Cheese in the original Carbonara recipe? Our own family members who grew up in Italy after WWII remember being offered so-called 'war cheese' by priests as a treat when they were children. They describe this cheese exactly like one would describe Velveeta or similar cheese products available in Italy today.
We are assuming that processed cheese (with or without some bacon) must have been the only K-Ration ingredients Renato would have used to make the Carbonara. So, where did the other ingredients come from?
Dry Eggs, Bacon, Butter.. Oh My!
While K-Rations did NOT contain powdered eggs or slices of bacon, both powdered eggs and slices of bacon were available in other WWII 'rations.'
B-Rations, for instance, contained ingredients that did not require refrigeration but might have required preparation. Military cooks used them to create meals for the troops whenever they were close enough to camp to enjoy a hot meal. Both the powdered milk and powdered (dry eggs) would have been available in B-Rations. Powdered eggs were so popular among American military as a nutritious ration ingredient that the military made this video to sing its praises to the American public.
While cans of sliced bacon were not in K-Rations, there is evidence they would have been used in B-Rations and they also were a known ingredient in the 5-in-1 Rations. These meal units were called '5-in-1' because they were designed to feed 5 men.
Where's the Pecorino Cheese?
Italians in Italy today might be shocked and dismayed to see that the pecorino cheese absolutely critical to the accepted traditional recipe of Carbonara does not seem to be mentioned in these accounts of the original Carbonara recipe!
We don't know if Pecorino cheese was around (procured locally as an A-Ration), but what we do know is that Italians were pretty short on food during the time of liberation. Though American troops had hoped that liberated Italians could be self-sufficient in the food department, it wasn't the case.
Three emergencies (a severe food shortage, a typhus epidemic, and an unforeseen refugee problem) made it impossible for liberated Italians to feed themselves alone during this time. So, during the winter and spring of 1944, up to 84% of the population of Italy were relying on imported food from the Allies. In fact, it represented probably more than half of the food they consumed. So, we doubt they had a lot of extra pecorino cheese available for the Allied troops.
In Summary?
The original spaghetti carbonara likely contained:
processed American (or Swiss) cheese with bacon
dry milk powder
dry egg powder
water to reconstitute the milk and eggs?
butter
some chopped slices of bacon
spaghetti
black pepper
This would have been a kind of creamy 'mac and cheese' style sauce for the spaghetti, made even richer and more decadent with the addition of powdered milk, eggs and a bit of butter. And, of course, it would have had some good old fashioned American bacon!!
What do you think of this recipe? Let us know in the comments!
Or, learn more about the Origin of Spaghetti Carbonara and K-Rations in our article!
---
As an Amazon Associate, we earn from qualifying purchases. This means at no extra cost to you, PIATTO may earn a small commission if you click the links and make a qualifying purchase.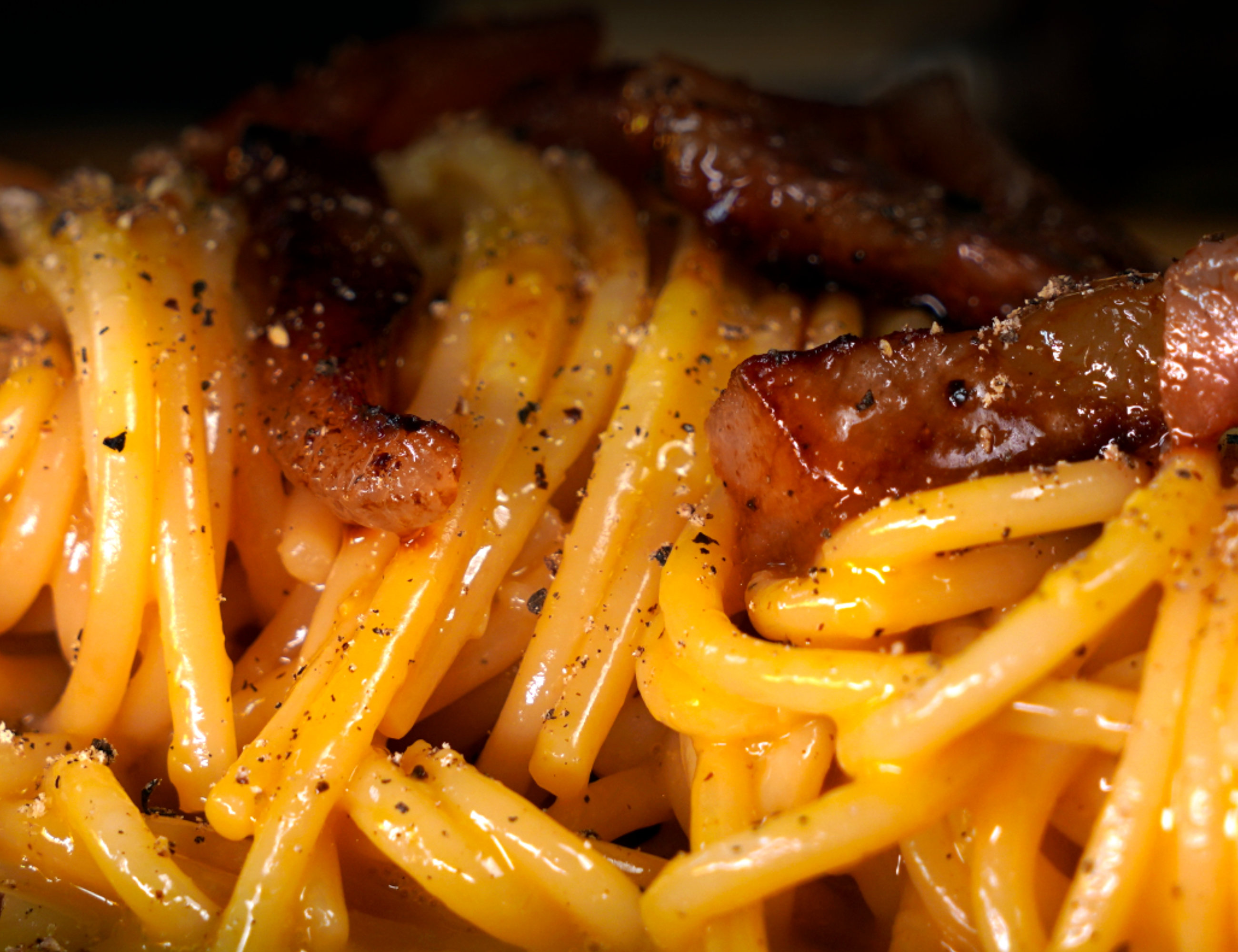 Spaghetti Carbonara Recipe
The quintessential dish of Rome. Although Spaghetti Carbonara is one of the most imitated recipes in the world with a multitude of variations, the original recipe calls for just a few ingredients: Italian guanciale (pork jowl or cheek), Pecorino Romano, black pepper and fresh eggs. This recipe uses only traditional ingredients and and is made without the cream, onion or peas often seen in Italian restaurants abroad.
Equipment
Kitchen Thermometer

Large Pot

Salt and Pepper Grinder

Large Skillet

Tongs
Ingredients
11

oz

spaghetti

dry is fine

1

tbsp

black pepper

freshly ground at a medium coarse setting

3.5

oz

pecorino romano cheese

finely grated; use semi-hard if you can find it

6 ¾

cups

water

for cooking the pasta

coarse salt

to taste

4

egg yolks

1

whole eggs

5

oz

guanciale

or pancetta
Instructions
Prepare Ingredients
Freshly grate the pecorino with the finest setting available. You may use a food processor to do this quickly. Set aside.

3.5 oz pecorino romano cheese

Freshly grind the black pepper using a medium-coarse setting. You can use a mortar and pestle if you prefer. Toast the pepper over very low heat just until you can smell it. Then, remove it from the heat and set aside.
Fry the Guanciale
Cut the guanciale into strips (about 1 inch x 1/3 of an inch). Fry the strips of guanciale in an uncreased pan over low heat.

When the fat on the guanciale begins to turn transparent, increase the heat to medium. Continue frying the guanciale until it is golden brown and crispy. Set aside.

Leave the guanciale grease in the pan. We will finish the dish in this pan.
Make the Sauce
Combine one whole egg with 4 egg yolks and the pecorino cheese.

4 egg yolks,

1 whole eggs

Whisk the ingredients until smooth and creamy. Set the bowl aside.
Cook the Pasta
In a medium-large pot, bring 6 ¾ cups of water to boil.

Cook the spaghetti about 3/4 of the time listed on the package instructions. Cook the spaghetti in a little less water than you normally would—this will create a pasta water with more starch. We want to use the starchy pasta water to finish the spaghetti in the skillet.

Halfway through the cook time, add a handful of coarse salt to the pasta water. 

11 oz spaghetti,

coarse salt

Drain the pasta and immediately transfer it to the pan with the guanciale grease. Add a ladle of the pasta water to the pan along with the spaghetti. Toss the spaghetti with the grease and the pasta water. 

Add half a ladle of the hot pasta water to the egg and pecorino, whisking continuously as you add it.

The result will be a creamier, shiny sauce. 
Finish the Pasta
Off the heat, immediately add the egg sauce to the still-hot spaghetti in the pan.

Stir continuously with tongs to combine the carbonara sauce with the spaghetti. The still hot spaghetti will continue cooking and will cook the egg sauce a bit as well, melting the pecorino. 

Add the toasted black pepper…

… and the fried guanciale. Continue mixing. The sauce will thicken as you stir.

When the sauce is no longer runny, immediately plate and serve!
Video
Notes
Not Pancetta?
Guanciale is considered more traditional than pancetta here. However, even in Italy, restaurants will sometimes use pancetta. So, if that's what you can find or prefer, go for it!
Finely grate the cheese!
Be sure to use finely grated pecorino cheese. If you use a food processor to grate the pecorino from a wedge, use a fork to push the grated cheese through a fine strainer to create a fine powder.

 
Nutrition
Sodium:
620
mg
Calcium:
563
mg
Vitamin A:
214
IU
Sugar:
2
g
Fiber:
3
g
Potassium:
236
mg
Cholesterol:
52
mg
Calories:
485
kcal
Saturated Fat:
9
g
Fat:
15
g
Protein:
26
g
Carbohydrates:
61
g
Iron:
2
mg
---