When you think of Christmas in Italy, what fragrances and flavors come to mind? This festive season, journey with us to the picturesque landscapes of Umbria to uncover a time-honored gem—Panpepato ('peppered bread' in Italian). It's the quintessential Italian Christmas dessert that dances between sweet and spicy, rustic and divine. In this article, we share Nonna Margherita's timeless Panpepato recipe. Her version sidesteps the commonly divisive raisins and candied fruit—making it a universally adored treat. Of course, the daring among you can up the black pepper ante or introduce your preferred fruited elements. "In ogni morso, c'è un po' d'amore e un po' di magia"—in every bite, there's a little love and a little magic.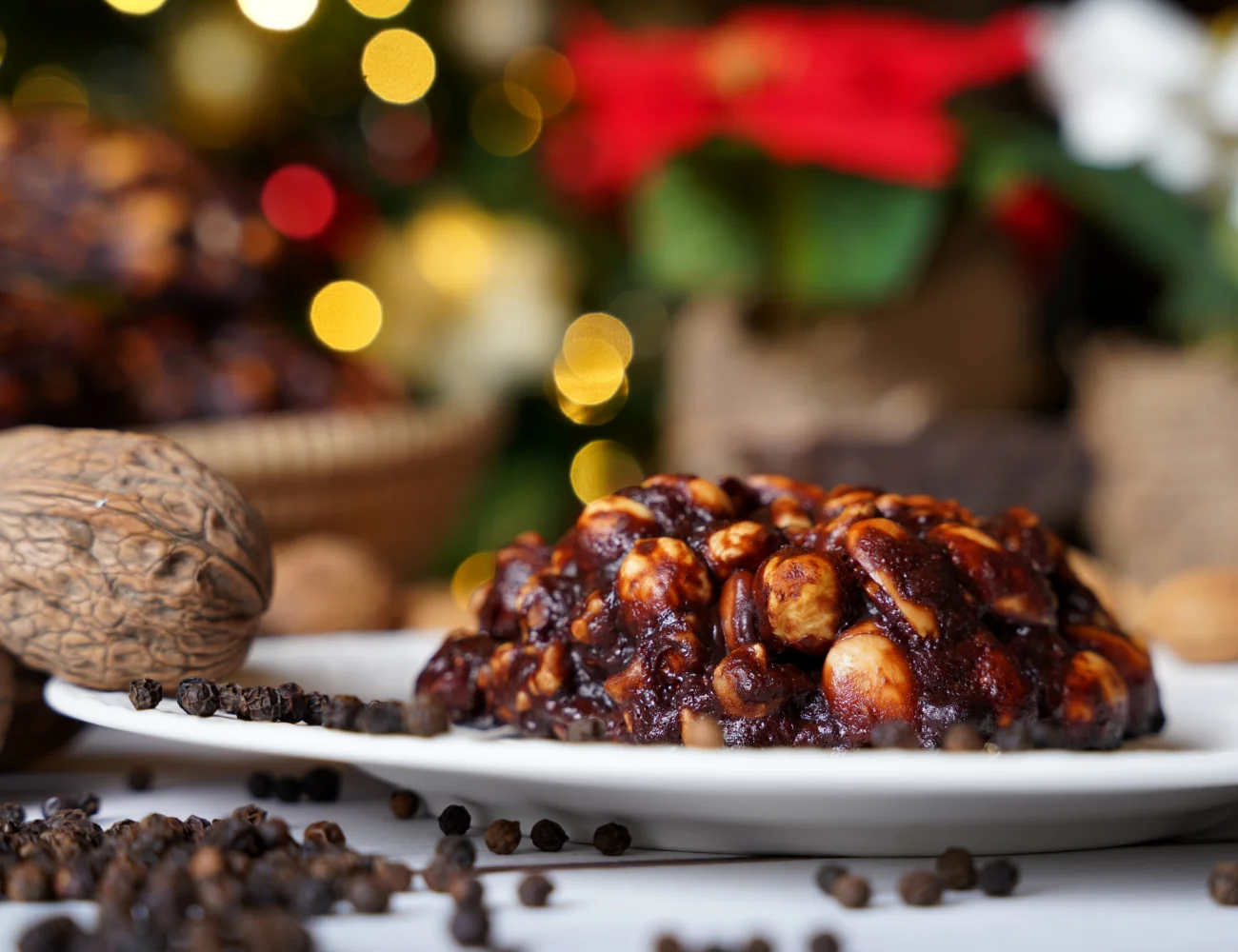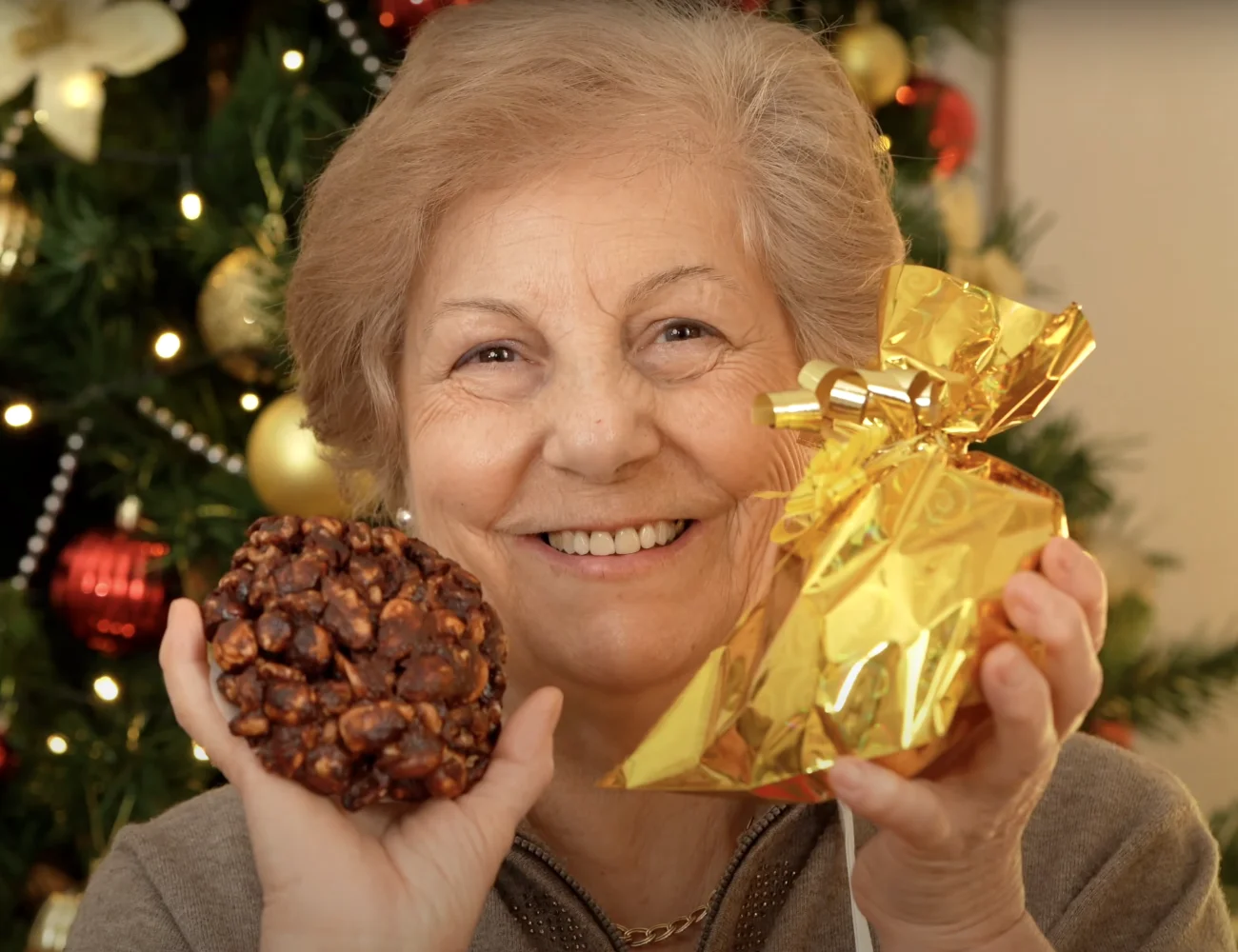 ---
Watch the Video Recipe!
Watch the video for Nonna Margherita's Panpepato recipe from our YouTube Cooking channel:
---
Subscribe to our YouTube Channel
More video recipes? Subscribe to our YouTube Channel (it's FREE) and click the bell to get notifications when we release a new video recipe!
---
History of Panpepato Recipes
Similar to panforte (a Tuscan Christmas dessert), the Italian tradition of combining variations of nuts, flour, chocolate, honey and spices to make a tasty treat dates back to ancient times (1500's). In fact, the Tuscan Panforte recipe was originally called Panpepato referencing the pepper used in the recipe.
The name 'panpepato' literally means 'peppered bread.' In Umbria, the panpepato is often exchanged at Christmas as a holiday gift among family and friends. Each family has their own variation. Nonna Margherita's recipe (shared here) excludes raisins and candied fruit, which not everyone enjoys. However, feel free to add them and more black pepper if you like your panpepato extra 'strong.'
How to Make This Panpepato Recipe
Toast Quality Nuts
The secret to Nonna Margherita's popular Panpepato recipe is quality! She chooses the finest, freshest nuts (walnuts, hazelnuts and almonds) then toasts them herself. We've even helped her crack walnut shells to free the freshest walnuts she purchases from an Umbrian farmer.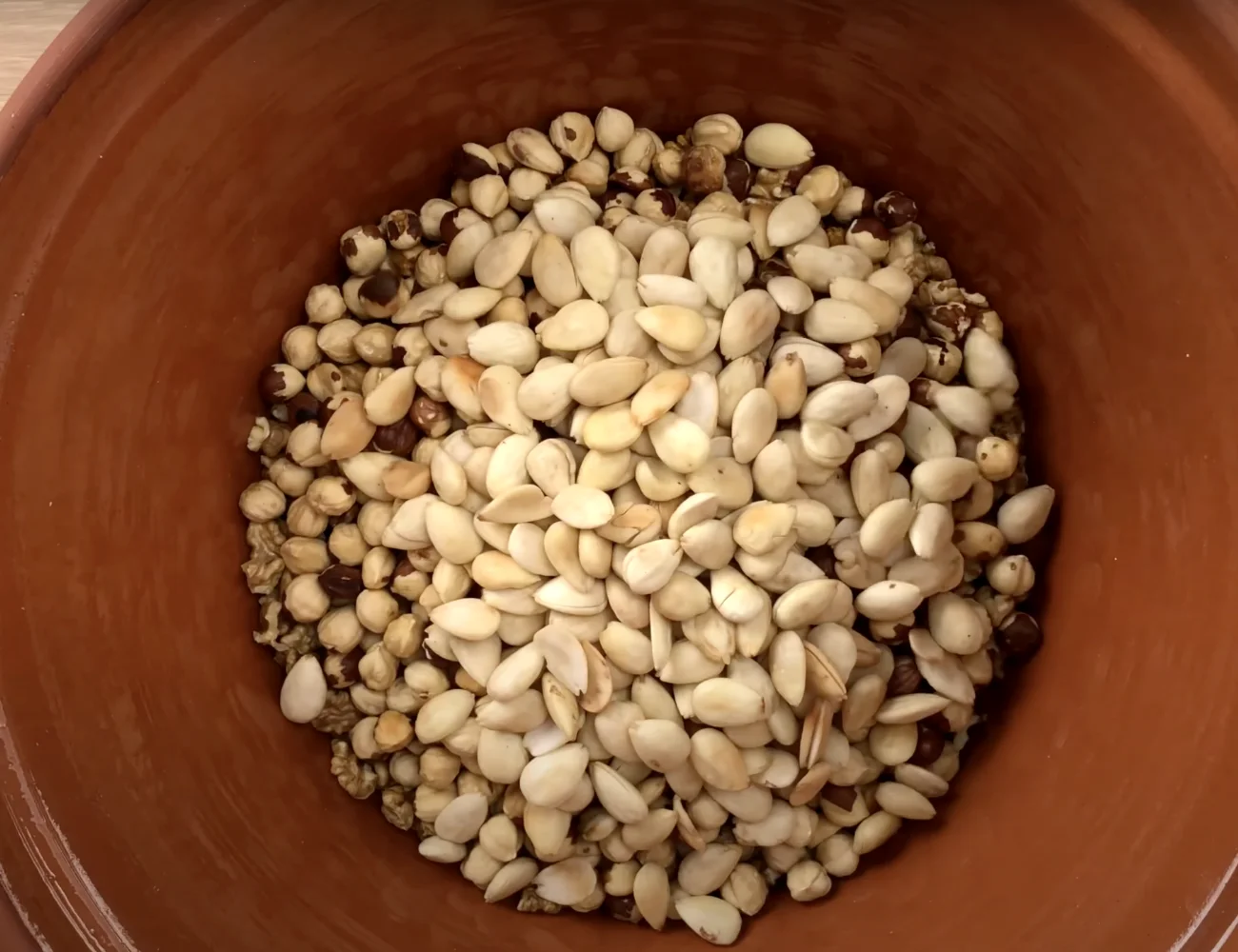 Then, we add the spices (the 'pepper' in the 'peppered bread'). Nonna Margherita uses spices common to Panpepato, in her preferred proportions: cocoa powder, cinnamon, nutmeg, espresso powder, black pepper and orange zest! Each family has its own distinct recipe, with some adding dried fruit such as raisins and a heavy dose of black pepper to the mix.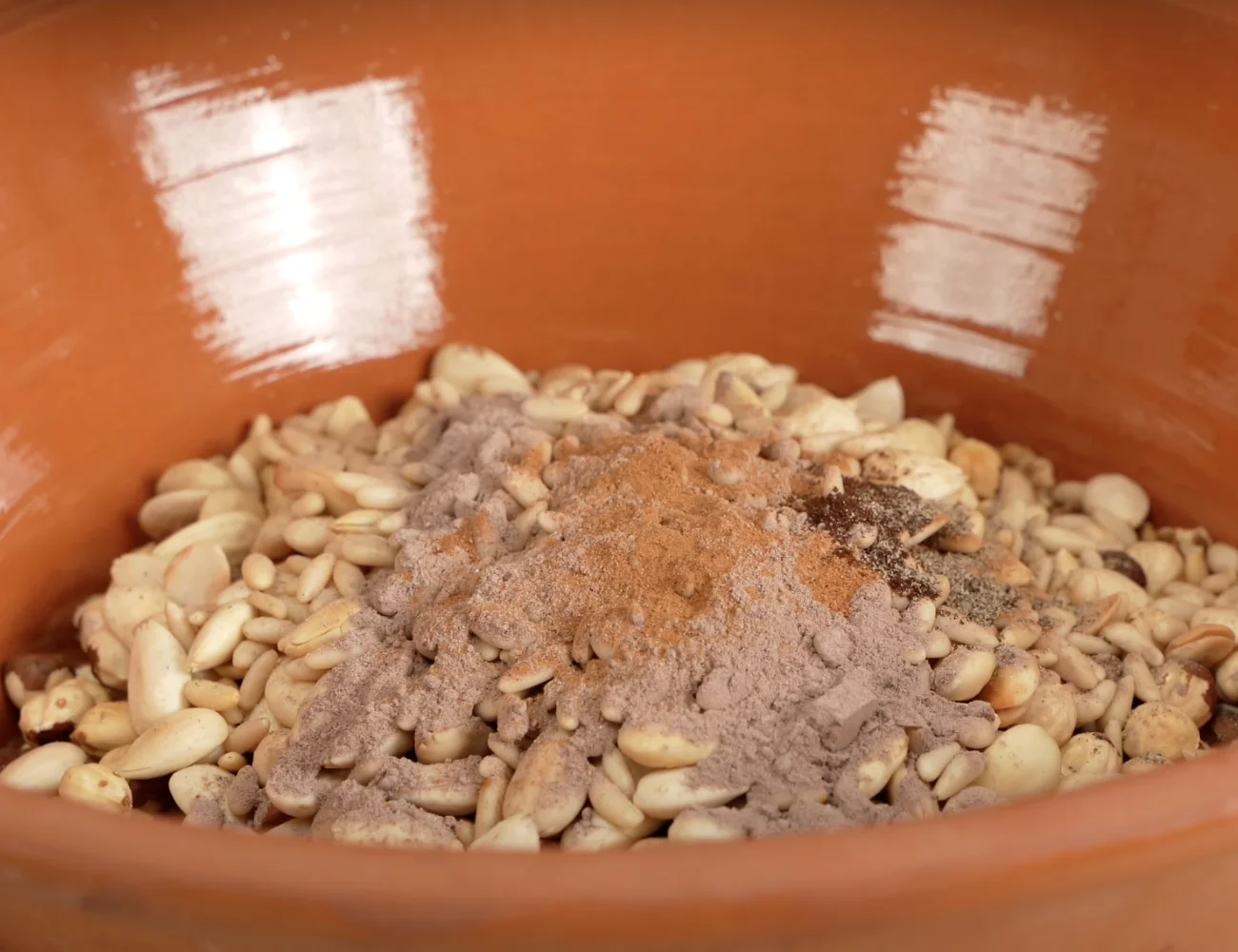 For the binder, Nonna uses dark chocolate melted with espresso and honey!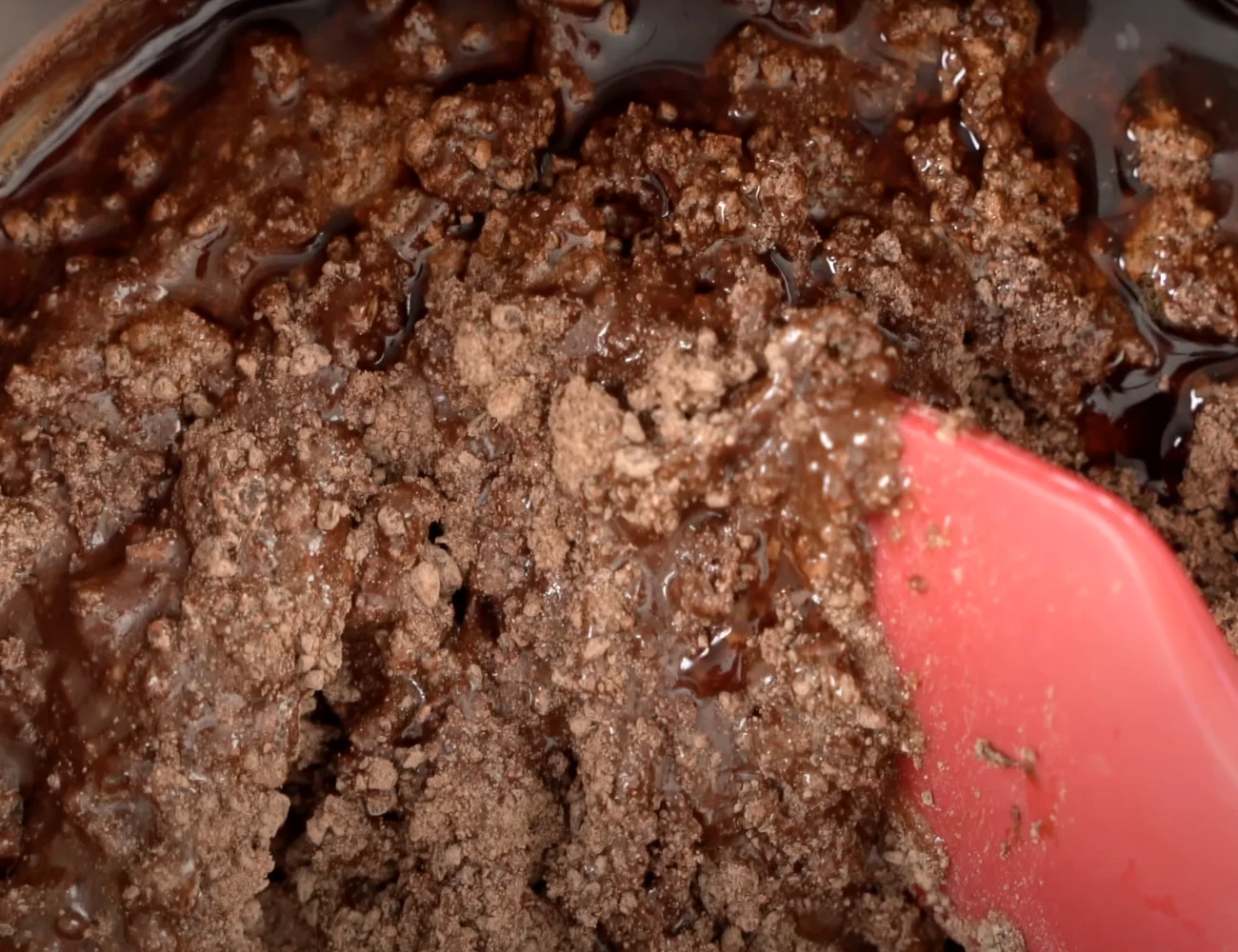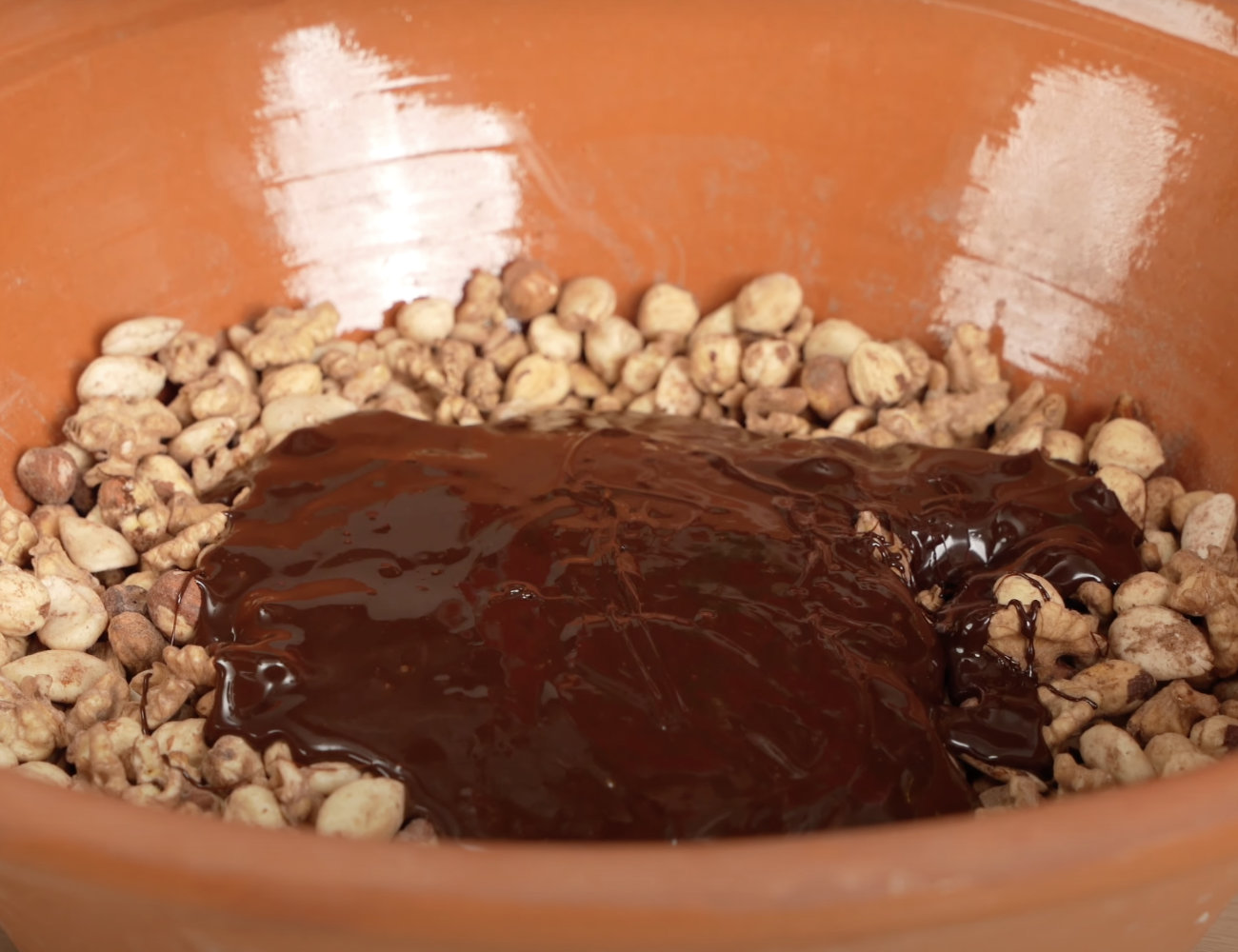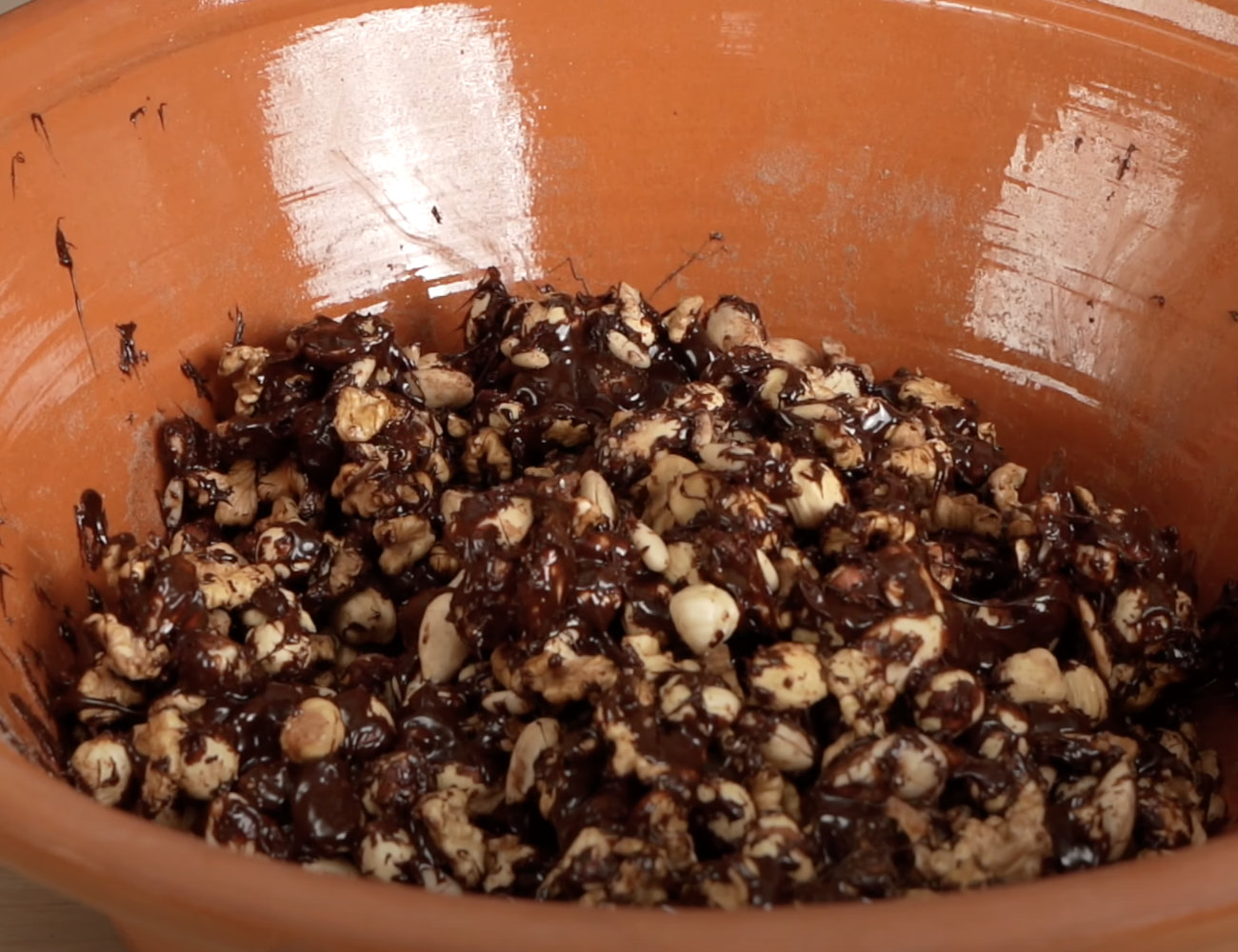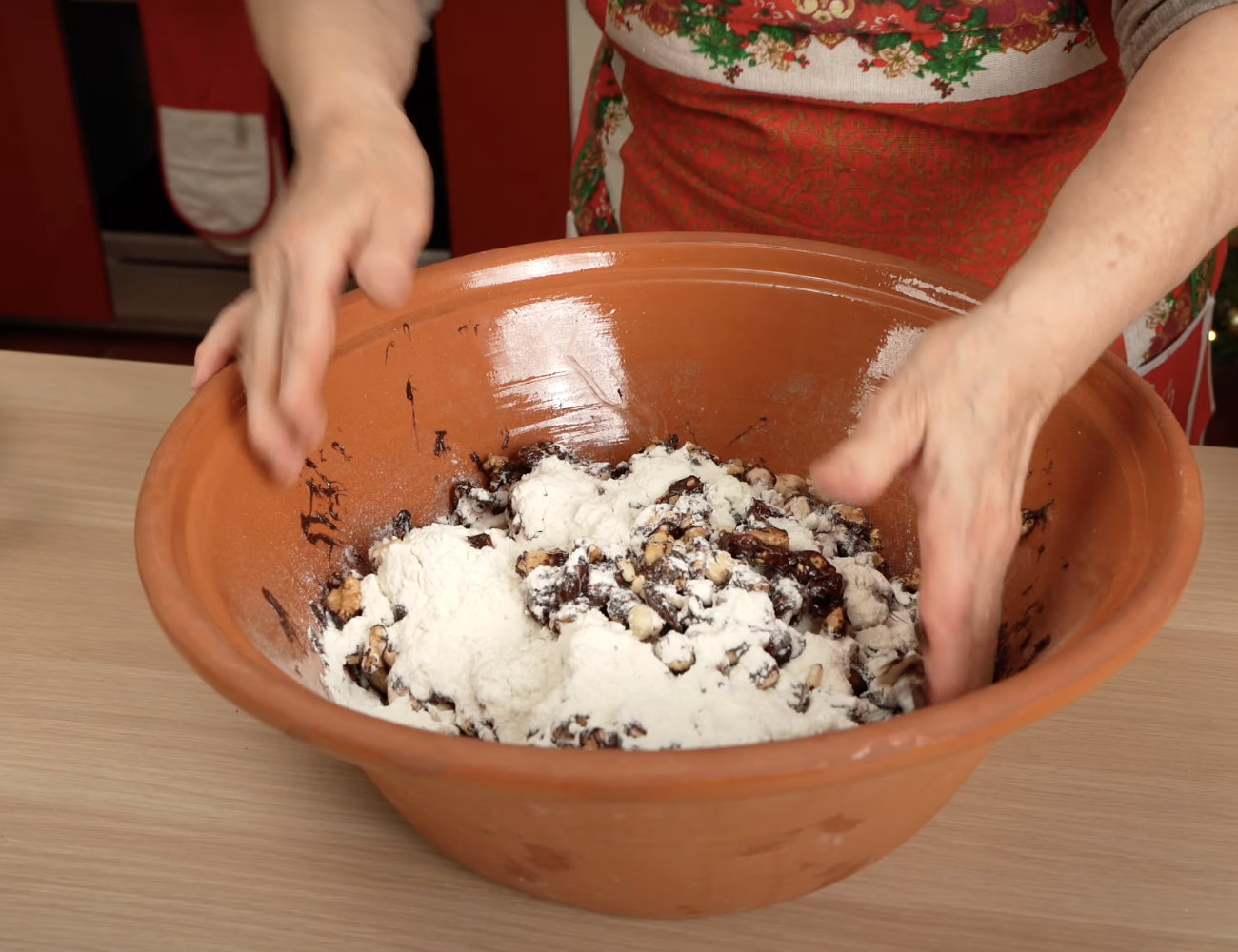 Everything is mixed together with some flour, which you can add with the spices or after adding the chocolate.
Using wet hands, shape the mix into balls and spread them out on a baking sheet.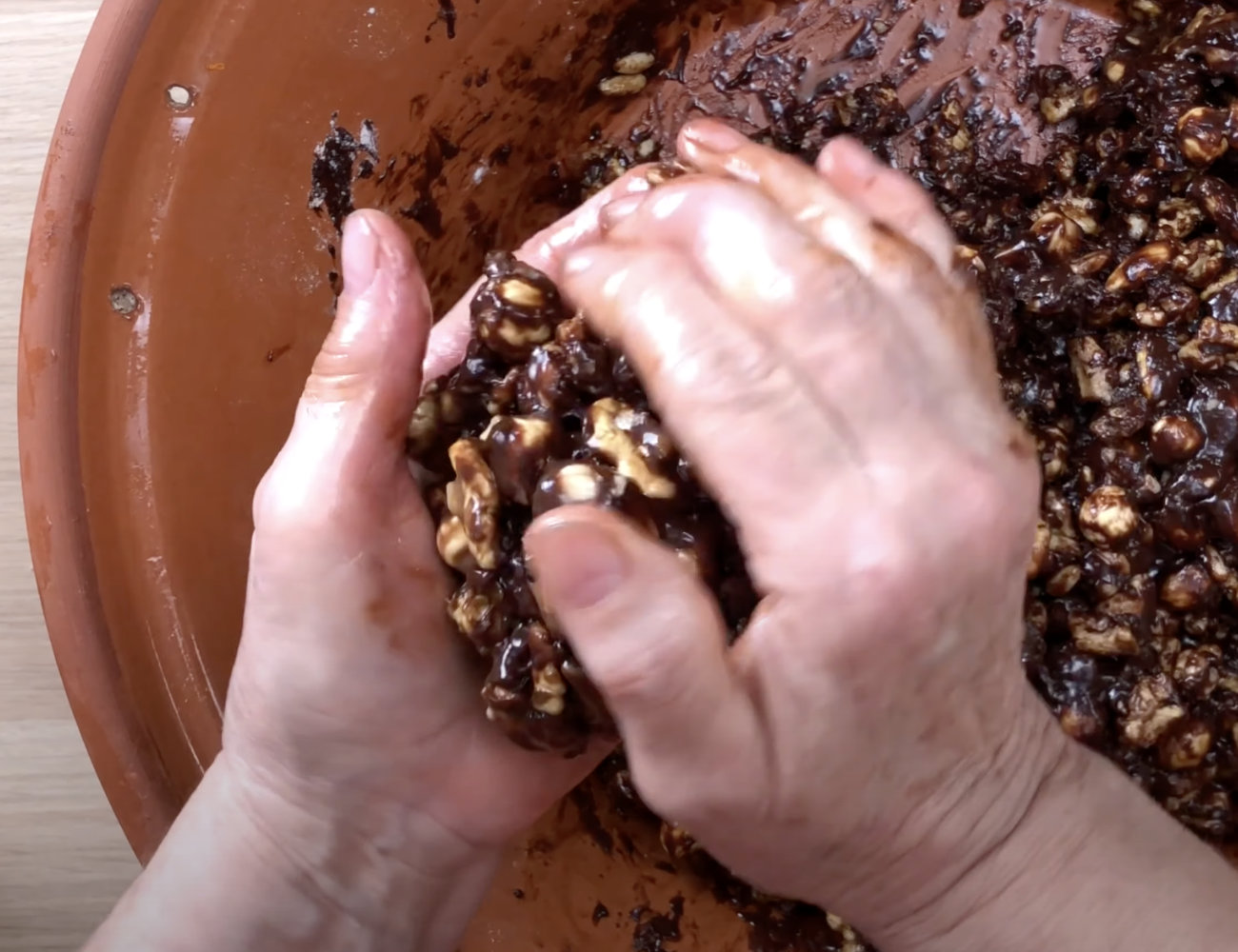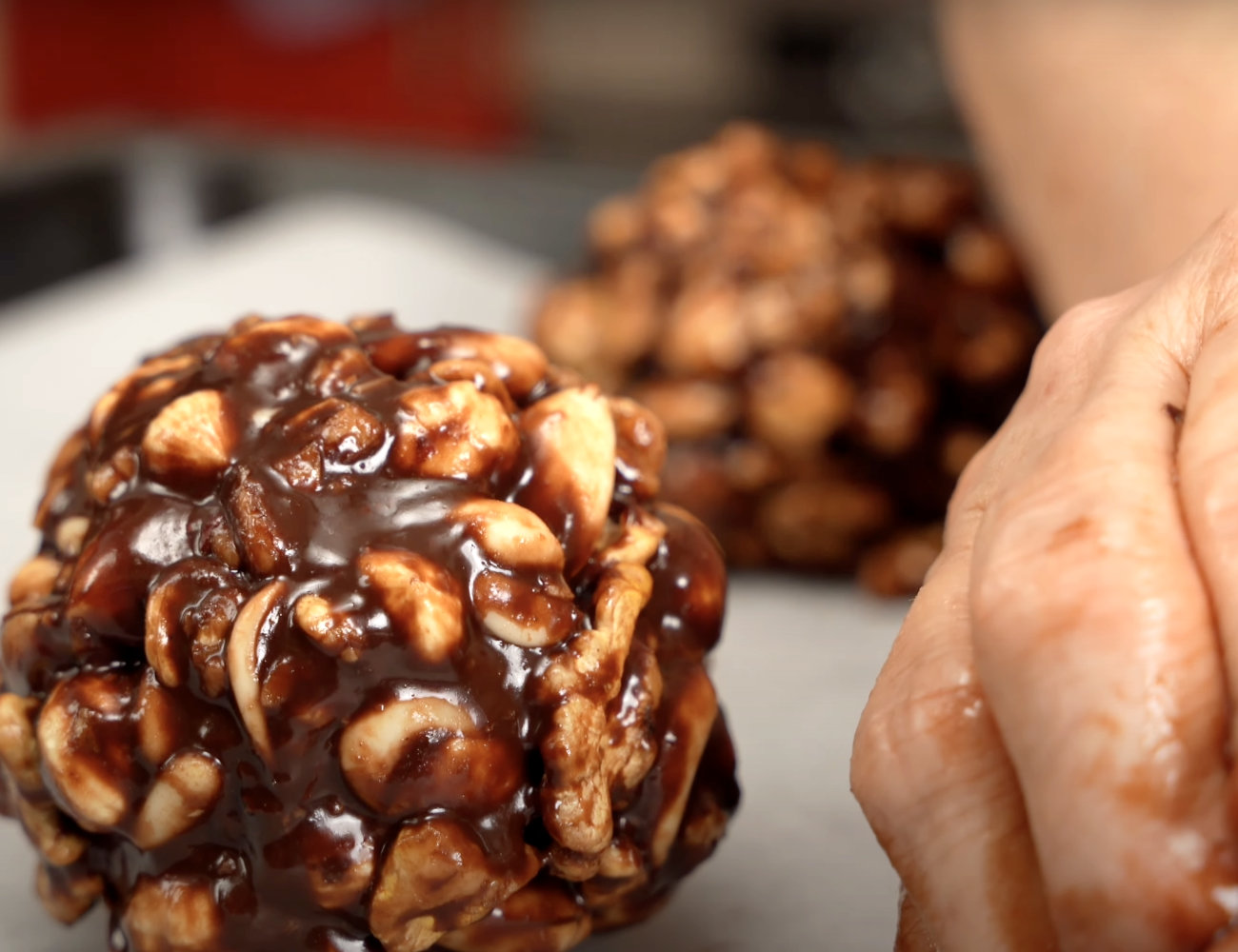 And it's into a static oven—375° F (190° C)— for 10-15 minutes!
---
Products and Ingredients We Use
Quality Ingredients for Making Panpepato!
Quality Dark Chocolate
The brand of dark chocolate you choose can make or break this dish. We usually use Italian chocolate (affiliate links below), however we'll also recommend some other brands that are of fine quality.
Fresh Raw Nuts (Toast Them Yourself)
Italy produces delicious nuts and we buy locally for our Panpepati! However, Italian nuts can be hard to get abroad. Quality California or Oregon nuts will do (affiliate links):
---
Panpepato Making Tips
Coaxing Them Into Shape After the Bake
Many panpepati have more flour in order to provide an additional binding agent. However, Nonna likes to preserve the super chocolatey quality of her Panpepato. If the Panpepati have pulled apart after baking, just use two large spoons (wet) to gently push them back into shape. They will hold that shape when they are cool.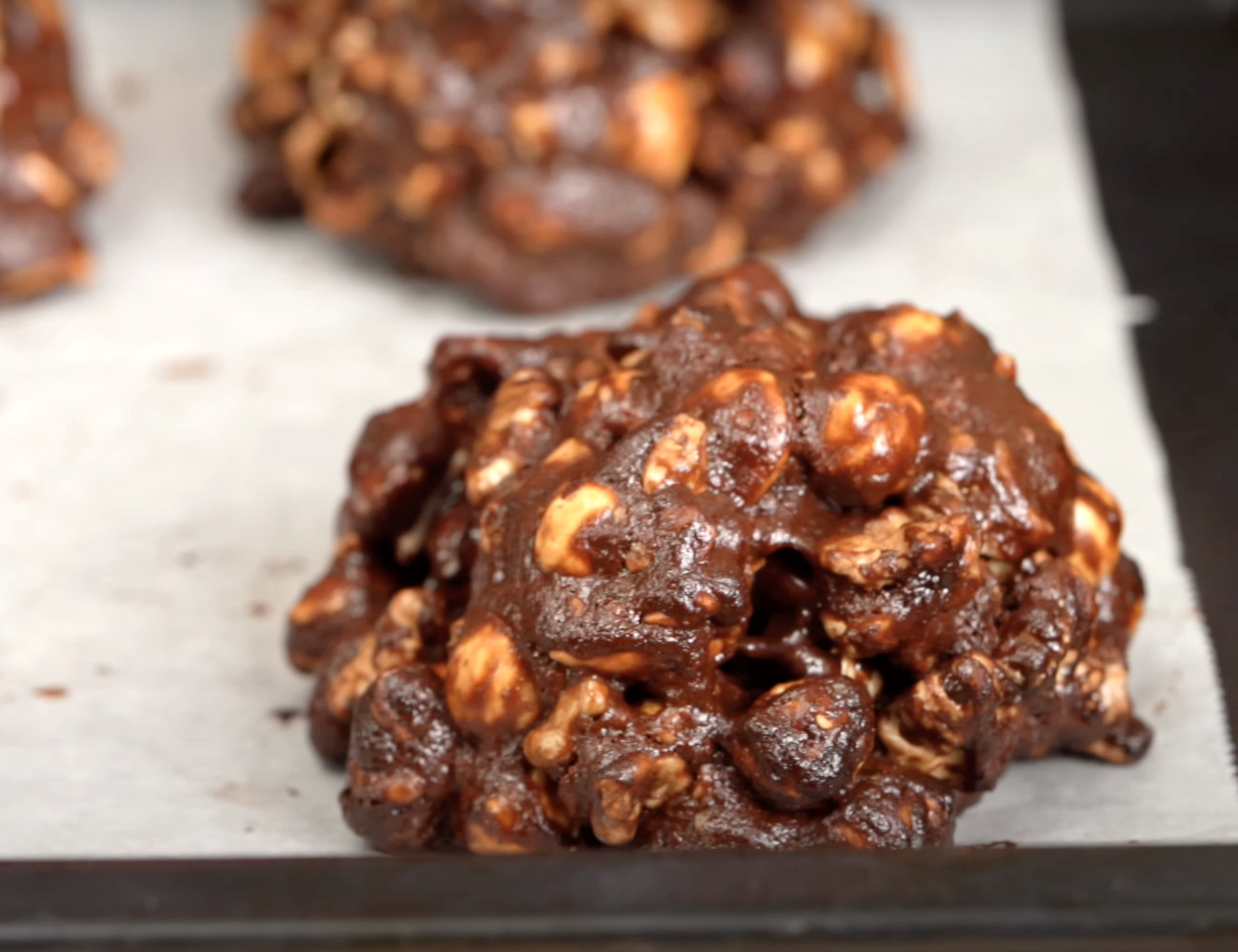 Once cool, add a piece of edible rice paper to the bottom of each one, and wrap each one in foil.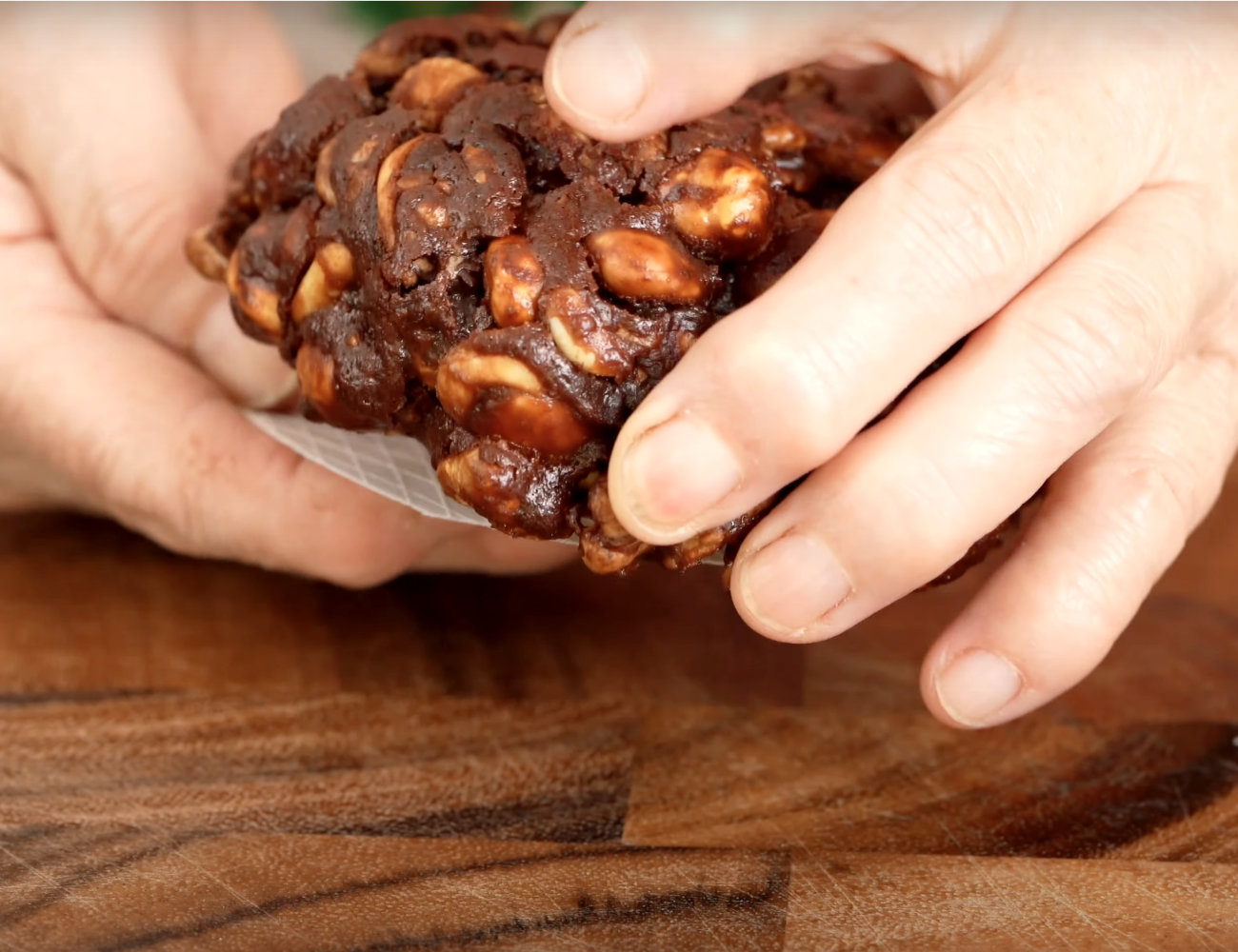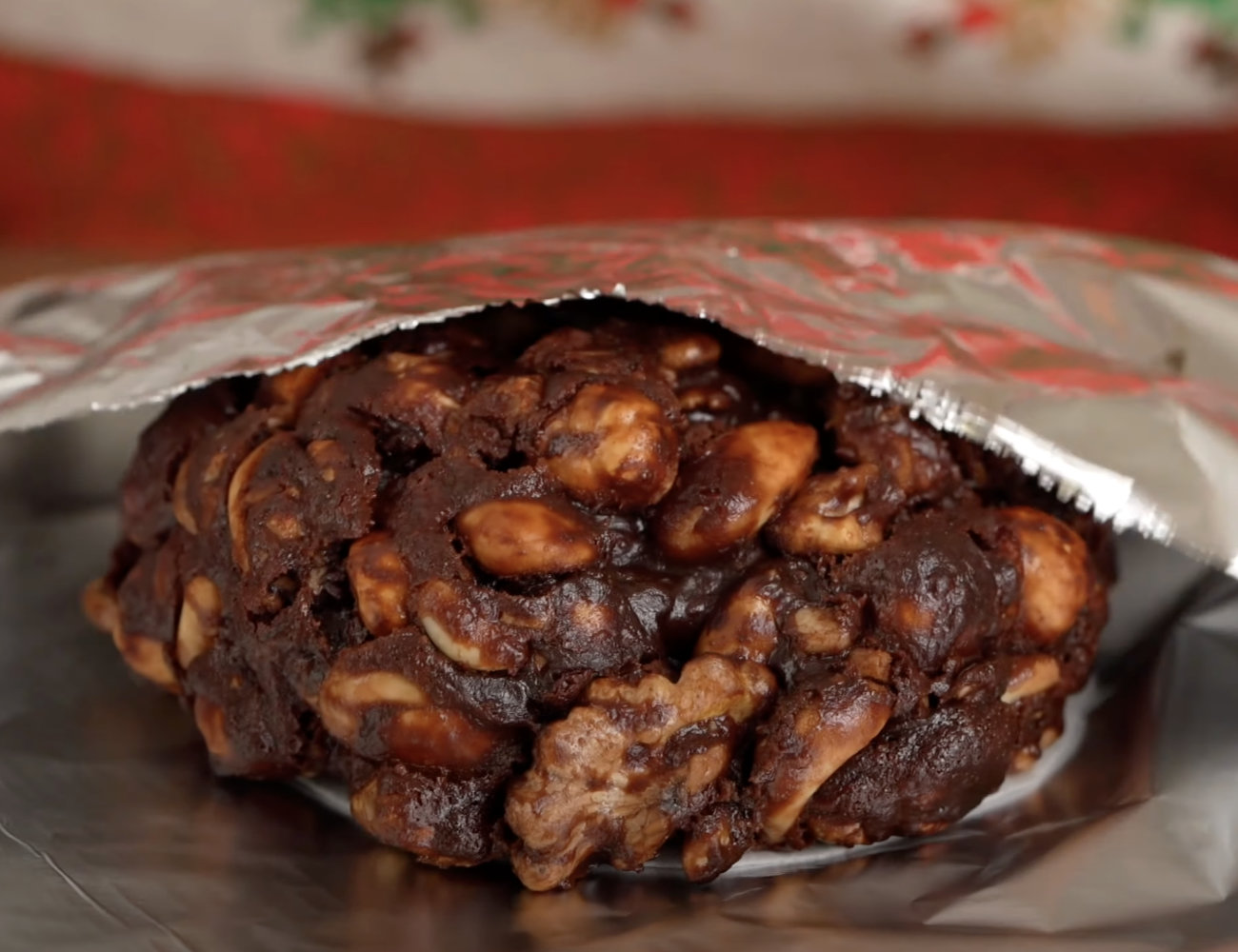 Panpepato as a Homemade Christmas Gift
Once the panpepati are cooled, you can simply wrap them in foil to store them. However, if you plan to give them as homemade Christmas gifts as the Umbrians often do, you may want to gift wrap them. Nonna likes to gift wrap hers in a decorative envelope, tied with a ribbon and finished with a bow!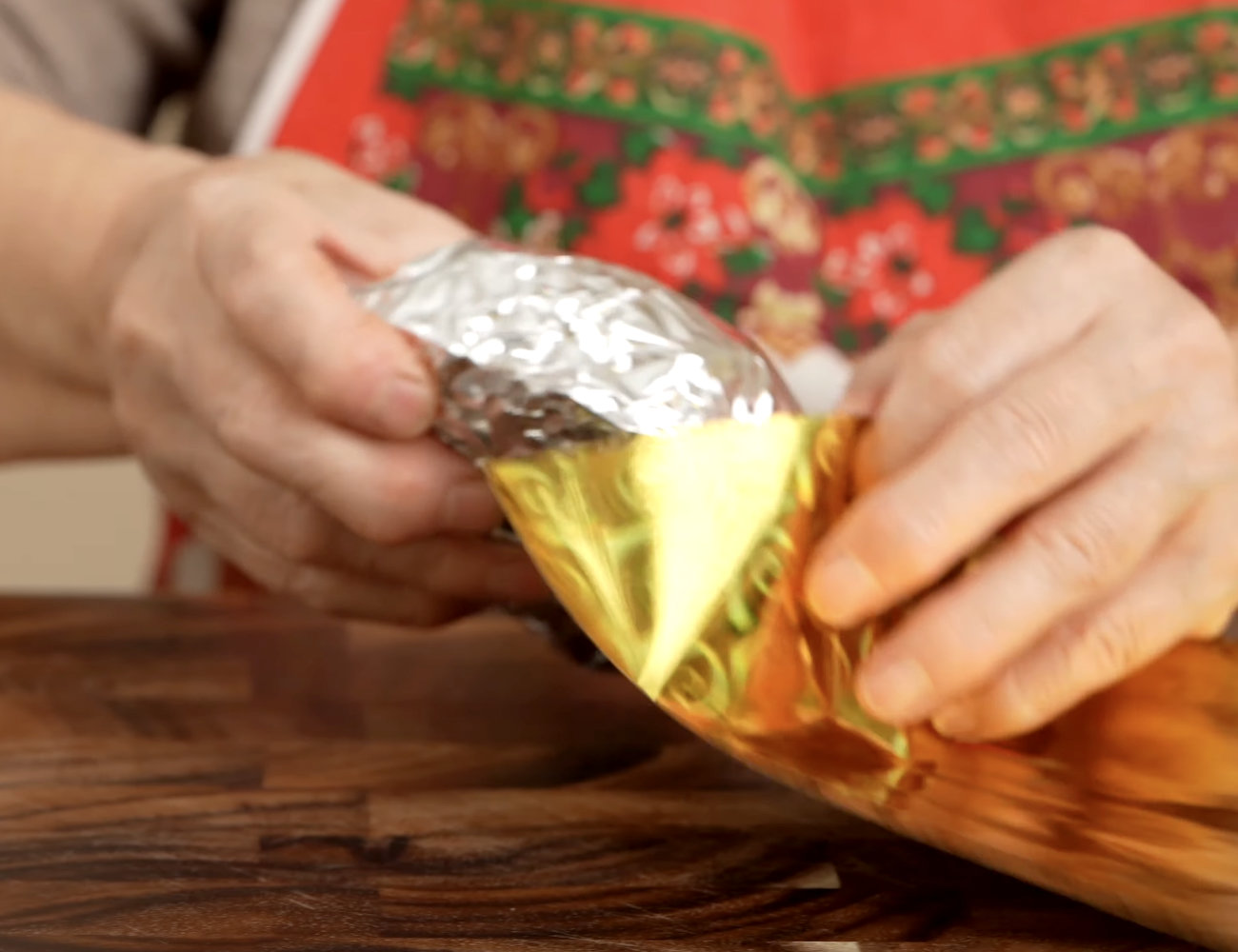 ---
As an Amazon Associate, we earn from qualifying purchases. This means at no extra cost to you, PIATTO may earn a small commission if you click the links and make a qualifying purchase.
---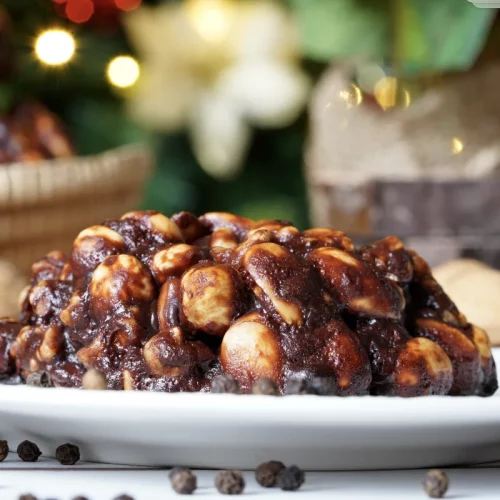 Panpepato Recipe: Italian Holiday Dessert with Chocolate, Nuts and Spices
Nonna Margherita's timeless Panpepato recipe—an Italian holiday dessert with chocolate, nuts, spices and dried fruit (if you dare!)
Equipment
very large mixing bowl

pan and bowl for double broiler

for melting the chocolate

baking sheet

edible rice paper

optional, for the bottoms of the panpepato

parchment paper
Ingredients
3

cups

walnuts

halved; untoasted

3 ½

cups

hazelnuts

toasted

3

cups

almonds

whole; toasted

¾

cup

pine nuts

untoasted

1

tbsp

sweet cocoa powder

1

tsp

cinnamon

1

tsp

nutmeg

1

tsp

coffee powder

instant coffee or espresso powder

1

tbsp

black pepper

freshly ground; or to taste

1

orange

just the zest

¾

cup

flour

all-purpose

12

oz

dark chocolate

shaved, chips, chunks or cut into small pieces

½

cup

honey

1

shot

coffee or espresso

or a small cup
Instructions
Toast the Hazelnuts and Almonds
It's best to toast the hazelnuts and almonds yourself for freshness. However, feel free to buy the nuts already toasted if you prefer. The walnuts should be added untoasted.

3 cups walnuts,

3 ½ cups hazelnuts,

3 cups almonds
Combine all of the Nuts
Combine in a very large bowl: walnuts, hazelnuts, almonds and pine nuts. 
Add the Spices
To the nuts, add: cinnamon, nutmeg, sweet cocoa powder (hot chocolate cocoa), a bit of espresso powder, and black pepper to taste. Here she's grating the zest of one orange to give the mixture a kick of citrus. 

1 tbsp sweet cocoa powder,

1 tsp cinnamon,

1 tsp nutmeg,

1 tsp coffee powder,

1 tbsp black pepper,

1 orange
Melt the Chocolate
Melt the chocolate with honey and a tiny cup of coffee or espresso. It's best to use the double boiler method to do this to avoid burning the chocolate.

12 oz dark chocolate,

½ cup honey,

1 shot coffee or espresso
Add the Chocolate and Flour
Pour the melted chocolate onto the nuts and give them a good mix!

Add the flour and mix it in thoroughly.

Flour is one ingredient that varies from recipe to recipe. Use more if you like a chewier panpepato, or follow Grandma's recipe for a version with chocolate that melts in your mouth! 
Preheat the Oven
Preheat the oven to 375℉ (190℃).
Shape the Panpepati
Fill a small bowl of water and wet your hands (to prevent the chocolate from sticking). Take a handful of the mix and shape it into a ball.

Space the balls on a parchment paper covered baking sheet. Continue shaping until all of the mix has been used. Bake in batches if needed.
Bake the Panpepati
Bake in a preheated oven at 375℉ (190℃) for 10-15 minutes.

After the bake, if any panpepato has started to pull apart, simply use the back of a spoon to gently press it back together. It will keep its shape as it cools.
Cool the Panpepati
Let the panpepati cool for about 4 hours before wrapping them for later or for gift giving. 

Add a circle of edible rice paper to the bottom of each panpepato to prevent sticking.

Wrap them in foil (if simply storing them at home).

Or, gift wrap them as holiday presents—just as the Italians in Umbria do for Christmas!
Notes
How to Make a Double Boiler at Home
Two Pots: A double boiler has two pots. One is larger and the other is smaller.
Water in Larger Pot: Fill the larger pot with water.
Heat Source: Place the larger pot on the stove or another heat source.
Smaller Pot on Top: Put the smaller pot on top of the larger one.
Heat Up: Turn on the heat. The water in the larger pot will get hot and create steam.
Steam Heats Smaller Pot: The steam from the hot water heats the bottom of the smaller pot.
Even, Gentle Heat: This gives you a gentle and even heat, perfect for melting chocolate or making sauces.
This setup is great for recipes that need careful heating without burning or sticking.