Many Pasta Cacio e Pepe video recipes are filmed outside Italy and don't represent traditional Italian cooking. Not this video! Filmed in Italy with fine Italian ingredients, we show you exactly how to prepare Spaghetti Cacio e Pepe the traditional way—just as it is done in Italy!
What will I learn in this video recipe?
In this PIATTO™ video recipe, we'll show you how to make the authentic Pasta Cacio e Pepe with spaghetti. This is a classic Roman dish, imitated worldwide by restaurants and Italian food lovers. The authentic Spaghetti Cacio e Pepe recipe is creamy, easy, fast and undeniably delicious.
Video Table of Contents
Want to watch just part of the cooking process? Skip to the part of the video recipe that you want to watch with this Table of Contents:
0:00 – intro
0:36 – ingredients
0:49 – grinding the pepper
1:25 – cooking the pasta (first phase)
1:38 – how much water to cook the pasta
1:48 – how much salt for the water
2:06 – toasting the pepper
2:34 – more cooking secrets
3:04 – cooking the pasta (second phase)
3:47 – secrets to making the pecorino sauce
4:33 – making the pecorino sauce
5:20 – adding the cheese
6:00 – the mantecatura
6:47 – dish is ready
6:57 – plating
8:12 – credits
Products We Used in this Video
People often ask us what products we use in our video recipes. From cookware to hard-to-find ingredients, we try whenever possible to share this information with you to help ensure your success in making these traditional Italian food recipes at home!
Heavy Stainless Steel Pan
The specific 3-ply stainless steel pan we used in this video recipe is no longer available. Here's a similar product of similar quality:
Salt and Pepper Grinder
Ideally, you grind the pepper fresh when making Cacio e Pepe in order to achieve the best flavor. This Thun pepper grinder was a gift and we love it! Thun is a very popular brand in Italy, for whimsical kitchen items as well as other types of gifts.
Products We Recommend
Spaghetti
In Italian cooking, choosing quality ingredients is everything. Of course, that starts with the pasta! Outside of Italy, pasta quality can vary drastically. There are a few respectable brands (De Cecco, Barilla) that are easily found in groceries that will give you an ok result.
However, in Italy we typically choose brands that we consider superior in both taste and texture. Here are some of our top choices:
As an Amazon Associate, we earn from qualifying purchases. This means at no extra cost to you, PIATTO may earn a small commission if you click the links and make a qualifying purchase.
Yes, we've got that too! You can print the recipe card for this Spaghetti Cacio e Pepe recipe below. All recipe cards feature:
Step-by-step written instructions
Imperial and metric quantities
Quantities for 2x or 3x the original recipe—for feeding a crowd!
Embedded Cacio e Pepe video!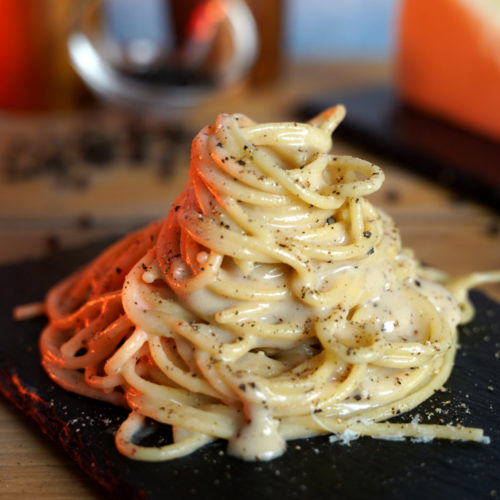 Spaghetti Cacio e Pepe Recipe
One of the most distinctive recipes that you will find in any Rome restaurant. This creamy sauce has just three ingredients: pecorino cheese and black pepper ("cacio" and "pepe") and pasta. The trick to achieving its unmatched flavor? Quality ingredients and few simple cooking tricks.
Ingredients
11

oz

spaghetti

dry is fine

1 ½

tbsp

black pepper

freshly ground at a medium coarse setting

7

oz

pecorino romano cheese

finely grated; use semi-hard if you can find it

6 ¾

cups

water

for cooking the pasta

coarse salt

to taste
Instructions
Prepare Ingredients
Freshly grate the pecorino with the finest setting available. You may use a food processor to do this quickly. Set aside.

7 oz pecorino romano cheese

Freshly grind the black pepper (1 ½ Tbs) using a medium-coarse setting. You can use a mortar and pestle if you prefer.
Toast the Black Pepper
Toast pepper in a large skillet over very low heat just until fragrant. Then, remove pan from the heat.

We recommend adding the pepper to a cold skillet, then turning the heat on low. Do not over toast! We don't want to create pepper gas 🙂
Cook the Pasta
In a medium-large pot, bring 6 ¾ cups of water to boil.

6 ¾ cups water,

coarse salt

Start cooking the pasta in this pot of water for just half of the cook-time indicated on the package for 'al dente' pasta—about 5 minutes. 
Simmer the Pepper
While pasta is cooking, add 2-3 ladles of the pasta water to the pan with the black pepper.

Return the pan to the heat, and simmer the black pepper in the water for 2 minutes. 
Finish the Pasta
When the pasta is halfway through the cook time, transfer the pasta to the pan with the pepper-infused water.

Add another ladle of hot pasta water to the pan—just enough to keep the pasta cooking. Finish cooking the pasta until it is al dente. 

In the meantime…
Make the Pecorino Sauce
In a bowl, add ½ cup (100 ml) of the hot pasta water to a cup or bowl. Let the water cool a minute or two, or until it has reached a temperature of about 140° F (60° C). Don't have a thermometer? See Notes…

Add this pasta water to the pecorino cheese. Mix thoroughly until you've achieved a smooth, thick paste— similar in appearance to a smooth ricotta cheese.
Add the Cheese Sauce
Remove the skillet with the cooked pasta from the heat. Drain any excess water so only a tablespoon or two of liquid remains in the pan. 

Add the pecorino paste to the pasta. Stir quickly with a pair of tongs until the paste is distributed throughout the pasta and has created a thick, creamy sauce (much like a bechamel). If the pasta seems a bit too watery, remember it will become denser after plating. 

Serve immediately!
Video
Notes
We'll say it again: Always use freshly ground black pepper in this dish to maximize the pepper flavor. Use a mortar and pestle to get a mix of fine and medium pepper grains, or use a medium-coarse setting on a pepper grinder.
Don't have a kitchen thermometer?
When making the pecorino cream paste for the sauce, let the hot pasta water sit for about 30 seconds before adding it to the cheese. Then, slowly drizzle it into the cheese, mixing continuously. 
We highly recommend just investing in a thermometer. They are cheap and will make otherwise tricky recipes very easy! However, the drizzle method will work in a pinch.
Why do I need to measure my pasta water?
By using less water to cook the pasta, we create a pasta richer in starch (from the cooking pasta). This starch allows us to create a creamy sauce— without adding heavy cream or another emulsifier to bind with the cheese.
The rule of thumb? Use just less than 2 cups (500 ml) of water for every serving of pasta to get the pasta water starchy enough for use in the next steps. When making pasta for four, that is 6 3/4 cups (1600 ml) of water.
Nutrition
Sodium:
620
mg
Calcium:
563
mg
Vitamin A:
214
IU
Sugar:
2
g
Fiber:
3
g
Potassium:
236
mg
Cholesterol:
52
mg
Calories:
485
kcal
Saturated Fat:
9
g
Fat:
15
g
Protein:
26
g
Carbohydrates:
61
g
Iron:
2
mg