This homemade spelt pizza dough recipe is highly digestible, low in gluten, very healthy and super tasty! Learn how to make this homemade spelt pizza from scratch —No stand mixer required.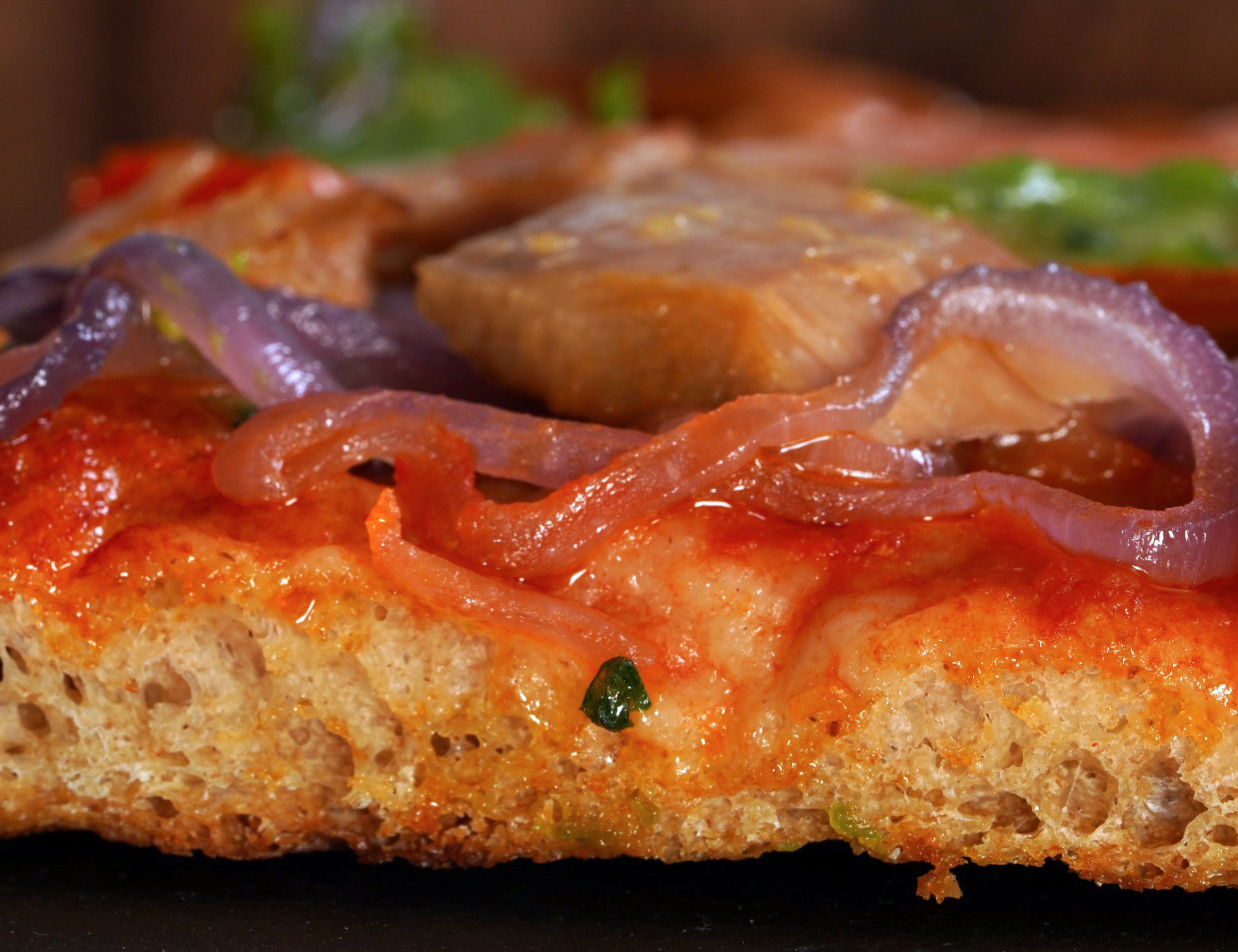 Watch the Video Recipe!
If you prefer to watch a video recipe, click on the video below.
Subscribe to our YouTube Channel
More video recipes? Subscribe to our YouTube Channel (it's FREE) and click the bell to get notifications when we release a new video recipe!
About Spelt Flour (AKA Farro)
Farro is one of the world's most ancient grains. It is a whole grain and one variety of farro is known as 'spelt.' Farro was the grain most used in ancient Roman times. However, it fell out of favor when the softer modern wheat variety arrived. This is because farro (spelt) have fewer grains per plant and are tougher to process into flour.
Is this spelt pizza dough healthy?
It's sooo healthy! Spelt is a whole grain and in our recipe we used the whole grain version of spelt. Spelt is naturally high in fiber, low in gluten and nutty and delicious in taste.
Is spelt flour easy to work with?
In general, whole grain flour is low in gluten. That makes it easy to digest and healthy. However, by adding just a tiny bit of higher gluten to our spelt pizza dough recipe, we achieve a pizza structure that's a bit softer than some of the other spelt dough recipes you'll find online.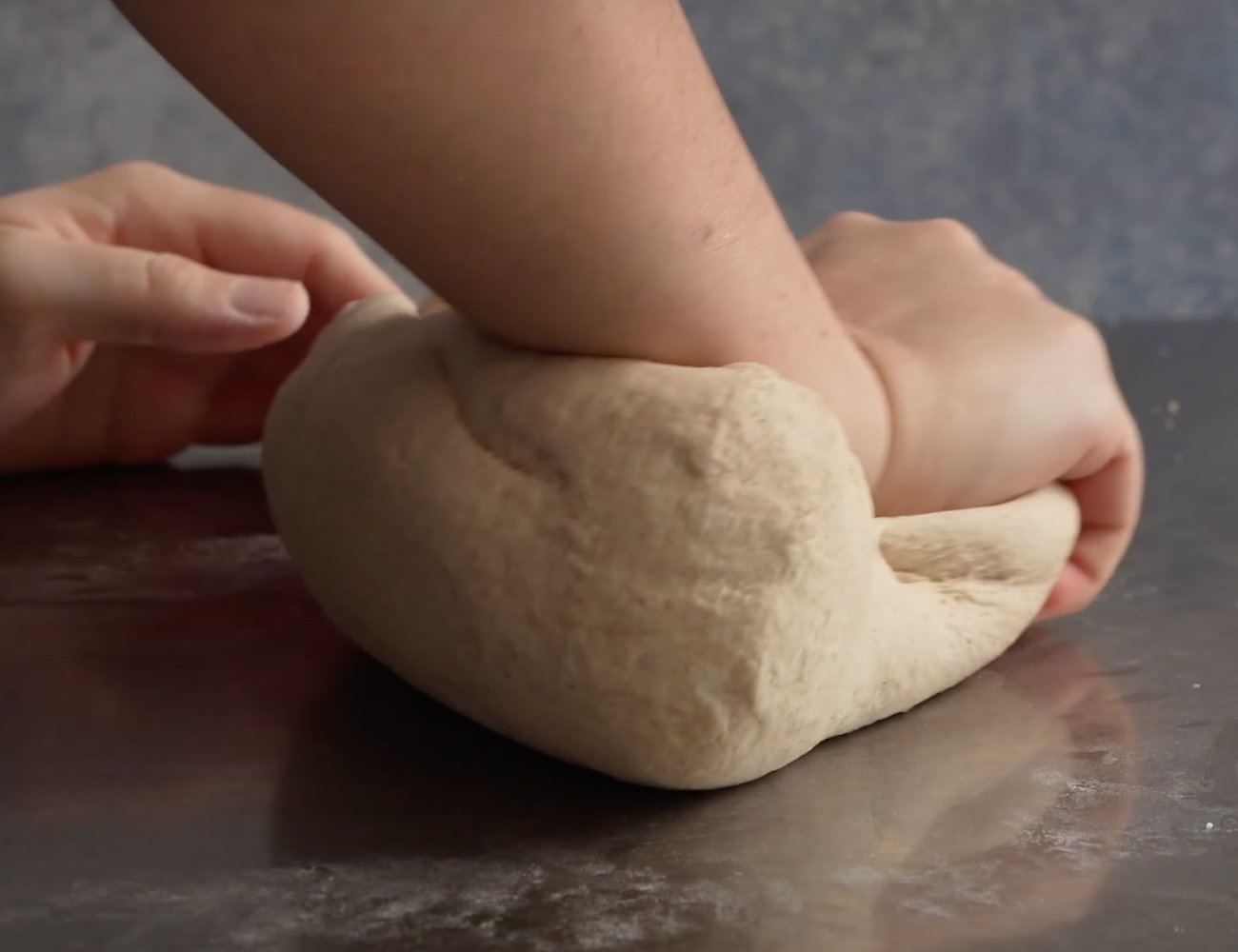 How to Make Spelt Pizza: Tips
Add the salt at the end.
Salt is known to inhibit yeast if it comes in direct contact. Since we need all of the rise we can get in this low gluten dough, we recommend adding the salt at the end once the dough is mixed together. This is a common strategy in some types of bread making.
Use a stand mixer if you've got one!
In our video recipe, we show how to knead spelt pizza dough by hand. However, a stand mixer with a dough hook will do a wonderful job of kneading— so use that if you have one!
Use a container for the rise that is the same shape as your pan.
Believe it or not, dough tends to maintain the shape that it rises into. That works in our favor because a dough that has leavened in a rectangular container will be easy to stretch into a rectangular pan. Using a circular pan to bake? Let the dough rise in a round bowl.
If you try to work against the shape that the dough has already taken during the leavening, it will be much harder to stretch!
Use semolina flour to stretch the dough.
One thing that can ruin a delicious homemade pizza is clumps of flour baked into the bottom. This gives a heavy, unpleasant texture to an otherwise delicious homemade pizza.
Instead, use a little semolina flour (which is coarser) to keep your pizza dough from sticking as you stretch it. Then, be sure to shake off any excess before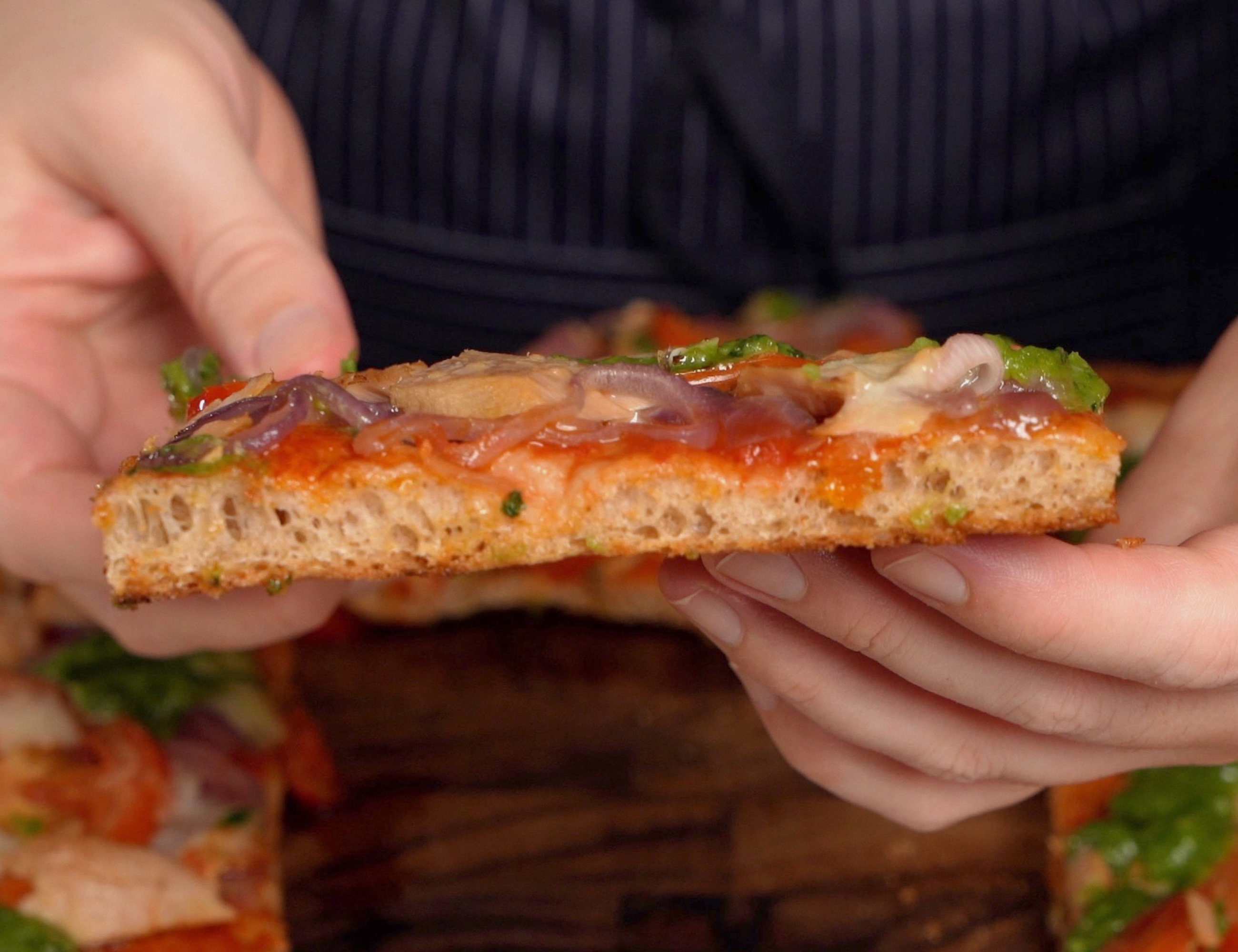 ---
As an Amazon Associate, we earn from qualifying purchases. This means at no extra cost to you, PIATTO may earn a small commission if you click the links and make a qualifying purchase.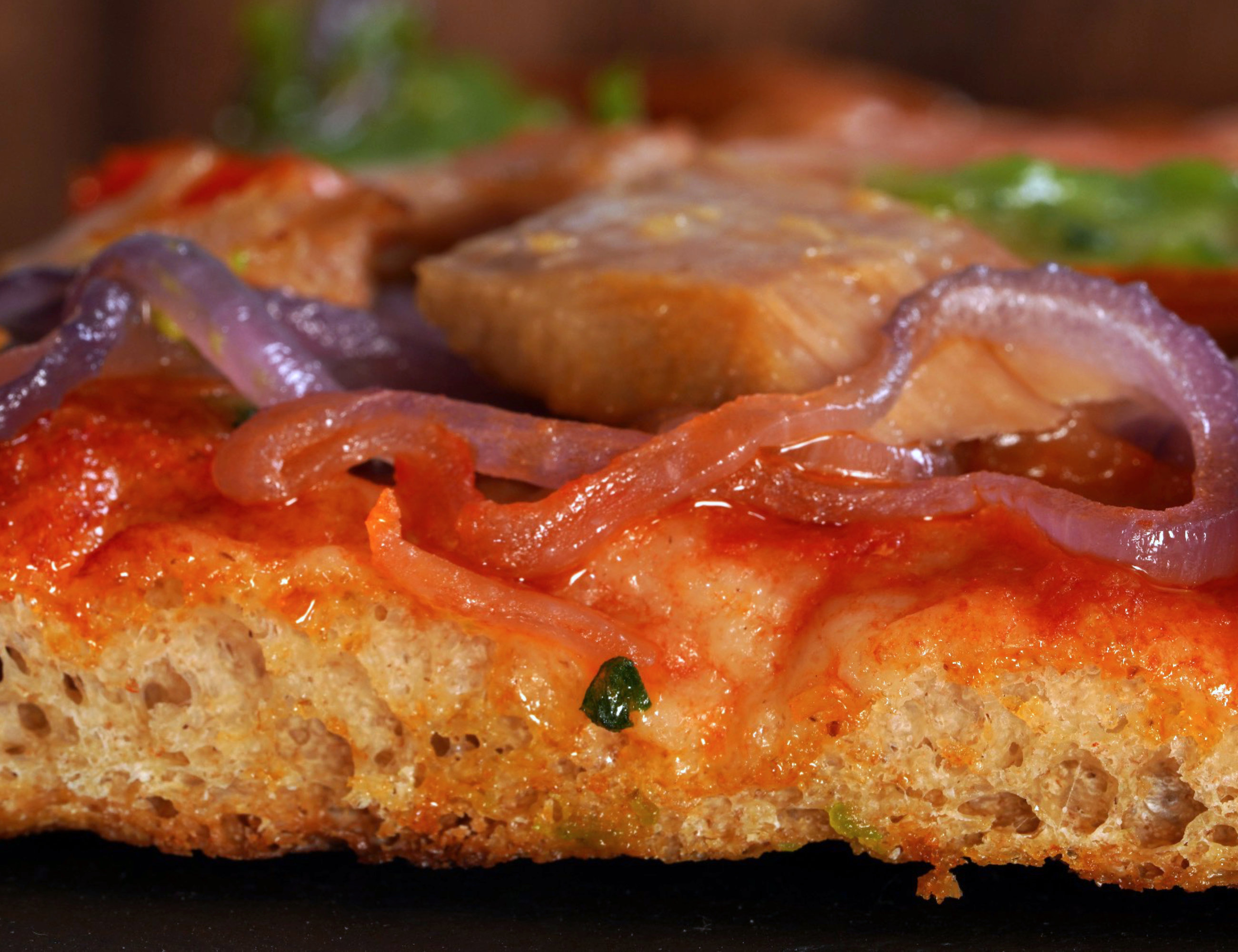 Spelt Pizza Dough Recipe
Italy's healthiest pizza dough! Learn how to make a tasty spelt pizza dough recipe with one of Italy's ancient grains. Soft inside and crispy outside. It will change your mind about whole grain pizza dough!
Equipment
1 large mixing bowl

or stand mixer with a dough hook

2 baking sheets

16" x 12" (30 cm x 20 cm) – or one larger pan
Ingredients
18

oz

whole grain spelt flour

"farina di farro" in Italian

3.5

oz

bread flour

or all-purpose flour

5

oz

semolina flour

1

tbsp

fine salt

2

g

dry yeast

2

cups

water
Instructions
Make the Dough
Combine all of the flours and the yeast in a large mixing bowl or stand mixer.

Add the water and mix until the dough is shaggy. Mix in the salt.

Knead the dough until it is smooth and elastic

Let dough rest (covered) for 30 minutes.

Fold the dough like a letter, then like a book. Continue these folds until the dough can no longer be folded.
First Dough Rise
Cover and let the dough rise for 4 hours. Place the dough in a container that is the same shape as the shape of your final baking tray. So, choose a rectangular container if you want to bake your pizza as a rectangle.
Second Dough Rise
Lightly flour a work surface. Let the risen dough fall onto the work surface, keeping its shape. Divide the pizza dough in two (if making two pizzas).

Stretch each piece of dough to the size of the baking tray. Use your fingertips to press around the entire outside of the dough. Then use your fingertips to press inside to stretch the dough out. Shake off any loose flour…

Transfer each piece of stretched dough to a baking tray. Adjust the dough to fill the tray. Cover both trays (with plastic wrap, damp tea towel or a container). Let the dough rise another 3 hours.
Bake the Pizza
Preheat the oven (static) to 575° F (300° C). Bake the pizzas one at a time, in the lower ⅓ of the oven. Or, bake directly on a baking stone sitting on the bottom of the oven floor. Add any toppings you'd like (except cheese or ingredients that should remain fresh). Bake for 9 minutes.

Add any cheese and return to the oven until golden— about 3 minutes.
Video
Notes
How to Use a Baking Stone (for this recipe)
To use a baking stone to bake your pizza, place the baking stone on the oven floor or on a rack in the lower 1/3 of the oven. 
Preheat the stone as the oven preheats. Place the baking tray with the pizza directly on the stone. This should provide an even, high-heat bake.
---