Are you on the hunt for the best all purpose kitchen knife? In this guide, we give you a comprehensive rundown of what to look for when choosing the best kitchen knife for beginners or home pros. Whether you are buying for yourself or shopping for gift for that special someone who needs a knife upgrade, you'll walk away with confidence in your purchase. Let's go!
---
Watch the Video Guide!
In this video, we demonstrate how to select the best all purpose kitchen knife. You'll learn what criteria to consider and a few basic knife skills to last you a lifetime. Plus? We put the Nakano Mito Santoku all purpose kitchen knife to the test by slicing and dicing our way through a wide range of vegetables.
---
How to Choose the Best All Purpose Kitchen Knife for a Home Kitchen
The best kitchen knife is the one that can handle most daily tasks with ease. That means we need an all purpose kitchen knife that works for everyone in your home that cooks (right or left handed) and can slice and dice common vegetables. An all-purpose knife should be able to break down the meats and fish that are commonly prepared in home kitchens. In short, we need to consider the following:
Practical and Durable Blade: We want a sharp blade that won't chip or rust.
Durability: We want a knife that will last generations, without breaking under the pressure of daily use.
Easy Maintenance: A quick wash and dry should be all that's regularly required.
Ease of Use: Is easy and comfortable for anyone using the knife in your kitchen, regardless of which hand or knife techniques they prefer.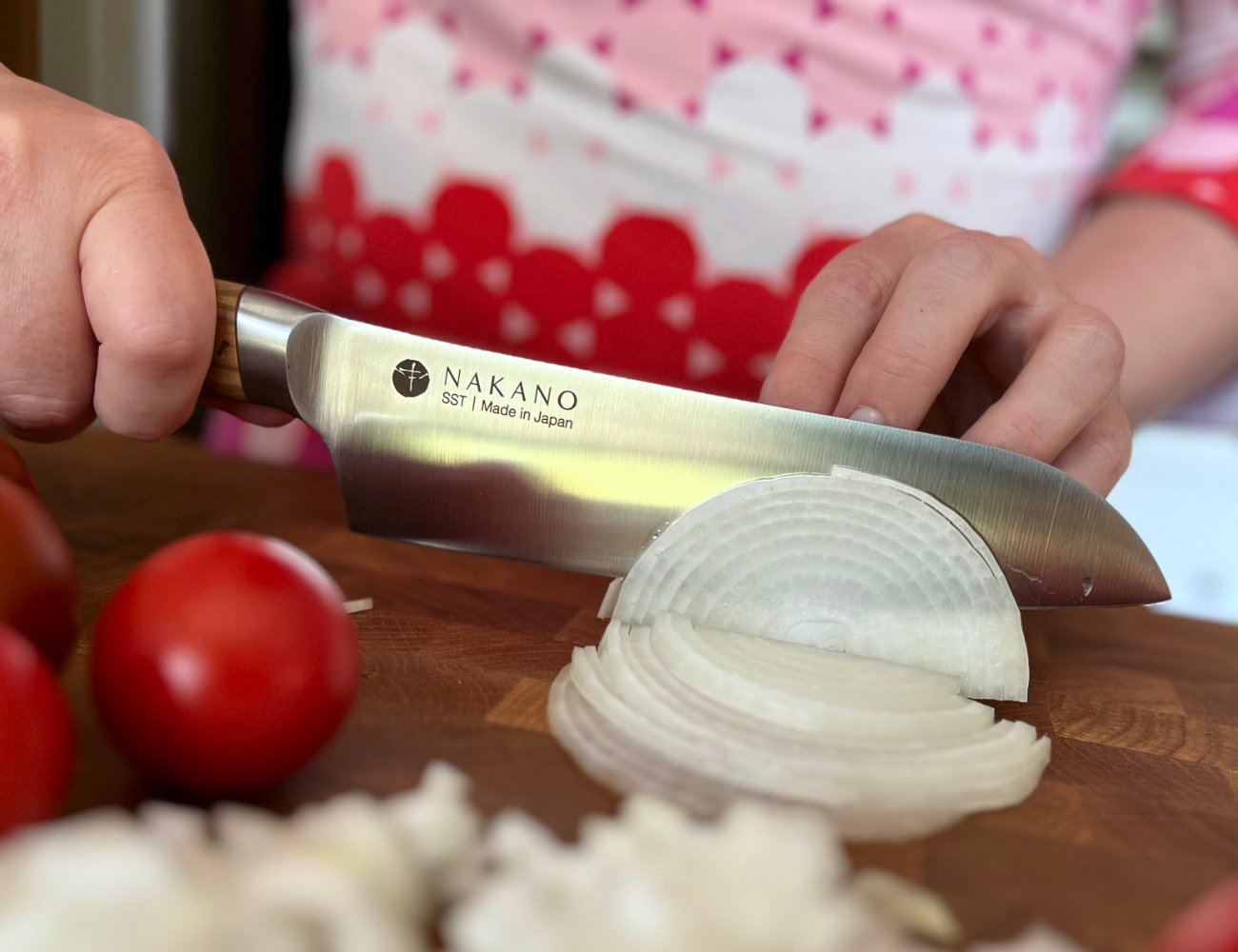 Blade Material: Choose High Carbon Stainless Steel
High-Carbon Stainless Steel: This hybrid material combines the razor-sharp edge retention of carbon steel with the rust-resistance of stainless steel. It's your best bet for a blade that remains sharp but won't rust.
Why we think the best kitchen knife should have a blade of high carbon stainless steel:
Durability: High levels of carbon increase the steel's hardness, making it more durable and less prone to deformities.
Corrosion Resistance: The stainless component offers resistance against rust and corrosion, prolonging the knife's lifespan.
Edge Retention: High-carbon steel retains its sharpness longer, reducing the frequency of sharpening.
Flexibility: High-carbon content allows for a certain level of flexibility without compromising on the blade's strength. This flexibility can be advantageous in tasks like filleting.
Affordable
It's pretty easy to find a quality, high carbon stainless steel knife under $100—even the Nakano Mito Santoku we've featured in our video is in the $80 range (before any discounts).
Low Maintenance
High carbon steel is considered a good blade material, but it's more prone to rusting than high carbon stainless steel. You should still clean and dry your blade quickly to play safe, but honestly we've never had a high carbon stainless steel knife rust.
Less Prone to Chipping or Breaking
While higher carbon steel blades and ceramic blades can arguably offer an even sharper blade, these blades are prone to chipping and breaking. In contrast a high carbon stainless steel blade maintains its sharp edge but is less brittle—making it more durable with less maintenance.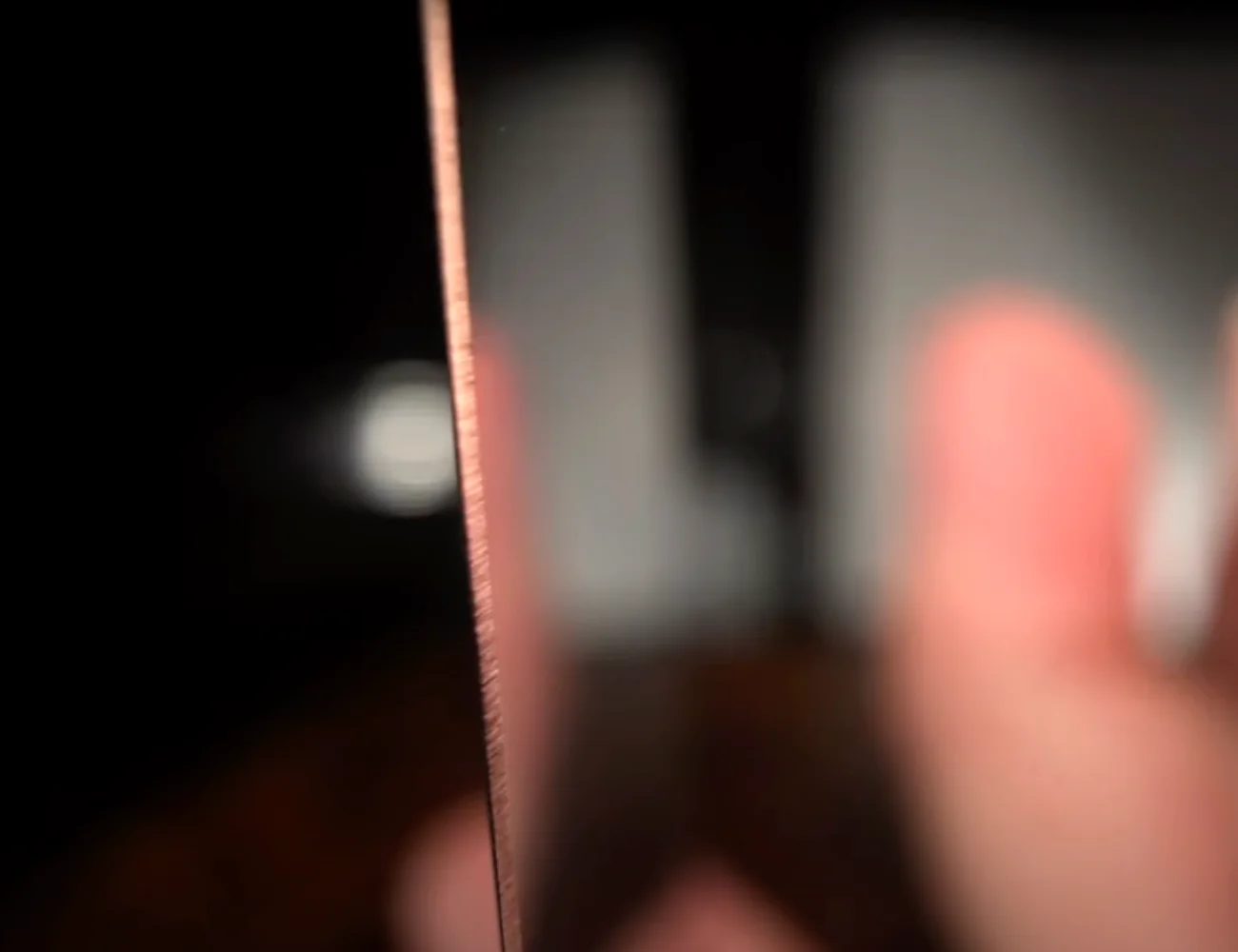 ---
Blade Bevel: Choose Dual Bevel
One bevel blades (traditional to Japanese knives) have razor edges that are unparalleled. However, the dual bevel more commonly found in Western blade designs serve both right and left-handers in your kitchen. So, unless you are buying a knife for just one person to use, the best all purpose knife for your kitchen is the one that serves everyone who uses it.
---
Blade Curvature: Choose an East/West Fusion Blade
To understand why blade curvature matters, you need to understand that there are different ways to hold and use an all purpose knife. A traditional all purpose Japanese knife has an extremely flat edge to the blade. To slice or chop, one uses a straight, downward cut. This style of knife is called a Santoku design and these knives tend to be shorter, lighter and thinner than the knives commonly created in the West.
Flat Japanese Santoku Blade = Straight, Downward Cut
Curved Western Blade = Rocking Cut
A blade (like the Nakano Mito Santoku below) is a mix of Western and Santoku blades. The blade is relatively flat, but does curve slightly at the tip. This is enough of a curve to allow the knife user to use either a straight cut or rock chop motion.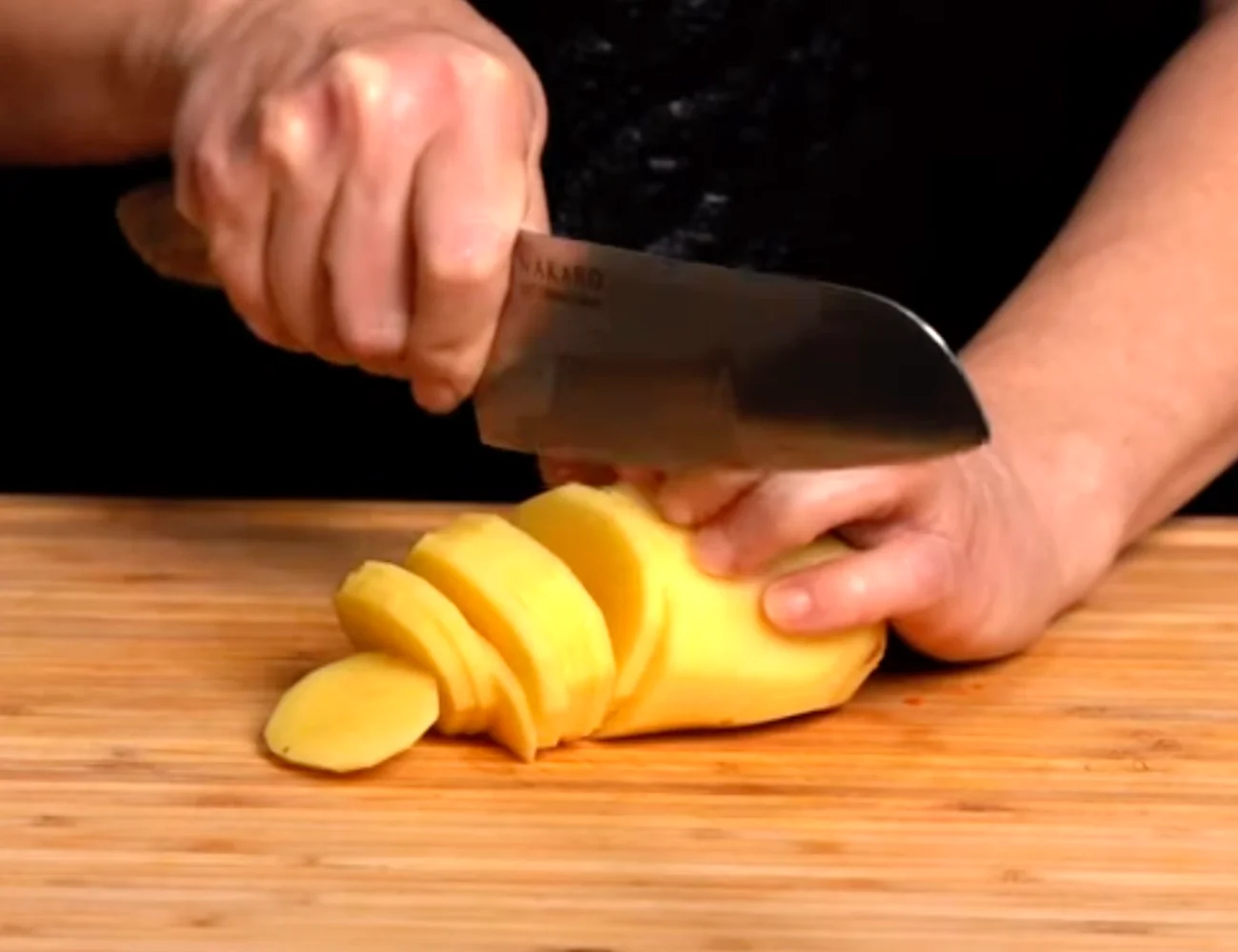 Rockwell Hardness: 58-60 is Ideal
The Rockwell hardness scale measures a material's resistance to indentation, giving you an objective idea of how well your all purpose kitchen knife will withstand the test of time and use. The best kitchen knives usually have a Rockwell Hardness between 58-60, striking a balance between sharpness and durability—remember that overly hard and sharp knives can be more brittle, less flexible and prone to breaking.
---
Knife Weight and Balance
Tang: Full Tang Optimizes Balance and Control
Tang denotes the prong or shank that extends from a blade and can be concealed within or extend through the handle. Full-tang knives, where the metal extends the full length of the handle, are generally considered the most robust and balanced. This design feature means the blade extends fully into the handle, optimizing balance and control. The full tang ensures that your knife can handle more forceful tasks without the risk of the blade snapping from the handle. It also provides even weight distribution across the knife. This balance is particularly beneficial for precision tasks and can reduce hand fatigue during prolonged use.
Generally full-tang knives are expected to outlast a partial-tang or rat-tail tang knife.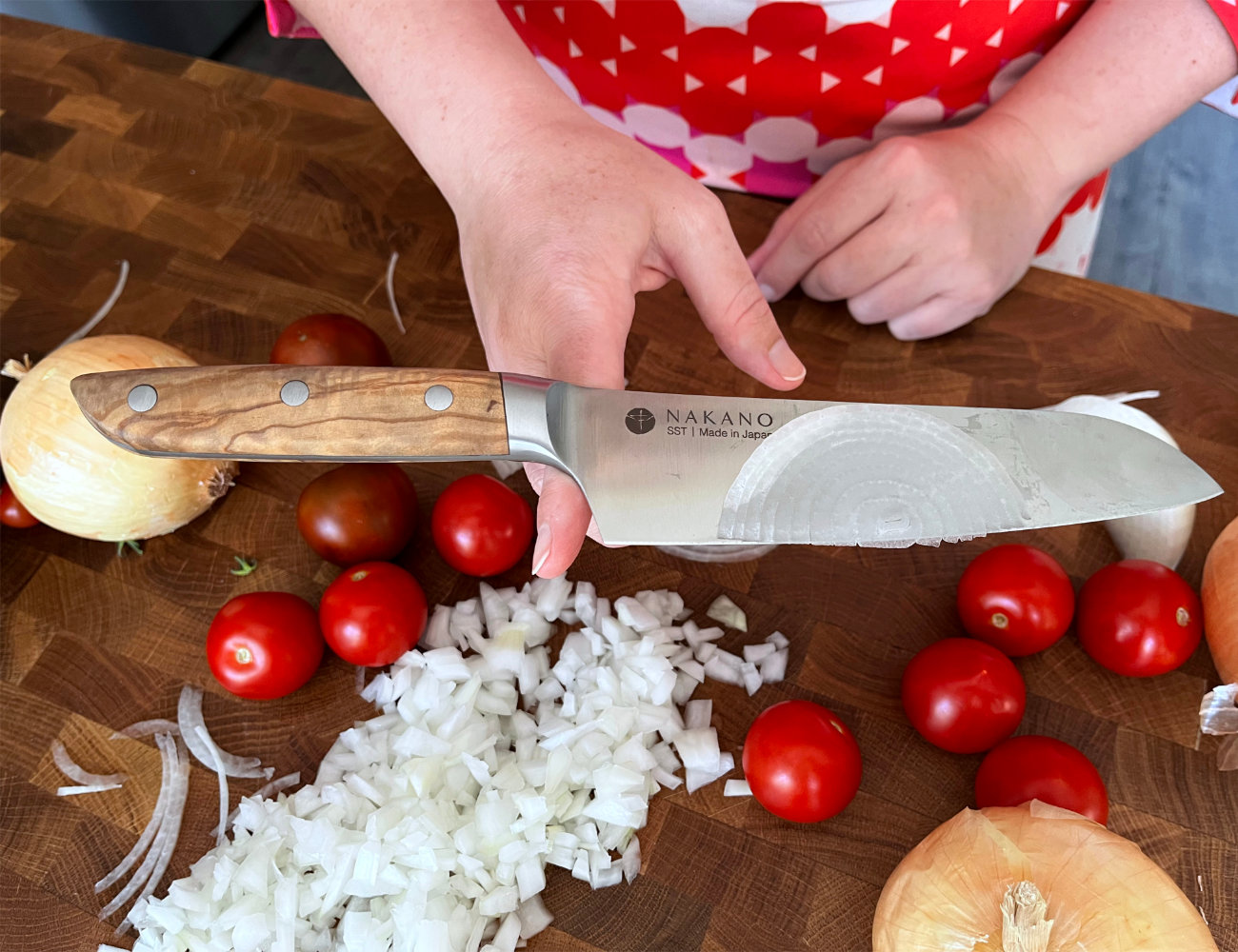 ---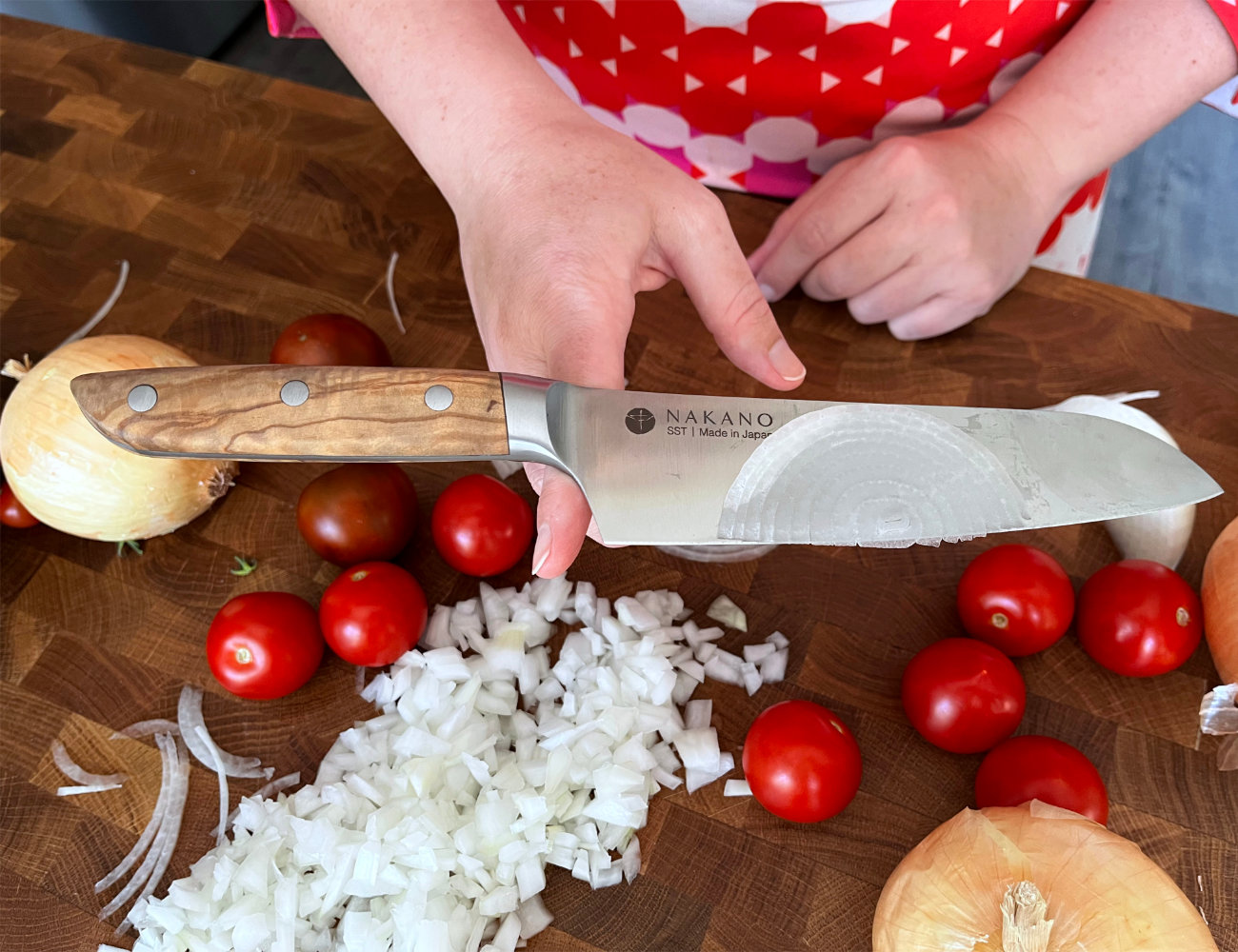 Get 10% Off!
Use discount code 'piattorecipes' at checkout for 10% off!
---
Check out Nakano's full knife collection, including the Mito Santoku shown here (affiliate link)!
Nakano has generously offered PIATTO™ supporters a discount on their products. Shop their collection and use the discount code 'piattorecipes' at checkout for 10% off your purchase.
---
In summary? Here's what we look for when choosing the best kitchen knife for all-purpose uses:
High Carbon Stainless Steel Blade
Dual Bevel Blade
Western Style Santoku Knife (supports East and West chopping methods)
Rockwell Hardness of 58-60
Full Tang
---
As an Amazon Associate, we earn from qualifying purchases. This means at no extra cost to you, PIATTO may earn a small commission if you click the links and make a qualifying purchase.
---