A traditional Tuscan beans recipe (Fagioli all'Uccelletto) with sage, white beans (cannellini) and borlotti beans—use pinto if you can't find these beans.
Traditionally, Tuscans use olive oil in this dish and they are considered vegetarian. However, in the video below, we replace the olive oil with another special Tuscan ingredient: the world's HEALTHIEST LARD (of 'cinta senese')!
The video recipe was inspired by the beloved Italian Western 'They Call Me Trinity' (in Italian, the film literally translates to: "They Called Him Trinity") with Bud Spencer and Terence Hill, so you can also think of them as Cowboy beans.
Want more Tuscan dishes? Check out our Florentine Steak recipe!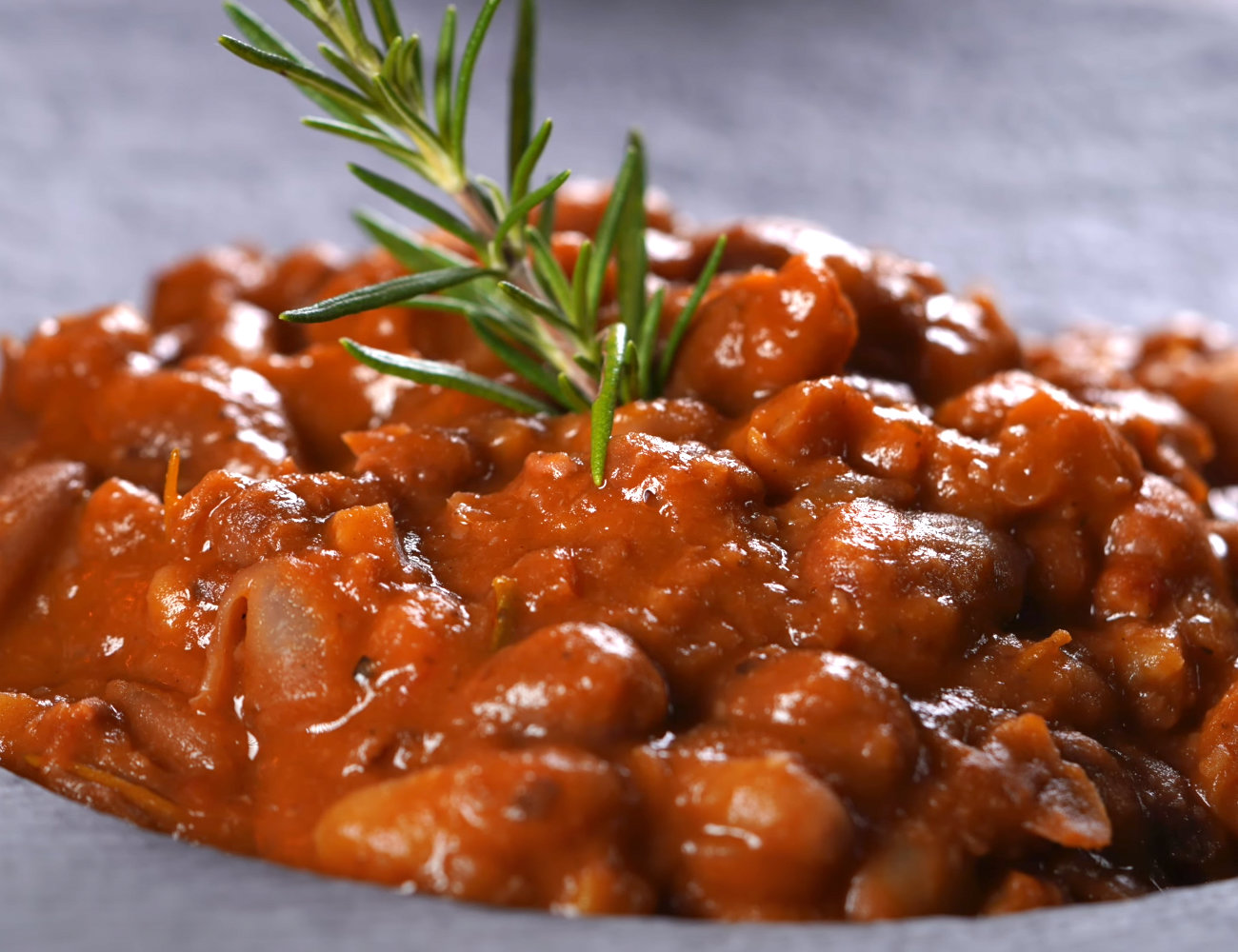 Watch the Video Recipe!
Learn how to make this authentic Tuscan Beans recipe in this video, filmed in Italy:
Subscribe to our YouTube Channel
More video recipes? Subscribe to our YouTube Channel (it's FREE) and click the bell to get notifications when we release a new video recipe!
Authentic Tuscan Beans: Tips
There's no one recipe we could find that is considered definitive for this recipe in Tuscany. However, the main ingredients are: onion, celery, carrot and Tuscan herbs. The fresh herbs typically used are a mix of sage, rosemary and thyme.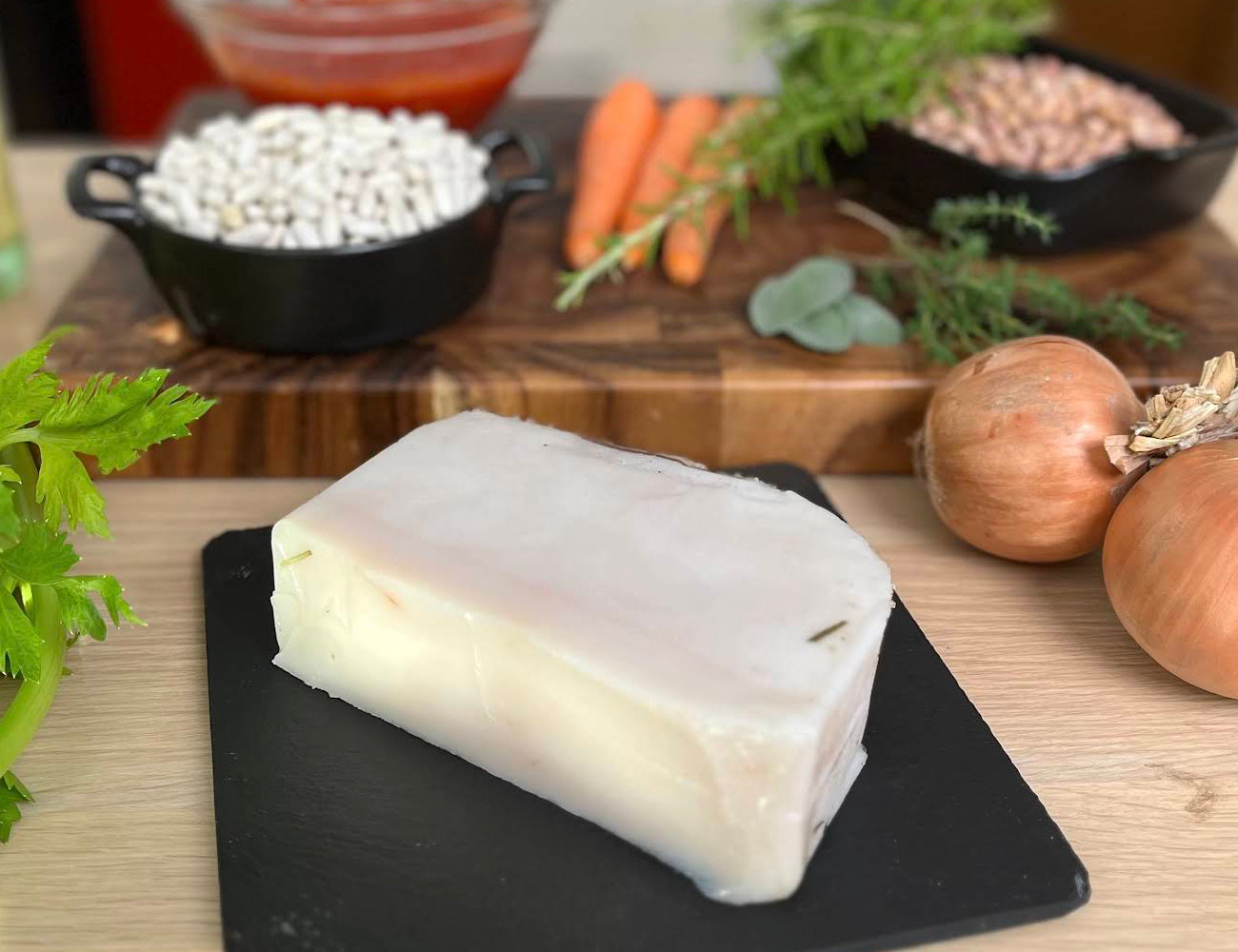 Olive Oil or Lard?
Traditionally, this dish is considered vegetarian and calls for olive oil. In this recipe we give you the alternative of using the famous Tuscan Italian ingredient called Lardo di Colonnata di Cinta Senese.
We chose to add this special ingredient because it is literally the world's healthiest lard! Neat, huh? It is chock full of unsaturated fats—yes, you read that right—as well as omega-3 and omega-6.
Even in Italy, lard or animal fat in general was more widely used than olive oil. Mainly the rich could afford olive oil. If you can find Lardo di Colonnata di Cinta Senese, we highly recommend you try it in this dish! It makes the beans extra creamy and tasty.
Can't find borlotti beans?
We know borlotti beans can be difficult to find outside of Italy. Use pinto beans instead, or simply use all white beans (cannellini beans).
Dry Beans or Canned Beans?
You can use either dry beans or canned beans. Bring all of the liquid over from the canned beans and some of the water from the dry beans.
Of course, dry beans need to be pre-cooked before using them in this recipe. So, canned beans are better if you are in a hurry.
---
As an Amazon Associate, we earn from qualifying purchases. This means at no extra cost to you, PIATTO may earn a small commission if you click the links and make a qualifying purchase.
---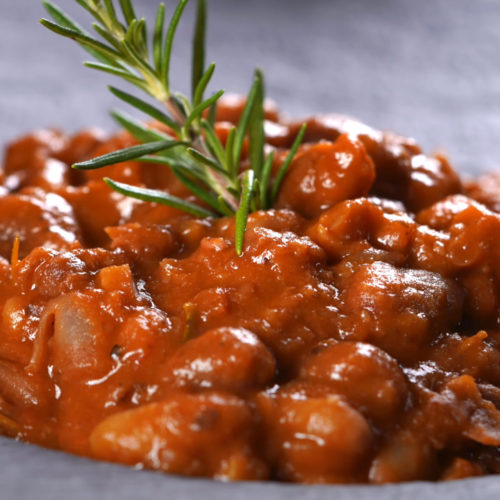 Tuscan Beans Recipe with Sage, White Beans and Borlotti Beans
This authentic Tuscan Beans recipe is faithful to the Tuscan tradition. Creamy and delicious, you can use either olive oil and they become vegetarian. Or, use the famous healthy Tuscan lard as we did!
Equipment
1 large pot or dutch oven
Ingredients
18

oz

cooked bean (white beans + borlotti or pinto)

or use 500 g of dry beans

3

medium

carrots

4

ribs

celery

2

whole

onion

8.5

oz

crushed tomato pulp

Use whole canned tomatoes and crush yourself for best results

10

tbsp

olive oil

or lard (diced) —preferably the healthy 'lardo di colonnata di Cinta Senese' 🙂

½

cup

dry white wine

Pinot Grigio or similar

4

sprigs

fresh rosemary

4

leaves

fresh sage

4

sprigs

fresh thyme

2

pinches

fine salt

or to taste! Remember canned beans usually have salt already

1

pinch

black pepper

or to taste
Instructions
Prepare the Ingredients
Cut the peeled carrots into a few large pieces.

Cut the celery into a few large pieces.

Dice the lard (if using in place of olive oil)
Sauté the Onion
Add the fat you've chosen (olive oil or lard) to a large skillet over medium-low heat.

Sauté the onion in the fat with half the herbs (rosemary, sage, thyme). Leave the herbs whole. Sauté the onion until it is translucent.

De-glaze the pan with the white wine. Cook until the wine has mostly evaporated.
Slow Cook the Beans
Transfer the onion with all of the de-glazed fats and juices to a dutch over (or similar pot). Bring over the whole herbs as well.

Add to the pot with the onions: the beans (with liquid), crushed tomato, the big pieces of carrot and celery and the rest of the whole sprigs of herbs. Give everything a good mix.

Bring the beans to simmer over low heat. Cover the beans and cook them for 30 minutes.

Remove the lid and continue simmering the beans for another hour. Simmer until the beans have reached the desired creamy consistency.Discard the whole pieces of carrot and celery. Also discard the whole sprigs of herbs and sage leaves.
Video
Notes
Can't find Borlotti Beans?
Use pinto or just use white beans (cannellini beans).
Can I buy canned crushed tomatoes to make the sauce fresh?
Traditionally, the tomato sauce 
Sure! However, we typically prefer to buy whole canned tomatoes, remove the seeds and any water, and crush the tomatoes ourselves. In Italy, most serious cooks know that canned crushed tomatoes or tomato pulp tend to be less sweet than whole canned tomatoes of the same brand.
Isn't lard unhealthy?
Normally, yes. We would typically use olive oil to sauté the onion for these beans. However, if you can find the special Tuscan lard we discuss in the article for this recipe, give it a try! It is uniquely composed of unsaturated fats, omega-3 and omega-6!