A 'poor man's' ragù from Naples, Ziti alla Genovese (sometimes called Pasta alla Genovese) is a classic Sunday sauce recipe. With slow-cooked onions and tender stew beef, this pasta sauce is hearty comfort food. Traditionally served with a pasta called Neapolitan ziti in Italian, you can use these long ziti noodles (broken into thirds) or a shorter ziti.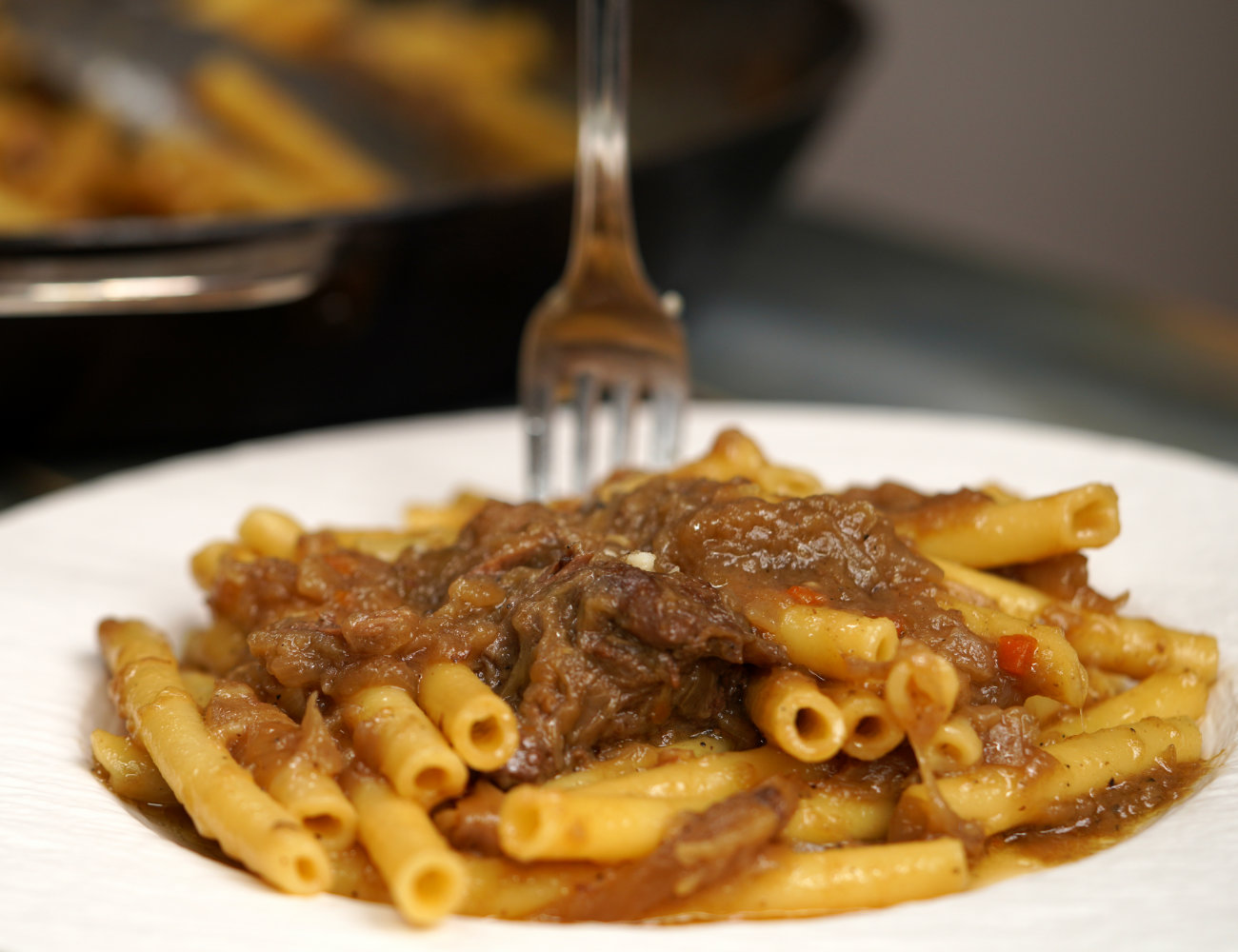 ---
Watch the Video Recipe!
Pasta alla Genovese (Ziti alla Genovese) in English:
---
Subscribe to our YouTube Channel
More video recipes? Subscribe to our YouTube Channel (it's FREE) and click the bell to get notifications when we release a new video recipe!
---
How to Make Pasta alla Genovese (like Nonna Lulu)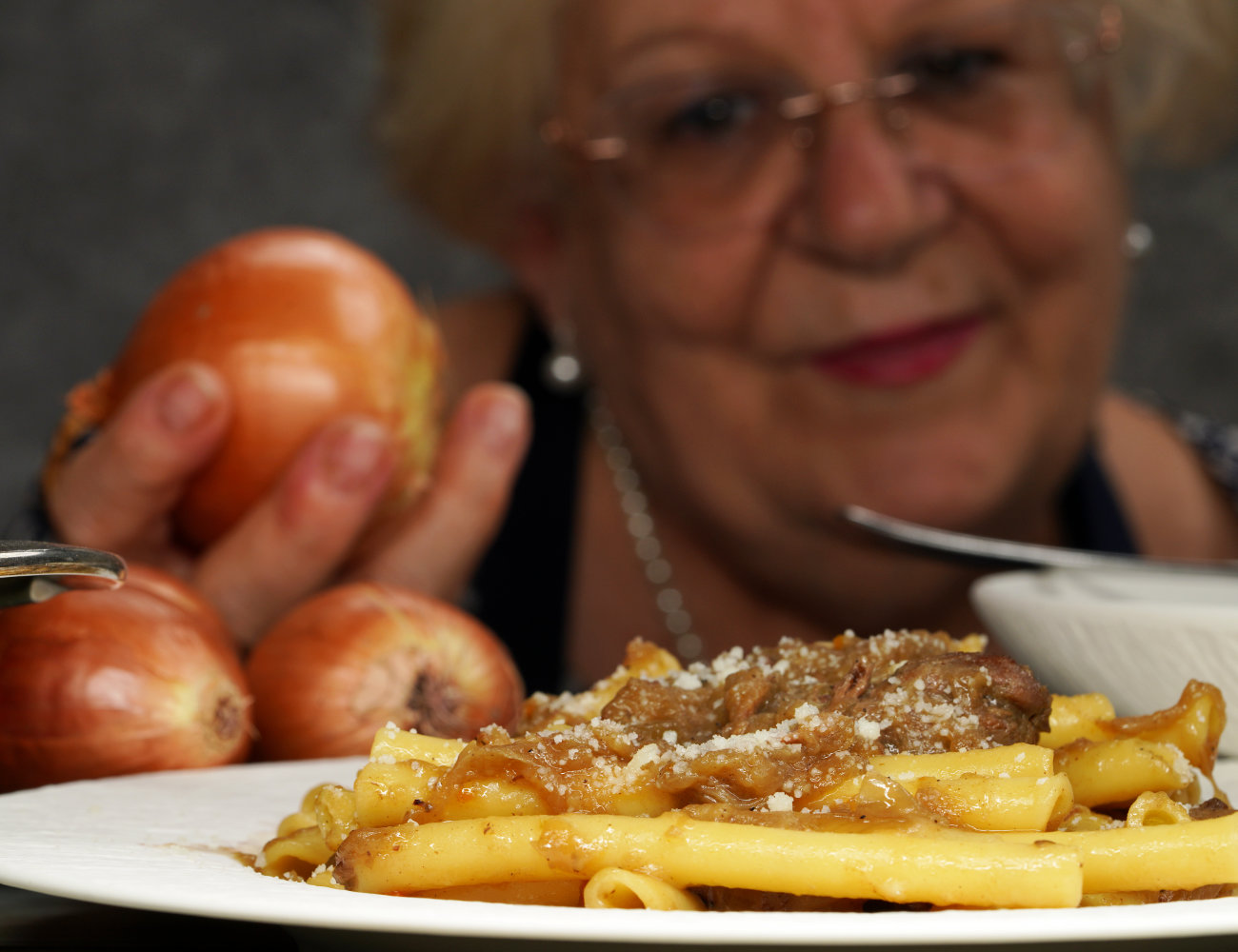 Like so many traditional Italian pasta recipes, this Ziti alla Genovese recipe is considered a poor man's dish. It has very few ingredients and doesn't cost much to make. All you need in some olive oil, carrot, celery, a bunch of onions and your favorite stew beef (like beef chuck).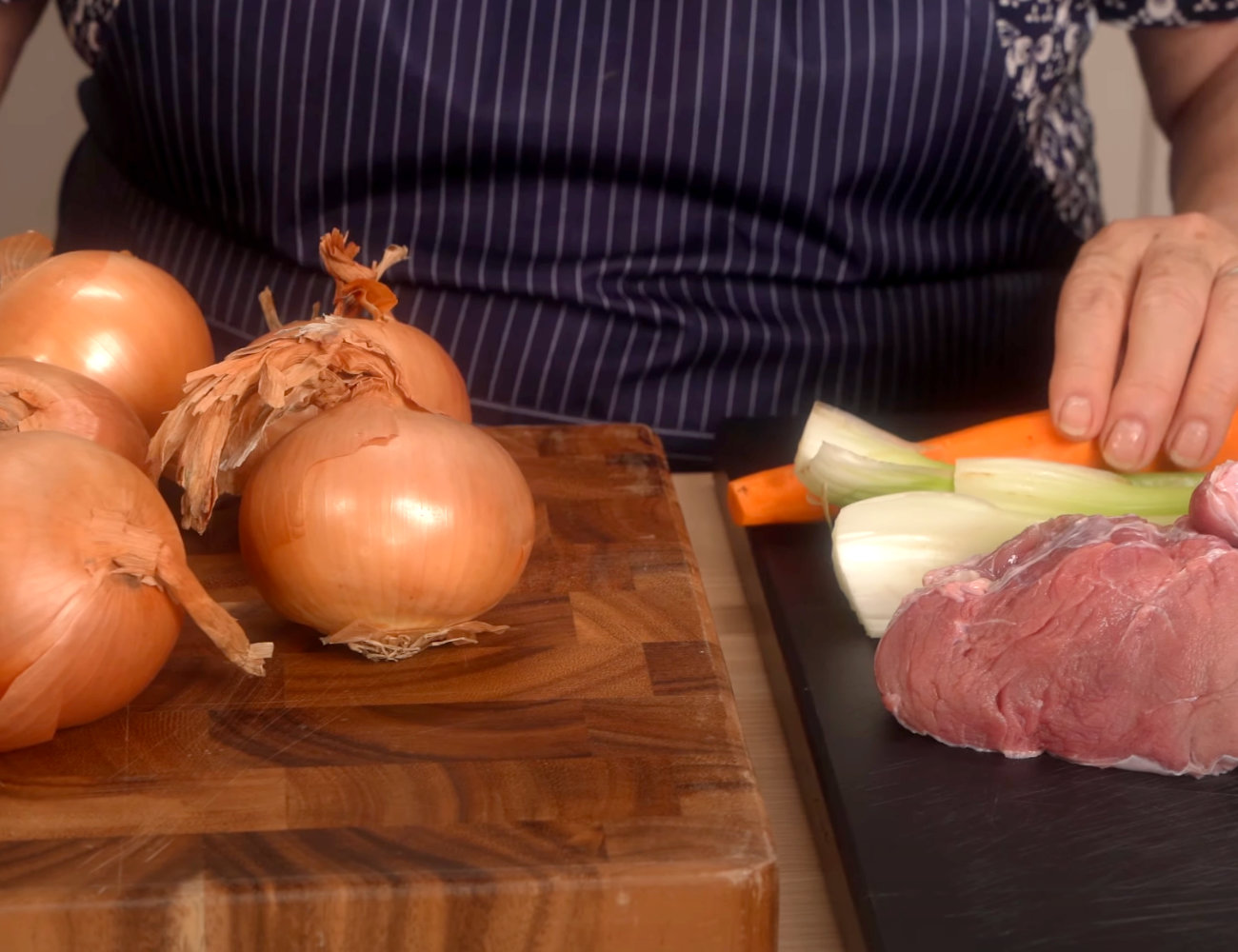 The magic is in the the slow cooking (3 hours!) and preparation. You'll want to brown the beef in large pieces before adding it to the veggies for that slow simmer. Grandma Lulu always prefers to use lard for this job, though you could also use clarified butter or olive oil.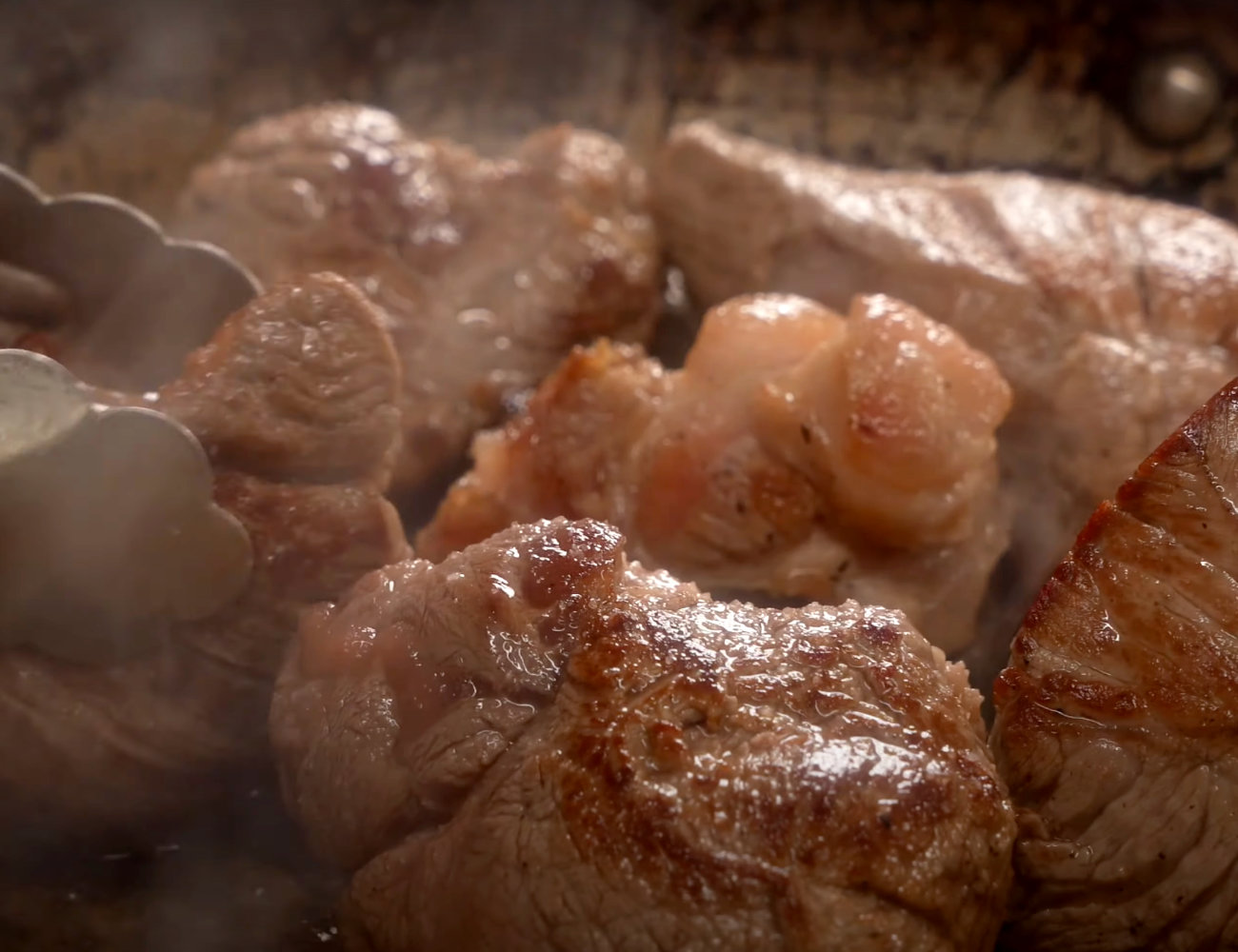 Grandma likes to use a splash of white wine to deglaze the pan and pull all of that delicious umami meat droppings into the final sauce. However, you can skip this step if you don't have the wine.
Once the meat is ready, it goes into the pot along with the minced carrot and celery and bitesize onions. You need to add enough water to the pot to just cover the ingredients. Then, cover the pot (here our favorite Staub dutch oven) and let the sauce simmer for 3 hours! (affiliate link)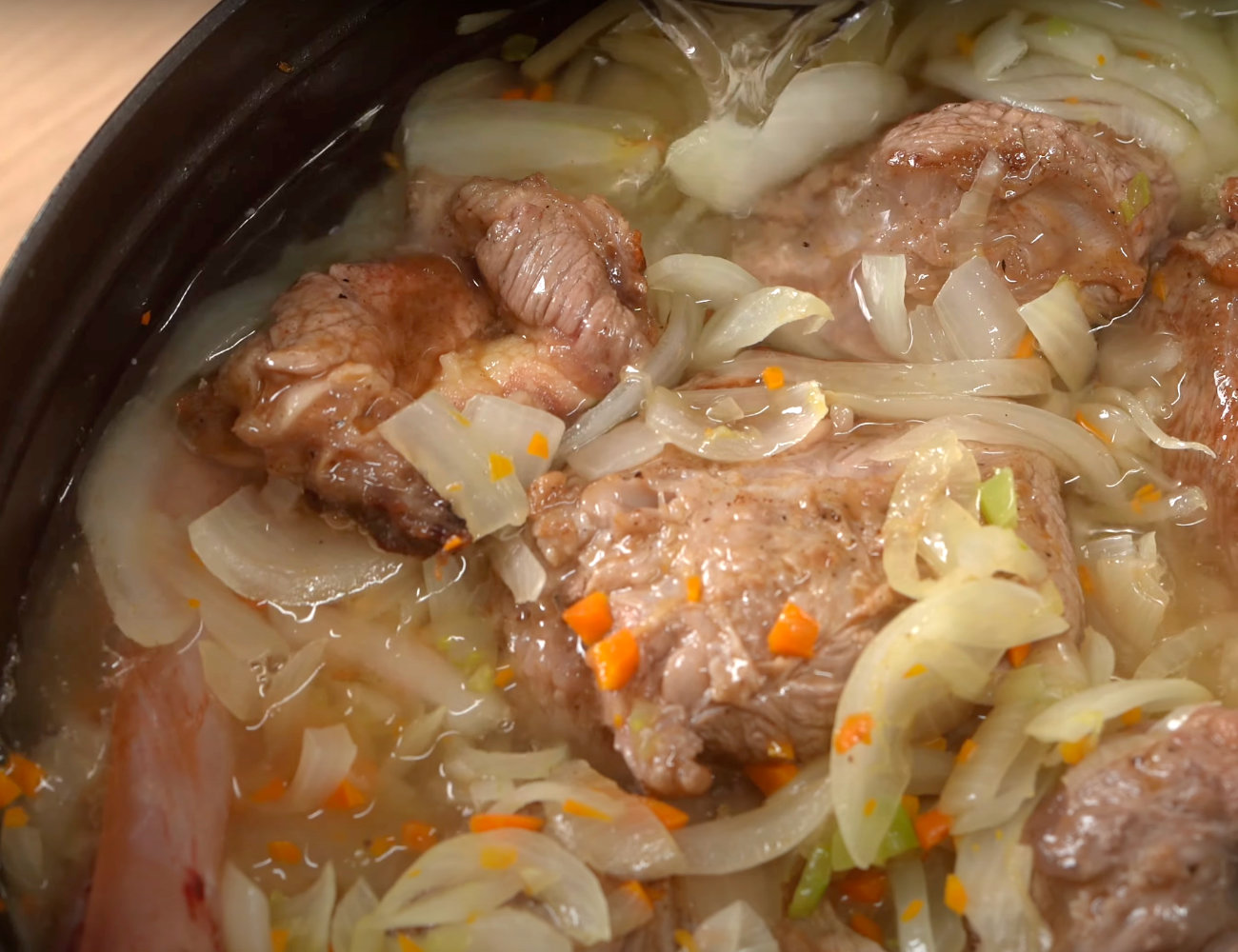 After the 3 hours, the onions are soft and savory and the meat tender and delicious.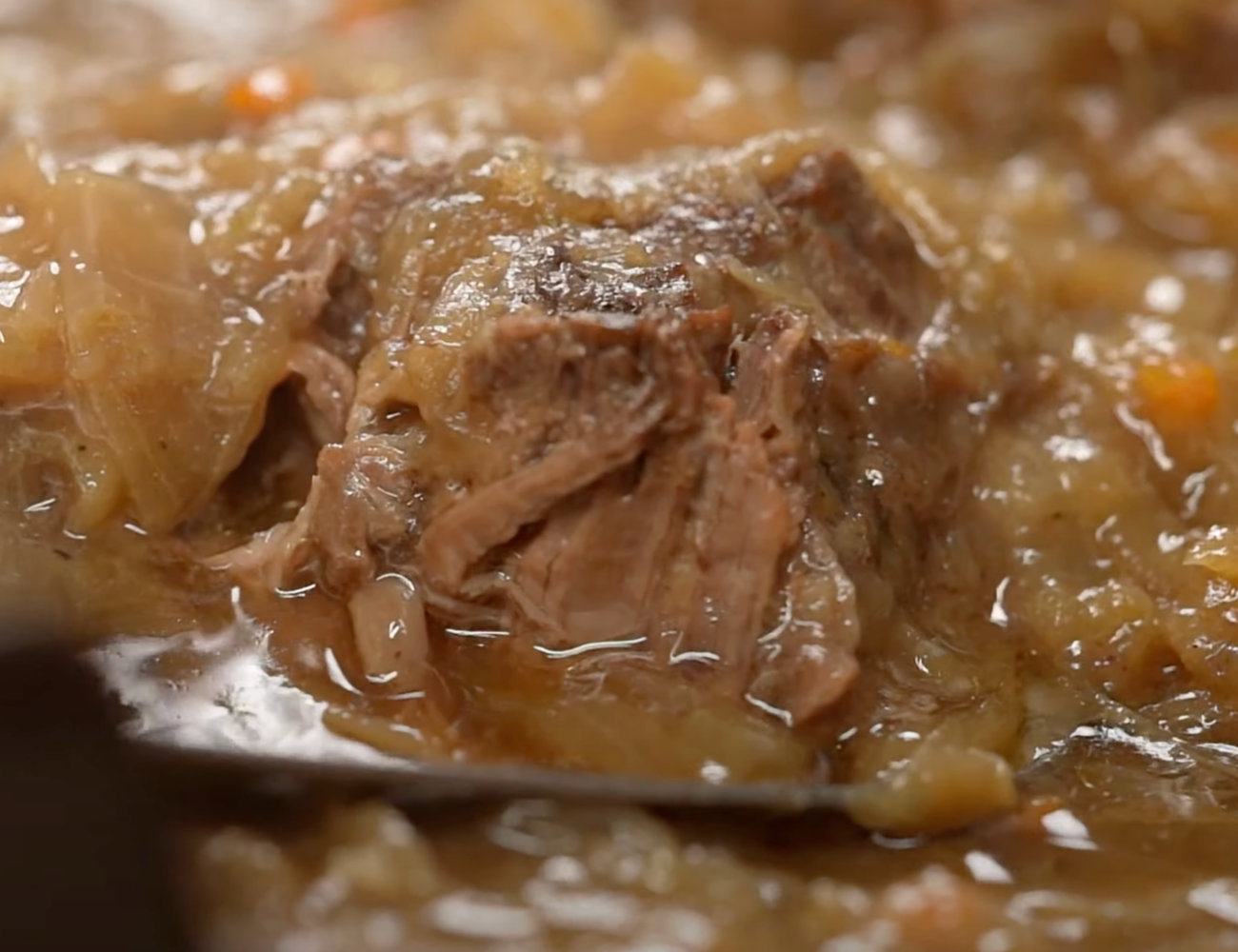 At this point, we break the meat into more bite-size pieces. There's no hard and fast rule here: Nonna Lulu leaves most of the meat in pretty large pieces and serves each diner a piece. Some folks shred the beef a bit more, however traditionally the onion is more visually predominant so it's best to avoid shredding the meat too much.
We reduce the sauce a bit (uncovered) and wait for our pasta…
What Pasta to use for Pasta alla Genovese?
'Ziti' is traditional for this dish, but specifically ziti napoletani (or ziti lunghi)— which is a tube pasta that is long and narrow. If not already 'cut', it's usually broken into smaller pieces for this dish.
As we mention in our article on best pasta brands, Rummo is in general one of our favorites both in Italy and abroad. They do sell a cut ziti that is similar to the ziti Nonna Lulu uses in the video (she broke full length ziti lunghi into 3 pieces).
Finishing Ziti alla Genovese
The cooked and drained al dente ziti is combined with the sauce. Grated pecorino cheese is a favorite for this dish—add some both to the dish and on top if you like pecorino cheese.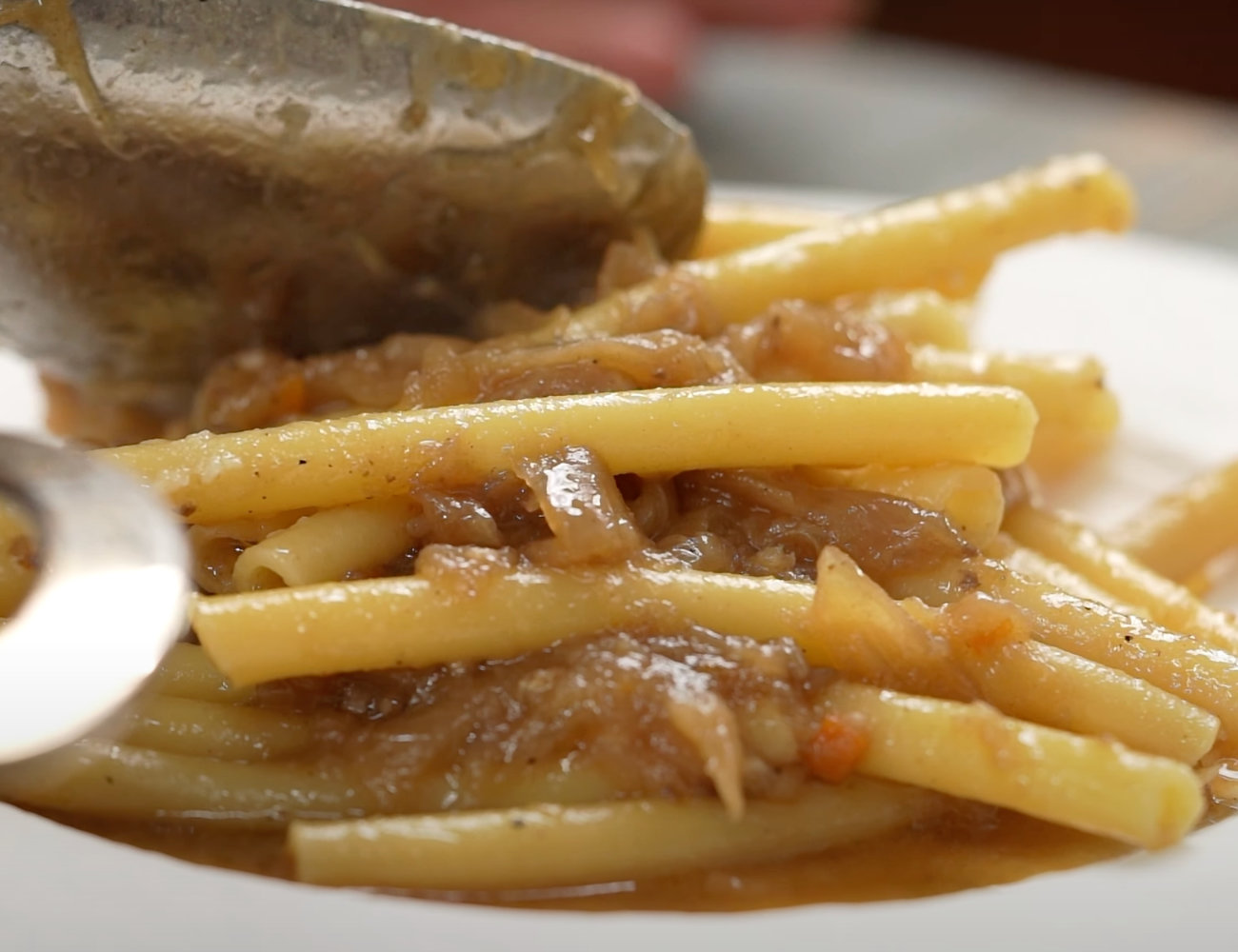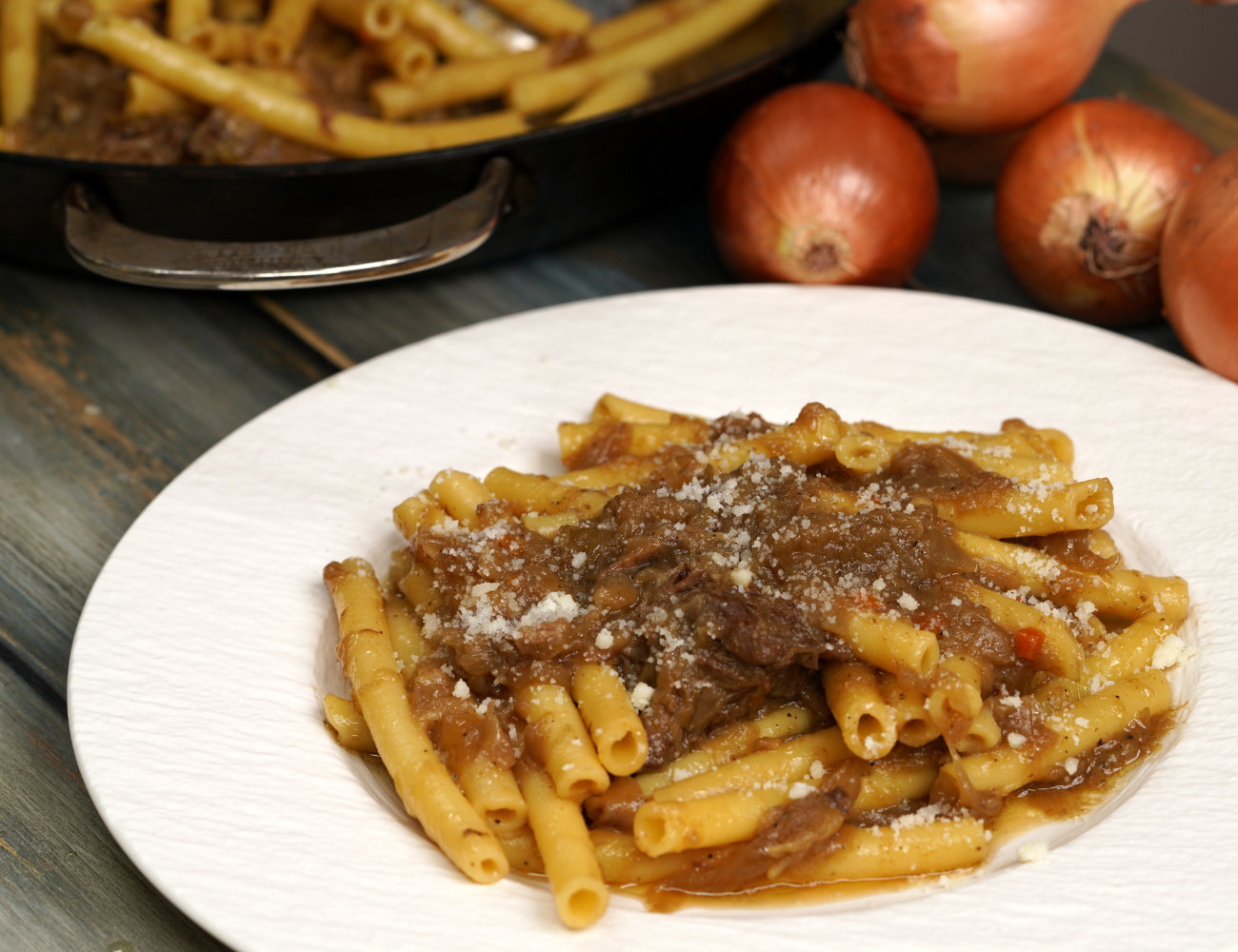 ---
Products We Use in the Video (or Recommend)
Amazon Affiliate links:
---
As an Amazon Associate, we earn from qualifying purchases. This means at no extra cost to you, PIATTO may earn a small commission if you click the links and make a qualifying purchase.
---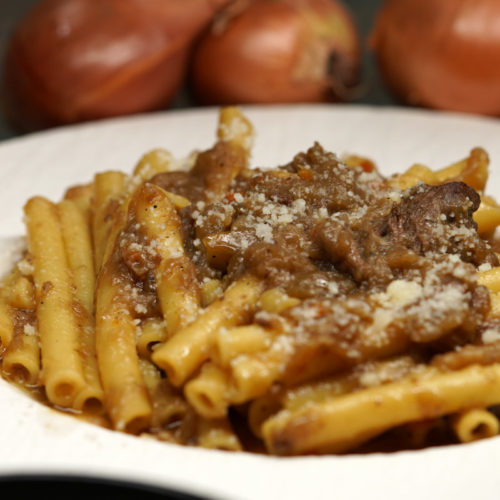 Ziti alla Genovese – Authentic Ragù Sauce Recipe from Naples
A 'poor man's' ragù from Naples, Ziti alla Genovese (sometimes called Pasta alla Genovese) is a classic Sunday sauce recipe. With slow-cooked onions and tender stew beef, this pasta sauce is hearty comfort food. Traditionally served with ziti.
Equipment
1 skillet or fry pan

for browning the meat
Ingredients
3 ½

lbs

yellow onions

1

lb

beef chuck

or your 'stew' beef cut of choice

1

large

carrot

minced

3

ribs

celery

minced

4

cups

water

or, enough to cover the ingredients

½

cup

white wine

1

tbsp

olive oil

or lard or clarified butter (to brown the meat)

2

tbsp

olive oil

for veggies sauté

320

g

ziti

or another tube pasta

¼

tsp

fine salt

or to taste

¼

tsp

black pepper

or to taste

pecorino cheese

finely grated to taste
Instructions
Prepare the Ingredients
Mince the carrot and celery. Cut the onion into bite-size slices.

3 ½ lbs yellow onions,

1 large carrot,

3 ribs celery

Cut the beef into large pieces. Brown the beef on all sides (medium heat-high heat) in a pan with lard, olive oil or clarified butter.

1 lb beef chuck,

1 tbsp olive oil

Add white wine to deglaze the pan with the beef. Then, set it aside.
Simmer the Sauce
Cover the bottom of a dutch oven (or similar pot) with olive oil. Over medium heat, briefly sauté the minced carrots and celery. Then, add the onions and give everything a stir.

Add the browned meat and enough water to just cover the ingredients. Cover and cook the sauce on low heat for 3 hours, stirring occasionally.

At the end of the three hours, your sauce will look like this! The onions tender and the meat will easily fall apart. Salt and pepper to taste.

¼ tsp fine salt,

¼ tsp black pepper

Cut or shred the meat into bite-size pieces, more or less to suit your taste.
Finish with Pasta (Ziti)
Cook the ziti (or pasta of your choice) in salted, boiling water according to package directions for al dente pasta. Drain the pasta and transfer it to the sauce.

Give the pasta a good mix to combine. Add a handful of grated pecorino cheese. Top with more pecorino cheese if you wish and serve!
Video
Notes
Pecorino Cheese is Salty!
Keep in mind that, like most aged cheeses, pecorino cheese is a bit salty. Add less salt to season if you plan to add a fair amount of pecorino cheese to the dish before serving.