Imagine taking a delightful journey to the heart of Italy without leaving your kitchen. That's the magic of Insalata Caprese, a simple yet vibrant dish that encapsulates the essence of Italian cuisine. Born under the golden sun of the Isle of Capri, Insalata Caprese is more than a dish—it's a vibrant celebration of Italian ingredients and culinary traditions. It's as if a piece of Italy's soul has been served on a plate, enticing your senses with its bold colors and enchanting flavors. Here we present you with what might be the most authentic Italian Caprese Salad recipe—filed with the Accademia Italiana Della Cucina—enjoy!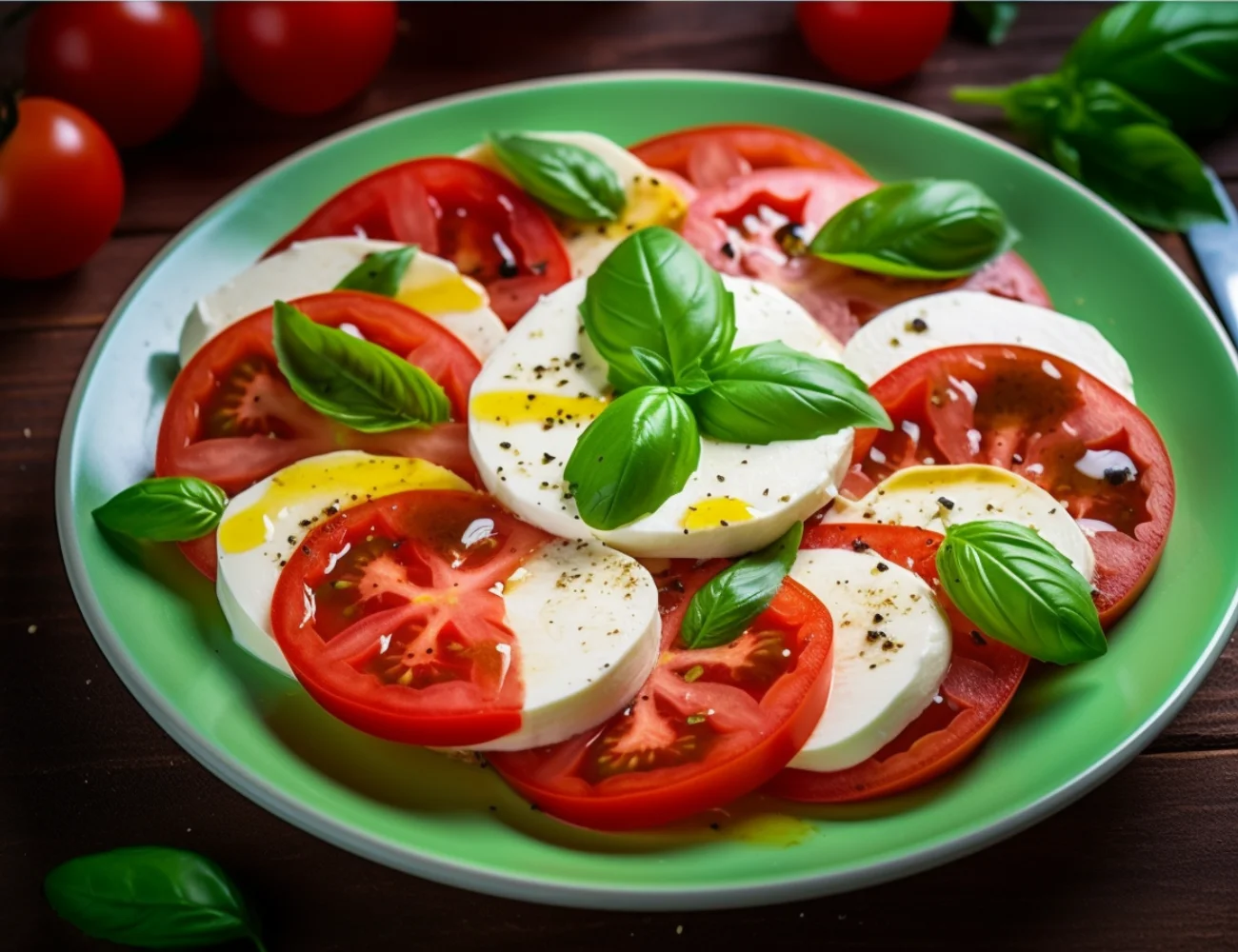 The Story of Insalata Caprese
The roots of Insalata Caprese are intertwined with the history of the Isle of Capri, a gorgeous island nestled in Italy's Campania region. Although concrete evidence of its origin is sparse, legend has it that this delightful salad was first created in the early 20th century for a patriotic cause. The dish was designed to represent the colors of the Italian flag: the red of tomatoes, the white of mozzarella, and the green of fresh basil leaves.
Insalata Caprese, or 'Capri Salad' in English, gained popularity during the 1950s. This was the period when Capri became a favored destination for Hollywood stars and international jet-setters. The simplicity and freshness of the Caprese Salad, combined with its ability to showcase local ingredients, made it an instant hit among the visitors.
---
A Celebration of Simplicity
The charm of an authentic Italian Caprese Salad recipe lies in its simplicity. The traditional recipe calls for just a few key ingredients: ripe tomatoes, fresh mozzarella cheese, basil leaves, extra virgin olive oil, and a sprinkle of salt. When prepared correctly, these components come together to create a symphony of flavors that's incredibly satisfying.
The dish is a testament to the Italian cooking philosophy of using high-quality, seasonal ingredients and letting them shine. Each component is essential, and there's nowhere for subpar ingredients to hide. And topped with uncooked extra-virgin olive oil? It is a perfect example of one of the many fresh Mediterranean diet recipes that Italy has to offer!
What Tomatoes to Choose?
Fiascone or San Marzano are Good Choices
San Marzano and Fiascone are both tomato varieties originating from Italy that are often recommended for this dish. These varieties of tomatoes have some differences:
1. San Marzano: San Marzano tomatoes are a type of plum tomato, and they're known for their elongated, oblong shape, similar to a Roma tomato but thinner and more pointed. They're grown in the rich volcanic soil at the base of Mount Vesuvius, which gives them a sweet flavor and low acidity, making them highly sought after for sauces. The flesh is thick with few seeds. San Marzano tomatoes have achieved the status of "Protected Designation of Origin" (DOP) by the European Union, meaning tomatoes labeled as "San Marzano" must be grown in a specific area around Naples to use the name legally.
2. Fiascone: Fiascone tomatoes are an heirloom variety native to the Campania region, more specifically, the Amalfi Coast. Unlike the San Marzano, the Fiascone is not elongated but more round and irregular in shape. It's known for its unique, sweet flavor and juicy texture, making it versatile for both raw and cooked applications. This variety was nearly extinct but has been revived by local farmers passionate about preserving native varieties.
If you can't find one of these varieties, look for a sweet and ripe beefsteak tomato that is fleshy with few seeds.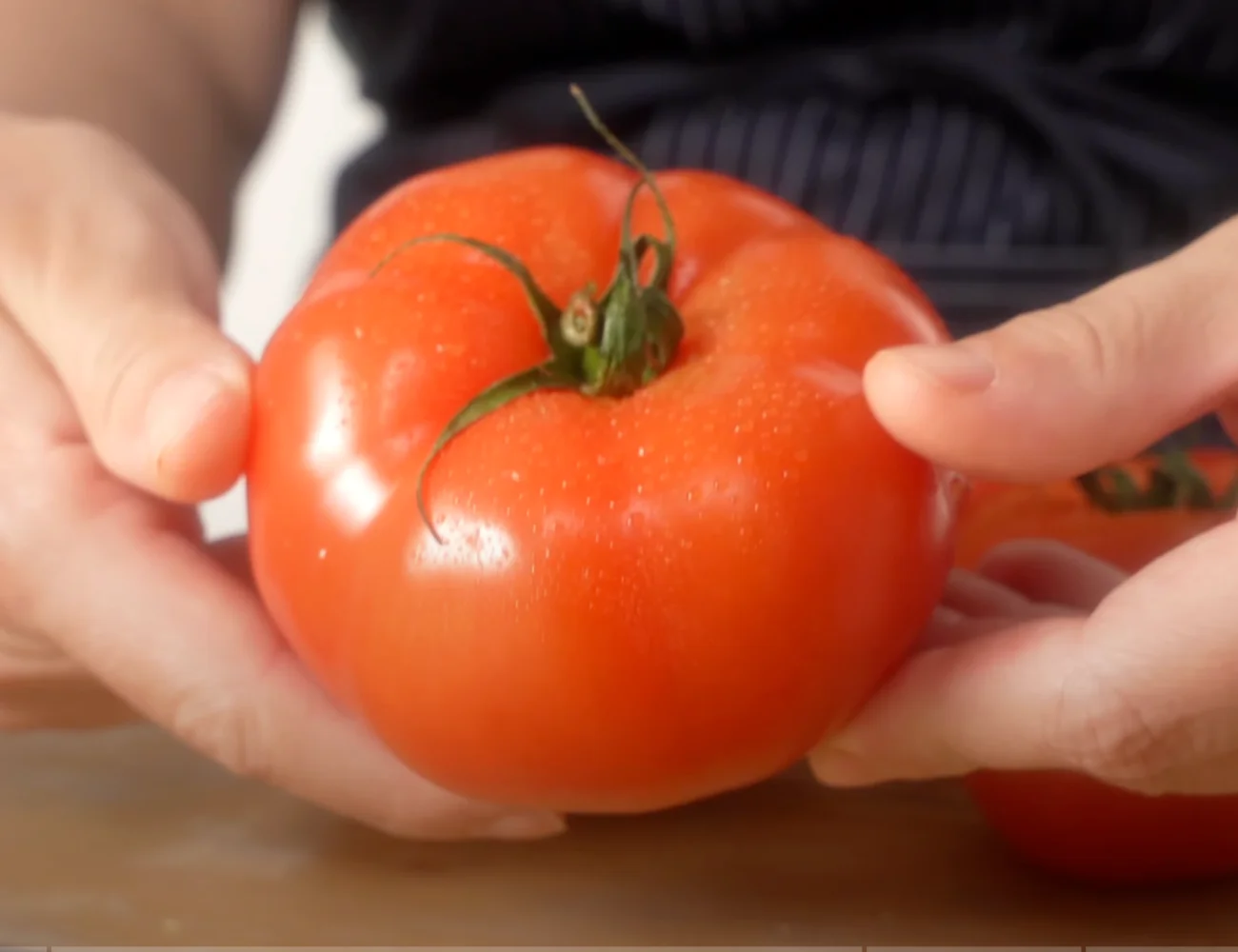 Which Mozzarella to Choose?
Buffalo mozzarella and Fiordilatte are both types of Italian mozzarella cheese used to make the Insalata Caprese in Italy. However, they're made from different types of milk and have distinct textures and flavors.
Buffalo Mozzarella (Mozzarella di Bufala): This is a type of mozzarella made from the milk of the water buffalo. The water buffalo are mainly raised in certain regions of Italy, including Campania, Lazio, Apulia, and Molise. Buffalo mozzarella has a soft, moist, and slightly elastic texture. The flavor is rich, creamy, and slightly tangy. It's considered the premium variety of mozzarella and is often used in salads, pizzas, and other dishes where its unique flavor can shine.
Fiordilatte: Fiordilatte, on the other hand, is a variety of mozzarella made from cow's milk. It's more common and widely available than buffalo mozzarella. The texture is semi-soft and a bit firmer than buffalo mozzarella. The flavor is mild, milky, and slightly sweet. It's a versatile cheese and can be used in a variety of dishes, including pizzas, pastas, and salads.
In summary, the main difference between buffalo mozzarella and Fiordilatte lies in the type of milk used to make them. This leads to differences in texture and flavor. Buffalo mozzarella is typically more expensive and considered more of a delicacy, while Fiordilatte is more common and versatile. Also, buffalo mozzarella is considered by most to have a stronger taste.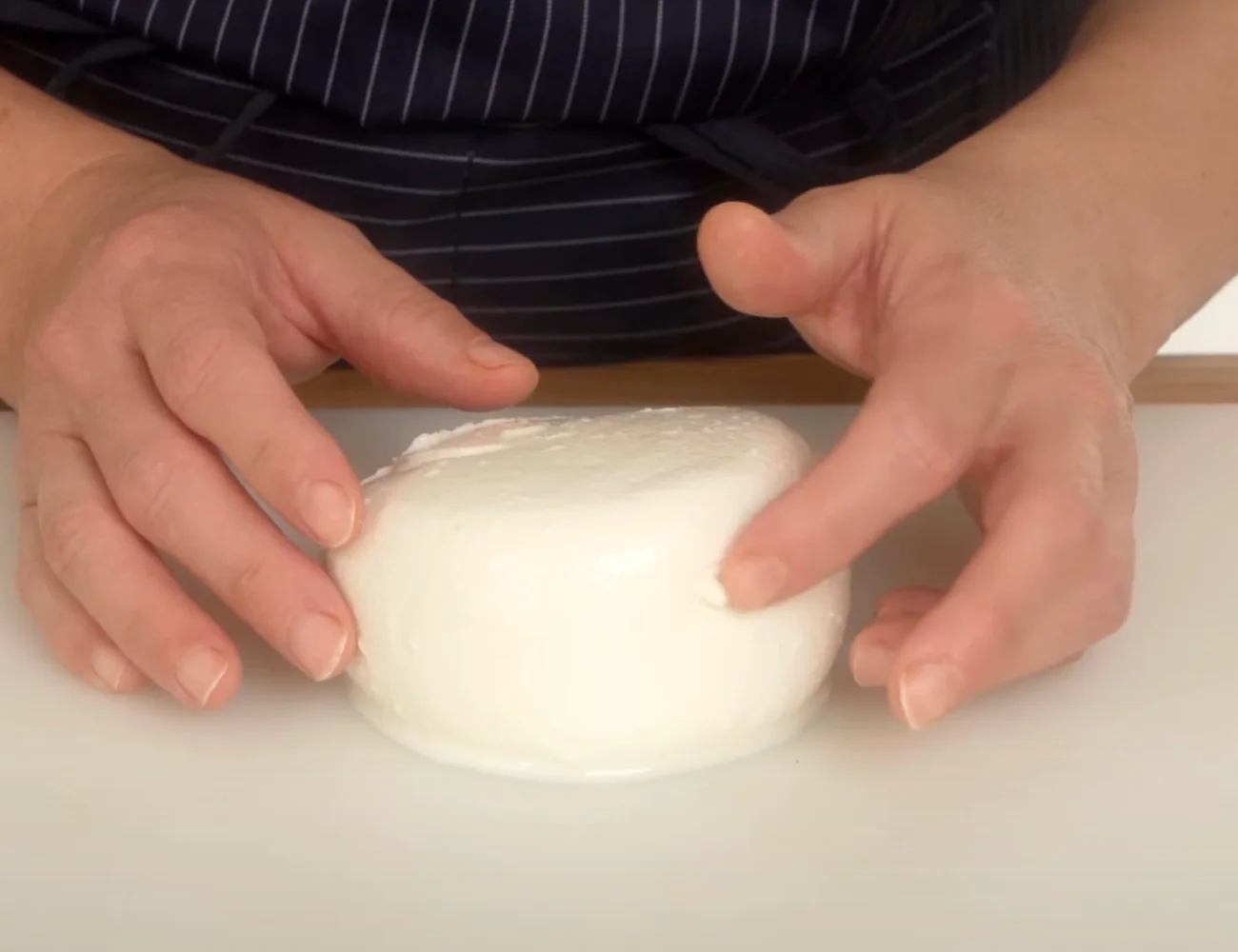 ---
Variations of Insalata Caprese
Just as Italy has diverse culinary traditions, so too does Insalata Caprese have its variations. One popular version involves adding balsamic reduction. This introduces a tangy-sweet element that beautifully complements the creamy mozzarella and juicy tomatoes. In Italy, dried oregano and black pepper are also rarely (but sometimes) added. Occasionally, anchovies are added between the tomato and mozzarella slices.
Internationally, chefs and home cooks have embraced the Caprese Salad and added their unique twists. For instance, some use heirloom tomatoes for added color and flavor diversity. Others swap basil for arugula or add a sprinkle of freshly ground black pepper for a bit of heat.
---
Creating the Perfect Insalata Caprese at Home
Crafting the perfect Insalata Caprese at home is a joyous process that begins with selecting the best ingredients. Look for ripe, flavorful tomatoes—local and in-season varieties will yield the best results. The mozzarella should be fresh and creamy, and the basil leaves vibrant and aromatic.
Start by slicing the tomatoes and mozzarella into even rounds. Arrange them on a plate, alternating between a slice of tomato, a slice of mozzarella, and a basil leaf until your plate is a beautiful tricolor mosaic. Drizzle the salad with high-quality extra virgin olive oil and sprinkle it with a pinch of salt to taste. Some purists argue that the salad should not be served chilled, as refrigeration can diminish the flavors of the tomatoes and mozzarella.
Love this dish? Check out our recipe for Caprese Pasta with tomatoes, fresh mozzarella, basil and more!
Pasta with Fresh Tomato Sauce, Mozzarella and Basil
Fast and fresh tomato sauce for pasta—the Italian way! Fresh tomatoes, Parmigiano Reggiano and extra-virgin olive oil make this dish both delicious and nutritious. Fast, easy and perfect for a hot day.
Check out this recipe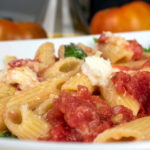 ---
Caprese Salad and its Global Influence
The Caprese Salad's popularity has surged beyond the borders of Italy, making its way onto menus around the world. In the United States, for example, Caprese-style salads are a staple at Italian restaurants and are even featured in sandwich shops and pizza toppings.
In Japan, a country known for its appreciation of simple, high-quality ingredients, the Caprese Salad has been embraced with open arms. Here, it's common to see the salad served with a Japanese twist. For instance, tofu is sometimes used instead of mozzarella or a drizzle of soy sauce added in place of salt.
The Enduring Charm of Insalata Caprese
Insalata Caprese is a perfect example of how a simple dish can become a culinary icon. It tells the story of its place of origin, the Isle of Capri, and encapsulates the essence of Italian cuisine.
Its popularity worldwide is a testament to its universal appeal—a harmony of flavors that is complex in its simplicity. Whether you're enjoying it in a high-end restaurant, in a family kitchen, or making it yourself at home, Insalata Caprese offers a taste of Italy's culinary heart.
Original Recipe Source, translated into English from Italian by PIATTO.
---
---
As an Amazon Associate, we earn from qualifying purchases. This means at no extra cost to you, PIATTO may earn a small commission if you click the links and make a qualifying purchase.
---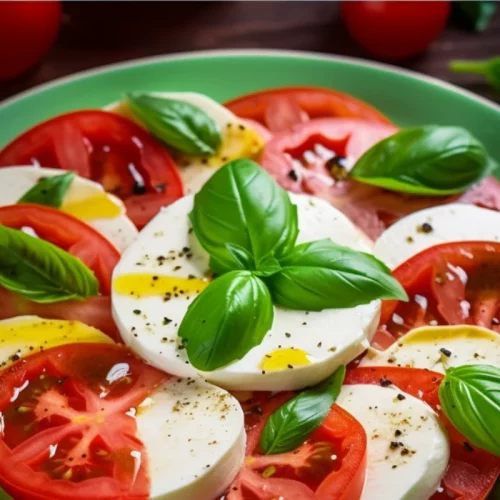 Authentic Italian Caprese Salad Recipe
The charm of Insalata Caprese lies in its simplicity. The authentic Caprese Salad recipe calls for just a few key ingredients: ripe tomatoes, fresh mozzarella cheese, basil leaves, extra virgin olive oil, and a sprinkle of salt!
Ingredients
21

oz

fresh tomatoes

ripe, fleshy with few seeds

11

oz

fresh mozzarella

fiordilatte or buffalo mozzarella

olive oil

Drizzle generously! extra virgin

1

handful

basil leaves

1

pinch

fine salt

or to taste

black pepper

optional, to taste
Instructions
Choose large, round tomatoes that can be sliced lengthwise, so that the tomato slices are almost equal to those of the fiordilatte (a type of mozzarella). Slice the tomatoes and the mozzarella.

21 oz fresh tomatoes,

11 oz fresh mozzarella

On a serving plate, alternate a slice of tomato and a slice of fiordilatte, slightly overlapping the first, and so on.

Sprinkle whole basil leaves or strips of basil over everything.

At the table, each person will dress this salad with oil and salt to taste. Buon appetito!

1 pinch fine salt,

olive oil
Notes
Simpler Preparation?
Alternatively, for a simpler preparation, both the fiordilatte and the tomato can be diced and the salad dressed in a serving bowl.
Serve with an abundance of chopped basil.
What Mozzarella to Choose?
Choose 'fresh' mozzarella that is water-packed. fiordilatte or Buffalo Mozzarella are great choices.
What Tomatoes to Choose?
Choose tomatoes that are perfectly ripe with few seeds. San Marzano, Roma, or even Beefsteak tomatoes are good choices.