The quintessential use of Pesto Genovese among the locals in the city of Genoa, "Cinque Terre" and in the region of Liguria! Called Trofie al Pesto alla Genevose in Italian, this basil pesto pasta recipe is traditional in the region famous for Pesto Genovese.
The perfect spring and summer dish, this dish features basil pesto (Pesto Genovese) served with trofie pasta, potatoes and fresh green beans. It's like a pasta and potato salad rolled into one!
Trofie is a handmade pasta typical of the region of Liguria in Italy. It traditionally goes hand-in-hand with Pesto Genovese. If you can't find trofie, feel free to use another short pasta that you enjoy—for instance, gemelli or fusilli.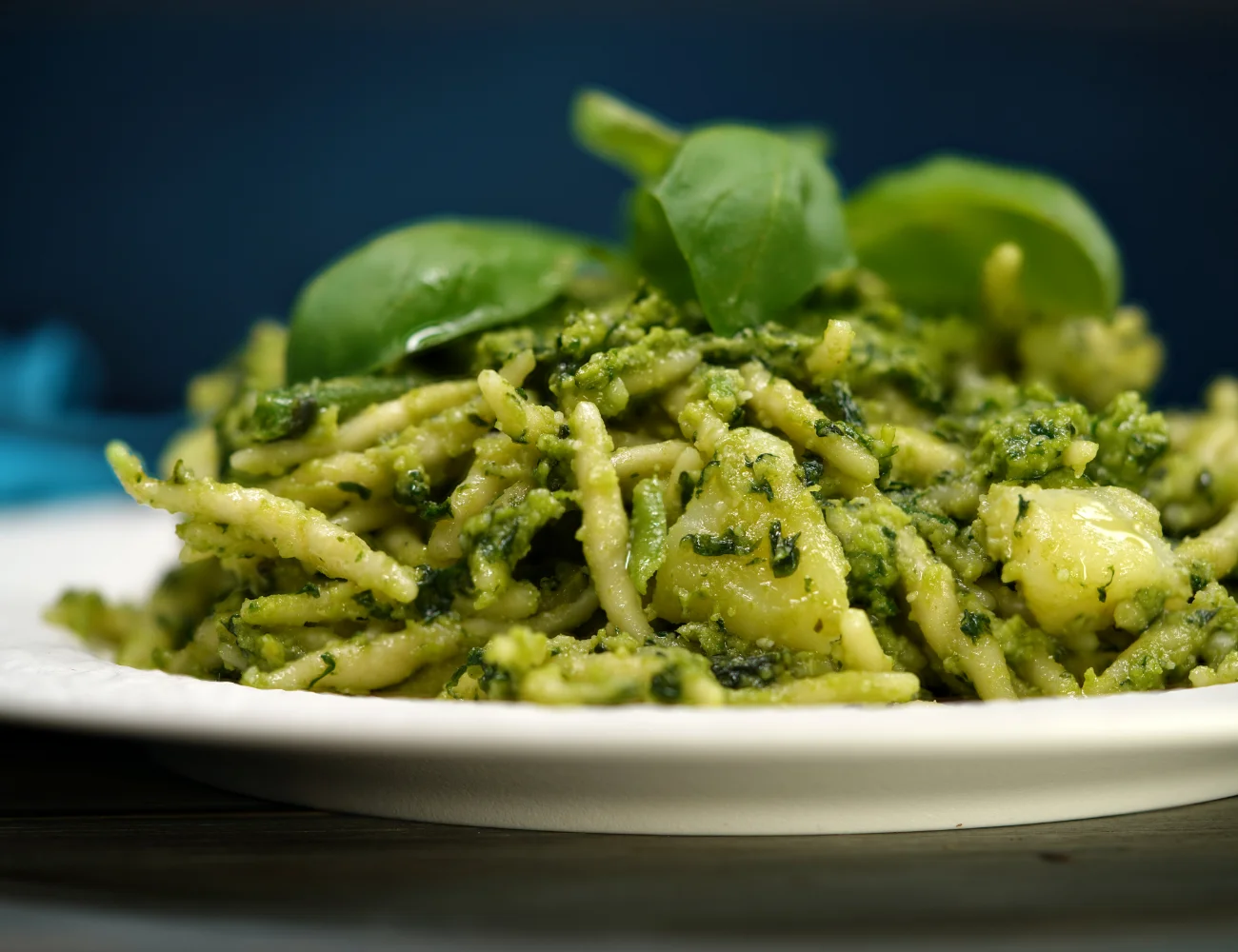 ---
Watch the Video Recipe!
Watch us make Pesto alla Genovese the right way—with a mortar and pestle—in this video recipe:
---
Subscribe to our YouTube Channel
More video recipes? Subscribe to our YouTube Channel (it's FREE) and click the bell to get notifications when we release a new video recipe!
---
How to Make Basil Pesto Pasta: Tips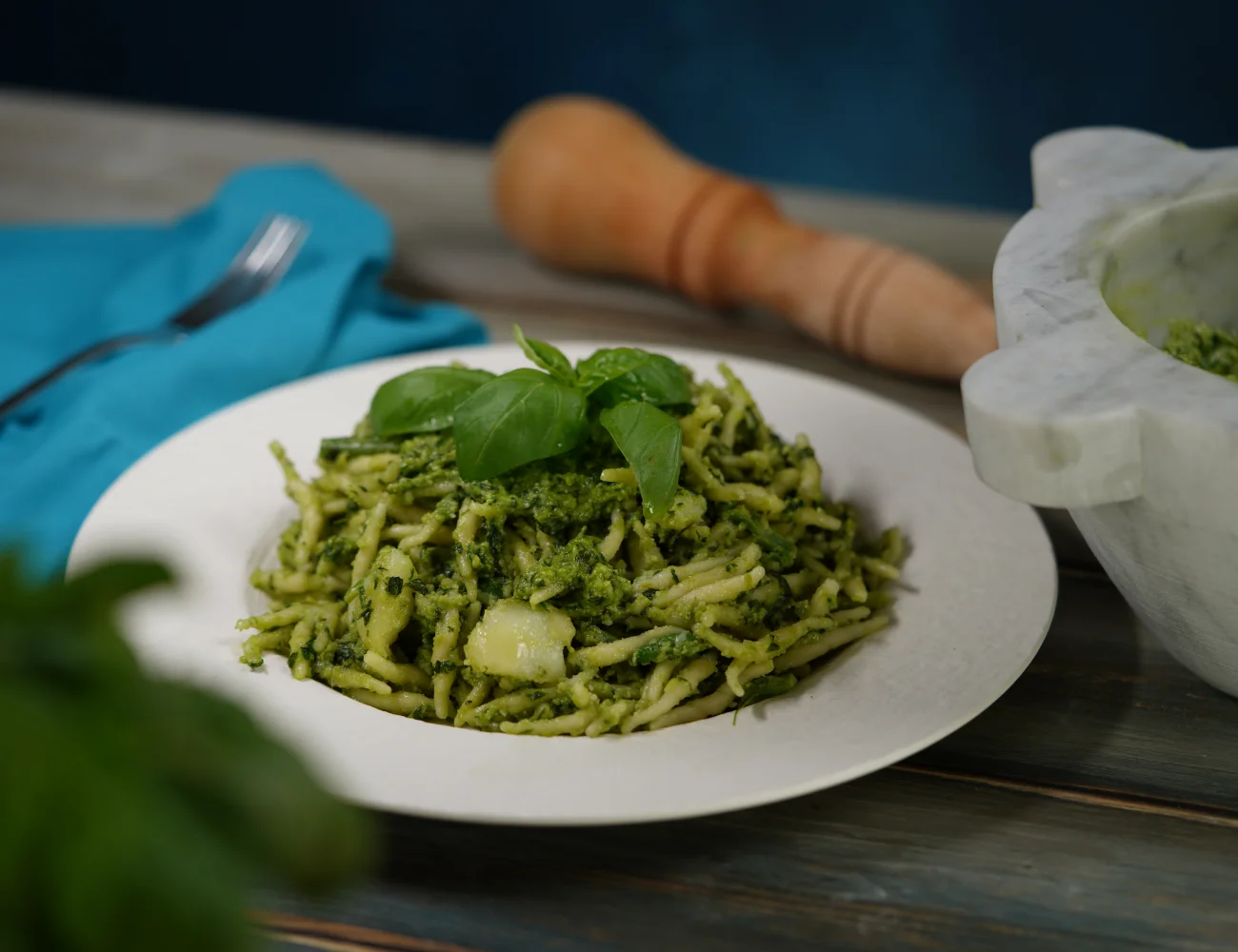 Traditionally, basil pesto is made with a mortar and pestle. Don't have a mortar and pestle? Read below for tips for making basil pesto with a food processor.
Want to use a blender? It's more difficult to use a blender to make pesto because of the shape of the blender container. You'll need to mix the pesto for longer to blend it. This will likely heat the fresh basil leaves and change the flavor of the pesto.
Chill food processor bowl and blade!
If you are making this pesto with a food processor, always chill the food processor bowl and blade before using to make the pesto. This reduces the chance that the heat from the blade will warm the basil leaves—and change the taste of the pesto.
Blend with short, quick pulses.
If using a food processor, there's another step you can take to avoid heating the basil leaves in addition to chilling the blade. Use short, quick pulses when blending the basil leaves. This ensures the blade doesn't get too hot.
Use the real Parmigiano Reggiano cheese.
In most countries (including the United States and Italy), so-called parmesan cheese is not the same thing as Parmigiano Reggiano. It is Parmigiano Reggiano cheese that is used in most authentic recipes coming from Italy—not parmesan.
Want to make this lactose free?
It already is! Parmigiano Reggiano and Pecorino Romano are aged cheeses that are considered naturally lactose free. Pecorino is made from sheep's milk which tends to be easier to digest than cow's milk for those who are lactose intolerant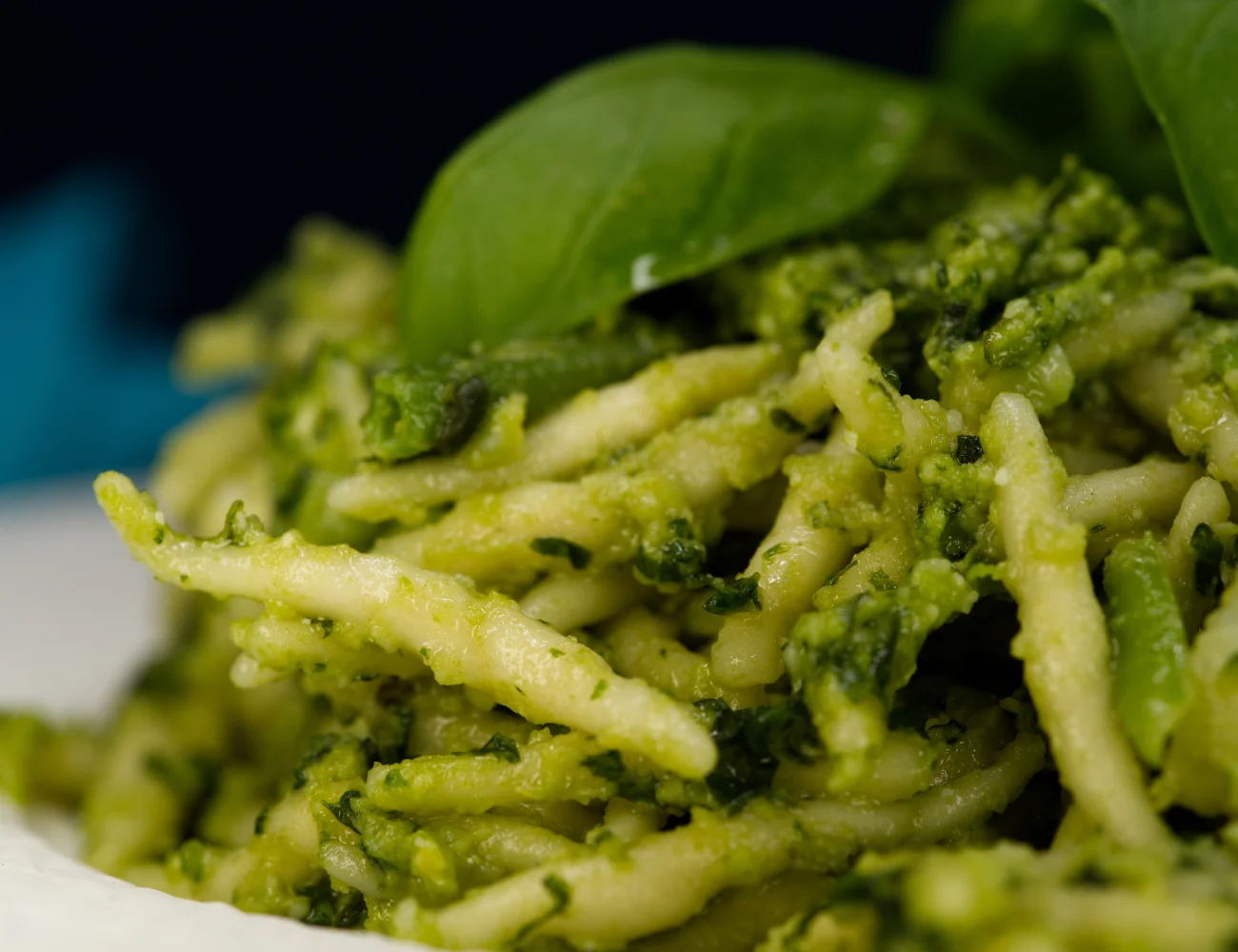 ---
As an Amazon Associate, we earn from qualifying purchases. This means at no extra cost to you, PIATTO may earn a small commission if you click the links and make a qualifying purchase.
---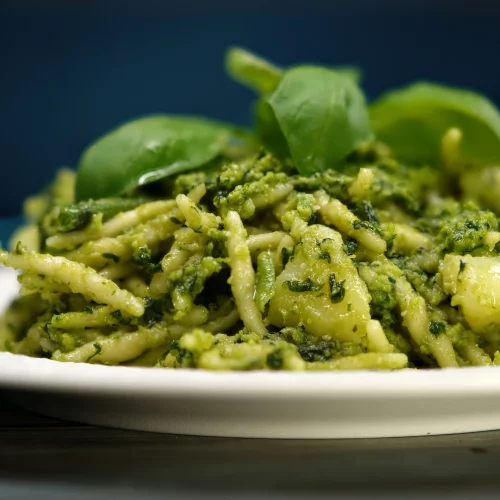 Basil Pesto Pasta Recipe
This healthy and tasty dish features authentic Pesto Genovese served with trofie pasta, potatoes and fresh green beans. It is a traditional dish associated with Pesto Genovese in Italy.
Equipment
Food Processor or

Mortar and Pestle
Ingredients
Pesto Genovese
2

oz

fresh basil

1 ¾

oz

pecorino cheese

freshly grated; pecorino 'sardo' (from Sardegna) is traditional here, if you can find it!

1 ¾

oz

Parmigiano Reggiano cheese

freshly grated

2

cloves

garlic

mashed into a paste

2

pinch

coarse salt

1 ¾

oz

pine nuts

3 ¾

tbsp

olive oil

extra virgin
Veggies and Pasta
½

lb

potatoes

yellow

5

oz

fresh green beans

(or frozen) ends removed

18

oz

pasta

trofie (or gemelli or fusilli)
Instructions
Prepare the Vegetables
Peel and cut the potatoes into bite-sized pieces. Cut the green beans into bite size pieces. If using fresh green beans, remove the ends of the green beans as well.

Bring a large pot of water to a boil. Add the chopped potatoes and cook until almost done (tender).

Add the green beans and cook until they are tender but slightly crisp: about 5 more minutes.

Transfer drained potatoes and green beans immediately to the ice bath (optional). Blanching with the ice water helps to preserve the color of the green beans. When cool, drain the vegetables and set aside.
Make the Pesto
To the chilled mortar (bowl) add: fresh garlic cloves and salt.

Mash the ingredients until you have a paste. Don't 'pound' with the pestle. Rather, press and move the pestle in circles to grind and mash.

2 cloves garlic,

2 pinch coarse salt

Add around half of the pine nuts to the mashed garlic. Crush the pine nuts into a paste.

Add the fresh basil leaves, a handful at a time. Add a few more pine nuts with each handful of basil to help provide friction for mixing.

Finish adding the basil and mashing it.

Mix in a little of the olive oil. Then add the (finely grated) Parmigiano and Pecorino cheeses, a handful at a time.

1 ¾ oz pecorino cheese,

1 ¾ oz Parmigiano Reggiano cheese

Add the rest of the olive oil and mix to combine. Continue mixing until you've made a smooth and creamy paste. Salt to taste if needed.
Finish with Pasta
Cook the pasta according to package instructions. Drain.

Combine the pesto with the pasta, potatoes and green beans. Serve immediately!
Video
Notes
A Mortar and Pestle is Best!
A traditional mortar and pestle (which mashes rather than cutting the basil) produces a much tastier result every time. However if you plan to use a blender or food processor instead, keep these tips in mind…
---
Avoid heating the pesto!
The trick to preserving the flavor of the fresh basil is to avoiding heating it while blending the ingredients. There are two tricks to this if you are using a food processor:
Chill the food processor bowl and blade before using them to make the pesto
Use quick, short pulses to blend. This avoids heating the blade.
---
Pecorino 'Sardo' is Traditional
Pecorino from Sardegna is traditional in this recipe, if you can find it. Many regions in Italy have a pecorino to their name and they can taste quite different! Pecorino Sardo is traditional here, due to the long historical relationship between the port city of Genoa and the Italian island of Sardegna. 
---
Or.. Let Them Mix It on the Plate!
In our experience, Pesto Pasta is best when the pesto stays cold until the last possible minute. Instead of mixing everything together, then serving the Pesto pasta, you could serve a heaping spoon of pesto on top of a portion of pasta, beans and potatoes. Then, let the diner mix the pesto into the pasta themselves!
---
Best Served Room Temperature
This pasta shouldn't be served hot. We want to avoid heating the basil too much so that it retains optimal color and freshness. 
Nutrition
Sodium:
767
mg
Calcium:
340
mg
Vitamin C:
22
mg
Vitamin A:
1578
IU
Sugar:
6
g
Fiber:
4
g
Potassium:
671
mg
Cholesterol:
21
mg
Calories:
369
kcal
Saturated Fat:
7
g
Fat:
29
g
Protein:
13
g
Carbohydrates:
18
g
Iron:
3
mg