Healthy with Champignon (Button) Mushrooms
A Mushroom Pasta Sauce recipe the way they do it in Italy—with a touch of butter, plenty of olive oil and lots of fresh parsley. Italians call this dish "Tagliatelle ai Funghi Champignon" —or Champignon Mushroom Tagliatelle.
Unlike the porcini, you can easily find champignon (white button) mushrooms in most groceries including the United States. This recipe gives this economical mushroom the gourmet treatment. It is a delicate, earthy vegetarian dish that is sure to please. Top with freshly grated Parmigiano Reggiano.
---
How to Clean Mushrooms? Watch the Video Recipe!
Learn the right way to clean a champignon mushroom (button mushroom) in our video recipe:
Subscribe to our YouTube Channel
More video recipes? Subscribe to our YouTube Channel (it's FREE) and click the bell to get notifications when we release a new video recipe!
---
How to Make Mushroom Pasta Sauce: Tips
Think heavy cream is needed to make a delicious mushroom pasta sauce? Think again! This traditional Italian recipe is savory and delicious.
Clean mushrooms the right way!
Washing mushrooms with water can change the taste and texture. To clean, peel the outer skin of the mushrooms with a paring knife—just as you would a piece of fruit! Or, give the mushroom a super quick rinse and immediately dry them with a paper towel.
Mashing mushrooms?
There are two easy ways to mash mushrooms for this recipe: Coarsely chop, then use a blender to 'mash.' Or use a garlic press!
Use the real Parmigiano Reggiano cheese.
In most countries (including the United States and Italy), so-called parmesan cheese is not the same thing as Parmigiano Reggiano. It is Parmigiano Reggiano cheese that is used in most authentic recipes coming from Italy—not parmesan.
Want to make this vegan?
Replace the butter with extra-virgin olive oil and don't top with cheese.
Do mushrooms need to be cleaned before cooking with them? Can they be soaked in water? Find out how to clean mushrooms the right way in our guide!
---
As an Amazon Associate, we earn from qualifying purchases. This means at no extra cost to you, PIATTO may earn a small commission if you click the links and make a qualifying purchase.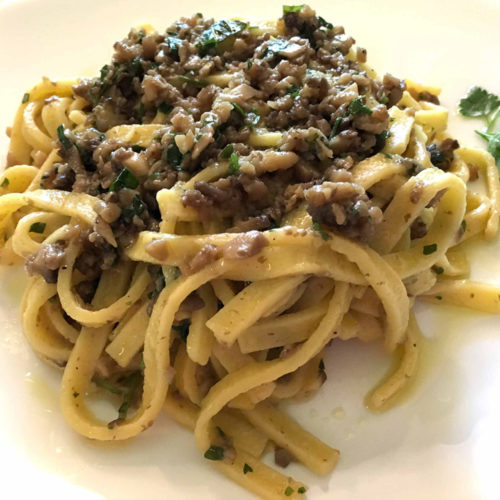 Mushroom Pasta Sauce Recipe with White Button Mushrooms
Champignon Mushroom Tagliatelle the way they do it in Italy—with a touch of butter, plenty of olive oil and lots of fresh parsley.
Ingredients
1

lb

button mushrooms

also called champignon or crimini; cleaned

3 ½

tbsp

butter

10

tbsp

olive oil

1

handful

flatleaf parsley

minced

1

clove

garlic

½

tsp

salt

or to taste

½

tsp

black pepper

14

oz

pasta

tagliatelle (or fettucine or pappardelle)

4

tbsp

Parmigiano Reggiano

finely grated, for topping
Instructions
Prepare the Mushrooms
Remove any dirt from the mushrooms. Use a clean brush to brush off any loose dirt. Then wipe the mushrooms with a damp paper towel to clean any remaining dirt.

Or, peel a thin layer of skin off the outside of all the mushrooms with a paring knife.

Dice ⅓ of the mushrooms. Mince or mash or the rest of the mushrooms using a blender or a garlic press. 
Sauté the Mushrooms
In a medium pot, combine: the mushrooms, butter, olive oil, minced parsley and one clove of fresh garlic.

Stir and let the mushrooms rest with no heat for 5 minutes. 

Then, cook covered for 5 minutes on medium heat. After the 5 minutes, add ½ tsp of fine salt and ½ tsp of black pepper. Stir. 

When the mushrooms start to release water, remove the lid.

Raise the temperature to reduce the liquid. See butter/oil sitting on the top? Continue to reduce, cooking for 5 more minutes.

Turn off the heat and remove the clove of garlic. Cover and set aside.
Finish with Pasta
Bring water to boil. Cook the tagliatelle or pasta of your choice according to package instructions. Salt the water halfway through the cook time. 

Toss the drained pasta with the mushroom sauce and grated Parmigiano Reggiano. Drizzle on extra virgin olive oil. Serve!
Notes
Tips for Cleaning Mushrooms
The rule of thumb for cleaning mushrooms is this: a quick rinse is ok, soaking is not. Too much water can change the taste and texture of a mushroom. 
Instead, clean by using a clean brush (even a toothbrush) to brush off the loose dirt. Then, give the mushroom a quick rinse and wipe dry immediately with a paper towel. Or, use a damp paper towel to wipe the mushrooms clean. 
Want really clean mushrooms?
Champignon (button, crimini) mushrooms are unique. Healthy mushrooms will have a thin membrane covering the gills, protecting them from the elements.
Remove the cap from the stem. Then using a small pairing knife to peel away the outer membrane from the mushroom cap and its gills. Do the same for the stem. With this method, you'll remove a thin layer from the outside of the entire mushroom, resulting in the cleanest mushroom possible.
Nutrition
Sodium:
912
mg
Calcium:
95
mg
Vitamin C:
11
mg
Vitamin A:
576
IU
Sugar:
7
g
Fiber:
3
g
Potassium:
724
mg
Cholesterol:
5
mg
Calories:
388
kcal
Saturated Fat:
6
g
Fat:
37
g
Protein:
7
g
Carbohydrates:
10
g
Iron:
2
mg
---