We've tried A BUNCH of vegetarian burger recipes over the years. That's why we can say with confidence that this is, for our money, the best mushroom veggie burger recipe. From the flavor to the texture, this mushroom veggie burger has even managed to please the hardcore meat lovers in our family.
---
Watch the Video Recipe!
Watch us make Pesto Genovese (called Pesto alla Genovese in Italy) the right way—with a mortar and pestle—in this video recipe:
---
Subscribe to our YouTube Channel
More video recipes? Subscribe to our YouTube Channel (it's FREE) and click the bell to get notifications when we release a new video recipe!
---
How to Make this Mushroom Veggie Burger Recipe
When we talk about veggie burgers, we need to talk about texture and flavor. These go hand in hand and the reason that many veggie burgers don't deliver is because they either lack texture, flavor or both.
Add Texture to the Mushroom Veggie Burger
To add the texture, we add nuts and bulgur to our mushroom veggie burger recipe. You can use walnuts or pecans. We like to toast the nuts to bring out the oils and flavor. Toast the nuts for a few minutes in a dry pan over medium heat —just until you start to smell its nutty fragrance. Then set the nuts aside.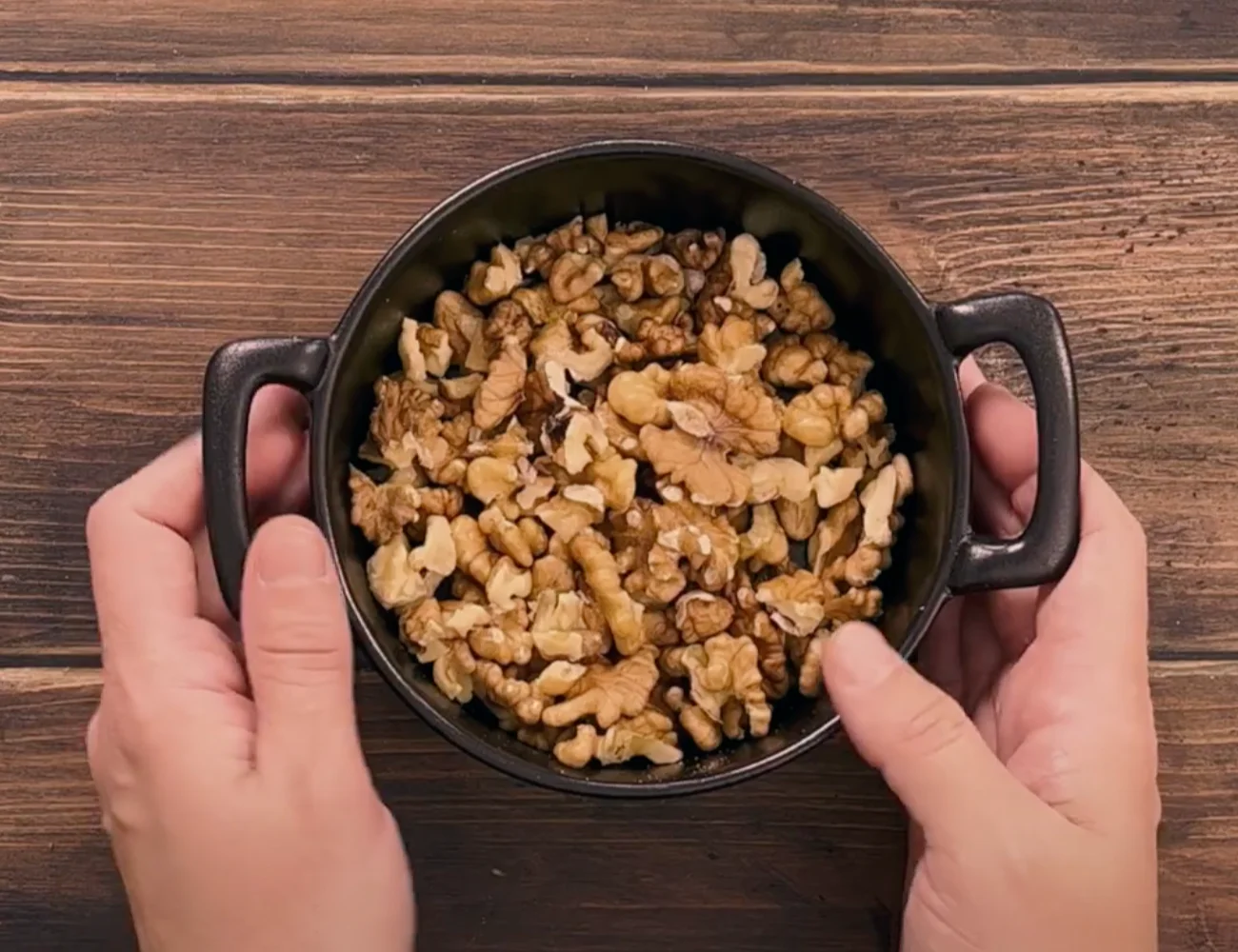 Bulgur can be found in the grain section of any supermarket. It is a whole grain wheat packed with fiber and nutrition. Cook the bulgur according to the package instructions, then set it aside to cool. This will give our mushroom veggie burger its beefy texture.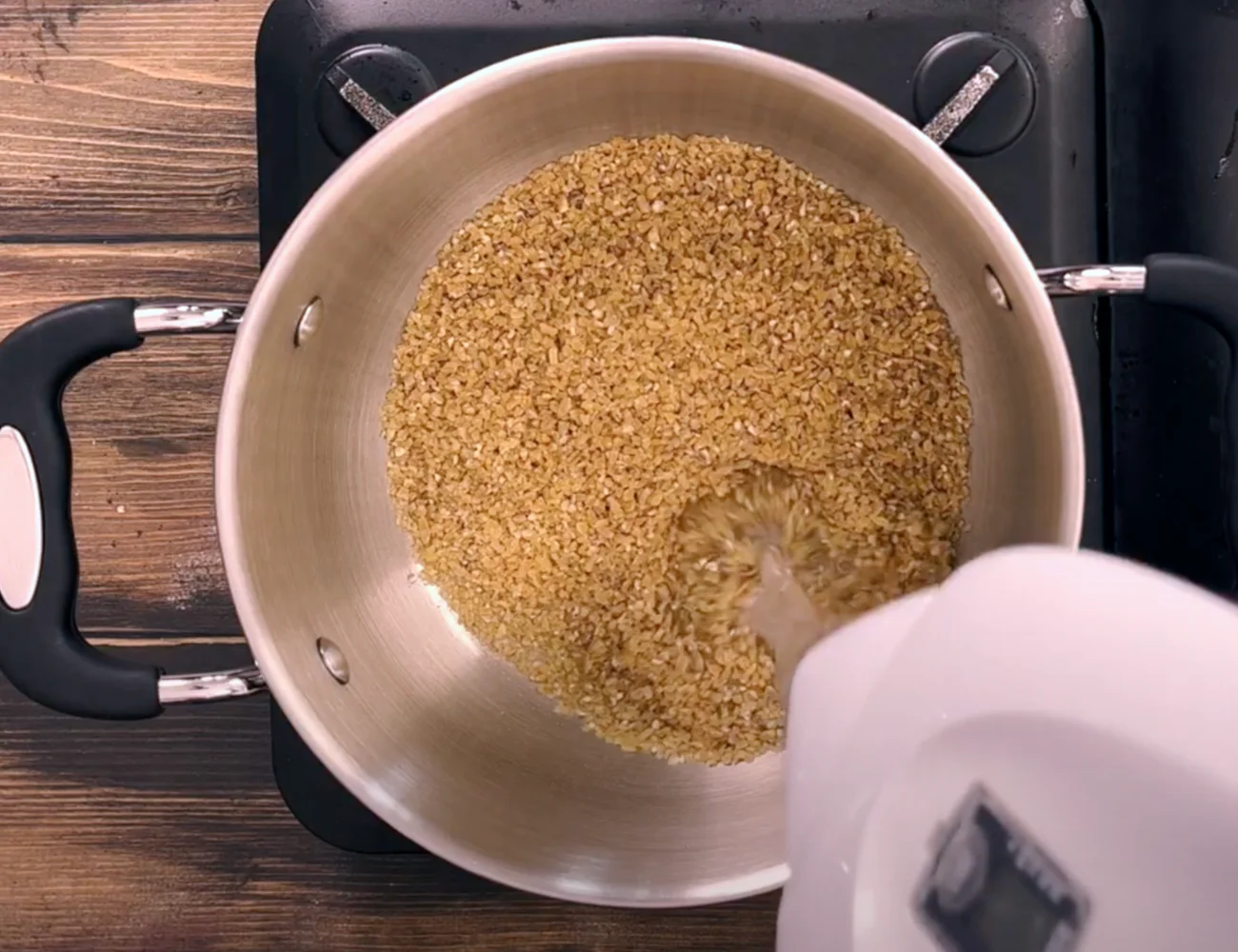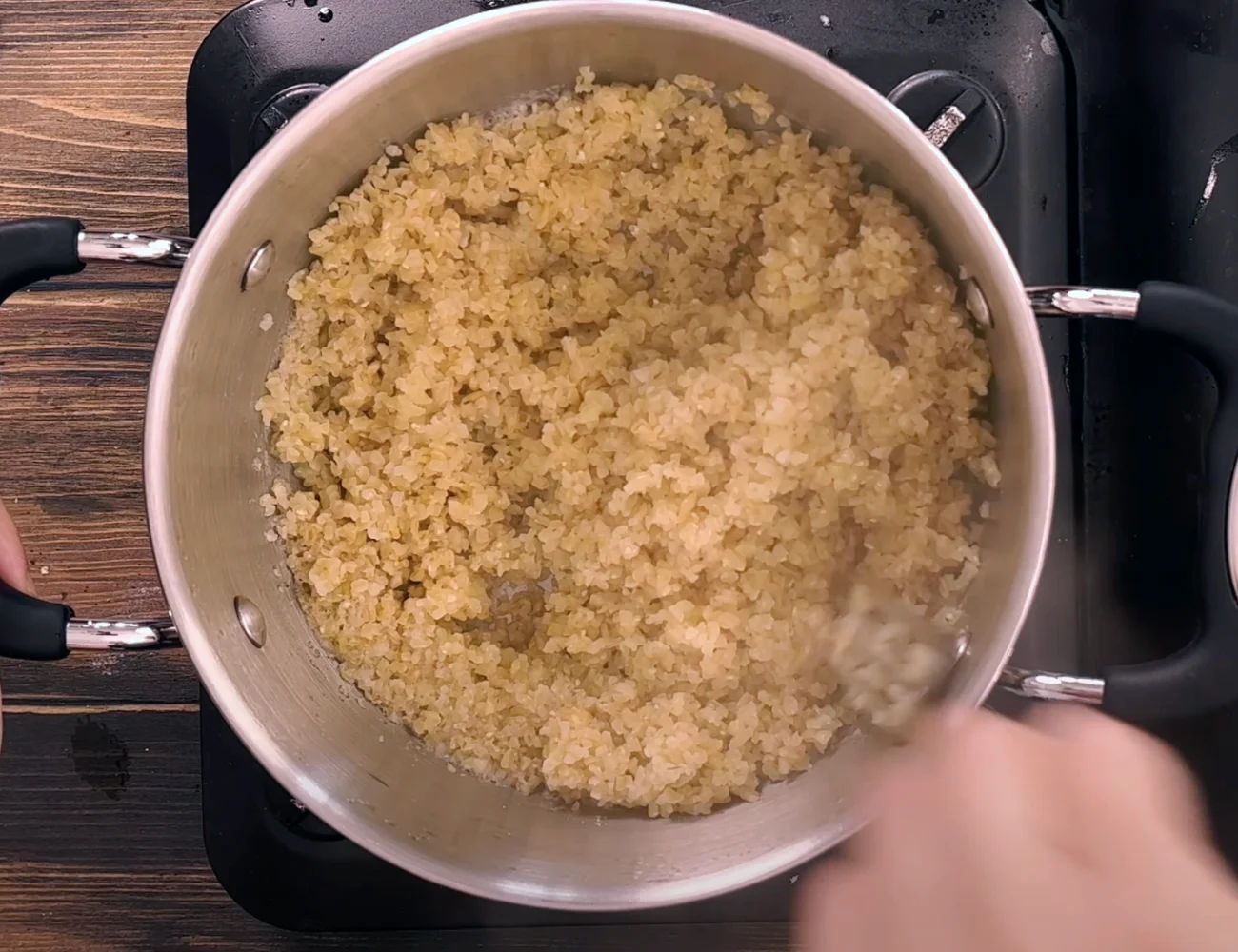 Add Flavor to the Mushroom Veggie Burger
To prepare our amazing burger flavors, we need onions and mushrooms —and a secret ingredient. You can use either yellow or red onions. We recommend a red onion for a more intense flavor. Chop the onion.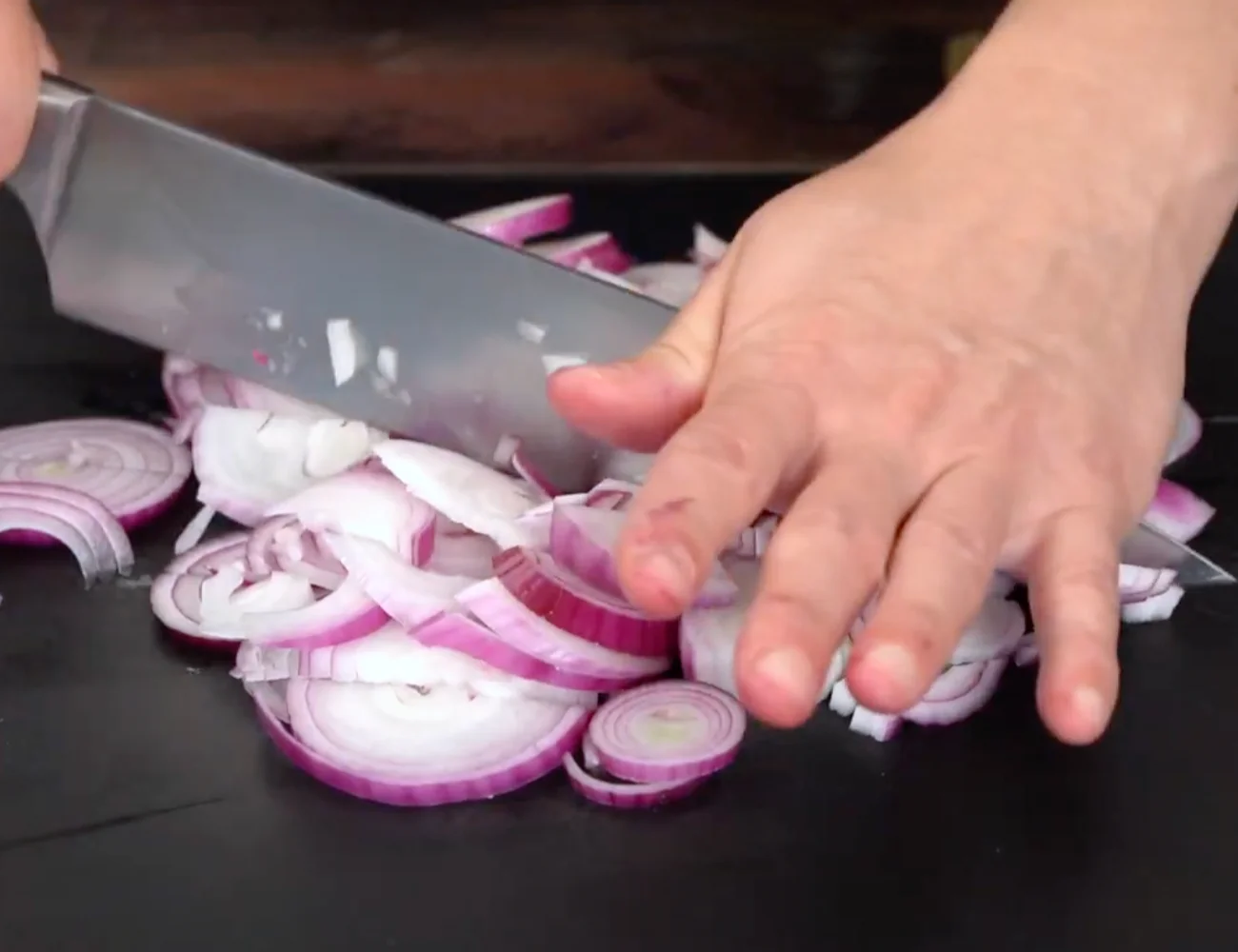 As for the mushrooms, any blend you enjoy will make a delicious veggie burger. We often use common champignon button mushrooms. They are easy to find and so economical.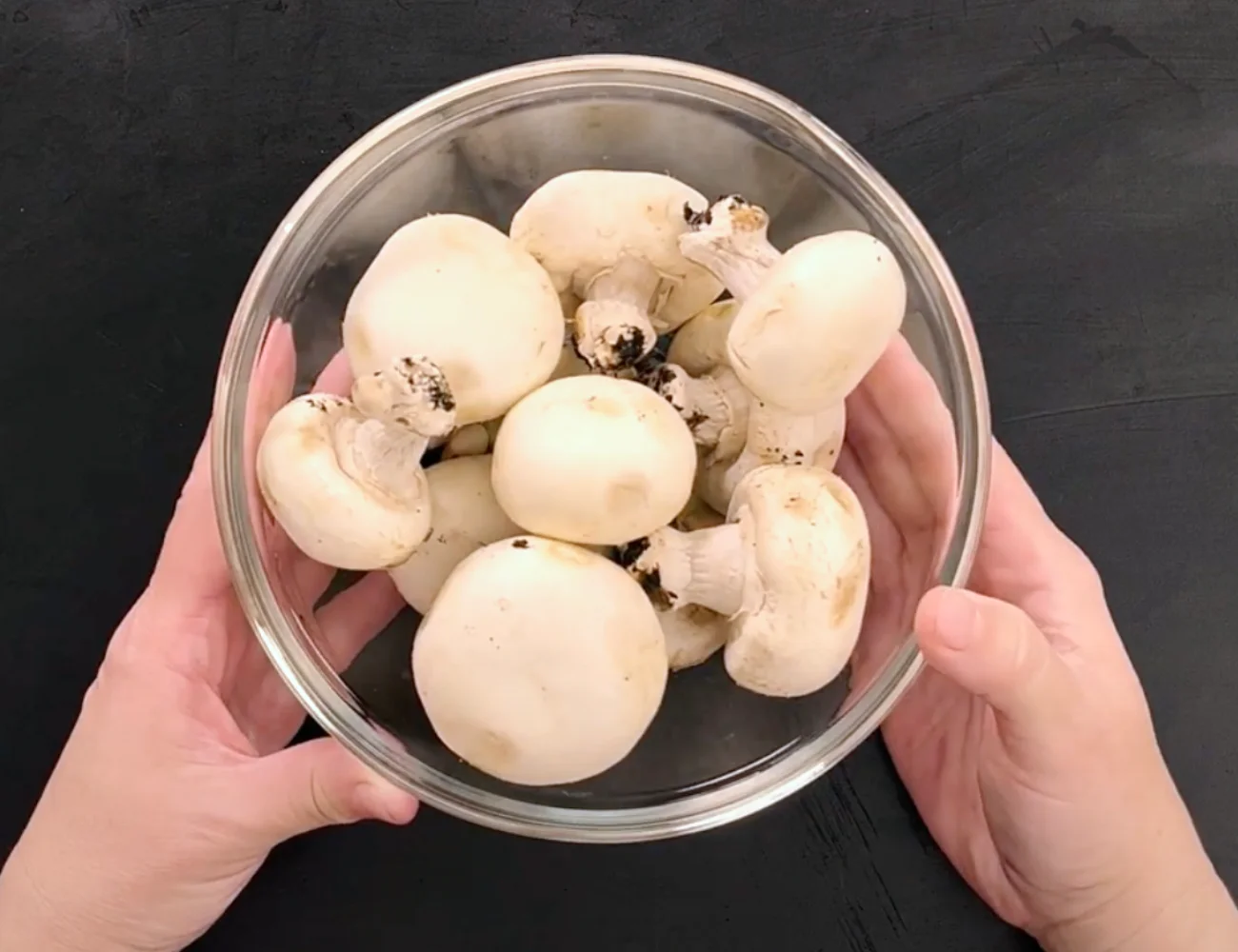 What is the right way to clean mushrooms? The rule of thumb is this: a quick shower is okay but a bath is not. Soaking mushrooms in water will change their taste and texture. For a detailed look on cleaning every type of mushroom, check out our guide on How to Clean Mushrooms.
Slice the mushrooms and then give them a rough chop. Then, sauté the onions and the mushrooms in olive oil until they are tender. Add a pinch of salt as well.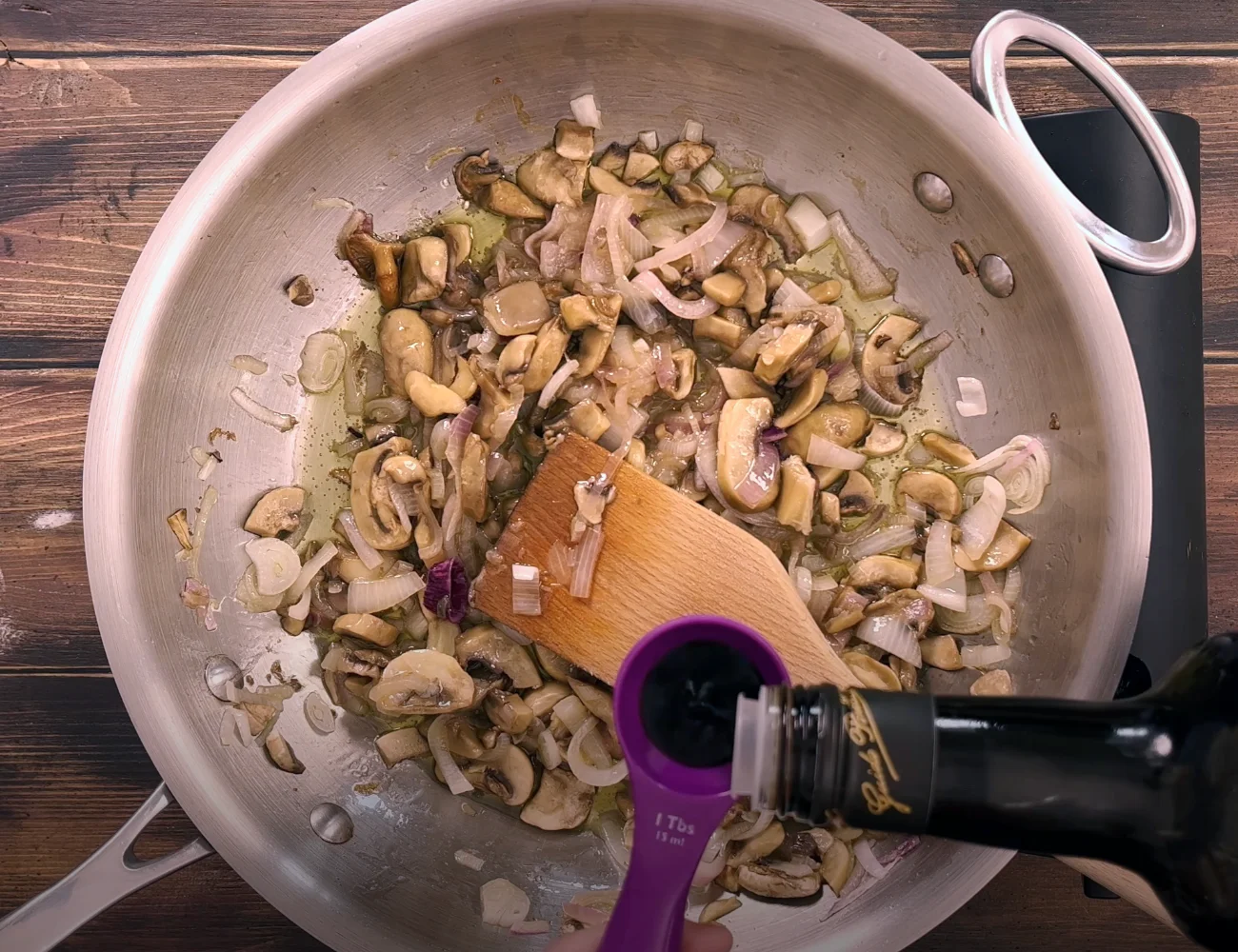 After a few minutes, when the mushrooms and onions are tender, remove them from the heat and stir in the secret ingredient: a few tablespoons of balsamic vinegar! Set the sautéed mushrooms and onions aside to cool.
Create the Mushroom Veggie Burger Mix
Mix all of the mushroom veggie burger ingredients together using a food processor or immersion blender. Blend together the nuts and the mushrooms until they are pretty smooth.
Then add the bulgur and pulse to blend. We want to combine the bulgur with the veggies, while still maintaining some of that texture that it brings to the burger.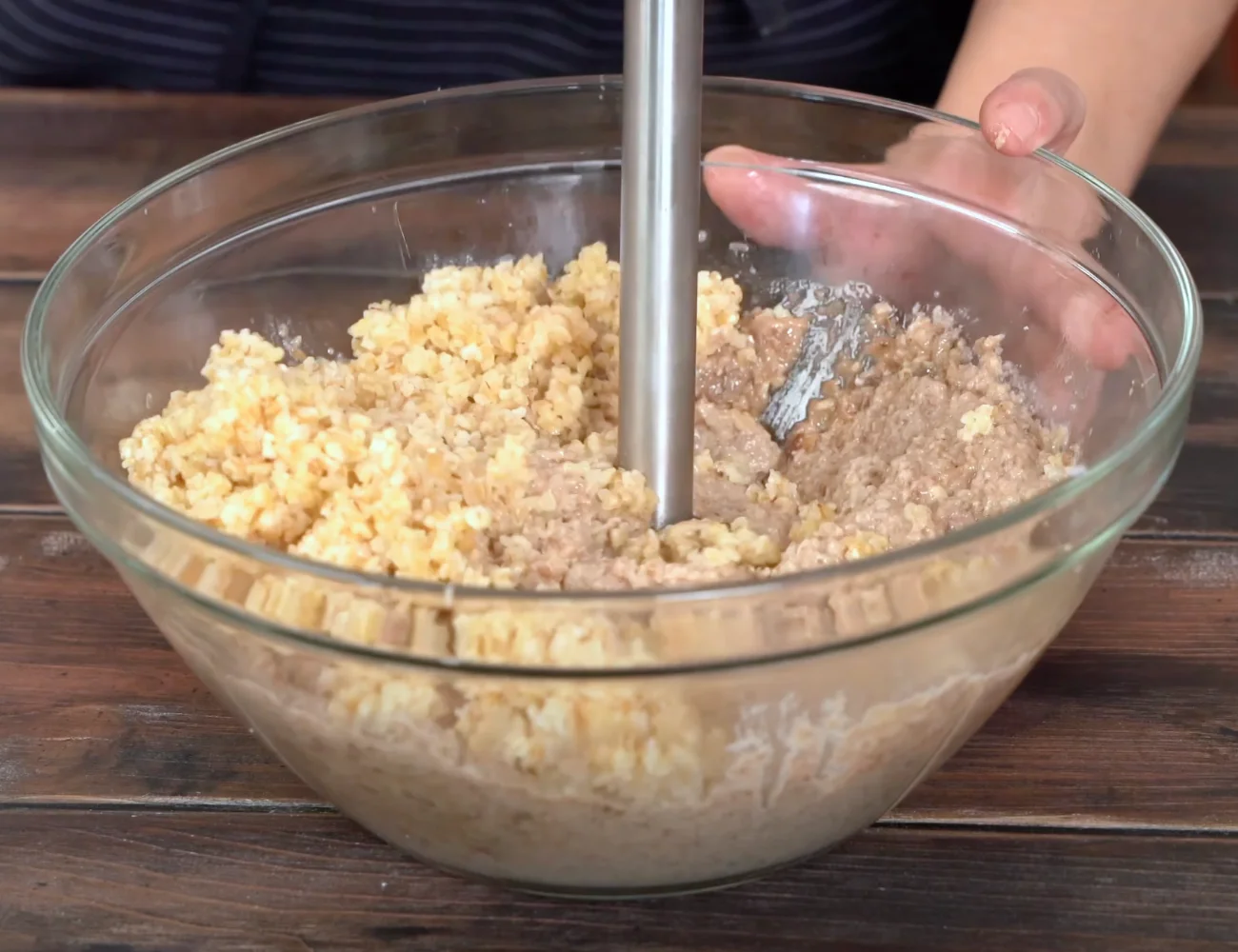 It is time to taste! We still need to add a binder, but we like to taste the veggie burger mix before adding in raw egg. If needed, add more salt, a pinch of black pepper or even more balsamic vinegar. When you're satisfied with the flavor of your veggie burger mix, mix add two whole beaten eggs and about a half a cup of bread crumbs.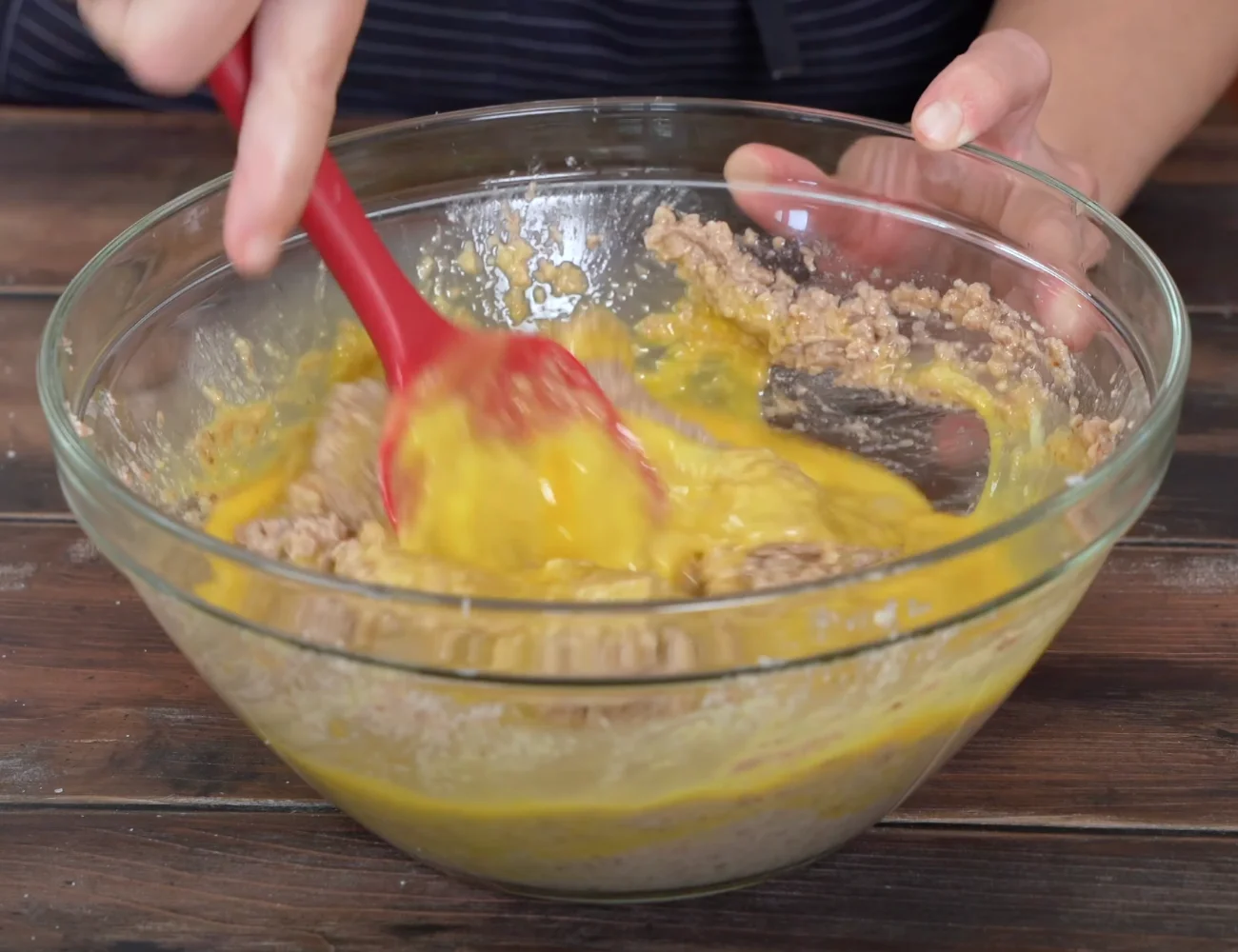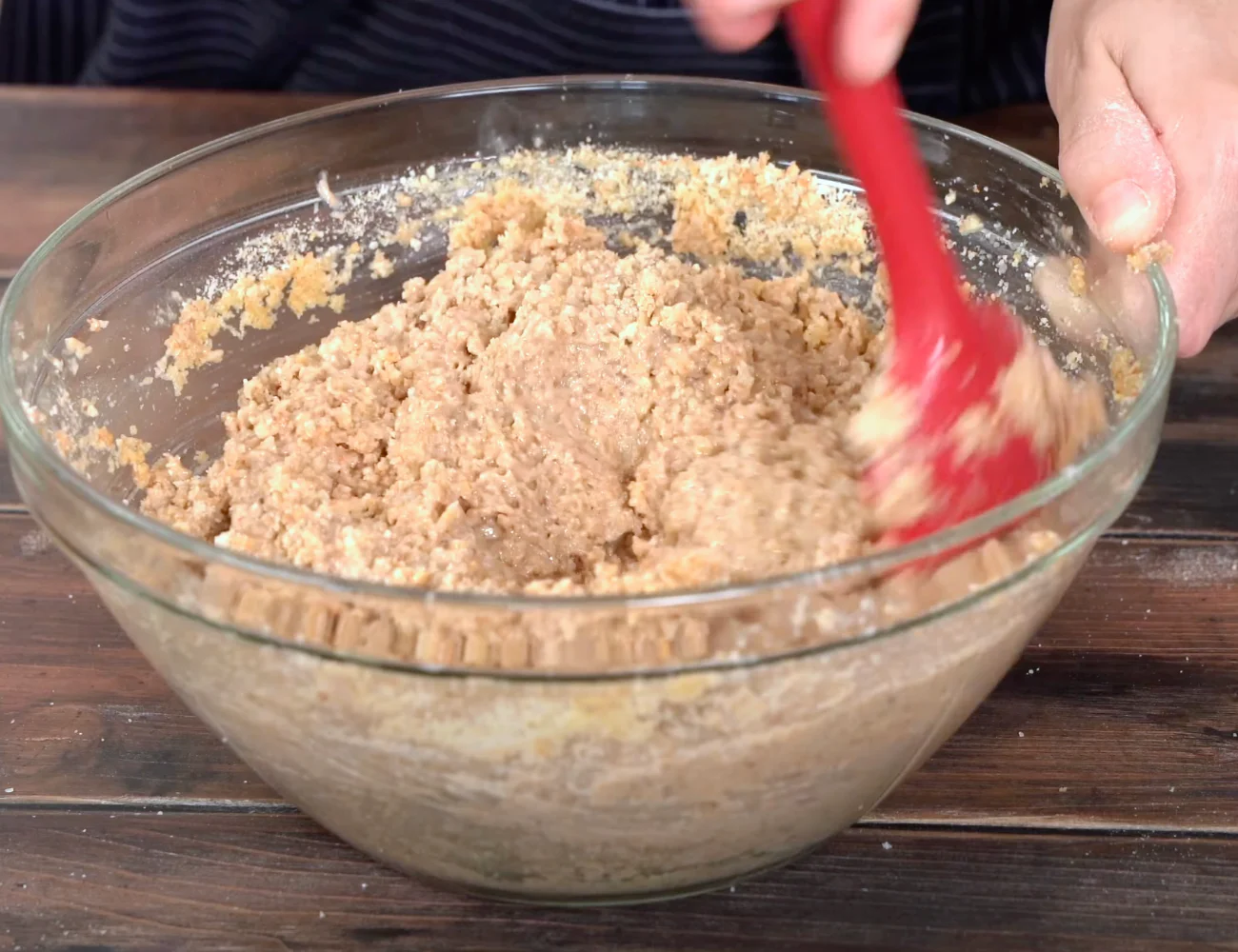 For our mushroom veggie burger recipe, the fat from the egg yolk and the protein from the egg whites will also give our burger a more familiar texture. Let the mixture rest for another 15 minutes or until you are ready to form them into patties.
Shaping the Mushroom Burger Patties
A burger press is obviously the easiest way to get a perfect burger shape. However, since many of you probably don't have a burger press lying around, here's a nifty trick for making your burgers a standard size and shape.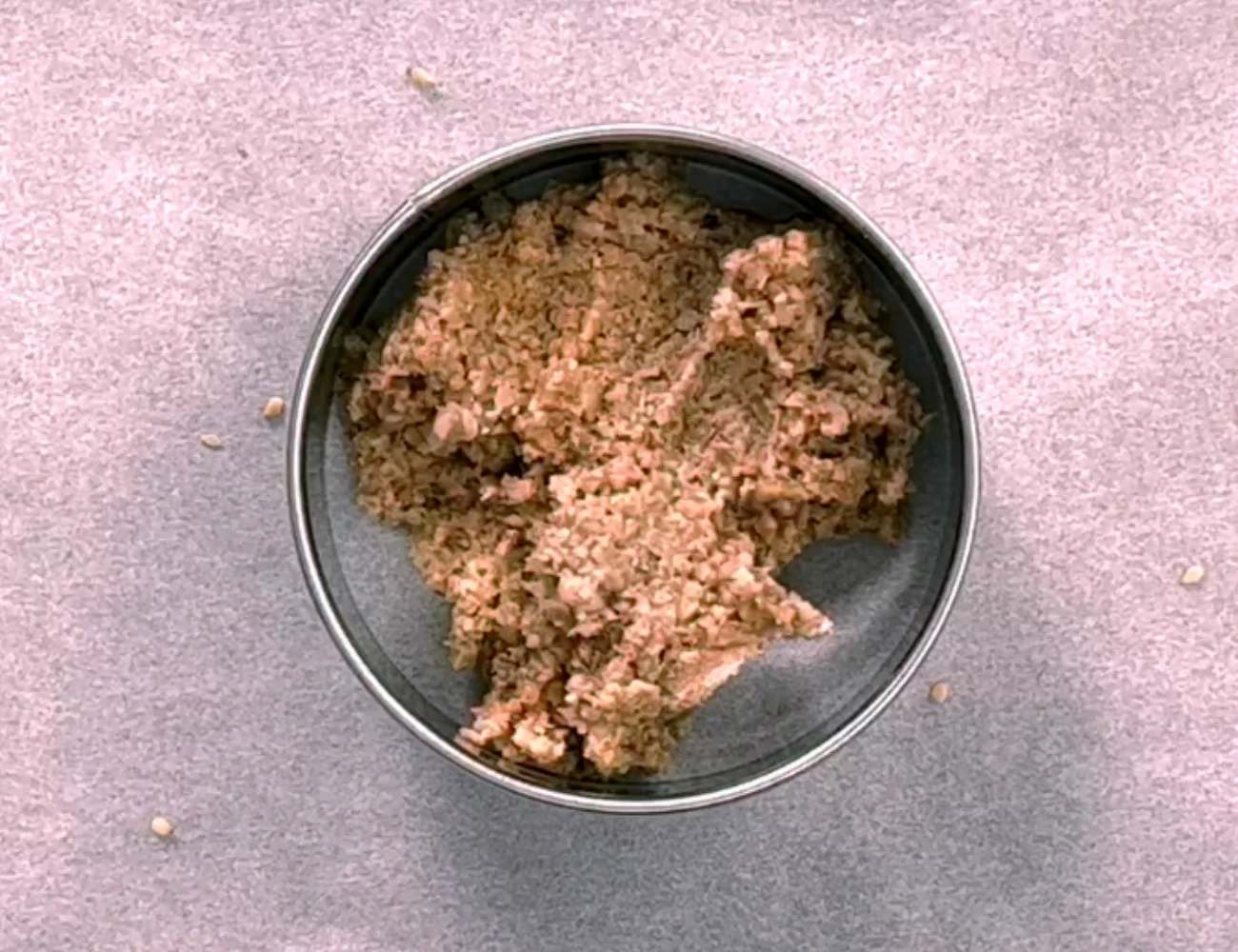 Use a common round cookie cutter! Pick a size that is about the size of your burger bun. Easy, right? And we're going to use that to give our burger a shape.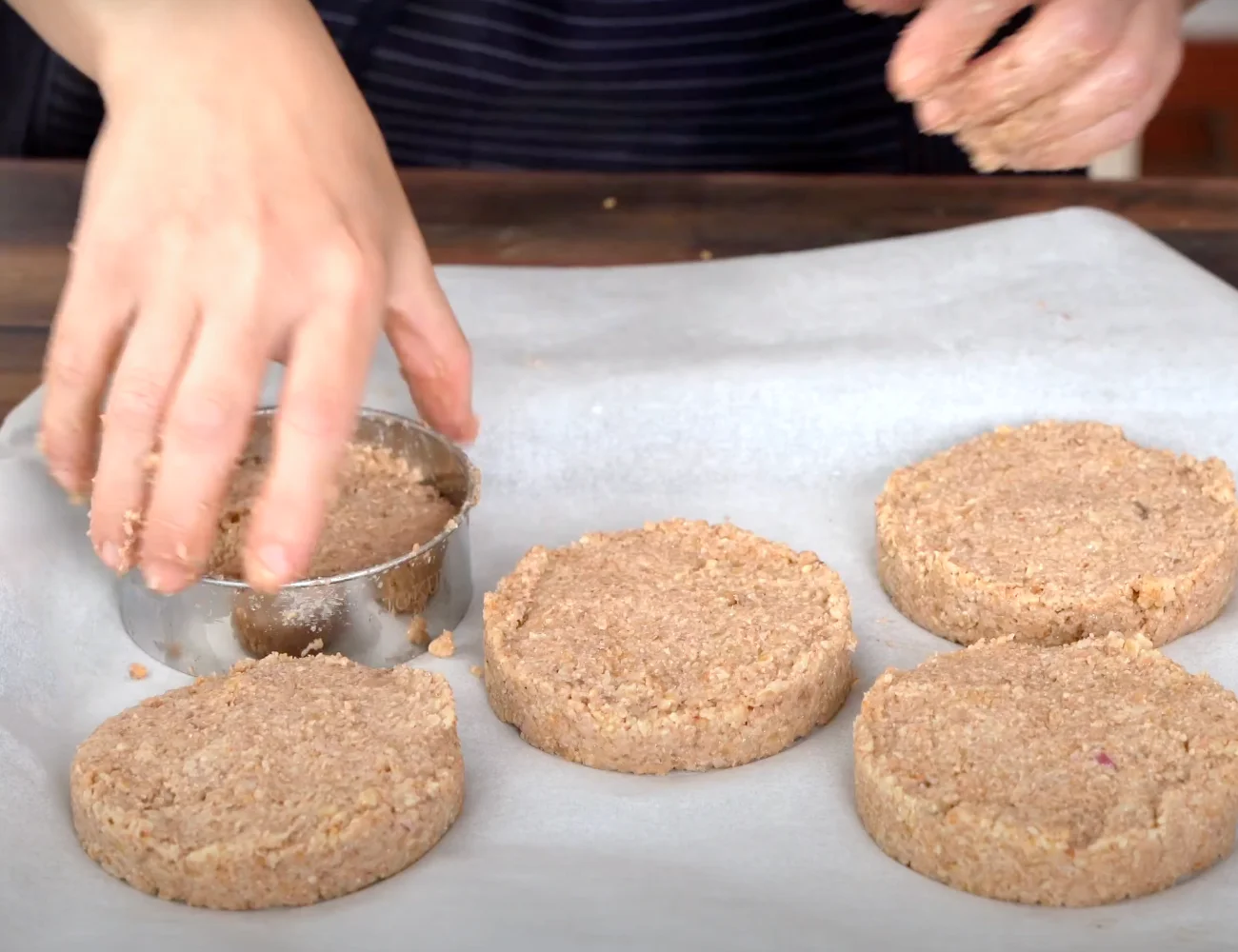 Shape your burgers on a flat surface— a cutting board or a cookie sheet —covered with parchment paper. The board makes the burgers easy to store and transfer. The parchment paper makes them so easy to transfer to a grill or skillet.
Additional Flavors
While this mushroom veggie burger recipe is delicious as is, we do enjoy getting creative with additional flavors. You can put anything you'd normally add to a burger mix. One of our favorites? Chopped jalapeño and cheddar cheese! When we are in Italy, we replace the cheddar with Parmigiano.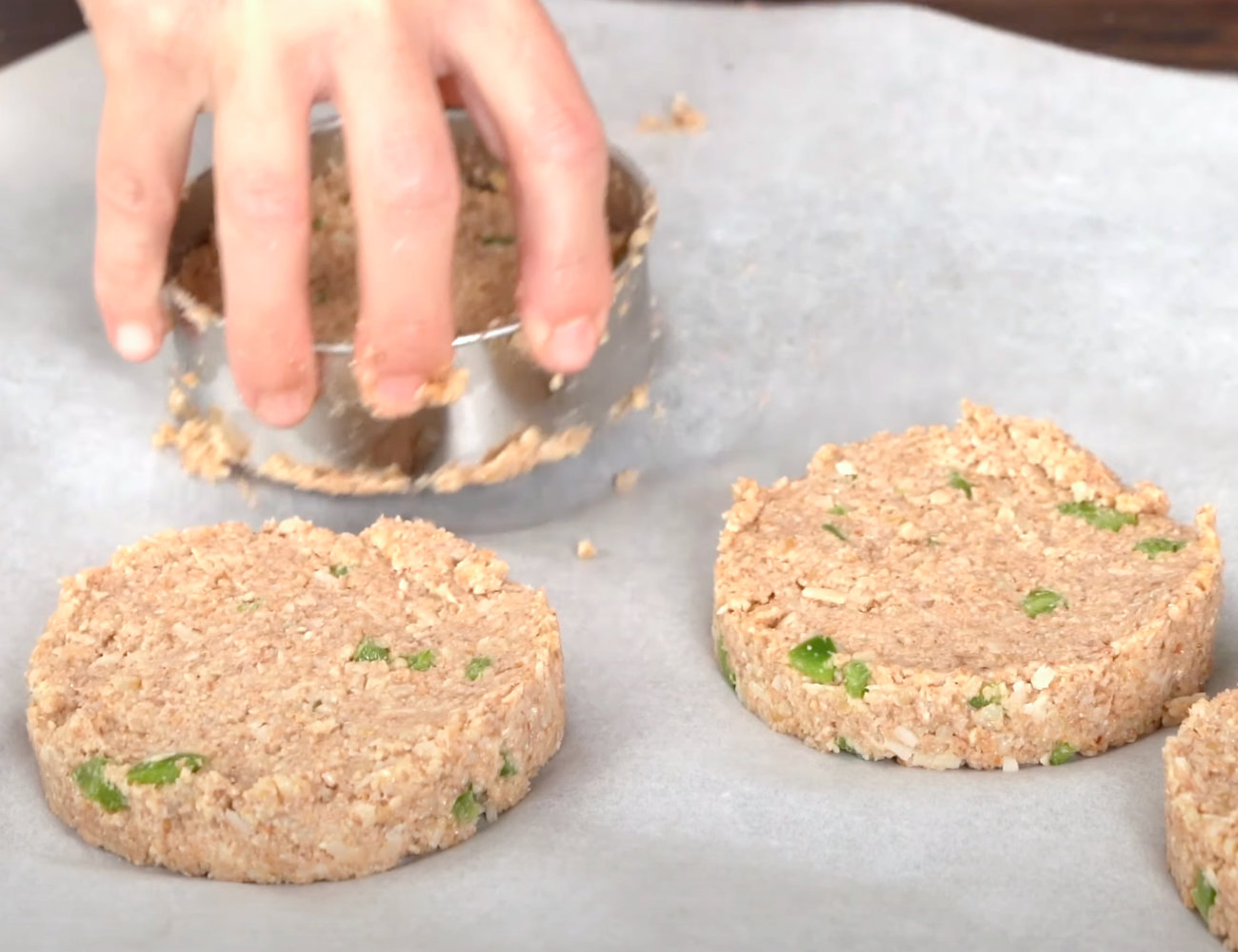 How to Cook Veggie Burgers
You can simply cook these mushroom veggie burgers in a skillet for about four minutes a side.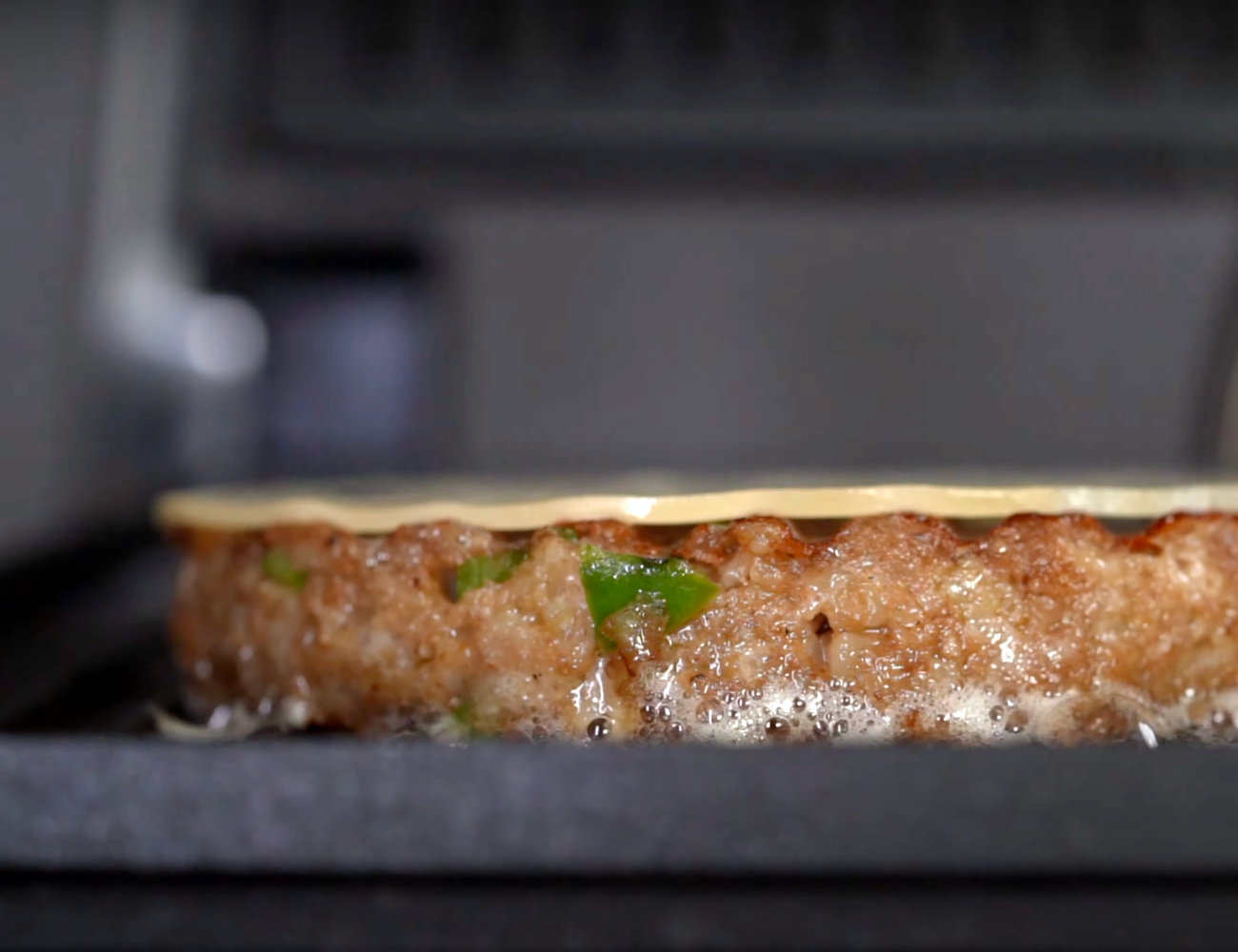 Or, cook them on a grill or even on a panini press! A panini press works really well. It heats up in a minute and doesn't require that we bake in the sun while grilling our mushroom veggie burgers. The panini press cooks both sides at once so you simply need four to five minutes total.
Should we finish these off with some melted cheese?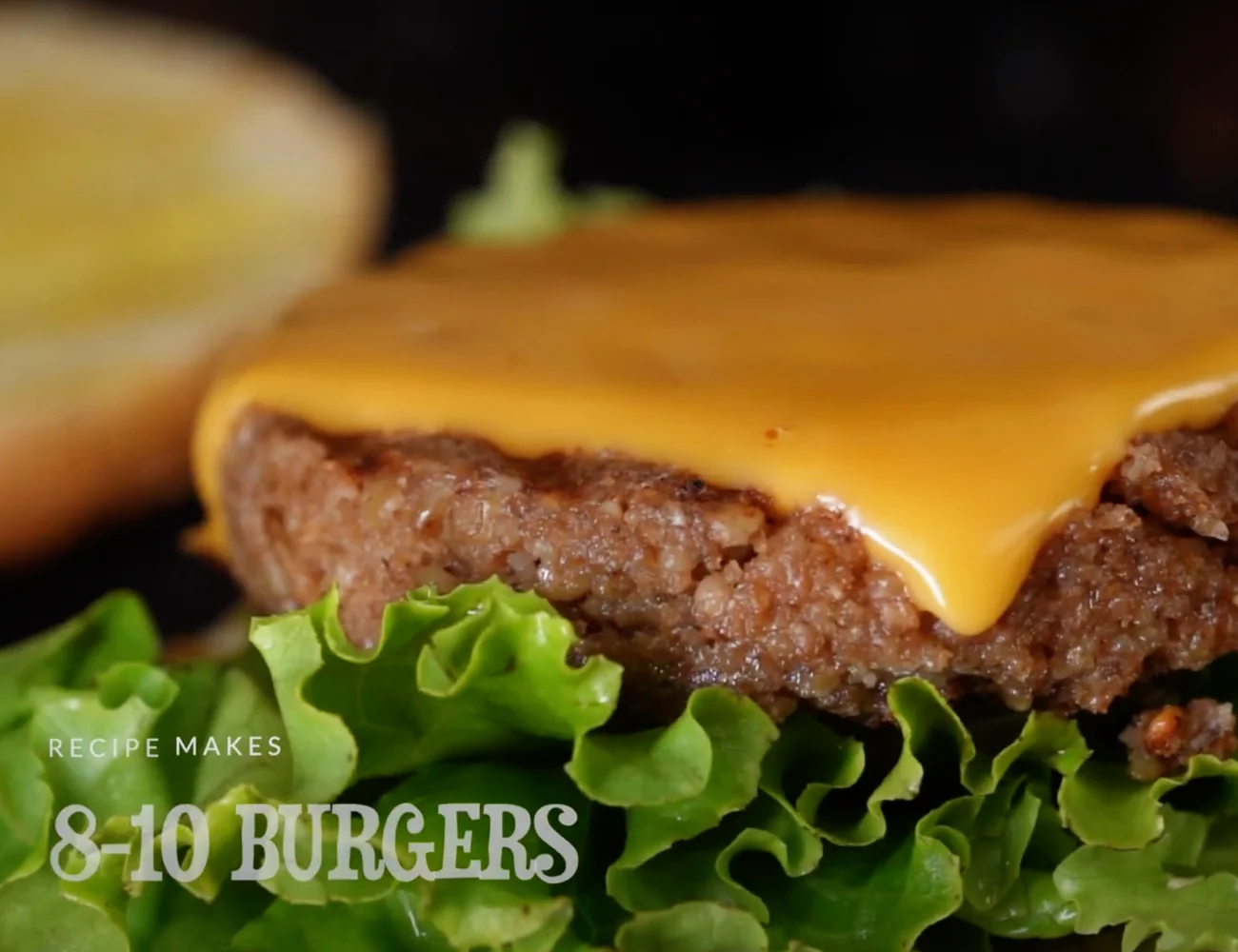 The texture is amazing! And these burgers have a delicate nutty umami flavor that supports any classic burger condiments or fillings you want to add.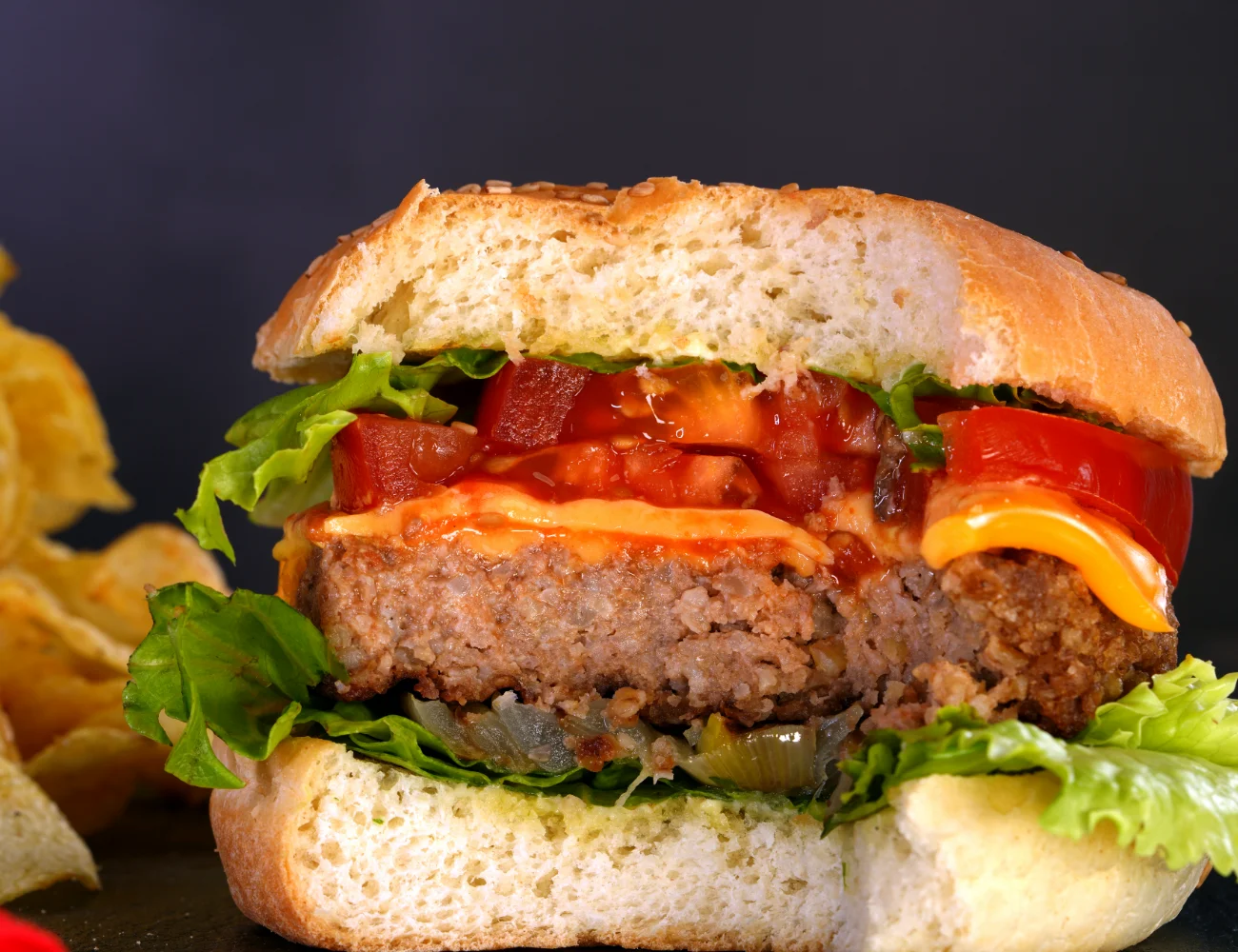 ---
As an Amazon Associate, we earn from qualifying purchases. This means at no extra cost to you, PIATTO may earn a small commission if you click the links and make a qualifying purchase.
---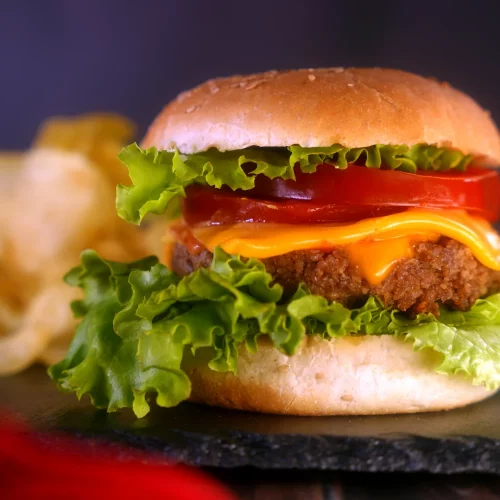 Best Mushroom Veggie Burger Recipe
This PIATTO-perfected recipe is the best mushroom veggie burger recipe you'll ever make at home. With nut and bulgur, it is packed with flavor, texture and nutrition.
Equipment
1 skillet

for sautéing the veggies

1 medium pot

for preparing the bulgur

1 Blender, Food Processor or Immersion Blender

for mixing the ingredients

1 round cookie or biscuit cutter

optional, for shaping the burgers

parchment paper

optional, for easy storage and transfer
Ingredients
⅔

cup

bulgur

cook according to package instructions

1

cup

water

or according to bulgur package instructions

6

tbsp

olive oil

8

oz

mushrooms

button (champignon) or your choice!

1

large

onion

we prefer red onions

2

tbsp

balsamic vinegar

3

oz

walnuts

or pecans

2

whole

eggs

beaten

½

cup

bread crumbs

black pepper

to taste

fine salt

to taste
Instructions
Prepare the Ingredients
Clean and slice the mushrooms you've selected.

Toast the nuts in a dry pan just until fragrant. Set the nuts aside.
Prepare the Bulgur
Prepare the bulgur according to the package instructions. Some bulgur needs to be cooked, while other varieties are simply soaked in boiling water.

⅔ cup bulgur,

1 cup water

Set the cooked bulgur aside to cool.
Sauté the Onions and Mushrooms
Cover the bottom of a large skillet with olive oil and bring to medium heat.

Sauté the onions and mushrooms over medium heat until the onions are tender and translucent.

Remove the onions and mushrooms from the heat, and stir in the balsamic vinegar. Let the mixture cool to room temperature.
Make the Mushroom Veggie Burger Mix
Blend the toasted nuts, mushrooms and onions to a smooth paste.

Add the cooked bulgur and blend coarsely. We want to see the texture from the bulgur in our final mix!

Taste. Add salt and pepper to taste. Then mix in the beaten egg.

black pepper,

fine salt,

2 whole eggs

Add any additional flavors you want in your burger (for instance, cheddar and jalapeño)! Let the mixture rest for about 15 minutes before forming them into patties. This gives the breadcrumbs time to soak up any liquid.
Shape the Mushroom Veggie Burgers
On a sheet of parchment paper, prepare 8-10 mushroom veggie burger patties.

For neatly shaped patties, use a round biscuit or cookie cutter about the size of the bun you plan to serve.

Press a portion of the mushroom veggie burger mix into the round. Gently press down with your fingers to form a patty. Gently lift up on the round to remove it. Create all of the veggie burger patties.
Cook or Grill the Mushroom Veggie Burgers
Cook or grill the mushroom veggie burgers for about 4 minutes a side. Or use a panini press to cook both sides at once (about 5 minutes total)

Serve with whatever burger condiments you enjoy… and Buon appetito!
Video
Notes
Get Creative with Flavors!
This mushroom veggie burger recipe is delicious on its own. However, feel free to get creative with any flavors that might normally go into a burger mix! We enjoy adding pepper and cheddar, for instance. 
Freezes Wonderfully
After preparing the mushroom veggie patties on parchment paper, you can freeze them on the same parchment paper. To save space in the freezer, we usually cut squares around the burgers and carefully stack the burgers on top of one other, usually the parchment paper to prevent the burgers sticking together.
Use the Parchment Paper to Transfer
Cut around the burgers to easily transfer the veggie burgers to the grill on the parchment paper.