This fresh spinach pasta dough recipe will bring color (and nutrition) to any pasta dish. The green color comes from blanched and puréed spinach. Fresh spinach pasta is popular in several dishes in Italy, notably Bolognese Lasagna and 'Hay and Straw' pasta.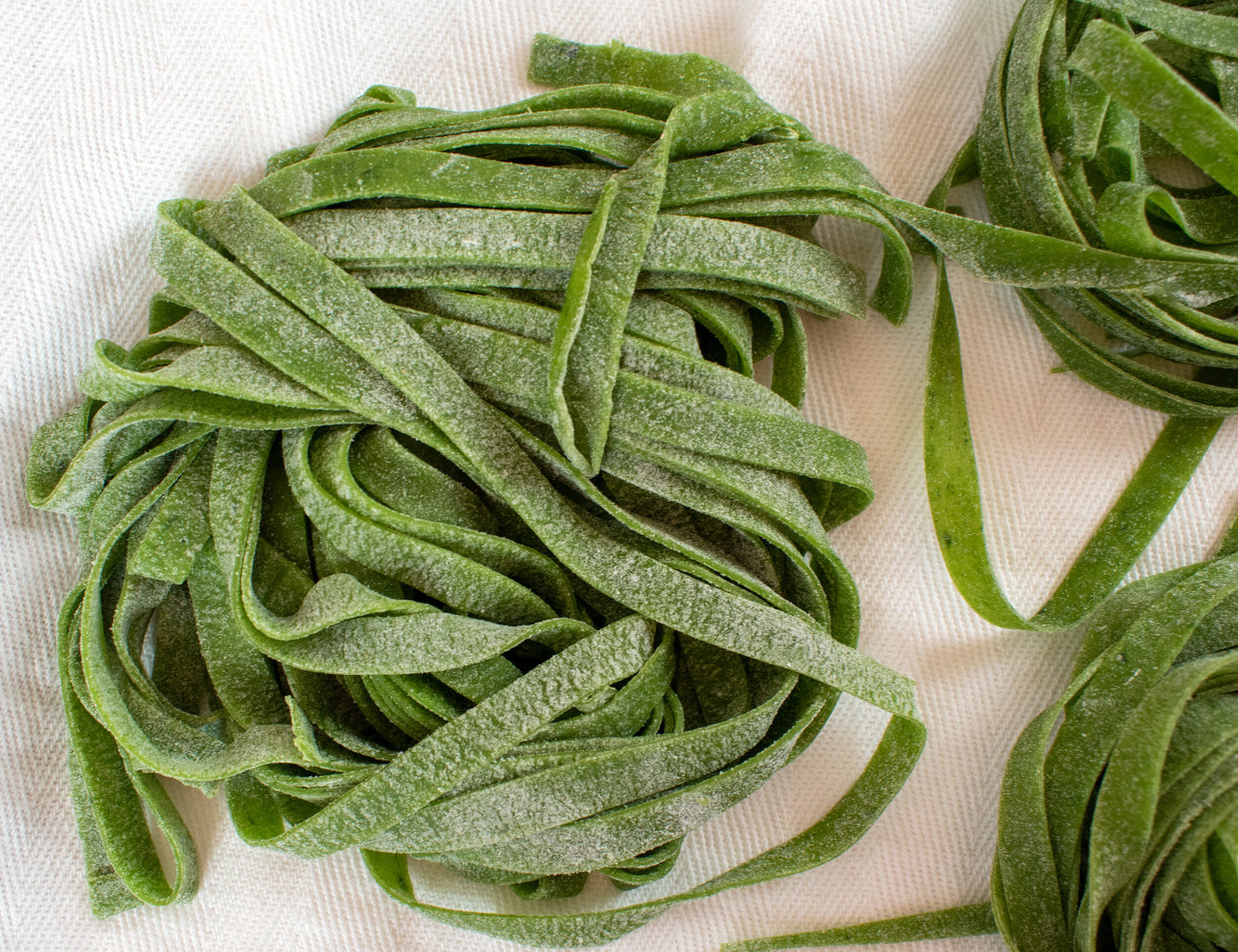 ---
Watch the Video Recipe!
Learn how to make fresh spinach dough (in this case, cut into lasagna noodles) in our video recipe for Bolognese Lasagna:
More video recipes?
Subscribe to our YouTube Channel (it's FREE) and click the bell to get notifications when we release a new video recipe!
---
How to Make Fresh Spinach Pasta Dough: Tips
This fresh spinach pasta dough is as delicious as it is beautiful! Boil fresh spinach until it is wilted.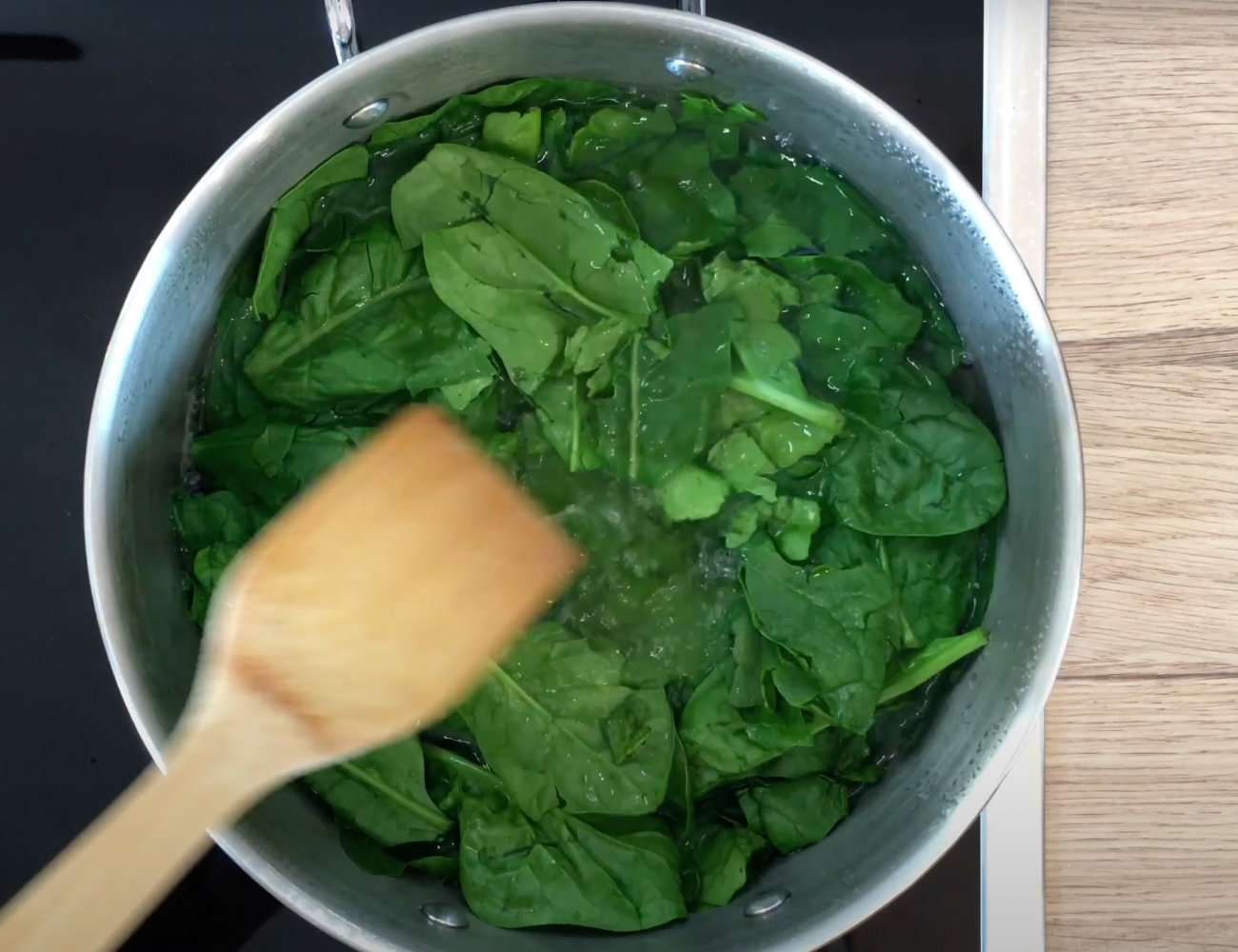 Then, immediately transfer the spinach to an ice bath (called blanching).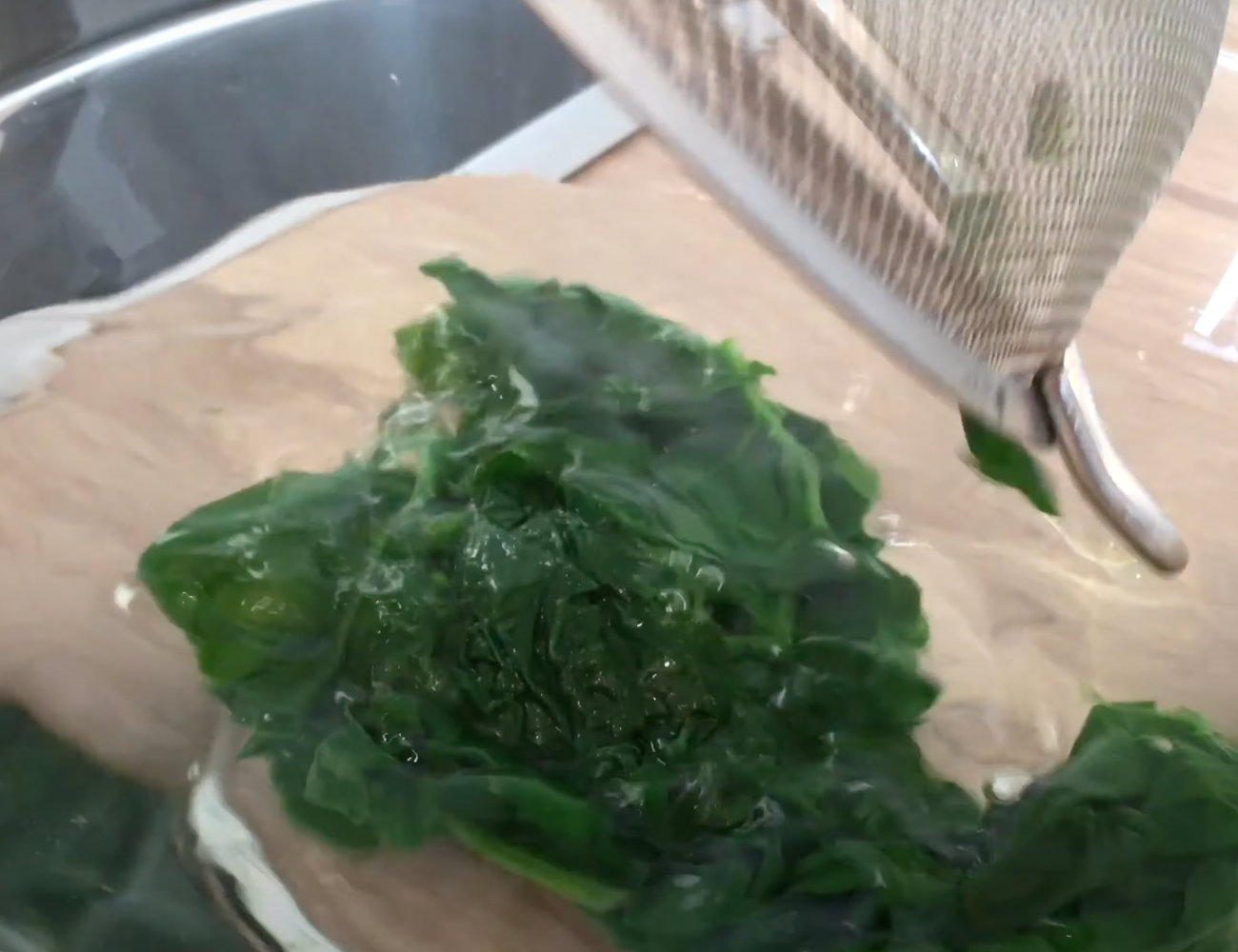 Squeeze the water out of the spinach and blend it to a smooth purée. You can use a food processor, immersion blender or regular blender for this job.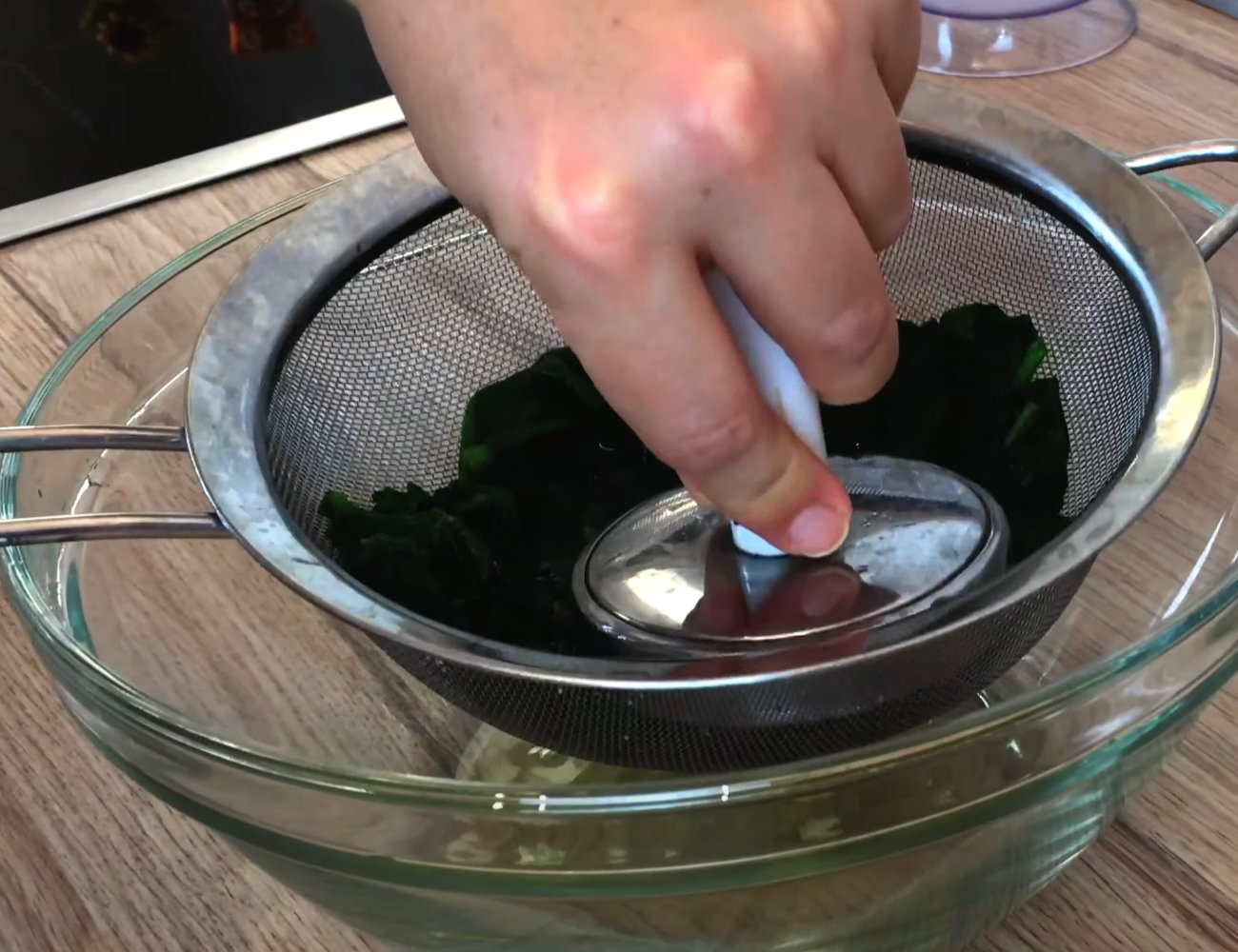 To make the pasta, add the flour to a bowl (or work surface). Make a well in the center and add the whole eggs and spinach. Use a fork to mix the ingredients together, pulling in the flour a little at a time. When the mix begins to look shaggy and can form a rough ball, transfer it to a floured work surface!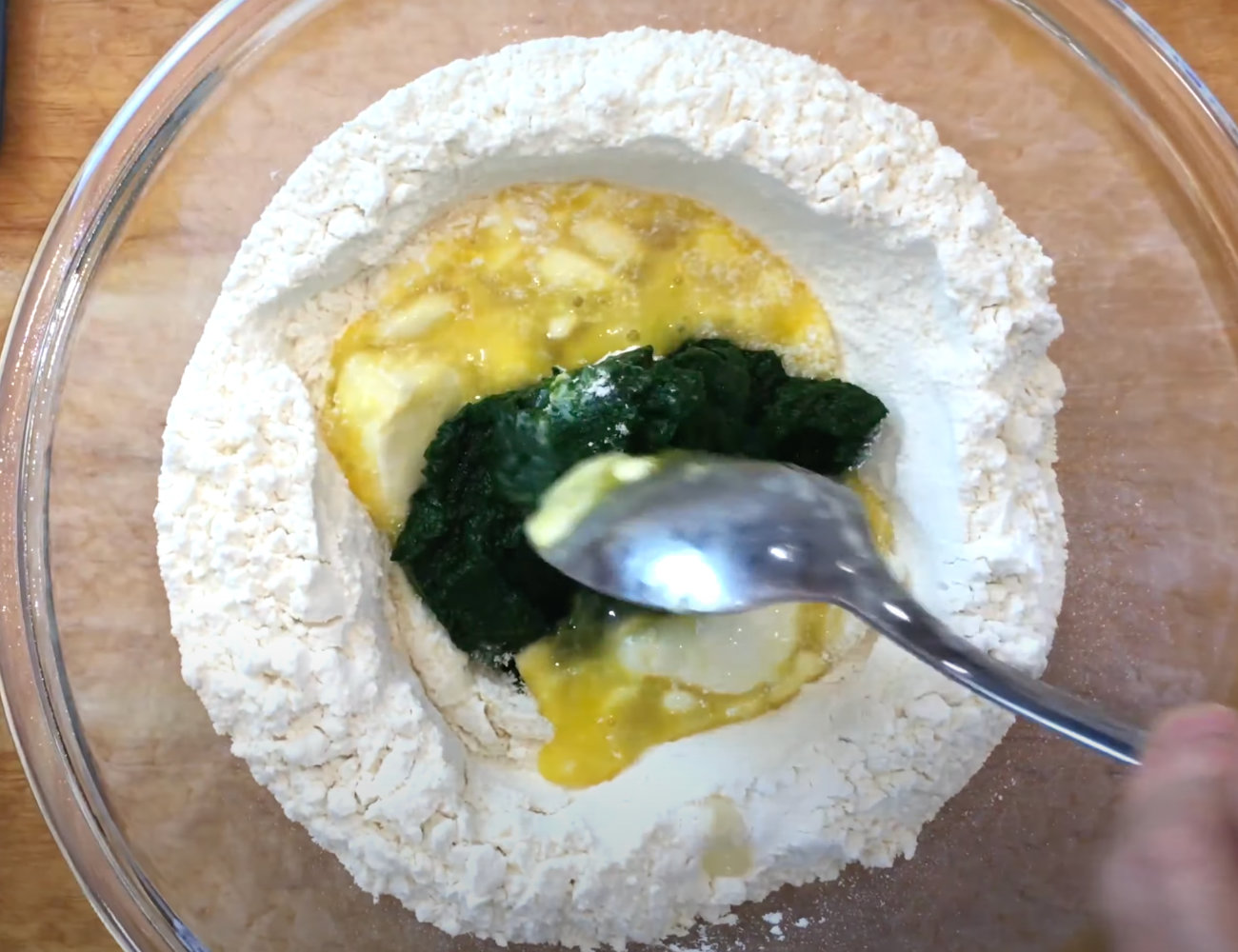 Knead the dough ball until it is smooth and elastic (not sticky). When you press gently in on the finished dough, the dough should spring back. Kneading pasta usually takes 10-15 minutes by hand.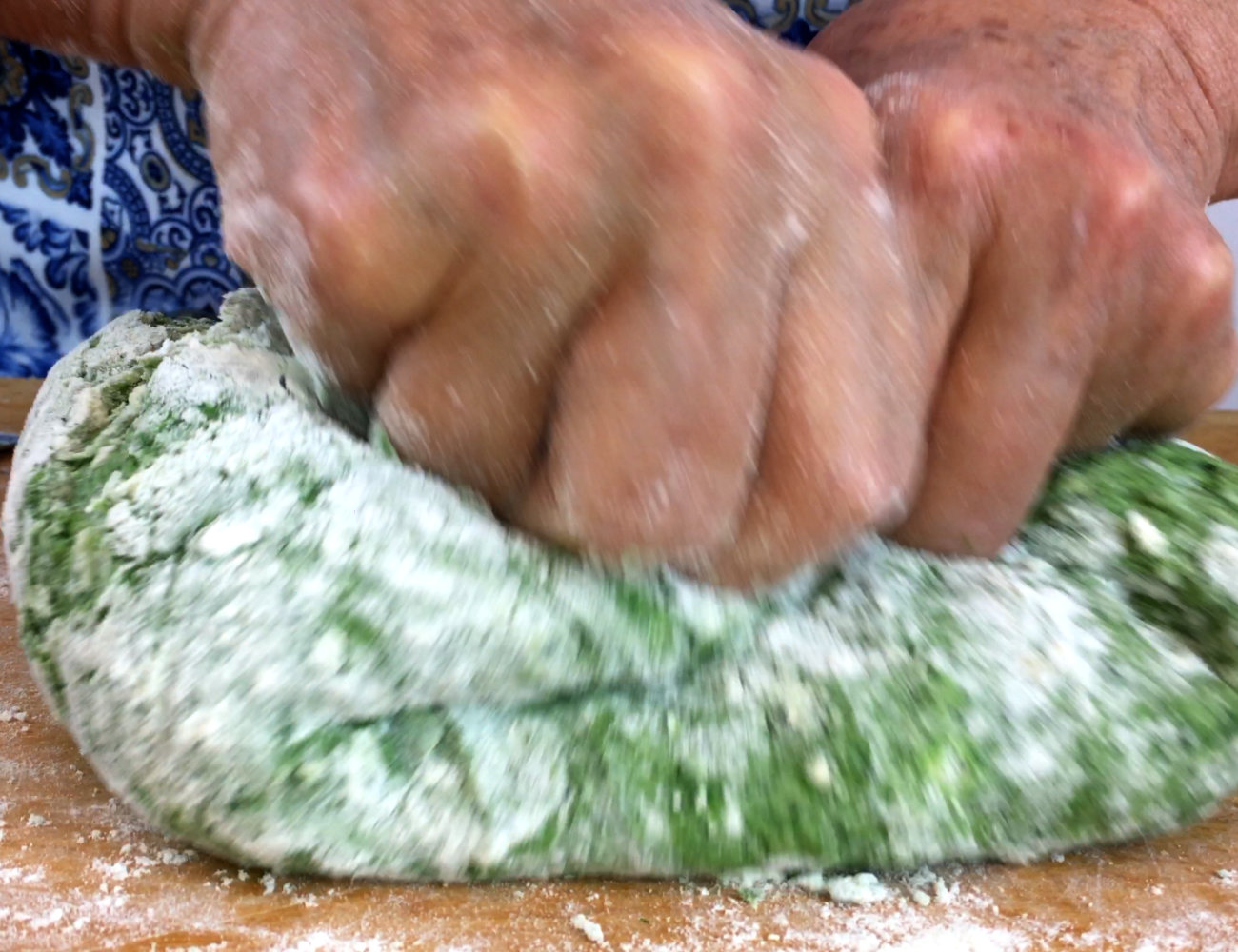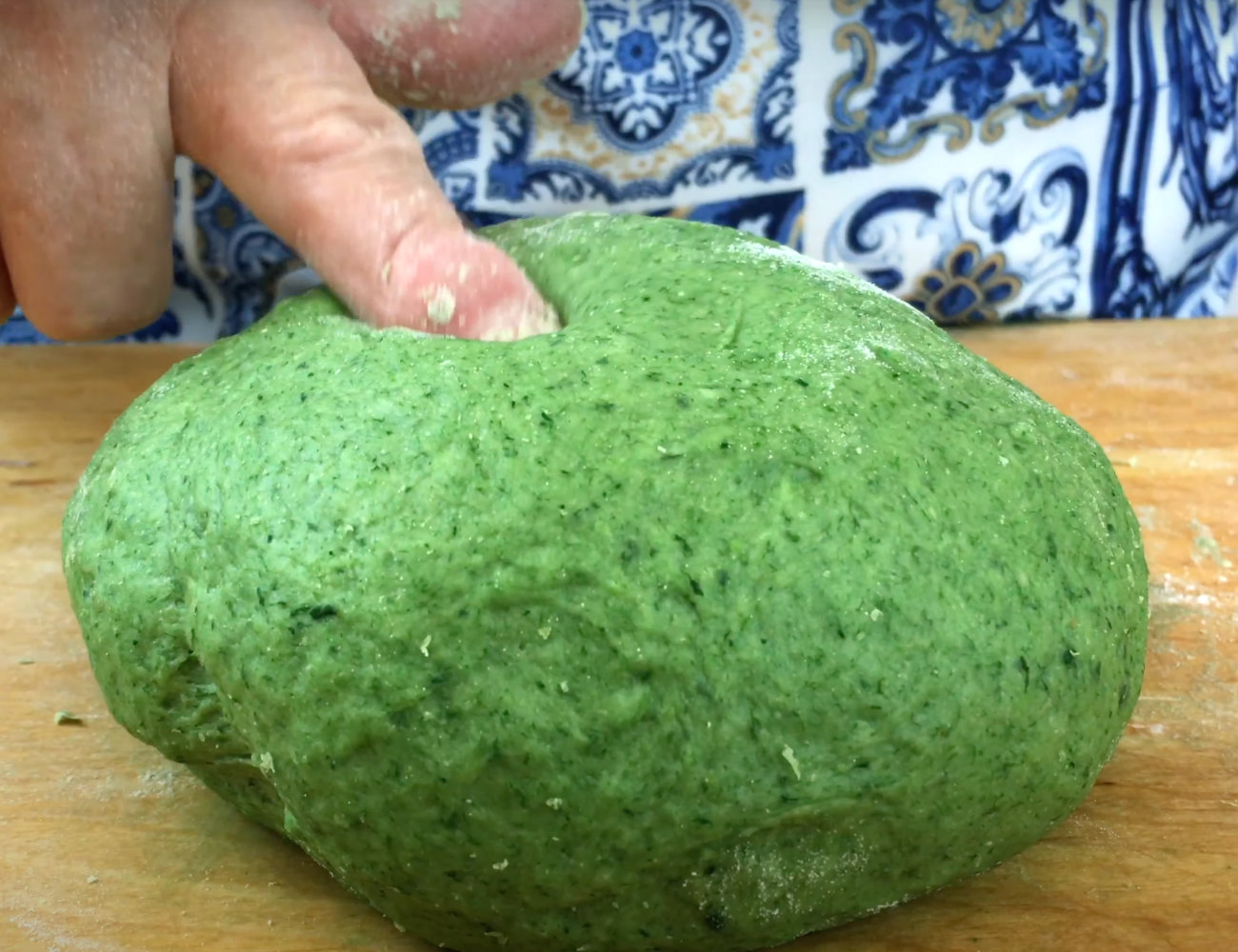 After the fresh spinach pasta dough is finished, cover it and let it rest for 30 minutes before stretching it. This rest is a mandatory step for any fresh egg pasta dough. It allows the gluten in the dough to relax. This will allow you to stretch the pasta more easily and the pasta to retain a better shape and texture.
---
The key to making pasta is to add enough flour to avoid the dough being too sticky, but not too much to create an overly stiff dough. This is why the dough is mixed by pulling flour in from the sides— you can just take what you need.
In fact, when making regular fresh egg pasta (no spinach) in a bowl or with a stand mixer, it's a good idea to set aside 25% of the flour that the recipe calls for. Add that flour as needed and only if needed.
However, since spinach adds a lot of moisture, you'll likely need the entire amount of flour called for in this spinach pasta dough recipe and maybe even a bit more!
Adjust for the moisture!
Since the spinach puree used in this pasta has more moisture than egg, you'll need to add enough flour to compensate. You can mix it up in a bowl until you've got a shaggy dough, then transfer to a work surface to knead it.
Perfect quantity for lasagna!
This is the right amount of pasta to make the lasagna noodles for our Bolognese Lasagna recipe.
---
As an Amazon Associate, we earn from qualifying purchases. This means at no extra cost to you, PIATTO may earn a small commission if you click the links and make a qualifying purchase.
---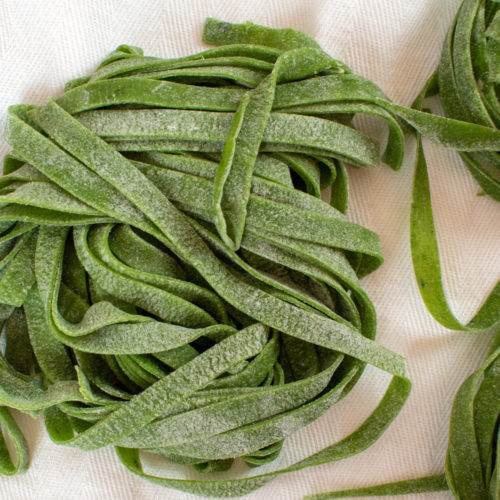 Fresh Spinach Pasta Dough Recipe
Green pasta dough recipe (fresh spinach pasta) perfect for stretching into lasagna noodles, pasta and more.
Equipment
1 Large Pot

1 sieve or strainer

1 blender

immersion, food processor or regular blender
Ingredients
3 ½

cups

all-purpose flour

or 00 flour

3

whole

eggs

5

oz

spinach

fresh or frozen
Instructions
Make the Dough
Clean the spinach and cook it in boiling water until wilted.

Transfer the cooked spinach immediately to a boil of ice water (blanching). When cool, squeeze all of the liquid out of the spinach.

Blend the spinach to a smooth puree. 

Add the flour to a large mixing bowl. Make a well in the center of the flour. Add three whole eggs to the center of the flour and the spinach puree.

3 ½ cups all-purpose flour,

3 whole eggs

Begin to beat the flour into the eggs and spinach with a fork, pulling the flour in from the sides a little at a time. 

You may not need to mix in all of the flour, or you may need to add more. Judge by eye and texture.

When the dough begins to look shaggy, compress the dough into a loose ball and transfer to a floured work surface. Knead the dough until it is smooth and elastic.

The final dough should not stick to your hands. When you push in on the dough, it should spring back. 

When ready, cover and let the dough rest for at least 30 minutes.
Roll and Cut Dough
Use as you would any basic egg pasta dough. Roll the dough to the thickness of the pasta you are making. Cut the pasta accordingly. 
Video
Notes
Mixing in a Bowl?
If you are mixing the pasta dough in a bowl (instead of on a work surface), be sure to add just 75% of the flour called for in the recipe. Then, add more as needed. It is easier to fix dough that is too wet than dough that is too dry.
You May Need More Flour
Due to the puréed spinach, this pasta dough may require more flour than a normal egg pasta dough. The final kneaded pasta dough ball should not be sticky, but should be smooth and elastic. The dough ball should spring back when you gently press it with a finger.
Nutrition
Serving:
100
g
Sodium:
31
mg
Calcium:
52
mg
Vitamin C:
10
mg
Vitamin A:
3327
IU
Sugar:
1
g
Fiber:
4
g
Potassium:
316
mg
Cholesterol:
3
mg
Calories:
407
kcal
Saturated Fat:
1
g
Fat:
1
g
Protein:
12
g
Carbohydrates:
85
g
Iron:
6
mg