Finally! We present the traditional Italian Bolognese Lasagna recipe (Lasagna alla Bolognese)— from the traditional Ragù Bolognese sauce, to the creamy besciamella sauce and the classic fresh spinach pasta. This is the original beef lasagna recipe promoted in the Italian city of Bologna. Simply the best… and a popular choice in Italy for holiday meals or family gatherings.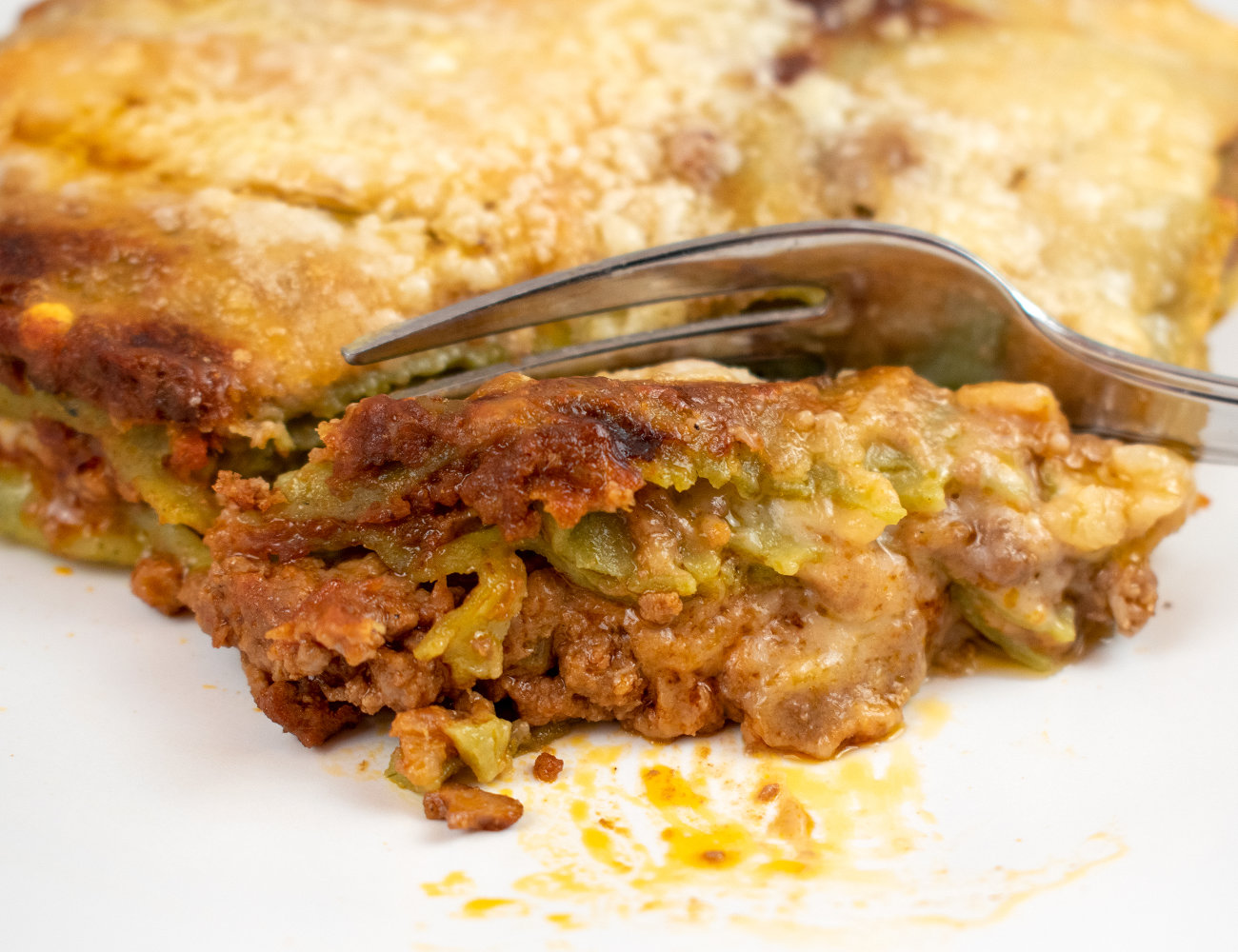 ---
Watch the Video Recipe!
Watch the video and learn how to make this Bolognese Lasagna recipe step-by-step!
---
How to Make Authentic Bolognese Lasagna Recipe: Tips
Preparing the Bolognese Lasagna itself isn't difficult or time-consuming. However, you'll probably want to prep the ingredients the day before if you are making the ragù, bechamel or green pasta dough from scratch.
Want to save time?
It's virtually impossible to find authentic Ragù Bolognese pre-made in most groceries. So, that's the thing to make from scratch. In fact, this sauce freezes wonderfully so you can make it well in advance and just thaw it when you are ready to make the lasagna.
To save time, purchase the besciamella sauce and lasagna noodles pre-made. We like to grate our Parmigiano Reggiano just before use with a food processor for ultimate flavor and freshness. However, you can save time by buying the cheese pre-grated.
What makes this an authentic Bolognese Lasagna Recipe?
Italians are very picky when it comes to calling a recipe 'traditional.' Regional recipes are beloved in Italy, and Italians look to those communities to put their stamp of approval on what is 'traditional' or 'authentic.'
The recipe we present here is promoted by the Italian city of Bologna as the official recipe.
Prep Time Notes
Prep time listed here doesn't include preparing the ragù, béchamel or pasta, which we'll assume you've done in advance.
For your convenience, we've included the recipes for making each of these ingredients in this post, along with their prep times.
Pan size?
This recipe is enough for 5 layers in an 8″ x 11″ or 20cm x 30 cm baking pan.
Use Parmigiano Reggiano—not parmesan.
Always use the real Parmigiano Reggiano. Cheese labeled parmesan is not the same thing in most countries and is virtually never used in Italy.
Use regular lasagna noodles?
Feel free to use pre-made or regular lasagna noodles if you don't want to take the time to prepare the green pasta dough traditionally used in this dish.
We recommend looking for fresh pasta as they are tastier in lasagna.
---
---
As an Amazon Associate, we earn from qualifying purchases. This means at no extra cost to you, PIATTO may earn a small commission if you click the links and make a qualifying purchase.
---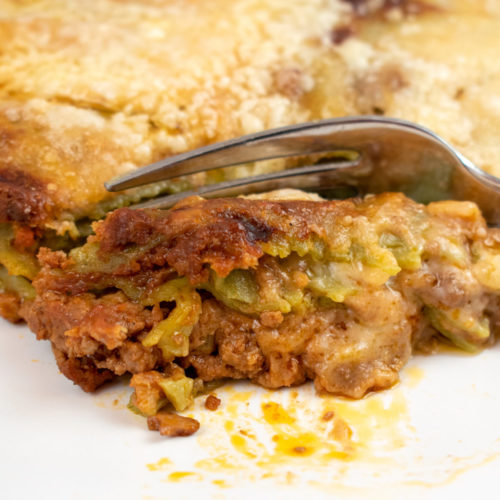 Bolognese Lasagna Recipe
The traditional Italian Bolognese Lasagna recipe— from the traditional Ragu Bolognese sauce, to the creamy béchamel and the classic spinach pasta. This is the original Italian recipe promoted in the Italian city of Bologna.
Equipment
Baking Pan: 8" x 11" (20cm x 30 cm)
Ingredients
7

oz

Parmigiano Reggiano cheese

4

cups

Ragù Bolognese Sauce

see recipe below

2

cups

Bechamel Sauce

see recipe below

Spinach Lasagna Noodles

for 5 layers – see recipe below
Instructions
Prepare Ingredients
Finely grate the Parmigiano Reggiano.

Prepare the Ragu Bolognese. Prepare the béchamel sauce. Prepare the spinach pasta using our recipes. Then…

7 oz Parmigiano Reggiano cheese,

4 cups Ragù Bolognese Sauce,

2 cups Bechamel Sauce,

Spinach Lasagna Noodles
Make Pasta Into Lasagna Noodles
Roll out the pasta dough to a bit less than 1mm in thickness. You should be able to barely see your hand through it if you hold the noodle in front of the light.

Cut the pasta noodles just a bit shorter than the length of your lasagna pan. The noodles will expand when cooked.

We'll need 5 layers of lasagna noodles in total.  You may need to cut some noodles lengthwise to completely cover the pan.
Pre Cook Lasagna Noodles
Boil all the pasta one noodle at a time in boiling water for about one minute. Transfer the pre-cooked noodles to a non-fuzzy towel to cool, laying them flat. 
Assemble Lasagna
Cover the bottom of the lasagna pan with béchamel sauce.

Add a layer of lasagna noodles, side by side, completely covering the pan and overlapping the noodles just a bit lengthwise.

Spread ¾ cup (7 oz or 200 g) of ragu over the noodles. Spread a ½ cup (100 ml) of béchamel over the ragu. Sprinkle with about 4 tbsp of finely grated Parmigiano Reggiano. 

Add another layer of lasagna noodles.

Repeat until you have 5 layers of lasagna noodles. 
Bake Lasagna
Bake the lasagna in a pre-heated 400° F (200° C) oven for 25 minutes.

If you have a fan option on your oven, bake at 350° F (180° C) for 15 minutes.

Bake uncovered, until the top of the lasagna is a crispy golden brown. 

Let the lasagna rest for 10 minutes before cutting. 
Video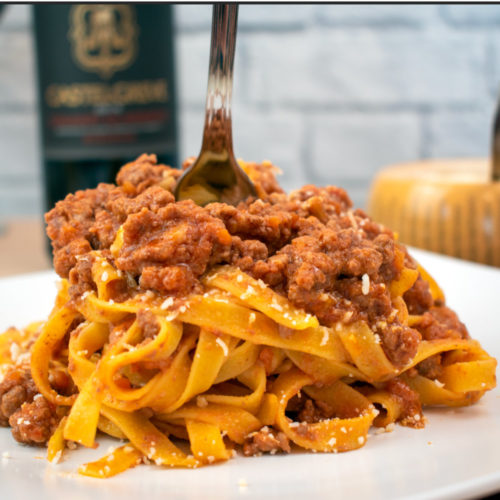 Authentic Ragu Bolognese Sauce Recipe
This Ragù Bolognese Sauce recipe is the traditional recipe that originated in Bologna, Italy. It is used in many beloved Italian dishes such as a Tagliatelle Bolognese, Spaghetti Bolognese, as a sauce for polenta and as an ingredient in the Sunday classic: Lasagna Bolognese. 
Ingredients
1 ¼

lb

ground beef

.6

lb

pancetta

finely chopped

1

carrot

3

ribs

celery

1

onion

medium

21

oz

tomato puree

1

cup

red wine

chianti

2

cups

whole milk

1

cup

beef broth

as needed during simmer (or water)

fine salt

to taste

black pepper

to taste

7

tbsp

butter
Instructions
Make the Sauce
Finely chop the pork belly/pancetta. Mince the onion, carrot and celery. 

.6 lb pancetta,

3 ribs celery,

1 onion,

1 carrot

Melt the butter in a large sauce pan or skillet.

Sauté the vegetables until tender and translucent.

Make a well in the center of the vegetables. Add the pancetta and cook until no longer red. 

Make a well and add the ground beef. Cook until no longer red.

Slowly add the red wine a little at a time. Let the wine reduce and continue adding slowly until all of the wine has been added. 

Add the tomato puree. Stir. Cover and simmer on low heat for 2 hours. 

After two hours, slowly add the whole milk over the course of an hour. Simmer over medium-low heat and stir frequently. Salt and pepper to taste!

2 cups whole milk,

1 cup beef broth,

fine salt,

black pepper
Video
Nutrition
Sodium:
463
mg
Calcium:
126
mg
Vitamin C:
10
mg
Vitamin A:
1852
IU
Sugar:
9
g
Fiber:
2
g
Potassium:
819
mg
Cholesterol:
80
mg
Calories:
433
kcal
Trans Fat:
1
g
Saturated Fat:
11
g
Fat:
30
g
Protein:
21
g
Carbohydrates:
14
g
Iron:
3
mg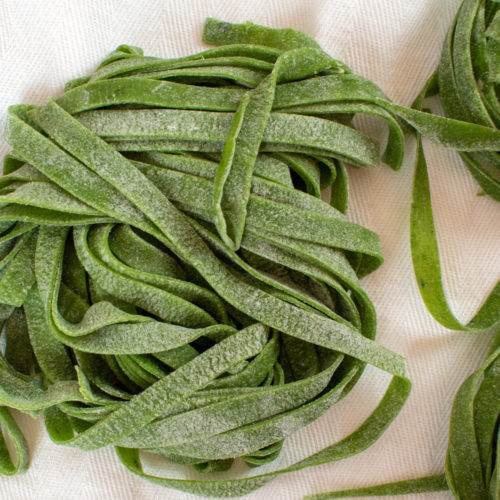 Fresh Spinach Pasta Dough Recipe
Green pasta dough recipe (fresh spinach pasta) perfect for stretching into lasagna noodles, pasta and more.
Equipment
1 Large Pot

1 sieve or strainer

1 blender

immersion, food processor or regular blender
Ingredients
3 ½

cups

all-purpose flour

or 00 flour

3

whole

eggs

5

oz

spinach

fresh or frozen
Instructions
Make the Dough
Clean the spinach and cook it in boiling water until wilted.

Transfer the cooked spinach immediately to a boil of ice water (blanching). When cool, squeeze all of the liquid out of the spinach.

Blend the spinach to a smooth puree. 

Add the flour to a large mixing bowl. Make a well in the center of the flour. Add three whole eggs to the center of the flour and the spinach puree.

3 ½ cups all-purpose flour,

3 whole eggs

Begin to beat the flour into the eggs and spinach with a fork, pulling the flour in from the sides a little at a time. 

You may not need to mix in all of the flour, or you may need to add more. Judge by eye and texture.

When the dough begins to look shaggy, compress the dough into a loose ball and transfer to a floured work surface. Knead the dough until it is smooth and elastic.

The final dough should not stick to your hands. When you push in on the dough, it should spring back. 

When ready, cover and let the dough rest for at least 30 minutes.
Roll and Cut Dough
Use as you would any basic egg pasta dough. Roll the dough to the thickness of the pasta you are making. Cut the pasta accordingly. 
Video
Notes
Mixing in a Bowl?
If you are mixing the pasta dough in a bowl (instead of on a work surface), be sure to add just 75% of the flour called for in the recipe. Then, add more as needed. It is easier to fix dough that is too wet than dough that is too dry.
You May Need More Flour
Due to the puréed spinach, this pasta dough may require more flour than a normal egg pasta dough. The final kneaded pasta dough ball should not be sticky, but should be smooth and elastic. The dough ball should spring back when you gently press it with a finger.
Nutrition
Serving:
100
g
Sodium:
31
mg
Calcium:
52
mg
Vitamin C:
10
mg
Vitamin A:
3327
IU
Sugar:
1
g
Fiber:
4
g
Potassium:
316
mg
Cholesterol:
3
mg
Calories:
407
kcal
Saturated Fat:
1
g
Fat:
1
g
Protein:
12
g
Carbohydrates:
85
g
Iron:
6
mg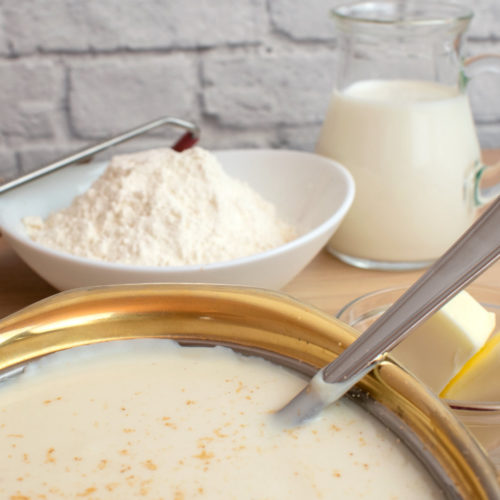 Bechamel Sauce Recipe (Besciamella Sauce)
Smooth, creamy bechamel is a staple in so many Italian recipes. Use it as a pasta sauce, a white sauce for lasagna and more.
Ingredients
2

cups

whole milk

3.5

tbsp

butter

or, olive oil

6

tbsp

flour

nutmeg

to taste

salt

to taste
Instructions
Make the Sauce
Bring the milk to simmer in a saucepan, then keep the milk on low heat. 

Make a roux: In a separate sauce pan, melt the butter over medium-low heat. Add the flour and whisk vigorously for about a minute until thick and smooth.

6 tbsp flour,

3.5 tbsp butter

Add a ladle of the warm milk to the roux a little at a time, whisking vigorously until smooth before adding more milk.

When all of the milk has been incorporated, continue to simmer the sauce (whisking regularly) for about 5 minutes or until the béchamel coats the back of a spoon.

Add salt and nutmeg to taste. 
Video
Nutrition
Sodium:
130
mg
Calcium:
301
mg
Vitamin A:
427
IU
Sugar:
13
g
Fiber:
1
g
Potassium:
372
mg
Cholesterol:
27
mg
Calories:
242
kcal
Saturated Fat:
5
g
Fat:
9
g
Protein:
11
g
Carbohydrates:
30
g
Iron:
1
mg