Pici is a traditional handmade pasta of Tuscany. It's a long handmade pasta, famously served in Tuscany with a garlicky tomato sauce (Pici all'Aglione). This homemade pici pasta recipe is relatively easy to make without a pasta machine, so it's a great choice for beginners!
Some version of pici is popular in most every region of Italy, where the pasta goes by different names and may or may not contain eggs. Not looking for pici pasta? Learn how to make a traditional Italian egg fresh pasta dough recipe!
---
Watch the Video Recipe!
Prefer to watch a video recipe? Let Italian Grandma Lulu teach you how to make this homemade pici pasta recipe. Click below to watch the video, filmed in Italy!
Subscribe to our YouTube Channel
More video recipes? Subscribe to our YouTube Channel (it's FREE) and click the bell to get notifications when we release a new video recipe!
---
How to Make Homemade Pici Pasta
This pici pasta recipe is one of the easiest handmade pasta recipes for beginners. No special equipment is needed to roll or cut the dough. You can simply use a rolling pin to roll the pasta to a thick sheet, cut the dough into slices, then stretch each noodle using your hands!
Making Pici Pasta Dough
To make this pici pasta dough, add the flour to a work surface and make a well in the center. This is how almost every Italian pasta dough recipe begins! Add the egg/s to the well, then begin to beat the egg into the flour with a fork as you drizzle in the hot water.
While hot water (or water in general) is not typically added to regular egg pasta dough, it is often added when making pasta like pici. In fact, in some areas of Italy the thick noodle popular in the region is traditionally vegan and includes no eggs at all. Rather, just the hot water is used to create pasta with the flour.
As you add the water, pull flour in from the sides with the fork as you mix. Stop pulling in flour when the dough looks shaggy and can be pressed into a loose ball. You may not need all of the flour. Or, you may need more. Flour absorbs water differently depending on the type, brand and even temperature or humidity in your kitchen!
Knead the dough ball until it is smooth and elastic. Then let it rest for half an hour.
Yes, you can mix in a bowl.
If you feel intimidated by the idea of mixing dough on a flat surface, you can use a bowl instead. To do this, start with just 3/4 of the flour that the pici pasta recipe calls for. Add more flour to the bowl as needed.
Use this same strategy when mixing pasta together with a stand mixer. It's better to add more flour to wet dough rather than adding water to dough that is too dry. That's why it's best to start with just 3/4 of the flour called for and add more as needed.
Check out the recipe card below for details on stretching and shaping the pici pasta dough!
Want to make traditional egg pasta dough?
Check out our other article for a detailed guide to making traditional egg fresh pasta dough!
Eggs + Hot Water = Pici!
There are less eggs in pici pasta than there are in traditional egg pasta because this pasta uses hot water. In fact, some variations of this pasta recipe use only hot water (no eggs).
---
As an Amazon Associate, we earn from qualifying purchases. This means at no extra cost to you, PIATTO may earn a small commission if you click the links and make a qualifying purchase.
---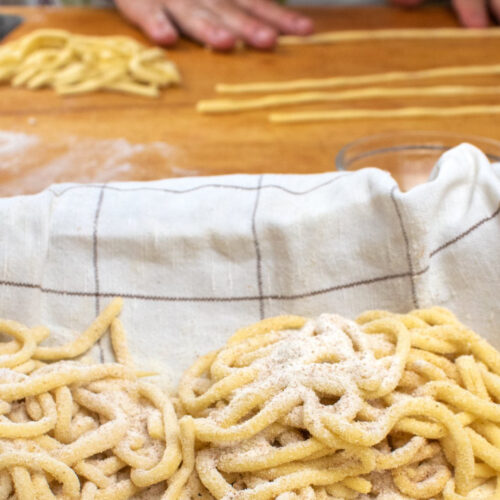 Pici Pasta Recipe
Pici pasta is a traditional Tuscan pasta recipe. It's a long handmade pasta, famously served in Tuscany with a garlicky tomato sauce (Pici all'Aglione). Perfect for beginners to pasta making!
Ingredients
8

cups

flour

all purpose

1

egg

2

pinches

fine salt

hot water

as needed
Instructions
Make the Pici Pasta
Make a well in the center of a pile of the flour. Add one whole egg to the center. 

To hot water, dissolve a few pinches of salt. Then, slowly add the hot water a little at a time.

Beat the flour into the egg and water with a fork, pulling the flour in from the sides a little at a time. 

When the dough begins to look shaggy, compress the dough into a loose ball and begin to knead. Knead the dough until it is smooth and elastic. When you push in on the dough, it should spring back. The pasta dough should not stick to your hands.

Cover and let the pasta dough rest for at least 30 minutes.
Stretch the Pici Pasta
Work with ¼ of the dough at a time. Keep those pieces you aren't working on wrapped in plastic. This will prevent them drying out.

Stretch ¼ of the pasta at a time by hand (using a rolling pin or pasta machine) until the pasta sheet is 2-3 mm thick.
Shape the Pici Pasta
Add a few drops of olive oil to your work service. Cut the sheets of pasta into thin strips (about ¼ inch thick). 

With each strip, use your palms to roll the strip of pasta thinner into a rope about the thickness of a spaghetti noodle. The pasta will swell after cooking, resulting in the thick noodle we are looking for. Repeat with all of the strips of pasta. 

When finished, dust the fresh pasta with semolina flour to prevent them from sticking together. 
Cook the Pici Pasta
Cook the pici in salted, boiling water for about 3 minutes.

Pici freezes well, but you'll need to boil it frozen. Add about 30 seconds to the one minute cook time to account for the fact it is frozen.
Video
Notes
NOTE: There are less eggs in this pasta than traditional egg pasta because this pasta also includes hot water. Some variations of this pasta use only hot water (no eggs).
Nutrition
Sodium:
143
mg
Calcium:
29
mg
Vitamin A:
40
IU
Sugar:
1
g
Fiber:
5
g
Potassium:
188
mg
Cholesterol:
27
mg
Calories:
617
kcal
Trans Fat:
1
g
Saturated Fat:
1
g
Fat:
2
g
Protein:
18
g
Carbohydrates:
127
g
Iron:
8
mg