Real Italian Garlic Bread is much easier, much tastier and MUCH healthier than most garlic bread recipes you'll find online. Keep reading to learn how to make an authentic Italian Bruschetta recipe!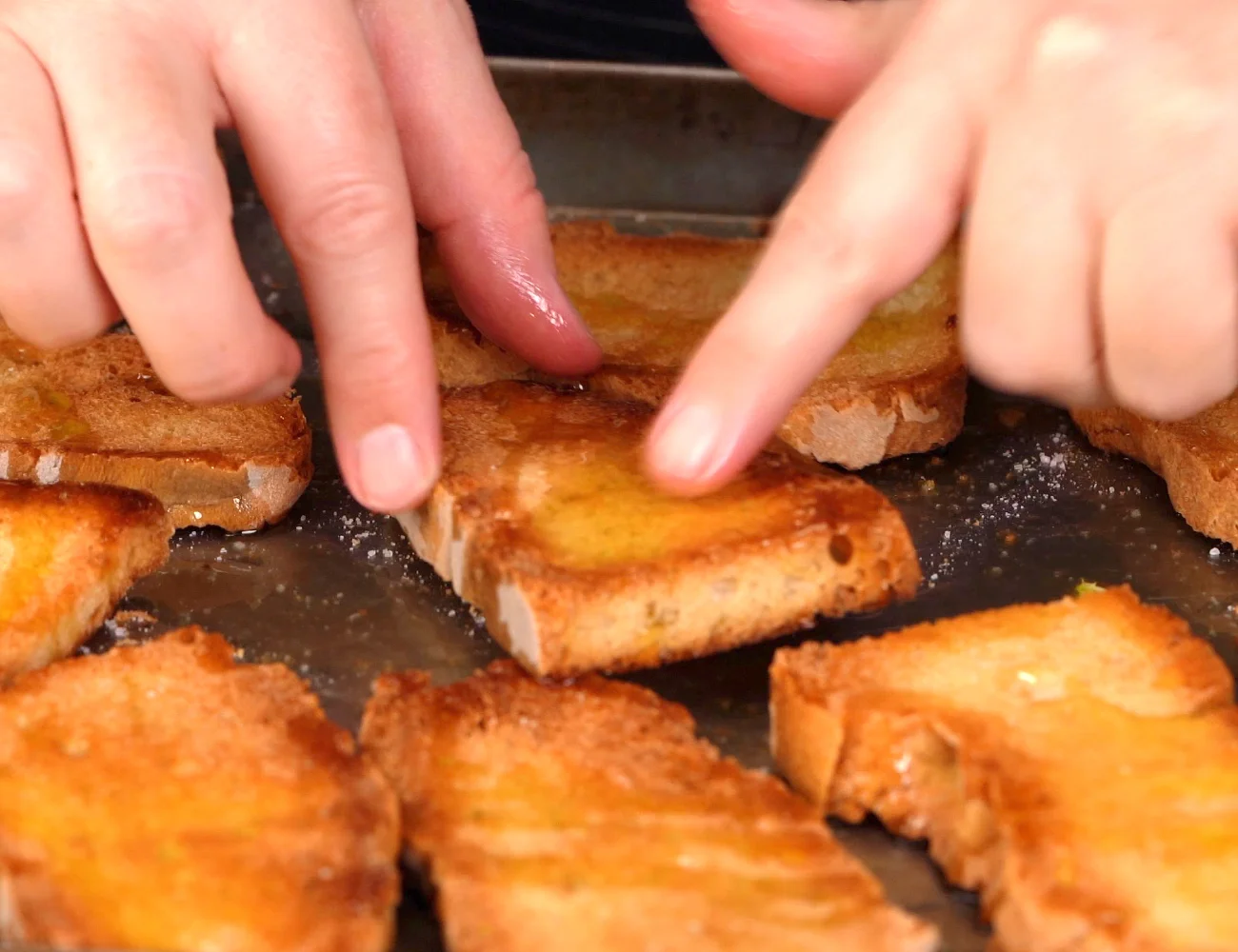 ---
Watch the Video Recipe!
Video recipe for Italian Garlic Bruschetta coming soon! In the meantime, check out our video on how to use garlic like an Italian in Italy!
Subscribe to our YouTube Channel
More video recipes? Subscribe to our YouTube Channel (it's FREE) and click the bell to get notifications when we release a new video recipe!
---
Italian Bruschetta Recipe: Ingredients
How to Choose Bruschetta Bread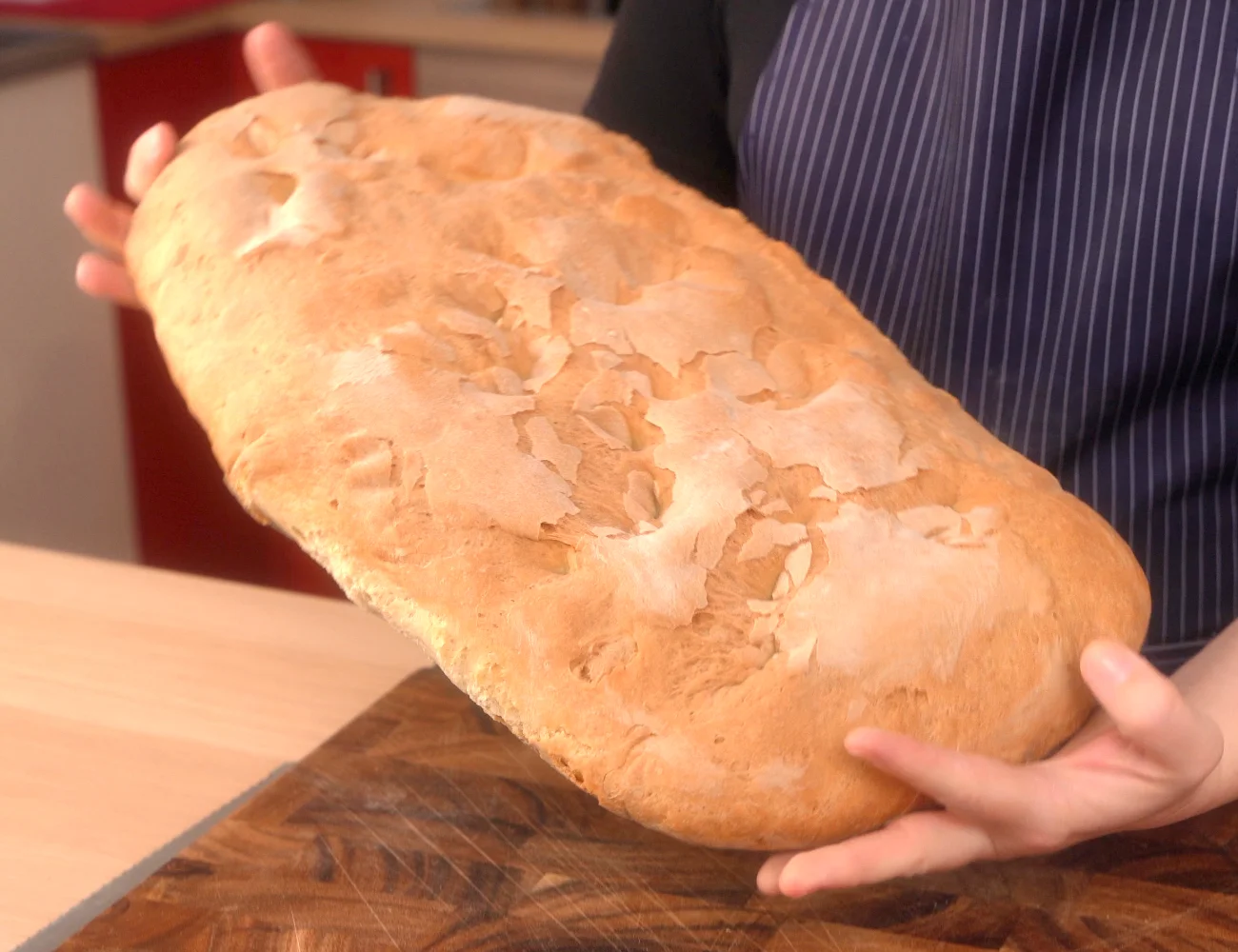 Many types of bread are popular and 'traditional' in Italy. However, the kind of bread most associated with making Italian bruschetta is compact, wood-fired bread with a soft inside and a hard crust. Once toasted (over a grill or in a conventional oven), this bread will be soft inside but retain its crispy outer crust. To summarize, here are the qualities to look for in bread if you want to make this Italian bruschetta recipe:
sourdough bread with very little salt and no oil
hard outer crust
compact texture/structure
preferably, wood-fired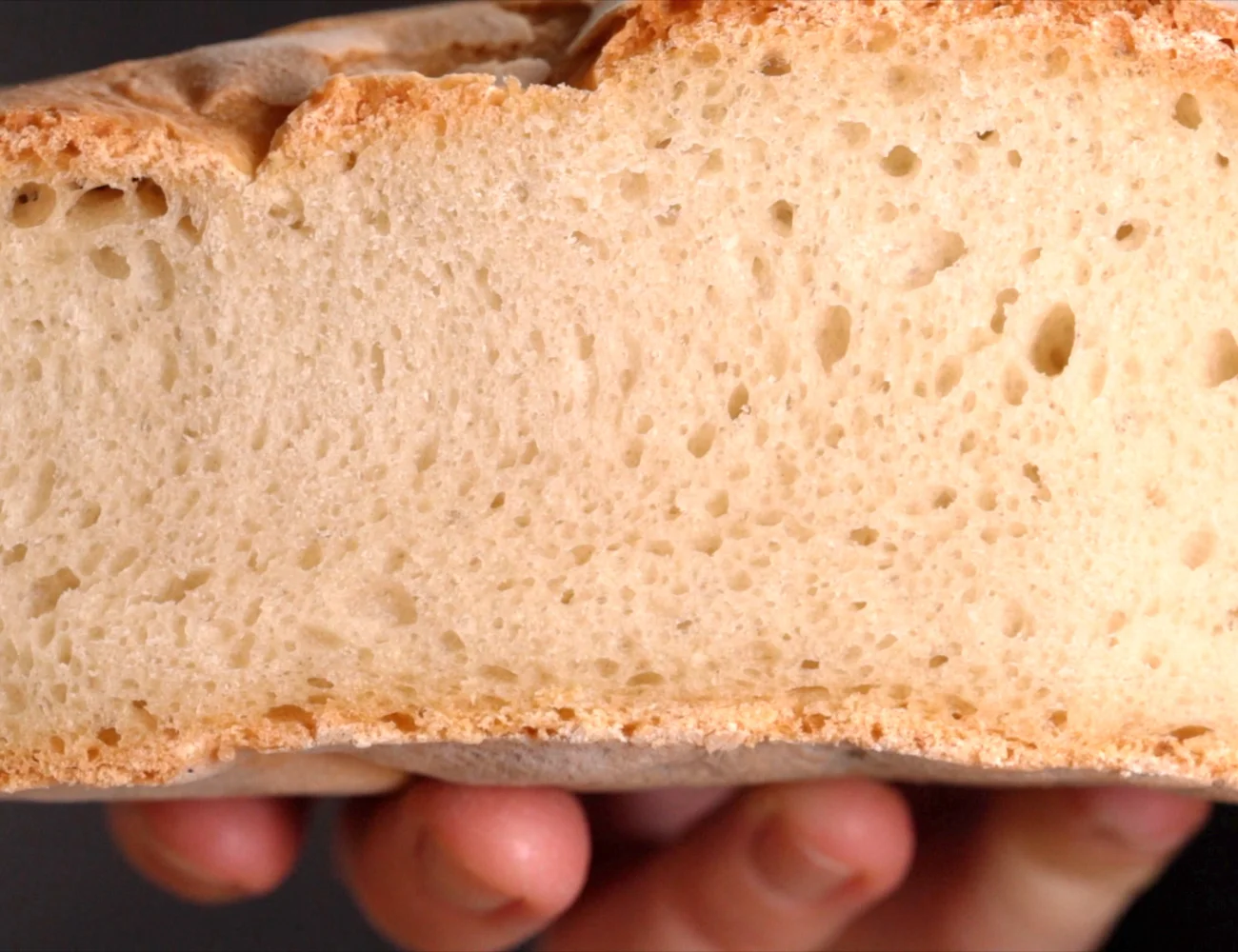 No Salt or Fat? Why?
The bread most commonly used for Italian bruschetta recipes lack salt and fat because they are expected to be a neutral canvas for whatever condiments will be accompanying the bread.
If used as sandwich bread, Italians often top bread like this with salty prosciutto or a salty aged cheese like Parmigiano Reggiano or Pecorino Romano. So, Italians don't want the bread to be salty as well. For this reason, eaten alone, the bread can seem rather plain. However, there is method to the madness.
This is the type of bread often used to make Italian Panzanella recipes as well! When a bit stale, this bread does a great job of soaking up the tasty condiment (tomatoes, olive oil) that accompanies the bread in Panzanella bread salad.
Bread Knife We Recommend
Hard crust European breads like this can be challenging to cut if you don't use the right knife. You can slice a finger off if you are using the wrong knife for the job and that knife slips! Some on the PIATTO™ team have stitches to prove it 😉
For this reason, we recommend investing in a quality double serrated knife (affiliate link) such as that one shown below that we use in the PIATTO™ kitchen.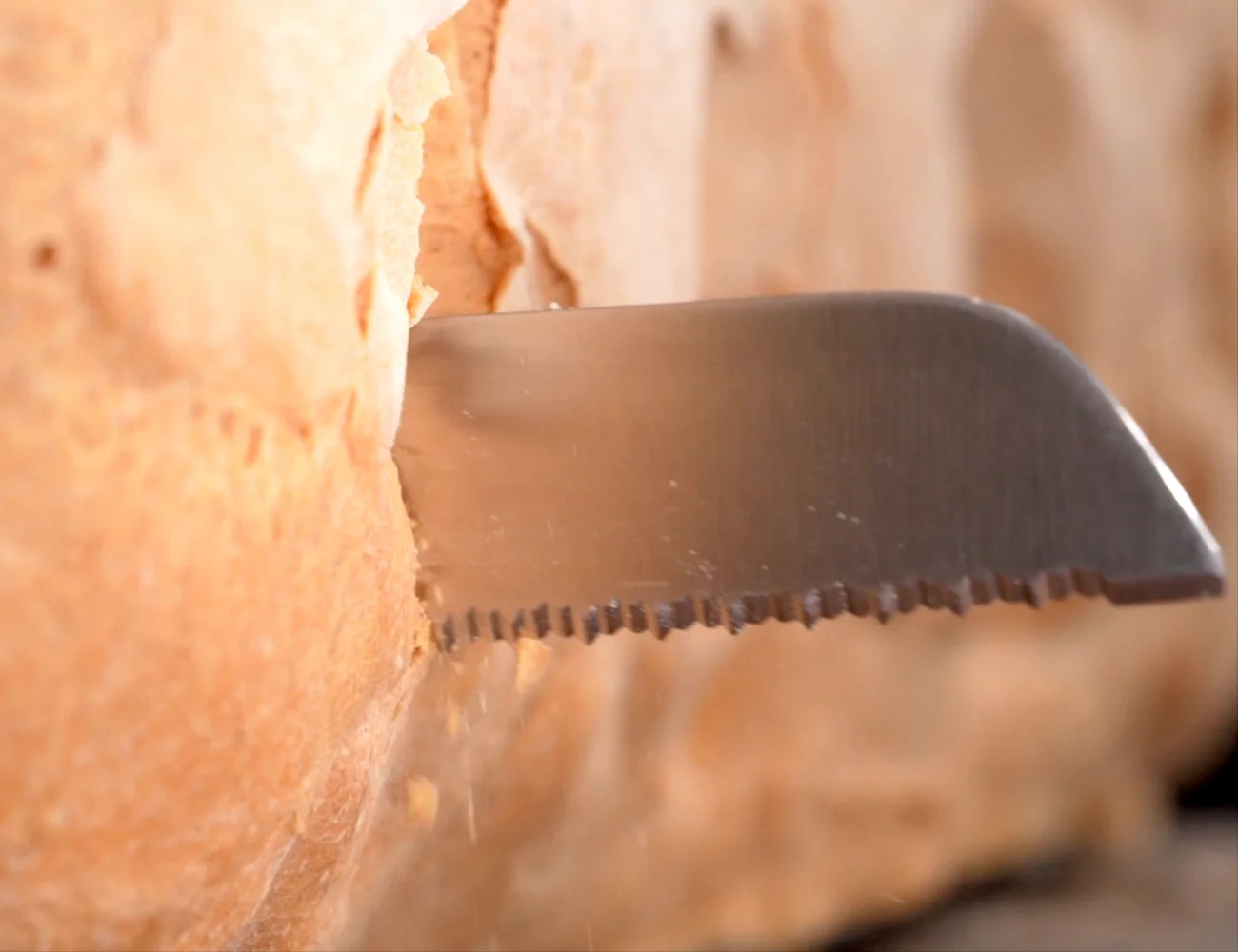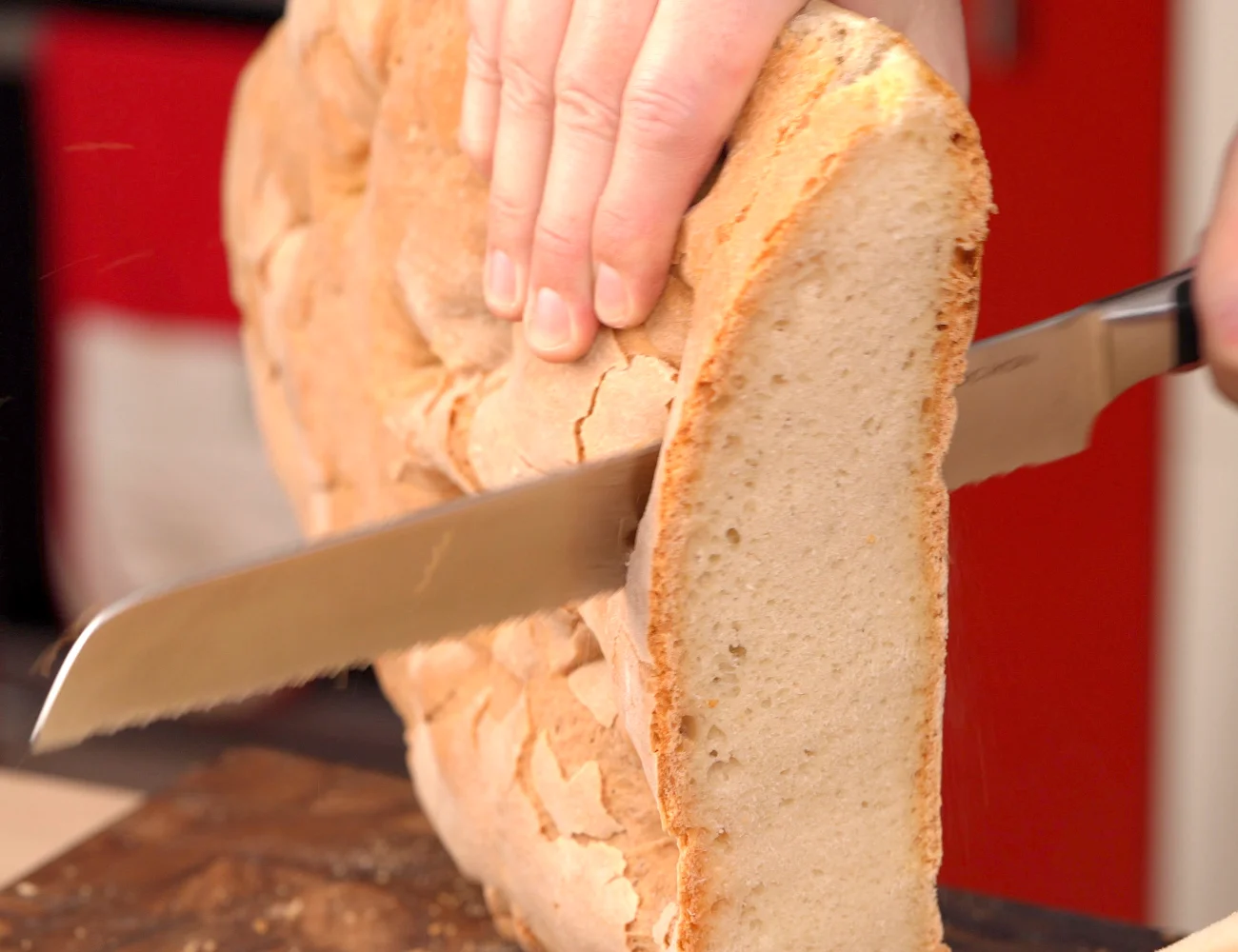 Toast the Bread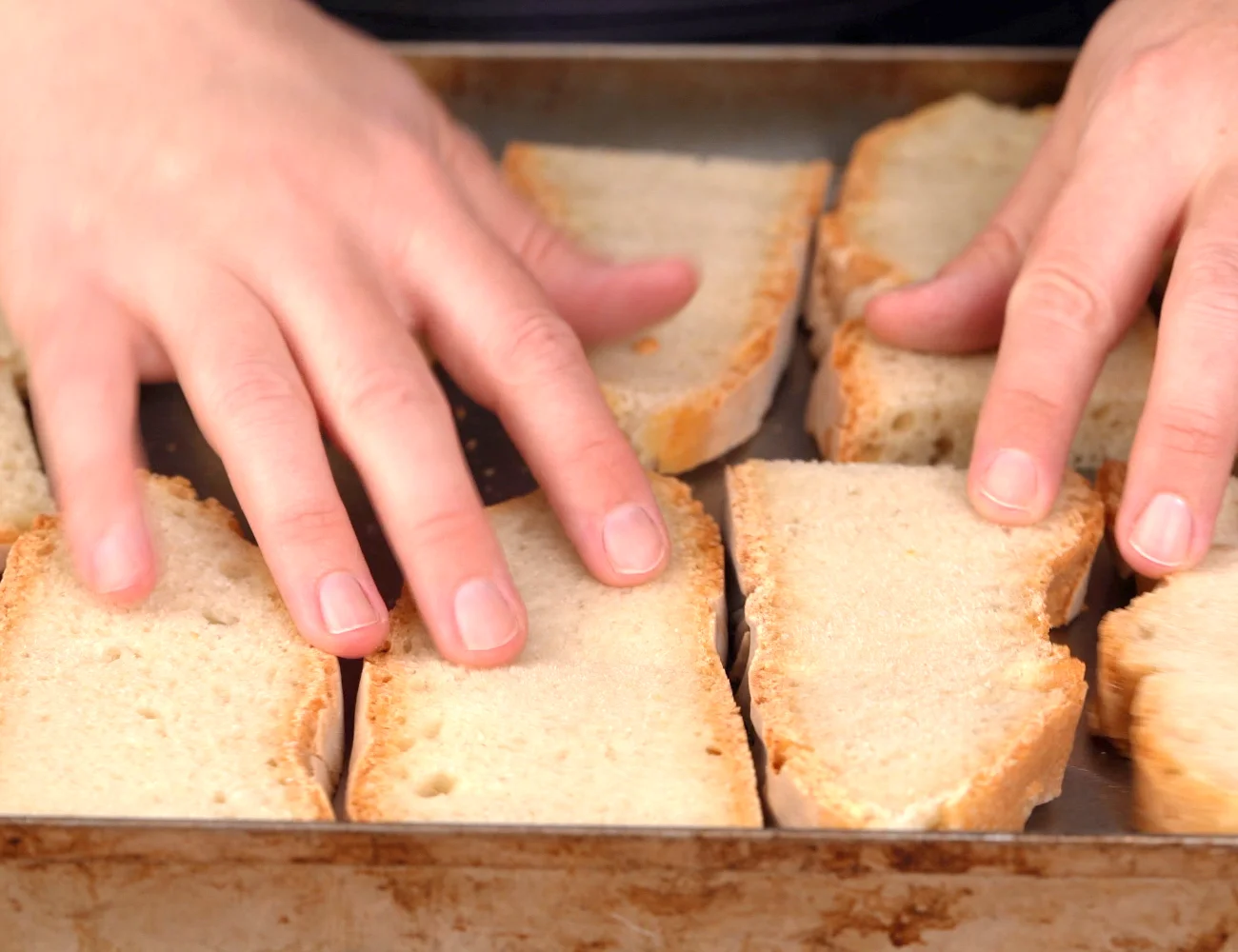 Toast both sides of the bread slices on a grill or in a conventional oven. In Italy, many people have indoor or outdoor fireplaces and use a grill over wood charcoal to make their bruschetta!
If you are using a conventional oven, position an oven rack in the upper third of the oven. Toast the slices of bread on a baking tray at 400° F (200° C) 'static' for about 10 minutes a side —or until the bread becomes golden.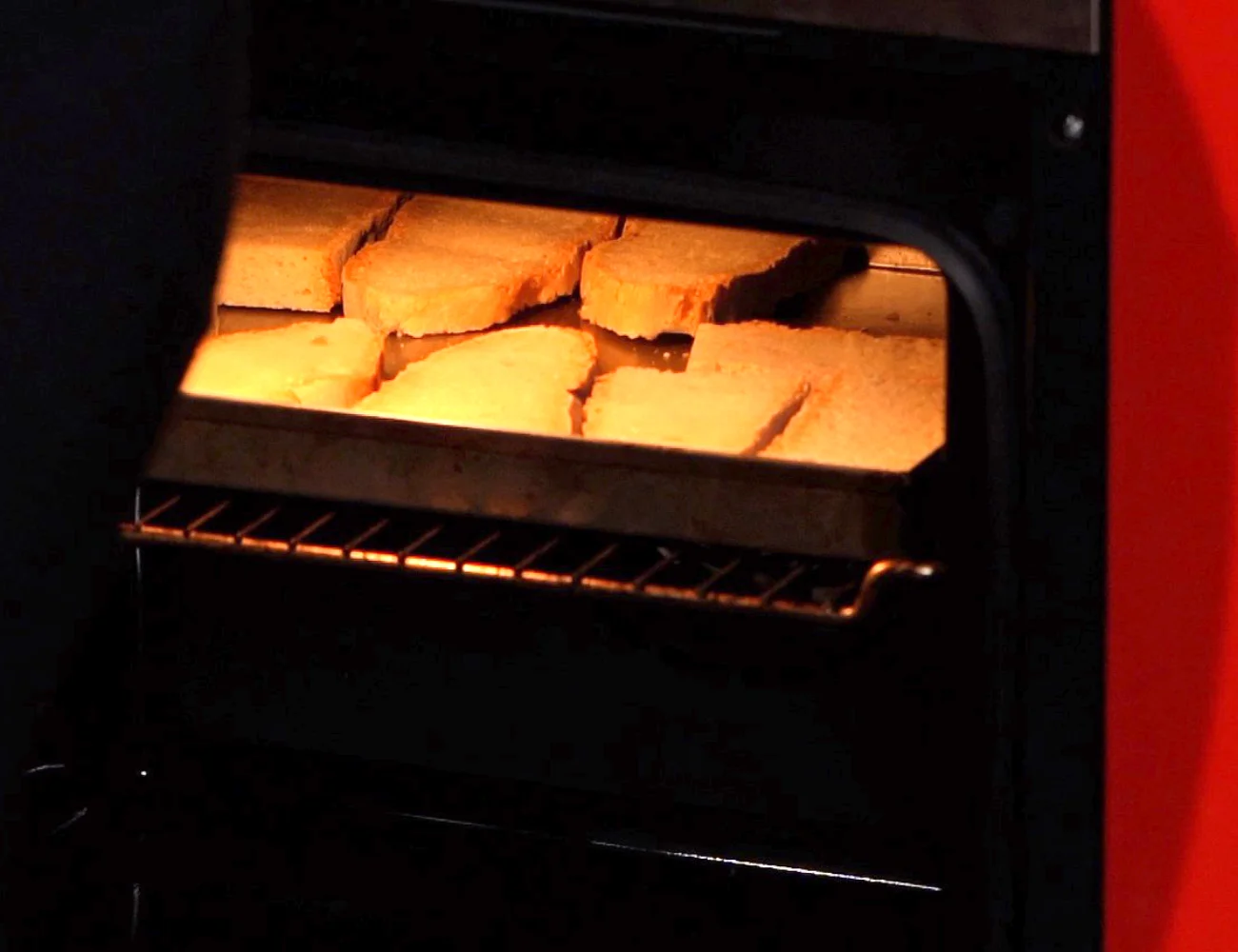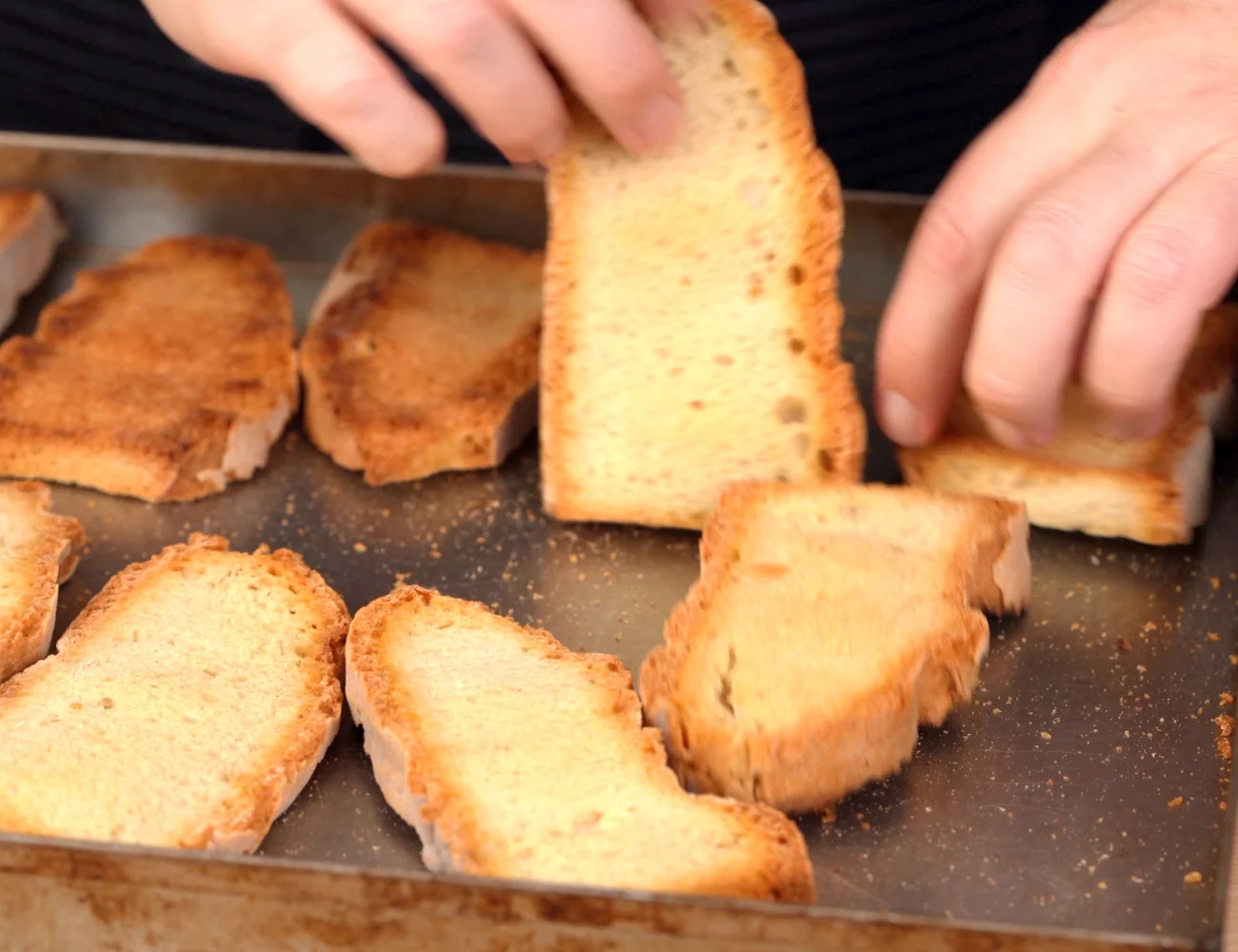 You can finish the bruschetta on 'broil' —but be sure to watch it very, very carefully to avoid burning the bread!
Fresh Garlic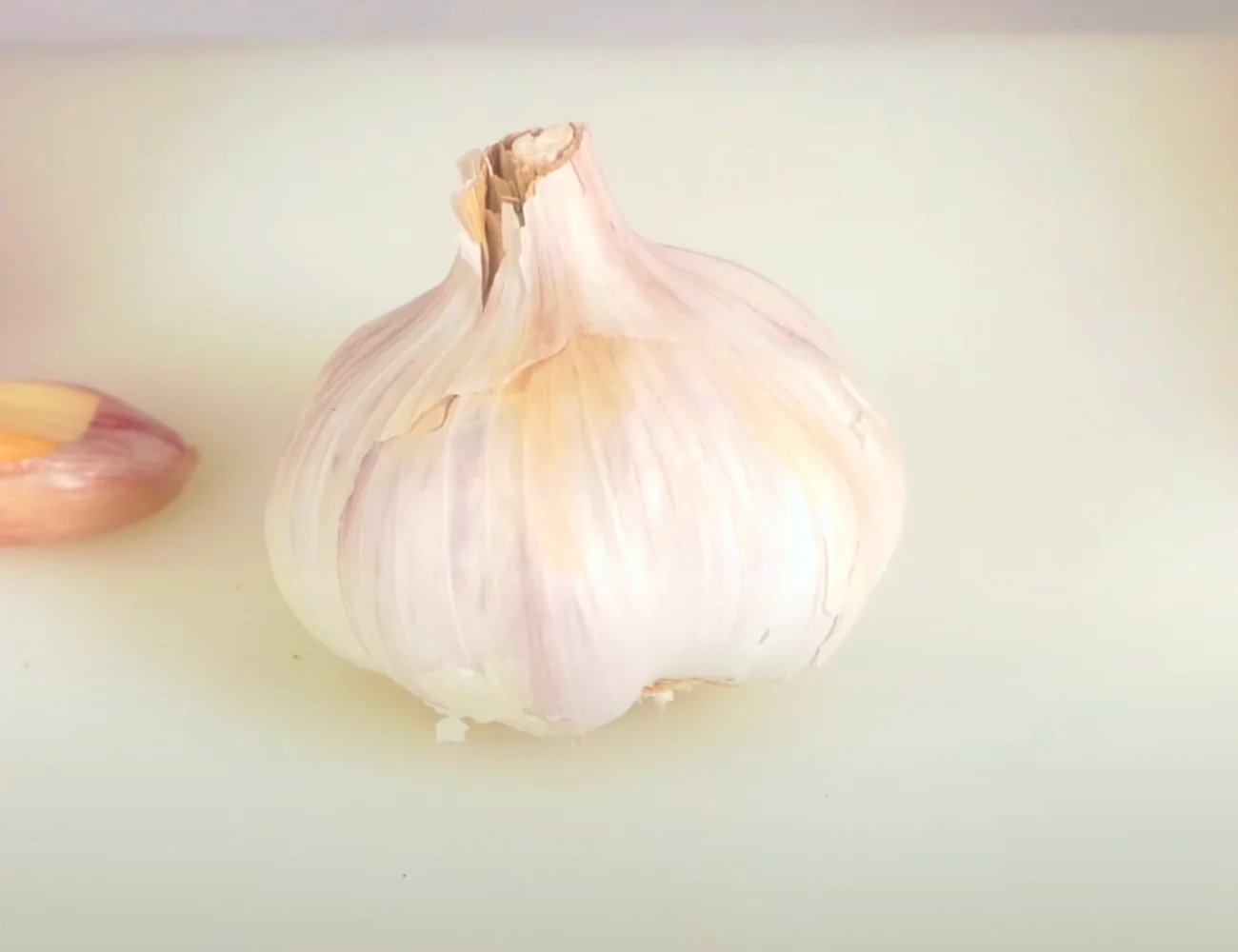 Outside Italy, garlic bread recipes call for any number of processed garlic products: de-hydrated garlic, garlic powder, garlic salt, or minced garlic sold in a jar. None of these are used in Italy to make real Italian bruschetta!
Once the bread is toasted, Italians who want garlic simply cut open a fresh clove of garlic and rub the cut side all over the toasted bread. It's that easy! A little fresh garlic goes a long way, so it is very economical.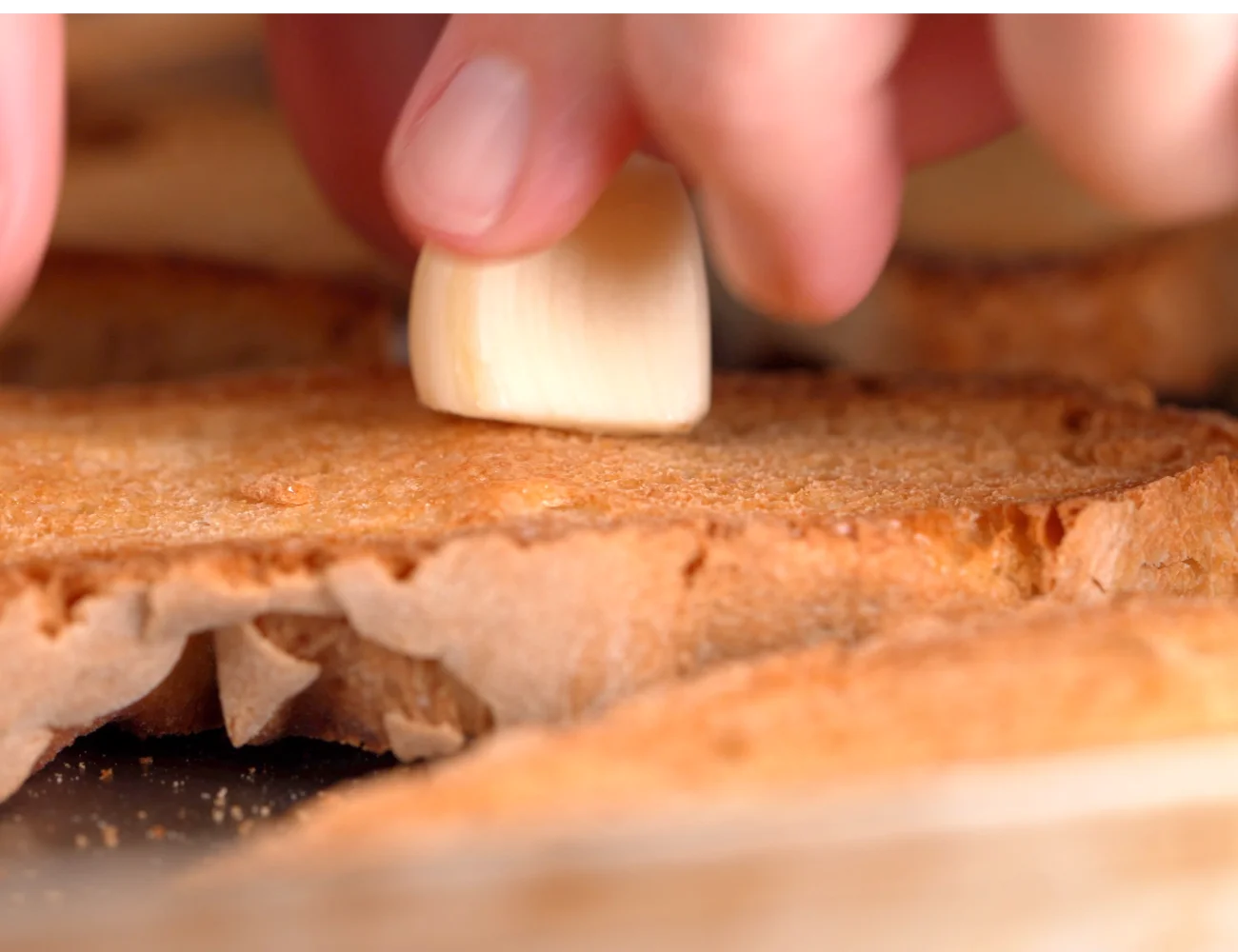 Garlic bread with fresh garlic will be the best you've ever tasted! Nothing beats fresh garlic bread. In our experience, ingesting garlic in this way is also much, much easier on the digestion than the aforementioned garlic products often used abroad.
Salt & Extra Virgin Olive Oil
No bruschetta is complete without a sprinkle of fine or flake salt and a drizzle of extra virgin olive oil. A bruschetta is one of the best ways to reap the health benefits of cold-pressed extra virgin olive oil because the oil is being consumed unheated!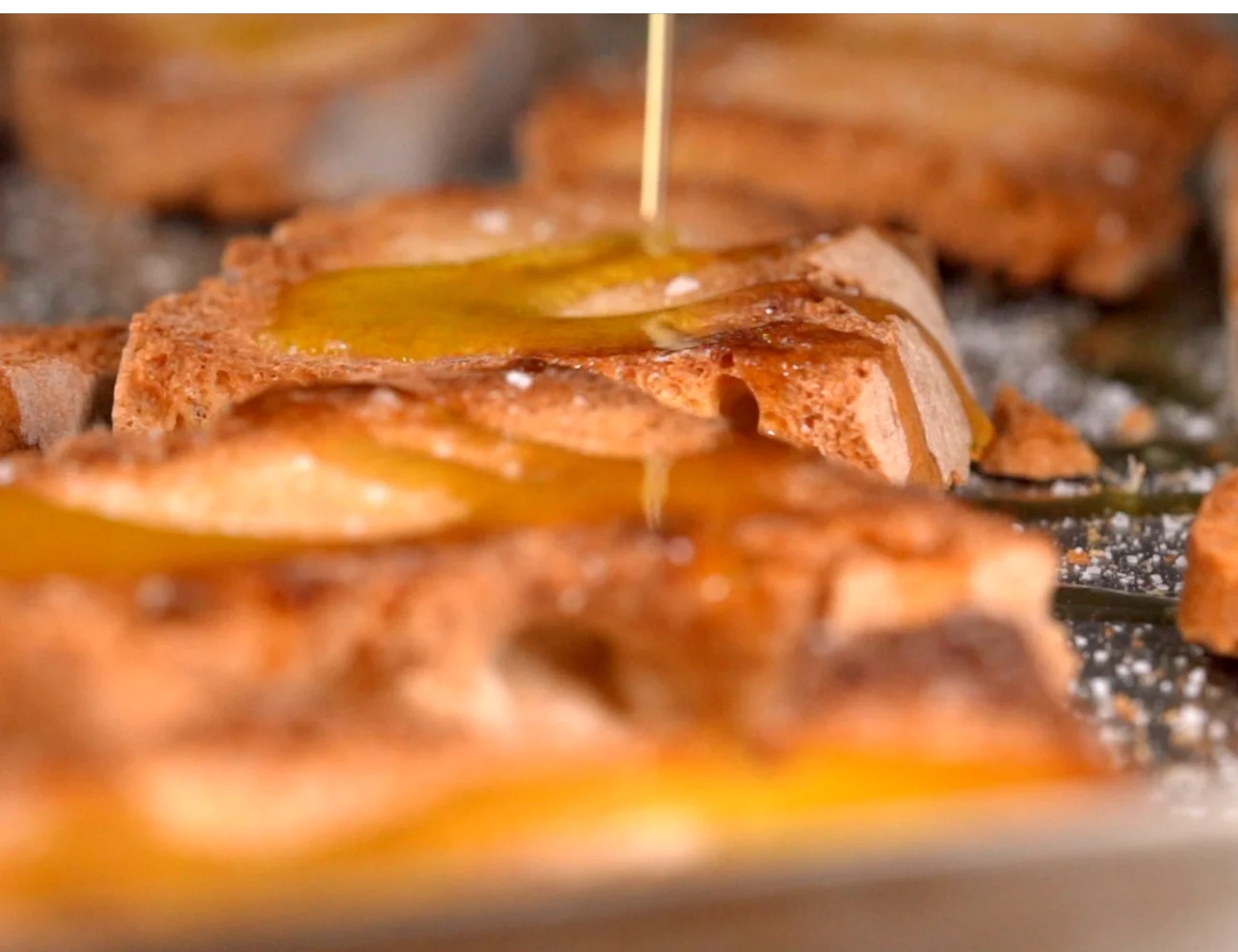 The easiest way to make sure the bruschetta is covered with olive oil? Use your finger to spread it into every corner!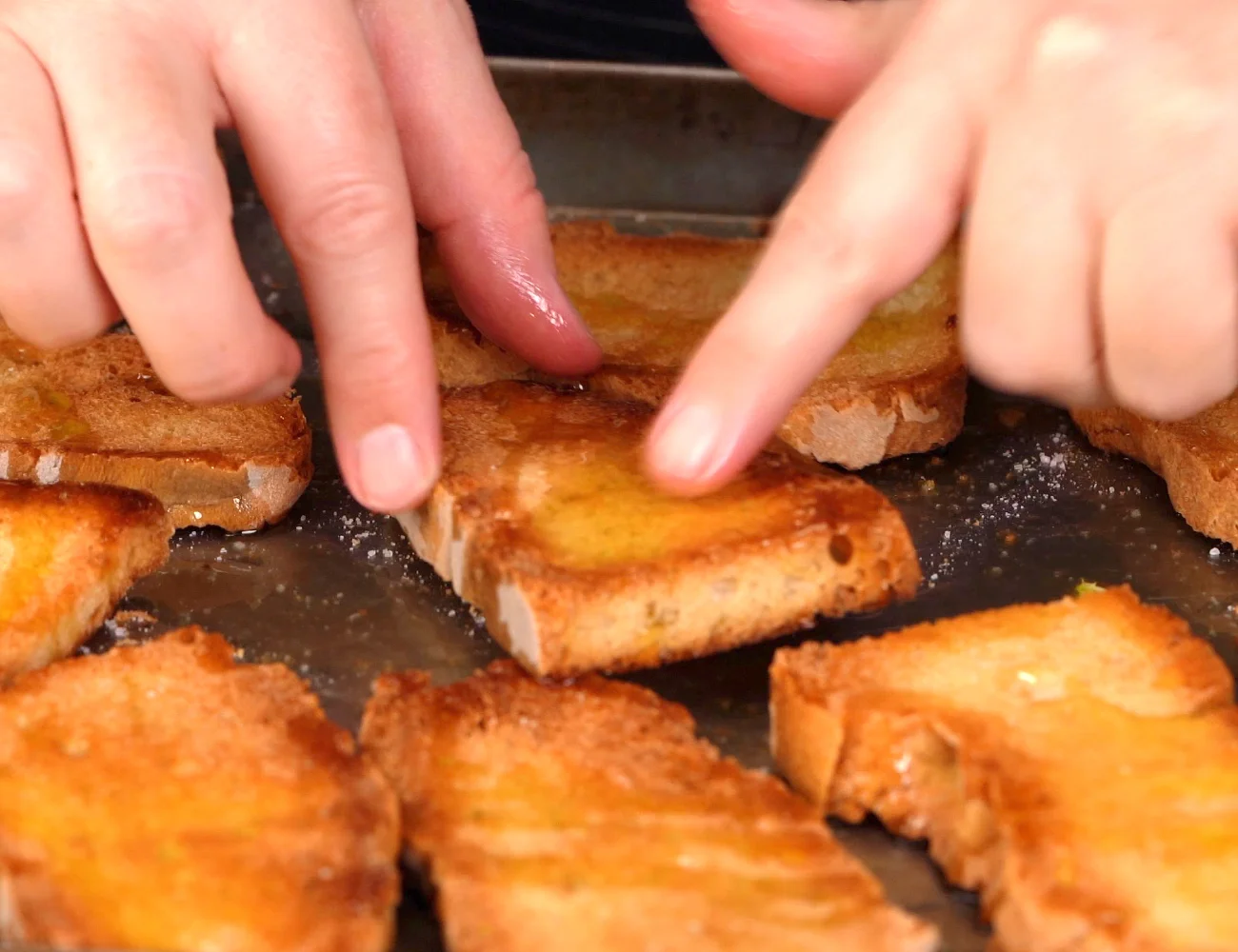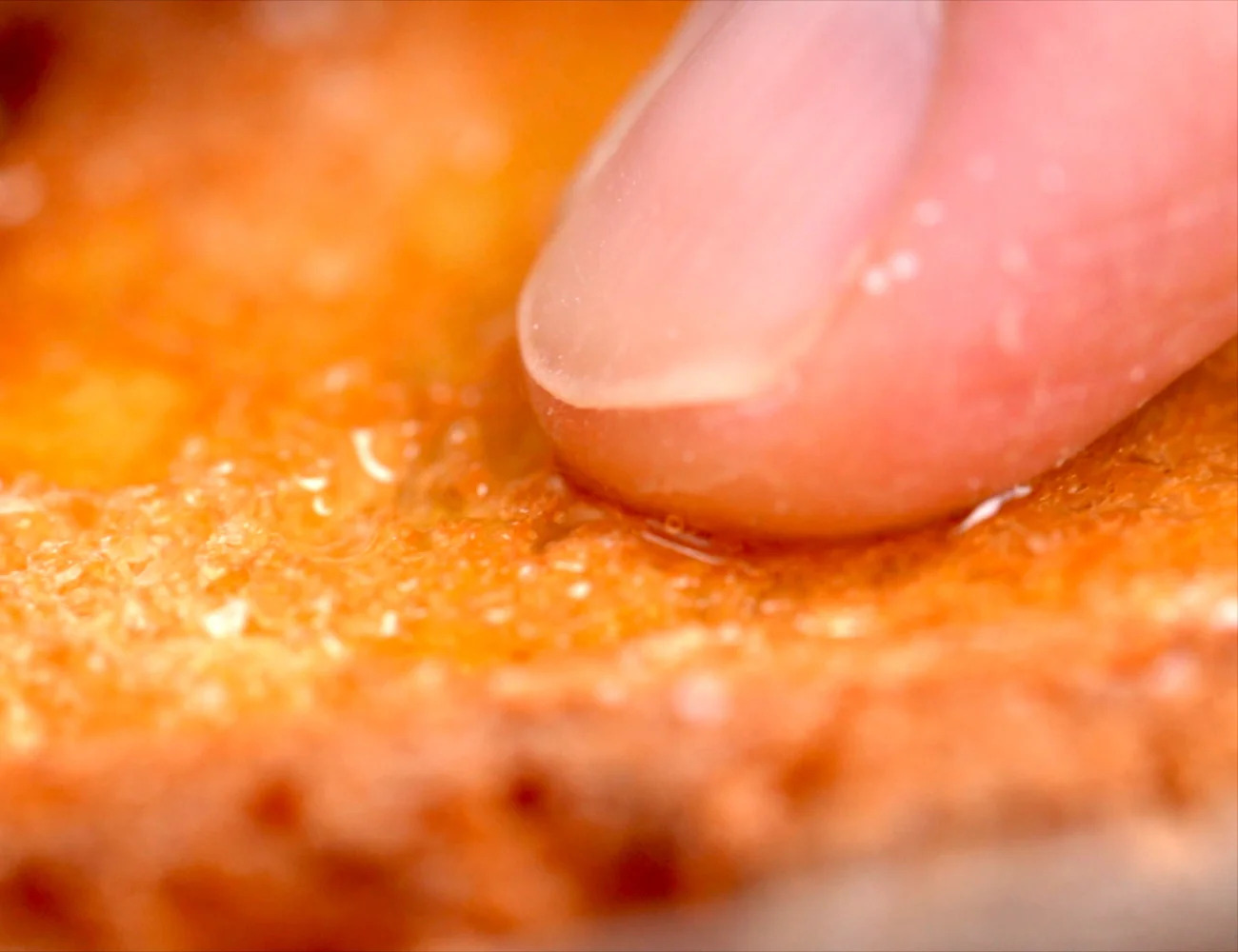 ---
---
As an Amazon Associate, we earn from qualifying purchases. This means at no extra cost to you, PIATTO may earn a small commission if you click the links and make a qualifying purchase.
---