This authentic Spaghetti alla Puttanesca recipe is a traditional pasta dish of Naples! It's a fast and easy Italian pasta recipe that is nonetheless bursting with Mediterranean flavor: tomatoes, garlic, pepper, olives, capers and even anchovies!
Italy's Most Scandalous Dish?
Possibly Italy's most scandalous dish, the origin of this famous Italian pasta recipe is disputed but colorful. The name of this dish in Italian literally means 'whore-ish' and so the legends all revolve around ladies of the night. One story attributes the name to the way the colorful ingredients in this dish (parsley, olives, tomato) represent the colorful undergarments of the prostitutes of the time. Ultimately, no one knows. What's your theory? Let us know in the comments!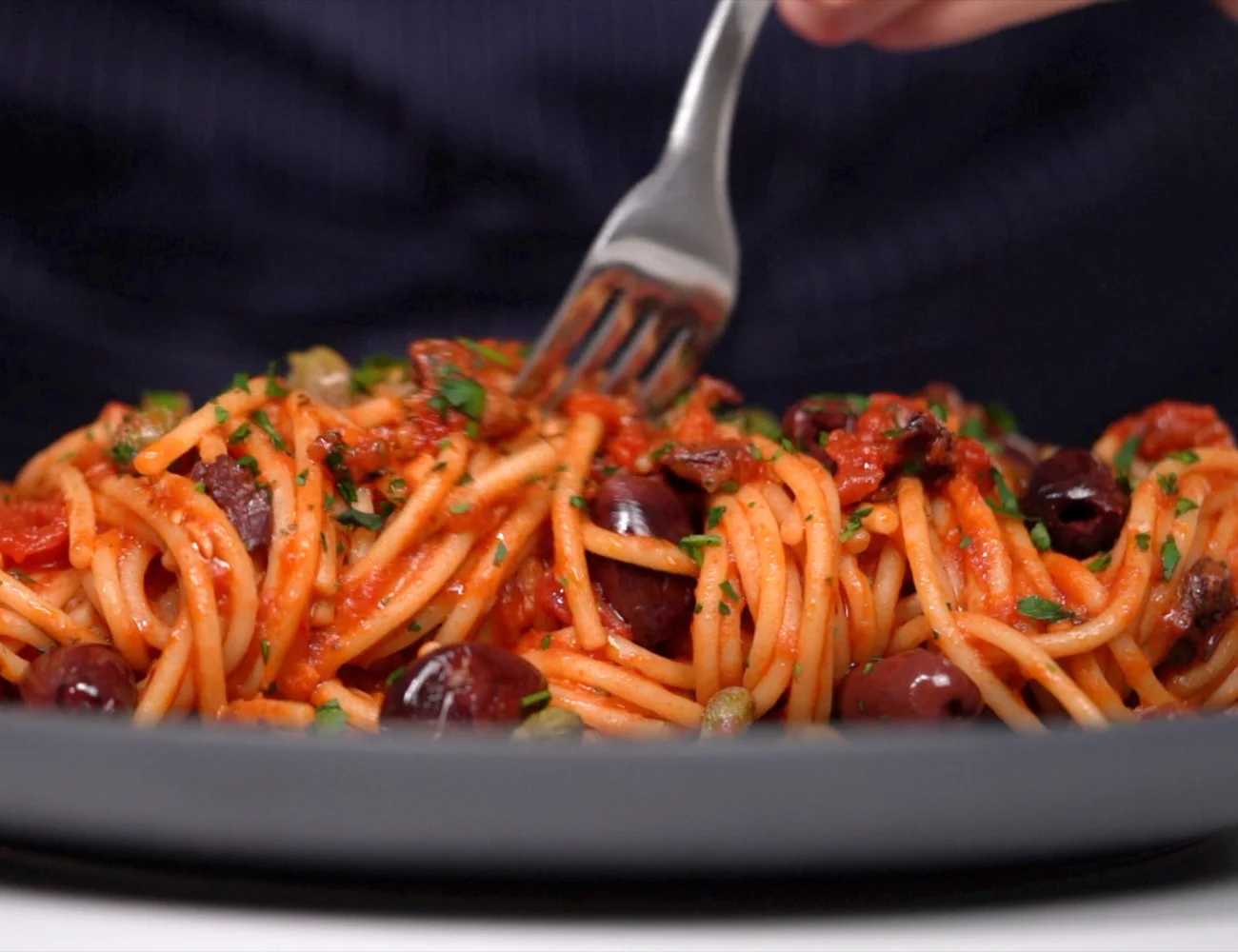 ---
Watch the Video Recipe!
Watch the video recipe for Spaghetti alla Puttanesca.
Subscribe to our YouTube Channel
More video recipes? Subscribe to our YouTube Channel (it's FREE) and click the bell to get notifications when we release a new video recipe!
---
About Spaghetti alla Puttanesca
19th Century Recipe
We find the first reference to a pasta with the unique ingredients of Pasta Puttanesca in the 19th century. At that time, the duke of Buonvicino Ippolito Cavalcanti, wrote a cooking manual called Cucina teorico-pratica in which he mentions a dish from Naples which he calls "Vermicelli all'oglio con olive capperi ed alici salse" (Vermicelli with olives, capers and anchovies sauce). Fun fact: Ippolito Cavalcanti was a descendant of Guido Cavalcanti who was a famous poet and a friend of Dante Alighieri!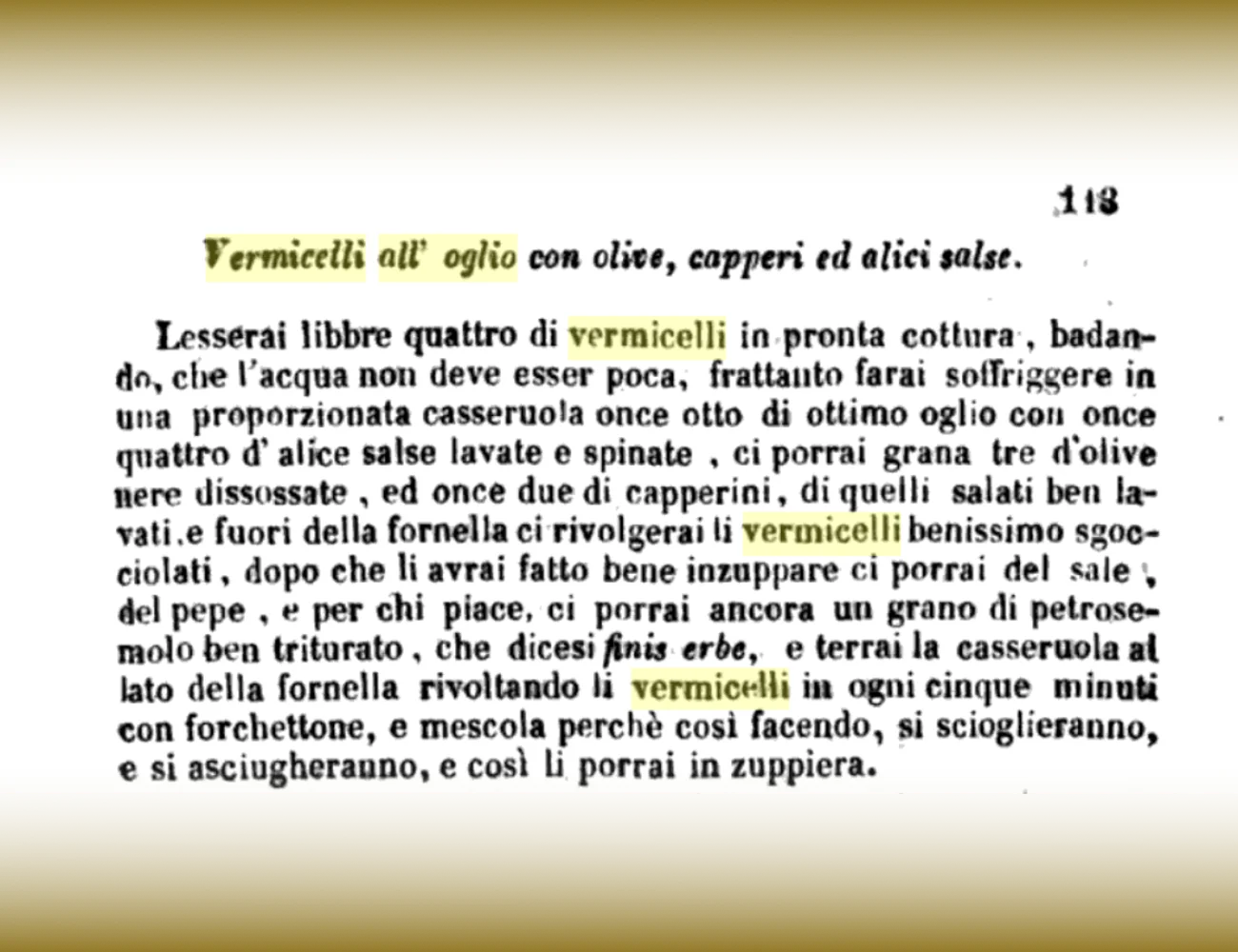 1930's Puttanesca Recipe
The first time we see the tomato added to what would become Pasta Puttanesca was in a 1931 cookbook called la Guida gastronomica d'Italia where it is called Maccheroni alla Marinara.
The recipe we present to you here is consistent with the traditional recipe filed with the Accademia Italiana della Cucina—a modern website dedicated to the preservation of traditional Italian recipes.
---
How to Make Spaghetti alla Puttanesca: Recipe
Rinse the Olives and Capers
Olives and capers are two of the main ingredients in the flavorful Puttanesca pasta sauce. Whether the products you buy have been preserved in salt or vinegar, you'll want to rinse both the olives and the capers in order to remove the excess salt or vinegar. Sometimes we even just let the olives and capers soak in filtered water for 30 minutes.
If you don't follow this step, you'll be adding too much salt to the final sauce, courtesy of these ingredients. Even with a soak, we did not need to add any additional salt to our Puttanesca sauce—the olives and capers added more than enough!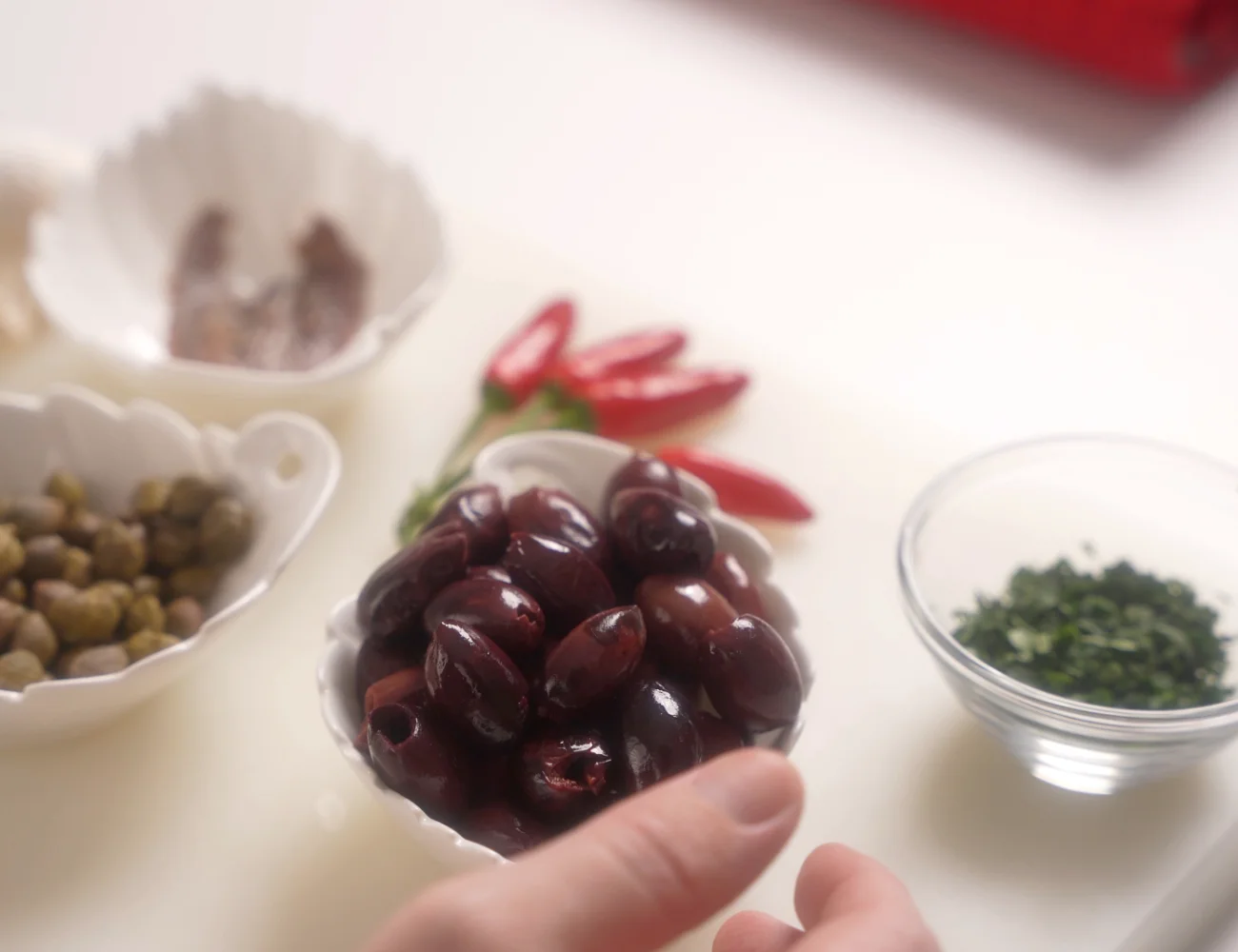 Which Olives to Use for Pasta Puttanesca?
The traditional Pasta Puttanesca recipe calls for gaeta olives. Gaeta is a city near Naples. The gaeta olives purple in color and quite fruity in taste. Unfortunately, these olives can be difficult to find—even in Italian groceries! You can use kalamata olives instead, which will impart a similar flavor and color to the dish.
Or, choose a purple or black olive of your choice. Be sure to use pitted olives for this recipe. Roughly chop most of the olives, saving a handful whole for decoration.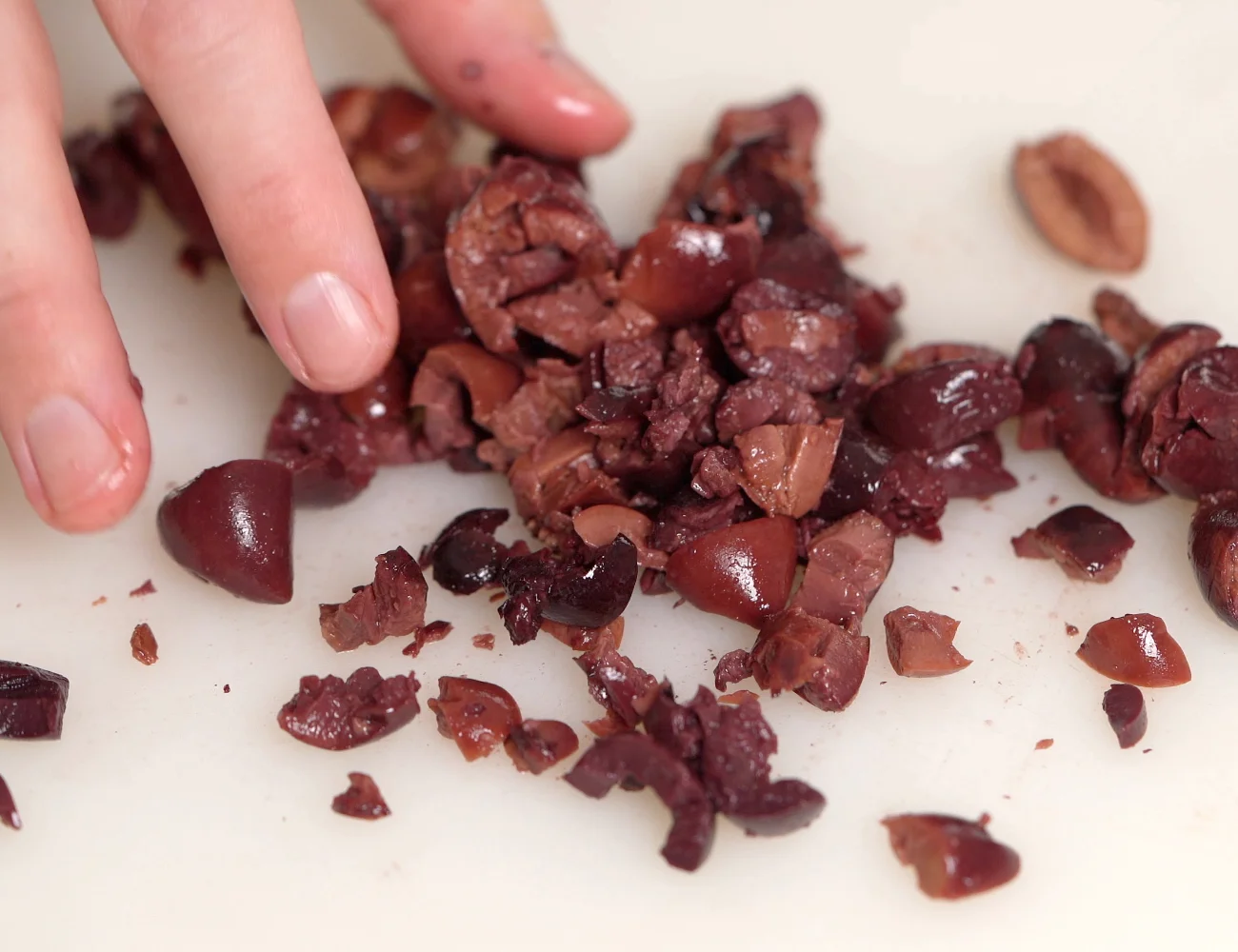 Prepare the Soffritto
Like most Italian pasta recipes, the soffritto forms the sauce base. A soffritto is the process of sautéing herbs and aromatics in a fat (usually olive oil). In this case, we sauté minced garlic, fresh red chili pepper and anchovies in our olive oil.
Anchovies are technically optional in this dish, however they really add a depth of flavor! Even if you don't like to each anchovies alone, you probably won't mind them in this dish. You just add the filets (no bones) to the hot olive oil and squash them with a fork or spoon until they've 'melted' into the hot oil. The anchovies provide an unique umami taste to the sauce and of course nutritious omega-3 fatty acids! They too are salty, which is another reason you want to remove the excess salt from the olives and capers.
Make the Puttanesca Sauce
Once the garlic is golden, add the tomato sauce. Traditional Puttanesca recipes explicitly call for whole peeled tomatoes, crushed. Why not just buy crushed tomatoes? You could, but in Italy it's generally understood that crushing the pulp of peeled tomatoes produces a sweeter sauce than buying a canned crushed tomato product. We have to agree!
Check out our guide on the best canned tomatoes for our tomato product recommendations.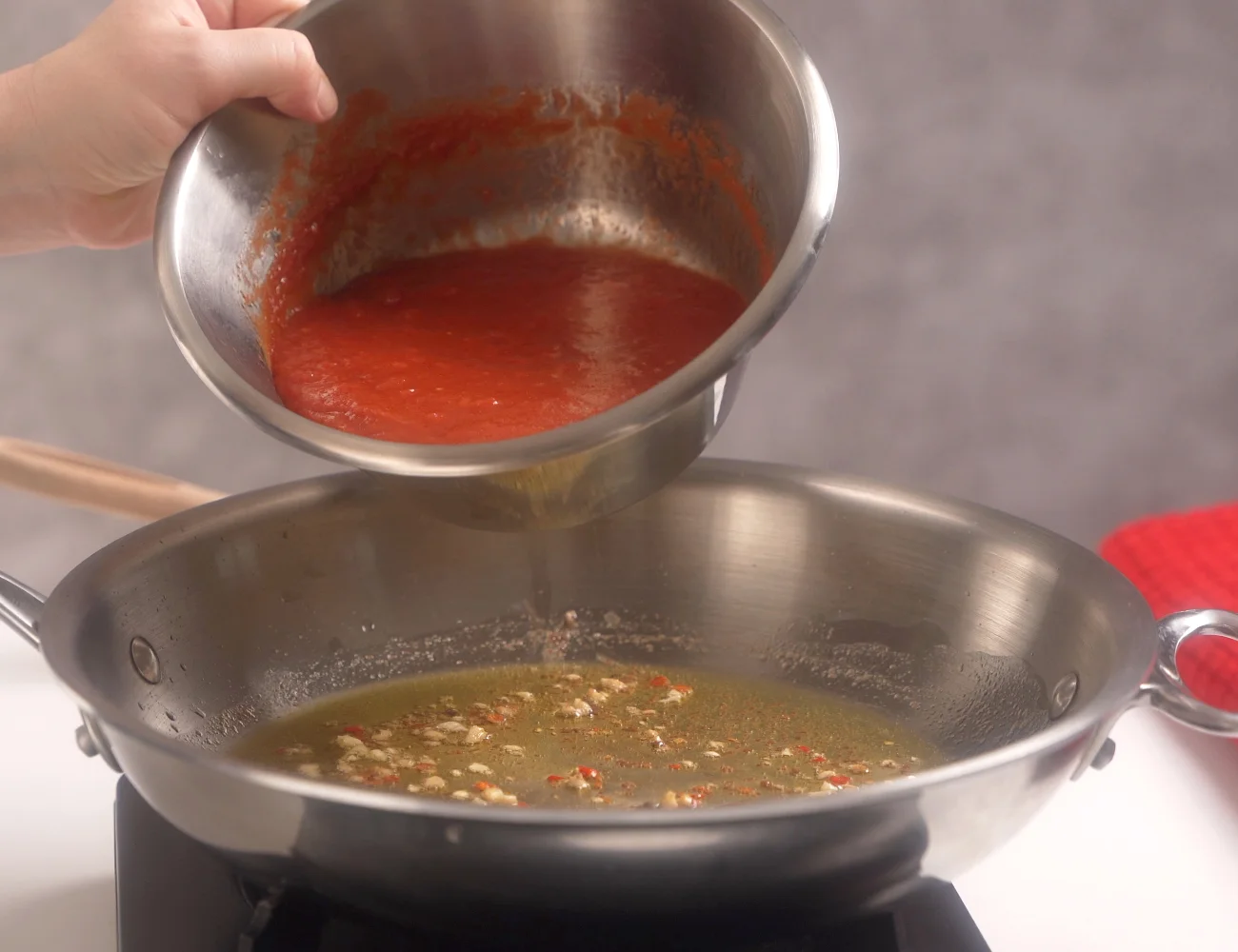 Then, add the capers and chopped olives.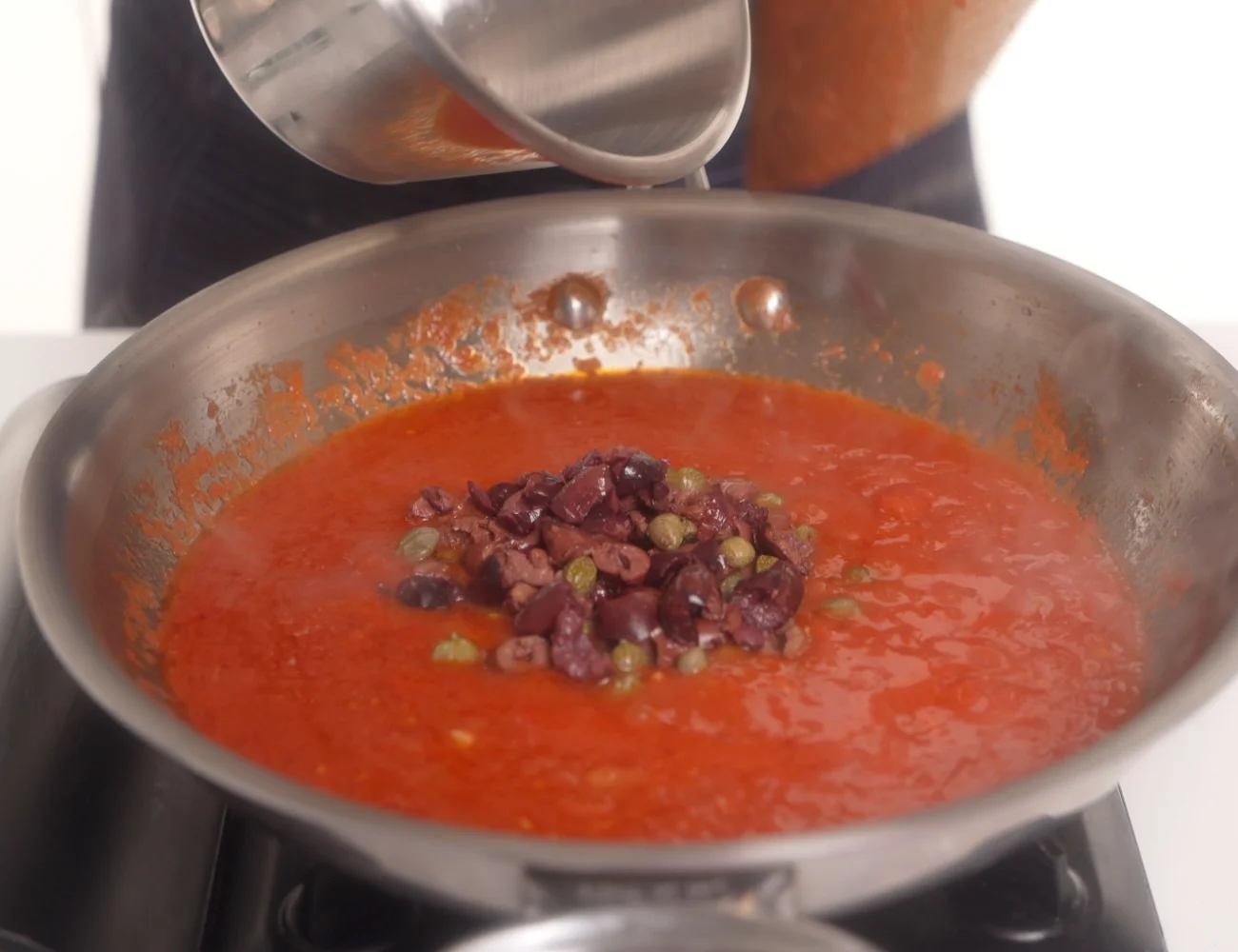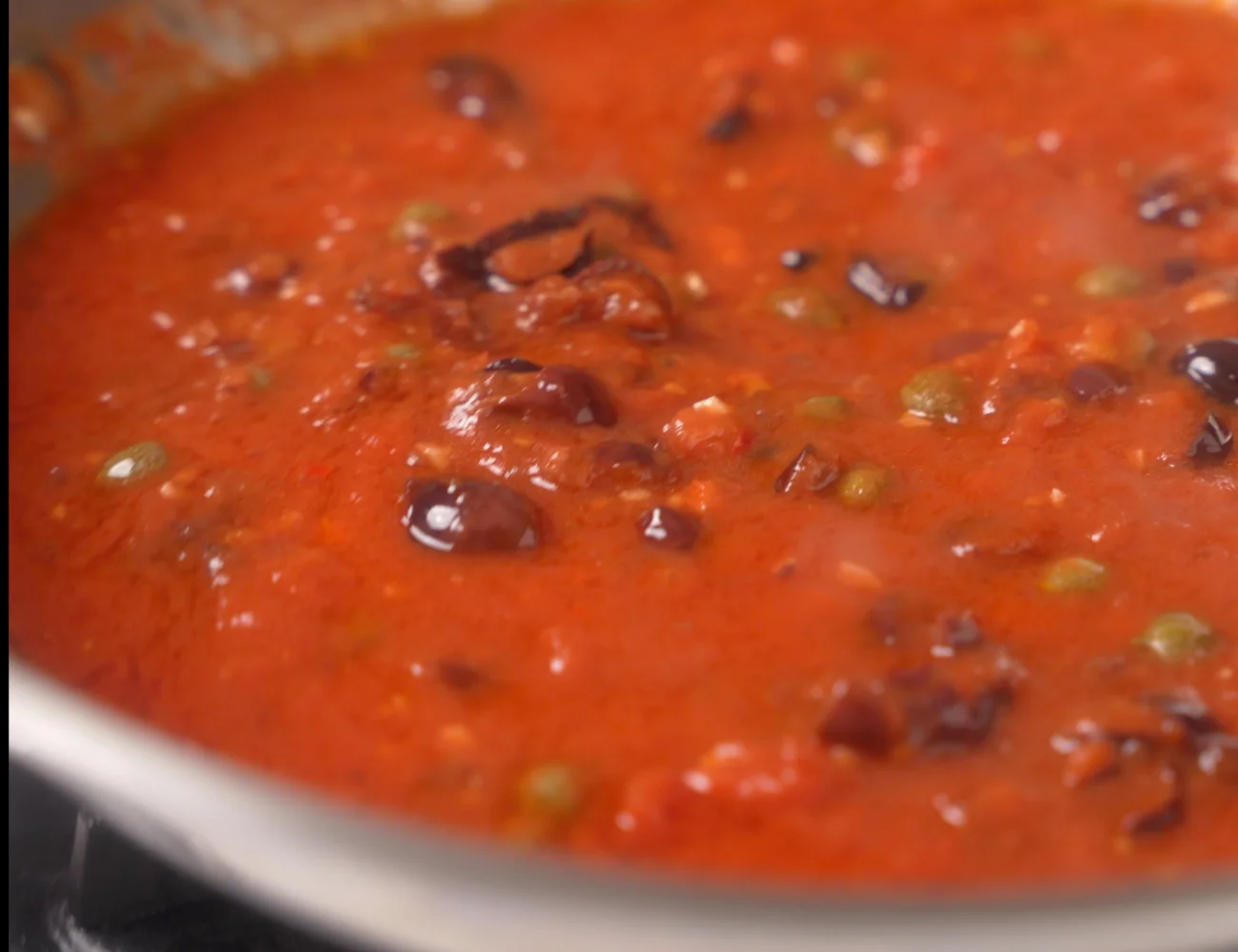 Simmer the sauce for a few minutes. In the meantime, cook the pasta to al dente according to the package instructions.
Cook the Pasta
Cook the spaghetti one minute less than al dente. Use the timing on the pasta package. Spaghetti or vermicelli is most traditional for making Pasta Puttanesca. A tube pasta like penne or rigatoni is also popular with Puttanesca sauce.
In Italy, Vermicelli refers to a pasta that is a bit thicker than spaghetti. We've used vermicelli in the picture below: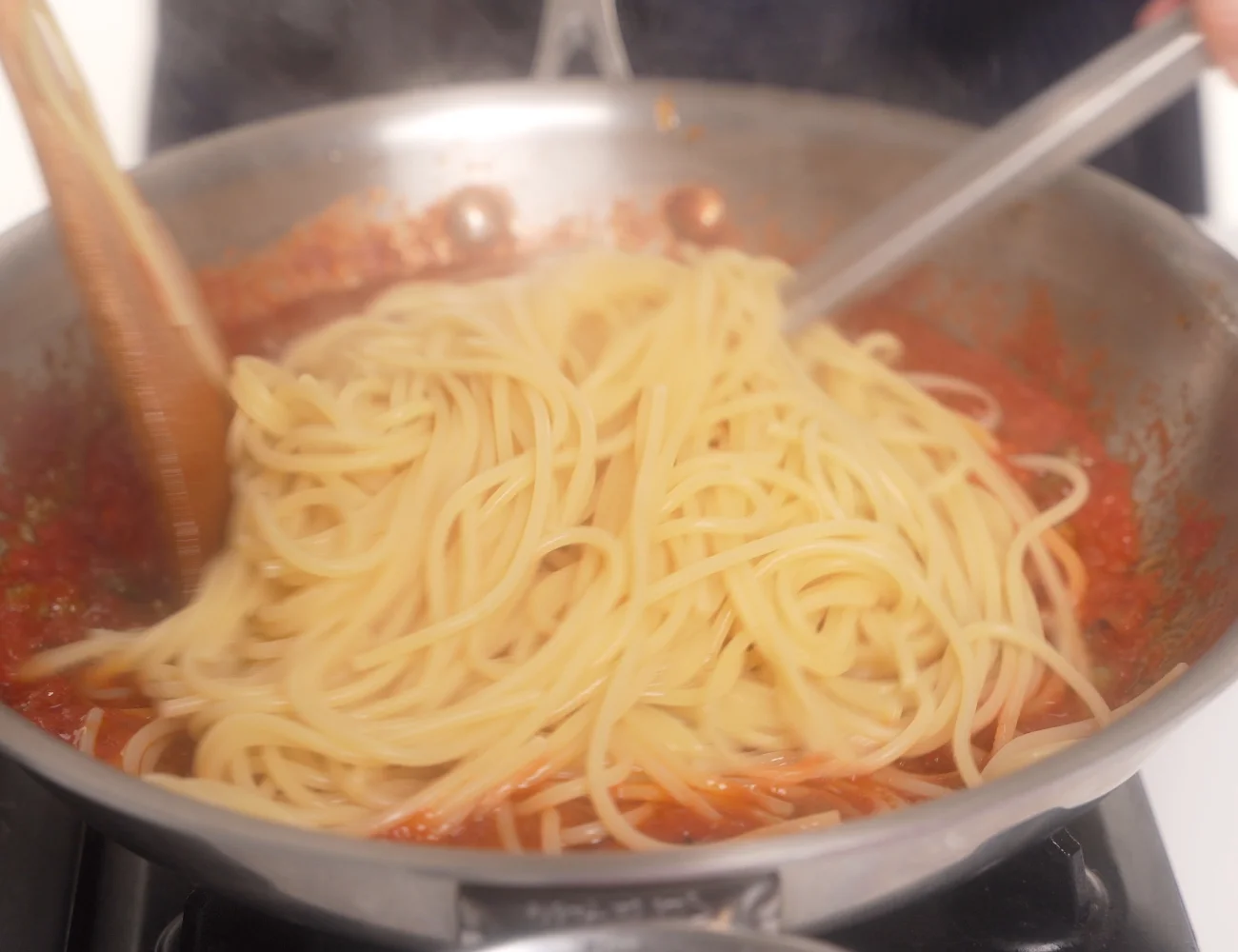 Add a handful of minced flat leaf Italian parsley!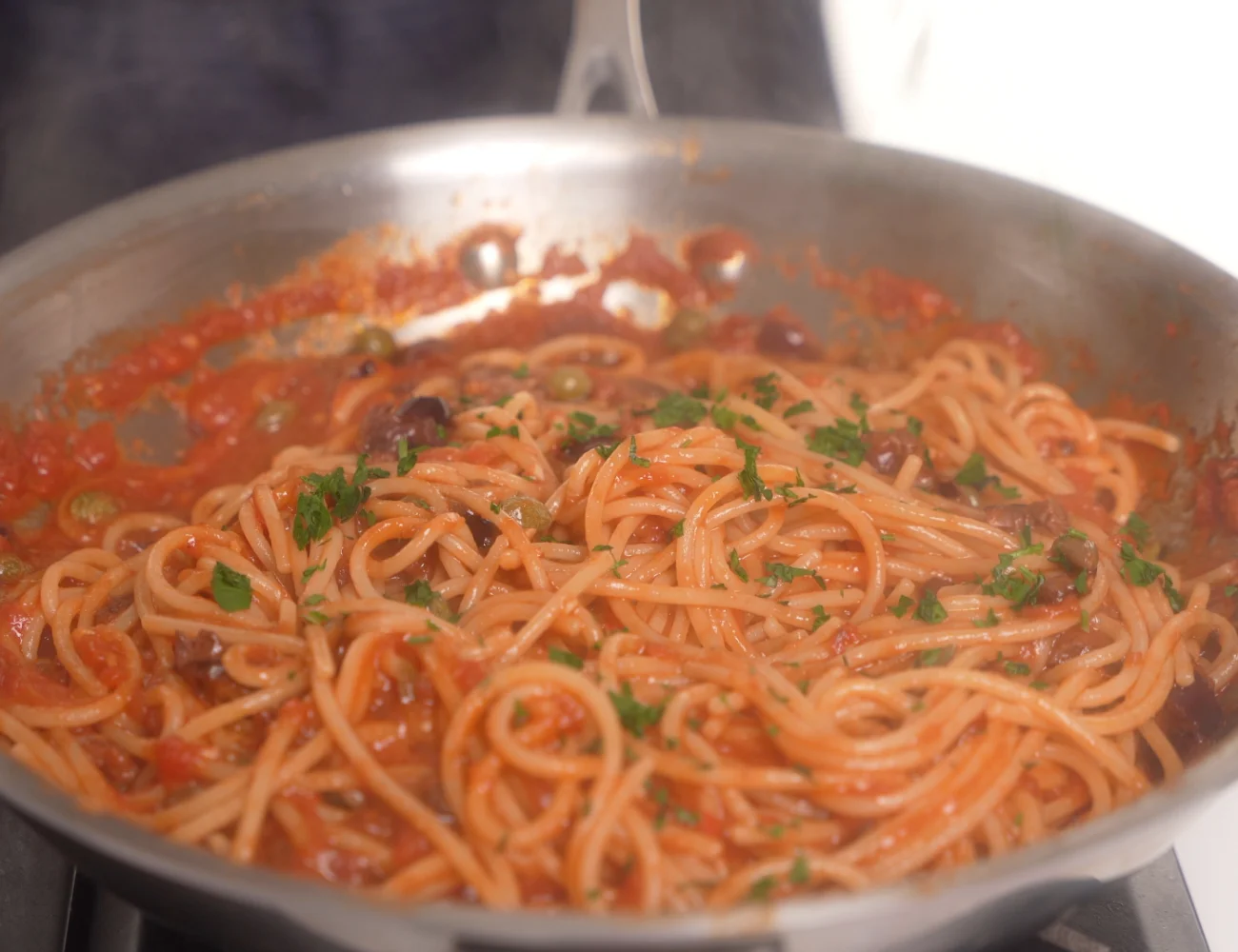 Then, give everything a good mix and simmer it for about a minute longer just to combine the flavors. Stir frequently.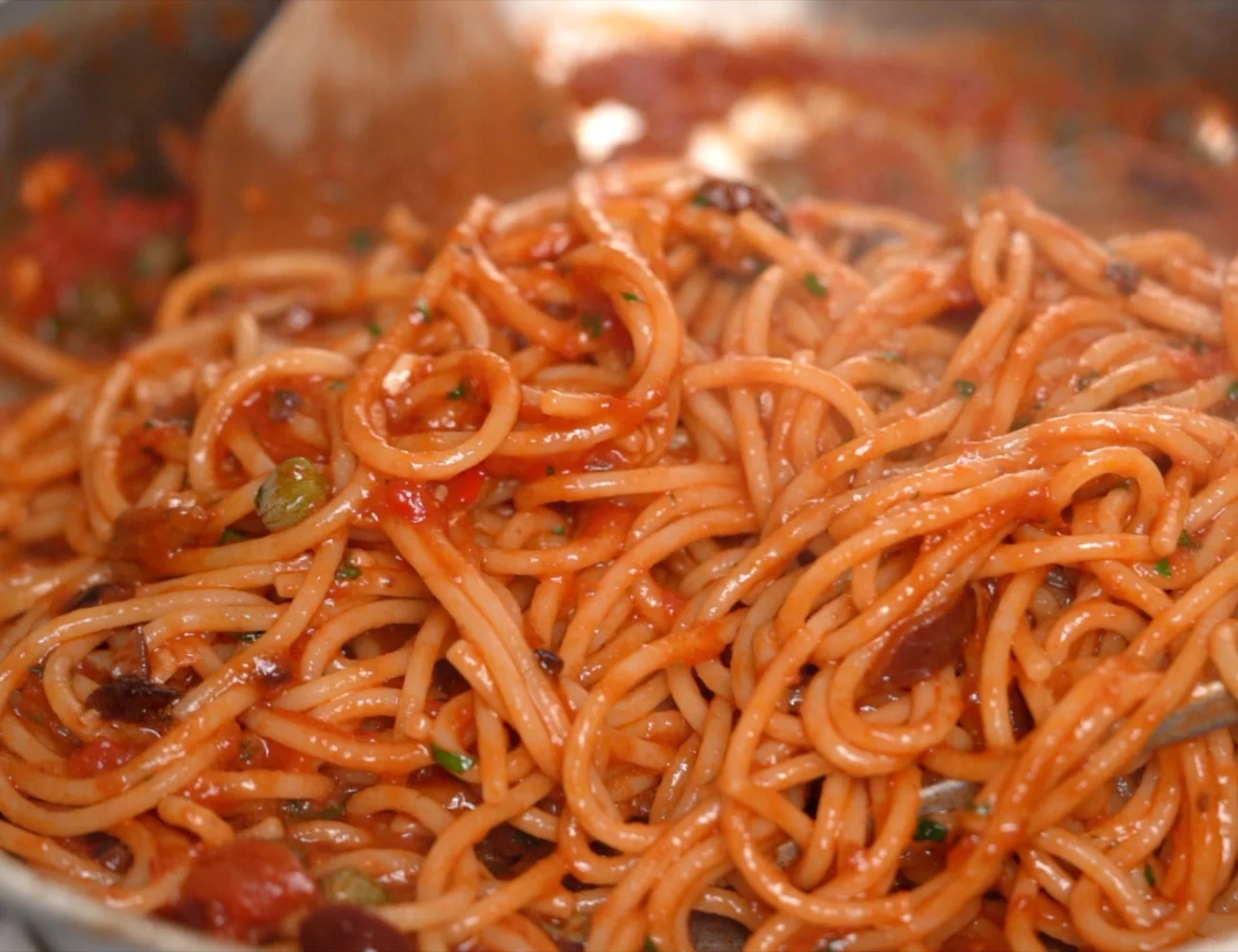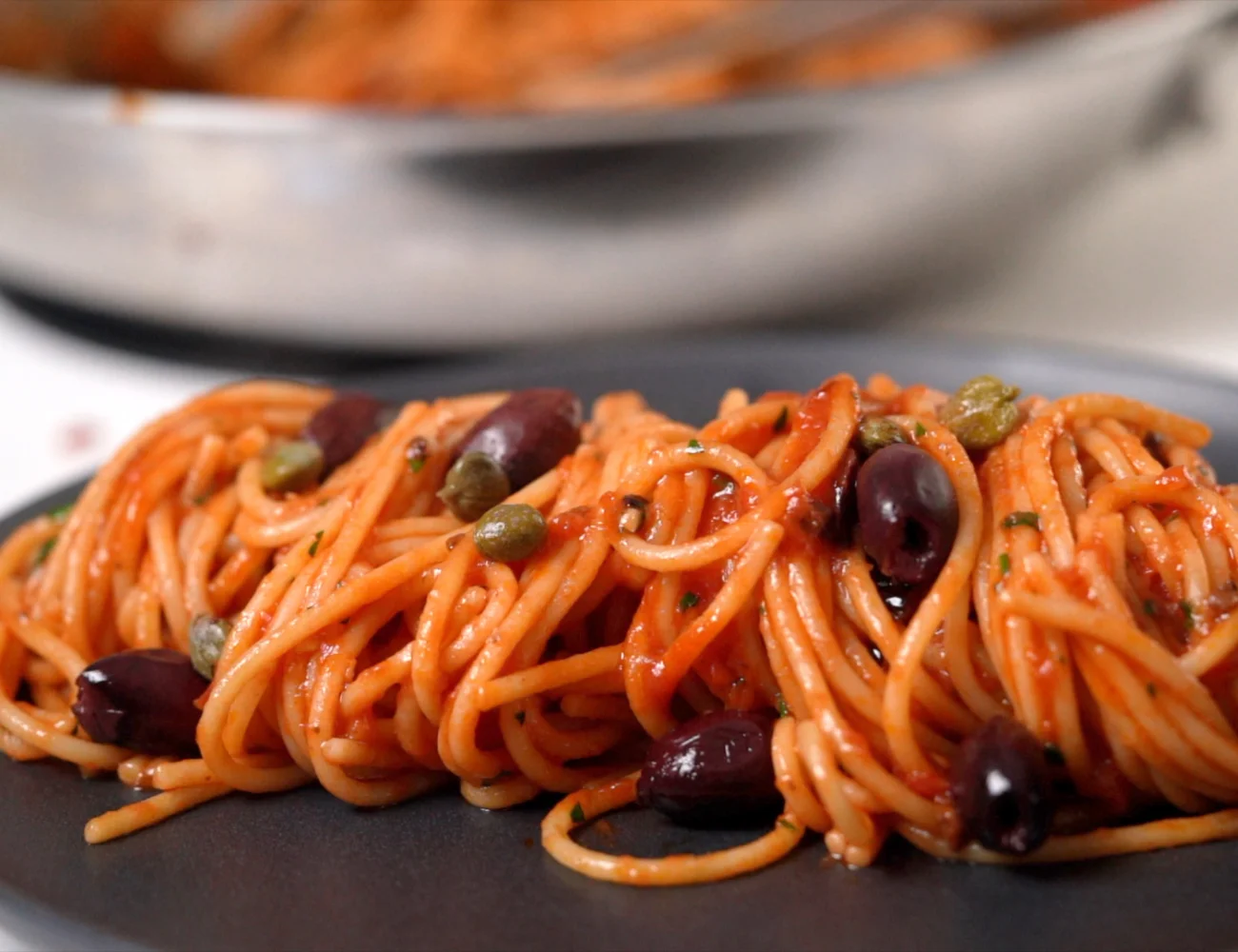 Look how satisfying and saucy this dish is!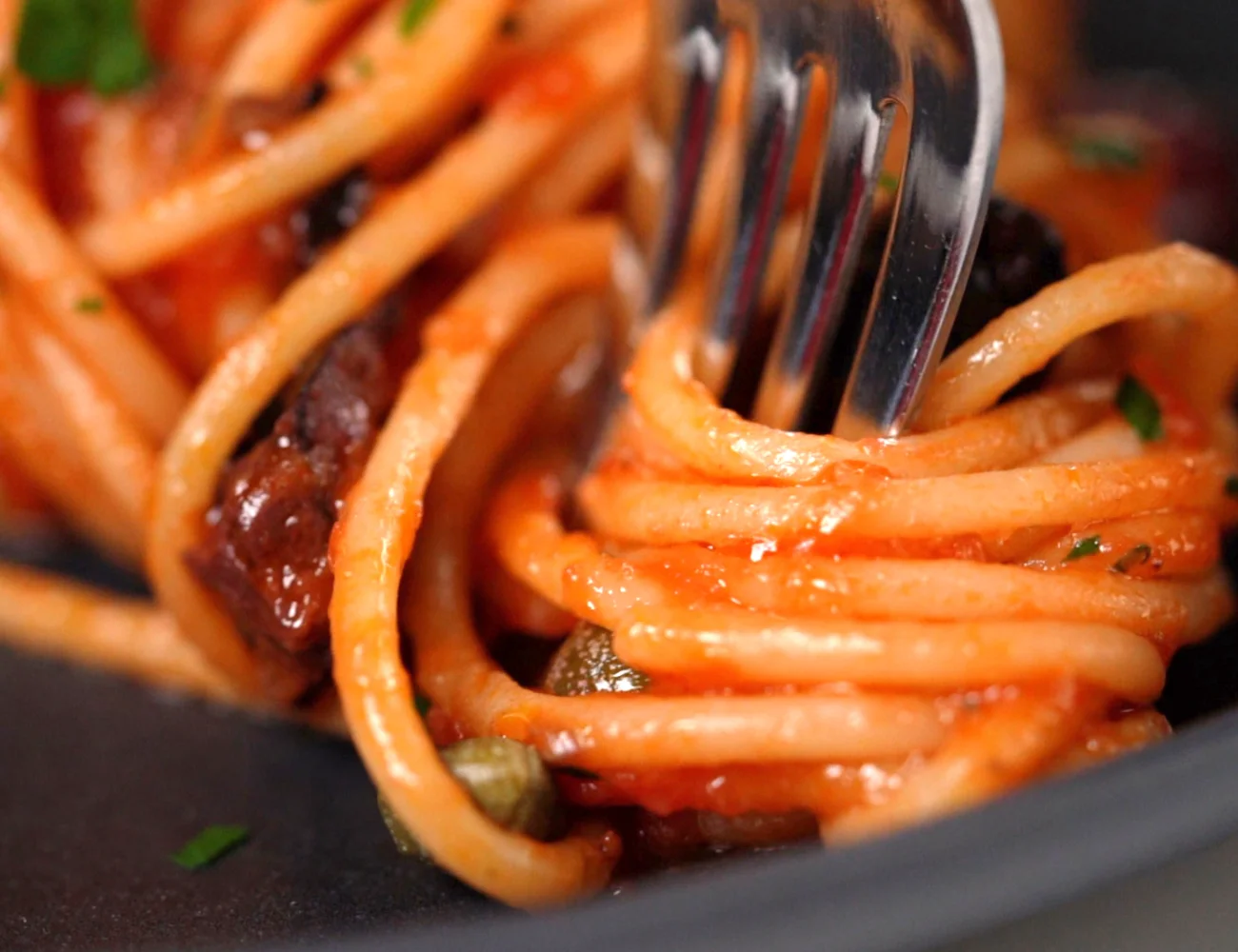 Buon appetito!
---
---
As an Amazon Associate, we earn from qualifying purchases. This means at no extra cost to you, PIATTO may earn a small commission if you click the links and make a qualifying purchase.
---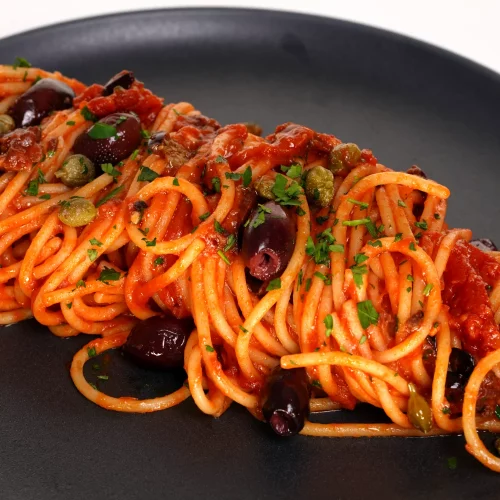 Spaghetti alla Puttanesca Recipe: Authentic Italian!
A classic pasta dish from Naples, this traditional Spaghetti alla Puttanesca recipe is so satisfying and easy to whip up in minutes.
Ingredients
3

oz

olives

black—gaeta or kalamata are best

5

tbsp

capers

4

filets

anchovies

spine removed (if necessary)

2

cloves

garlic

1

whole

fresh red chili pepper

or to taste

1

handful

flat leaf Italian parsley

minced

14

oz

whole peeled tomatoes

crushed

4

tbsp

olive oil

extra virgin

fine salt

if needed to taste

11

oz

pasta

spaghetti, vermicelli or penne
Instructions
Rinse or Soak Olives and Capers
Rinse the olives and capers well. Better yet, let them soak in water for 30 minutes to remove excess salt and/or vinegar.

3 oz olives,

5 tbsp capers
Prepare the Ingredients
Mince the garlic and red chili pepper.

2 cloves garlic,

1 whole fresh red chili pepper

Remove the seeds from the inside of whole peeled tomatoes. Mash or purée the tomato pulp until it is the consistency of crushed tomatoes.

14 oz whole peeled tomatoes

1 handful flat leaf Italian parsley
Make a Soffritto
Cover the bottom of a large skillet with olive oil. Over medium heat, add the minced garlic, pepper and anchovy filets.

Mash the anchovy filets with a fork or back of a spoon to help it dissolve into the oil.

Sauté until the garlic is golden.

4 filets anchovies,

4 tbsp olive oil
Add the Tomato, Olives, Capers
Stir in the capers and olives—leaving aside some of each for decorating the finished dish.

Simmer the sauce for a few minutes. Then salt to taste (only if needed). In the meantime…
Cook the Pasta
Cook the pasta a minute less than the time required for al dente pasta on the package instructions.
Finish with Pasta and Parsley
Drain and transfer the pasta to the sauce along with ½ ladle of hot pasta water.

Cook the pasta with the sauce for about a minute until the pasta is al dente.

Add the minced parsley and stir to combine.
Notes
Rinse or Soak the Olives and Capers!
Olives and capers are very salt and may also be strong in vinegar depending on the product you purchase. 
Give the olives and capers a good rinse before adding them to the sauce. Better yet? Soak them for about 30 minutes in filtered water to remove excess salt and vinegar. 
Taste Before Adding Salt!
Anchovies, olives and capers all bring quite a bit of salt to this pasta sauce. Taste before adding salt to the finished sauce. 
You may even want to salt the pasta water less than usual to account for these salty ingredients!