So you are looking for the best mortar and pestle for your money, but you aren't sure what materials are best or what to look for. We've been there! In this PIATTO™ guide, we'll share with you what mortar and pestle we use in video recipes on our cooking channel—and why we selected it. Let's go!
Best Mortar and Pestle: Bembo, Made in Italy!
After reviewing a bunch of mortar and pestles over the years—of varying sizes and materials—we whole heartedly recommend the Bembo Mortar and Pestle (affiliate link). Here's a look at it in action!
In this video recipe, we use the 20 cm (about 8″) size of the Bembo mortar and pestle to make the most famous Italian recipe that calls for this traditional tool: Basil Pesto Genovese!
---
Why We Think the Bembo is the Best Mortar and Pestle
Here's a look at the criteria we used for choosing this mortar and pestle for pesto and other grinding and crushing tasks.
It Has a Heavy Mortar (the Bowl)!
There's no getting around the fact that using a mortar and pestle is more labor-intensive than, say, blending ingredients with a food processor or immersion blender. But, we use a mortar and pestle instead of these other tools when it's important to crush and grind ingredients in order to extract the oils and best flavor from the ingredients.
A heavy mortar and pestle provides a solid surface to grind the ingredients and does not require you to expend energy to hold the mortar (bowl) in place while doing the work of using the pestle to grind. At almost 13 pounds, this mortar weighs about as much as a gallon and a half of water. It may move a bit as you work the pestle, however this movement can be reduced by just throwing a non-slip surface like a silicone pad under it.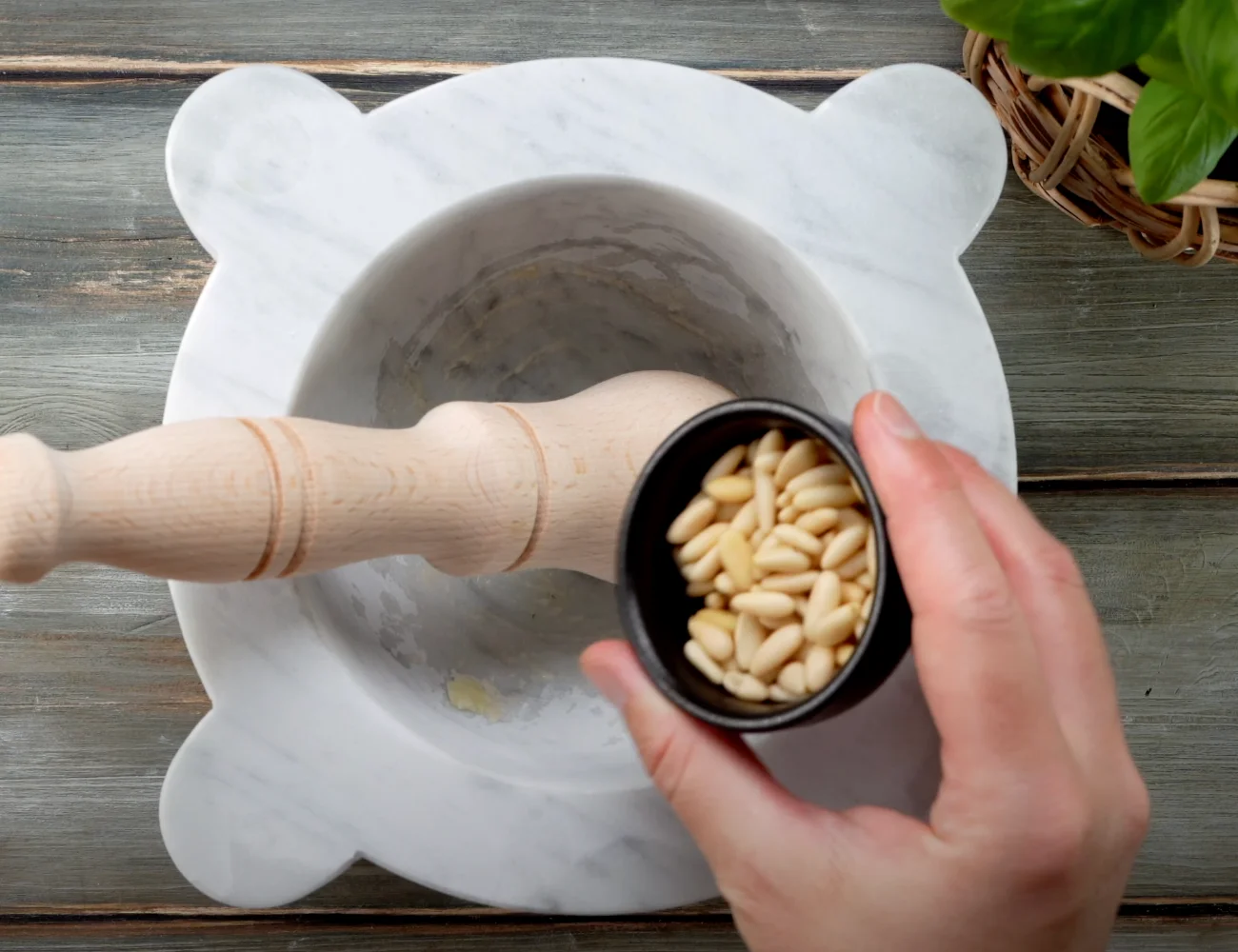 Best Material for a Mortar? Marble
Why is the Bembo mortar and pestle so heavy? Because it is made of marble. And not just any marble. This is officially a Made in Italy product. Each mortar is 100% handmade in Tuscany from White Carrara Marble quarried a few kilometers from the workshops.
There are over 650 quarries in the Carrara area and the marble from this region was prized even in ancient Roman times. It's a famous white (or blue-gray marble) that is used for making sculptures, high end decorations for buildings like columns or tiles… and mortar and pestles!
This marble makes the best mortar and pestle because it is…
heavy
beautiful
sturdy
easy to clean
not prone to absorbing smells
Best Mortar Cleaning Options for a Marble Mortar?
The Bembo company recommends using only water and a cloth to clean the marble mortar and no dish soap. However, this is rather challenging given that we don't want the smell of raw garlic in our nut butter or whatever else we may be using this mortar and pestle for…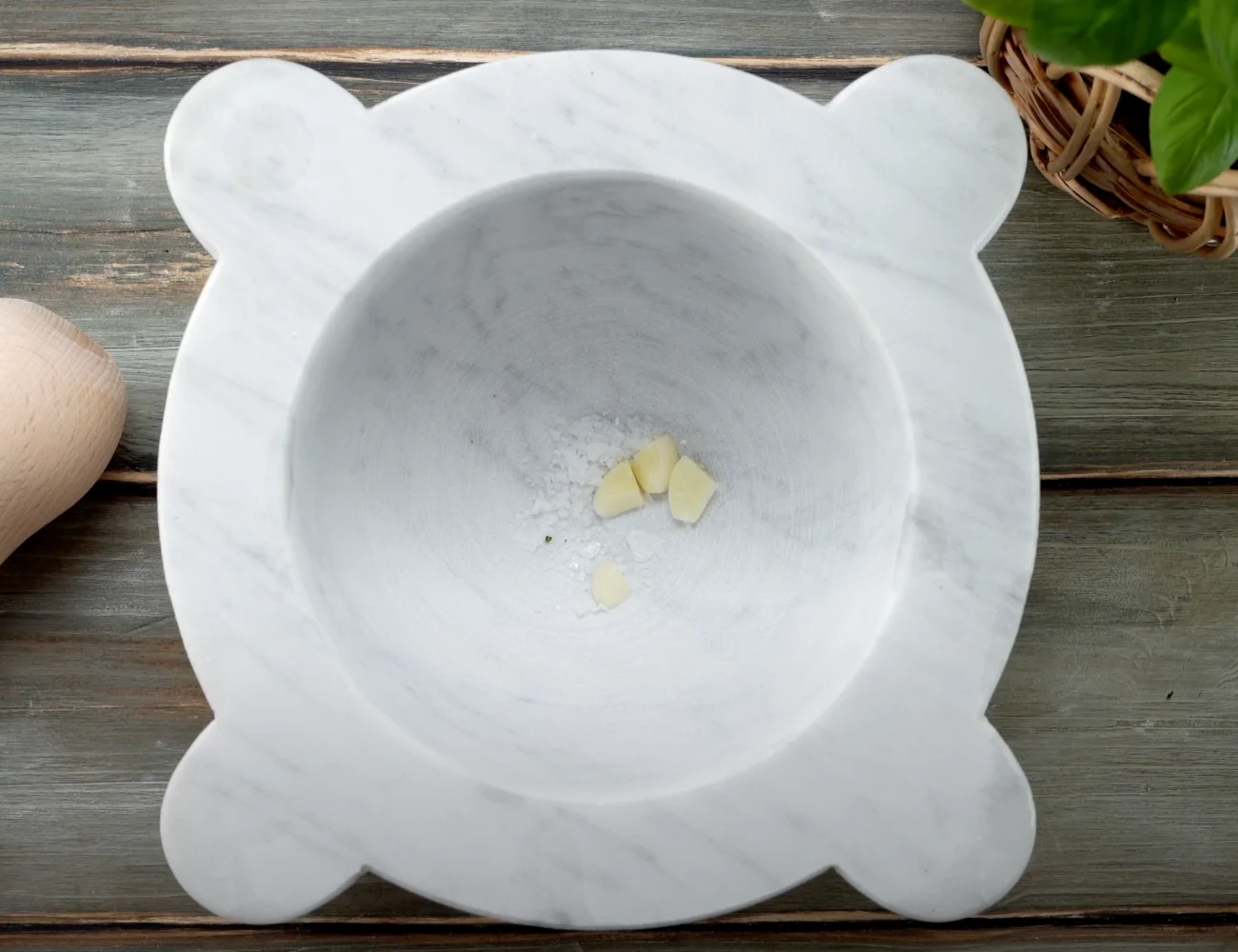 On the one hand, marble is not prone to absorbing odor as is wood or other mortar materials. On the other hand, garlic is pretty pungent and is a common ingredient that is best mashed with a mortar.
We've somtimes use mild dish soap or to leave some baking soda in our mortar overnight to remove any unwanted odors.
---
Best Material for a Pestle? Beechwood is Solid
The pestle of the Bembo mortar and pestle is made of a sturdy but lightweight beechwood. Is this the best wood for a pestle? Well, it's certainly considered a good wood for kitchen utensils in general.
In our experience, this pestle is very ergonomic compared to other pestles we've tried. Beechwood is shock-resistant, which might not seem important but becomes important quickly when you are using it to grind and mash ingredients. We've used marble mortars with marble pestles as well, and they are very hard to work with. To summarize, the pestle that comes with the Bembo is…
ergonomic
shock-resistant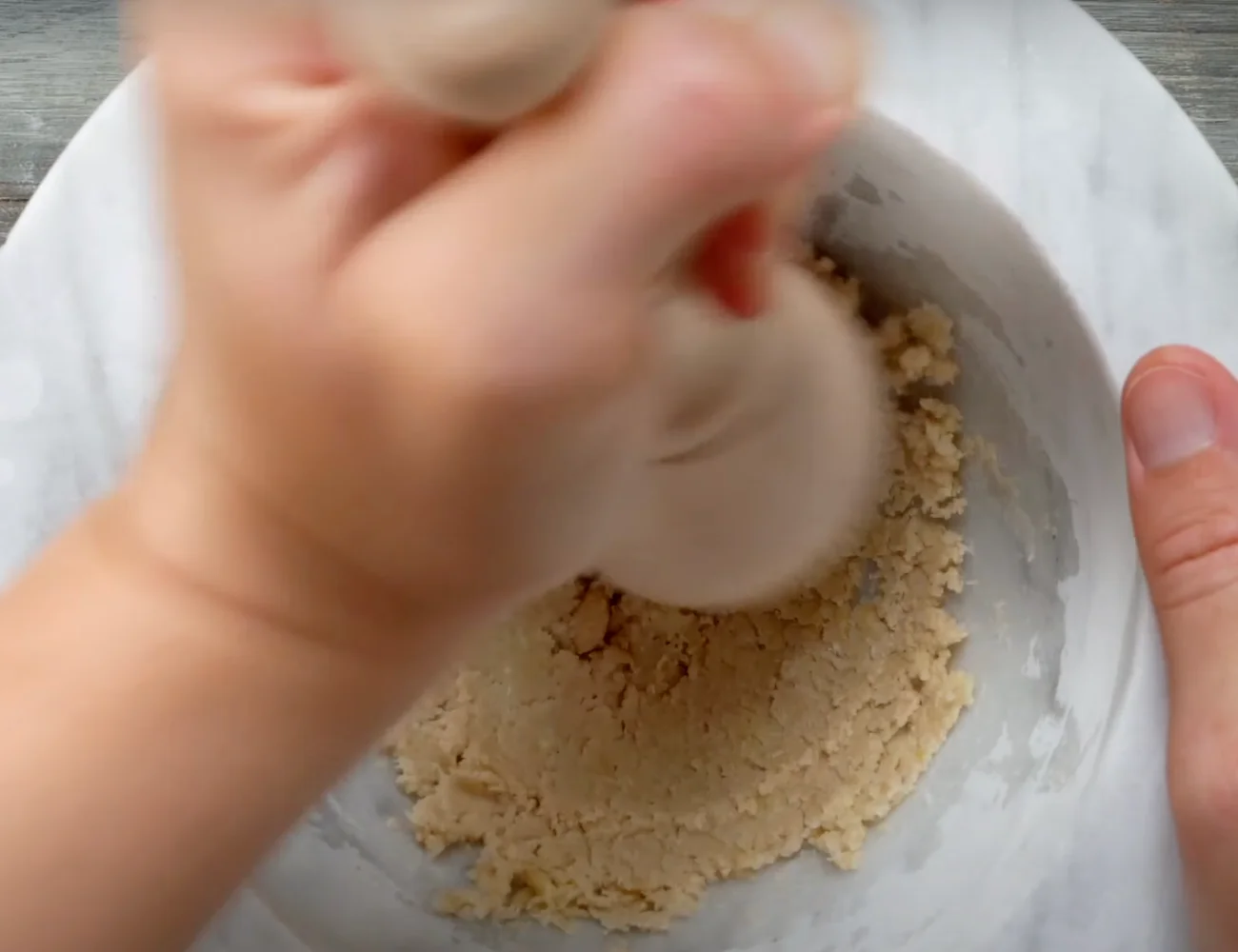 ---
Best Size to Buy?
We feel the bigger the better when it comes to mortar and pestles simply because you aren't limited by the size of the mortar.
The Bembo mortar and pestle (affiliate link) comes in four sizes. We selected the largest one: the 20 cm one. You can easily make pesto for 8-10 people (as a condiment) in this mortar. We can do it in 10-15 minutes.
---
As an Amazon Associate, we earn from qualifying purchases. This means at no extra cost to you, PIATTO may earn a small commission if you click the links and make a qualifying purchase.
---