This thick hot chocolate recipe is based on a classic Italian Hot Chocolate recipe! With historic ingredients like cinnamon, vanilla and chili pepper, this PIATTO™ original recipe will heat things up. We call it Liquid Aphrodites is honor of the ancient Goddess of Love.
Like other European style hot chocolates, this recipe is considered a 'drinking chocolate' (as opposed to 'hot cocoa') because it is features cocoa powder and solid chocolate bars, square or chips. It is the cocoa butter in the chocolate that acts as a natural thickener and creates a truly rich and thick hot chocolate that comforts body and soul!
Keep scrolling to read our recipe for "Liquid Aphrodites" below, or watch our video recipe!
---
Watch the Video Recipe!
Learn how to make our thick hot chocolate recipe called Liquid Aphrodites in this video recipe, filmed in Italy:
Subscribe to our YouTube Channel
More video recipes? Subscribe to our YouTube Channel (it's FREE) and click the bell to get notifications when we release a new video recipe!
---
About Thick Hot Chocolate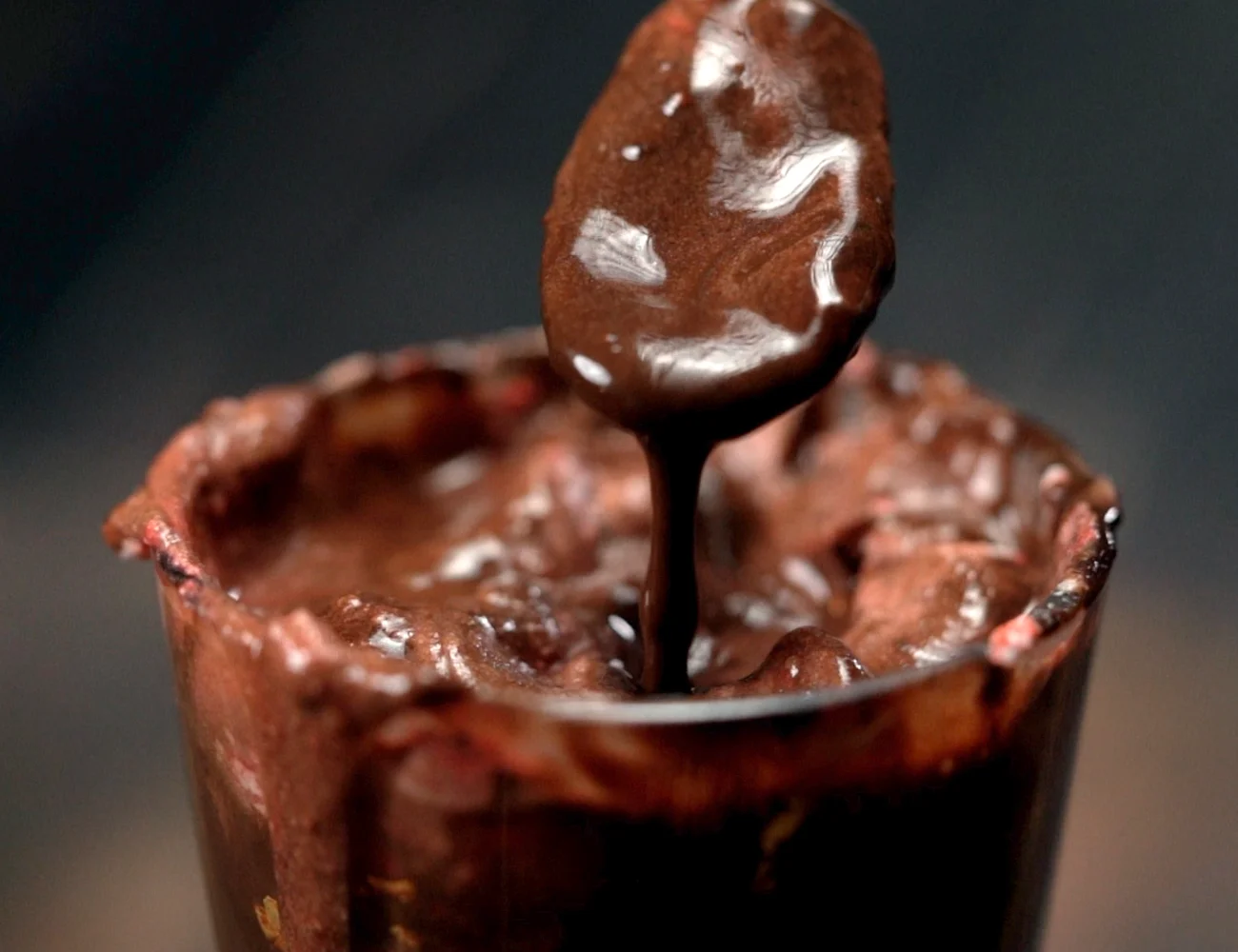 Our thick hot chocolate recipe is in the Italian and European style of hot chocolate. These hot chocolates recipes are known for being thick and less sweet. They take their inspiration from the original European hot chocolate houses of the 17th century.
These first European hot chocolate recipes featured whole ground cacao beans, some sweetener (like sugar), flavorings (like vanilla, jasmine and sometimes black pepper). Later, Europeans also began adding milk.
Our Liquid Aphrodites recipe is a nod to these early European hot chocolates as well as the original cacao drinks made by the Mayan and Aztecs. These Meso-American cacao drink recipes were flavored chili pepper, allspice, vanilla and honey. It was called xocōlātl and was a mostly bitter and frothy drink made by crushing the whole cacao beans.
The European hot chocolates used crushed cacao beans just like the Mayan and Aztec recipes because the process of separating the powder from the butter in the cacao had not yet been invented.
By combining actual chocolate (which includes cocoa butter) with cocoa powder, we can make a hot chocolate more similar to those early hot chocolate recipes.
Thick Chocolate Recipe Ingredients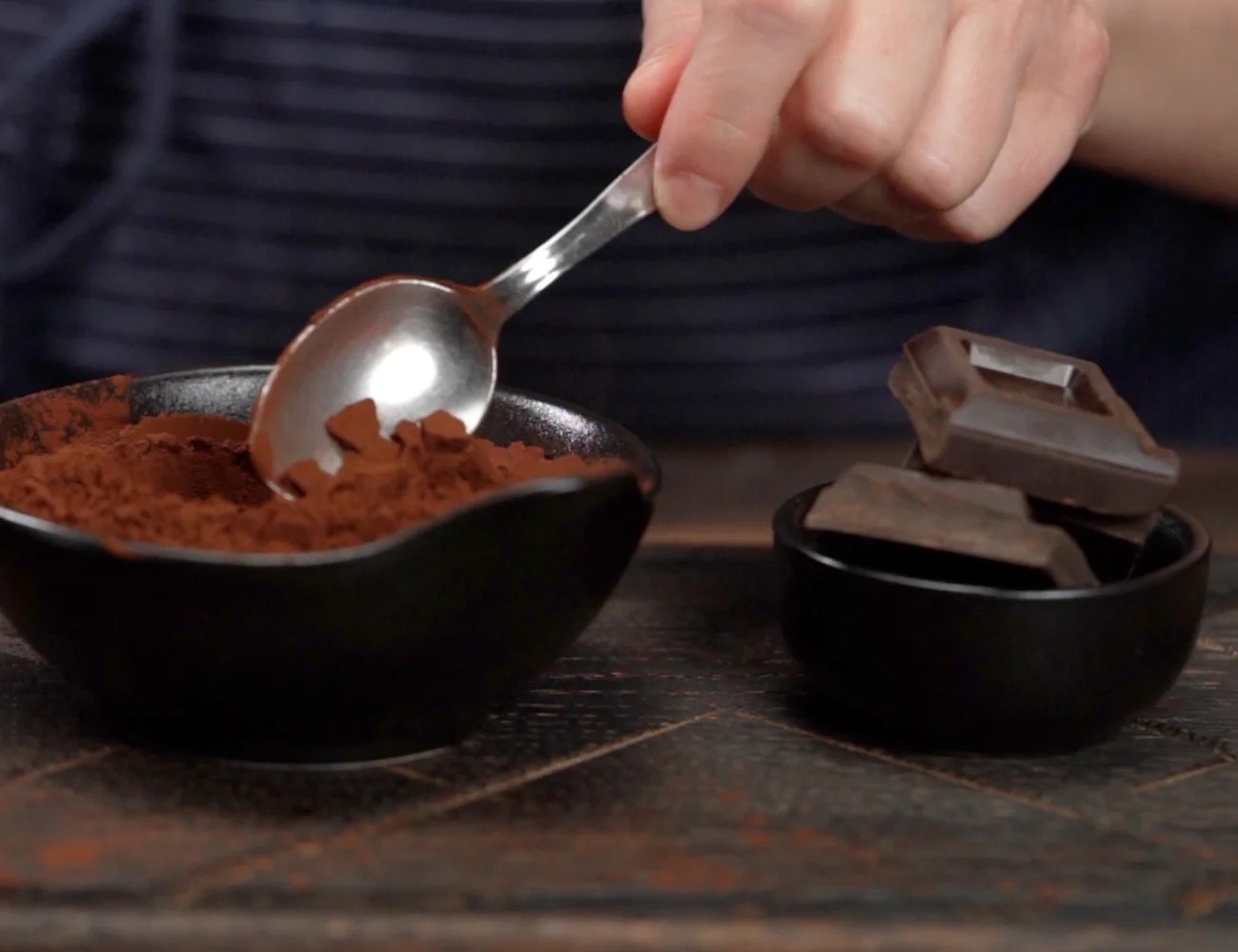 dutch processed (unsweetened) cocoa powder: 2 oz (60 g)
► WHAT WE RECOMMEND (affiliate link): https://amzn.to/3F8vo77
extra dark chocolate (70% or more): 2 oz (60 g)
fine granulated sugar: 2 tbsp (or to taste)
whole milk: 1.75 cups (400 mL)
EXTRA 'LIQUID APHRODITES' INGREDIENTS
cinnamon: 2 sticks
red chili pepper: a pinch (to taste)
vanilla: seeds from 1/2 to 1 vanilla bean (or vanilla extract)
Cointreau (or Grand Marnier or Triple Sec): 3 tbsp
TOPPING OPTIONS
whipped cream
cacao nibs
shaved chocolate
Which Chocolate to Choose?
We love dark chocolate! Dark chocolate is more common in Italian hot chocolate. We recommend choosing a dark chocolate that is at least 70% cocoa. Check the package because even 50% chocolate can be labelled 'dark chocolate' in some countries.
Chocolate Brands We Love!
We are picky about our chocolate! Italy produces some of the best chocolate products in the world. In Italy, we often use a brand of Perugina Chocolate called 'GranBlocco 70%' however we've noticed that can be difficult to find abroad. Here are some alternatives (affiliate links):
Which Cocoa Powder to Choose?
You'll want to use unsweetened, dutch-processed cocoa powder to make your Italian hot chocolate!
When cocoa powder is dutch processed, it has been treated with an alkalizing agent to remove some of the acidity (thus excessive bitter taste) from the cocoa. This process produces a tastier cocoa powder.
Cocoa Powder Brands We Love!
We are also picky about our cocoa powder 🙂 Here are some brands we often use (in Italy and in the United States). Affiliate links:
How to Make Thick Hot Chocolate
It is super easy to make Italian hot chocolate!
We recommend using a double boiler to combine everything— called a bagnomaria in Italian. This just means you bring a pot of water to a boil with a mixing bowl sitting on top. When the water is boiling, remove it from the heat and use the heat from the steaming water to melt your ingredients.
You could use a microwave to combine the chocolate with the cocoa powder, however it requires attention to be sure the ingredients don't burn. We think the double boiler method is more foolproof. Here are the basic steps to making the hot chocolate:
Warm and Infuse the Milk
Add milk to a pot and bring it to simmer. Add the cinnamon sticks, vanilla, and ground chili pepper to taste. The chili pepper is very historic and will give your thick hot chocolate an amazing, warming kick!
Let the milk simmer for at 5 minutes to allow the flavors to infuse the milk. In the meantime…
Combine the Chocolate with the Cocoa Powder
Over a double boiler, combine the chocolate with the cocoa powder (sifted).
Remove the cinnamon sticks from the hot milk. Add the hot milk to these ingredients a little at a time, whisking continuously. When all of the milk has been added, mix in the sugar as well. Finally add a few tablespoons of an orange flavored liquor like Cointreau, Grand Marnier or Triple Sec!
Once the liquid is smooth and creamy, it is ready to serve… alone or topped with whipped cream! We made our Liquid Aphrodites for Valentine's Day and so we added a bit of decorative red coloring to our whipped cream. This is also a nod to the historic Meso-American cacao drinks which added a natural red dye in order to made the liquid a 'bloody' color which was symbolic of the blood sacrifices they made to their Gods.
The Spanish, who eventually conquered the Aztecs, were initially not very impressed with this bitter drink that the locals were obsessed with. They were also horrified at the way the drink left a bloody red foam on the lips of the drinkers! But, we choose to think of it as red for love 🙂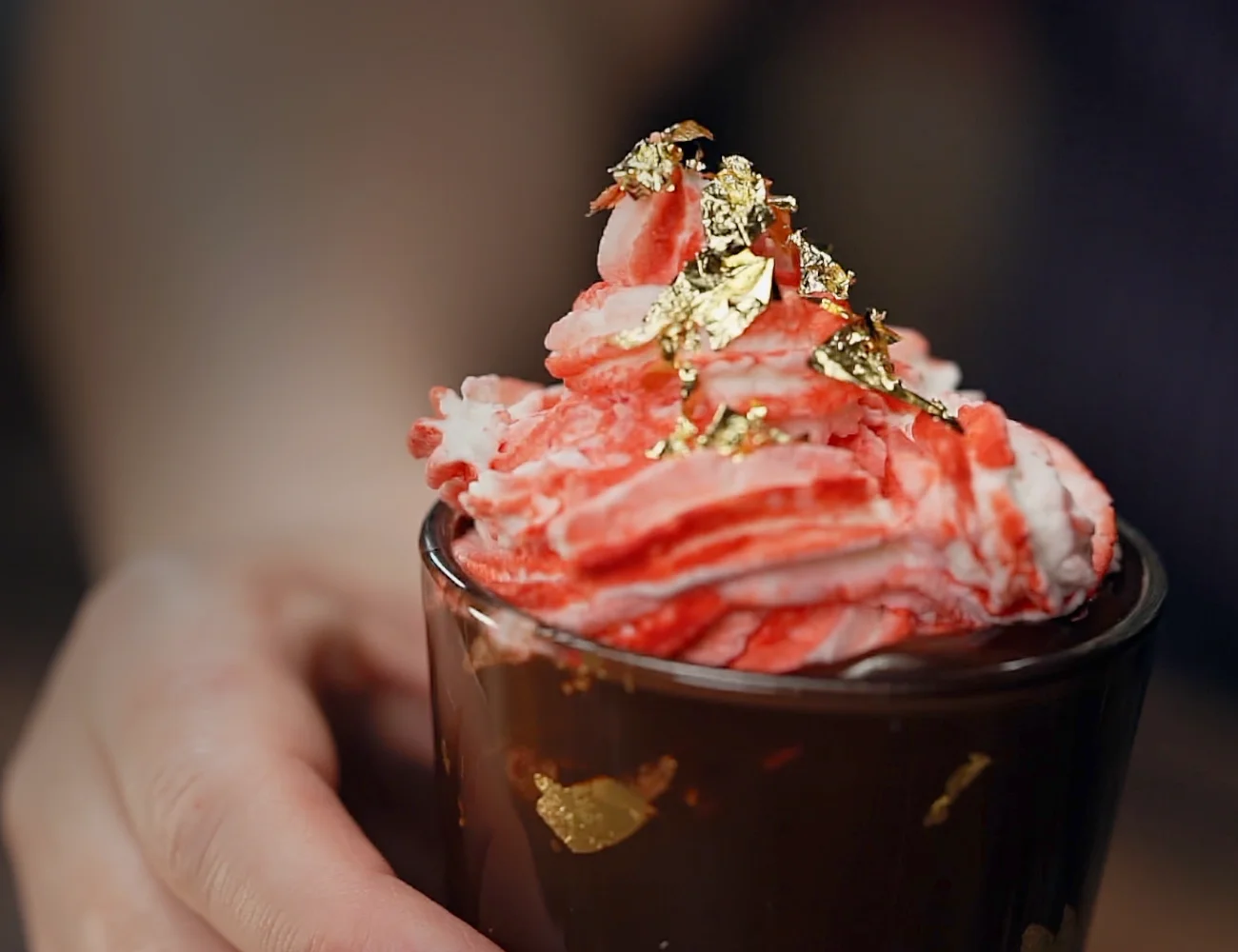 Tips: Use Shaved, Chips or Chunks of Chocolate!
In the video, we simply start with large squares of dark chocolate. This is because we wanted to show the simplest method. Some people find shaving chocolate to be too much work.
However, to get the chocolate to melt more quickly, you can shave the chocolate first. This just means using a large knife to break the chocolate into horizontal chunks.
Or, use chocolate chips or chunks. However, be sure to check the package for the % of chocolate used in the chips or chunks. Many chocolate chip products are just 50% cacao.
---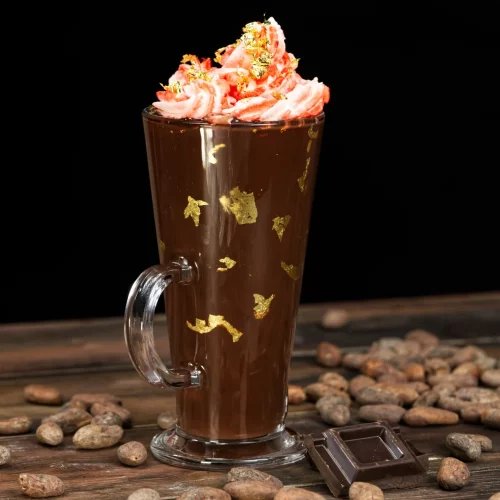 Thick Hot Chocolate Recipe: Liquid Aphrodites!
Discover our original thick hot chocolate recipe which we call 'Liquid Aphrodites'! A rich hot chocolate in the European style. So easy to make and so decadent. Perfect for Valentine's Day or any holiday or special occasion.
Equipment
1 whisk

1 pot

for making a double boiler

1 mixing bowl

for making a double boiler
Ingredients
2

oz

unsweetened cocoa powder

dutch processed

2

oz

dark chocolate

70% is best

2

tbsp

granulated sugar

1 ¾

cups

whole milk

2

sticks

cinnamon

1

bean

vanilla

or extract to taste

1

pinch

ground chili pepper

or to taste!

3

tbsp

orange liquor

like Cointreau, Grand Marnier or Triple Sec
Instructions
Warm the milk just shy of boiling. Add cinnamon, pepper and vanilla and simmer for at least 5 minutes to infuse the milk. Then, remove the cinnamon sticks.

1 ¾ cups whole milk,

2 sticks cinnamon,

1 pinch ground chili pepper,

1 bean vanilla

Make a double boiler with a pot of water covered with a mixing bowl. Bring the water to a rolling boil. Then, remove it from the heat.

Add the pieces of chocolate and cocoa powder to the mixing bowl. Slowly add the flavored hot milk, whisking continuously.

You are using the heat from the double boiler to melt all of the ingredients together.

2 oz unsweetened cocoa powder,

2 oz dark chocolate

When all of the milk has been added, add sugar to taste and the orange liquor. Whisk until smooth and serve!

2 tbsp granulated sugar,

3 tbsp orange liquor
Video
Notes
Make it Faster
Shave the chocolate or use chocolate chips or chunks instead of squares of chocolate. The chocolate will melt more quickly. If you are using chocolate chips, just be sure to choose a product with around 70% cacao! Many chip products have just 50%.
---
---
As an Amazon Associate, we earn from qualifying purchases. This means at no extra cost to you, PIATTO may earn a small commission if you click the links and make a qualifying purchase.
---