Learn how to make Fettuccine Alfredo without cream using just 3 ingredients: pasta, Parmigiano Reggiano cheese and butter. Yes, this is the traditional Fettuccine Alfredo you will find in Italy… Just don't ask for Fettuccine Alfredo there! Instead ask for…
Pasta Burro e Parmigiano
Probably one of the most iconic dishes associated with Italy abroad, traditional Fettuccine Alfredo is also one of the easiest and tastiest pasta recipes you can make.
The irony? If you ask for Fettuccine Alfredo outside of tourist areas in Italy, most Italians will look at you perplexed and ask who this 'Alfredo' is and why he has a pasta dish named after him! Italians know this dish by a name that translates to: 'fettuccine (or pasta) butter and parmigiano' and it dates back to the 1400's.
The 'Alfredo' refers to Alfredo di Lelio, an owner of a restaurant in Rome who began serving this common Italian dish in the 1900's under the name "fettuccine al triplo burro" (fettuccine with tripled butter). It was famous then as well now for its creamy sauce and also because it was finished on the table in a theatrical manner. The dish quickly became a favorite of tourists who loved how the restaurant prepared the dish with flair and they began calling it "Fettuccine Alfredo".
The butter to cheese ratio makes this an easy dish for beginners to prepare as well. This is because the cheese easily melts in the butter, creating a creamy and rich sauce that is desired around the world. No need to add heavy cream!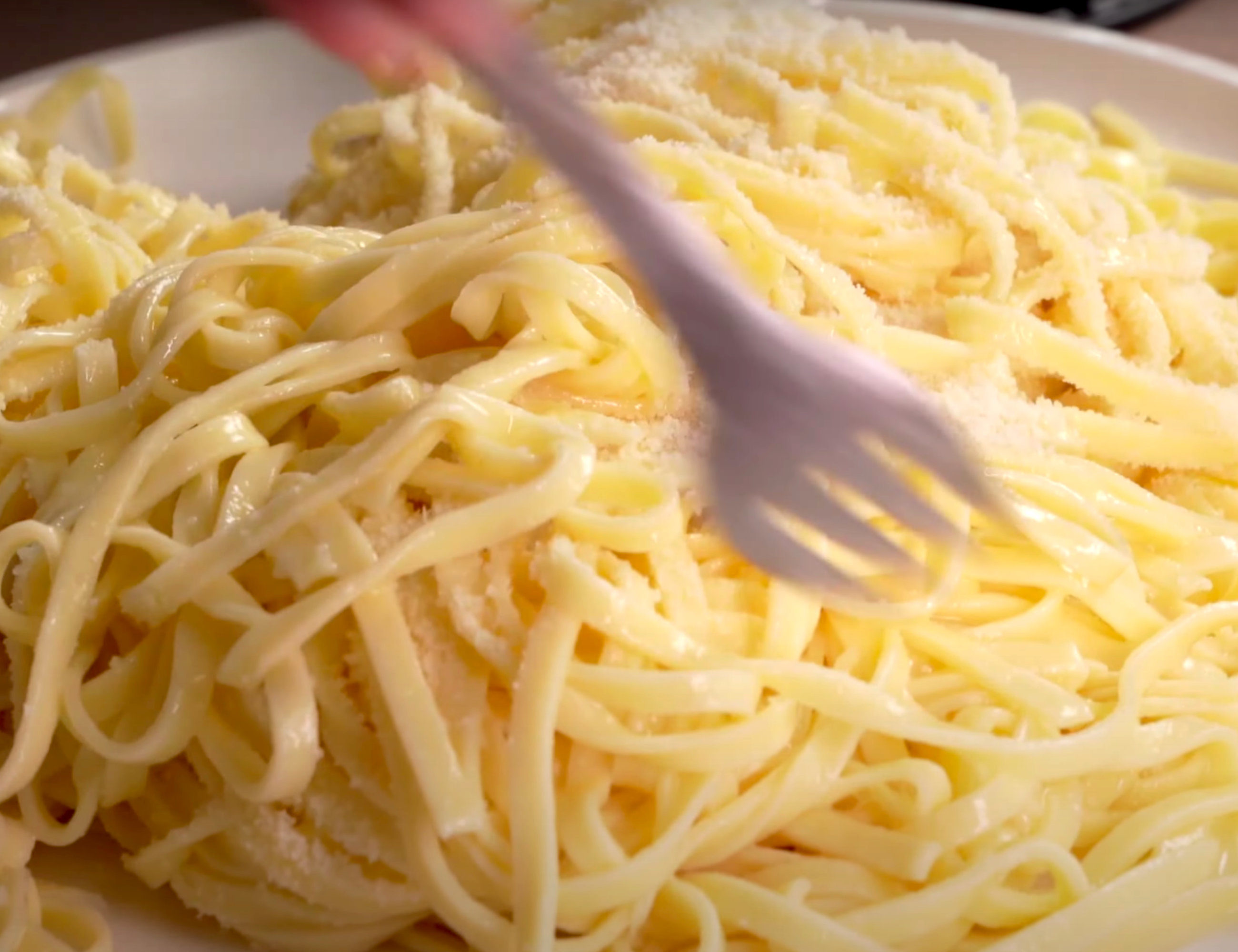 Watch the Video Recipe!
If you prefer to watch a video recipe, click on the video below.
Subscribe to our YouTube Channel
More video recipes? Subscribe to our YouTube Channel (it's FREE) and click the bell to get notifications when we release a new video recipe!
How to Make Traditional Fettuccine Alfredo: Tips
How do I avoid clumpy sauce?
Unlike Italian cheese sauces like that in the Spaghetti Cacio e Pepe, an 'Alfredo' (butter and Parmigiano sauce) is much more foolproof for beginners to make. This is because the butter and Parmigiano cheeses can together easily create a creamy emulsion.
The entire sauce for this pasta recipe is created off the heat. Layer the pieces of butter and sprinkle finely ground Parmigiano cheese under and over the hot, cooked and drained fettuccine. Add a ladle or two of hot pasta water and mix with two forks or thongs. Watch our video recipe above to see this in action!
Can I use pre-grated cheese/ pre-ground pepper?
Sure! However, we assure you that the best flavor is always achieved by freshly grating or grinding your ingredients. As with most cheesy Italian pasta sauces, you really want to start with a very finely grated cheese.
If you use a food processor, grate the cheese with the finest grate. Then, for good measure, you can also sift the grated cheese through a fine strainer to achieve an even finer consistency.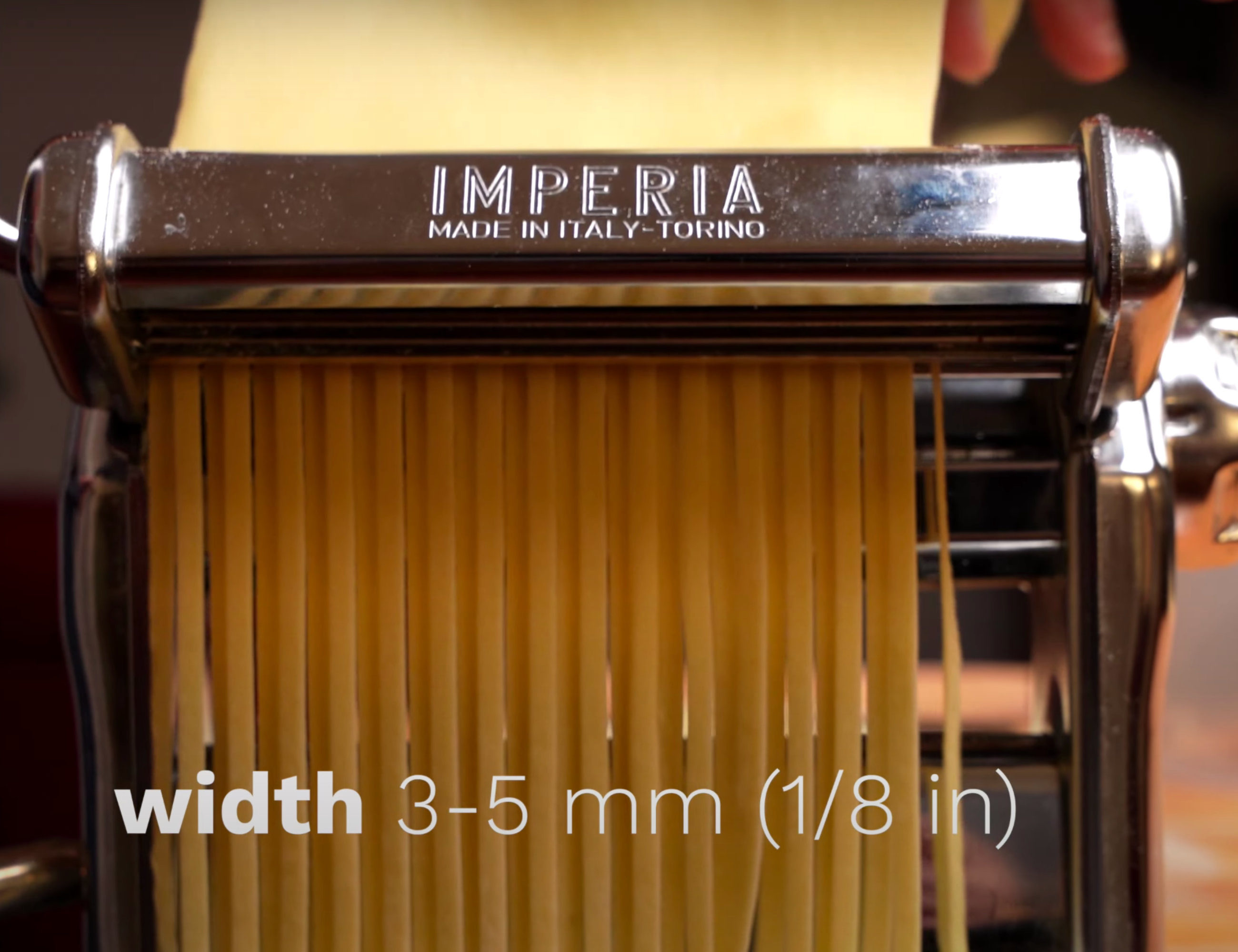 How do I Make Fresh Fettuccine?
Fresh pasta really delivers for this dish. Learn how to make fresh egg pasta and cut it into fettuccine in our video recipe below!
---
As an Amazon Associate, we earn from qualifying purchases. This means at no extra cost to you, PIATTO may earn a small commission if you click the links and make a qualifying purchase.
---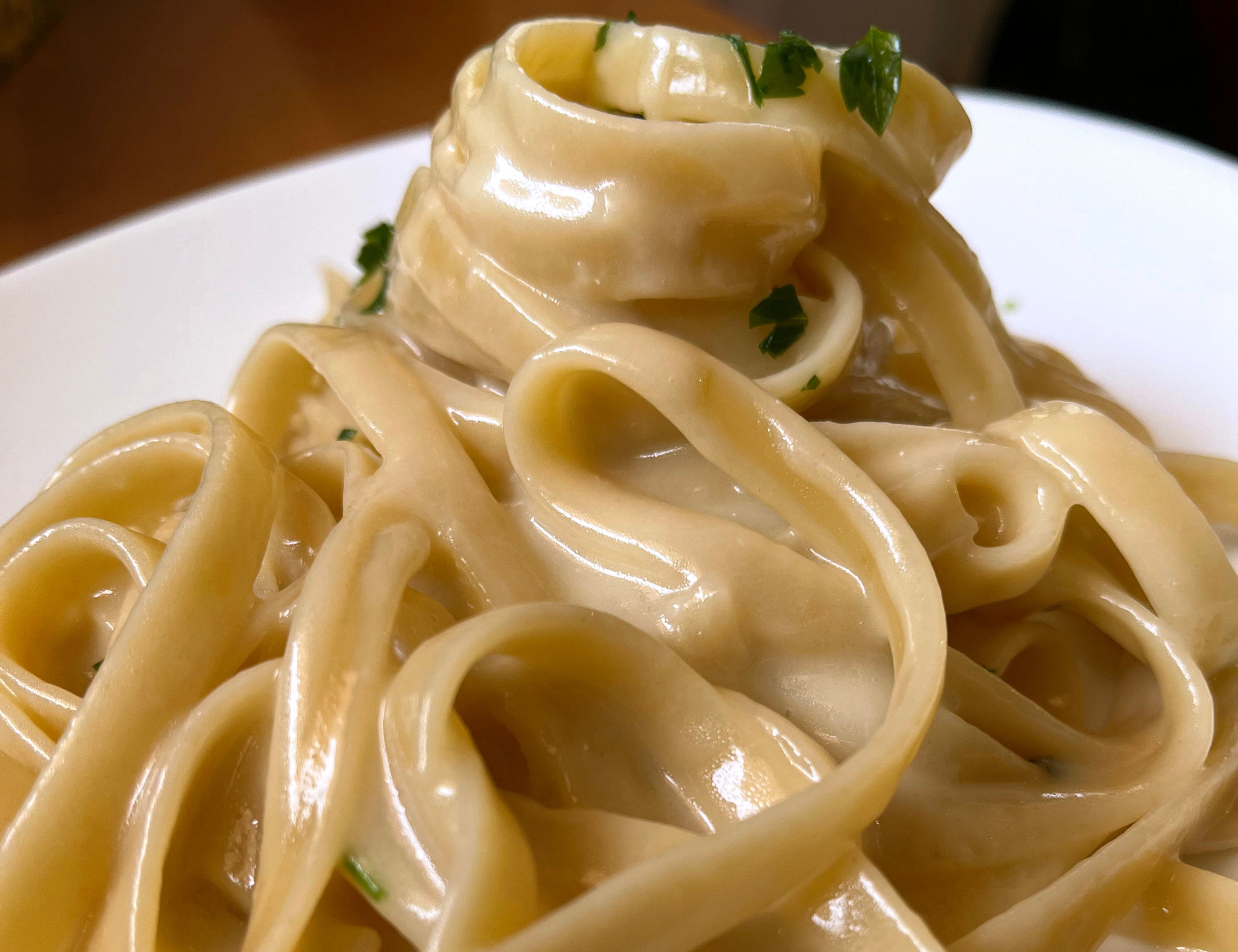 Traditional Fettuccine Alfredo Recipe
Learn how to make Fettuccine Alfredo without cream using just 3 ingredients: pasta, Parmigiano Reggiano cheese and butter.
Ingredients
6

oz

Parmigiano Reggiano Cheese

finely grated/ground

6.5

tbsp

butter

11

oz

fettuccine pasta

fresh is best
Instructions
Make the Pasta
Make the fresh fettuccine by using our recipe. Or, move to the next step if you already have the fettuccine prepared or have bought it.
Prepare the Ingredients
Finely grate the Parmigiano Reggiano cheese. Once done, sift the cheese as well. It must have a powdery consistency for this recipe.

Cut the butter into small cubes.
Cook the Pasta
Cook the fettuccine in gently boiling water. A gently boiling water will help you avoid to break this thin egg pasta, which tends to be more delicate than something like spaghetti. 

If using fresh pasta, it will only take 2-3 minutes to cook the pasta. Otherwise, follow the package instructions.
Finish the Pasta
Drain the pasta but do not discard the pasta water!

On a large serving dish or bowl, add half of butter. Then, add the drained pasta on top of the butter. Then, add the rest of butter. 

Using a spoon and fork, mix the pasta and butter delicately until the butter is melted and coats the pasta. 

Then add the Parmigiano Reggiano cheese, a couple of spoons at a time. Continue to mix. 

Add a ladle of pasta water and mix again. The creamy sauce will start to form. Continue adding more cheese (and more water if needed) until you have created a thin white sauce.

Serve and enjoy! Note: The sauce will continue to thicken on the plate. 
Video