Parmigiana di Melanzane is popular throughout Italy, with each region having its own unique spin on the classic recipe. This is an authentic Eggplant Parmesan recipe from Sicily. We have translated the traditional recipe into English below for your convenience.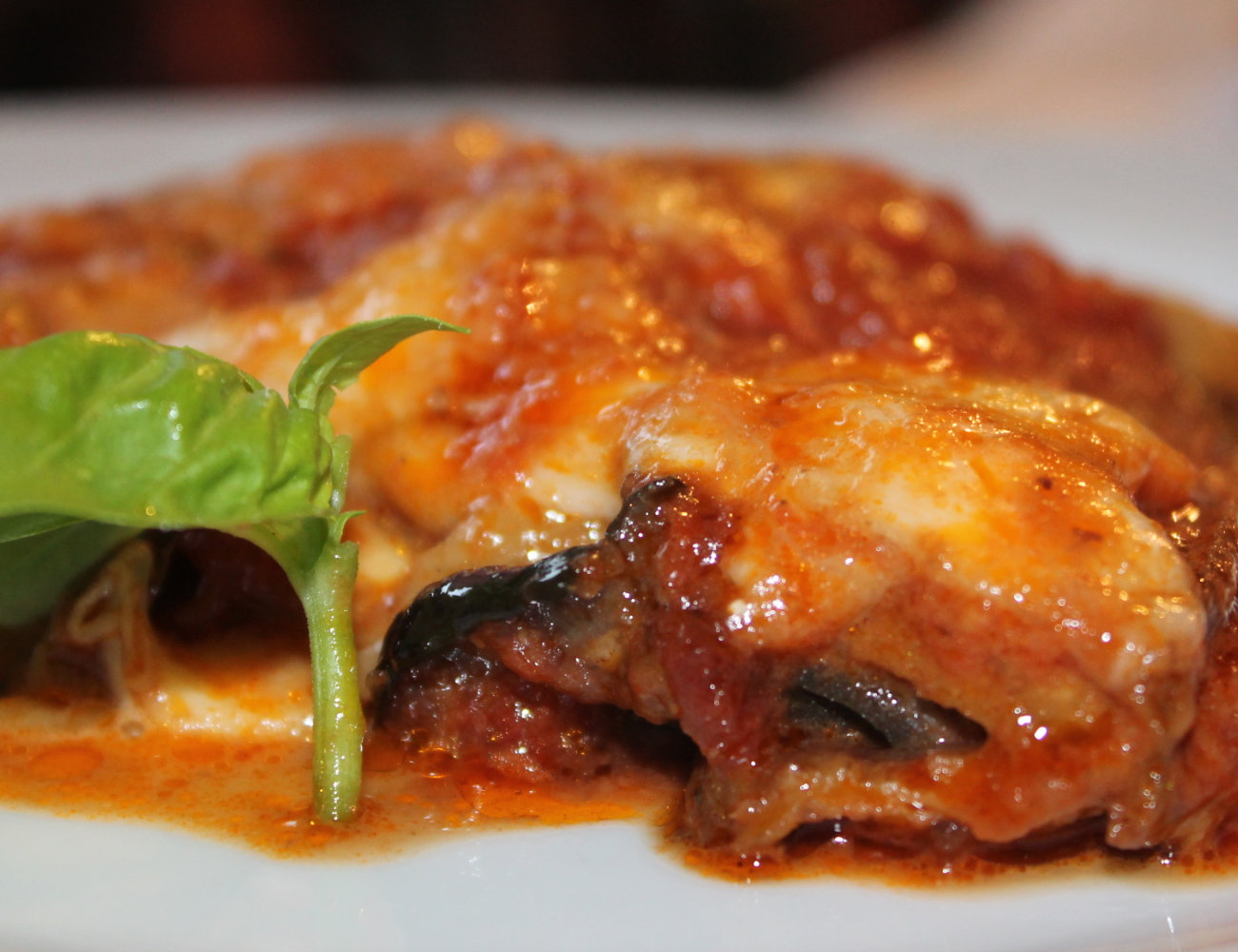 Where's the Parmesan or 'Parmigiana'?
While Parmigiano cheese is featured in many other recipes for Parmigiana di Melanzane in other Italian regions, you'll notice it is not in this recipe. Instead, the Sicilian version includes classic Sicilian cheeses (caciocavallo and tuma).
This may seem strange, but it stems from a dispute regarding the origin of this dish. Those who argue the dish originated in Sicily claim the 'parmigiana' doesn't refer to Parmigiano cheese, but refers to 'Persion blinds' (shutters) in the Sicilian dialect. In this explanation, the 'parmigiana' refers to the way the layers of fried eggplant resemble window shutters.
There's lots of food history to dig into regarding this dish, but that's for another article!
Explanation from the translated recipe:
Eggplant with "parmiciana" refers to window shutters. In Sicilian dialect, it is referred to with the "c" and not with the "g."
So, the slices of fried eggplant were arranged like a ladder, to represent a shudder and sprinkled with fresh caciocavallo cheese, which simulated the dust on the street, to which a little tomato sauce was added—but that was later, at the end of the 19th century.
---
Sicilian Eggplant 'Parmesan' Recipe: Ingredients
Ingredients for 4
eggplants: 4
mature tomatoes: 8
eggs: 4 (hardboiled)
tuma cheese: 150 g
caciocavallo cheese: 150 g (grated)
garlic: 1 clove
granulated sugar: 1 tsp
fresh basil: several leaves
olive oil (extra virgin)
fine salt and black pepper
What Type of Eggplant?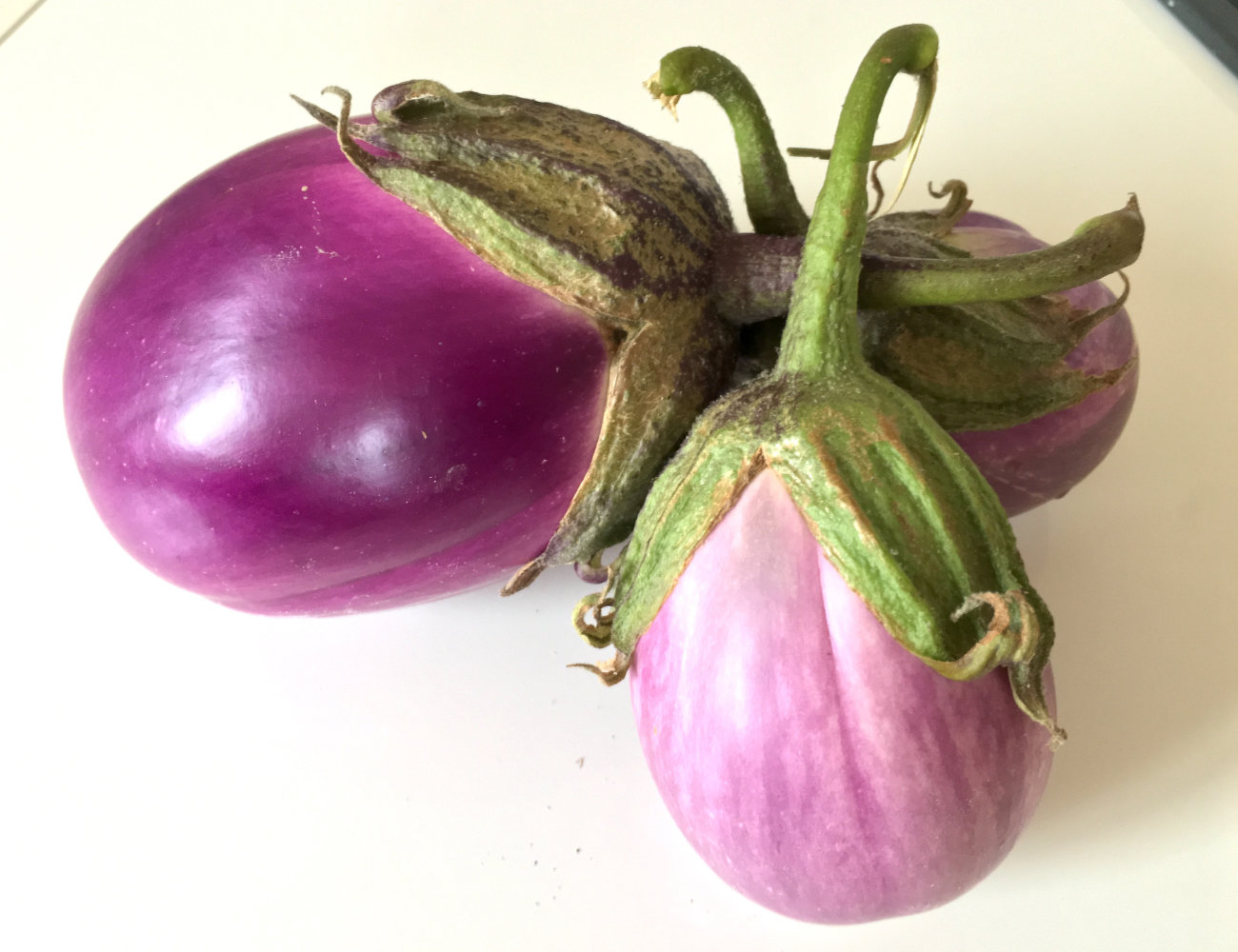 While not specified in the recipe, it's best to choose bright round purple or purple and white eggplants. These varieties of eggplant (some of which are hybrids) are abundant in Italy today. They are usually used for eggplant recipes because they tend to be less bitter than the dark purple oblong eggplants.
Abroad, these eggplants are sometimes even referred to as 'Italian eggplants.'
---
How to Make Sicilian Eggplant Parmesan
Clean the eggplant, without removing the skin and cut them into slices. Put the slices of eggplant under salt for at least a half hour to remove any bitter liquid.
Boil the eggs, peel them and cut them into slices.
Separately, make a sauce with the tomatoes (cut into pieces), olive oil, salt, black pepper, sugar and a clove of garlic.
Wash the salt off the eggplant and dry them. Then fry the eggplant in a generous amount of olive oil until they are golden and crispy. Transfer them to an absorbent towel to soak up any excess oil.
In a greased pan, sprinkle in few spoonfuls of sauce. Then arrange a layer of eggplants, one of the hard-boiled eggs, chopped tuma cheese, plenty of basil, grated caciocavallo cheese and a few more spoonfuls of sauce.
Continue creating layers, finishing with the eggplants and taking care to set aside a spoonful of caciocavallo to sprinkle on top.
Bake in a [pre-heated] oven at 180°C (350°F) for about ten minutes. Serve warm or even cold.
---
Watch our Video Recipes!
We don't yet have a video recipe for the Sicilian Parmigiana di Melanzane recipe! In the meantime, you can watch the video recipe for another Sicilian classic —Pasta alla Norma—from our English-only YouTube Channel:
Subscribe to our YouTube Channel
More authentic Italian video recipes? Subscribe to our YouTube Channel (it's FREE) and click the bell to get notifications when we release a new video recipe!
---
---
This English translation is copyright PIATTO LLC © 2023; All rights reserved.
---
---