If you love tomato sauce and Italian food, you know that not all canned tomatoes are the same. The PIATTO™ team has had the advantage of cooking with tomato products in both Italy and the United States. So, we know that it can be challenging to find the best canned tomatoes for sauce when cooking outside of Italy.
In this guide, we'll explain how to choose the best tomato products! By 'canned' we mean tomato products including canned tomatoes, but also tomatoes sold in glass or cartons.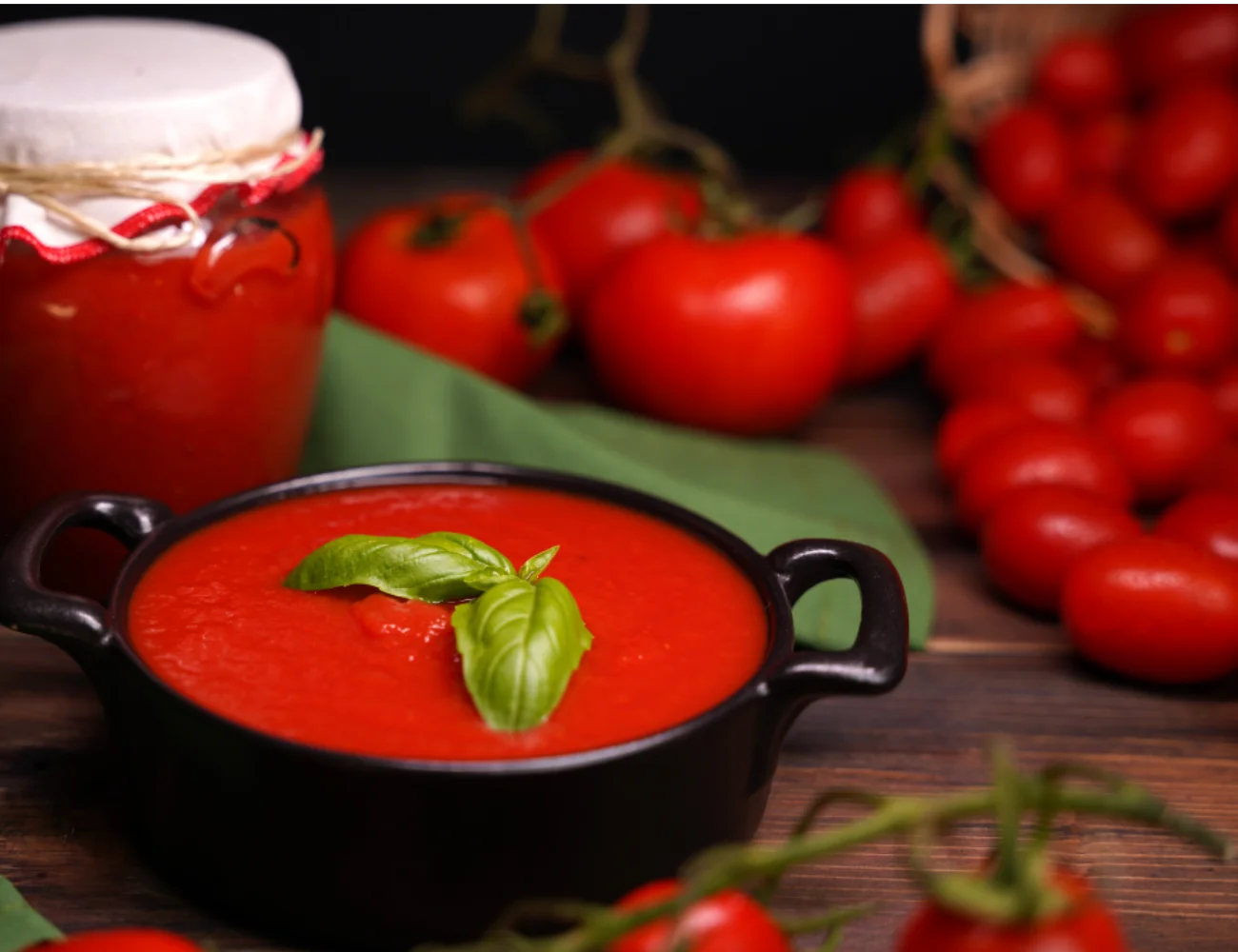 ---
Best Canned Tomatoes: Our Criteria
Tomato products should taste like, well, tomatoes—not citric acid or sugar. We are looking for products that are ideally 100% tomato with no additional ingredients other than maybe salt. Italian tomatoes (especially San Marzano) are particularly know for their intense, sweet taste. And, of course, the tomatoes should taste sweet. That's what Italians in Italy expect from their canned tomatoes and what you should expect as well. Look for products that have:
100% tomato
100% Italian tomatoes
no additives like water, tomato juice, citric acid or sugar
Citric acid and sugar are common ingredients in products that have started with poor quality tomatoes or have attempted to cut costs by diluting the product with water or tomato 'juice'.
Why is Citric Acid Added to Commercial Canned Tomatoes?
For food safety reasons, it's recommended that canned tomatoes have a pH less than 4.7. Lower pH means a product is more 'acidic.'
Even 'low acidity' tomatoes like the sweet San Marzano have a mean pH of 4.6. That is a low enough pH for safely canning without additional pH modifiers.
However, if water (or 'tomato juice' with water) is added to dilute a canned tomato product, that water increases the pH of the product. At that point, to ensure food safety, a pH modifier would need to be added to decrease the pH. Citric acid is often used to lower the pH of the tomato product.
For this reason, the addition of citric acid is often a sign that the tomato product itself is not 100% tomato. Unfortunately, citric acid can be tasted in the final product and has the effect of ruining the sweet taste of the tomato for the savvy cook or taster.
Should you add citric acid to home canned tomatoes?
Home canning is a different matter. Most home canning operations are not set up to rigorously implement best canning practices or control for pH the way a commercial operation can. Canning tomatoes at a pH that is too high can seriously compromise the safety of the tomatoes for consumption.
For this reason, you'll want to follow the USDA tomato canning guidelines when canning tomatoes at home.
---
Best Canned Tomato Brands: Mutti and Pomì
In the process of creating recipes for this website and making video recipes for the PIATTO™ cooking channels, we've tried a bunch of different tomato products.
In the United States (and in Italy), we think Mutti and Pomì are among the best canned tomato brands and both are consistent in terms of taste and quality. We are not being paid to say this! 🙂
We purchase these brands from both American and Italian groceries, and sometimes from Amazon—we'll share (affiliate) links to the Amazon products for your convenience below.
About Mutti (affiliate link)
Mutti is based in Parma Italy, where it was founded 120 years ago. Most (if not all) of their products are made with 100% Italian tomatoes. This matters because Italy has the perfect soil and climate for growing tomatoes with a delicious sweet flavor. The tomatoes used in their products include:
Rotundo di Parma
Plum Tomatoes
Cherry Tomatoes
Datterino Tomatoes
San Marzano Tomatoes
Their products contain no added citric acid or water that is not coming from the processing of the tomato itself. Their passata is particularly smooth and sweet, due to the careful separation of the tomato pulp from the skin and seeds (which tend to be bitter.)
About Pomì (affiliate link)
Similarly, Pomì is based in Parma. The tomatoes used in their products are 100% Italian and GMO free. Pomì products can be found at Whole Foods groceries, for those of you who shop there.
---
Best Tomato Puree (Best Passata): Mutti
Mutti Passata (affiliate link) is an absolute dream to cook with and eat! This product is so smooth and sweet. Don't bother purchasing the 'seasoned' passata—just season it yourself with whatever fresh ingredients you have on hand (like garlic or basil).
Mutti removes the skin and seeds, then purees the tomatoes until smooth. It is made from 100% sun-ripened Italian tomatoes!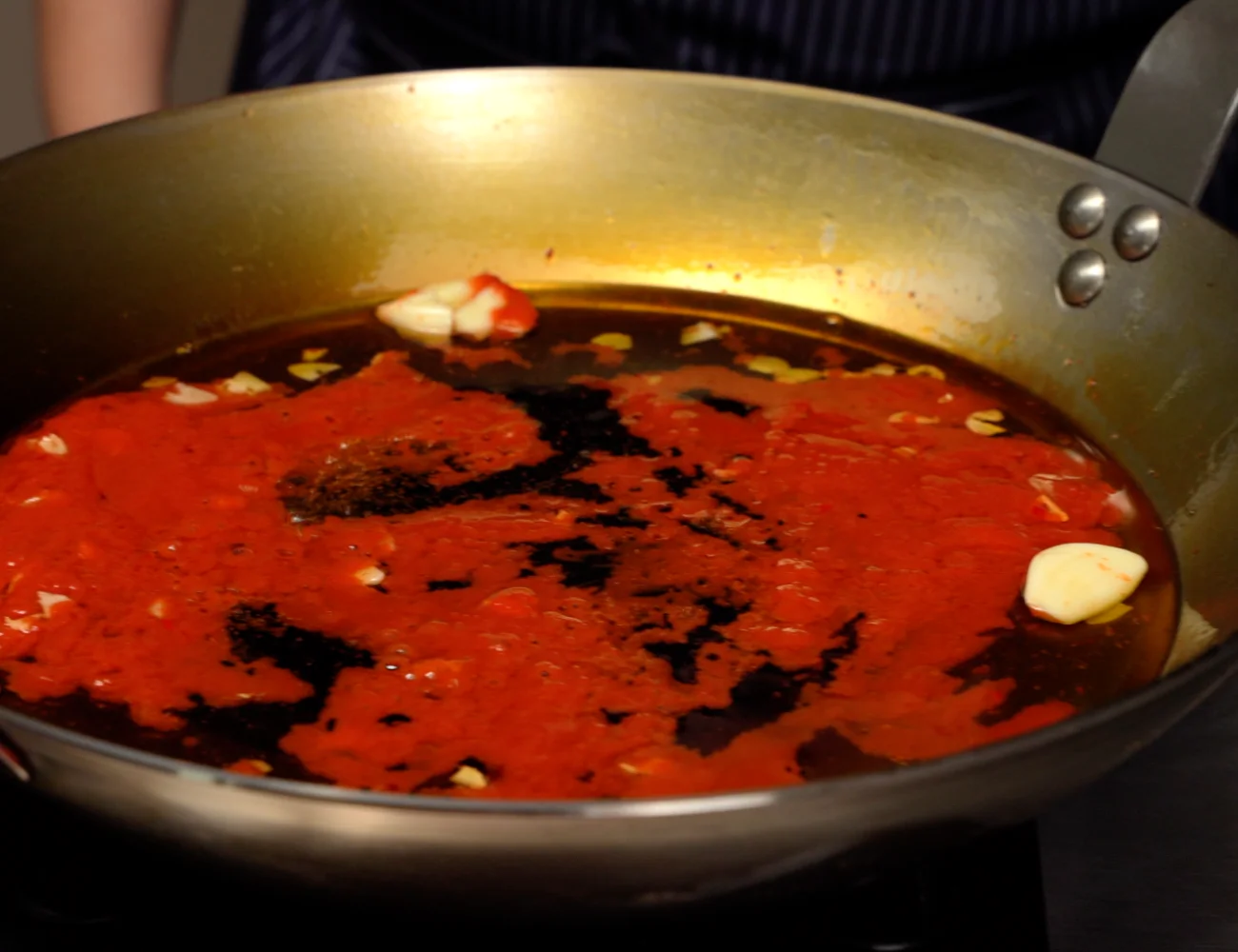 ---
Best Chopped Tomatoes: Pomì
In our view, Pomì edges out Mutti on this product. Pomì chopped tomatoes are absolutely delicious.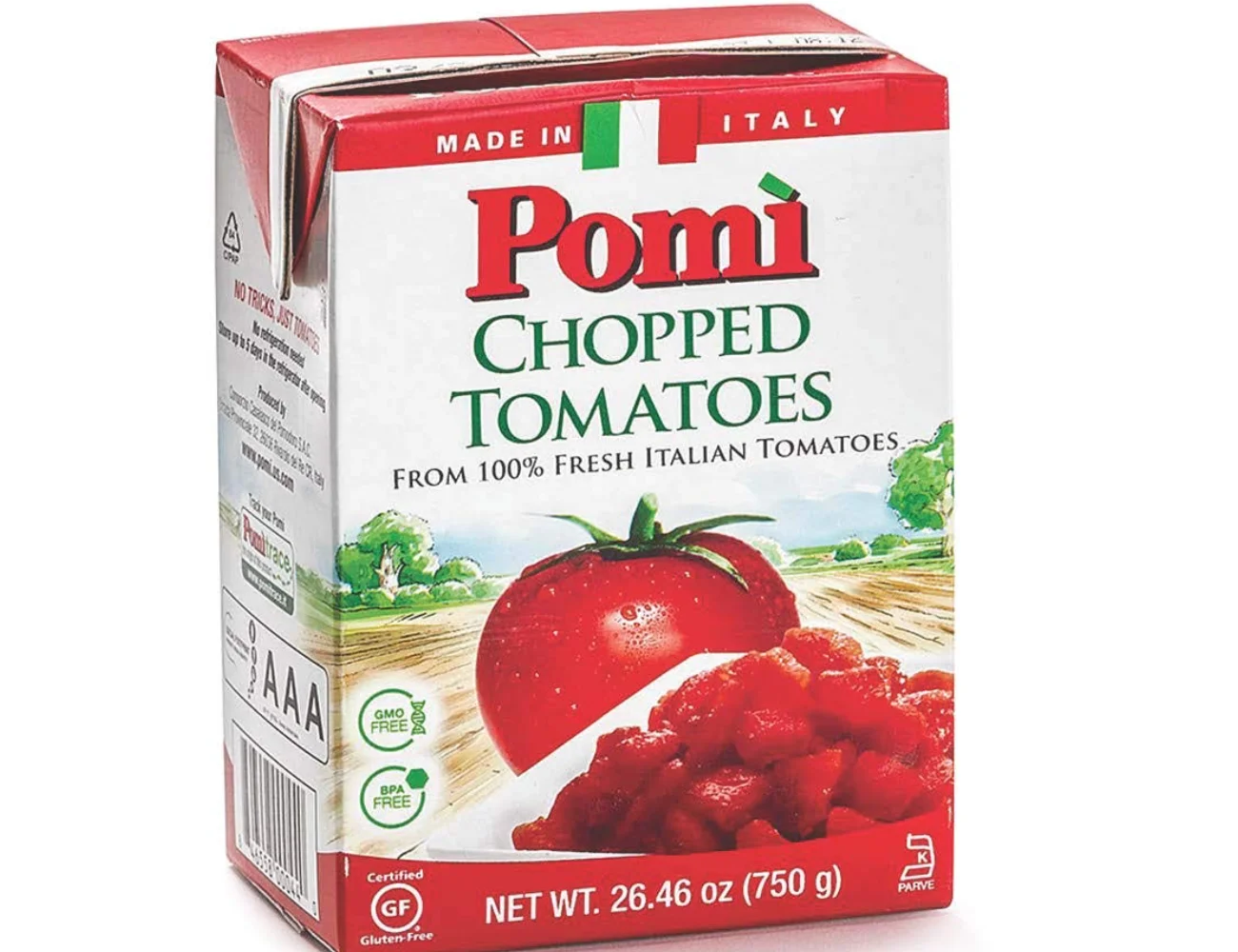 ---
Best Crushed Tomatoes: Mutti
Mutti Crushed Tomatoes (Polpa) (affiliate link)
This product is made with the finely cut pulpy part of the tomato with its own juice.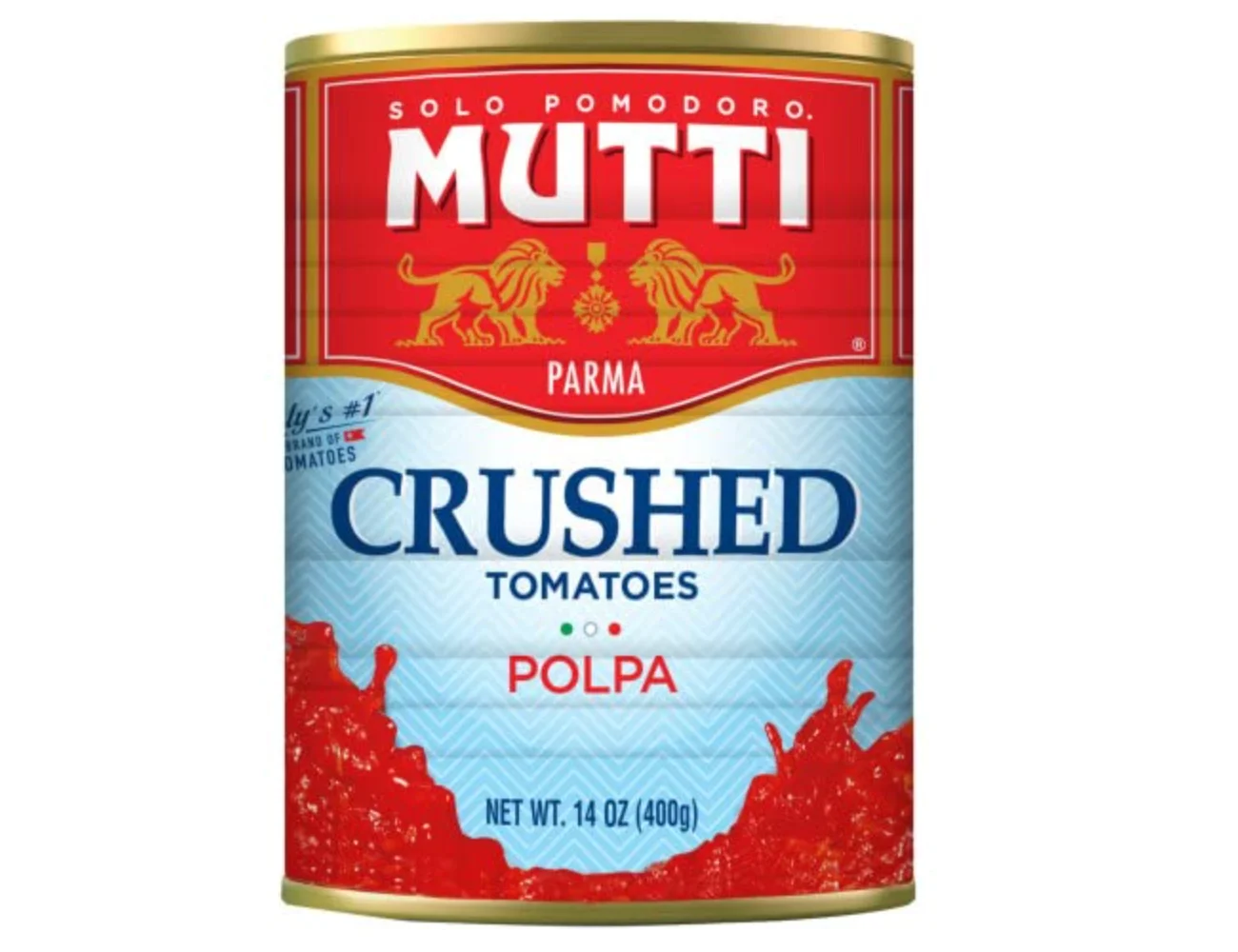 Even better? Crush tomatoes yourself from whole canned tomatoes.
Crushed tomatoes are the one canned product that we try to avoid—even the Mutti brand which is the best we've tried! Crushed tomatoes tend to be more bitter (perhaps because some of the skin and seeds end up in the final product).
When we need 'crushed' tomato and time permits, we usually just buy Mutti or Pomì whole peeled tomatoes. Then we remove the seeds and coarsely blend the tomato pulp to make our own crushed tomatoes.
Recipes with Crushed Tomatoes
Try this Pasta all'Amatriciana recipe or our Tomato Garlic Pasta Sauce recipe from Tuscany!
---
Best Tomato Paste: Pomì or Mutti
This is a toss-up. Both Mutti Double and Mutti Triple Concentrated Tomato Paste (affiliate link) and Pomì Double Concentrated Tomato Paste are fine products. However, if you want a triple concentrated paste, only Mutti offers that.
Recipes with Tomato Paste
Try this Spaghetti all'Assassina recipe or our Tuscan Bean Soup recipe!
---
Best Whole Canned Tomatoes: Mutti
Mutti Whole Peeled Tomatoes (Pelati) (affiate link) are ideal! As we said before, we often actually create our own crushed tomato product with the pulp of these whole peeled tomatoes (seeds removed).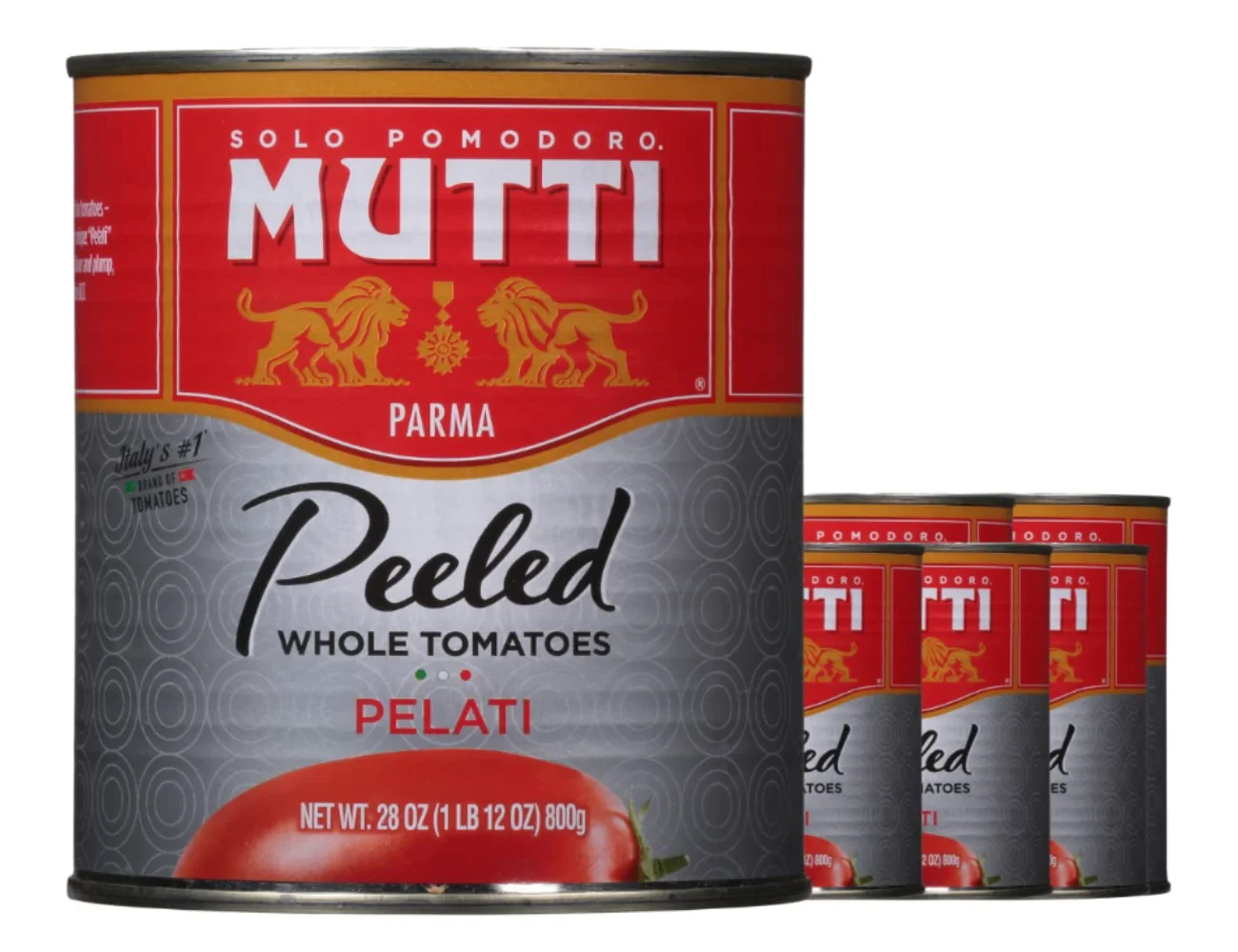 ---
As an Amazon Associate, we earn from qualifying purchases. This means at no extra cost to you, PIATTO may earn a small commission if you click the links and make a qualifying purchase.
---