Welcome, fellow food lovers! Today we have the honor of introducing you to a recipe that will teleport your taste buds straight to the sunny coast of Sorrento – the delectable Gnocchi alla Sorrentina.
Originating from Sorrento, a small town that clings to cliffs overlooking the southern shore of the Bay of Naples, Gnocchi alla Sorrentina is a dish that celebrates the vibrant spirit of Italian coastal cuisine.
Want to make the gnocchi yourself? Check out our guide on How to Make Homemade Gnocchi from Scratch!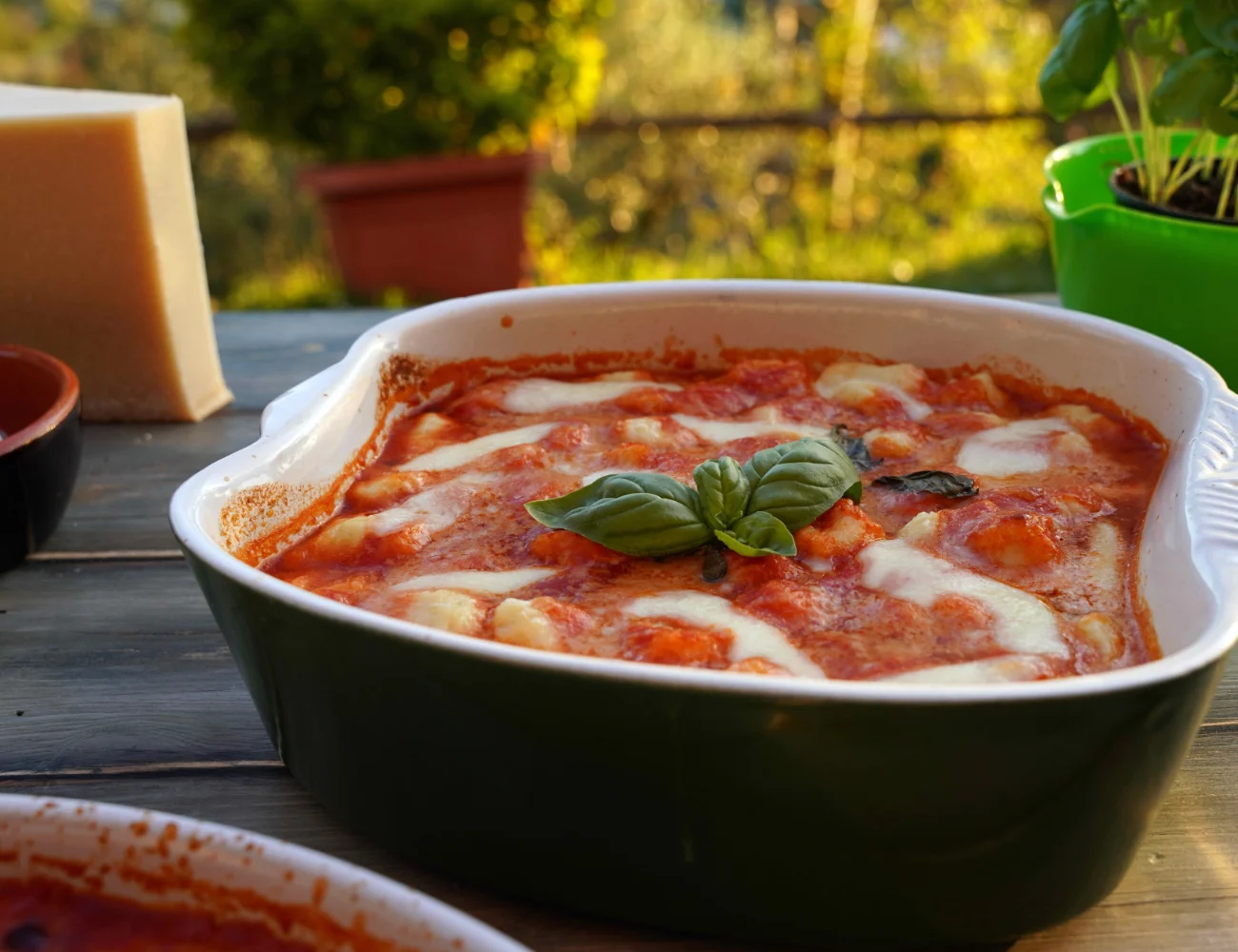 ---
Watch the Video Recipe!
Watch the video for this Gnocchi alla Sorrentina recipe from our YouTube Cooking channel:
---
Subscribe to our YouTube Channel
More video recipes? Subscribe to our YouTube Channel (it's FREE) and click the bell to get notifications when we release a new video recipe!
---
A Taste of History
Legend has it that the Gnocchi alla Sorrentina was born during the Renaissance period when the Spanish ruled over Naples and its neighboring regions. Sorrento, being a prominent maritime hub, was exposed to various culinary influences.
The dish represents the quintessence of Mediterranean flavors. It combines the local sun-ripened tomatoes with the divine meltiness of mozzarella cheese (fior di latte). The addition of fresh basil adds an aromatic note, while a sprinkle of Parmigiano Reggiano cheese lends a sharp depth of flavor. These simple ingredients, when harmonized, create a symphony of flavors that is both comforting and invigorating.
The Recipe: A Love Letter to Sorrento
This hearty meal begins with the classic Italian gnocchi – soft potato dumplings that are as light as a cloud. It's very easy to make homemade potato gnocchi and we'll show you how to do it in our guide:
How to Make Homemade Gnocchi from Scratch (Fresh Potato Gnocchi Recipe)
Italian Grandma Lulu's time-honored recipe for potato gnocchi! With hands that have kneaded countless batches, and a heart filled with love for her family, Grandma's gnocchi is not just food— it's a dish that warms both heart and soul!
Check out this recipe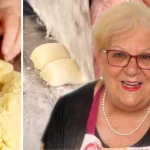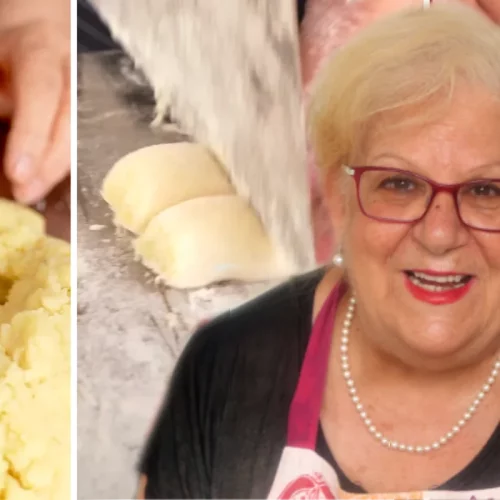 For Gnocchi alla Sorrentina, the gnocchi are then nestled in a rich tomato sauce infused with garlic and basil. But the real magic begins when generous amounts of mozzarella and Parmigiano cheese are sprinkled over the top. The dish is baked until it turns into a bubbling cauldron of cheesy goodness.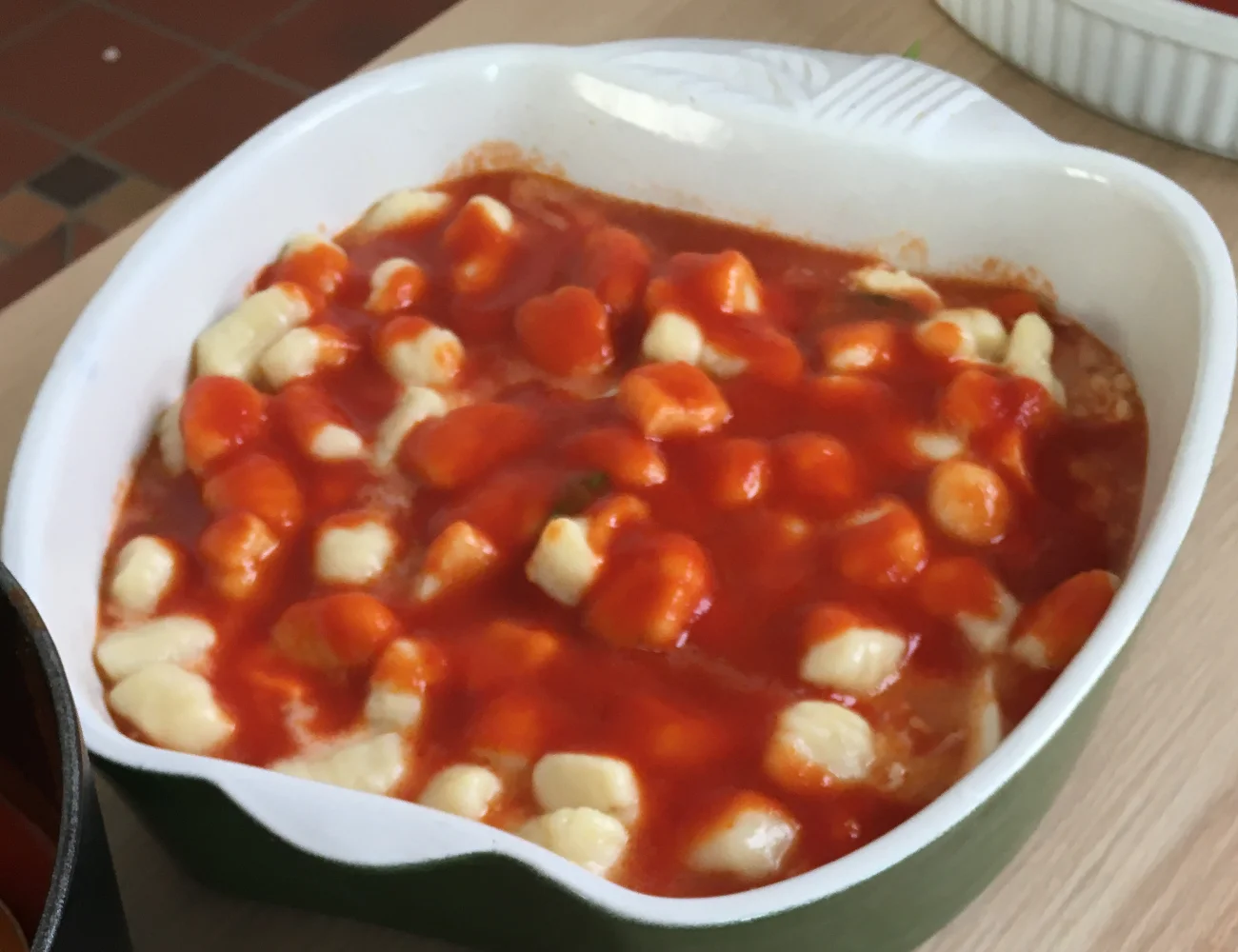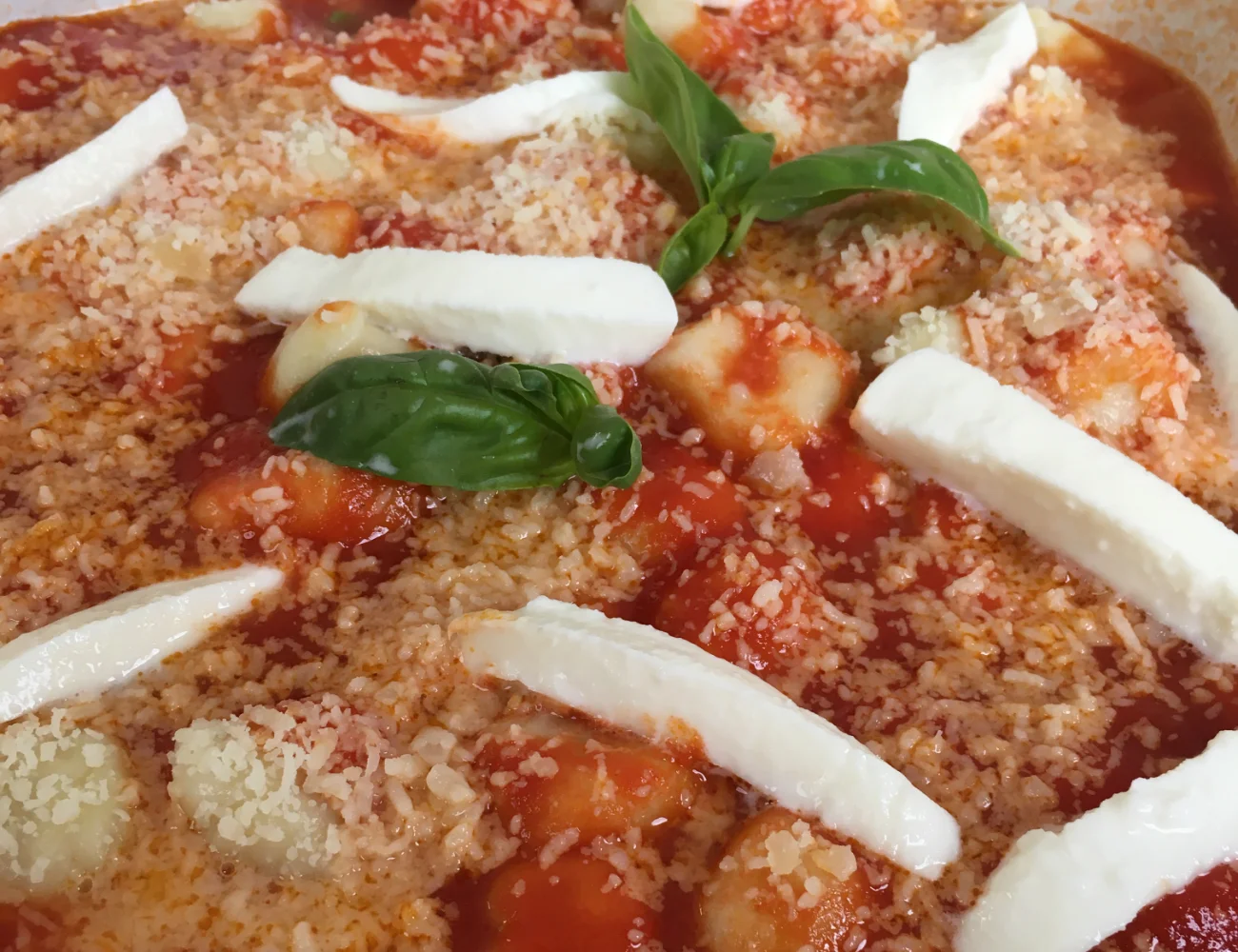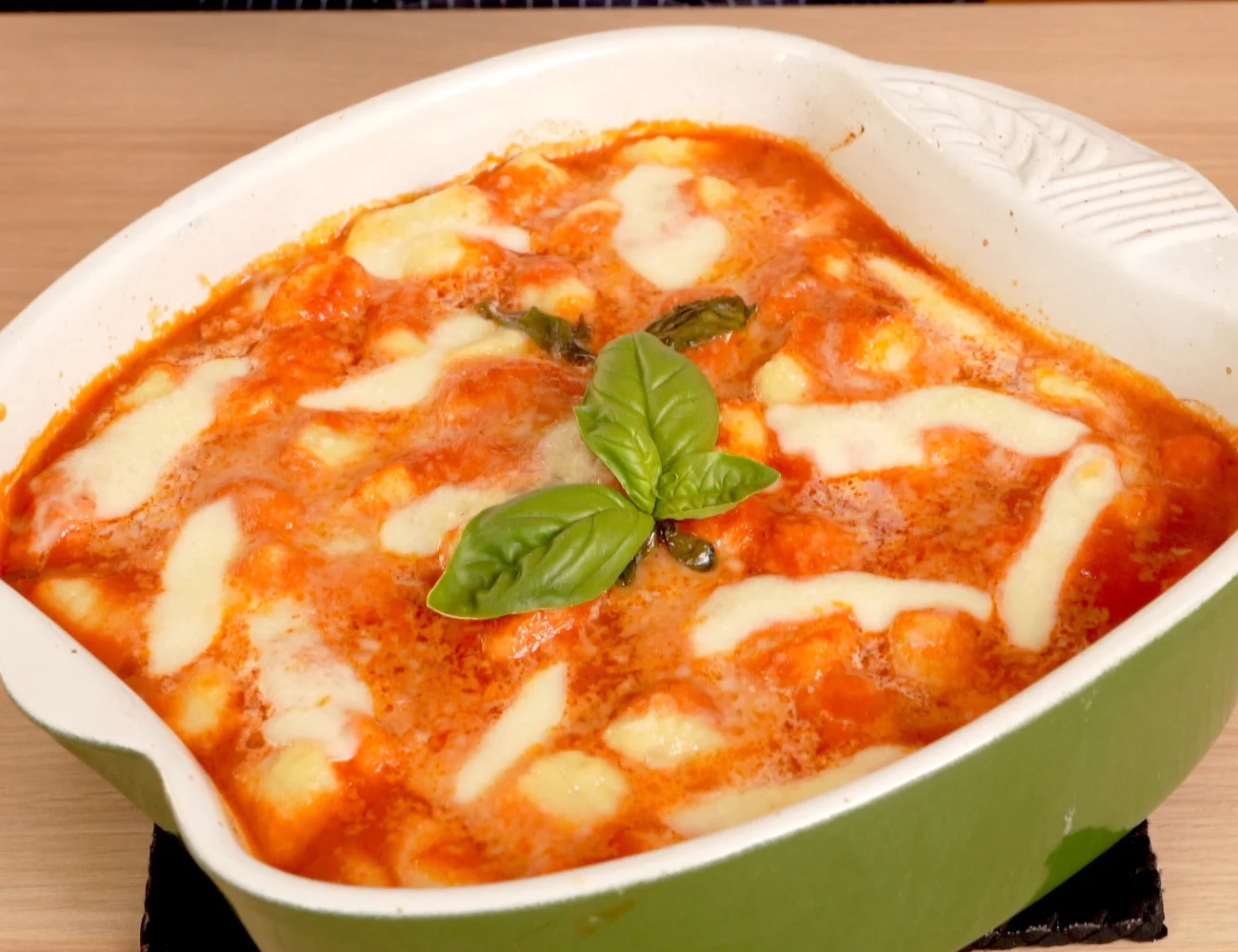 ---
More Italian Gnocchi Recipes!
Four Cheese Gnocchi Recipe
Cheesy, decadent and delicious! Four cheese gnocchi is so popular in Italy that baked and unbaked versions are considered entirely different dishes—an acknowledgement of the way finishing a dish 'al forno' (baked) changes the flavor of a dish. This four cheese gnocchi recipe includes sweet italian gorgonzola, taleggio cheese, fontina cheese and gruyére cheese. 
Check out this recipe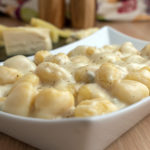 Semolina Gnocchi Recipe
The ultimate comfort food, Gnocchi alla Romana bears almost no resemblance to the more well-known potato gnocchi. However, Gnocchi Alla Romana is a traditional Italian recipe that is incredibly satisfying as a lunch, dinner or even as an appetizer. If you like grits, polenta or porridge, you'll love this dish!
Check out this recipe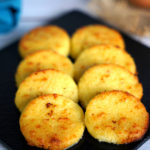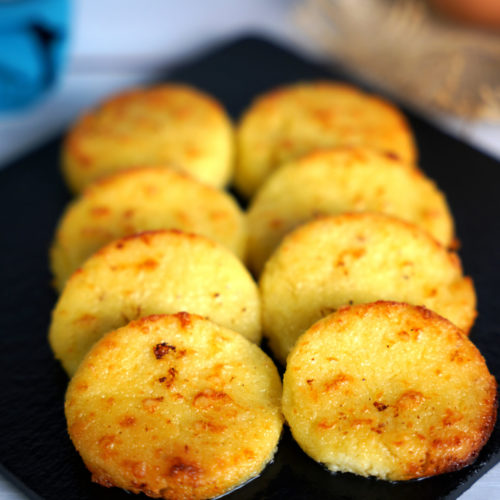 Traditional Gnocchetti Recipe (Little Gnocchi Without Potatoes)
In this recipe, we'll show you how to make the gnocchetti popular in the Umbria region of Italy! They are little gnocchi without potatoes—made only with water, breadcrumbs and flour.
Check out this recipe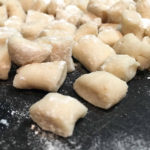 ---
As an Amazon Associate, we earn from qualifying purchases. What does this mean? At no extra cost to you, PIATTO may earn a small commission if you click the links and make a qualifying purchase.
---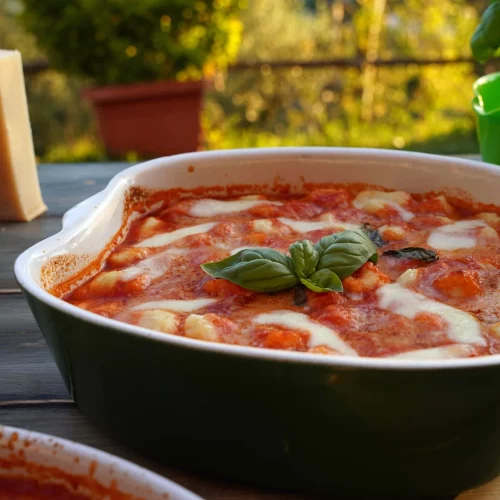 Gnocchi alla Sorrentina Recipe | Potato Gnocchi with Tomato Sauce and Mozzarella
Gnocchi alla Sorrentina is a classic Italian dish that combines the tender, pillowy texture of potato gnocchi with the robust flavors of a garlic-infused tomato sauce, fresh basil, and a generous topping of melted mozzarella and grated Parmigiano cheese. Native to Sorrento, this dish is baked to perfection, resulting in a heavenly blend of gooey cheese and rich tomato sauce enveloping the soft gnocchi, making it an ultimate comfort food that's both hearty and full of Mediterranean flair.
Ingredients
2.2

lb

fresh gnocchi

Or, make homemade potato gnocchi with our guide!

3

cups

canned tomato

crushed or purée

1

tbsp

tomato paste

1

clove

fresh garlic

6

tbsp

olive oil

10

leaves

fresh basil

1

pinch

fine salt

or to taste

black pepper

to taste

½

lb

fresh mozzarella cheese

"fior di latte" or water packed fresh mozzarella

¼

lb

Parmigiano Reggiano Cheese

finely grated
Instructions
Prepare the Sauce
Cover the bottom of a sauce pan with olive oil. Sauté a clove of garlic in the oil over medium heat for about a minute. 

1 clove fresh garlic,

6 tbsp olive oil

Add the canned tomato and tomato paste to the pan. Season with fine salt and black pepper to taste, and add about 5 leaves of fresh basil, torn into pieces or chopped. 

Simmer the sauce for 10 minutes.

3 cups canned tomato,

1 tbsp tomato paste,

10 leaves fresh basil,

1 pinch fine salt,

black pepper
Cook the Gnocchi
Cook the gnocchi in salted boiling water until the gnocchi rise to the surface— about a minute! Remove the gnocchi as soon as they rise to the top. Then transfer them to a bowl.  
Assemble the Gnocchi alla Sorrentina
Cut the fresh mozzarella into strips. Tear the remaining basil leaves in half or chop them. You can bake the gnocchi in a lasagna pan or a smaller square baking pan. Divide your basil and mozzarella according to these layers. 

½ lb fresh mozzarella cheese

Add a ladle of sauce to the bottom of the baking pan. Then, add a single layer of cooked gnocchi topped with another ladle of sauce. Sprinkle a few tablespoons of grated Parmigiano Reggiano, some mozzarella, and some fresh basil on top. 

Continue creating layers like this until you've used all of the gnocchi. 

¼ lb Parmigiano Reggiano Cheese
Bake the Gnocchi
Bake in a pre-heated oven at 425°F (220°C) for 10 minutes. Or, bake until the mozzarella melts!

If you like a crispy crust on top—in other words 'au gratin'—broil the pasta uncovered for 1-2 minutes. Watch carefully to avoid burning!

Let the gnocchi rest covered for 5 minutes, then serve!
Video
Notes
Make Homemade Potato Gnocchi!
It's actually really easy to to learn how to make homemade gnocchi from scratch! Check out our guide and Italian Grandma Lulu's recipe! 
Parmigiano Reggiano
Always use authentic Parmigiano Reggiano, instead of so-called 'parmesan' cheese.
Fresh Mozzarella is Best
In Italy, fresh mozzarella is used in this dish. Choose mozzarella made with cow milk rather than buffalo milk. Look for 'water packed' mozzarella balls or logs.
Want stringy cheese? The fresh mozzarella traditionally used in this dish (and almost always used in Italy) won't be super stringy when melted. If you want that texture, reach for a drier provolone cheese. While not traditional, it will produce that stringy melted cheese that many enjoy.
Au Gratin Option!
Love an 'au gratin' crust? Broil this dish for 1-2 minutes. Watch closely to avoid burning!