The traditional, authentic Spaghetti Carbonara recipe beloved in Italy has just a few ingredients: Guanciale, Egg, Pecorino Cheese, Black Pepper and Pasta! But, was it always that way? Normally we only share traditional Italian recipes on our site. However, if one of the Italian origin stories of this pasta are to be believed, The 'American Style' Spaghetti Carbonara with cream and bacon might actually be closer to the first Carbonara recipe!
Keep reading to learn about the WWII Carbonara recipe! In the meantime, here's a look at the final dish, which you can find in the recipe card below: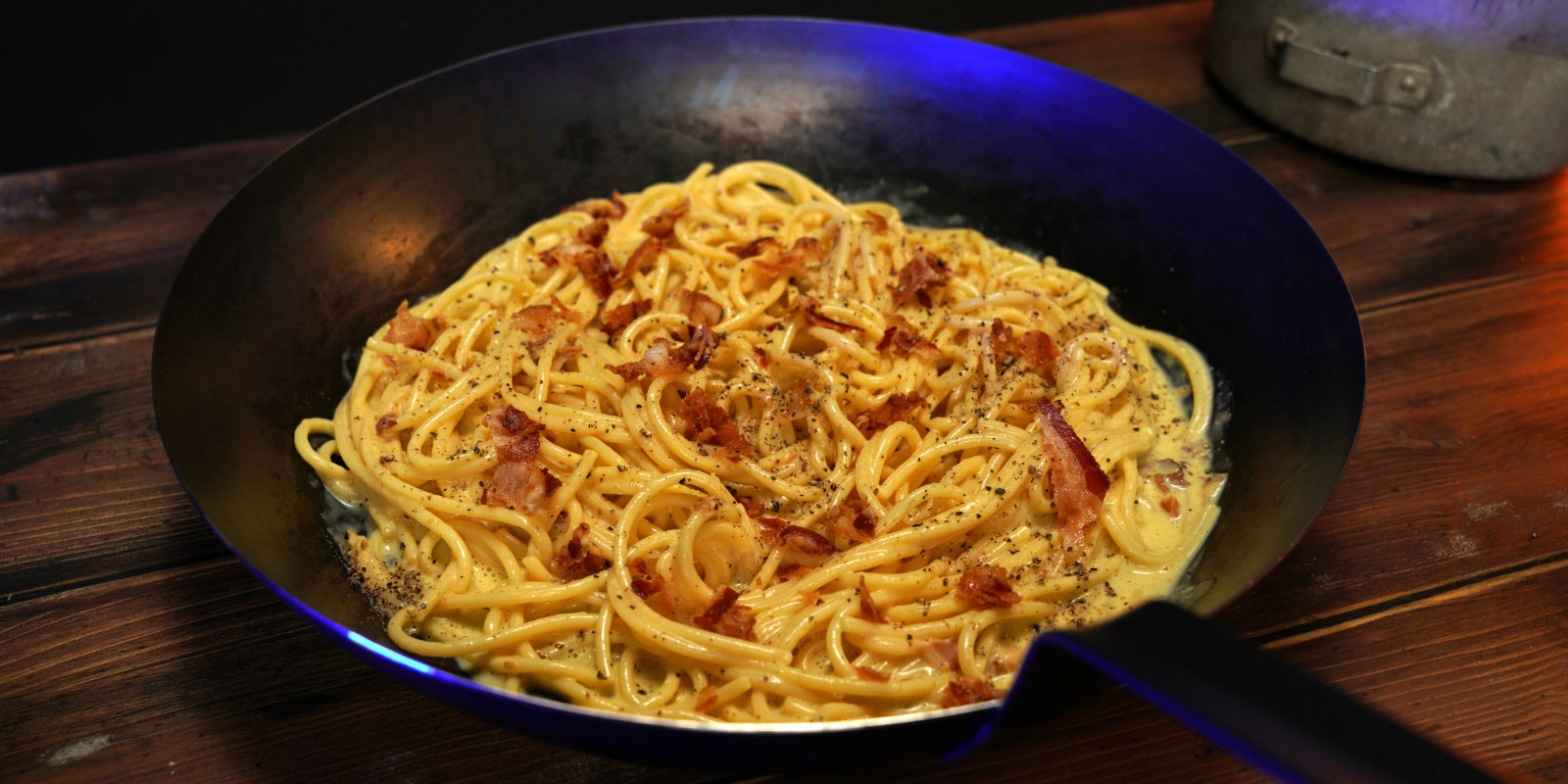 First Carbonara: WWII Origin Story
The origin of the Italian Pasta Carbonara is hotly contested. But one legend has endured and continues to be re-told even in Italy today. In this legend, the first Carbonara was created in Rome during WWII by a young Italian chef using ingredients from American Military rations.
The Chef at the center of this legend is usually identified as Renato Gualandi. Late in his life, Renato wrote a book in which he claimed credit for creating Spaghetti Carbonara after Rome was liberated during WWII.
Renato said he was asked by Allied generals to prepare a special meal for them using military ration ingredients. The idea was to boost morale by preparing something decadent with ration ingredients that the troops had grown tired of—especially K-Ration ingredients.
And, believe it or not, the recipe that Renato described is exactly how the Carbonara is often prepared abroad— to the horror of many modern Italians!
Keep reading to learn how to make this WWII Carbonara or…
Watch the Video Recipe!
Check out our video recipe on this Carbonara origin story and watch us re-create the WWII Carbonara recipe:
Subscribe to our YouTube Channel
More video recipes? Subscribe to our YouTube Channel (it's FREE) and click the bell to get notifications when we release a new video recipe!
WWII Carbonara Ingredients
Renato Gualandi describes his first Carbonara recipe as being a mappazzone— an Italian word meaning a mess of a bunch of stuff that doesn't really go together. In other accounts, he described the recipe as a dish that 'cleaned the refrigerator.' You get the idea!
What does Gualandi say he used in his creation? He says his ingredients came almost entirely from American military rations and included:
processed cheese (think Velveeta— the ration cheese came in Swiss and American flavors and we don't know which Gualandi used)
American bacon
powdered egg yolks— these were staples during the war
cream or powdered milk— the accounts differ on which
butter
black pepper
pasta
Where is the pecorino cheese? How about the guanciale? Gualandi never mentions using them and the American military rations would obviously not have had them. So, they are not in this recipe!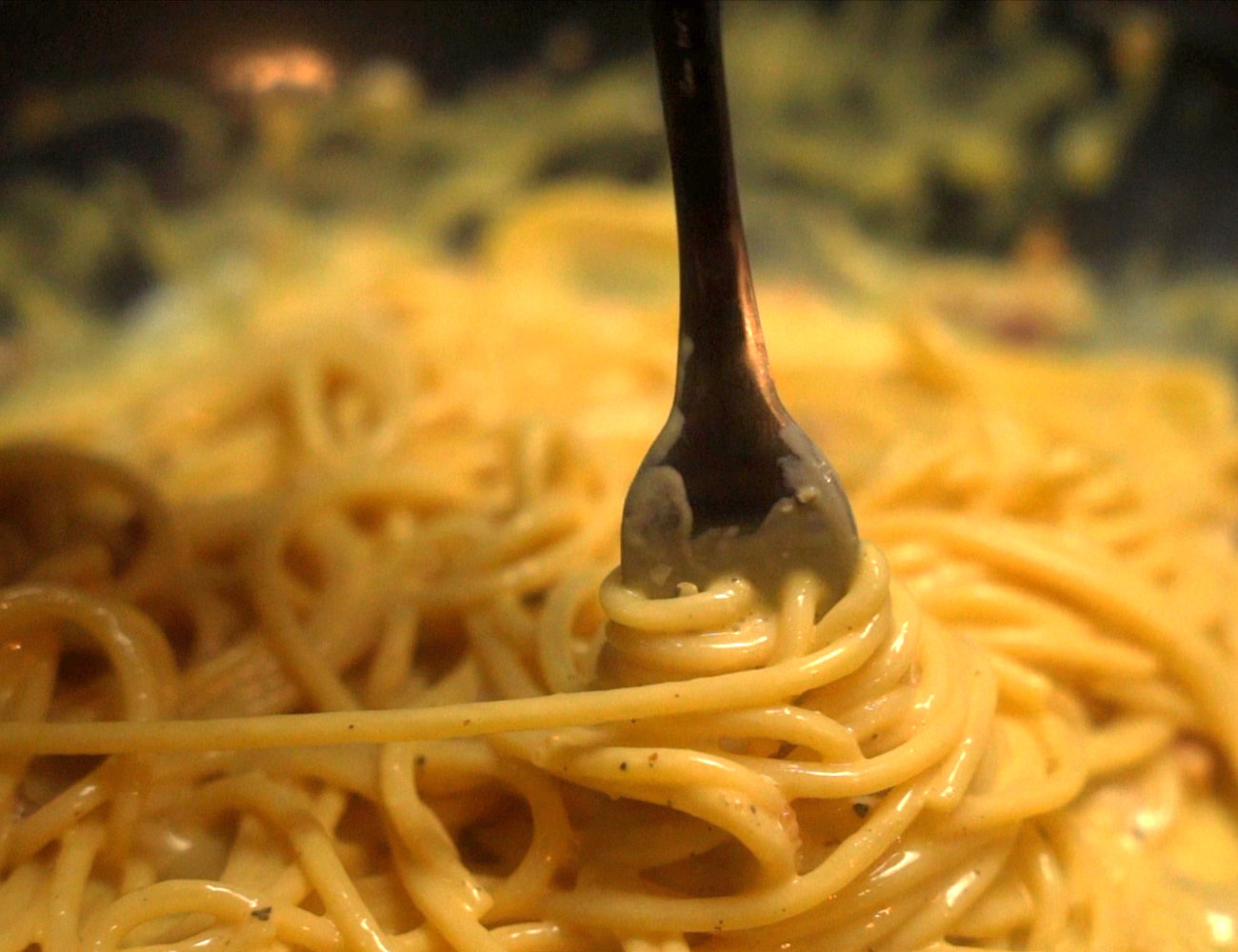 So… Like Spaghetti with Mac and Cheese Sauce?
Yep! We recreated this recipe (you can too using the recipe below) and it was like a decadent Bacon Mac and Cheese but with spaghetti.. and some egg! Here's a closer look at the ingredients we used in our recipe and why.
Processed Cheese
Gualandi specifically says he used processed cheese from American rations. Not only that, he says it wasn't so much the egg in the final dish that the military diners loved but that the dish was bavoso because of the cheese sauce. Bavoso is an Italian word meaning mouthwatering but in a 'slimy' way— sounds appetizing, huh!
Modern Velveeta cheese seems to come closest to the processed cheese in American WWII rations. The ration cheese came in Swiss and American flavors and most accounts say both were 'white' in color. Processed cheese was….
shelf stable — even today, Velveeta is not refrigerated in the groceries!
melts easily and evenly
In Italy, we couldn't find Velveeta when we were re-creating this dish. So instead, we used a product called 'Formaggino Mio' in Parmigiano flavor. This product is similar to Velveeta in consistency and is not refrigerated in many groceries (shelf stable). It comes in different flavors, but the Parmigiano has the tang that mimics a processed American or Swiss cheese.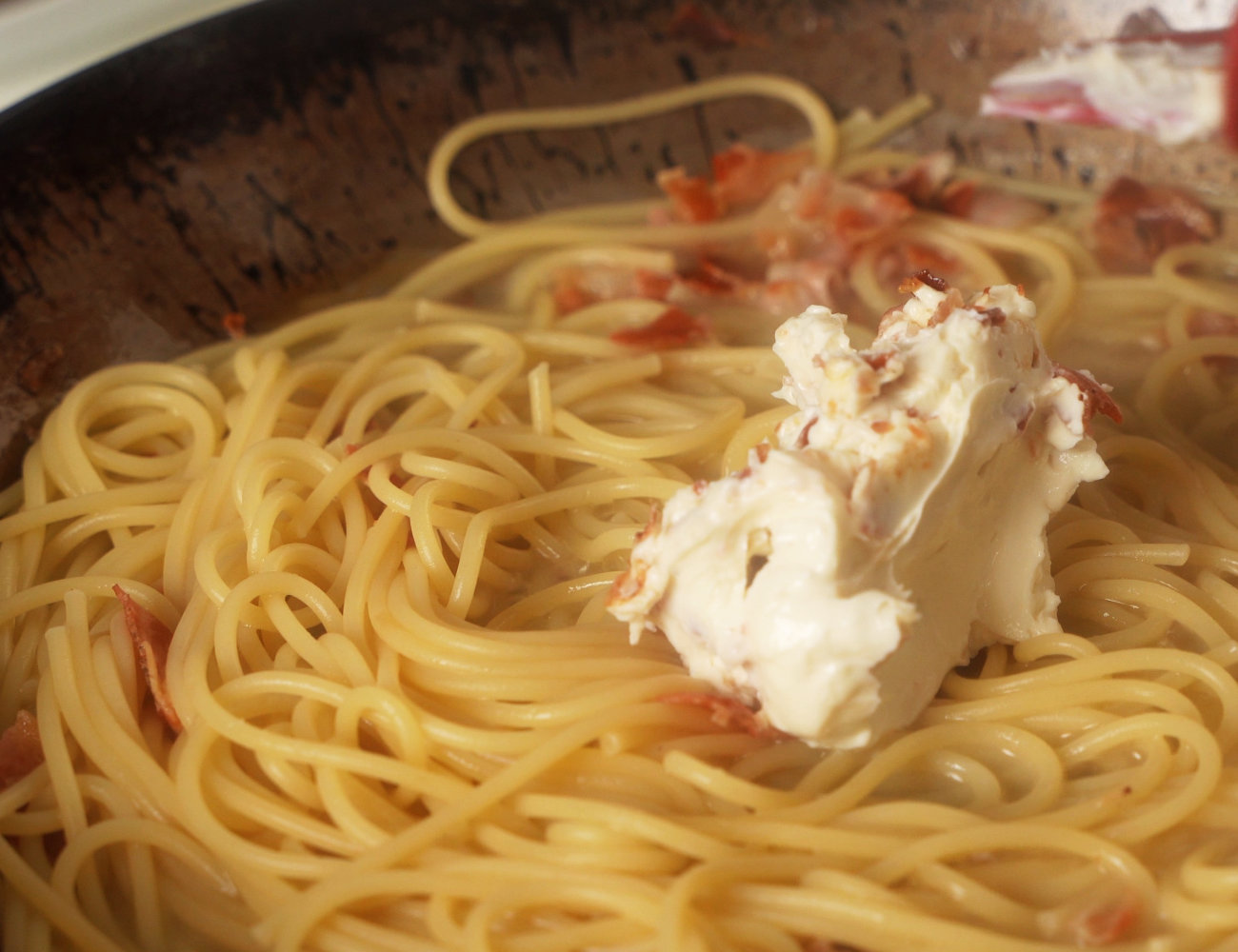 American Bacon
Chef Gualandi also specifically says he used American Bacon. American Bacon was only in K-Rations as bacon bits in processed cheese. However, Gualandi would have likely had access to canned sliced (pre-cooked) bacon in other rations (B, 5-in-1).
You can certainly find pre-cooked bacon today. But, we just fried our own instead of using canned bacon. Gualandi would not have had the bacon grease if he was using pre-cooked bacon.
However you'll definitely want to leave that bacon grease in the pan to add extra flavor to your Spaghetti Carbonara with Cream and Bacon! The traditional Spaghetti Carbonara recipe does in fact rely on grease from the guanciale to flavor the pasta!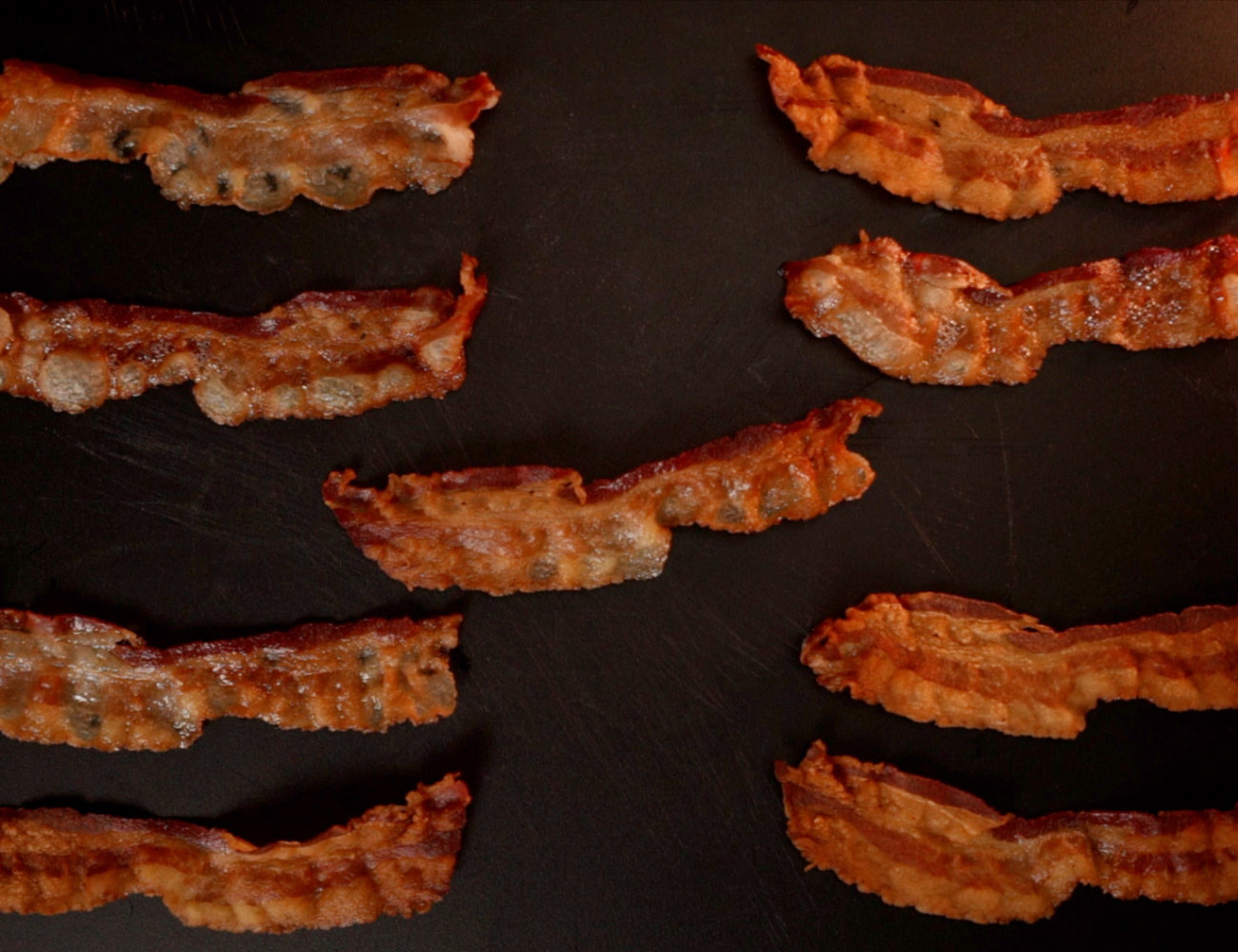 Powdered Egg Yolks
In the WWII Carbonara with Cream and Bacon and Eggs, Chef Gualandi specifically says he used powdered egg yolks from the military rations.
This is historically credible! Powdered eggs were abundant in WWII military camps. They were considered so important to the food war effort, that the US military made this video to brag about what a scientific achievement they were!
Powdered eggs were shelf-stable (didn't require refrigeration) and they could be shipped abroad for a fraction of the cost. Then, military cooks just rehydrated them for use when preparing fresh meals for the troops in camp.
We used Pasteurized Egg Yolks instead!
We looked everywhere, but could not find powdered egg yolks in Italy. Instead, we purchased a carton of commercially pasteurized egg yolks. Just like egg whites, these eggs are sold in the refrigerated section of the supermarket.
In this way, we could simulate rehydrated powdered eggs. Plus? They are already pasteurized! So, no need to worry about foodborne illness.
What's the problem with fresh egg yolks?
Eggs that aren't thoroughly cooked do carry the risk of foodborne illness like salmonella. In fact, the yolks of eggs have more risk of bacteria than the whites.
The FDA recommends heating eggs to a temperature of 160° F in order to be safe from foodborne illness. This is pretty easy to do at home with egg whites (especially if sugar is added). You can pretty easily pasteurize the egg whites and they remain liquid-y. But with egg yolks, pasteurizing at home without special tools is more challenging.
It's especially difficult to heat the carbonara sauce to this temperature without cooking the eggs—and ending up with clumpy sauce. However, if you use a sous vide or another machine that can continuously whisk the eggs while maintaining a specific temperature, it can be done. We'll address this technique in another post.
The Verdict?
Well, can totally see why this Spaghetti Carbonara with Cream and Bacon would have been loved by the American generals and troops! It's real comfort food, as the Americans say. It was creamy and super tasty! Have a look: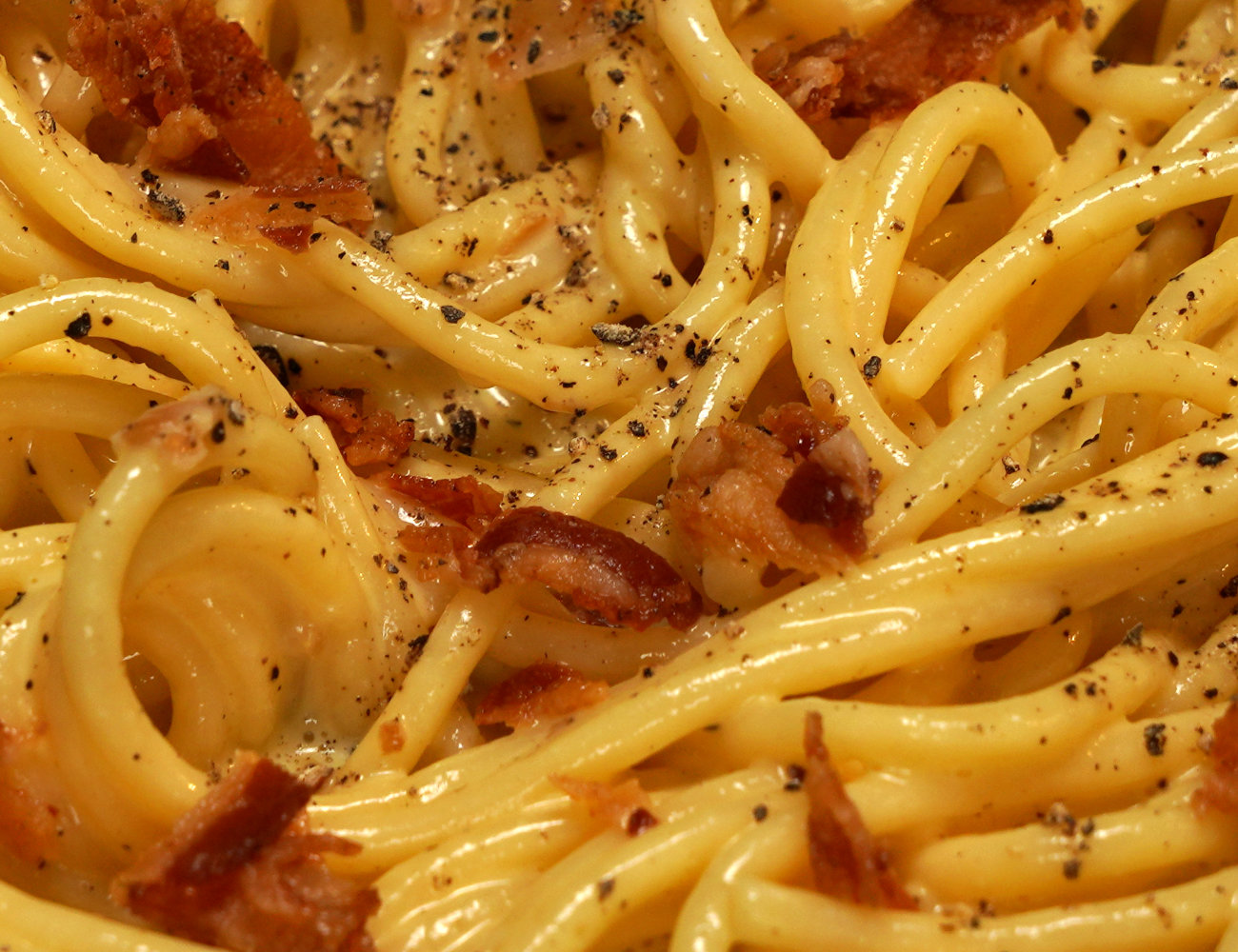 The processed cheese is of course famous for even melting. By adding the butter and cream, we have an emulsion that creates the perfect creamy Carbonara sauce! In this sense, this WWII Carbonara recipe is much easier for beginners than the traditional Spaghetti Carbonara recipe which requires some attention to detail to create a creamy sauce with the aged Pecorino cheese, egg yolk and starchy pasta water.
Should we call this Pasta Carbonara?
Well, as we said this is NOT in any sense the Spaghetti Carbonara that Italians consider traditional today. The strong pecorino flavor is sorely missed here and there's no guanciale.
In fact, it's no stretch to say this Carbonara recipe is the nightmare of most modern Italians, who detest how those abroad add ingredients like butter, cream and bacon to pasta that they then call Carbonara.
What we do have here? The origin of the recipes that Americans other countries call Carbonara today! In most of those dishes, pecorino cheese can be barely felt. Sometimes it is clear that another milder cheese has been used to make the sauce. And of course, almost all of these Carbonara recipes have heavy cream and bacon.
In short, this dish was super tasty. However, whether we want to call it Carbonara or not depends on if we believe this origin story. If we do, then perhaps the American-style Carbonara is closer to the original Carbonara!
On the other hand, if we think that pecorino cheese and guanciale are must-haves in anything we label Pasta Carbonara, we probably want to look to other origin stories for this famous dish.
Whatever you choose to call it, we highly recommend you give this cheesy pasta with bacon a try!
---
---
As an Amazon Associate, we earn from qualifying purchases. This means at no extra cost to you, PIATTO may earn a small commission if you click the links and make a qualifying purchase.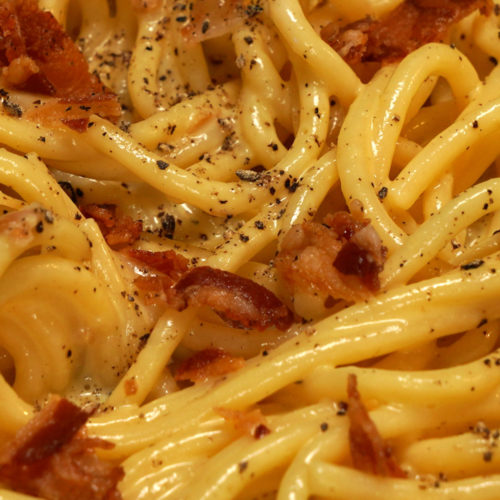 Spaghetti Carbonara with Cream and Bacon – the Original Recipe?
A re-creation of the WWII Carbonara recipe —one of several origin stories for Pasta Carbonara in Italy today! This Spaghetti Carbonara with Cream and Bacon and processed cheese is creamy and delicious! It's also similar to the Carbonara recipes popular outside of Italy. Just beware: It is NOT the Carbonara considered traditional in Italy today! But don't worry— we have that recipe too 🙂
Equipment
1 Large Skillet

to fry the bacon and finish the pasta

1 Large Pot

to cook the pasta
Ingredients
6

oz

American Bacon

around 24 slices

6

oz

processed American or Swiss flavored cheese spread

Think Velveeta or Mio Formaggino in Italy…

2

tbsp

butter

optional if using freshly fried bacon with the grease

4

tbsp

heavy cream

4

egg yolks

the original WWII recipe used powdered eggs. Use fresh or pasteurized egg yolks.

¾

black pepper

or to taste

12

oz

spaghetti

dried
Instructions
Fry the Bacon
Fry the slices of bacon over medium heat until they are golden brown and crispy.

Remove the bacon from the pan, leaving the bacon grease in the pan for the next step.

Roughly chop the crispy bacon. Return half of the bacon to the pan with the grease.
Partially Cook the Pasta
Add the spaghetti to boiling, salted water.

Cook the spaghetti 1-2 minutes LESS than the time called for 'al dente' pasta on the package instructions. We will finish cooking it in the skillet.

In the meantime…
Melt the Butter (Optional)
During WWII, canned pre-cooked bacon was likely used to make this dish. It's likely for this reason that a bit of butter was added to reinvigorate the bacon and add some fat to the dish to replace the bacon grease.

However, if you already have bacon grease in the pan, you can leave out the butter and use the bacon grease instead to add flavor and fat to the Carbonara sauce.
Finish the Pasta
Bring the skillet with the bacon and grease back to medium heat. Add the partially cooked spaghetti to the skillet along with 1 ladle of the hot pasta water.

Add the processed cheese spread and the heavy cream to the pasta and mix to melt the cheese. As the spaghetti finishes cooking to al dente, continue stirring the pasta to melt the cheese.

When the cheese is melted and the pasta almost ready, add the beaten egg yolks and black pepper to the spaghetti. Mix these ingredients into the pasta off the heat.

Serve immediately!
Video
Notes
Remember: The Sauce Will Thicken on the Plate!
Carbonara pasta sauce (like many other kinds of cheesy sauces) will continue to thicken on the plate as it cools. For this reason, you want to plate it when it's a touch liquid-y. If needed, drizzle in a few tablespoons of hot pasta water towards the end of the cooking time to thin out the sauce. 
Is the Egg Safe to Eat?
Generally speaking, if you use fresh eggs in Carbonara, the eggs will not reach hot enough temperatures to ensure food safety. This is true of this  WWII recipe or the traditional Spaghetti Carbonara recipe. So, if you like to be extra safe…
Use Pasteurized Egg Yolks… or Powdered Eggs!
In fact, this WWII Carbonara recipe specifically used powdered eggs from military rations. We couldn't get our hands on powdered eggs, so instead we purchased a carton of pasteurized egg yolks from the supermarket and used that. 
---