Learn how to make Italy's creamiest veal scallopini with mushrooms. We'll show you the secrets to making a restaurant-quality Scaloppine ai Funghi at home!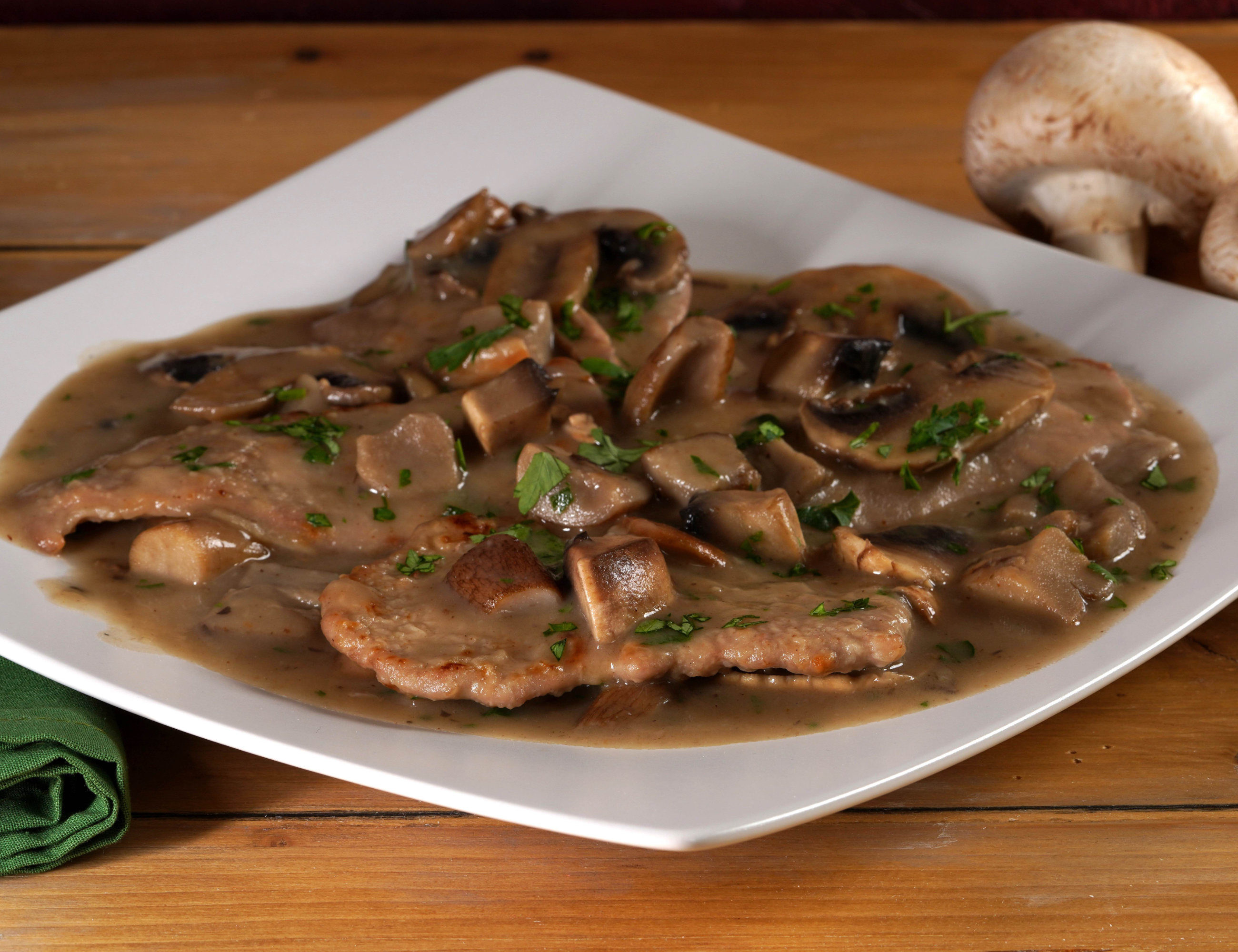 ---
Watch the Video Recipe!
Watch us make a classic Veal Scallopini (Scaloppine ai Funghi) in our video recipe, filmed in Italy:
Subscribe to our YouTube Channel
More video recipes? Subscribe to our YouTube Channel (it's FREE) and click the bell to get notifications when we release a new video recipe!
---
How to Cook Veal Scallopini: Tips
Choosing the Meat (Veal, Beef or Chicken)
Generally speaking, scallopini in Italy is made with veal. You can easily find thin slices of veal ready-made for scaloppine in Italian groceries.
Don't like veal? It's fine to use another type of meat such as beef or chicken.
If you can, ask the butcher to slice the meat to just a few millimeters thick! Otherwise, purchase the thinnest slices of meat you can find and pound them between pieces of parchment paper until they are just a few millimeters thick.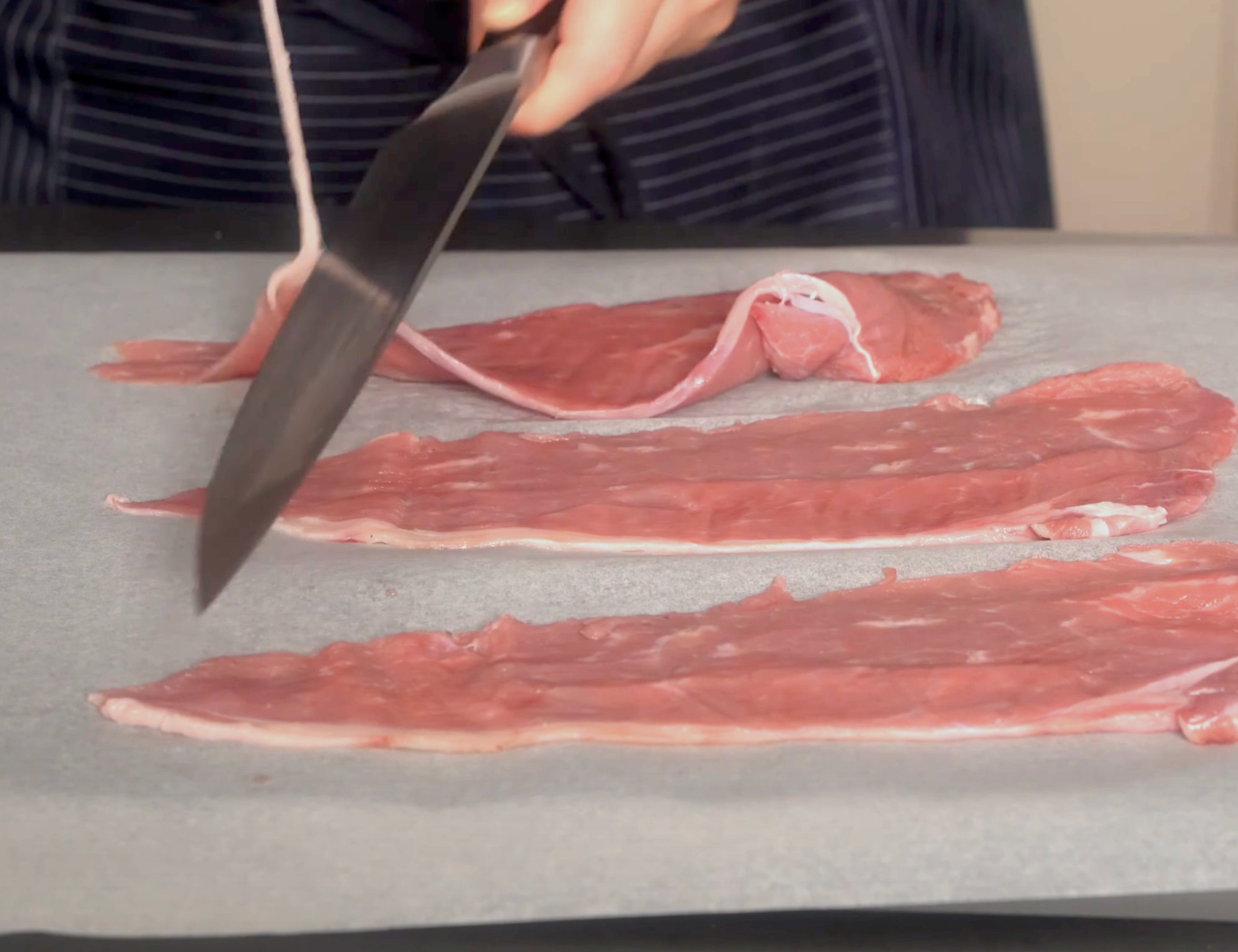 Always place the meat between two pieces of parchment paper to pound the meat flat. Tenderizing the meat in this way helps to prevent the meat from tearing.
What Mushrooms to Use
In an ideal world, you would purchase a package of frozen porcini at your local supermarket. Or, better yet, buy the porcini fresh! Even in Italy, fresh porcini are expensive. However, for some reason it is quite easy in Italy to find reasonably-priced and tasty frozen porcini or mushroom blends with porcini. We have not been so lucky abroad.
For this reason, we recommend that you use champignon (button) mushrooms or 'crimini.' Then, you can pair these economical mushrooms with a handful of some more potent mushrooms if you can find them! Otherwise, just use button mushrooms.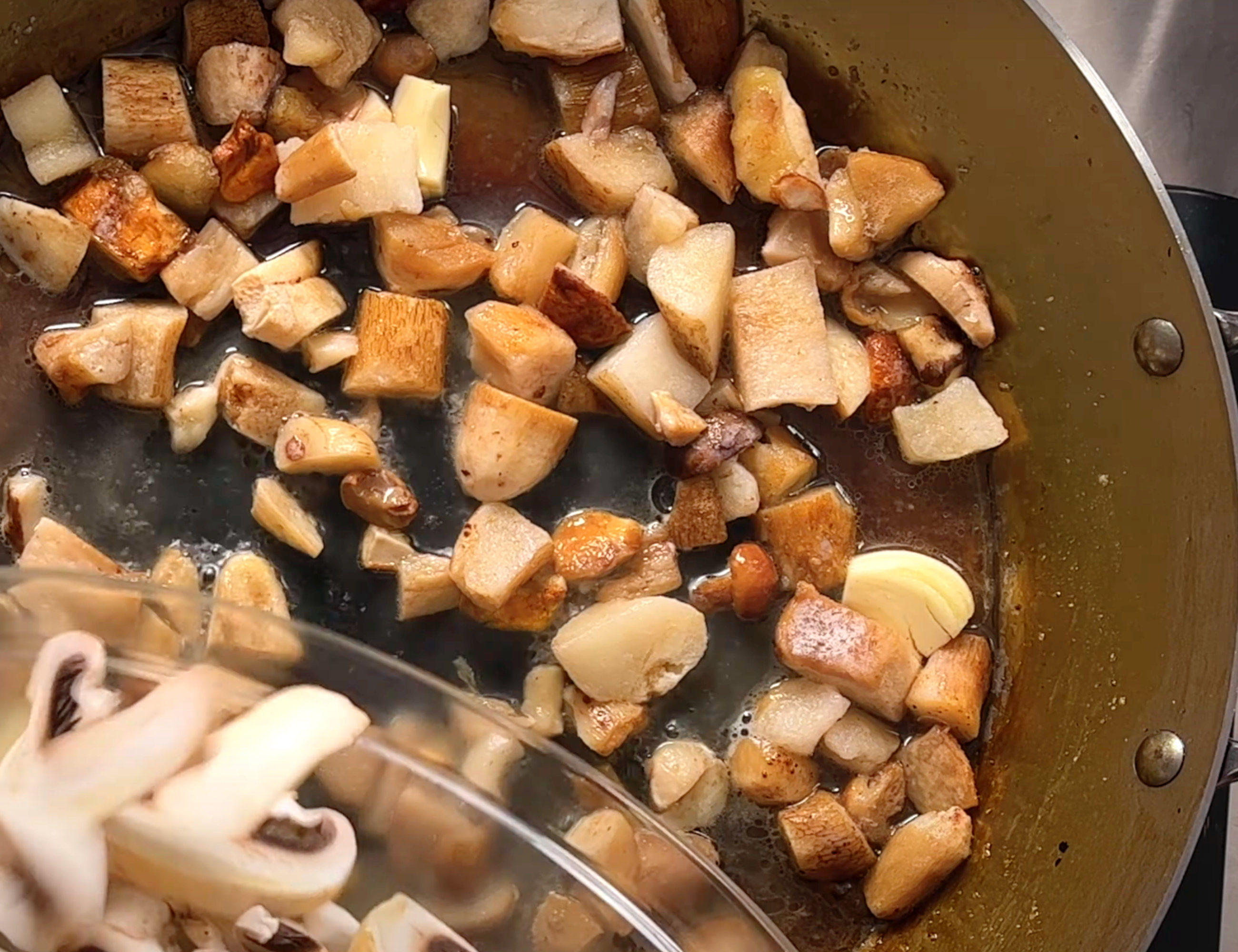 You might also use some dried porcini in the broth for the sauce. Be sure to follow the package instructions for rehydrating the porcini.
Do mushrooms need to be cleaned before cooking with them? Can they be soaked in water? Find out how to clean mushrooms the right way in our guide!
---
As an Amazon Associate, we earn from qualifying purchases. This means at no extra cost to you, PIATTO may earn a small commission if you click the links and make a qualifying purchase.
---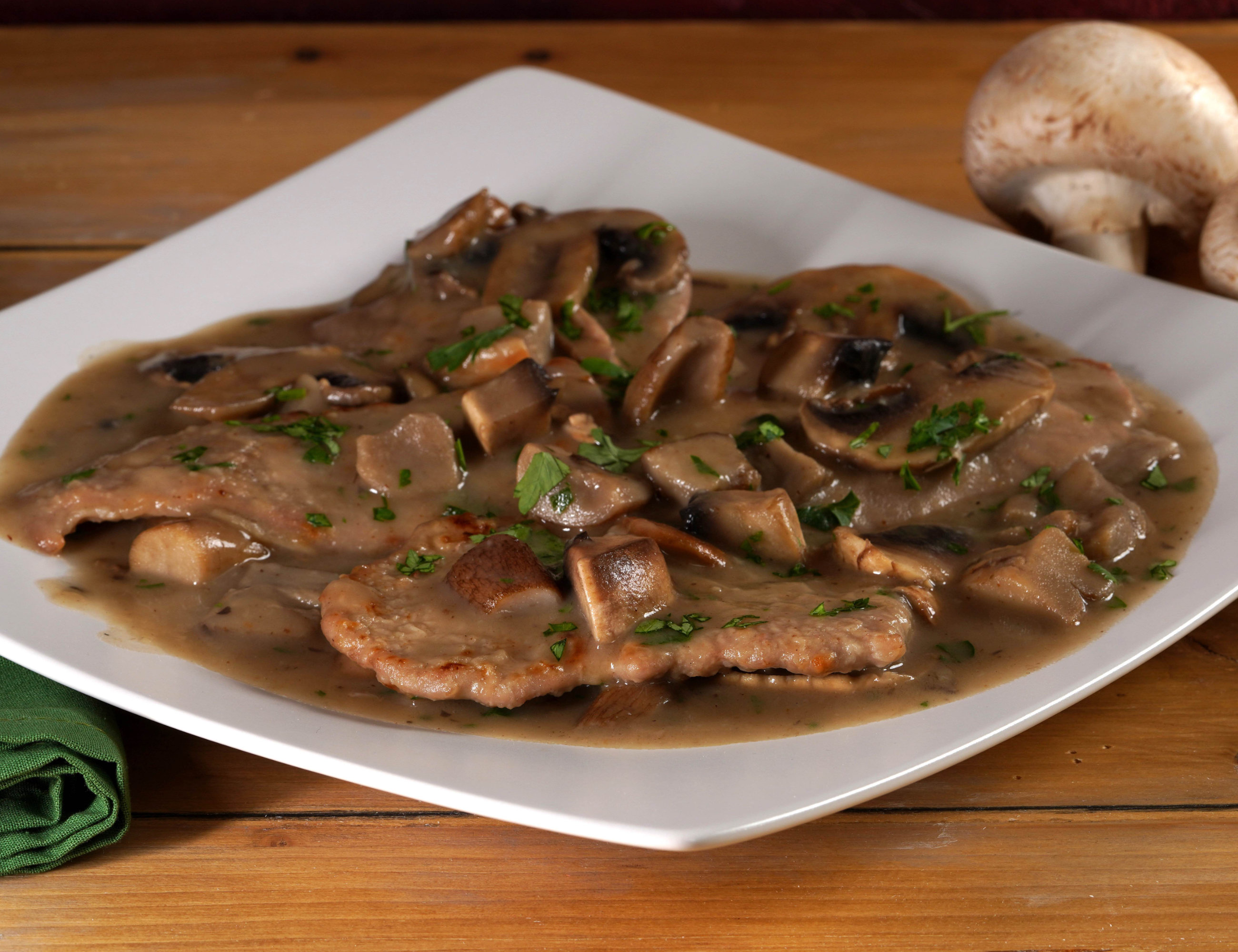 Veal Scallopini with Mushrooms – Authentic Italian Recipe
A Veal Scallopini with a creamy mushroom sauce! Called 'Scaloppine ai Funghi' in Italian, this dish can technically be made with chicken or beef as well.
Ingredients
1

lb

veal slices

beef and chicken or ok too

1

cup

white flour

or as needed, for flouring the slices of meat

1

lb

white button or crimini mushrooms

called 'champignon mushrooms'

1

handful

a flavorful mushroom like porcini

optional

1 ½

tbsp

butter

for cooking the veal

4

cups

beef broth

1

pinch

fine salt

or to taste

2

cloves

garlic

1

handful

Italian flat leaf parsley

or to taste; minced
The Roux (Sauce Thickener)
1 ½

tbsp

butter

1 ½

tbsp

flour

beef broth

as needed
Instructions
Prepare the Veal
If necessary, pound the veal slices (between two pieces of parchment paper) to just a few millimeters thick. Remove any excess fat. If already the right thickness, pound the veal slices lightly just to tenderize them.

If necessary, cut the slices in half to ensure they can lay flat in the skillet you will use to cook them.
Flour the Veal
Coat the slices of veal on both sides with flour. Shake off any excess flour and set the veal aside.
Cook the Veal
Melt the butter for cooking the veal into a large skillet.

Cook the slices of veal in the butter for 1 – 1½ minutes over medium heat. Flip each slice halfway through the cooking. If the slices can't all fit in your skillet at once, cook the veal in batches.

Salt to taste, then set the cooked veal aside. A pinch of salt is enough.
Heat the Broth
Bring the broth to simmer for the following steps.
Prepare the Mushrooms
See 'Tips' for cleaning mushrooms. Slice half of the cleaned mushrooms into thick slices. Dice the other half.
Cook the Mushrooms
In the same skillet that you used to cook the scallopini, add two whole cloves of garlic.

Add the mushrooms along with two ladles of beef broth to the mushrooms. Once cooked, add a pinch of salt. While the mushrooms cook…
Make a Roux
Melt butter in a saucepan. Add the flour for the roux a bit at a time, mixing until you've made a smooth paste. Cook the roux briefly until it's golden in color. Add a bit of hot beef broth a little at a time, whisking continuously until you have a thick sauce.
Finish the Mushroom Sauce
Add the roux to the cooked mushrooms along with: another ladle of hot broth and a handful of minced parsley. Cook over low heat until the sauce begins to thicken.

Add the cooked veal slices back to the pan with the sauce. Continue simmering the veal in the sauce until the veal is warm again, turning the slices occasionally. Cook until the sauce has thickened to a gravy.

Top with another sprinkle of fresh minced parsley and serve. Buon appetito!
Video
Notes
How to Clean Mushrooms
To clean button mushrooms, remove any loose dirt with a brush (even a toothbrush will work!). 
Wipe the mushrooms down with a damp cloth. Or, give them a very quick rinse and dry them immediately. Do NOT soak the mushrooms. Soaking mushrooms will change their taste and texture. 
Tips for Tenderizing Veal
Always pound meat to tenderize between two sheets of parchment paper. This is done to avoid tearing the meat.