Garlic is a staple of Italian cooking. In this guide, you'll learn how to cook with garlic like an Italian in Italy! Generally speaking, how much you cut or treat the garlic affects how strong of a flavor it imparts to the final dish. Let's take a look at all of the ways that garlic is used in Italian cuisine. Prefer a video?
---
Watch the Video Recipe!
Check out our video recipe and learn how to cook with garlic like an Italian in Italy:
Subscribe to our YouTube Channel
More video recipes? Subscribe to our YouTube Channel (it's FREE) and click the bell to get notifications when we release a new video recipe!
---
Italian Rules for Cooking with Garlic
But first, a few rules for using garlic like an Italian: Rule number one? Fresh is best!
In Italy, fresh garlic rules. Even pre-made products in the grocery usually contain fresh garlic—not garlic salt, dehydrated garlic or garlic powder.
Rule number two: a little goes a long way! With these two rules in mind, let's take a look at various ways to use garlic like an Italian in traditional Italian dishes.
Raw Garlic: Rubbed or Mashed
Let's start with raw garlic, rubbed or mashed. A classic way that raw garlic is used in Italian cooking? Traditional basil pesto— called Pesto alla Genovese in Italian.
When making this authentic pesto genovese recipe, fresh garlic cloves are traditionally mashed into a paste using a mortar and pestle. The garlic paste is then consumed fresh in the final pesto.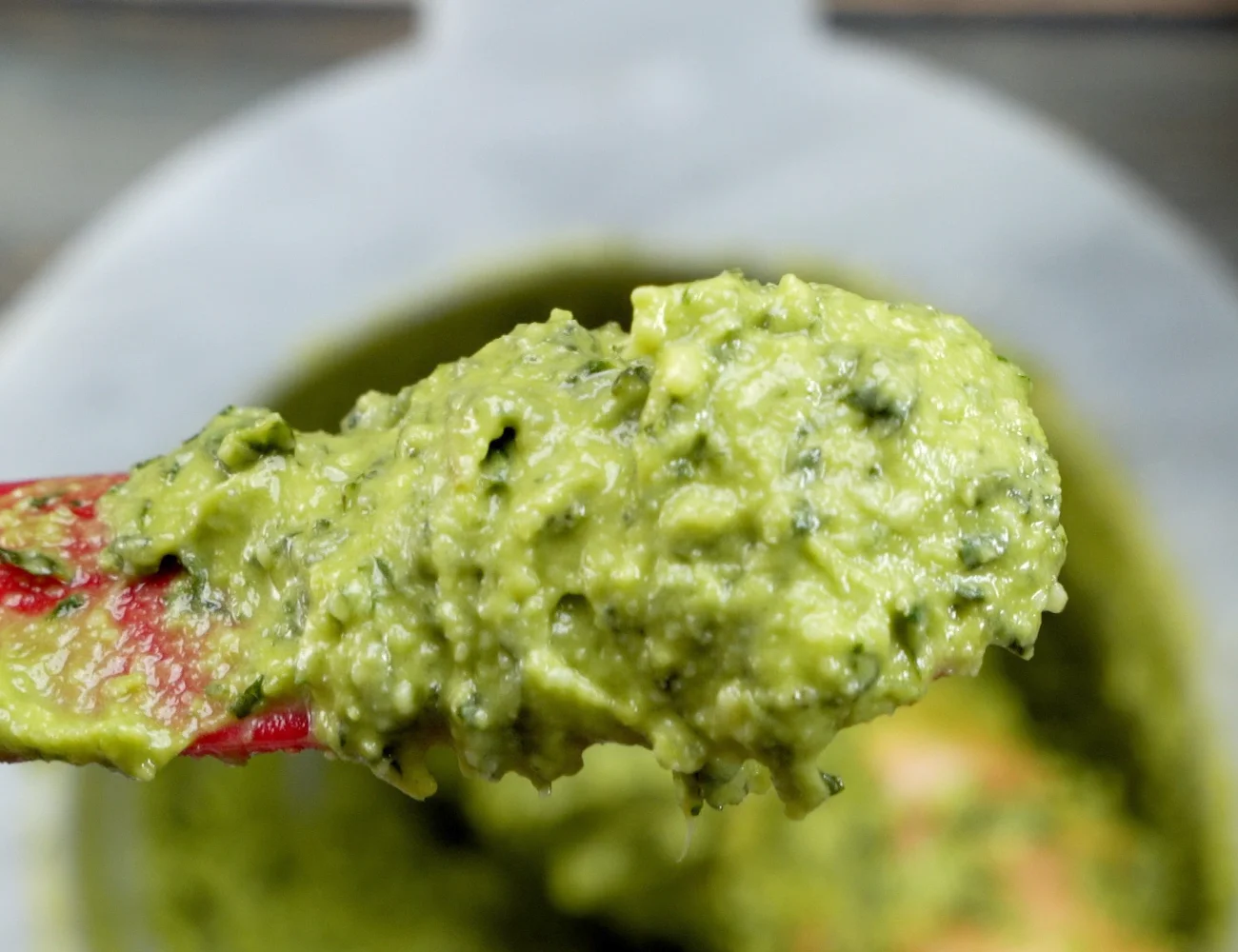 Another way that many Italians consume raw garlic daily is on their bruschetta. The real garlic bruschetta recipe is the simplest and most healthy. Fresh garlic is simply cut open and rubbed across toasted bread, then topped with a pinch of salt and extra virgin olive oil.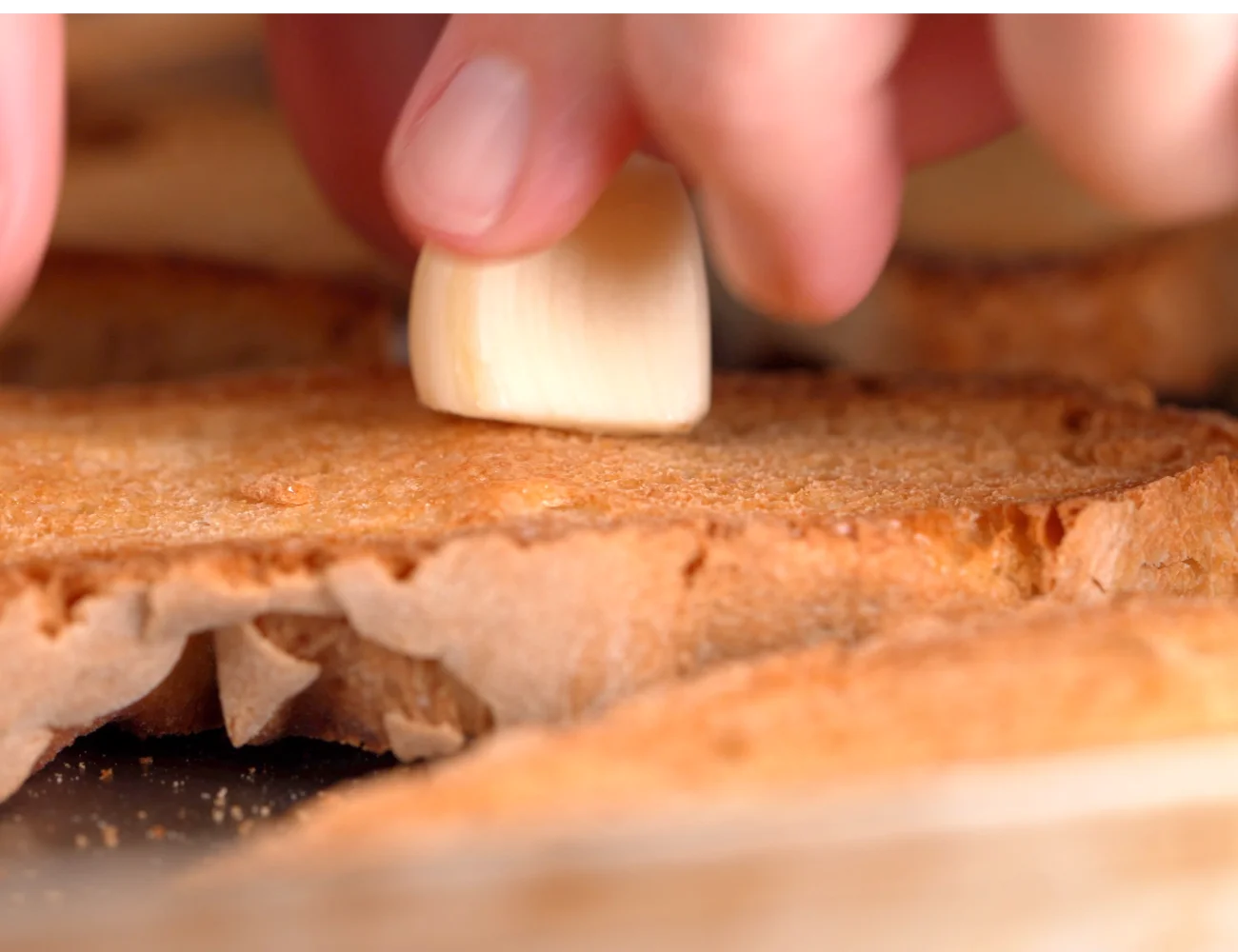 Garlic bruschetta in Italy typically does not contain garlic salt, powder, minced garlic or fancy cheeses of any kind. Instead, Italians add fresh extra virgin olive oil and sometimes a little homemade fresh tomato condiment to their bruschetta.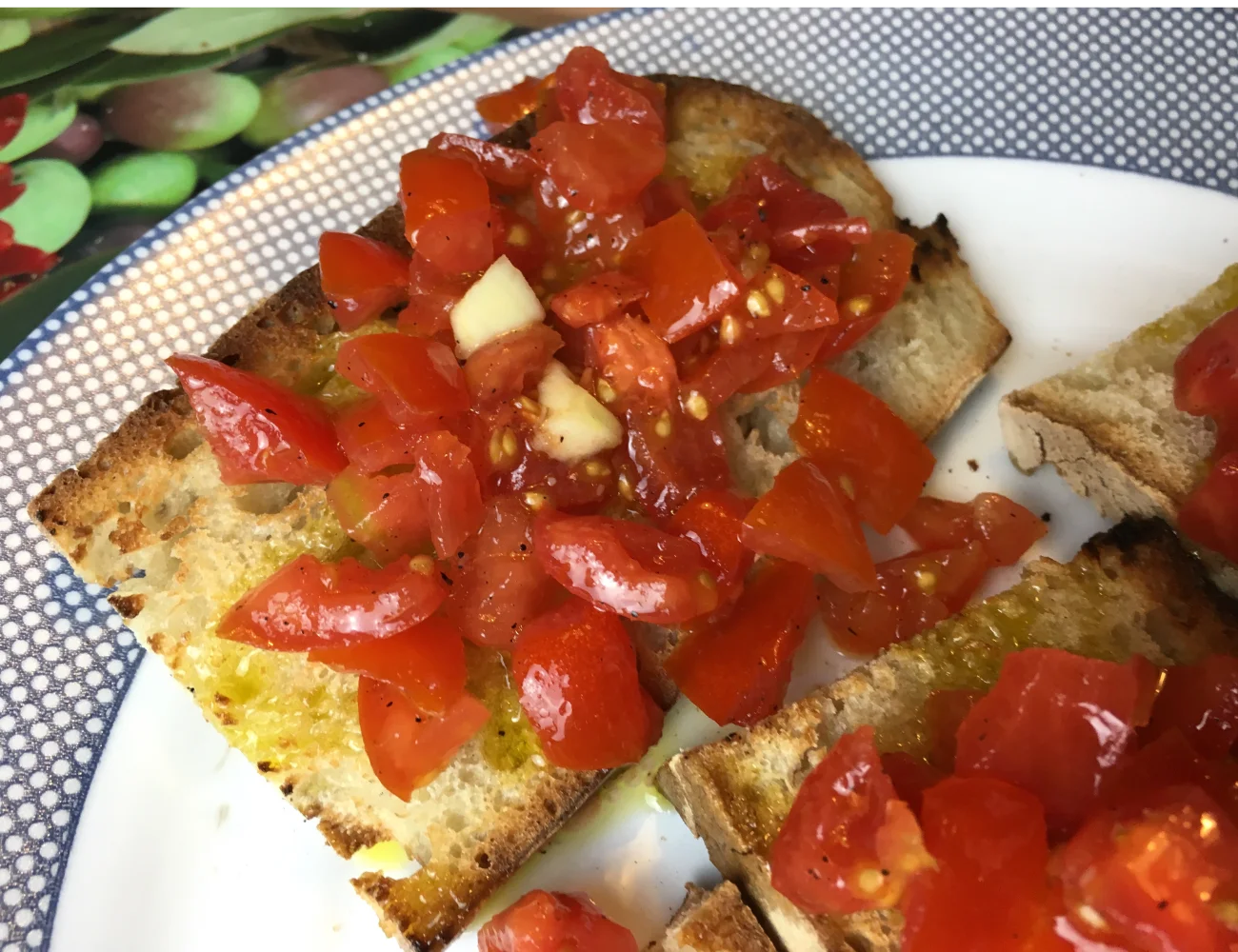 ---
Fresh Garlic in a Sauce or Marinade
The same strategy is often used for flavoring meat with garlic, in a rub or in a marinade. In recipes like these, fresh garlic cloves are left whole or halved and sometimes discarded once their work is done.
For instance, in this traditional recipe for wild boar ragù sauce, the wild boar is marinated for many hours in wine, herbs, spices.. and yes garlic! Then the meat is removed and the marinade is discarded. It has flavored the meat and also helped to extract much of that gamey flavor that can ruin a dish like this.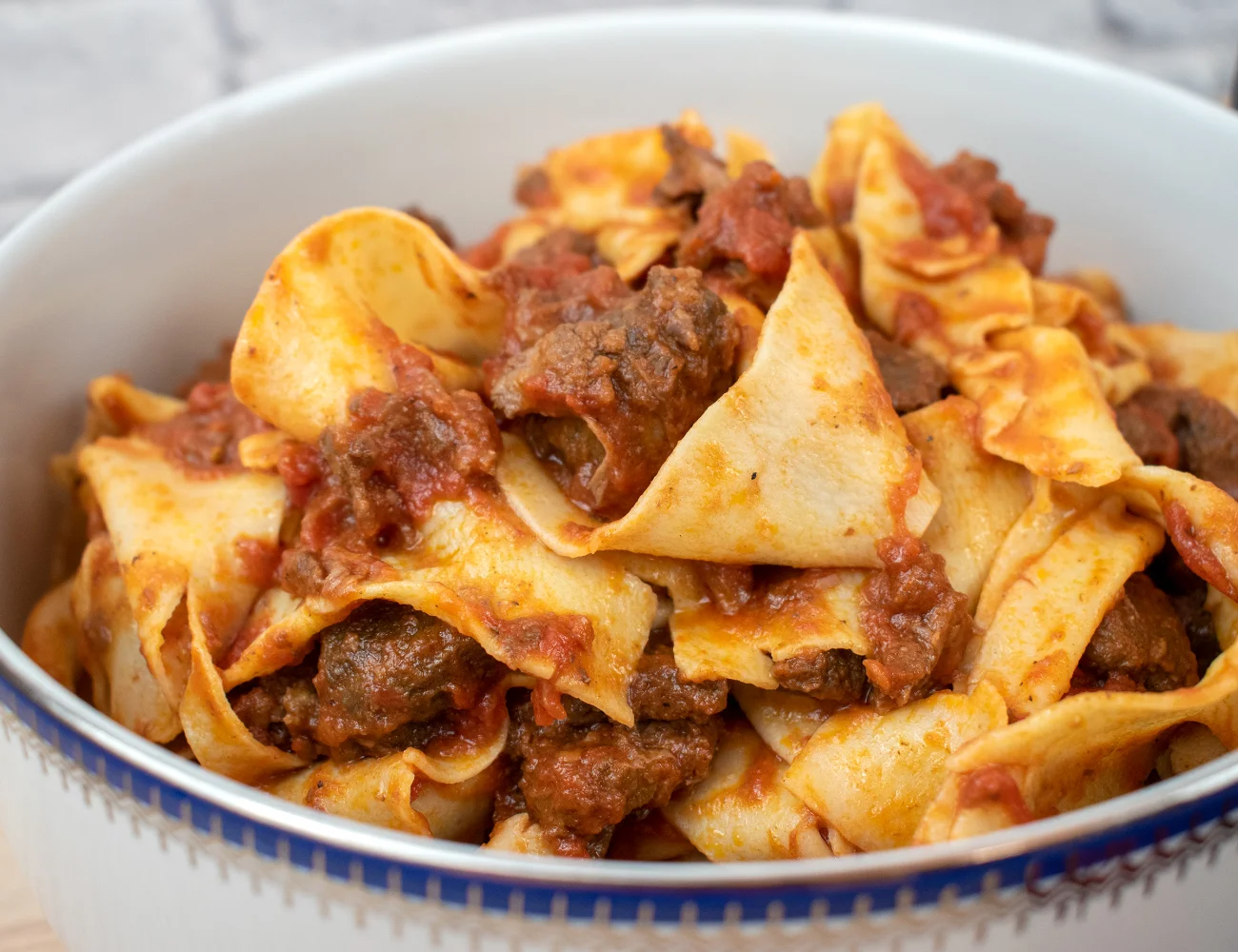 Adding garlic whole to infuse flavor (and then discarding it) also tends to be easier on the digestion. So if you love garlic— but it doesn't love you—give this technique a try!
In many recipes for poultry, cloves of garlic are rubbed under the bird's skin onto the meat and then left under the skin to flavor the meat during the marinade and cooking process. Check out our for Italian Rosemary Chicken recipe.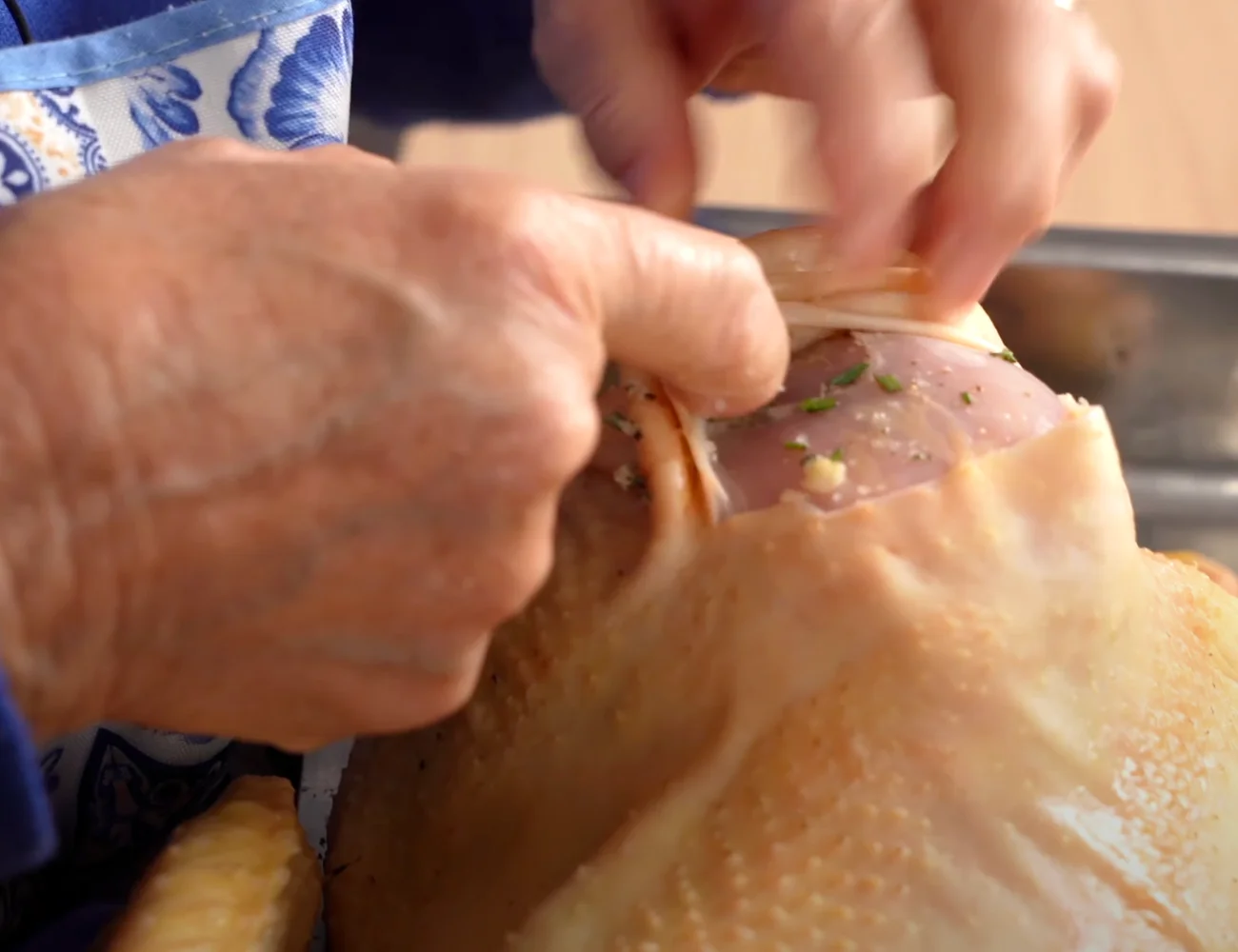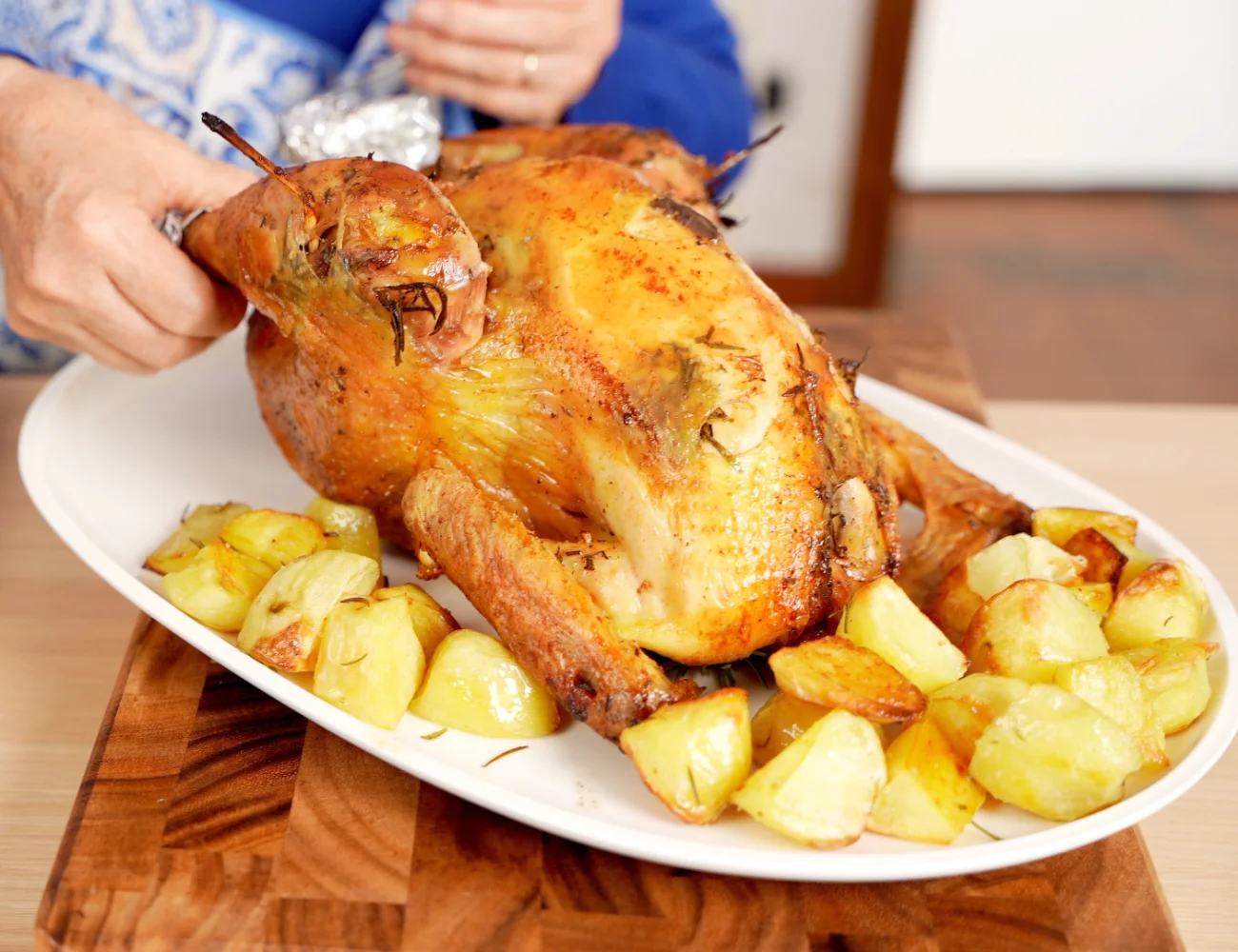 ---
Garlic Purée in a Soffritto
A soffritto in Italian cuisine is the process of creating a flavor base for a sauce or fish by infusing olive oil or another fat with aromatics.
In our take on this traditional Tuscan tomato garlic sauce, garlic —specifically a Tuscan elephant garlic called aglione— we've mashed the garlic into a purée, then sautéed that purée in olive oil and white wine before adding in the tomato to make the pasta sauce.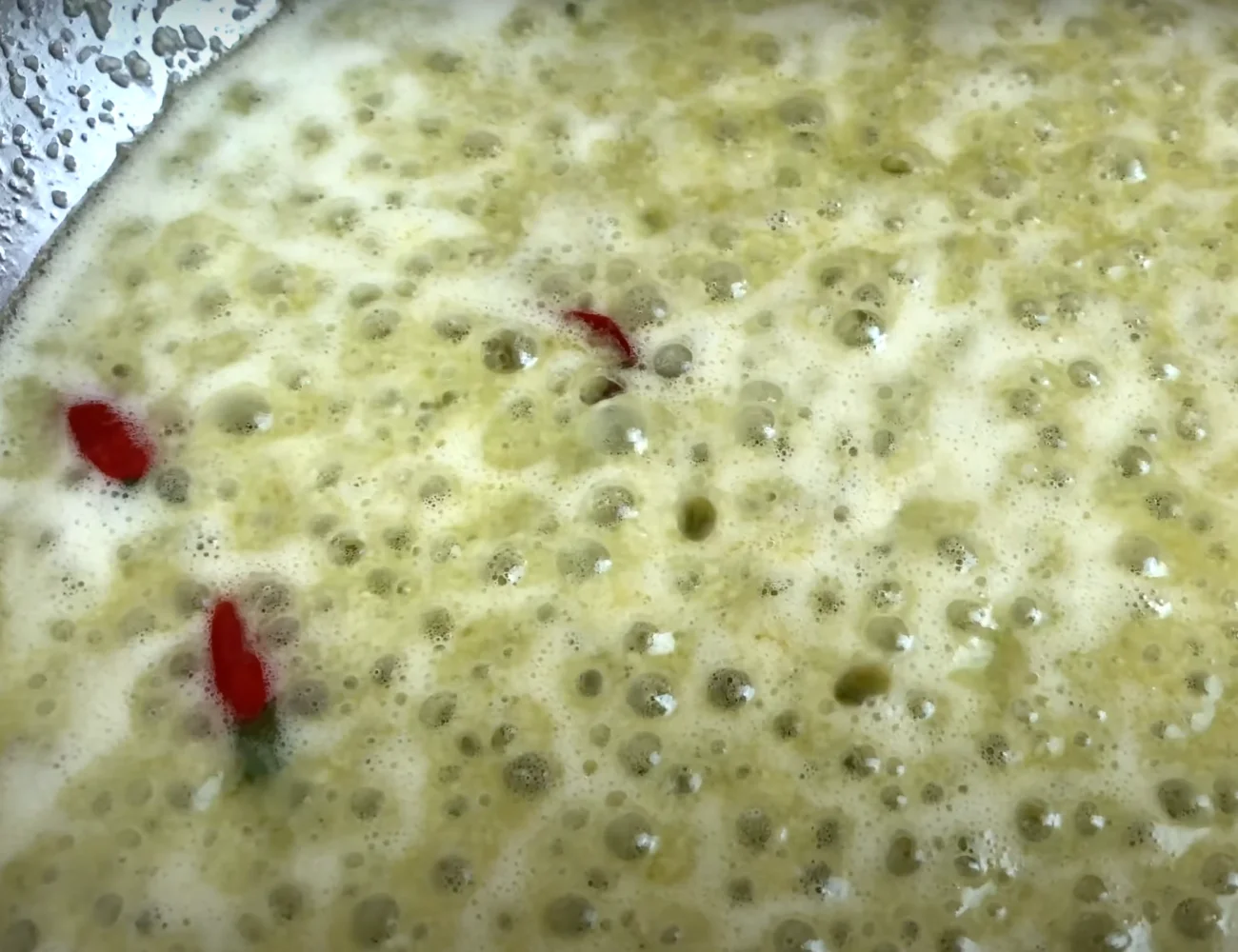 Because the variety of garlic used here is mild, the garlic purée doesn't overwhelm the sauce. Aglione is sometimes called 'kissing garlic' abroad. Want to make this tasty pasta dish? Check out the recipe for Pici all'Aglione on this site!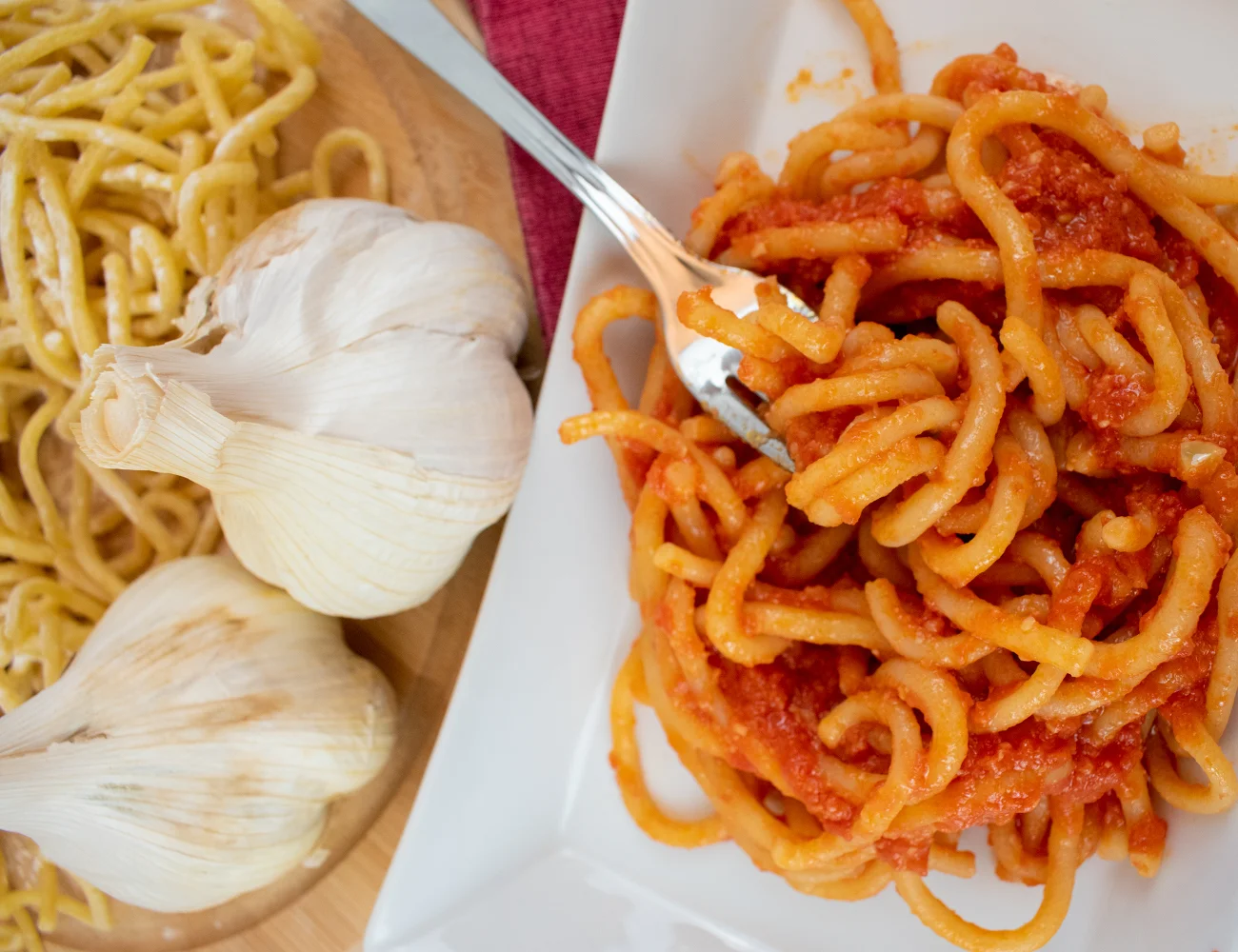 ---
Garlic in a Soffritto
And finally one of the most classic ways that Italians use garlic: in a soffritto!
Garlic is a traditional ingredient used in Italian soffritto. In a soffritto, the garlic could be added whole, halved or minced. For instance, in this Spaghetti alla Puttanesca recipe, minced garlic is combined with chili pepper and anchovies in a soffritto to form the sauce base.
Want more authentic Italian pasta recipes that use garlic in the soffritto? Check out our mouth-watering Italian Spaghetti with Clam Sauce recipe or the Spaghetti alla Puttanesca recipe we've just mentioned!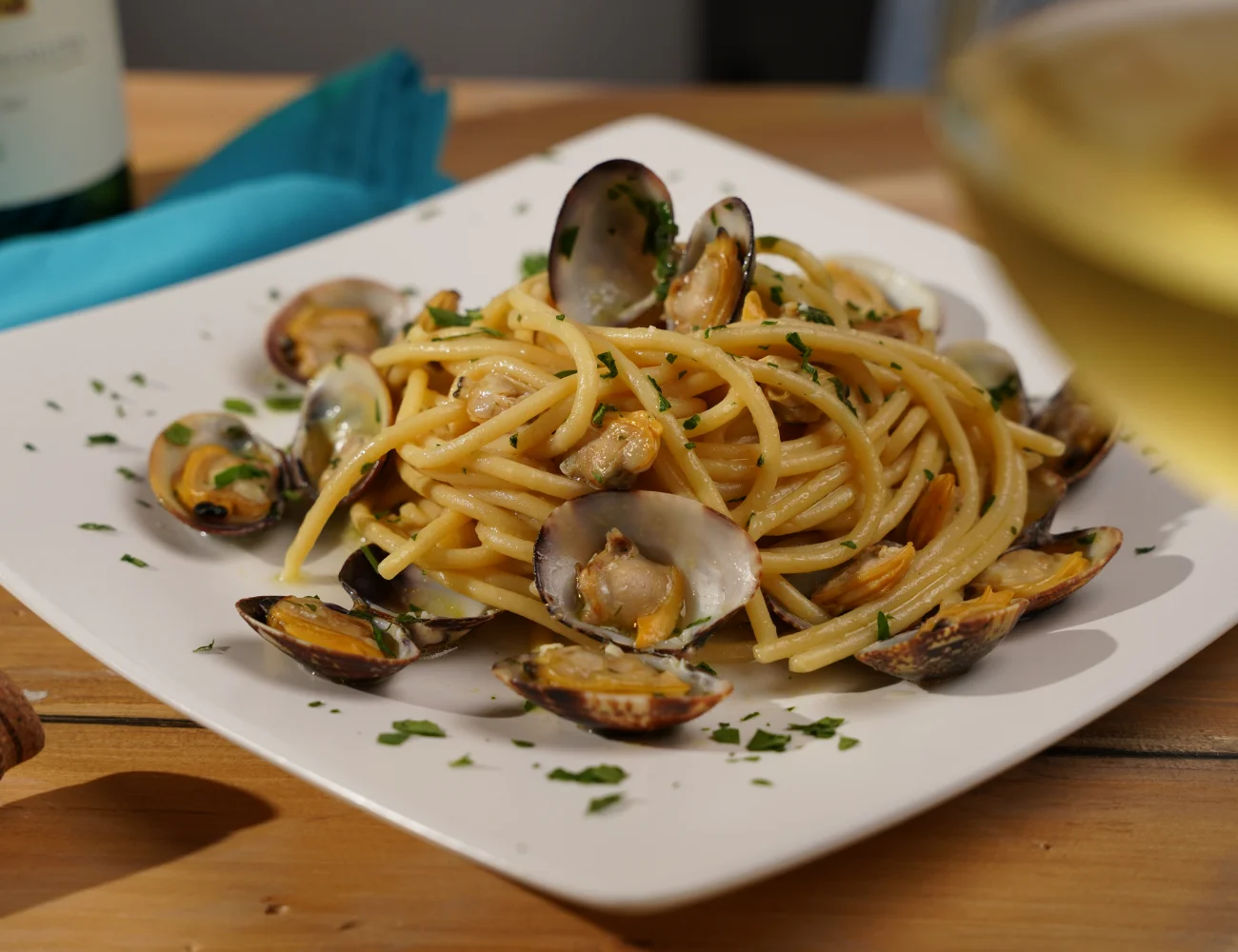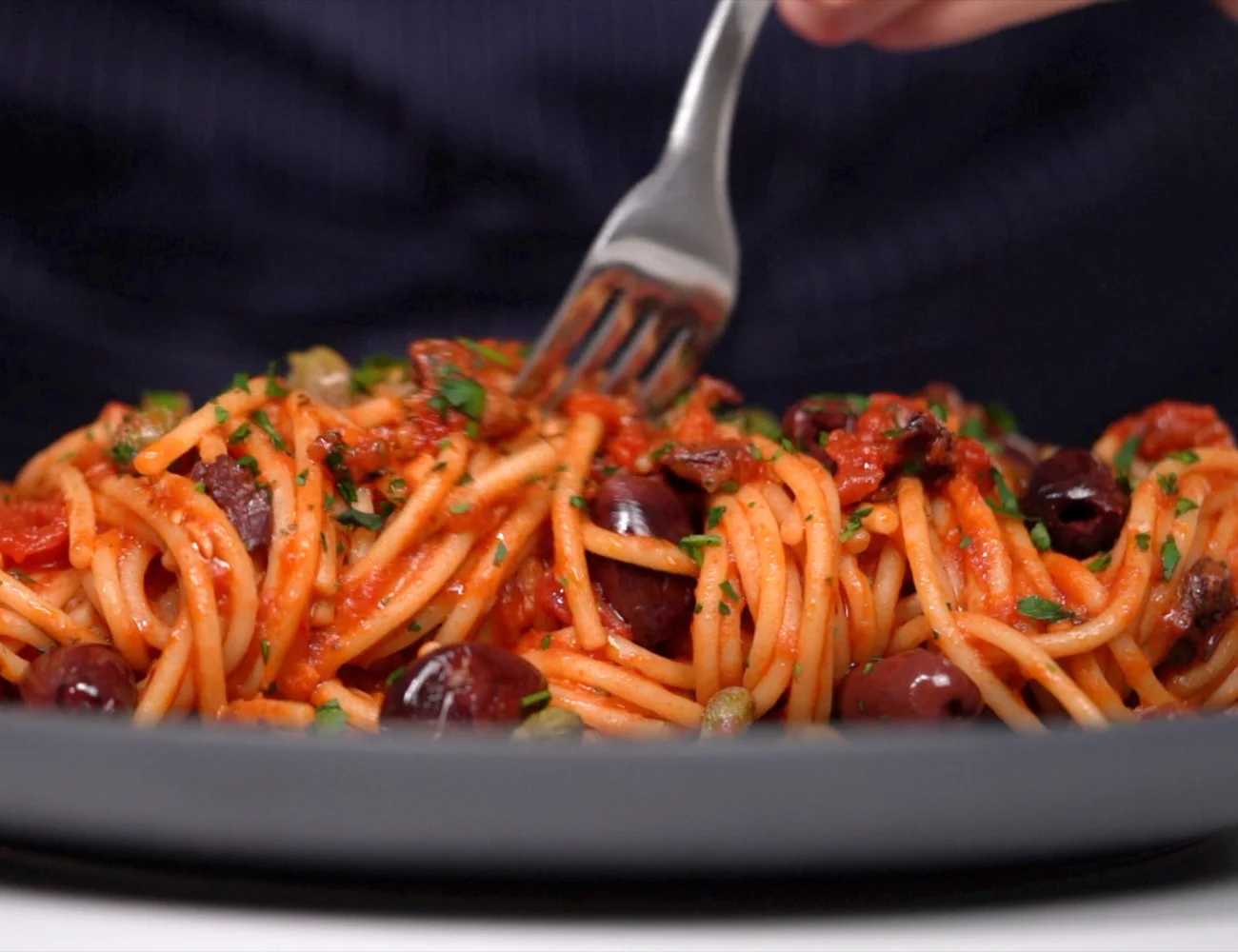 ---
---
As an Amazon Associate, we earn from qualifying purchases. This means at no extra cost to you, PIATTO may earn a small commission if you click the links and make a qualifying purchase.
---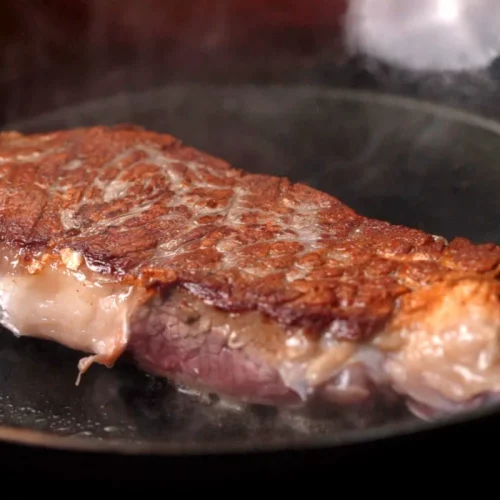 How to Cook Sirloin Steak in a Pan—Perfectly!
Learn how to cook sirloin steak in a pan perfectly at home!
Equipment
1 seasoned cast iron or carbon steel pan

about 14" in diameter

plastic wrap
Ingredients
1

lb

aged sirloin steak

"controfiletto"

fine salt

to salt the steak

2

tbsp

clarified butter

to sear the steak
Instructions
Prepare the Steak
Salt the steak generously on both sides, pressing the salt into the meat.

fine salt,

1 lb aged sirloin steak

Wrap the salted steak in plastic wrap. Then, let the steak rest for about 2 hours in the fridge.

After the 2 hours rest, let the steak come to room temperature for about 1/2 hour before cooking it. At this time, you'll also want to remove any excess fat or extraneous parts of the steak—which can be used to make broth or a stew.

During the rest time, you can prepare any sauces or condiments you may want for your finished steak.
Pan Sear the Steak
Over high heat, bring a seasoned cast iron or carbon steel pan to a temperature of around 662° F (350° C). Melt a few tablespoons of clarified butter in the pan.

Cook the steak for a couple of minutes per side—until the surface of the steak is golden brown but not burnt (see photos).

Then, flip the steak and sear the other side.

You'll want to baste the surface of the steak with the hot butter during the cooking, as shown.

Sear all sides of the steak as well.
Rest the Steak (Covered)
Once the steak is properly seared and ready, it's time to let it rest! This is not optional! Let your steak rest 5-10 minutes before cutting it, under penalty of losing the juices inside! It's best to cover it loosely with foil while it rests.

Read the whole article on this page for a thorough explanation as to why the rest is needed.

In the meantime, you'll want to warm the plates you plan to serve the meat on to about 113° F (45° C).
Video
Notes
Salt Correctly!
Follow our instructions carefully regarding when to salt if you want the maximum flavor.
Resting Times Are Not Optional!
For achieving a perfectly juicy steak, the rest times should be followed rigorously.