We've lightened up this healthy Fettuccine Alfredo recipe for those wanting a healthy Mediterranean diet recipe! Made with traditional ingredients—Parmigiano cheese, a touch of butter—we've simply adjusted the portion sizes and ingredient quantities to make this dish just 400 calories! Keep reading to learn how to make this fast, delicious pasta recipe that can be ready in just about 20 minutes. Plus? Ideas for making this healthy Fettuccine Alfredo lactose-free or low sodium!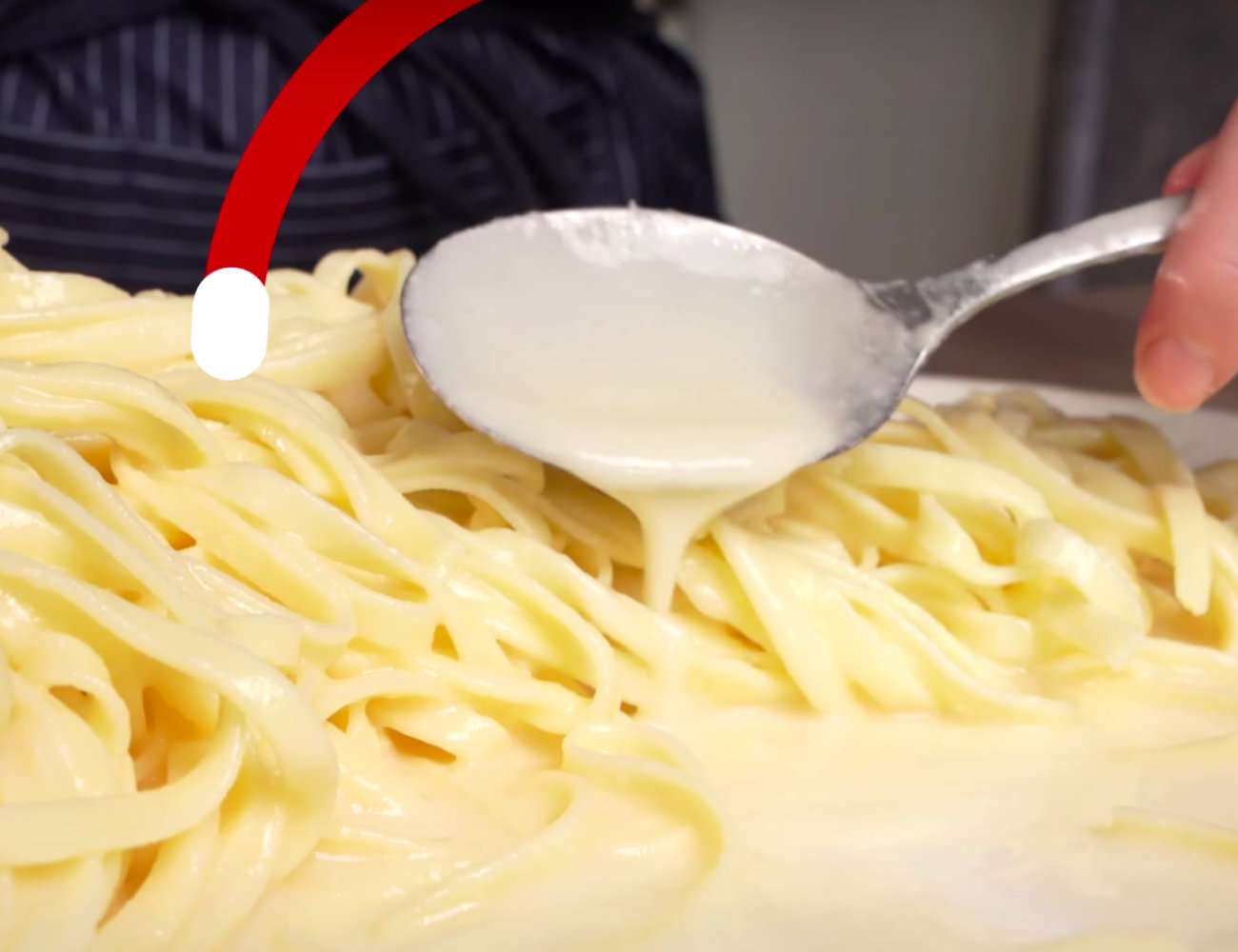 ---
Watch the Video Recipe!
Learn how to make the full fat version of the traditional Fettuccine Alfredo recipe in this video, filmed in Italy. The process for making this healthy version of the dish is the same.
Subscribe to our YouTube Channel
More video recipes? Subscribe to our YouTube Channel (it's FREE) and click the bell to get notifications when we release a new video recipe!
---
What Makes this a Healthy Fettuccine Alfredo Recipe?
Fettuccine Alfredo (called Pasta Burro e Parmigiano in Italian) is not normally thought of as a healthy pasta dish. However, by simply adjusting the pasta portion size and slightly reducing the quantity of butter and Parmigiano, we can create a pasta every bit as healthy as it is delicious.
We've lightened up the traditional Fettuccine Alfredo recipe in two ways: by slightly reducing the amount of butter and cheese in the recipe and reducing the pasta portion sizes.
A healthy pasta recipe designed to help you lose or maintain your weight in accordance with common recommendations should be 300-400 calories. This recipe clocks in at 400.
Why is this Pasta Healthy? Smaller portions, less butter!
Three meals a day of around 400 calories will take you to 1200 calories. Since experts commonly recommend a 1200-1300 calorie a day diet for sensible weight loss, meals of around 400 calories will help you stay within these guidelines.
Prefer the full fat version? Check out the traditional Fettuccine Alfredo recipe on our website!
Traditional Fettuccine Alfredo Recipe
Learn how to make Fettuccine Alfredo without cream using just 3 ingredients: pasta, Parmigiano Reggiano cheese and butter.
Check out this recipe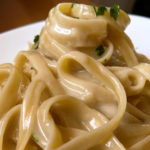 ---
By definition, most recipes from Italy are 'Mediterranean diet recipes'! Outside of Italy, this term has come to refer to the eating habits traditionally followed in the Mediterranean countries of Italy, Greece and Spain—countries that top the world's lists again and again on measures related to population health and longevity.
Practically speaking, if you are looking for Mediterranean Diet recipes because your doctor has recommended those eating habits for your health or wellbeing, you'll want to read our article on the topic: What is the Mediterranean Diet?
If you are wondering Is Pasta Healthy?— you'll want to read our article on that topic as well!
---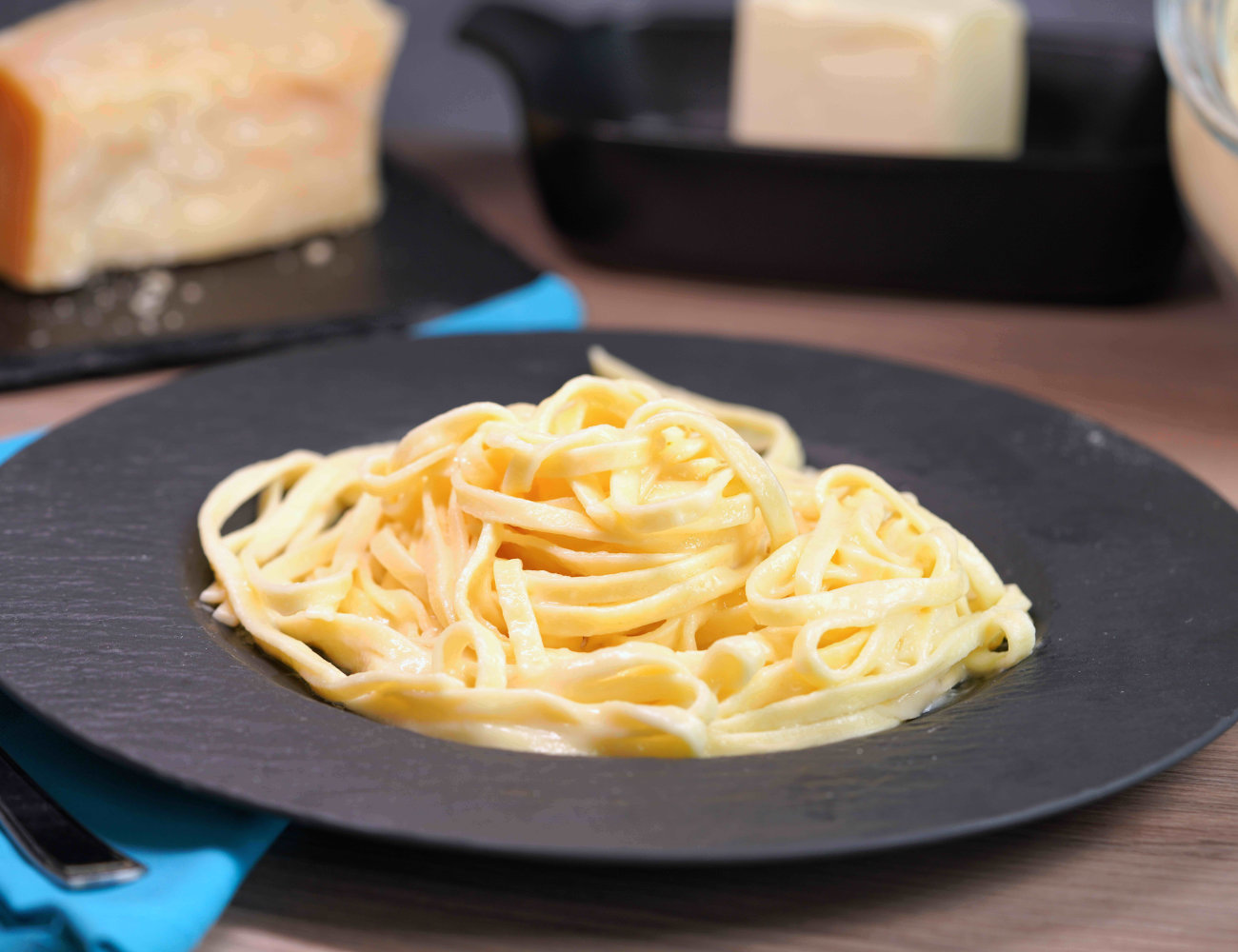 Is Parmigiano Reggiano cheese healthy?
Yes! Parmigiano Reggiano cheese is very healthy! It is full of protein and—because it is an aged cheese—considered naturally lactose-free.
And while we are on the topic, please use the real Parmigiano Reggiano cheese for this recipe. If you are going to get the fat, you might as well get the flavor! So-called 'parmesan' sold abroad is frequently packed with fillers and trans fats made with any number of generic cheeses.
Find Parmigiano Reggiano on Amazon: https://amzn.to/3PXhddT (affiliate link)
Does this recipe have too much saturated fat?
Both butter and Parmigiano do have saturated fat. However, if this dish of pasta is the only saturated fat you are getting in a day, it's all good.
Why? Experts recommend that no more than 10% of our daily calories come from saturated fat. For a 1300 calorie a day diet, we calculate that at around 14 grams of saturated fat. This recipe has 11 grams of saturated fat in total for a portion size.
Can Fettuccine Alfredo be lactose-free?
As mentioned, aged Parmigiano Reggiano cheese is already considered to be naturally lactose free. If you have a lactose intolerance, you can replace the butter with clarified butter which is also considered naturally lactose free, or use a veggie spread. Learn How to Make Clarified Butter at Home!
Low sodium Fettuccine Alfredo?
Parmigiano cheese is rather salty. To reduce the amount of sodium, reduce (or eliminate) the salt added to the pasta water when you cook it and reduce the amount of Parmigiano used.
---
Tips for Making Healthy Fettuccine Alfredo
Choosing Quality Pasta
For a healthy Fettuccine Alfredo recipe with the creamiest sauce, you want to select a fettuccine that will release a lot of starch while cooking. In fact, this is why the traditional Fettuccine Alfredo recipe does not want or need heavy cream! The hot, starchy pasta water is all you need to create a creamy sauce.
Look for pasta that says it is 'bronze drawn' (trafilato al bronzo). This means what it says: the pasta has literally been cut with a bronze pasta stamp or cutter. This creates a more porous texture to the pasta which has many advantages—such as allowing the pasta to release more starch! Learn why quality pasta is better for your tastebuds—and your health— in our article: Best Pasta Brand in Italy!
Bronze-Drawn Fettuccine We Recommend: https://amzn.to/46F6qKv (affiliate links)
---
As an Amazon Associate, we earn from qualifying purchases. This means at no extra cost to you, PIATTO may earn a small commission if you click the links and make a qualifying purchase.
---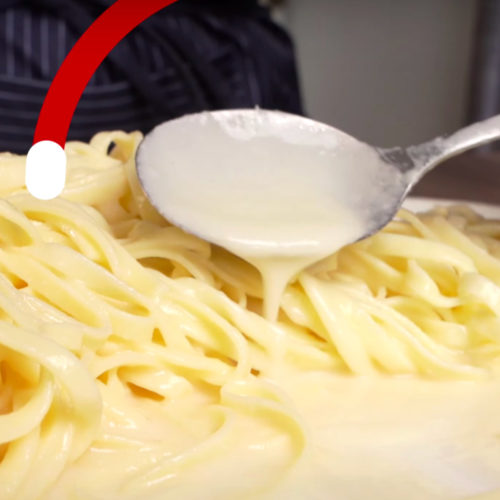 Healthy Fettuccine Alfredo Recipe
Indulge in the creamy richness of Fettuccine Alfredo without the guilt— just 400 calories/serving! This healthy Fettuccine Alfredo recipe is based on the Italian classic (no cream). By tweaking the butter quantity and suggesting sensible portion sizes, this becomes a Mediterranean Diet recipe.
Ingredients
4

oz

Parmigiano Reggiano Cheese

finely grated/ground

3.5

tbsp

butter

8

oz

fettuccine pasta

fresh is best
Instructions
Make the Pasta
Make the fresh fettuccine by using our recipe. Or, move to the next step if you already have the fettuccine prepared or have bought it.
Prepare the Ingredients
Finely grate the Parmigiano Reggiano cheese. Once done, sift the cheese as well. It must have a powdery consistency for this recipe.

Cut the butter into small cubes.

4 oz Parmigiano Reggiano Cheese,

3.5 tbsp butter
Cook the Pasta
Cook the fettuccine in gently boiling water. A gently boiling water will help you avoid to break this thin egg pasta, which tends to be more delicate than something like spaghetti. 

If using fresh pasta, it will only take 2-3 minutes to cook the pasta. Otherwise, follow the package instructions.
Finish the Pasta
Drain the pasta but do not discard the pasta water!

On a large serving dish or bowl, add half of butter. Then, add the drained pasta on top of the butter. Then, add the rest of butter. 

Using a spoon and fork, mix the pasta and butter delicately until the butter is melted and coats the pasta. 

Then add the Parmigiano Reggiano cheese, a couple of spoons at a time. Continue to mix. 

Add a ladle of pasta water and mix again. The creamy sauce will start to form.

Continue adding more cheese (and more water if needed) until you have created a thin white sauce.

Serve and enjoy! Note: The sauce will continue to thicken on the plate. 
Nutrition
Sodium:
510
mg
Potassium:
3
mg
Cholesterol:
51.7
mg
Calories:
399
kcal
Monounsaturated Fat:
2.6
g
Polyunsaturated Fat:
0.4
g
Saturated Fat:
11.4
g
Fat:
19
g
Protein:
18
g
Carbohydrates:
42
g