This is an authentic Tuscan Bean Soup recipe for Ribollita! Ribollita literally means 're-boiled' because it is even better the second day, twice boiled! This Tuscan Bean Soup (sometimes called Zuppa Toscana) can be made vegetarian and vegan by using vegetable broth instead of beef broth. This soup is packed with flavor and nutrition— coming from kale, savoy cabbage and white cannellini beans.
Enjoy this hearty vegetable soup with slices of Tuscan bread — just as they do in Italy!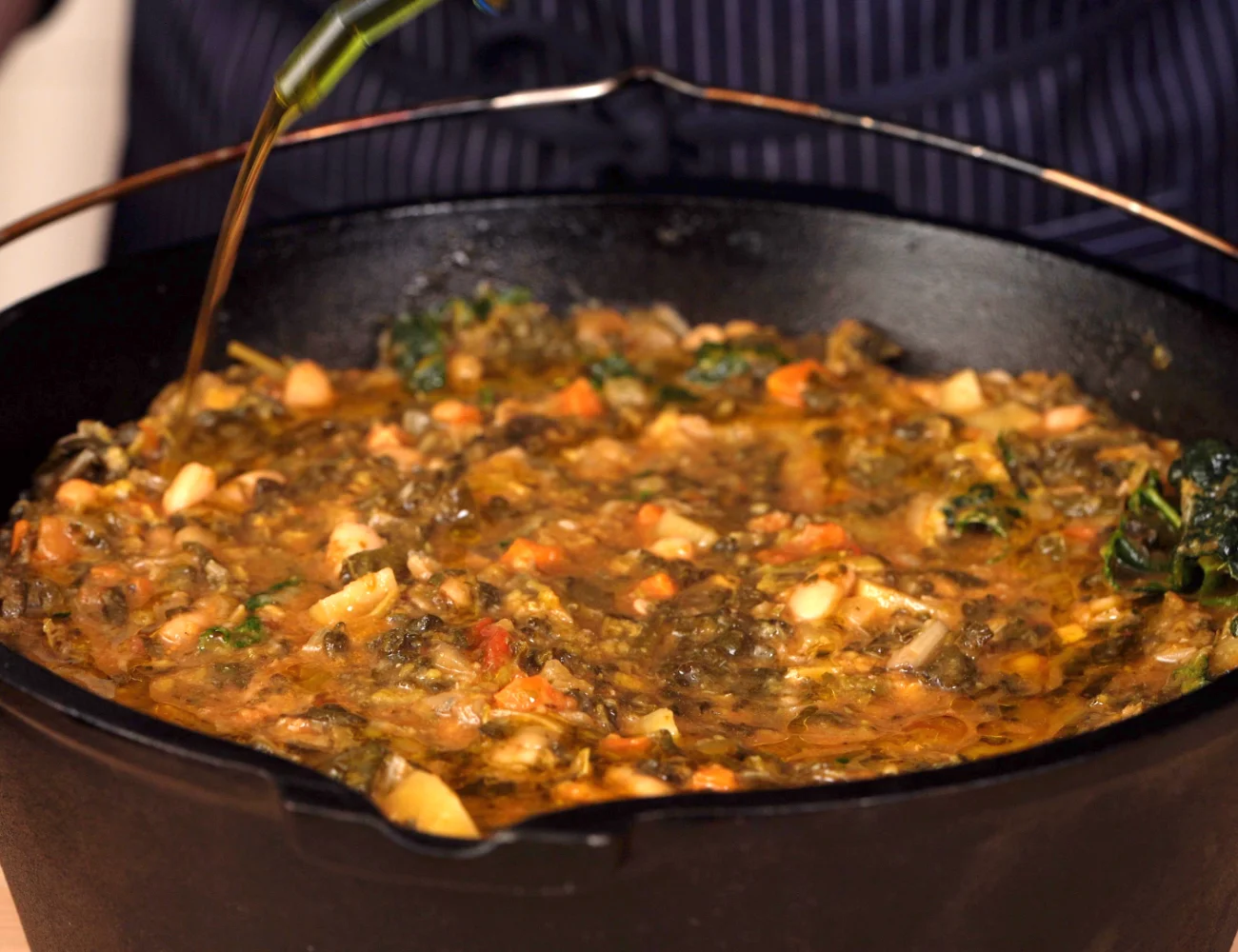 ---
Watch the Video Recipe!
Watch the video recipe for the traditional Tuscan Bean Soup! Turn on the English subtitles 🙂
Subscribe to our YouTube Channel
More video recipes? Subscribe to our YouTube Channel (it's FREE) and click the bell to get notifications when we release a new video recipe!
---
Real 'Zuppa Toscana' Recipe: Ingredients
The real Zuppa Toscana of Tuscany is a traditional poor man's recipe. Unlike Tuscan Bean Soup recipes abroad, this tasty soup absolutely does not include heavy cream in Italy. It's a soup with an incredible depth of flavor—all of which comes from the quality, tasty vegetables.
What ingredients are traditional in the famous Ribollita of Tuscany? There is some leeway in terms of ingredients that can be added to this Tuscan Bean soup and still call it authentic. However, the critical ingredients are:
lacinato kale (cavolo nero in Italian) and
white cannellini beans
Other very common ingredients include carrots, celery, onions, leeks (for a soffritto soup base) and tasty savoy cabbage. Potatoes or a bit of sausage are optional ingredients that are often included as well.
Lacinato Kale (Cavolo Nero)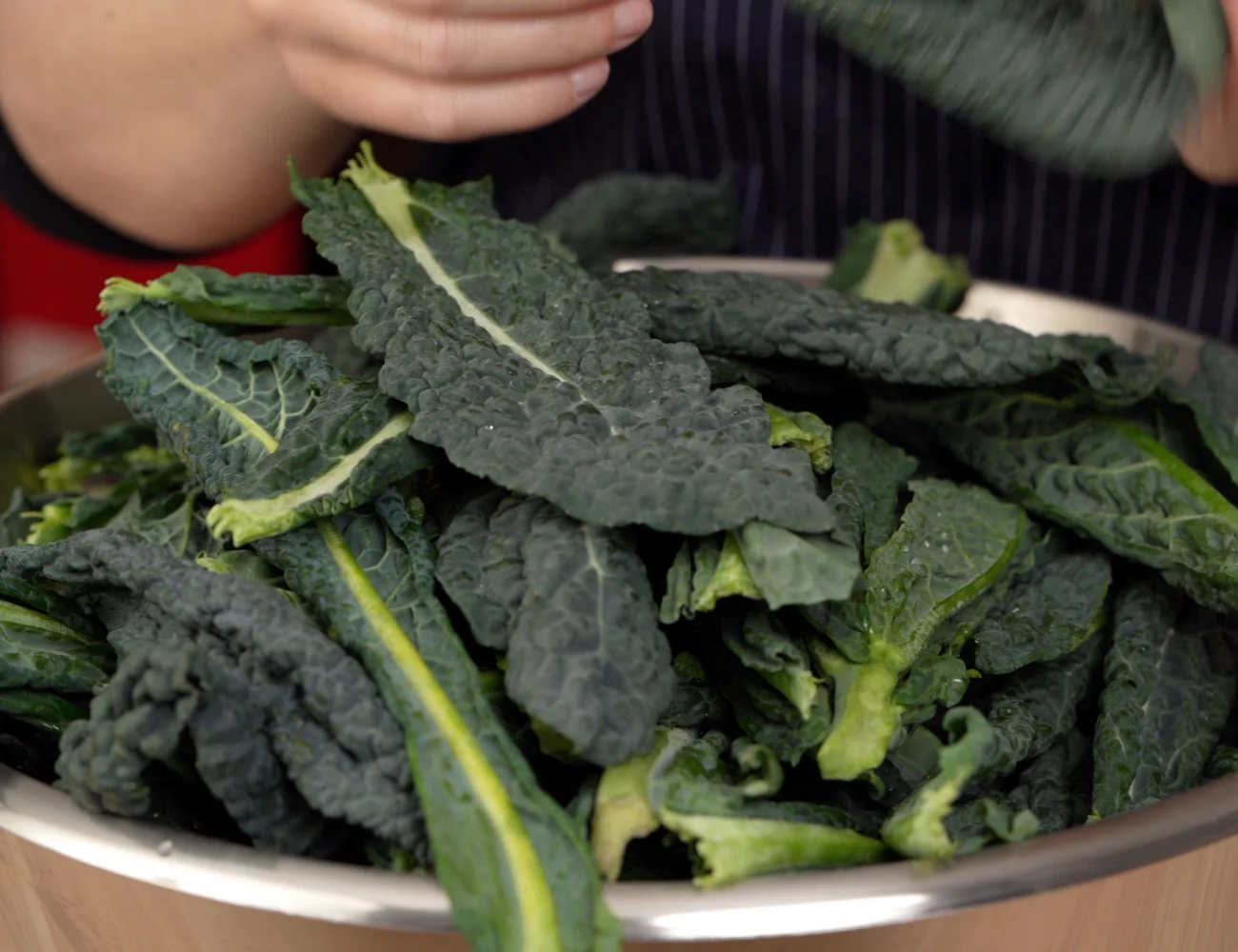 Tradition in Italy recommends choosing a lacinato kale that has gone through a few frosts—which renders this nutritious vegetable more tender and sweet!
We remove the tough center stem from lacinato kale, but this step is optional. Then, we chop the kale into bite-size pieces.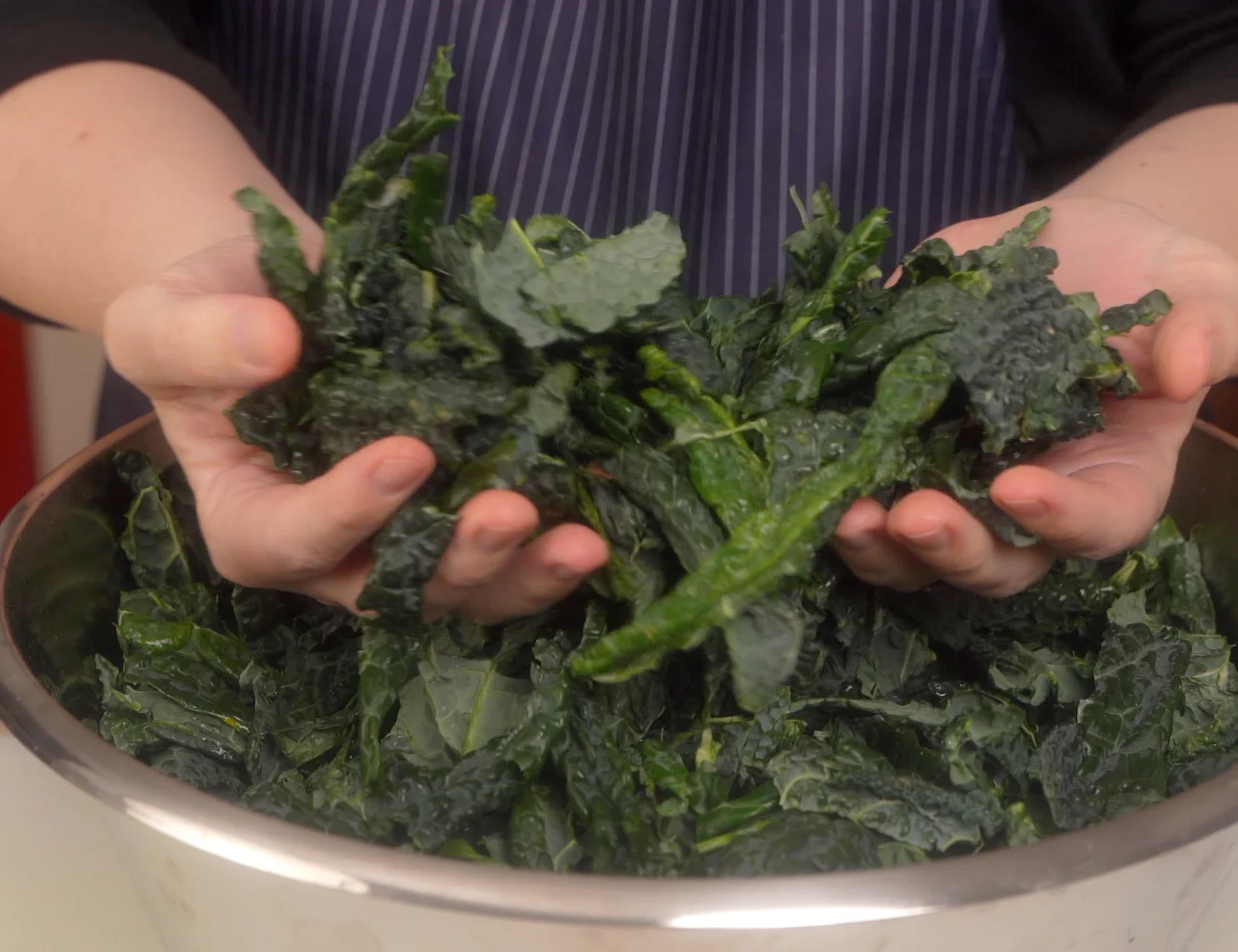 White Cannellini Beans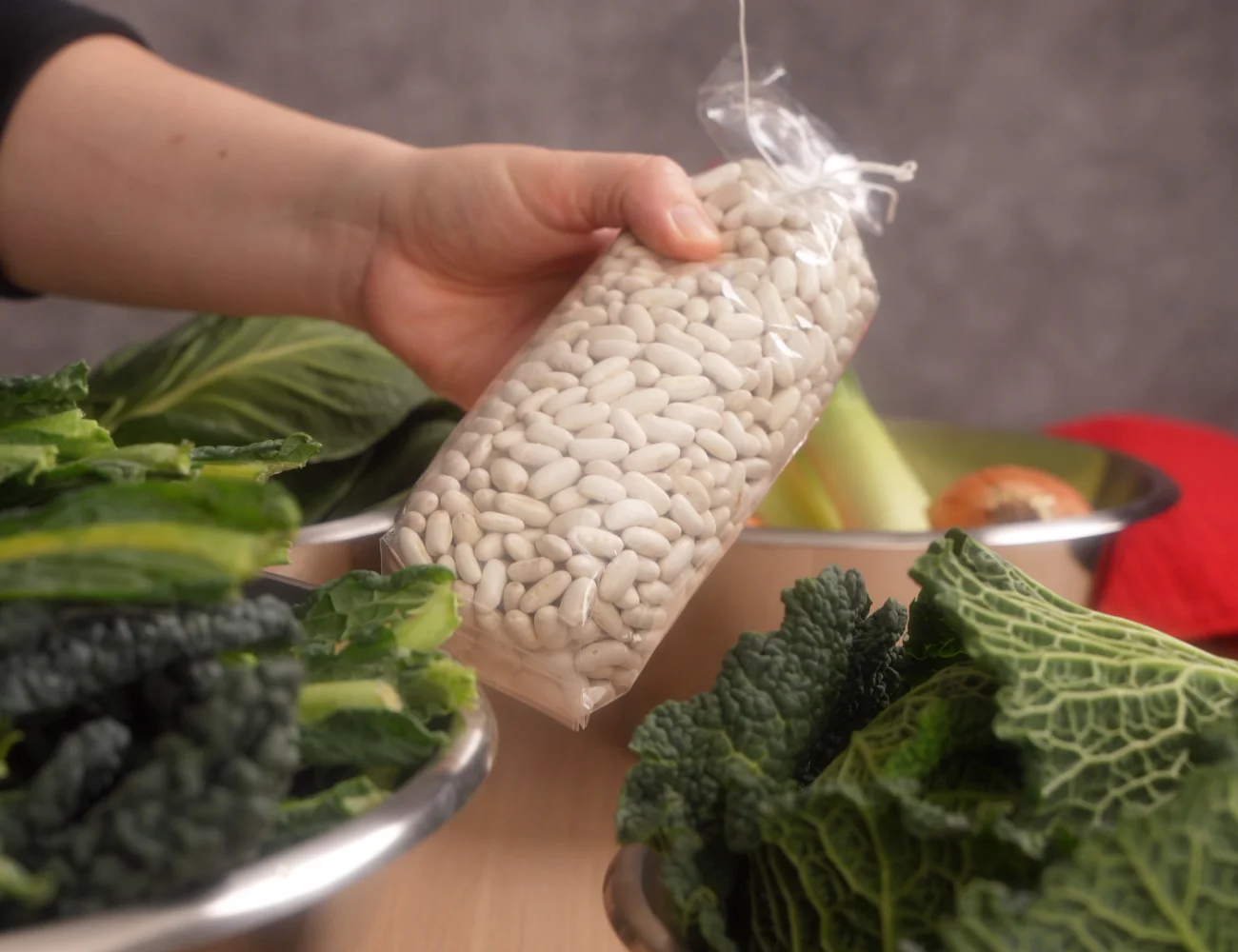 In additional to cavolo nero, white cannellini beans are considered a must in a traditional Tuscan Ribollita! If you are using dry cannellini beans, you'll need to soak them at least 12 hours (or overnight). Then, cook the beans until tender before adding them to the soup.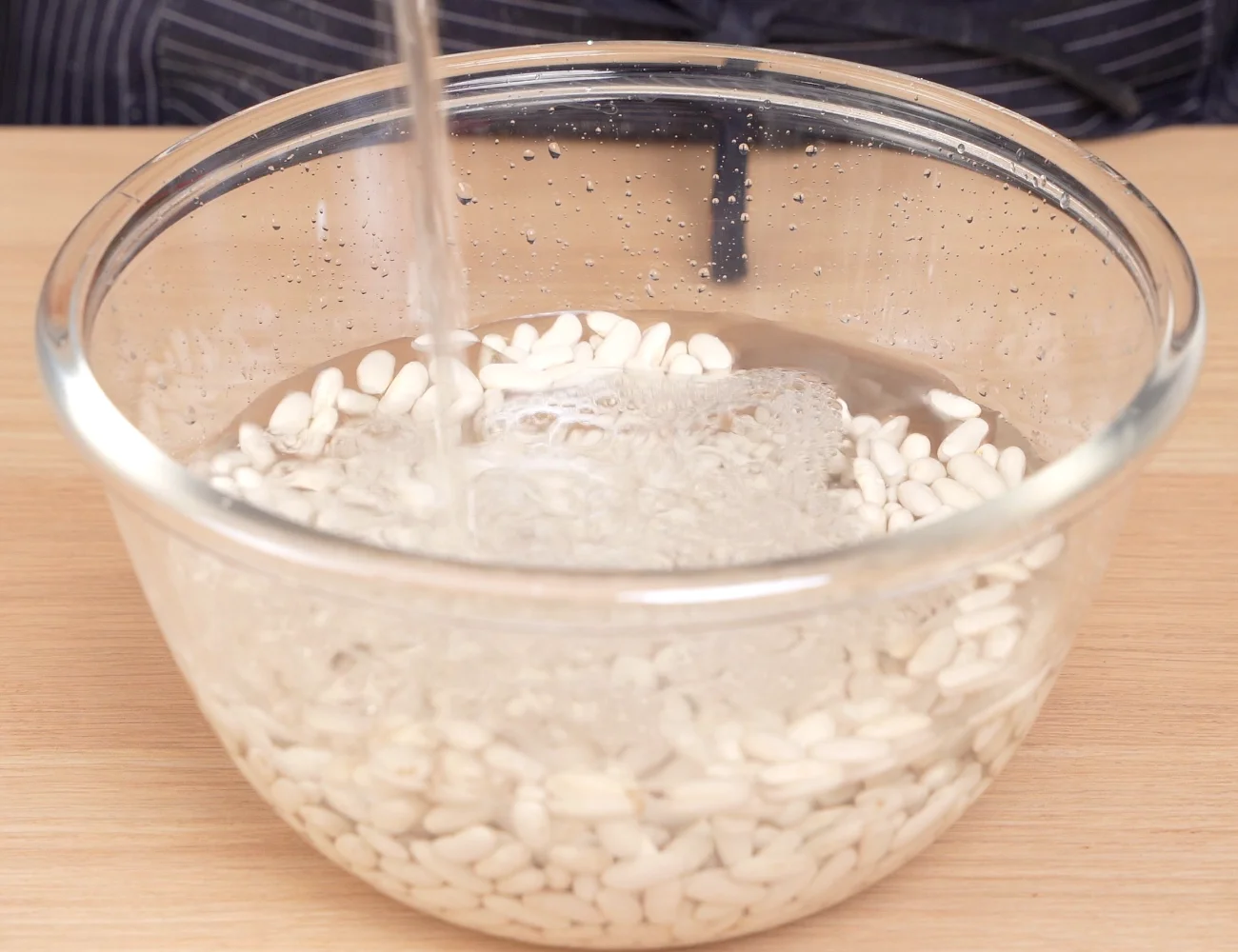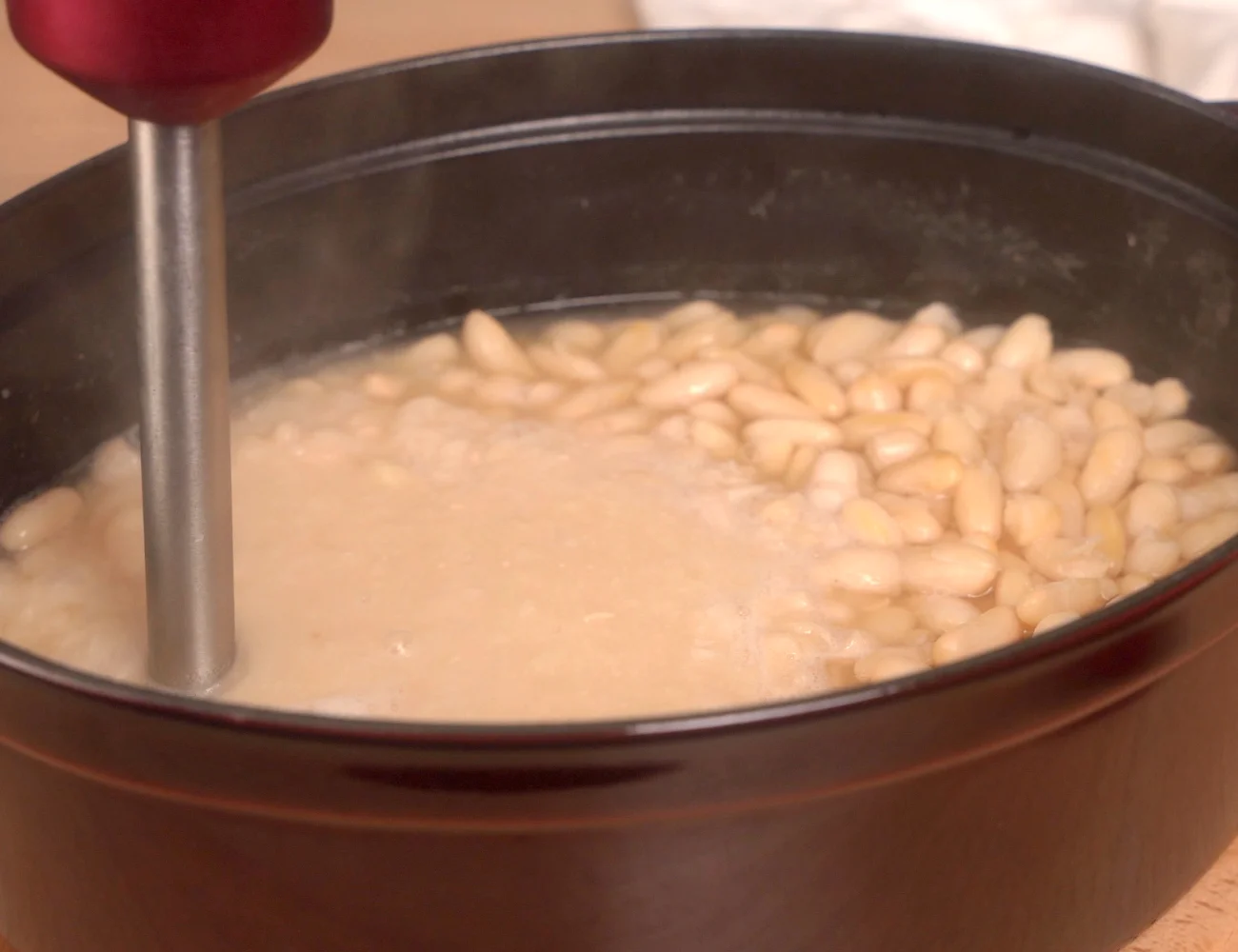 After the soak, you'll need to cook the beans in the same water until tender—about an hour. We blend a portion of the beans before adding them to the soup as a thickener.
Too much work? Canned beans will work fine. Add them with the liquid to the soup. Be sure to taste for salt before adding more since many canned beans already include additional salt.
Savoy Cabbage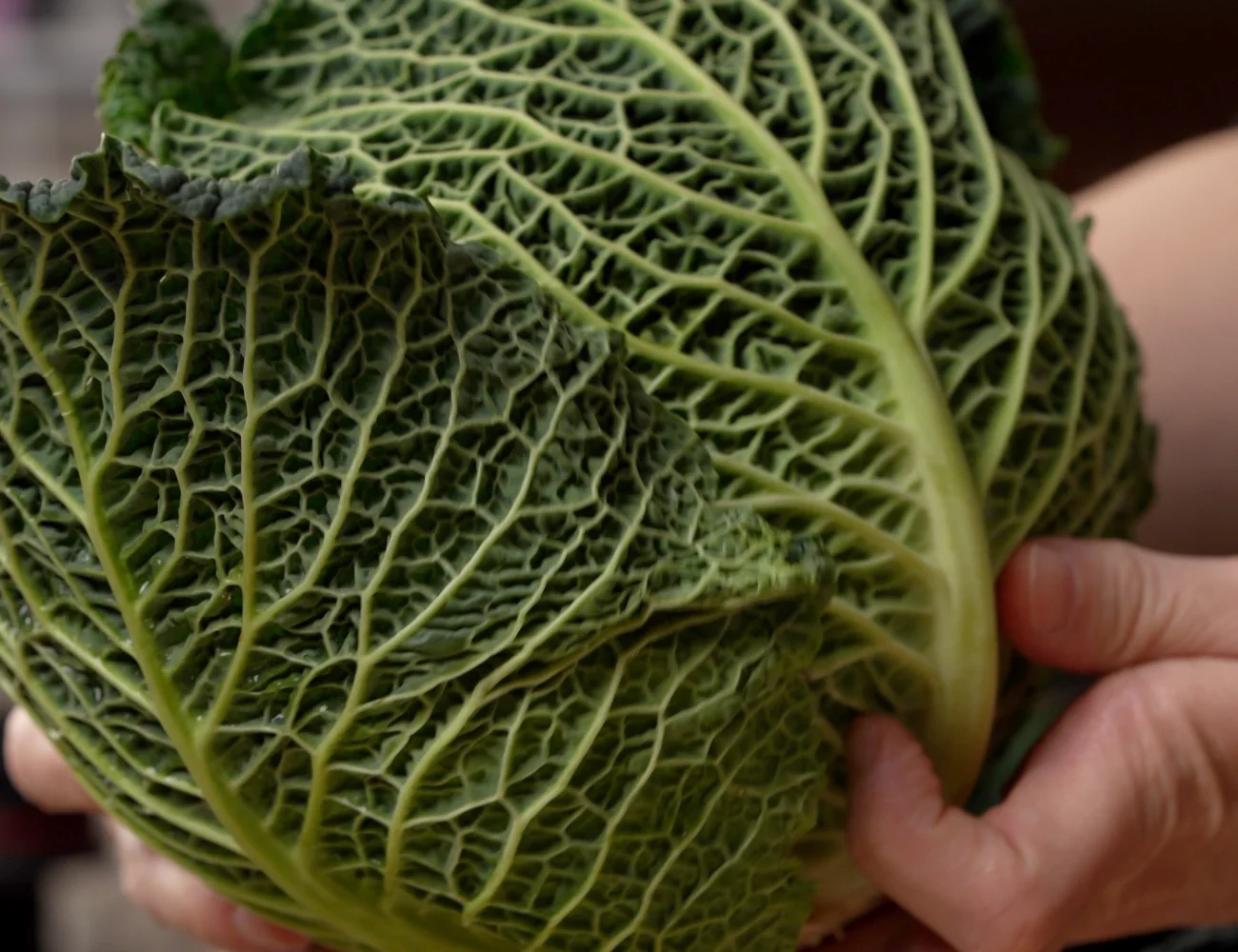 Another common ingredient in Italian Tuscan Bean Soup is savoy cabbage. We always add this to our Ribollita. Please note that you must choose savoy cabbage for this—it's completely different than other types of cabbage used in slaws!
We remove the large stems from the outer leaves of the savoy cabbage. Then, we simply chop the cabbage heart into bite-size pieces for this recipe.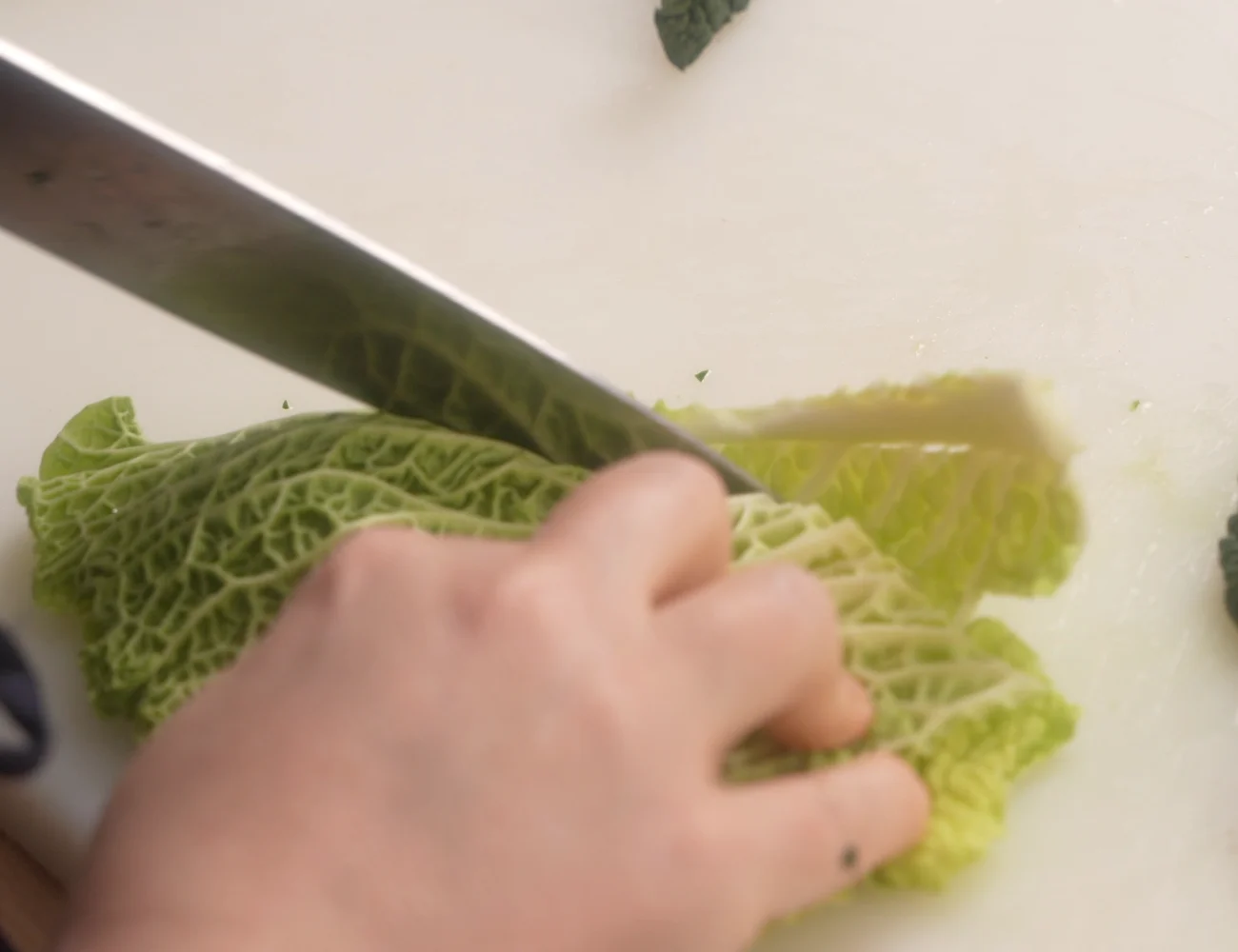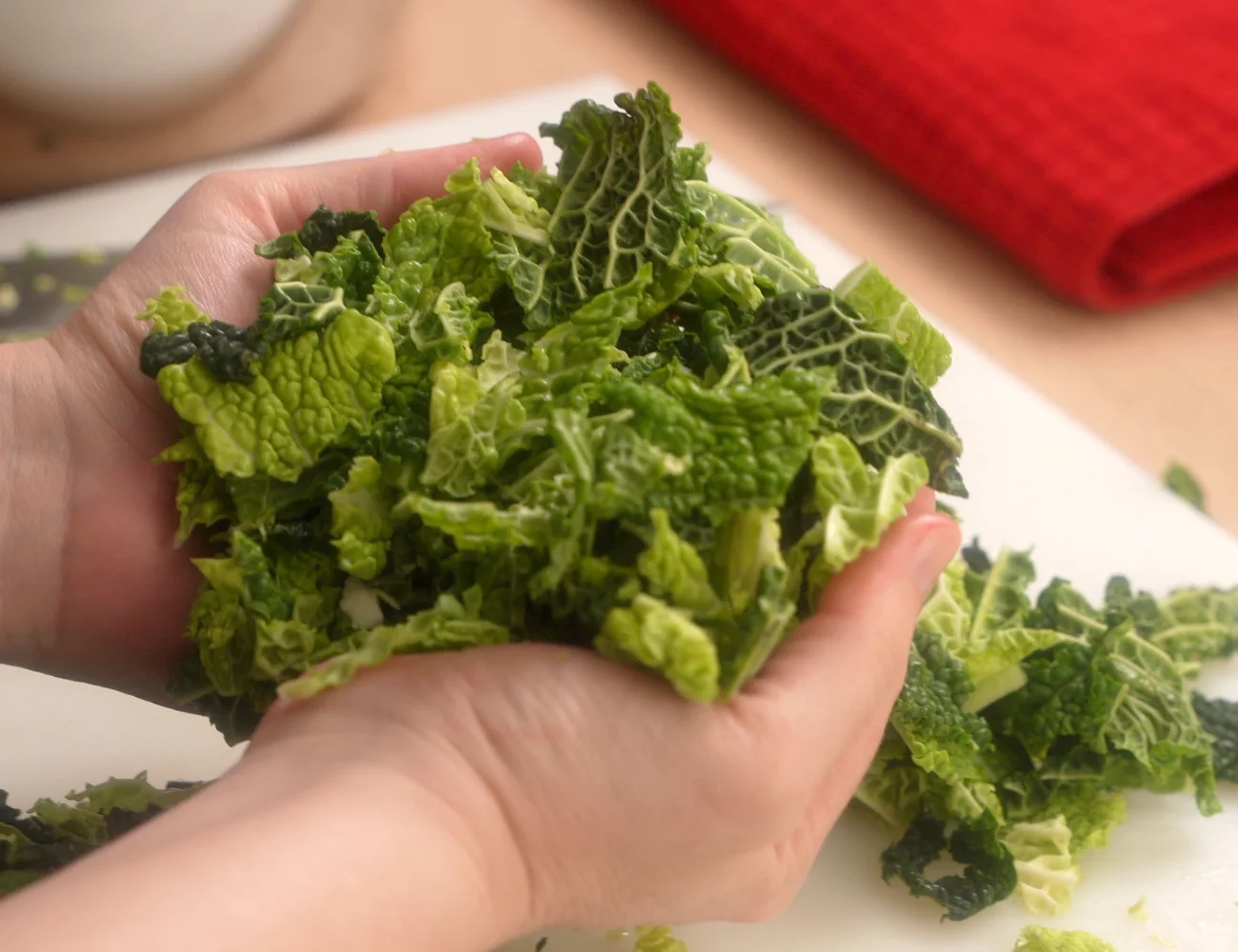 Tomato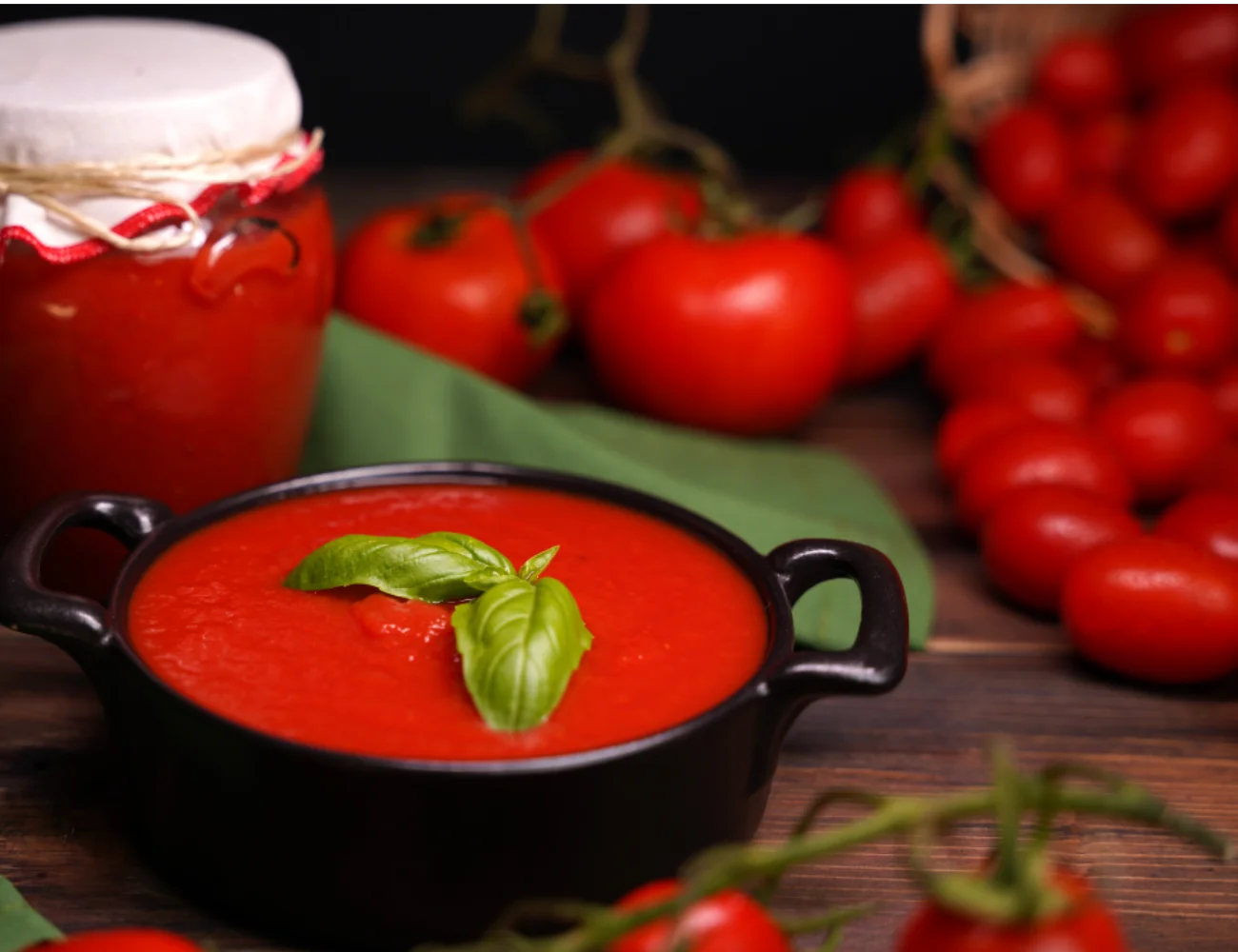 Tomato is traditionally added to Zuppa Toscana to give it a rust color—so, just a small amount of tomato is added relative to the soup. You can use purée, pulp or even concentrated tomato paste.
Chard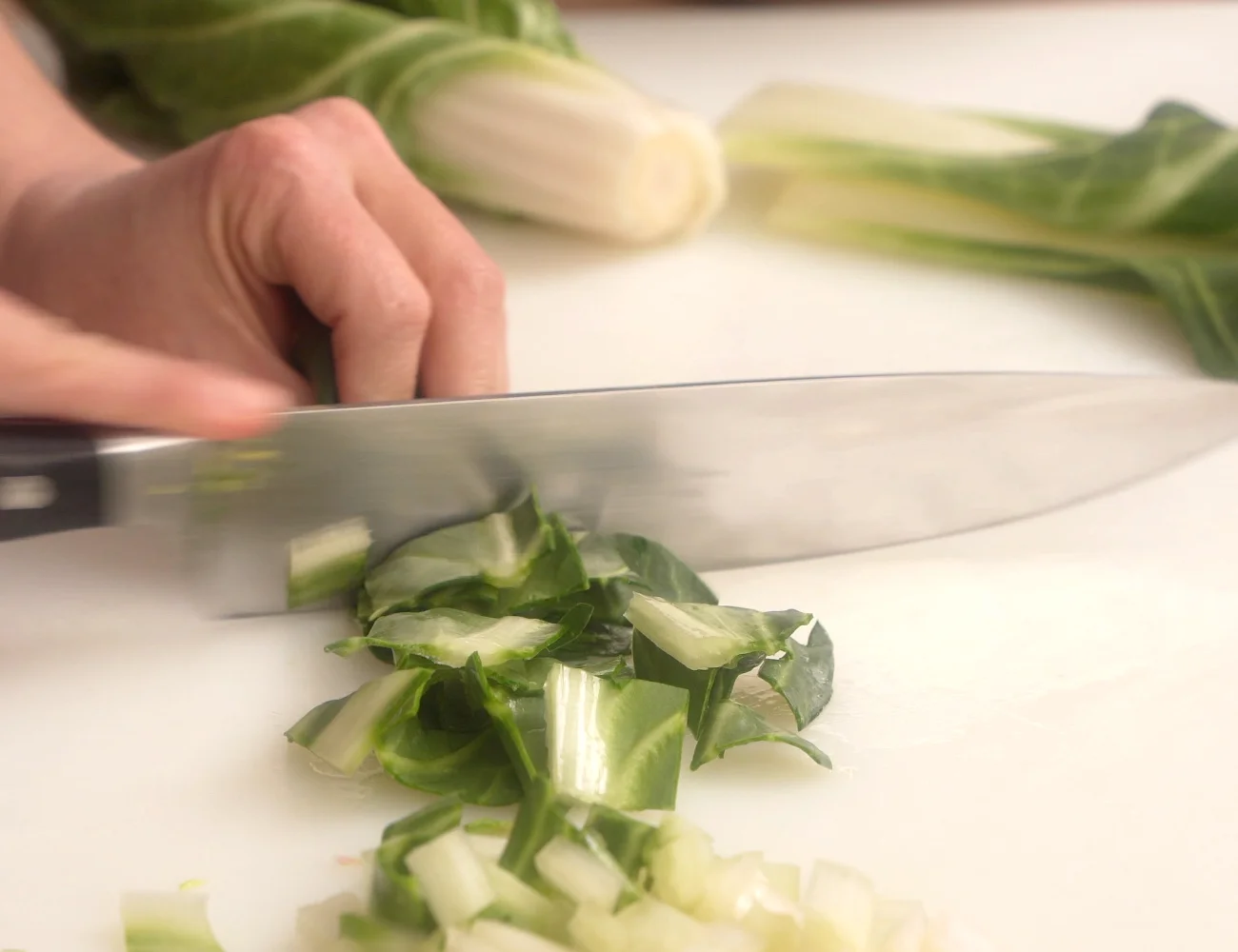 Another common ingredient in Tuscan Bean Soup is chard—and we always include this ingredient if we can find it.
If the chard is small and tender, we chop it all into bite-size pieces—including the stem. Otherwise, we remove the tough center stem as we do with lacinato kale.
Soffritto Ingredients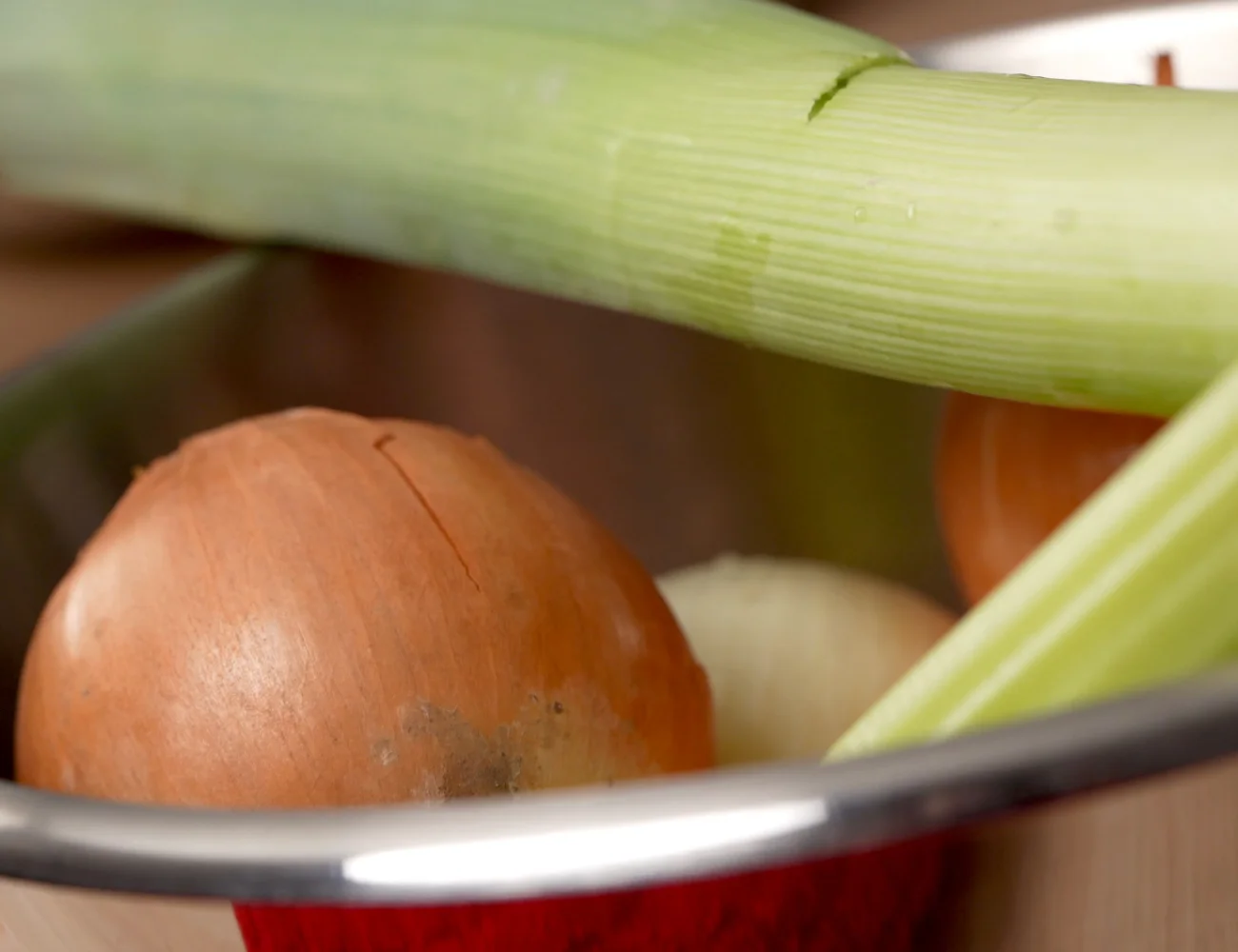 A soffritto is a common technique in Italian cooking. It simply refers to infusing fat (usually olive oil) with aromatics like onion, carrot and celery. By sautéing the aromatics—then de-glazing the pan with white wine—we create a base of flavor for many Italian food recipes —from pasta recipes to soups like this Tuscan Bean Soup.
In this Zuppa Toscana recipe, we use onion, carrot, celery, leek and parsley for our soffritto. We often add a whole sage leaf (which we later remove) for extra flavor. If we can find spring onion, we frequently use that along with yellow onion.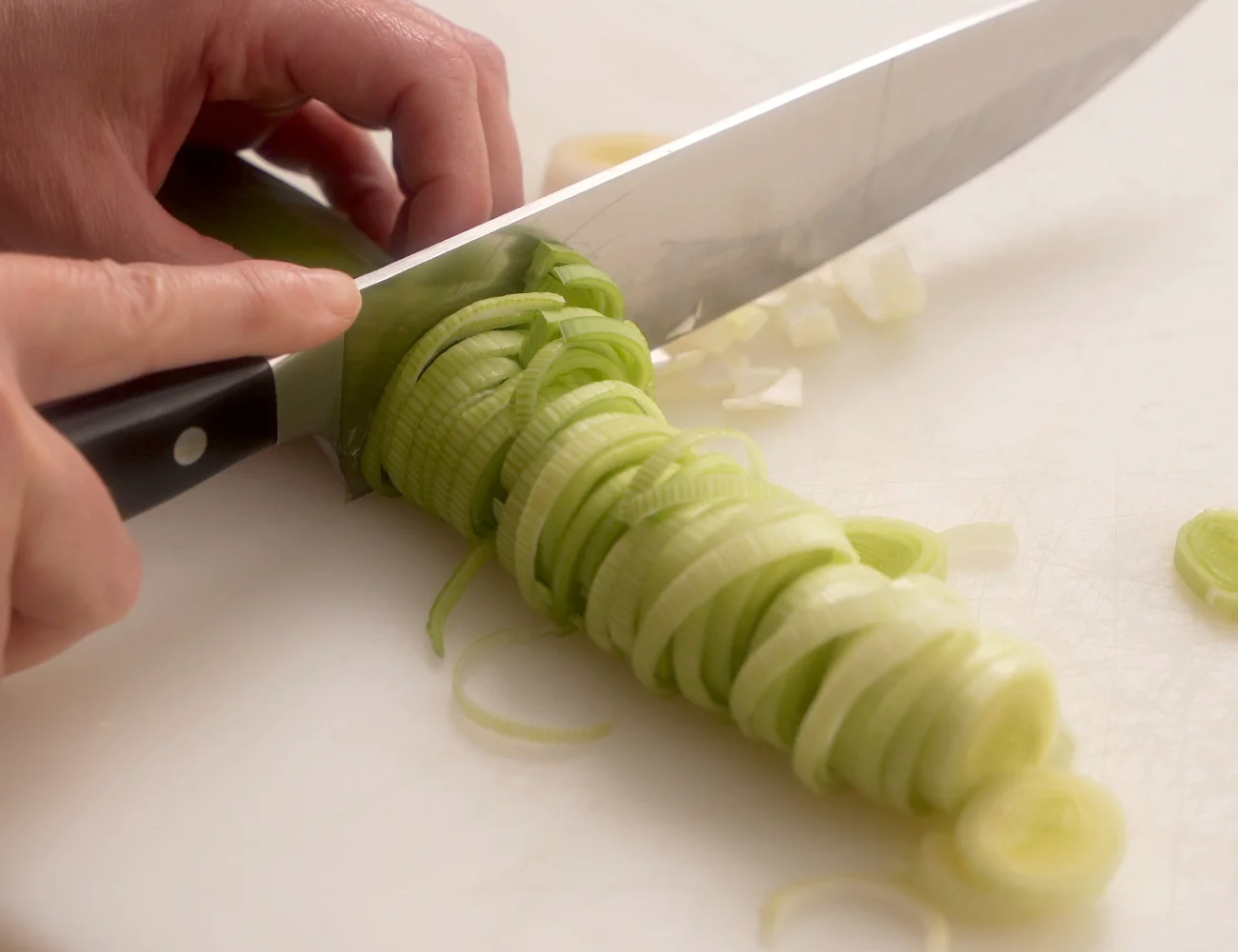 We always take a vegetable peeler to remove the outer skin of celery. Then, we crack each rib in two and pull any remaining strings from the celery (see below). Personally, we think stringy bites ruin the taste and texture of celery, so we always do a bit of extra prep to reduce the strings.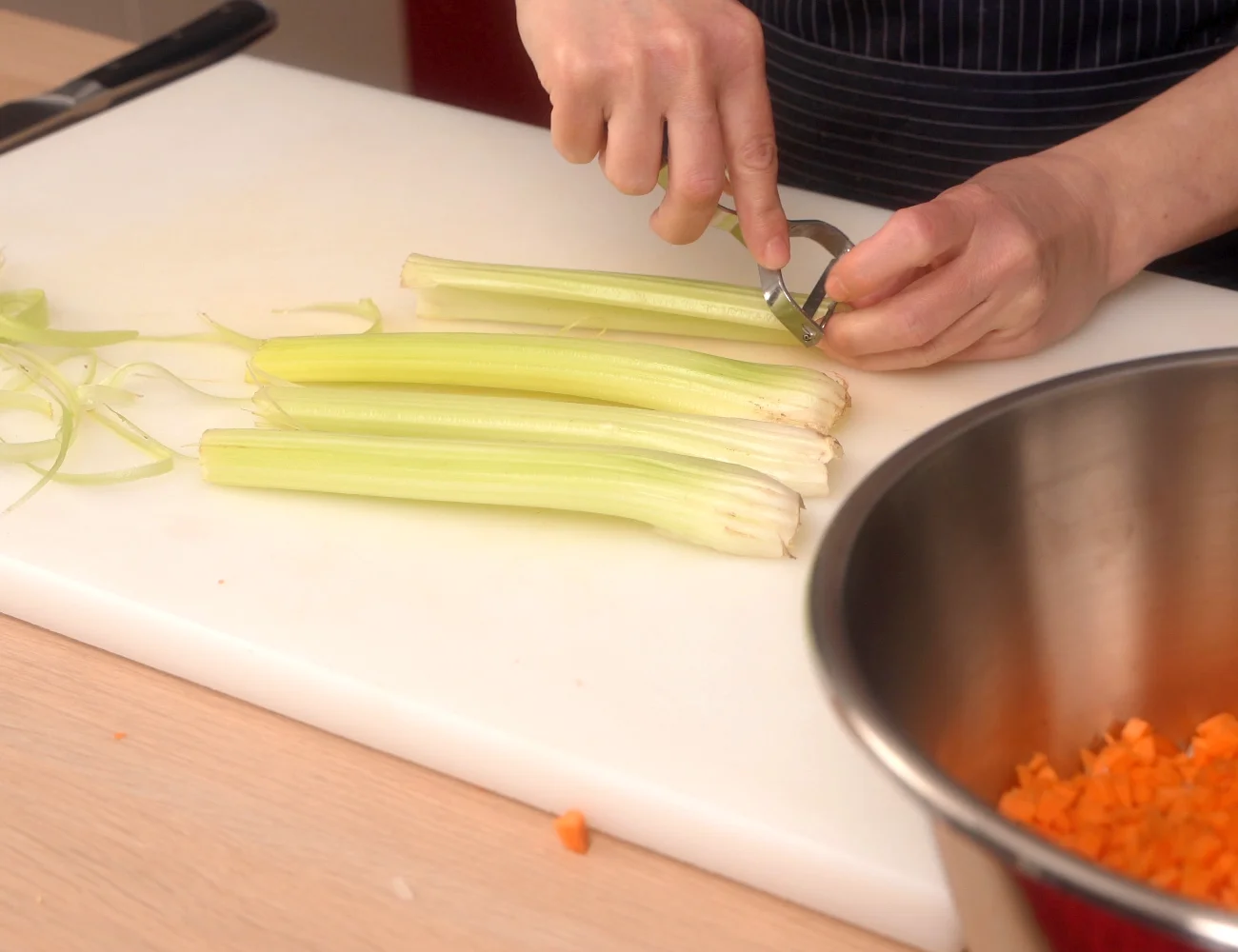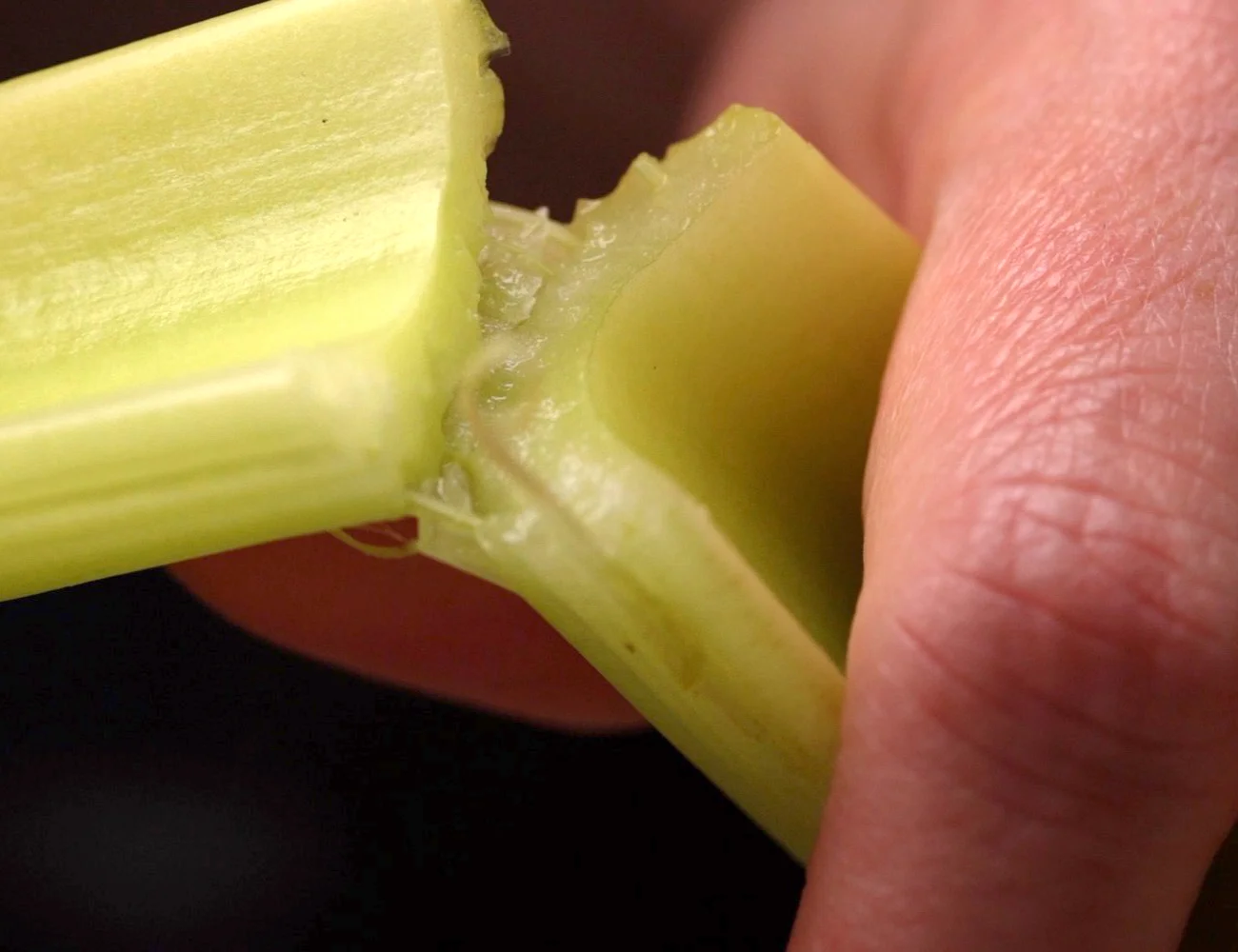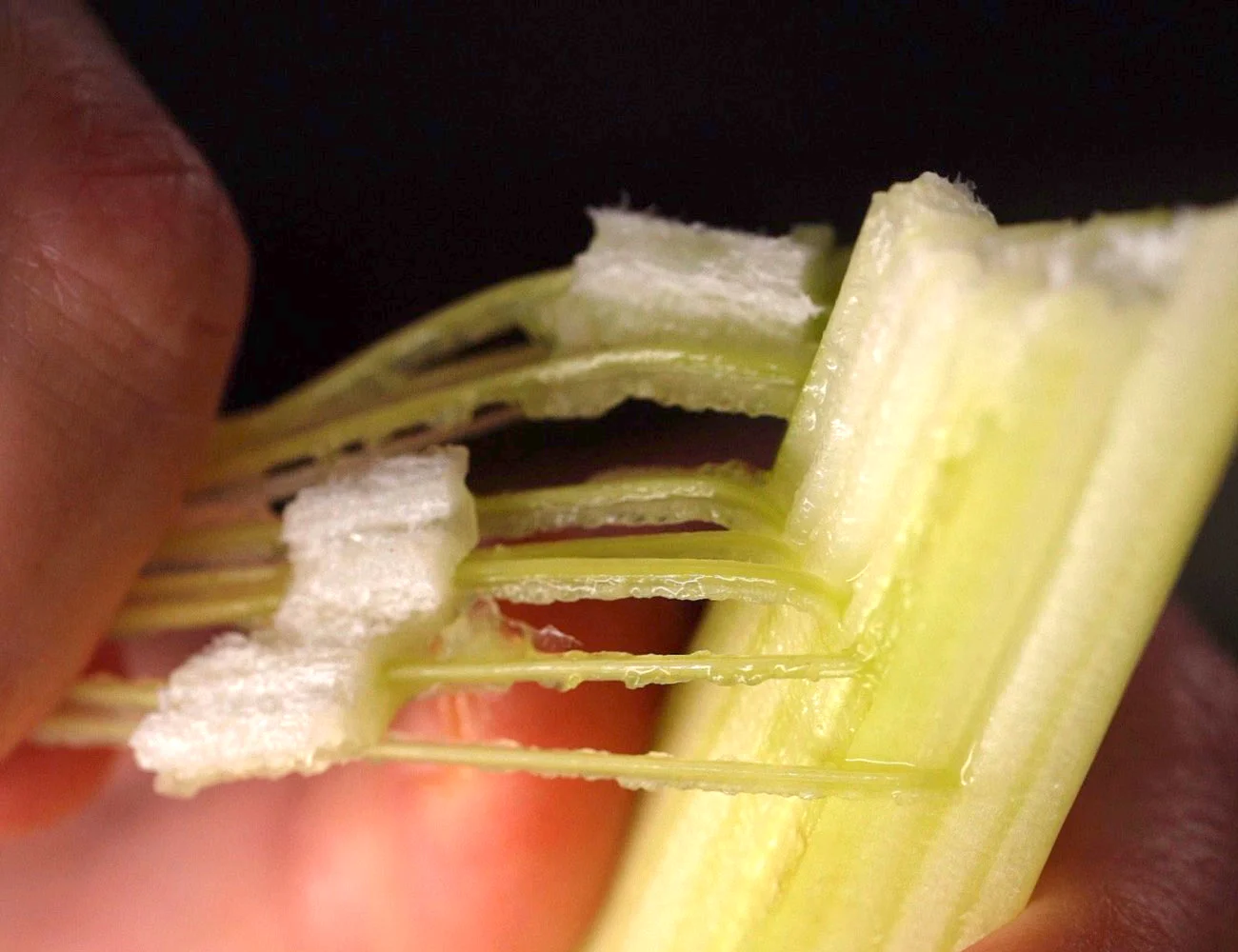 Optional Ingredients
Waxy Potato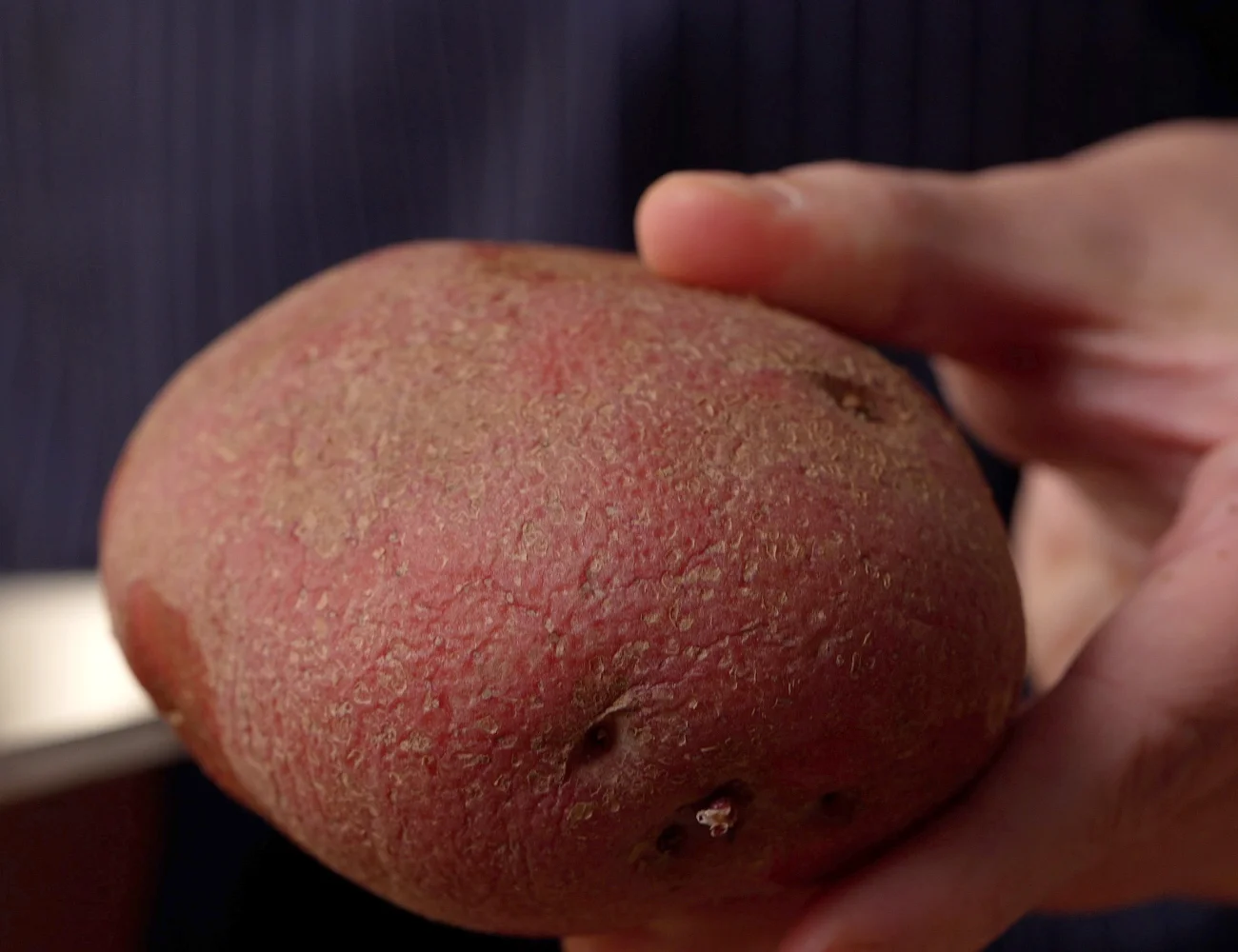 Potatoes are a common addition to Ribollita and they really deliver! Be sure to choose a moderately waxy potato (Yukon, Red) rather than a dry mealy potato like a Russet.
The waxy potatoes are better for soups because they hold their shape after boiling due to having a higher water content. In contrast, the starchy potatoes (like Russet) are more likely to disintegrate after a long cook. Here, we want our potatoes to maintain their integrity.
Cinta Senese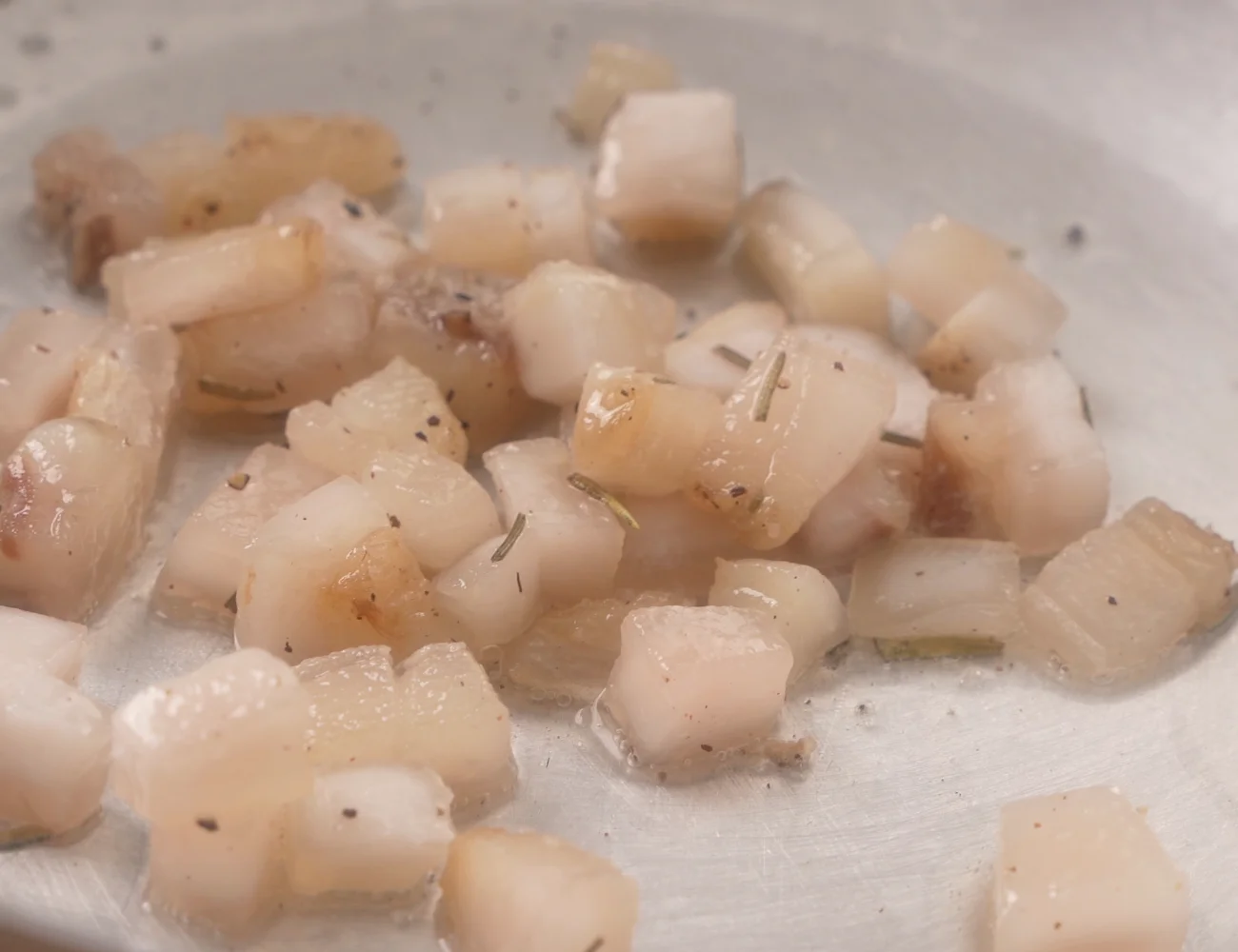 Olive oil is definitely the most traditional fat for this dish—the one used to make the soffritto. However, in the spirit of Tuscany, we sometimes add another Tuscan fat to the soffritto: the world's healthiest lard!
That's right, there is a healthy lard and Tuscany is famous for it!
Lardo di Colonnata di Cinta Senese is uniquely chock full of unsaturated fats—yes, you read that right—as well as omega-3 and omega-6. We've also added this little treat to our traditional Tuscan Beans recipe.
Tuscan Bread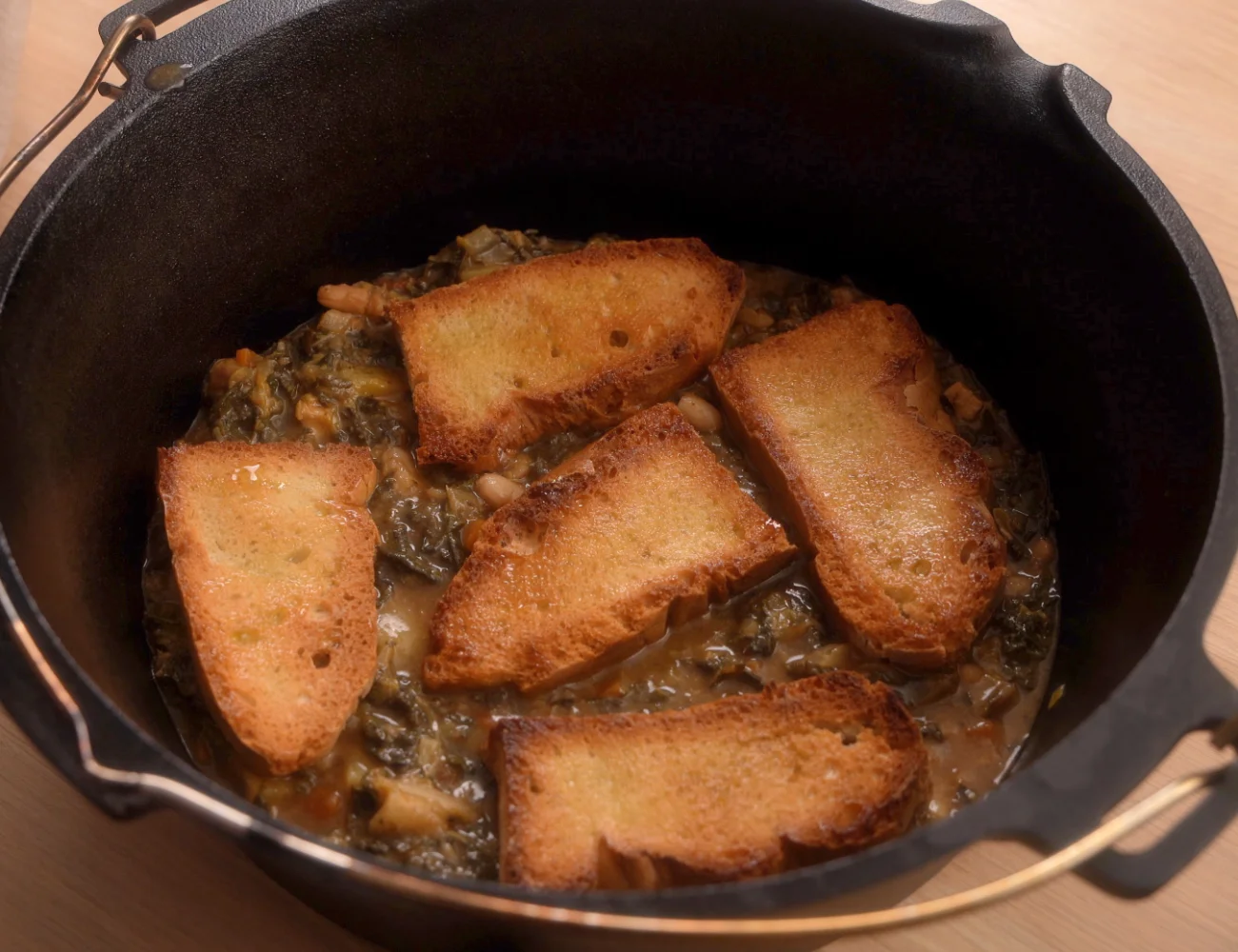 Zuppa Toscana is sometimes called 'bread soup' abroad because it is traditionally layered with toasted bread before the reboil (ribollita means reboil in Italian).
There are many kinds of breads popular in Italy, but the most common style used for making bruschetta is a dense, hard crust bread that is wood fire oven. And in fact, this is the type of bread you see in the photo.
The type of bread used for making bruschetta is not only dense, but is lacking in salt and fat. In Italy, it's expected that this type of bread will be topped or soaked with ingredients that give it more taste. If used for a bruschetta, the toasted bread is rubbed with fresh garlic and covered in extra virgin olive oil and a pinch of salt.
Or, perhaps the bread is enjoyed with a bit of salty aged cheese or prosciutto. This same type of bread is used to make Panzanella Bread Salad in Italy, as it does a great job of soaking up liquid. Outside of Italy, you'll want to reach for a hard sourdough bread rather than a soft so-called 'Italian bread.' It's closer to what Italians use to make the Ribollita.
---
How to Make Tuscan Bean Soup with Kale and Cannellini
Prepare the Vegetables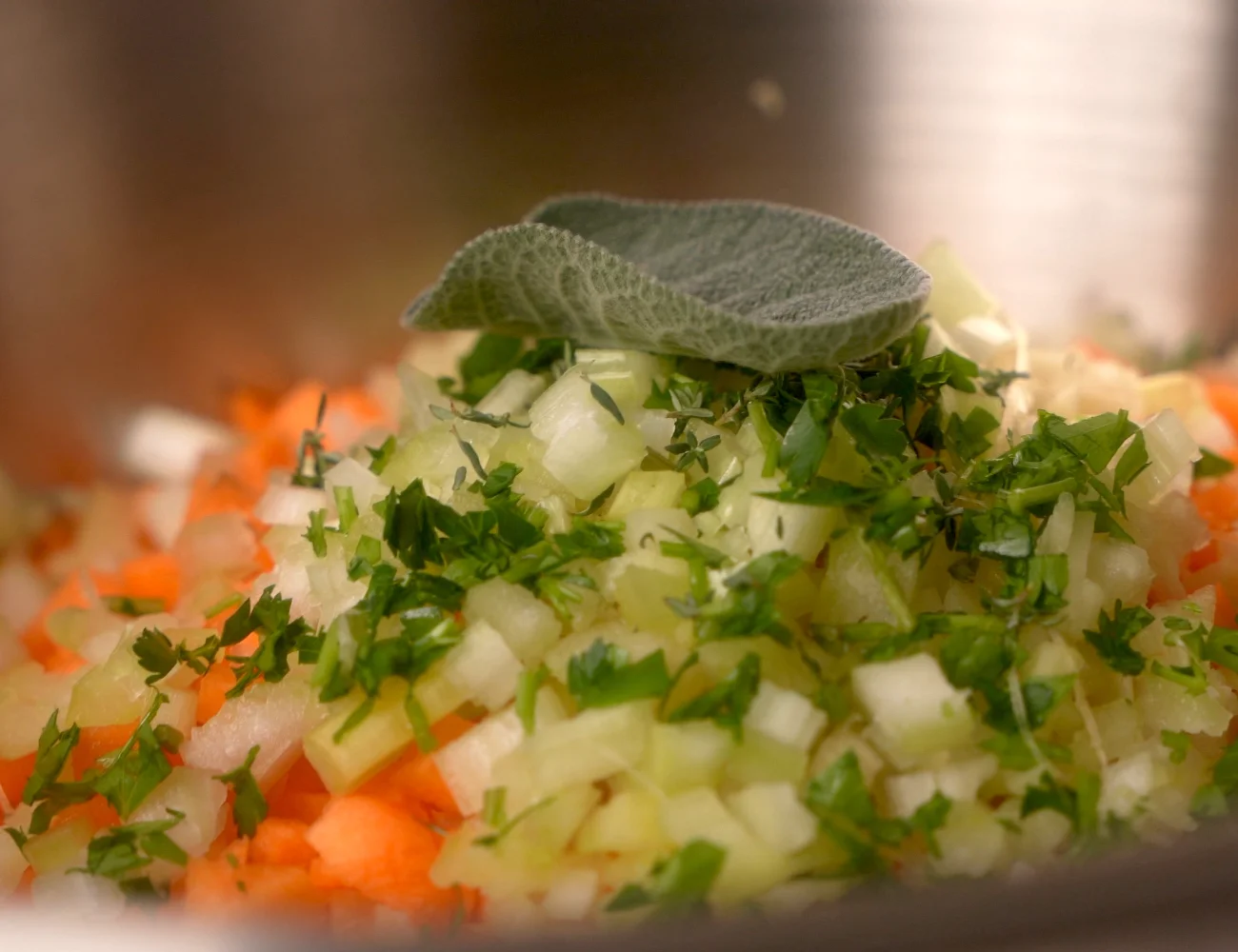 Prepare the vegetables as we've described in the 'Ingredients' section. In other words:
Chop the lacinato kale, chard and savoy cabbage into bite-size pieces
Soak and pre-cook the dry beans (if using)—otherwise, use canned cannellini beans
Mince: carrots, onions, leek, celery, thyme and parsley
Cut the potatoes into bite-size pieces
Make the Soffritto (Soup Base)
Over medium-high heat, warm olive oil. Add the minced aromatics and cook until the vegetables are tender.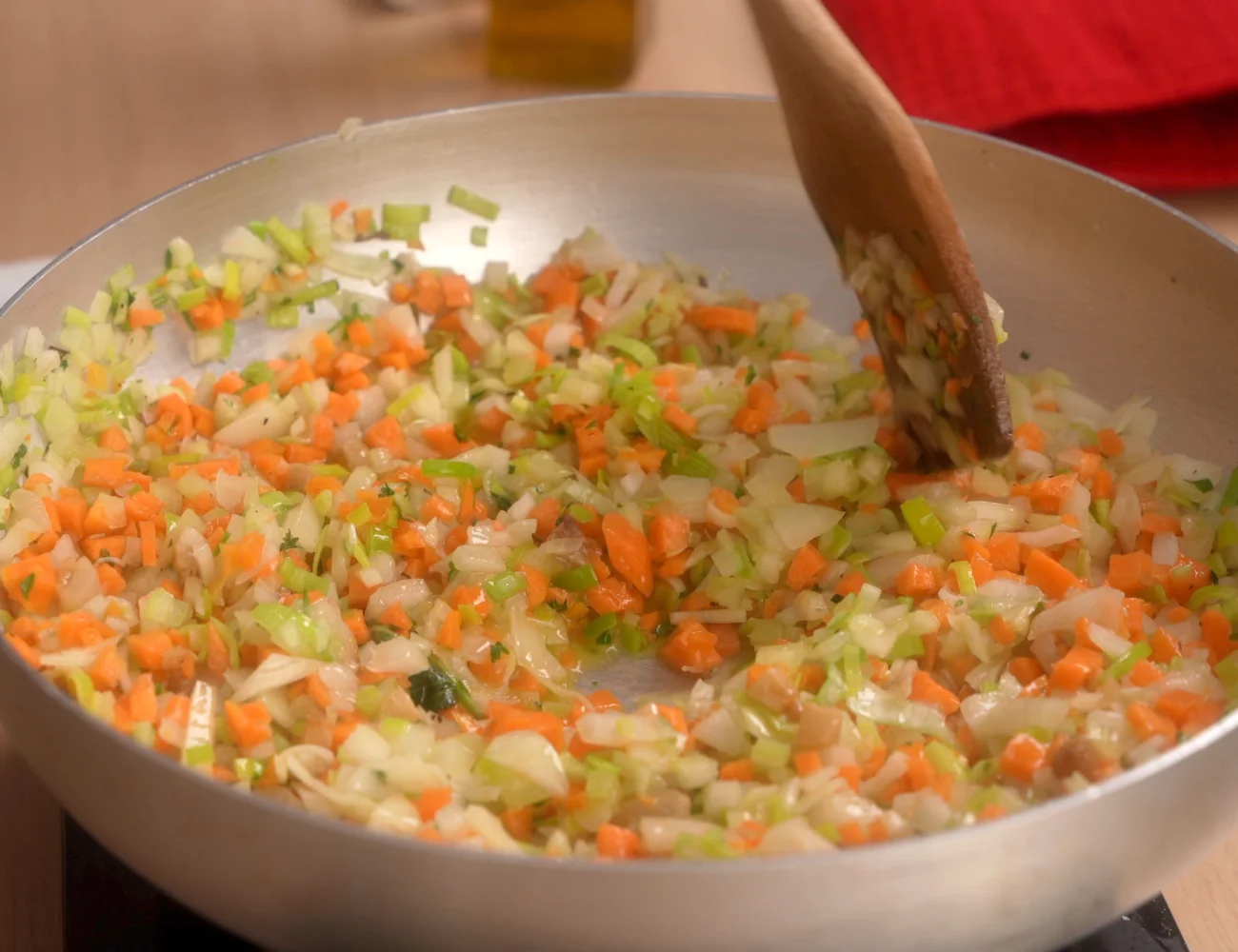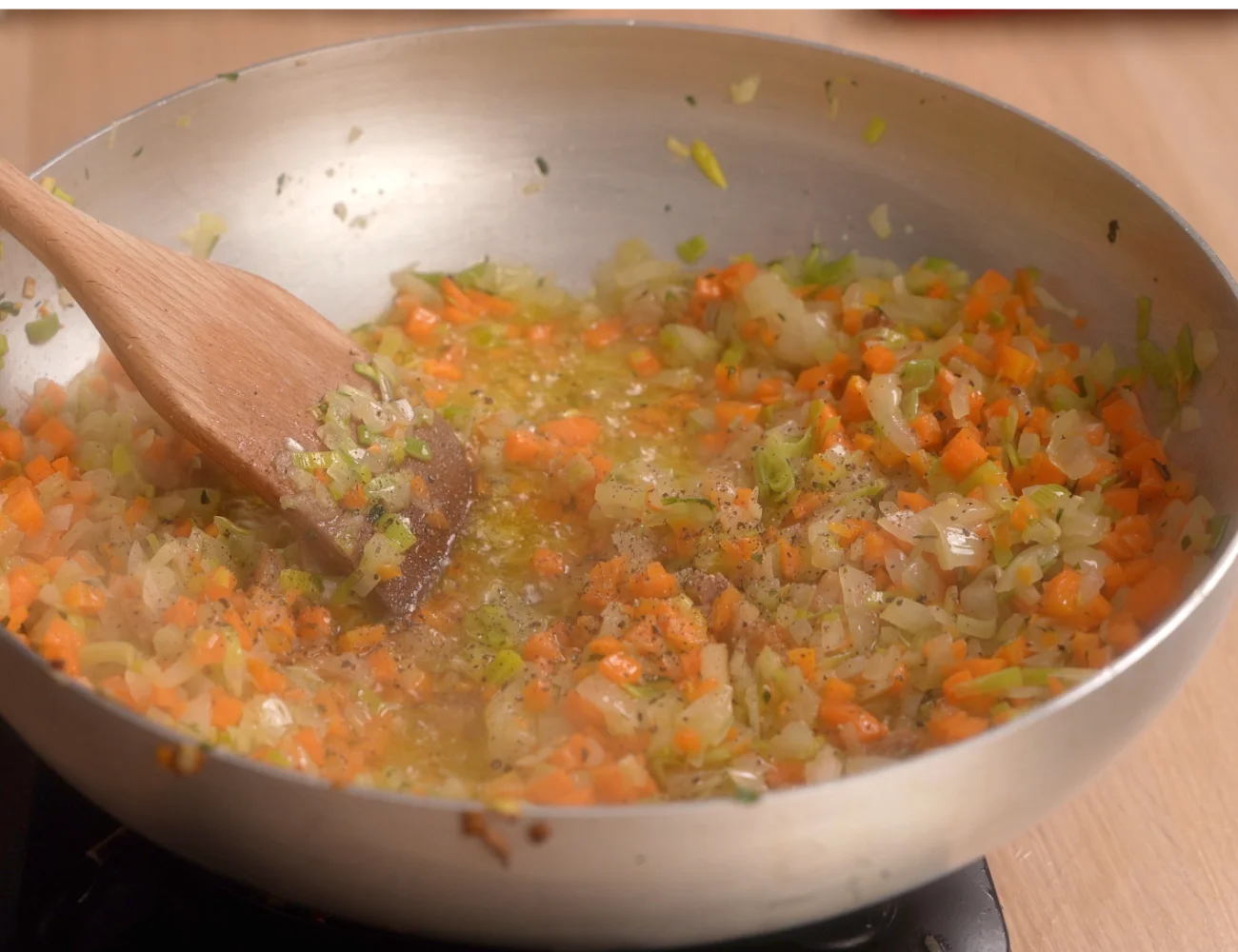 Partially Cook the Kale, Cabbage and Chard
While the vegetables are sautéing, combine the potato, tomato, beans and the leafy greens in a large stock pot along with broth and water. Mix thoroughly. Cook covered over medium heat to wilt the leafy greens.
Once the soffritto is ready, add that to the stock pot as well and mix to combine.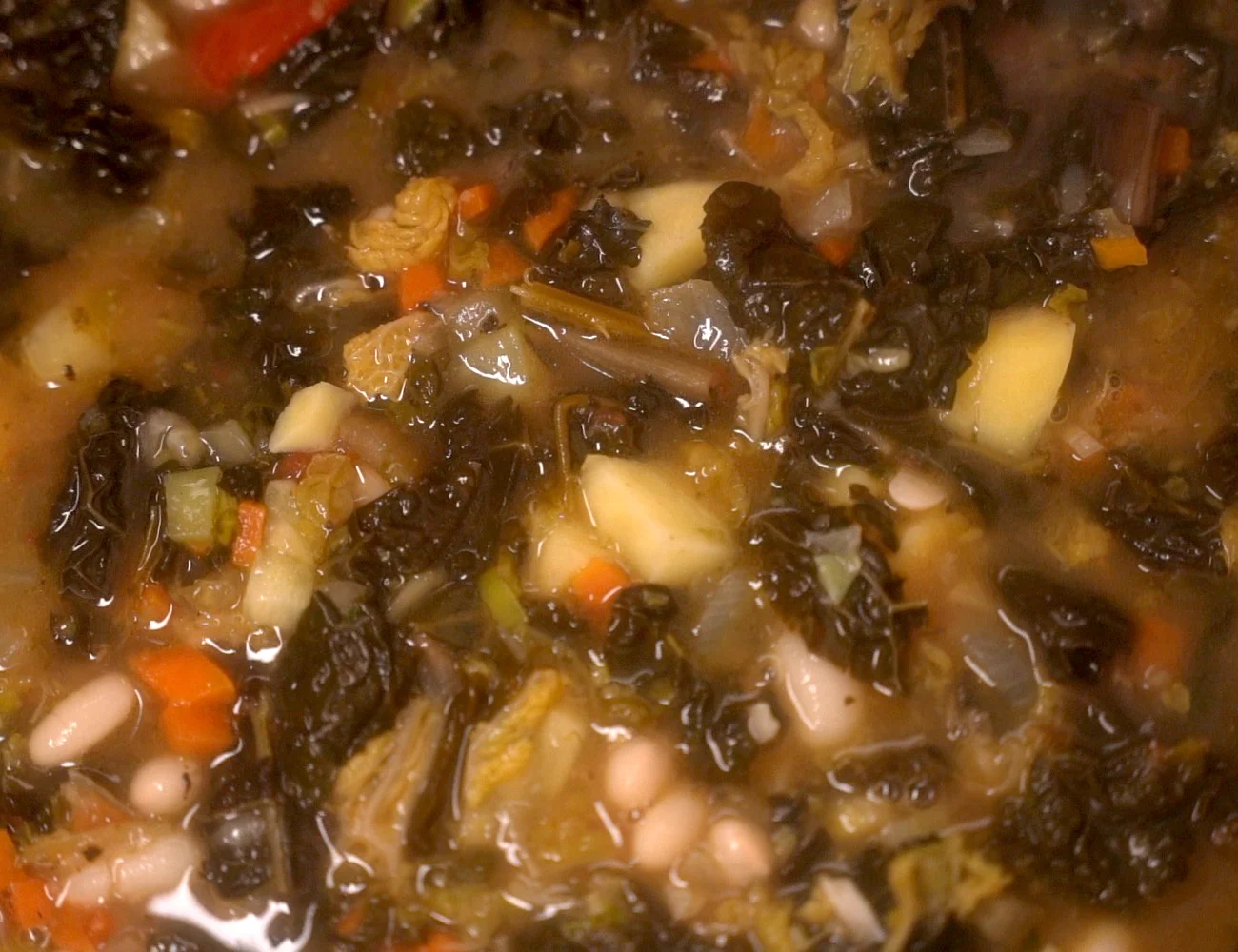 Simmer the Tuscan Bean Soup
Simmer the soup over medium-low heat for about 2 hours. Stir the soup every 15 minutes to prevent sticking to the bottom of the stockpot.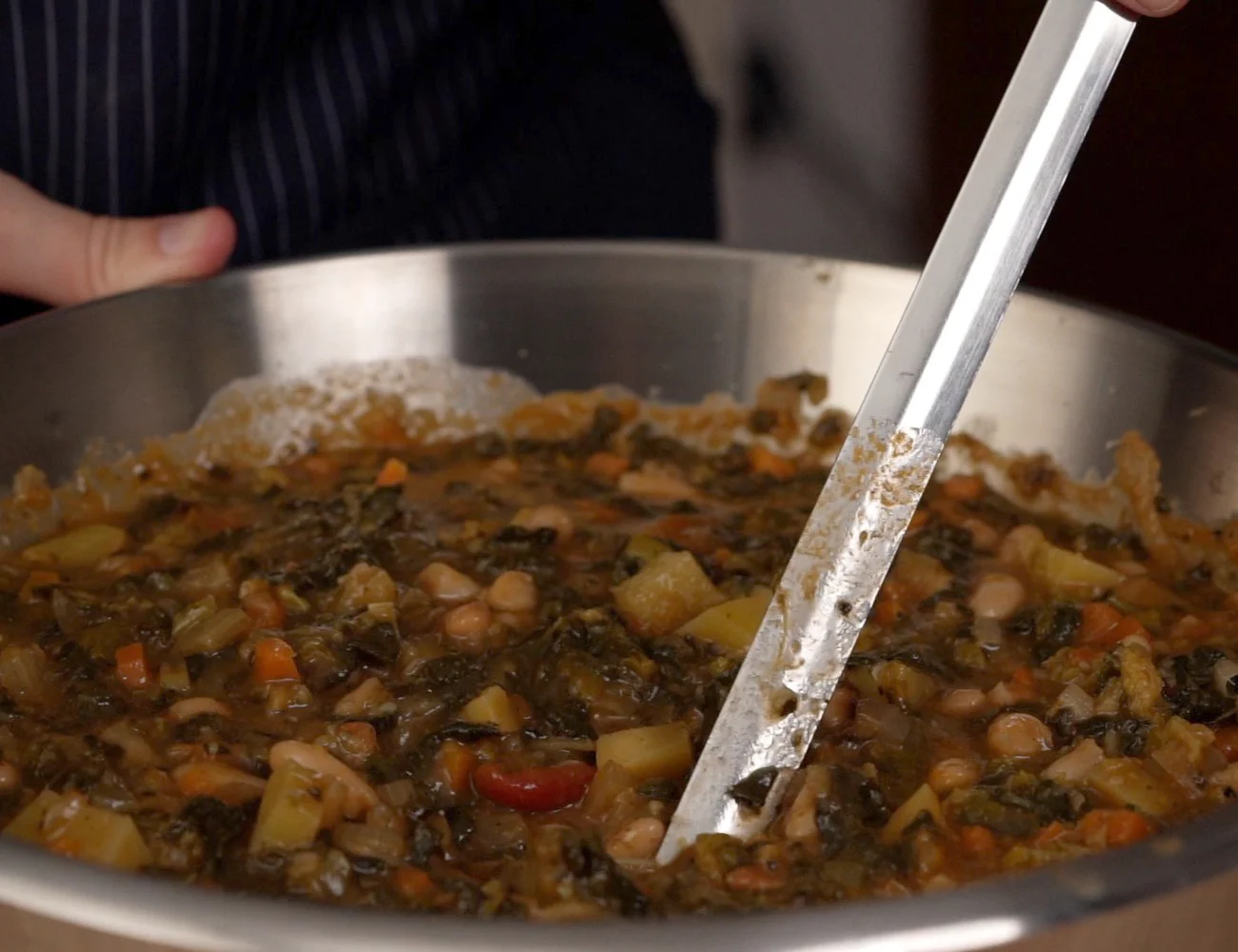 Reboil the Soup—with Bread—to make Ribollita
As mentioned, this Tuscan soup is traditionally called Ribollita because it is 're-boiled' with bread to make it even heartier—and tastier!
Here, we have toasted thick slices of Tuscan bread in an oven, rubbed fresh garlic over each slice and topped the bruschetta with extra virgin olive oil and a pinch of salt. Then, we layer the bread with the Zuppa Toscana before reheating it.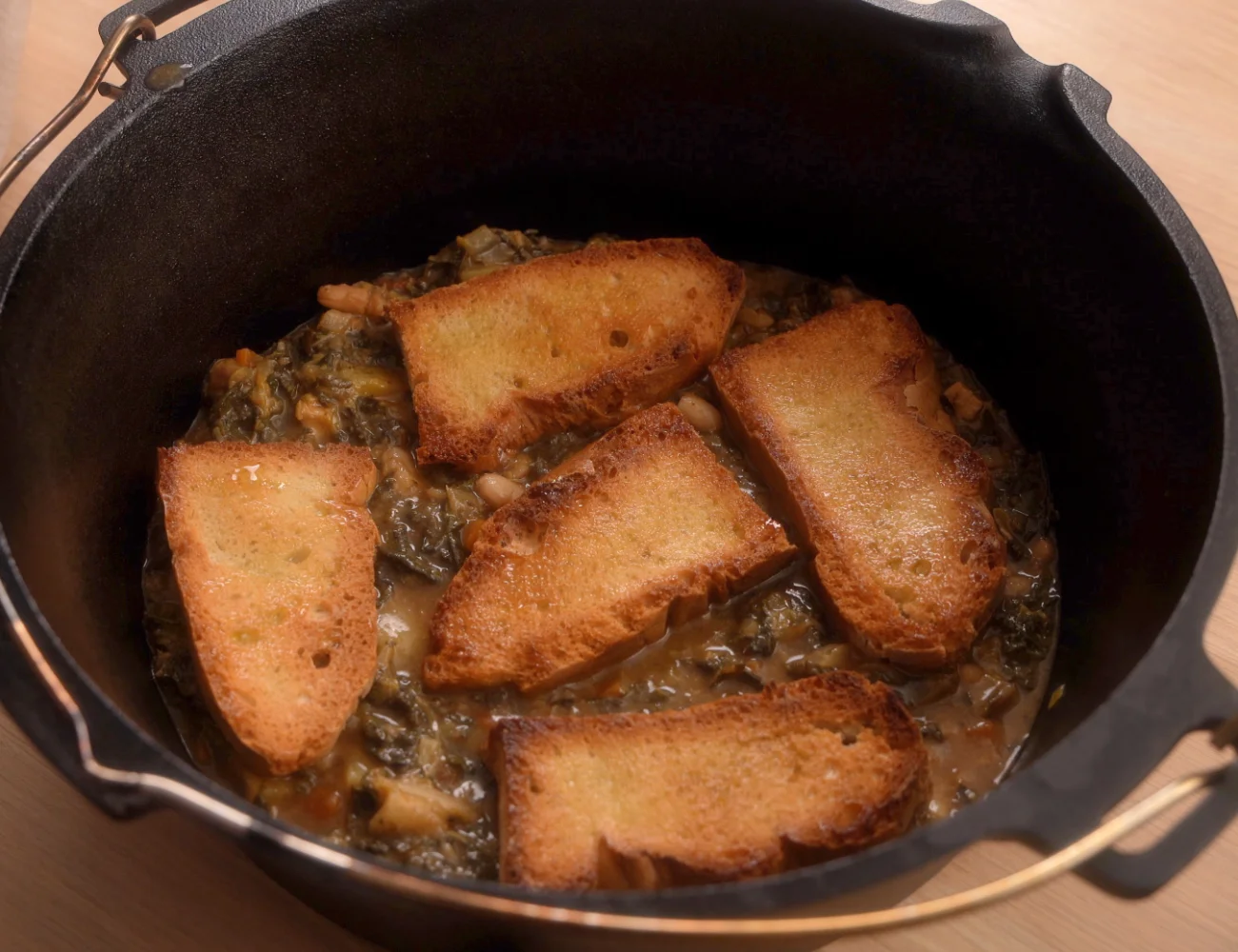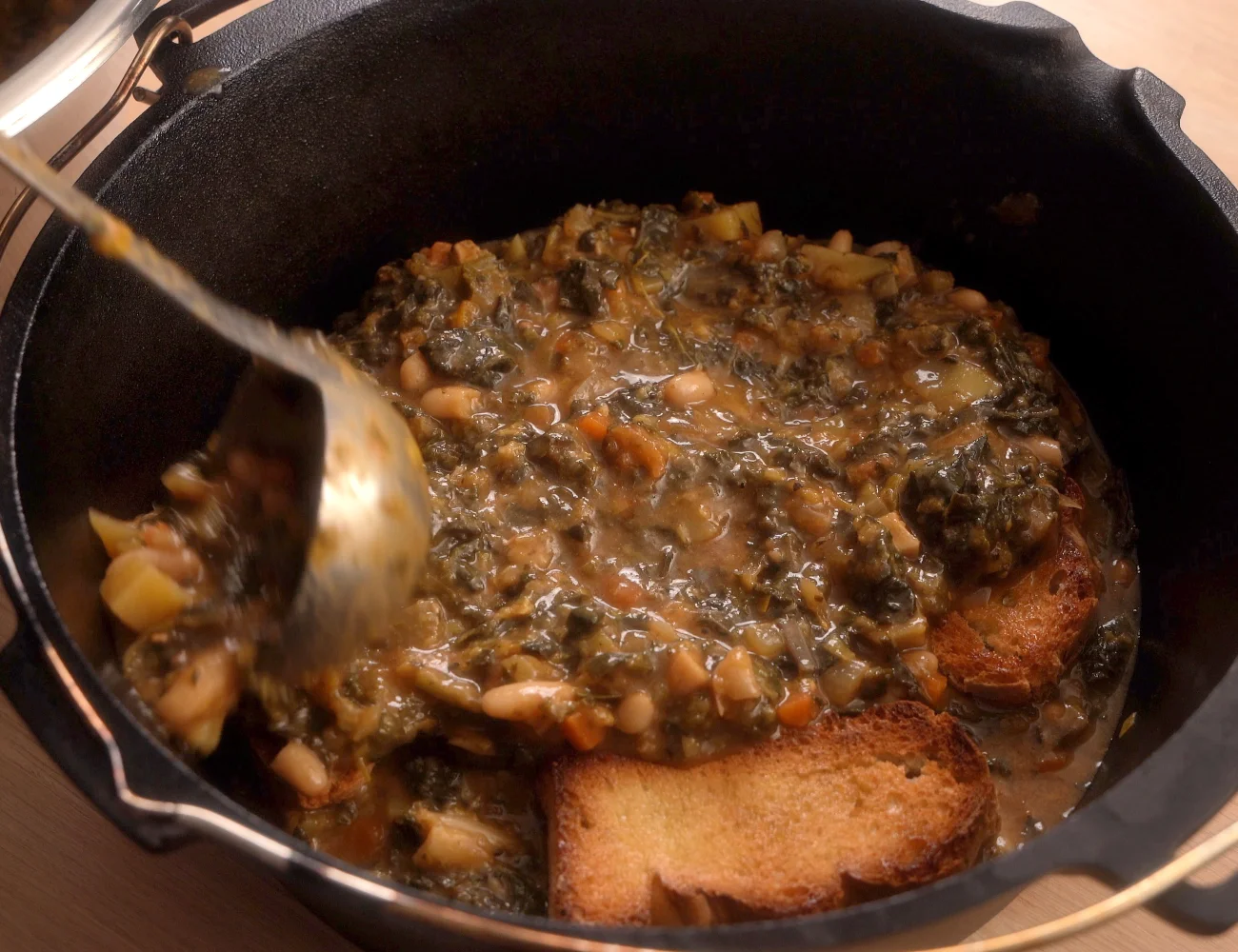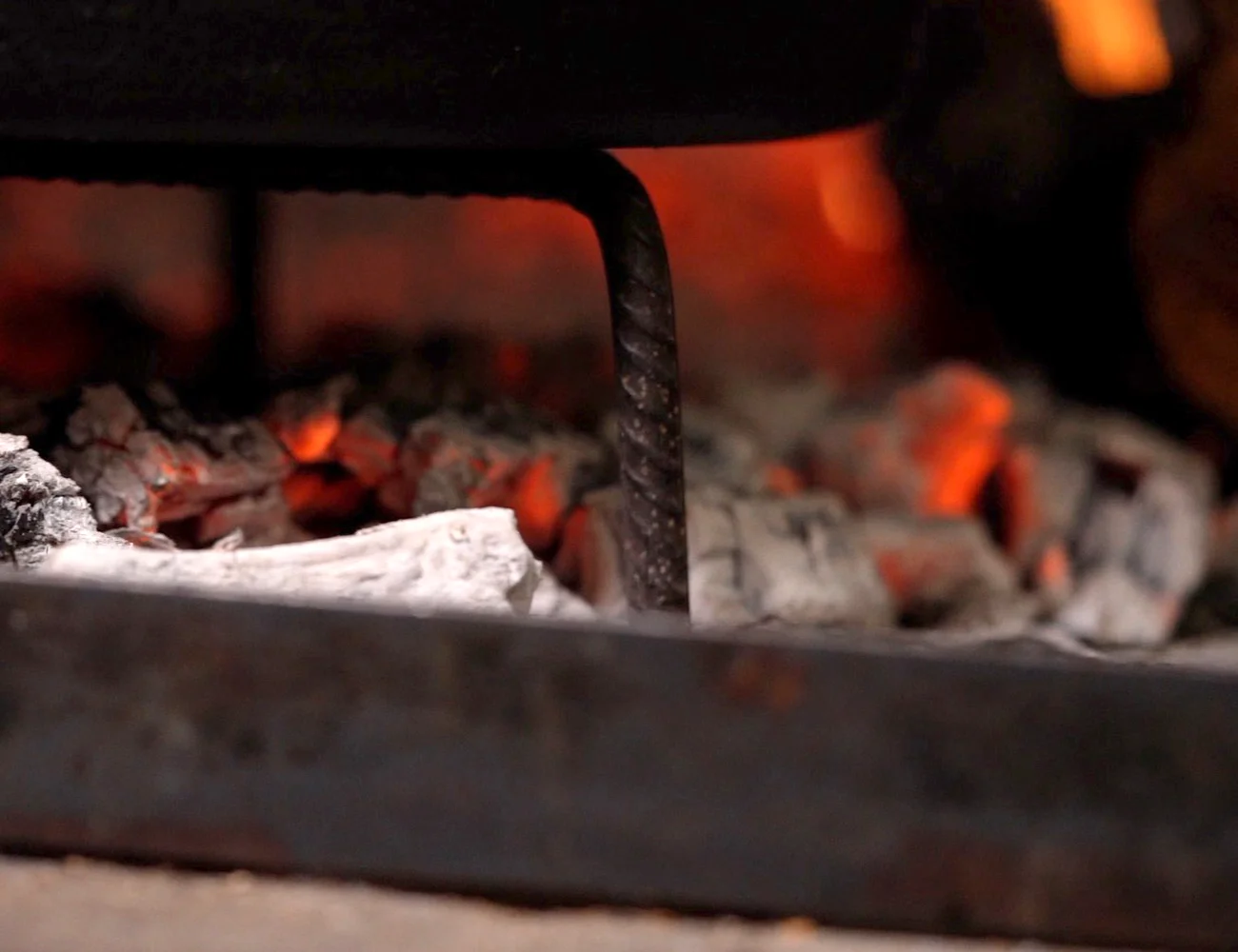 Buon Appetito!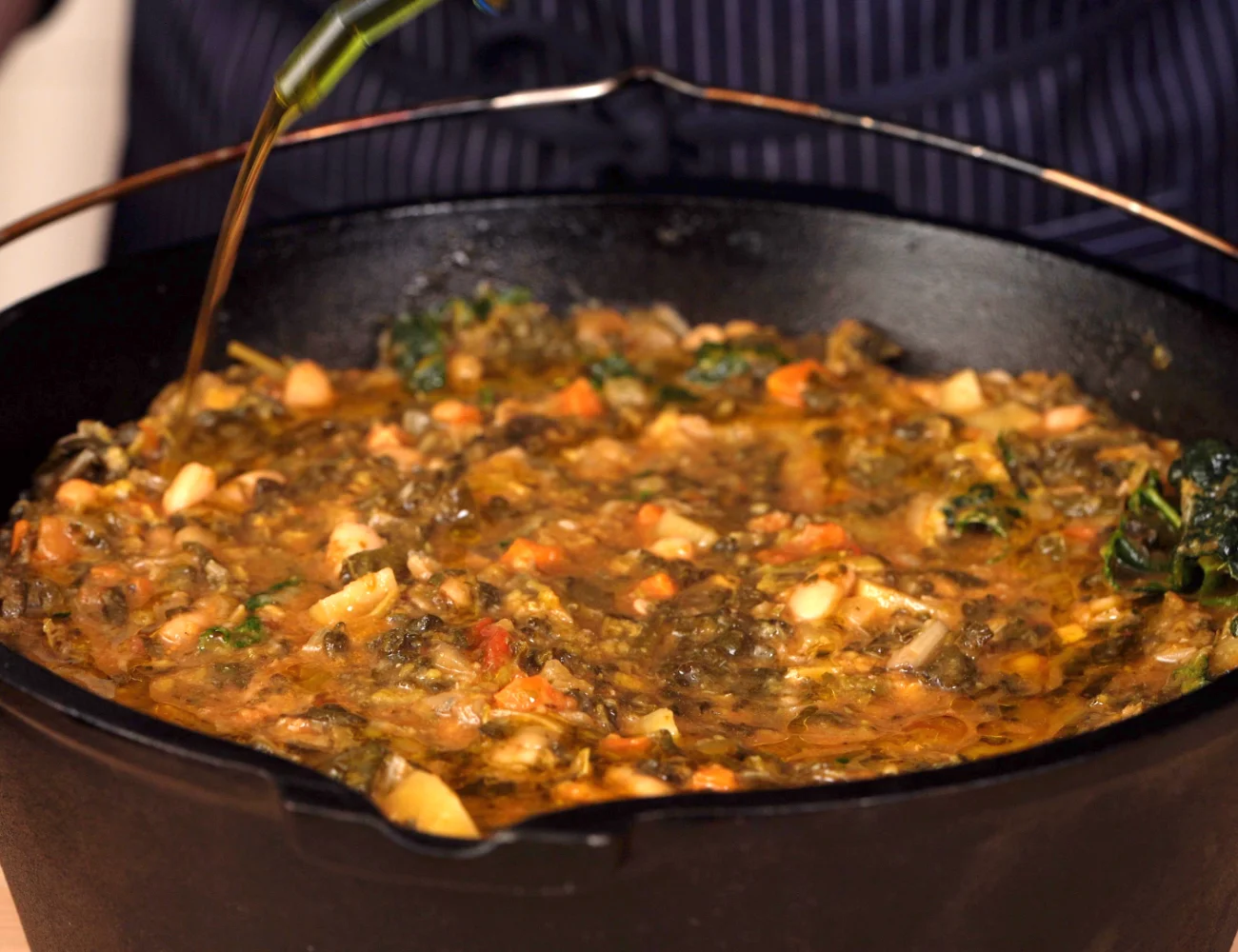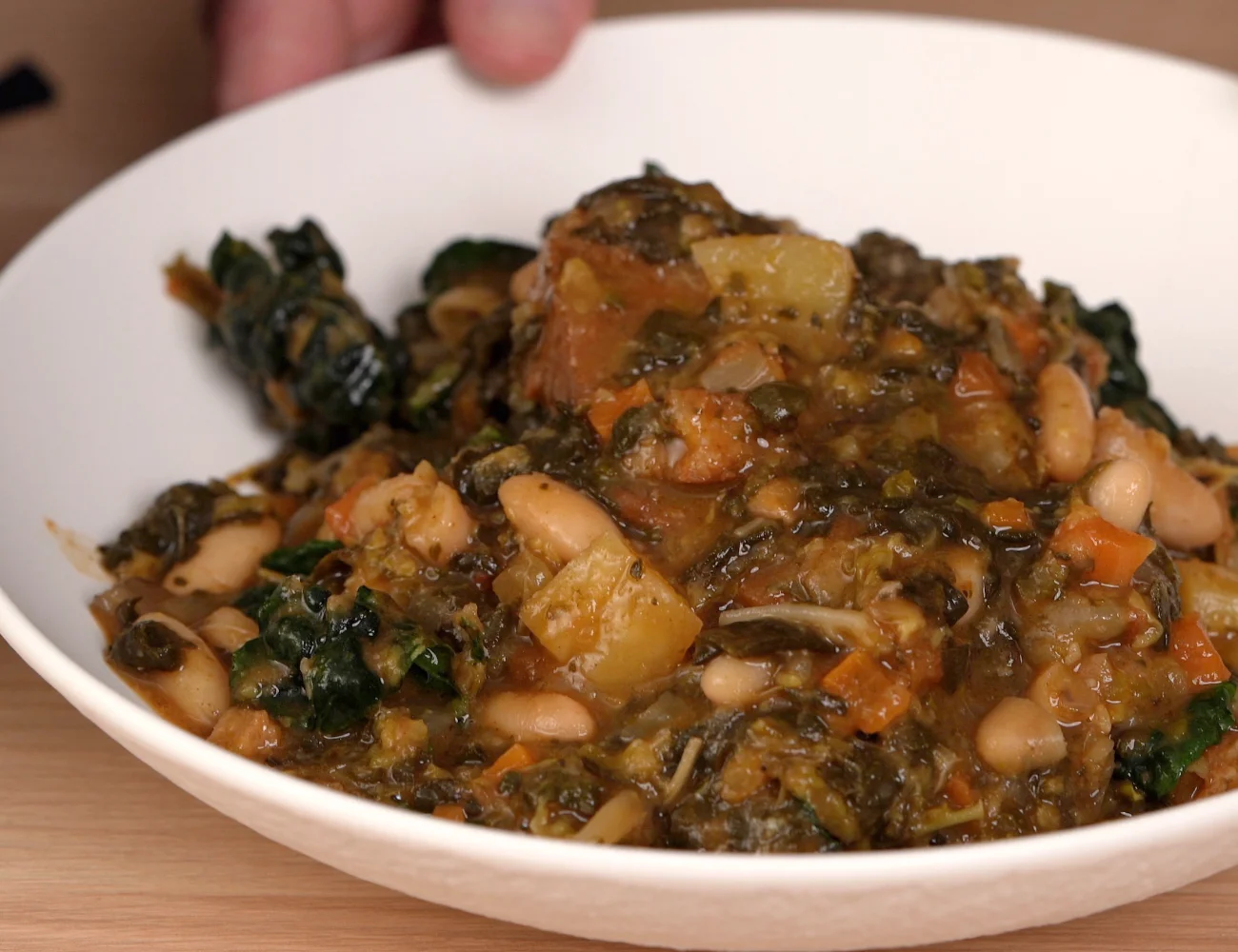 ---
Zuppa Toscana: Tips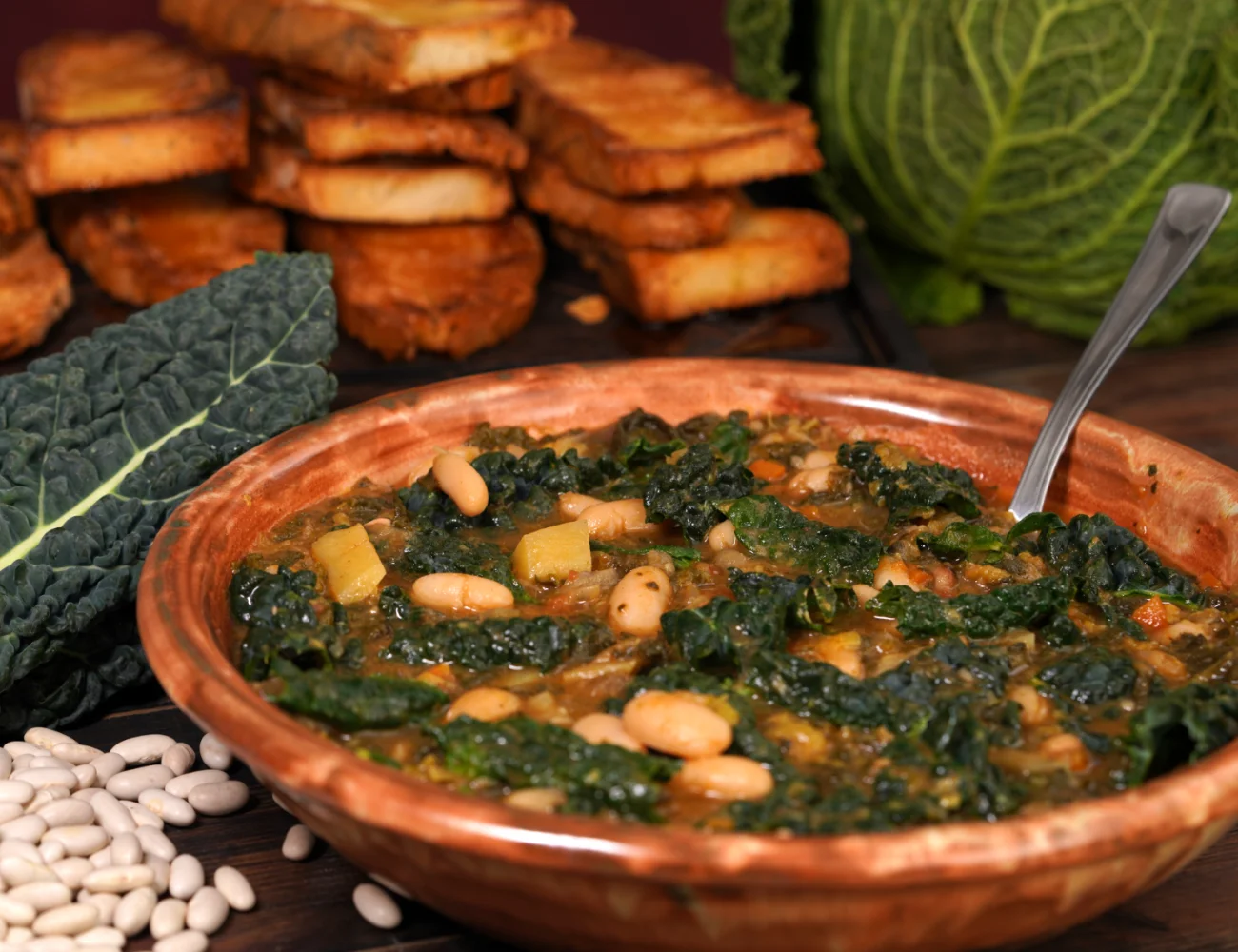 Don't Use Milk or Cream…
Sorry, lovers of Olive Garden! Cream is added to traditional Italian food recipes much less often than people abroad imagine. We'd go so far as to say it is never added to the traditional Zuppa Toscana called Ribollita.
This soup does not need any more flavor. It is incredibly flavorful—and nutritious— when made the traditional way. Furthermore, when Ribollita is made the real Italian way it is an excellent example of a Mediterranean Diet recipe. However, this advantage is lost if heavy cream—rich in saturated fat— is added.
Make it Vegetarian and Vegan
Substitute vegetable broth to make a completely vegetarian and vegan version of this classic soup. Since we are boiling vegetables in this soup for a long time, we are basically making vegetable broth as we cook it— so you can also just replace the broth with water if you want.
Choose a Quality Broth
In Italy, most Italians make their own broth. There are far fewer prepared broth products sold in groceries. A classic beef and chicken stock (bone broth) is perfect for this recipe!
Use 'Savoy' Cabbage.
Savoy cabbage has a very particular rich flavor. Make sure to use cabbage that says it is savoy, rather than another type of cabbage.
---
Are you a meat lover? Check out our Florentine Steak recipe! This is another famous Tuscan recipe known throughout the world!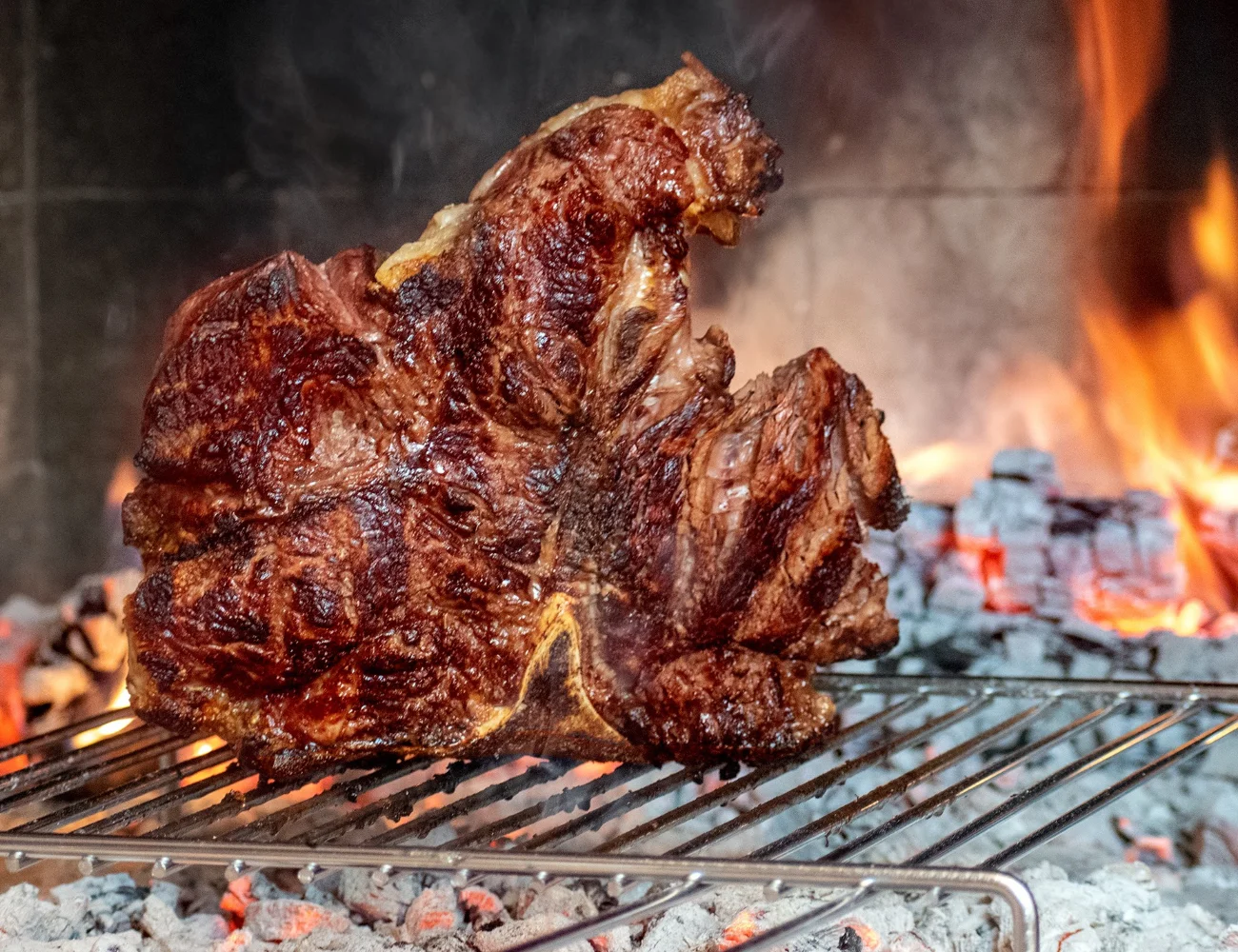 ---
---
As an Amazon Associate, we earn from qualifying purchases. This means at no extra cost to you, PIATTO may earn a small commission if you click the links and make a qualifying purchase.
---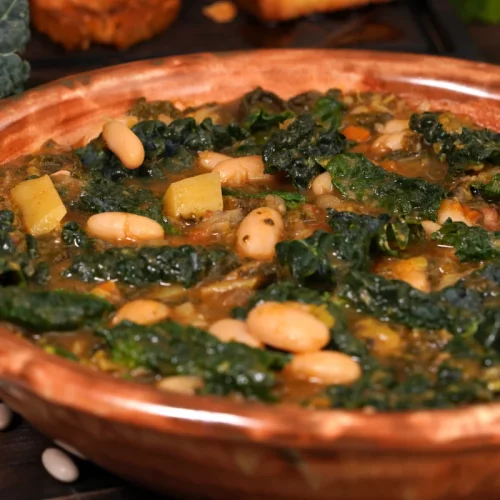 Tuscan Bean Soup Recipe (Zuppa Toscana)
This is an authentic Tuscan Bean Soup recipe for Ribollita! Ribollita literally means 're-boiled' because it is even better the second day, twice boiled! It's packed with flavor and nutrition, coming from kale, savoy cabbage and white cannellini beans.
Ingredients
2.2

lb

lacinato kale

after stems removed

1

head

savoy cabbage

large

1

lb

chard

28

oz

cannellini beans

dry beans (soaked and cooked); use double this amount if using canned beans

1

leek

2

onions

large

2

green onions

optional

2

carrots

medium

4

ribs

celery

1

handful

flatleaf parsley

1

leaf

sage

optional

4

sprigs

thyme

optional

5

tbsp

olive oil

2

potatoes

waxy, like Yukon

8

cups

broth

or water

8

cups

water

1

cup

white wine

pinot grigio or similar

14

oz

tomato purée or pulp

to give the soup a rust color; tomato paste will work too, but use less

fine salt

to taste

black pepper

to taste

10

slices

bread

optional; toasted, with extra virgin olive oil (bruschetta)
Instructions
Prepare Dry Beans
Cover the dry cannellini beans in water. Let them soak to rehydrate for at least 6 hours (better overnight).

Cook the beans in the same water for about an hour, until they are soft. You can avoid this step if you are using canned beans.
Prepare the Vegetables
Thinly slice the leek. Wash, peel and dice: carrots, onion and celery. Be sure to also peel the outer skin of the celery to remove strings before dicing it.

Mince the fresh flat leaf Italian parsley and thyme.

1 leek,

2 onions,

2 green onions,

2 carrots,

4 ribs celery,

1 handful flatleaf parsley,

4 sprigs thyme

Peel and chop the potato into bite-size pieces.

Rinse and drain the leafy greens (kale, cabbage and chard). Remove any large and tough stems from the center of each leaf. Cut the greens into large bite-size pieces.

2.2 lb lacinato kale,

1 head savoy cabbage,

1 lb chard,

2 potatoes
Sauté the Vegetables (Soffritto)
Sauté the leek, onions, carrots, celery, and parsley with a few tablespoons of olive oil in a large skillet. Add the sage leaf whole and remove it later.

Sauté uncovered over medium heat for about 15 minutes. When the onions are tender, add the white wine to de-glaze the pan.

1 leaf sage,

5 tbsp olive oil,

1 cup white wine
Boil the Leafy Greens
While the vegetables are sautéing…Combine the chopped leafy greens, broth and water in the stock pot.

Cover and cook over medium heat to wilt the leafy greens.

28 oz cannellini beans,

8 cups broth,

8 cups water
Simmer the Soup
Blend ⅓- ½ of the cooked cannellini beans. Leave the rest whole.

Add the beans and potatoes to the large stock pot with the wilted greens.

Add the sautéed vegetables to the stock pot along with the tomato (purée, pulp or paste). Mix throughly. There should be enough tomato to give the liquid a burnt orange color.

Add enough liquid to cover the vegetables. 

14 oz tomato purée or pulp

Cook the soup over covered over medium-low heat for at least about 2 hours. Stir the soup every 15 minutes to prevent sticking.

Salt and black pepper to taste.

Serve immediately or—for best taste—reheat the next day and serve 'twice boiled.'
Making 'Ribollita' (Re-Boiled Zuppa Toscana)
Layer the finished soup with layers of toasted bruschetta.

Re-heat the soup and serve with a drizzle of extra virgin olive oil.
Notes
Substitute Canned Cannellini Beans
You can certainly use canned cannellini beans instead of dry beans. Use twice the weight of dry beans called for if buying the beans already cooked (canned).
Freezes Wonderfully!
It's worth it to make a big batch of this soup as it freezes wonderfully. 
Want to make it vegetarian?
Feel free to substitute vegetable broth to make a completely vegetarian version of this classic soup.
Vegetable Prepping Tips
Always use a potato peeler to peel off the outer layer of the celery before cooking with it. This will remove most of the unappetizing strings.
Be sure to remove any thick, tough stems from the leafy greens. You can simply cut them out. 
Nutrition
Sodium:
1035
mg
Calcium:
178
mg
Vitamin C:
86
mg
Vitamin A:
8892
IU
Sugar:
10
g
Fiber:
11
g
Potassium:
979
mg
Calories:
213
kcal
Saturated Fat:
1
g
Fat:
1
g
Protein:
10
g
Carbohydrates:
41
g
Iron:
4
mg