Simply the best Spaghetti Aglio Olio recipe that Italy has to offer! It's made with just 5 ingredients: garlic, olive oil, chili pepper and spaghetti. However, achieving the deliciously creamy sauce that Italians crave? The devil is in the details, so follow along as we show you all the tricks to making this fast delicious pasta recipe that can be ready in just about 10 minutes.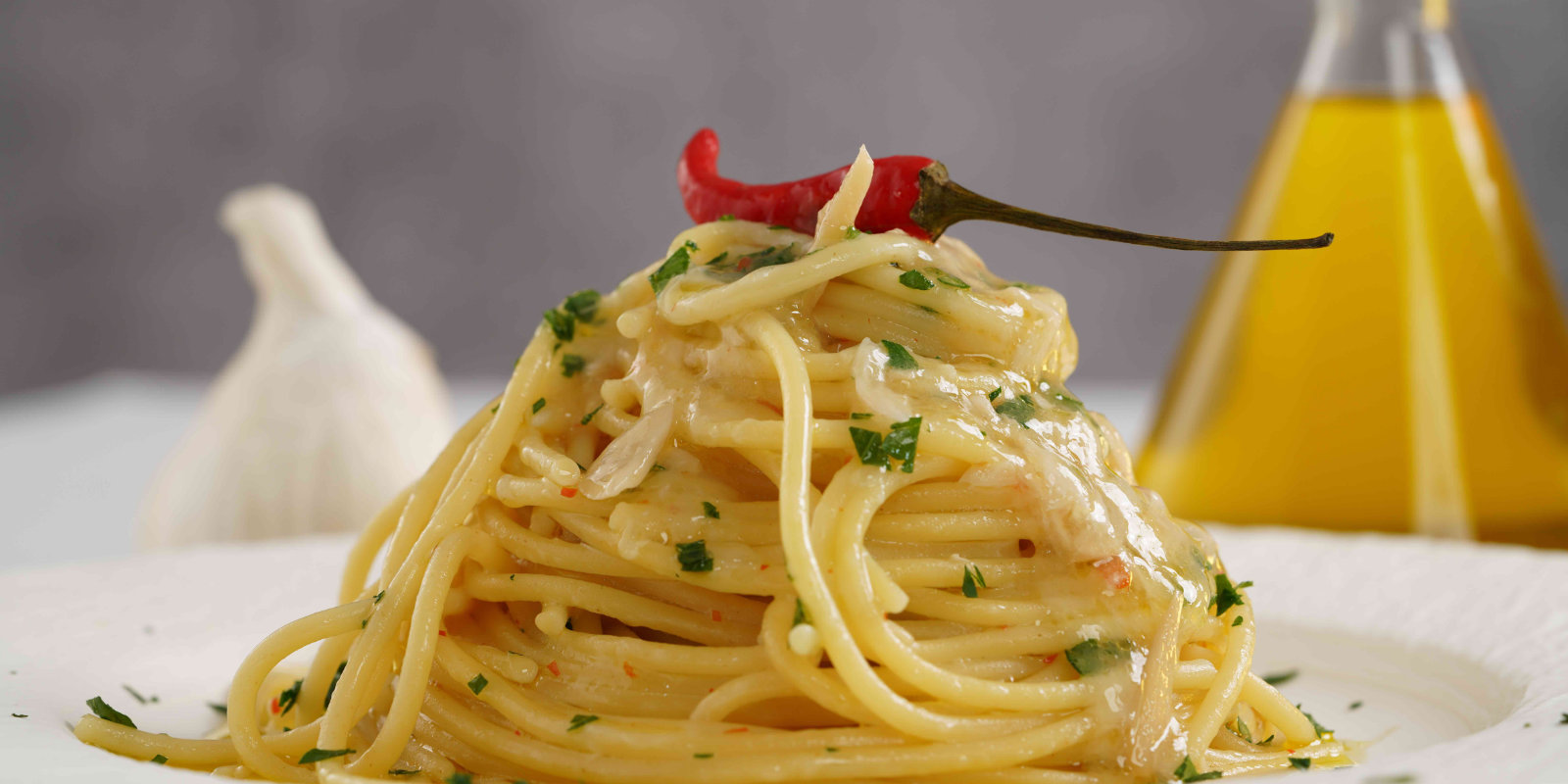 ---
Watch the Video Recipe!
Learn how to make this Aglio and Olio recipe in this video recipe, filmed in Italy:
Subscribe to our YouTube Channel
More video recipes? Subscribe to our YouTube Channel (it's FREE) and click the bell to get notifications when we release a new video recipe!
---
---
About Spaghetti Aglio Olio (Garlic and Oil)
This dish originated in Naples, where it is said to be a poor man's version of the ever popular Spaghetti with Clam Sauce.In Neapolitan dialect, this pasta recipe is often referred to as 'Vermicelli con le Vongole Fujute'! This literally means 'pasta in which the clams escaped' —an apt description.
Is this an Authentic Aglio Olio Recipe?
Yes! This authentic Aglio Olio recipe is based on the variation of this dish common in the Lazio region of Italy (where Rome is located). Pepper is added to the garlic and oil in this region.
Aglio Olio is a very simple dish. The basics are pasta, garlic and oil. Beyond that, Italians in Italy do often add optional ingredients like chili pepper (as we've shown in this recipe), anchovies or sometimes breadcrumbs. For instance, in Abruzzo anchovies are added.
This dish can be made more oily or more creamy. The creamy version we show here is becoming increasingly common in Italy because it is such a treat!
Tips for Making the Best Spaghetti Agli Olio
Garlic digestion problems?
Halve pieces of garlic and add these halves to the olive oil instead of sliced or minced garlic. After the garlic has infused the oil, discard the pieces of garlic. This same strategy can be used with the chili pepper.
Chili Pepper Selection
We typically use common red 'thai' chili peppers (rawit or birds eye) to make garlic and oil pasta. Technically, chili pepper is a variation on this dish and so this ingredient is optional. Leave it out, decrease or increase the amount of pepper to suit your taste!
Pasta Selection
For the best Spaghetti Aglio Olio with the creamiest sauce, you want to select a pasta that will release a lot of starch while cooking.
Look for pasta that says it is 'bronze drawn' (trafilato al bronzo). This means what it says: the pasta has literally been cut with a bronze pasta stamp or cutter. This creates a more porous texture to the pasta which has many advantages—such as allowing the pasta to release more starch!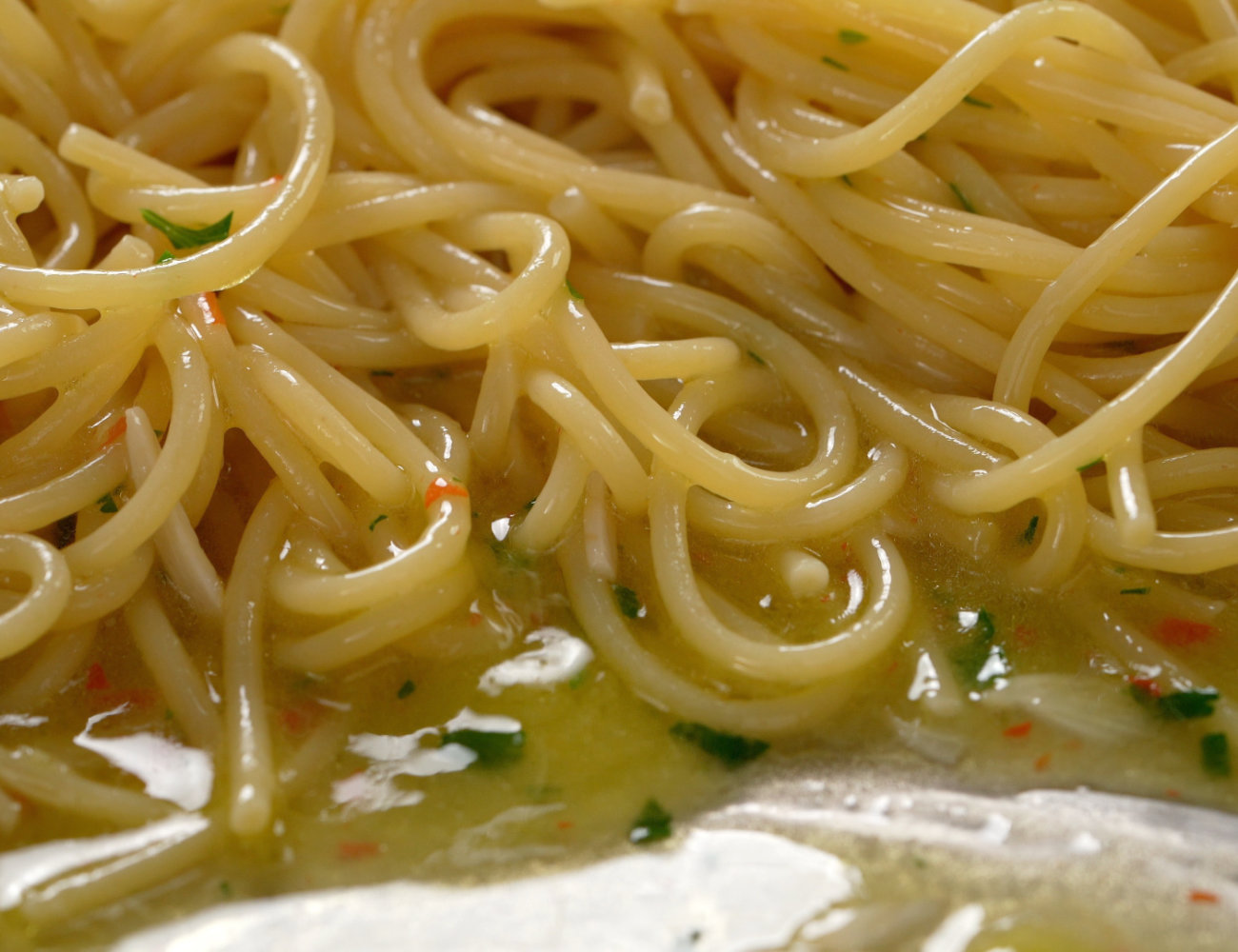 Tasty Variations: Breadcrumbs or Anchovies
Finish this pasta with toasted breadcrumbs. Or, melt a couple of anchovy filets together with the garlic to add extra flavor.
---
As an Amazon Associate, we earn from qualifying purchases. This means at no extra cost to you, PIATTO may earn a small commission if you click the links and make a qualifying purchase.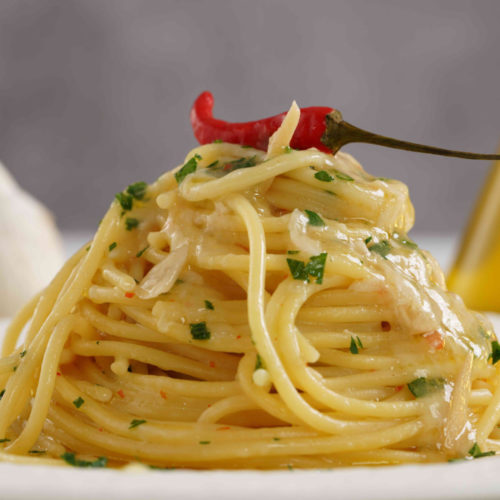 Best Spaghetti Aglio Olio Recipe (Garlic and Oil Pasta)
The fastest pasta dish in Italy! This simple pasta dish is nonetheless packed with flavor. It is a favorite in Italy for lunch breaks or for a midnight snack. Spaghetti Aglio e Olio is popular throughout Italy, but originated in Naples.
Ingredients
4

cloves

fresh garlic

4

red chili pepper

fresh, minced; or to taste

¾

cup

olive oil

1

handful

flat leaf Italian parsley

optional

fine salt

to taste

14

oz

spaghetti

or vermicelli or linguine
Instructions
Partially Cook the Pasta
Bring a pot of water to a boil. Do not add salt to the water.

We will be adding ladles of this hot water to a skillet to finish cooking the spaghetti. If you add salty water to cook the pasta, the water will evaporate in the skillet leaving too much salt in our dish.

When the water is boiling, cook the pasta for just 2 minutes. In the meantime…
Prepare the Ingredients
Thinly slice the cloves of fresh garlic.

Remove the seeds from and mince the red chili peppers. Mince a handful of parsley and set it aside. Save the parsley stems for flavoring the oil!
Prepare the Soffritto
Cover the bottom of a large skillet with the olive oil. Over medium heat, add: the garlic, chili pepper and some parsley stems.

Cook for about 2 minutes or until the garlic has turned golden.

When the pasta has cooked for 2 minutes…
Finish Cooking the Pasta in the Pan
Transfer the spaghetti immediately to the infused olive oil along with 2 ladles of hot pasta water. Save the hot pasta water—we will continue adding it to the skillet to cook the pasta!

Cook the pasta like a risotto over medium heat. Set your timer for the rest of the cooking time required on the pasta package instructions for al dente pasta.

Total cooking time for the average spaghetti brand is about 11 minutes. In this case, you'd set your timer for 9 minutes since we already cooked the pasta for 2 minutes.

When the first ladles of pasta water have been mostly absorbed, add a few ladles more. Continue adding water a few ladles at a time until the pasta is cooked to al dente. 

When the pasta is cooked, salt to taste and add some minced parsley for freshness and color. Buon appetito!
Video
Notes
Do NOT salt the pasta water.
Unlike other pasta recipes, in this recipe calls for cooking the pasta mostly in the pan with ladles of hot pasta water. We cook the pasta in this way to help us concentrate the starch coming from the pasta in order to create the creamy sauce. 
If you salt the pasta water, you will likely have too much concentrated salt left in your skillet when the water evaporates.
For this reason, we treat this pasta dish as we would a dish with salty seafood broth: salt at the end (if needed)!
---