We've tested dozens of recipes for the Pan di Spagna sponge cake. This easy sponge cake recipe was the winner! It's a foolproof recipe. Best of all? We even include a video recipe below so you can compare your sponge cake batter to ours!
---
Watch the Video Recipe!
Learn how to make our sponge cake recipe in this Zuppa Inglese video recipe, filmed in Italy:
Subscribe to our YouTube Channel
More video recipes? Subscribe to our YouTube Channel (it's FREE) and click the bell to get notifications when we release a new video recipe!
---
Pan di Spagna: The Original Sponge Cake
Sponge cake is so simple, with just three basic ingredients. But like many simple recipes, the devil is in the details! The original sponge cake was thought to have originated during the Renaissance in Spain—thus the name Pan di Spagna which literally translates to spanish bread.
This sponge cake recipe respects the tradition of the original pan di spagna recipes, which used only egg (no baking powder) for leavening. When recipes in Italy or Spain call for pan di spagna, this is the sponge cake recipe that is expected.
Many types of sponge cake evolved from the original Pan di Spagna. Add baking powder and some butter and you get a Victorian sponge. Whip the eggs and sugar over a double boiler, and you get a Genoise sponge cake. But again, here we are sharing the truest sponge cake recipe.
When To Use This Sponge Cake Recipe
The Pan di Spagna sponge cake is soft, flexible and great for soaking up syrups, liquor and other liquids. It's called a sponge cake for a good reason!
Since this sponge cake recipe has no added liquids (except that splash of water for whipping), it contains plenty of room for whatever tasty liquid you'd like to flavor it with. Best of all? It will soak up that flavorful liquid without falling apart into a crumbly mess.
For this reason, this sponge cake recipe is ideal for desserts like Tiramisu or Trifles. In fact, in Italy the Pan di Spagna is so common as a dessert ingredient that the cake is sold pre-made in groceries. Some classic desserts that feature this sponge cake are this Italian Lemon Cake recipe (Torta Mimosa) and the traditional Zuppa Inglese recipe.
How to Make Sponge Cake
To make our sponge cake recipe, you simply need to combine whole eggs and sugar in a large bowl. While some recipes recommend adding the sugar a little at a time as the eggs are whipping, we've found that isn't necessary.
When whipping eggs, always start with a clean bowl. Why?
Fat residue will inhibit eggs from whipping to their full potential. In fact, that's why sponge cake variations that include butter usually include baking powder as well. Eggs won't whip as well when fats like oil or butter are added from the start, and whipped eggs will deflate some when these ingredients are added later.
Egg Temperature Matters
Start to whip the sugar and eggs at medium speed and immediately add some hot water. In fact, we recommend using cold eggs and simply adding the hot water to adjust the temperature. Why?
Eggs will whip better and produce a more stable whip when they are warm. While some recipes simply recommend to let the eggs sit out at room temperature for an hour, we've found this leaves too much room for error.
Specifically, eggs sitting out still tend to be too cold to get a great whip. Imagine eggs sitting out in 2 different kitchens: in Florida and Alaska. Eggs sitting out in an un-air conditioned kitchen in Florida will be much warmer after an hour than eggs sitting in cold kitchen in Alaska. All to say it's not that helpful to say 'use room temperature' eggs.
So, trust us and add the hot water to create the perfect egg whipping temperature. We add some lemon zest at this point too—it won't inhibit the egg whipping. No need to check the temperature of the water. If the water feels 'hot' but is not boiling, you'll be just fine!
Whip It, Whip It Good!
Continue whipping the eggs at medium speed for a full 15 minutes. It really does require the full 15 minutes to get the right consistency. The eggs should be super pale, fluffy and voluminous.
When you pick a piece of the whipped eggs and drop it on top of the rest of the mix, it should sit on top rather than disappearing into the egg mix beneath it. You can, in other words, 'write' with it.
Sift and Fold
Sift together whatever flours you are using. For our sponge cake recipe we use a combination of cake flour and cornstarch, which we feel delivers the best texture. Some recipes call for potato starch instead of cornstarch. And to make a gluten-free cake, you can use just potato or cornstarch.
Finally, sift the flours into the cake a tablespoon at a time, folding it into the whipped eggs gently. The cake's height and texture totally depend on the air you've whipped into the eggs. So, once we've whipped all that air into them, we don't want to knock the air out by adding too much flour at once or beating the flour in.
If the whipped eggs begin to sink under the weight of the flour you've just added, you are adding too much at one time.
Sponge Cake Baking Tips
This sponge cake recipe can be baked as a tall cake, or baked as a short cake in a large jelly roll or sheet cake pan. Baking time depends on whether you are baking a tall or short cake.
We recommend thinking about the project you are making before choosing your baking pan. Sponge cakes can be cut (when totally cold) but they are more soft and flexible than other cakes. This makes them a bit more challenging to cut horizontally into slices than other types of cakes.
If you know you need sponge cake layers, we recommend baking in a jelly roll pan. Then you can just cut your slices out of the sheet cake rather than slicing them horizontally into layers.
For a tall cake…
Bake in a pre-heated 350° F (180° C) oven for 20 minutes
Drop temperature 10°, then bake an additional 20 minutes
For a short, large cake…
Bake in a pre-heated 350° F (180° C) oven for 15 minutes
Use Ungreased Pan
Always add sponge cake batter to an ungreased pan. Like Angel Food cakes, sponge cakes need to grab onto the sides of the pan as bake in order to rise. So, non-stick or greased pans aren't a good choice.
Parchment Paper? Bottom, yes. Sides, no.
Add parchment paper to the bottom of the cake pan, but not to the sides. Technically, the sponge cake will rise fine even if you've lined the sides of your pan with parchment paper. However, as it cools, the cake will pull the parchment paper from the sides of the pan, deforming the sides of your cake and causing some deflation.
Fill the pan just 3/4 full.
If you've whipped your eggs well, your cake should rise quite a bit. If it has no sides to grab onto, it will mushroom over the top and deform and deflate the cake.
Only fill the cake pan 3/4 full of batter to give the cake room to rise. You can even extend the height of the pan by adding some parchment paper (attached with butter) to the outside of the cake pan. This will guide the rising cake up rather than out.
Don't Open Oven During the Bake
All of the rise for this sponge cake comes from the whipped eggs. Eggs are sensitive to temperature changes. So, do not open the oven while the cake is baking (just as you would a soufflé). We recommend baking one one oven rack at a time in the bottom 1/3 of the oven. You can't bake on two racks and swapped the cakes during the bake as you might for another cake recipe because that would require opening the oven door.
Cool Cake in the Oven
When the oven is baked, turn the oven off. Let the cake cool in the oven for 5-10 minutes to minimize deflation. Crack the oven door open if your oven permits it.
This will allow the cake to cool slowly with no big temperature changes, therefore minimizing deflation.
To summarize, here are the secrets to making a great Pan di Spagna sponge cake:
Eggs + Hot Water = Perfect Temperature!
Add a bit of hot water to the eggs from the refrigerator to produce eggs warm enough for the perfect whip!
Whip at Least 15 Minutes
Patience is a virtue here. Set your timer for 15 minutes, and grab a cup of coffee or sift the flours. Whatever you do, don't get impatient and whip the eggs less than 15 minutes.
Sift and Fold Flour
Sift flour into the whipped eggs a tablespoon at a time. Fold the flour into the eggs gently using a bottom to top motion.
Avoid Abrupt Temperature Changes
Sift flour into the whipped eggs a tablespoon at a time. Fold the flour into the eggs gently using a bottom to top motion.
---
---
As an Amazon Associate, we earn from qualifying purchases. This means at no extra cost to you, PIATTO may earn a small commission if you click the links and make a qualifying purchase.
---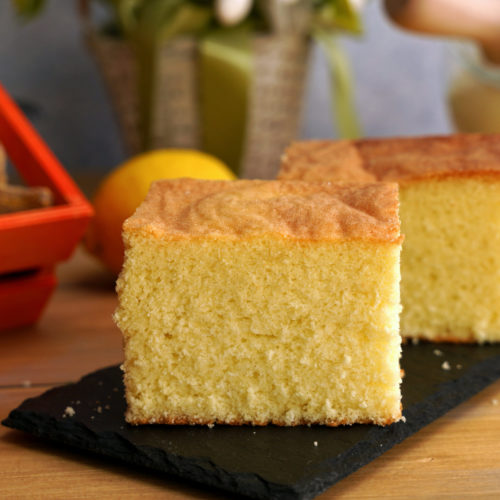 Sponge Cake Recipe (Pan di Spagna)
The Pan di Spagna (literally meaning 'spanish bread') is a base ingredient in many famous desserts in Italy and throughout the world. Just like like a sponge, this traditional sponge cake has a soft spongy texture that is great for soaking up flavored syrups and liquors without falling apart. 
Equipment
Stand Mixer (or electric hand mixer)

15" x 12" (40 cm x 30 cm) Baking Pan or Cookie Sheet or

8" – 9" cake pan (about 20 cm)
Ingredients
SPONGE CAKE
6

whole

eggs

1

cup

granulated sugar

3

tbsp

hot water

¾

cup

cake flour

or all-purpose with low gluten

¾

cup

cornstarch

1

lemon zest

from one
Instructions
MAKE THE SPONGE CAKE
Sift together the cornstarch and flour and set aside.

Add whole eggs, granulated sugar and lemon zest to a stand mixer bowl fitted with the whisk attachment. 

Begin whipping the eggs at medium speed. Add 3 tbsp of hot water and continue whisking for no less than 15 minutes. 

Whisk until you can 'write' with the egg mixture. In other words, when you drop egg on top of the rest of the whipped egg, they should sit on top distinctly and not sink into the rest of the eggs. 

Fold all of the sifted flours into the whipped eggs, 1 tablespoon at a time. 

Cover the bottom (but not the sides) of the pan with parchment paper. 

Spread the cake batter evenly into a large baking pan or jelly roll pan. 
BAKE THE CAKE
Bake the cake at 350° F (180° C) for 15 minutes. Shut off oven, crack the oven door, and let cake cool inside of the oven slowly for 5-10 minutes.

When cake is cooled, loosen edges and remove from the pan. Chill before cutting into layers.
Video
Notes
Egg Whipping Tips
For the cake, use cold eggs here. Generally, eggs whip

better

warm. However rather than just using eggs that have been left 'out' at room temperature, we prefer to use cold eggs from the fridge and add hot water to achieve the right temperature. We've found this to be the more foolproof method for making Italian sponge cakes.
Or… Bake in a Round Pan!
Yes, you can bake in round cake pans instead of a jelly roll pans! Use a
8″ – 9″ pan (20-22 cm) pan for each sponge cake you make. Since the cake will be taller, baking instructions differ. 
Bake the cakes in a pre-heated static oven at 350° F (180° C) for 20 minutes
Then, lower the temperature 10° to 340° F ( 170° C ) and cook for the last 20 minutes.
Turn the oven off and let the cakes cool slowly in the oven for 5-10 minutes before removing them. This will help reduce deflation.
You will then need to cut the cake into 2-3 slices (horizontally) to make this recipe. Always cut cakes when they are completely cold for a clean cut.
Nutrition
Sodium:
2
mg
Calcium:
3
mg
Vitamin C:
1
mg
Vitamin A:
4
IU
Sugar:
20
g
Fiber:
1
g
Potassium:
12
mg
Cholesterol:
2
mg
Calories:
149
kcal
Saturated Fat:
1
g
Fat:
1
g
Protein:
1
g
Carbohydrates:
36
g
Iron:
1
mg