Delicious risotto rich with the flavors of Autumn in Italy. This Porcini Mushroom Risotto recipe can be made with just porcini mushrooms (fresh or frozen) or a mix of mushrooms including porcini.
We'll show you how to make perfect Porcini Mushroom Risotto in just four easy and repeatable steps.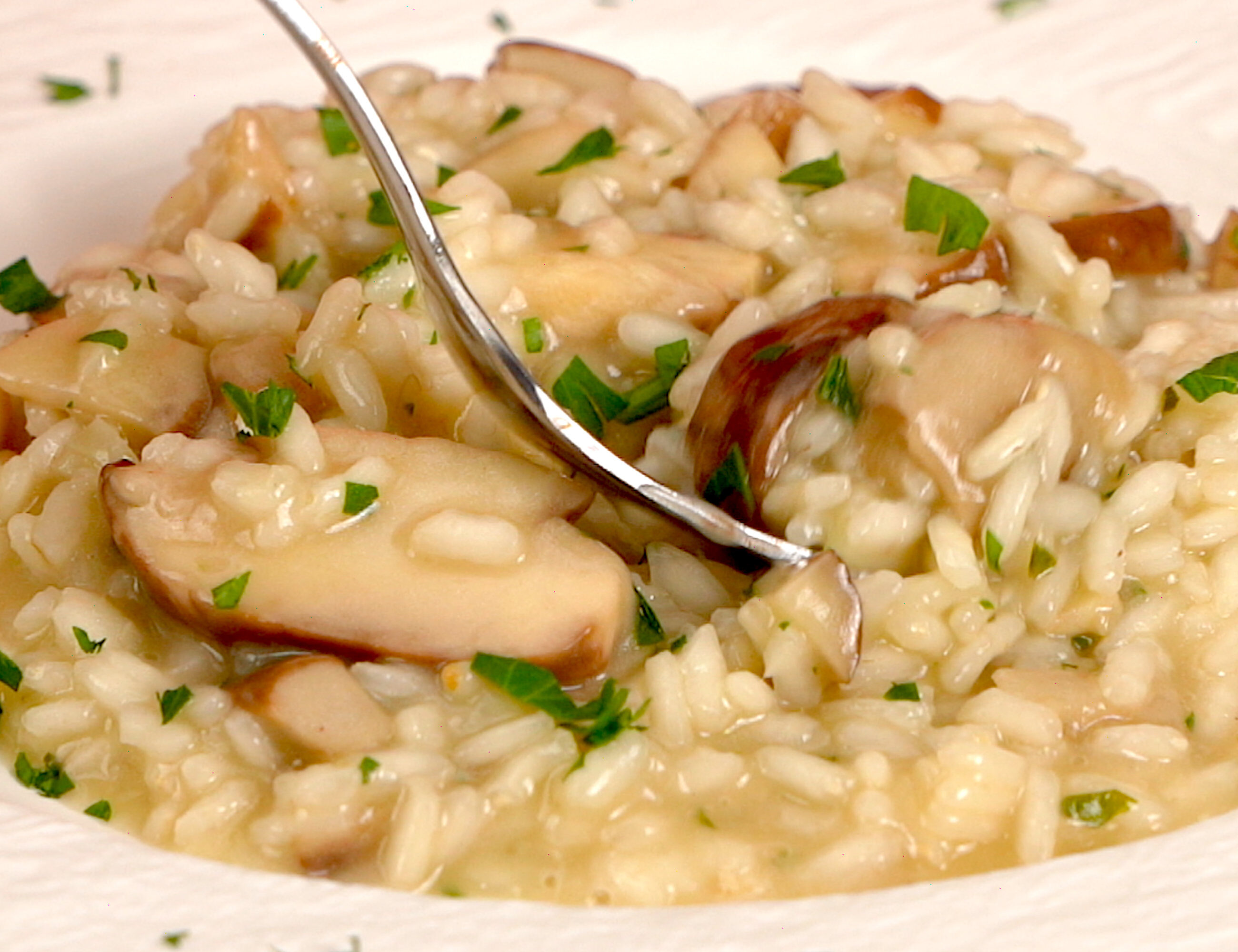 Watch the Video Recipe!
If you prefer to watch a video recipe, click on the video below.
Subscribe to our YouTube Channel
More video recipes? Subscribe to our YouTube Channel (it's FREE) and click the bell to get notifications when we release a new video recipe!
How to Make Porcini Mushroom Risotto
Making Porcini Mushroom Risotto is easier than you think. Best of all? Once you learn how to make risotto with this recipe, you'll be ready to tackle any risotto as the steps are the same:
Prepare Flavors and Aromatics
Toast the Rice
Slowly Cook the Rice
The Mantecatura
By following this tutorial, you'll be able to make perfect risotto every time! With seasonal ingredients, this risotto recipe is a delicious choice for a chilly autumn or winter day.
What's the 'mantecatura'?
A 'mantecatura' is the process of adding room temperature fat and flavor at the end of cooking, when the dish is still hot but not over direct heat. The mantecatura makes whatever you are cooking creamy and delicious!
Make it lactose free!
If you don't like gorgonzola cheese or have a lactose intolerance, there are other delicious ways to finish this butternut squash risotto recipe.
Try using vegetable spread, vegetable spread and Parmigiano Reggiano or just Parmigiano Reggiano (sometimes called 'parmesan' abroad). Believe or or not, Parmigiano Reggiano is considered naturally lactose-free!
Tips for Making Porcini Mushroom Risotto
Mix with less flavorful mushrooms to save money!
Porcini are packed with flavor, but can be quite expensive. If you are making mushroom risotto on a budget, try combining a smaller amount of porcini with a larger amount of a more economical mushroom like champignon (button) mushrooms.
Choose a well-insulated pot or pan.
Use a well-insulated skillet to make the risotto—for instance a 3-ply stainless steel skillet or dutch oven.
Don't add salt or pepper until the end. If you 'salt to taste' at the beginning then the broth reduces, the dish will be too salty.
Use arborio or even better yet carnaroli rice. In Italy, carnaroli is considered the go-to choice for professionals making risotto.
Want a more general guide to making risotto? Check out How to Make Risotto at Home!
Do mushrooms need to be cleaned before cooking with them? Can they be soaked in water? Find out how to clean mushrooms the right way in our guide!
---
As an Amazon Associate, we earn from qualifying purchases. This means at no extra cost to you, PIATTO may earn a small commission if you click the links and make a qualifying purchase.
---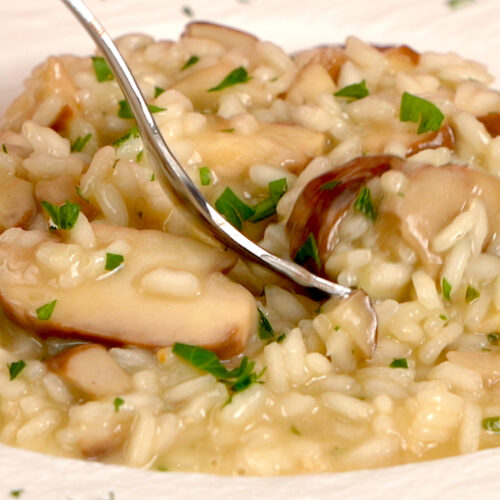 Porcini Mushroom Risotto Recipe
This easy and vegetarian recipe can be made with any mushroom or mix of mushrooms that you like. Great mushrooms for this mushroom risotto recipe include porcini, button or crimini (champignon), chanterelle, and portobello.
Equipment
large, well-insulated skillet
Ingredients
1

lb

porcini mushrooms

fresh or frozen

1 ½

cups

arborio rice

or carnaroli

2

cloves

garlic

1

shallot

minced

1

handful

flatleaf parsley

minced

½

cup

white wine

example: Pinot Grigio

8

cups

vegetable broth

or, as needed

6

tbsp

olive oil

or, as needed

fine salt

to taste

black pepper

to taste

3 ½

tbsp

butter
Instructions
PREPARE MUSHROOMS
If using fresh porcini (or another type of mushroom), you first need to clean them. Brush away loose dirt with a soft brush. If dirt is caked, give a quick rinse under water, then immediately wipe dry with a towel. Never soak mushrooms to clean them.

Separate the cap from the stems, then check for worms. Trash any porcini that are soft and look consumed. Or, if you see tiny worms in the mushroom.

If only part of the mushroom is infected by worms, you may use the part that is healthy.

Slice the porcini cap into thick slices. Dice the stems.
HEAT BROTH
Heat the broth and leave it simmering on low heat as you prepare the risotto.
PREPARE THE AROMATICS
Cover bottom of a well-insulated skillet with olive oil. Heat the oil over medium heat.

Sauté the whole cloves of garlic and pinch of the fresh parsley in the oil.

Add the mushrooms and sauté them with the garlic in parsley.

Add a few ladles of hot broth to the mushrooms.

Cover and cook the mushrooms for 5 minutes over medium-high heat, stirring frequently.

Uncover and cook the mushrooms for 5 more minutes over medium-high heat.

Salt to taste — usually a few pinches are enough. Set the mushrooms aside.
TOAST THE RICE
Heat a few tablespoons of oil in a large skillet.

Add the minced shallot to the oil and sauté until the shallot is translucent and tender. Then…

Add the rice. Stir and toast the rice on medium heat for 3-4 minutes, until the rice is a bit translucent.

Add the white wine and cook until the wine has evaporated, stirring frequently.
COOK THE RICE
Add 3 ladles of hot broth to the rice. Cook over medium heat, stirring continuously.

Cook the rice for a total of 15 minutes, adding 2-3 more ladles of broth each time the broth is almost absorbed. Stir continuously to prevent burning.

After 10 minutes, salt the rice and add fresh black pepper to taste. Stir in the mushrooms and the rest of the fresh parsley.

Cook until the rice is 'al dente' (according to package instructions and your taste!) Al dente means the rice is cooked, but a little chewy or firm.
THE MANTECATURA
Remove the cooked risotto from the heat.

Stir the butter into the hot risotto— this is called the Mantecatura! That means we are mixing in fats off the heat to make the risotto creamy 🙂
Video
Notes
Always check fresh porcini for worms!
Worms love fresh porcini! After cutting a porcini mushroom open, always check for black pin pricks attached to tiny wiggly white worms. Very often where there are worms, your mushroom will also be soft, spongy and look 'consumed' inside. This part of the mushroom is not healthy and you should toss it!
If just part of the mushroom has worms or is soft, you can use the healthy part.
Nutrition
Sodium:
1530
mg
Calcium:
31
mg
Vitamin C:
5
mg
Vitamin A:
886
IU
Sugar:
6
g
Fiber:
12
g
Potassium:
1495
mg
Cholesterol:
1
mg
Calories:
683
kcal
Saturated Fat:
3
g
Fat:
18
g
Protein:
13
g
Carbohydrates:
123
g
Iron:
4
mg