This is the traditional recipe for Sicilian rice arancine ('arancini') that has been filed with the Accademia Italiana della Cucina. We have translated it into English for your convenience.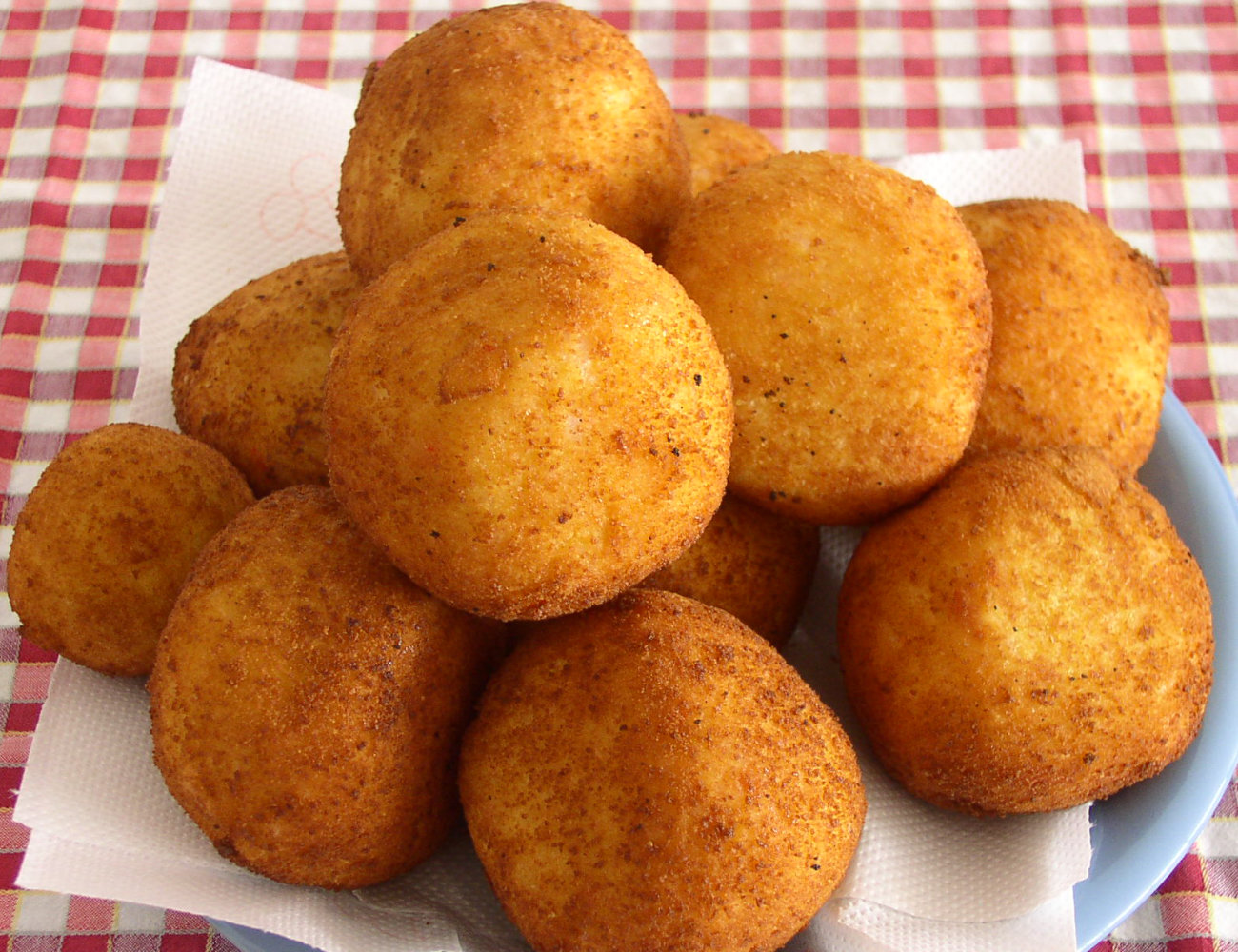 Rice Arancini Ingredients
Ingredients for around 12 Rice Arancini
arborio rice: 750 g
caciocavallo cheese: 100 g; grated
fresh caciocavallo cheese: 100 g; cut into cubes— (or 'primo sale' cheese)
butter: 80 g
eggs: 4
saffron bread crumbs: 2 bags, olive oil
For the Ragù
ground pork: 300 g
green peas: 150 g
onion: 1; chopped
carrot: 1; chopped
celery: 1 rib; chopped
tomato purée or crushed tomato ("salsa di pomodoro")
concentrated tomato paste: 1 tbsp
dry white wine:
salt and black pepper: to taste
How to Make Rice Arancini
Cook the rice to al dente, drain it and add the butter, the grated caciocavallo cheese, a whole egg and one beaten egg yolk and the saffron. Let the rice cool. Prepare a ragù with a soffritto of: oil, chopped onion, celery and carrot. Mix in the ground pork and brown it over low heat, breaking it up well into pieces with a wooden spoon. Deglaze with a little dry white wine and then add the peas, the tomato sauce and the concentrated tomato paste (melted with a bit of hot water, salt and pepper).
Cook over medium heat adding, if necessary, a little hot water: the ragù needs to become dense. Let it cook, then mix in the caciocavallo cheese cut into cubes.
Prepare the arancini putting in one hand a generous handful of rice, squashing it in such a way to make a little hole where you can add a tablespoon of ragù. Cover everything with more rice, modeling each arancini with the hands into the size of a tennis ball—compacting it well and giving it a round shape.
Dip the rice arancini into the egg and the remaining egg white (beaten together). Then coat the arancini with the bread crumbs and finally fry them in a generous amount of oil.
ALTERNATIVE VERSIONS: There are other variations for the filling. The most common are with cheese and prosciutto and those with cheese and spinach.
Origins of Rice Arancini
This dish is arabic in origin. In parts of Eastern Sicily, the arancini came to be called by the masculine "arancini" o "supplì." These are smaller than those from Western Sicily and, generally, are shaped more like a pine cone.
Furthermore, the dimensions vary between these areas and within the areas themselves. Also the shapes can vary according to the filling: round (original shape) or pine cone, oval or more or less flattened.
---
This English translation is Copyright PIATTO LLC © 2022; All rights reserved.