Love Pasta Primavera? In Italy, there's actually no traditional dish called Pasta Primavera. Pasta Primavera is an American recipe invented in the 1970s! In the video recipe below, we'll show you two authentic Italian pasta recipes that most certainly served as inspiration for Pasta Primavera recipes. They are fast, easy, cheesy and DELICIOUS recipes for lunch or dinner!
---
Watch the Video Recipe!
Watch the video recipe to discover two authentic Italian Pasta Primavera recipes:
Subscribe to our YouTube Channel
More video recipes? Subscribe to our YouTube Channel (it's FREE) and click the bell to get notifications when we release a new video recipe!
---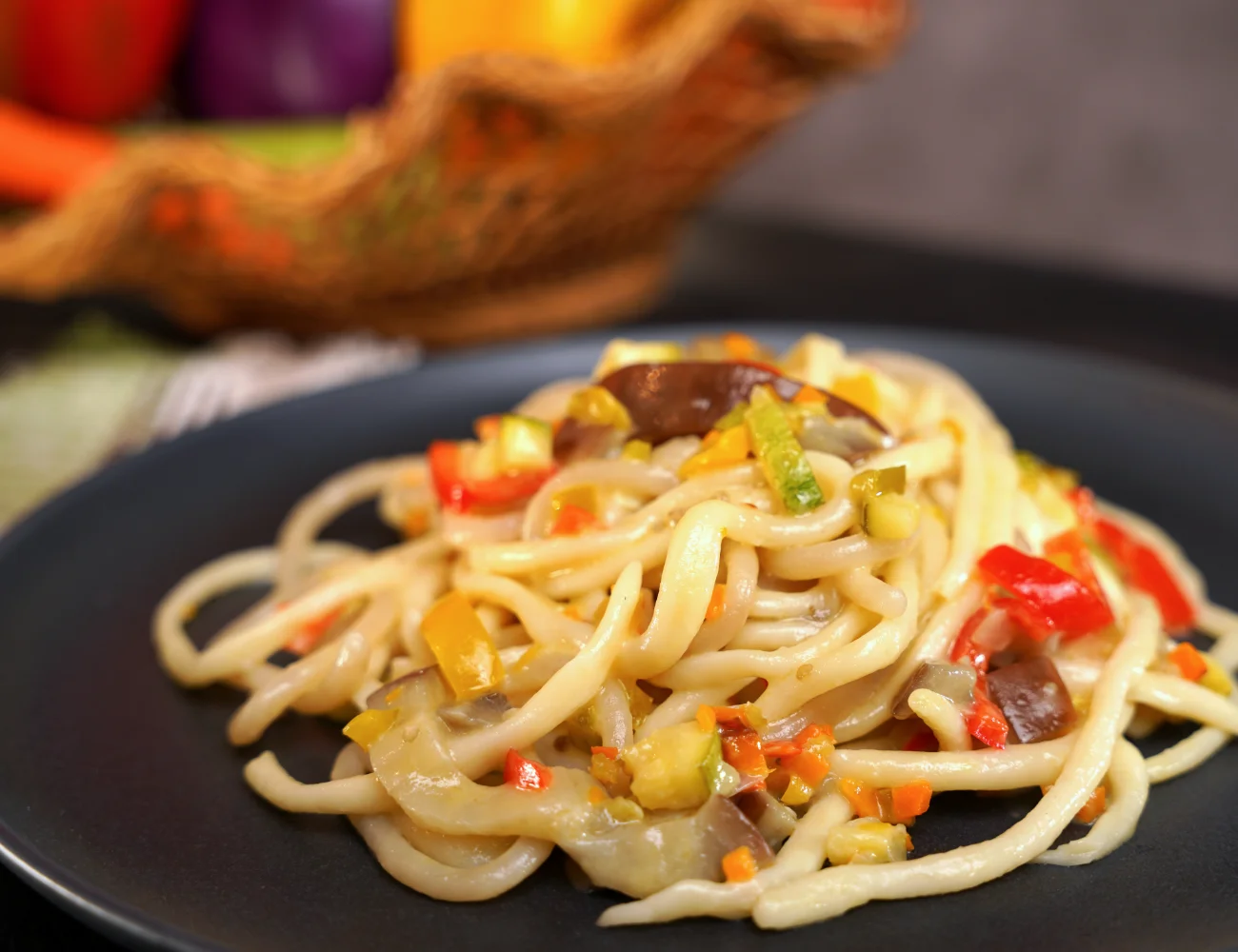 The most likely inspiration for Pasta Primavera? Pasta all'Ortolana—which translates to 'Garden Pasta' in Italian. In this recipe, we combine several vegetables that often pop up in Italian garden pasta: carrots, celery, spring onions, peppers and eggplant. Here, we are also adding some zucchini and we finish it all off with a creamy Parmigiano cheese sauce.
The tastiest version of this pasta is unfortunately the least visually appealing. Why? The more finely you mince the vegetables, the more intensely flavorful the sauce! However, minced vegetables produce a rather homogenous looking orange-brown sauce that lacks those appetizing pops of color.
In this recipe, we're striking a compromise between flavor and presentation. We mince the carrot, onion and celery. Then we add these vegetables to a pan covered with a few tablespoons of hot extra virgin olive oil. We let our minced vegetables simmer to build a base of flavor for about five minutes.
When the minced vegetables are tender? In go the peppers, zucchini and eggplant! For the peppers, we recommend mincing half and cutting half of them julienne. You can simply dice the zucchini and eggplant. To really make the sliced peppers pop, give them a quick blanch before adding them to the pan— like we've done in the video.
Cook the vegetables for about a minute, then add a bit of white wine to deglaze the pan. De-glazing will pull all of that flavorful oil off the bottom of the pan and into our pasta sauce!
Cover and simmer the vegetables on medium heat until the bigger vegetables are tender to suit your taste. In the meantime, toss the pasta into boiling water and cook according to the package instructions for 'al dente'—which literally means 'to the teeth' in Italian.
In the video recipe, we are using homemade pici pasta for this dish! To learn how to make homemade pici pasta, check out our other recipe. Otherwise, just use spaghetti, linguine or your favorite pasta. Once the pasta is cooked, save the pasta water! Then combine the drained pasta with those fresh and delicious vegetables.
To make this vegetable pasta recipe extra delicious, we make a fast and easy cheese sauce to go with our garden vegetables. You want to prepare this Parmigiano cheese sauce off the heat.
We make our cheesy sauce just like it's done in Italy —not with heavy cream or a ton of butter. Rather, we add a few ladles of hot starchy pasta water to the pasta to form a creamy sauce base. Then we add a few tablespoons of butter and finely grated Parmigiano Reggiano cheese. Finally, we just stir the fats— the butter and the cheese— into the pasta. This process of mixing fats into a dish at the end of cooking is called the 'mantecatura' in Italian. It's the same way that we finish off a risotto recipe!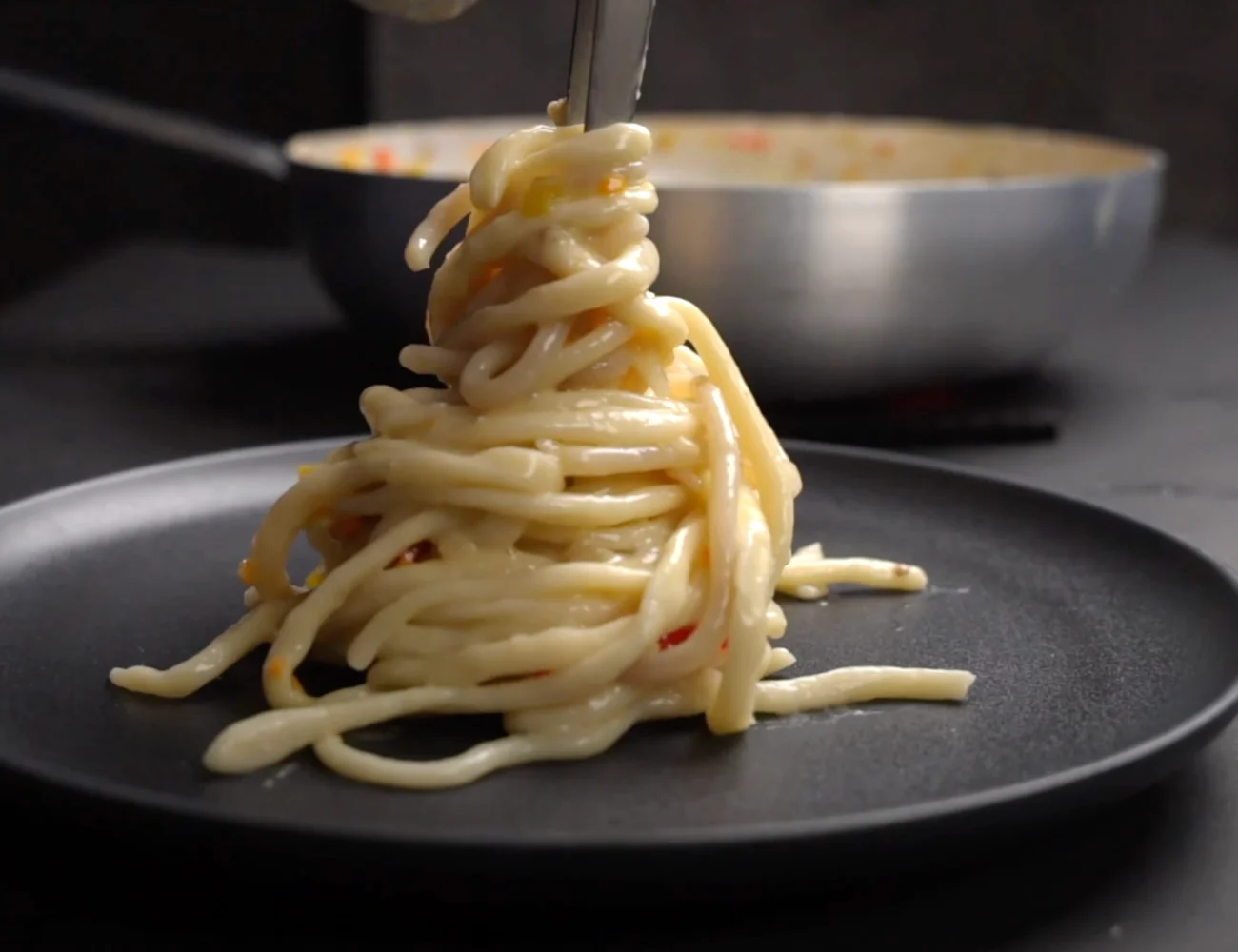 Once you try Pasta Primavera like this, you are never going to be satisfied with commercial or restaurant versions. You always want to use the real Parmigiano Reggiano cheese for this and other authentic Italian pasta recipes on our website! It's a touch expensive, but a little goes a long way. Parmigiano cheese is so intense in flavor and there's really no alternative. Avoid so-called parmesan. In many countries, this word can be used to refer to any number of aged cheeses.
And now? We head to Rome for another dish that almost certainly inspired Pasta Primavera recipes!
---
Pasta Vignarola Romana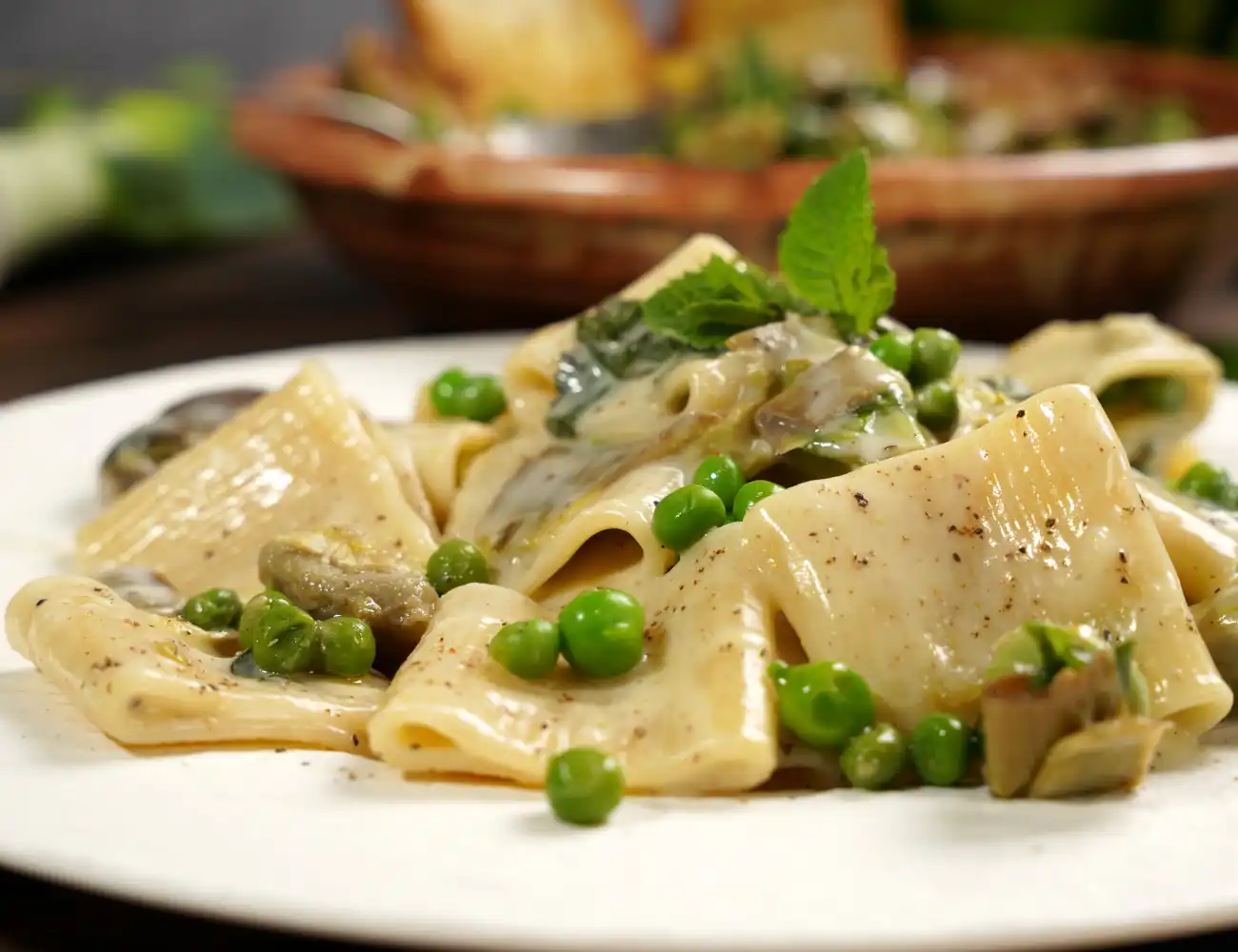 Vignarola Romana: This traditional Roman spring vegetables mix is often combined with pasta. We prepare our Vignarola Pasta with a creamy pecorino sauce—which is also one of the common features of the Pasta Primavera recipes served abroad.
'Vignarola' literally means 'between the grapevines' in Italian. The dish is named for its ingredients— all of which were traditionally grown between the vineyard rows in spring. This dish features springtime vegetables like peas, lettuce, artichokes, spring onions and fava beans!
This is literally a 'Pasta Primavera' since it's a celebration of spring vegetables!
To make this dish, we prepare a base soffritto with delicious and nutritious extra virgin olive oil and tender spring onions. A soffritto is the process of infusing oil or fat with herbs and aromatics. It's a common base for Italian dishes. Cook the spring onions until they begin to turn translucent.
To make this dish quickly or when some ingredients aren't in season, you can use frozen peas or fava beans. Vignarola Romana is extremely low in calories. The only fat is coming from the heart-healthy olive oil that we are using for the soffritto.
Any vegetables that take longer to cook go in first. In our case, that's the fresh artichokes. Canned artichoke hearts without seasoning are a fine substitute. If you are using canned artichoke hearts, you can add them along with the beans and peas. Add a little extra water, then simmer the onions and artichokes for five minutes.
Then, add the peas and fava beans—sometimes called broad beans. Cook the vegetables (covered) for about 15 minutes. After the 15 minutes, it's time to check for tenderness. Cook the vegetables more or less depending on how crunchy you like your vegetables.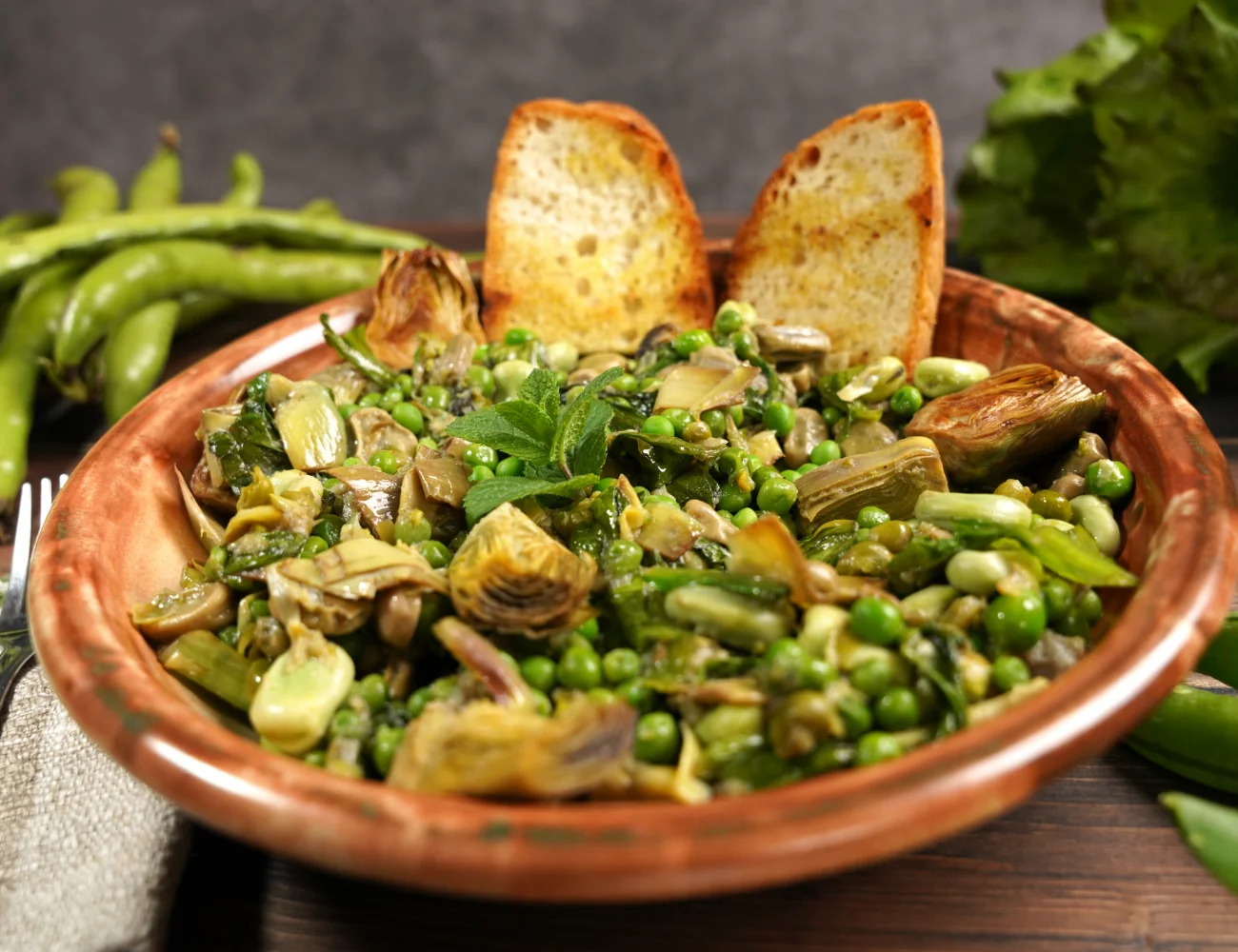 Add the lettuce and mint at the very end! That's right, mint! We are just using spearmint here, however traditionally roman mint or 'menta romana' (sometimes called pennyroyal) was used in dishes like this.
Our spring vegetables mix is done. It's time to prepare the pasta! There's no one way to make Vignarola Pasta, however we think this version does justice to the Roman tradition.
Fresh fava beans and pecorino cheese are a famous pairing in Italy. Here we are marrying the two by creating a creamy pecorino cheese sauce for our pasta in the style of a Cacio e Pepe sauce.
As the pasta cooks, it makes the water it is boiling in starchy. In the authentic Italian way, we add a bit of that hot starchy pasta water to finely grated pecorino cheese to make a creamy pecorino paste. The only way to mess up the sauce is to add too much water (or water that is too hot) to the cheese. If you do that, you'll get a gooey, clumpy mess.
Instead, drizzle in the hot pasta water a little at a time, stirring constantly. When your pecorino cheese sauce looks a little bit like ricotta, you can stop adding water. Never ever do we use a ton of butter or heavy cream in a dish like this to create the sauce.
Add a ladle of hot pasta water to the toasted black pepper to infuse the pasta with a bit more flavor. In the video recipe, we use a pasta called paccheri' However, you can use another type of two pasta like rigatoni or penne.
Add the Vignarola Romana mixed vegetables to the pasta. Then, take the pasta off of the heat before mixing in the cheese sauce. This will also prevent your cheese from melting into a gooey mess. Instead you'll have a creamy, deliciously cheesy sauce that's the envy of any Italian. Another ladle of pasta water and in goes our cheese paste. And just as we did with our Garden Pasta, we do a simple mantecatura to mix in the cheese.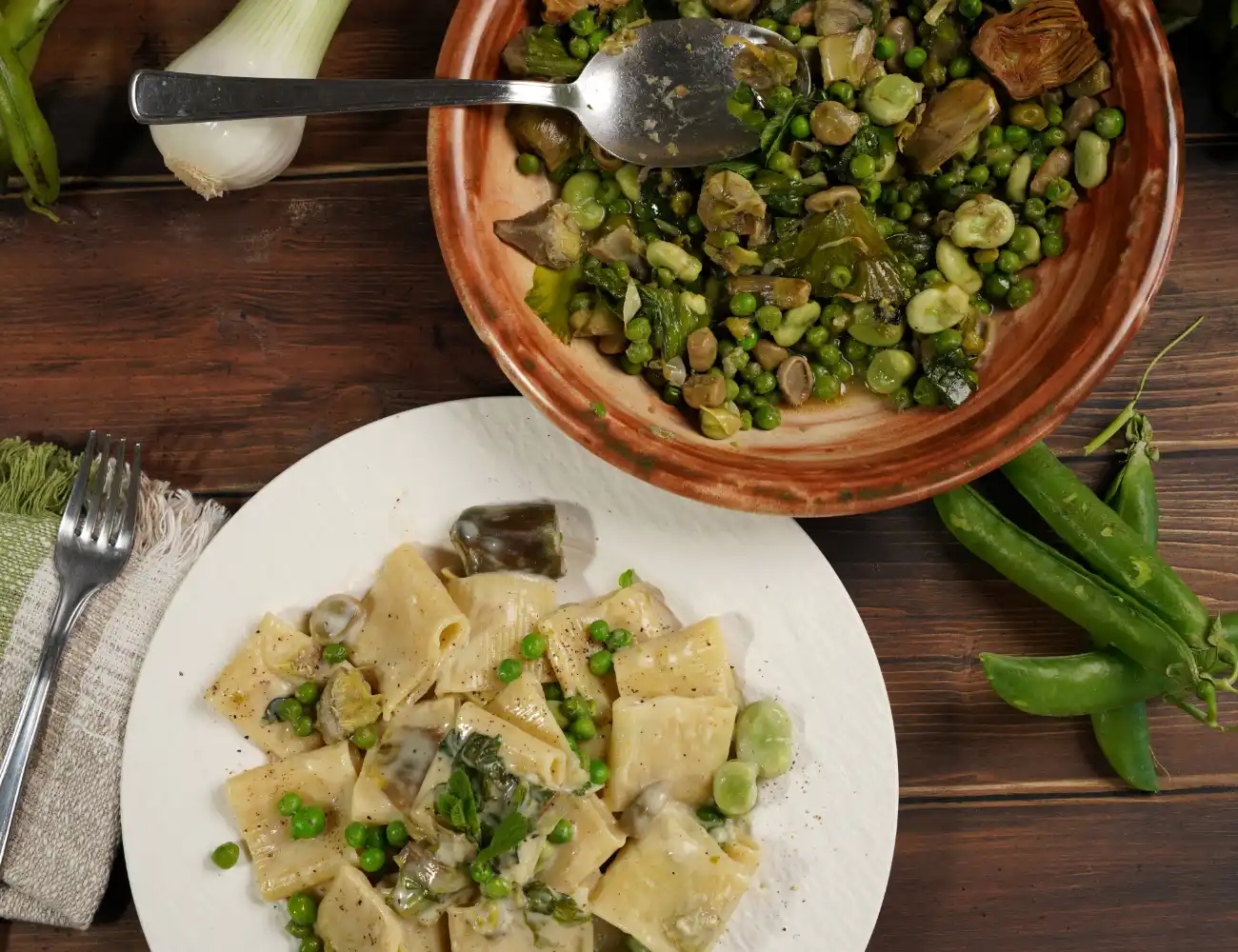 So there you have it: two delicious and traditional Italian alternatives to the American Pasta Primavera. Let us know what you think in the comments!
---
---
As an Amazon Associate, we earn from qualifying purchases. This means at no extra cost to you, PIATTO may earn a small commission if you click the links and make a qualifying purchase.
---