Are you a coffee aficionado searching for the ultimate espresso experience? Look no further. Elevate your coffee ritual with the best espresso cups made in Italy—handcrafted, hand-painted masterpieces from Deruta Ceramics. These aren't just cups; they're works of art that enrich your daily life.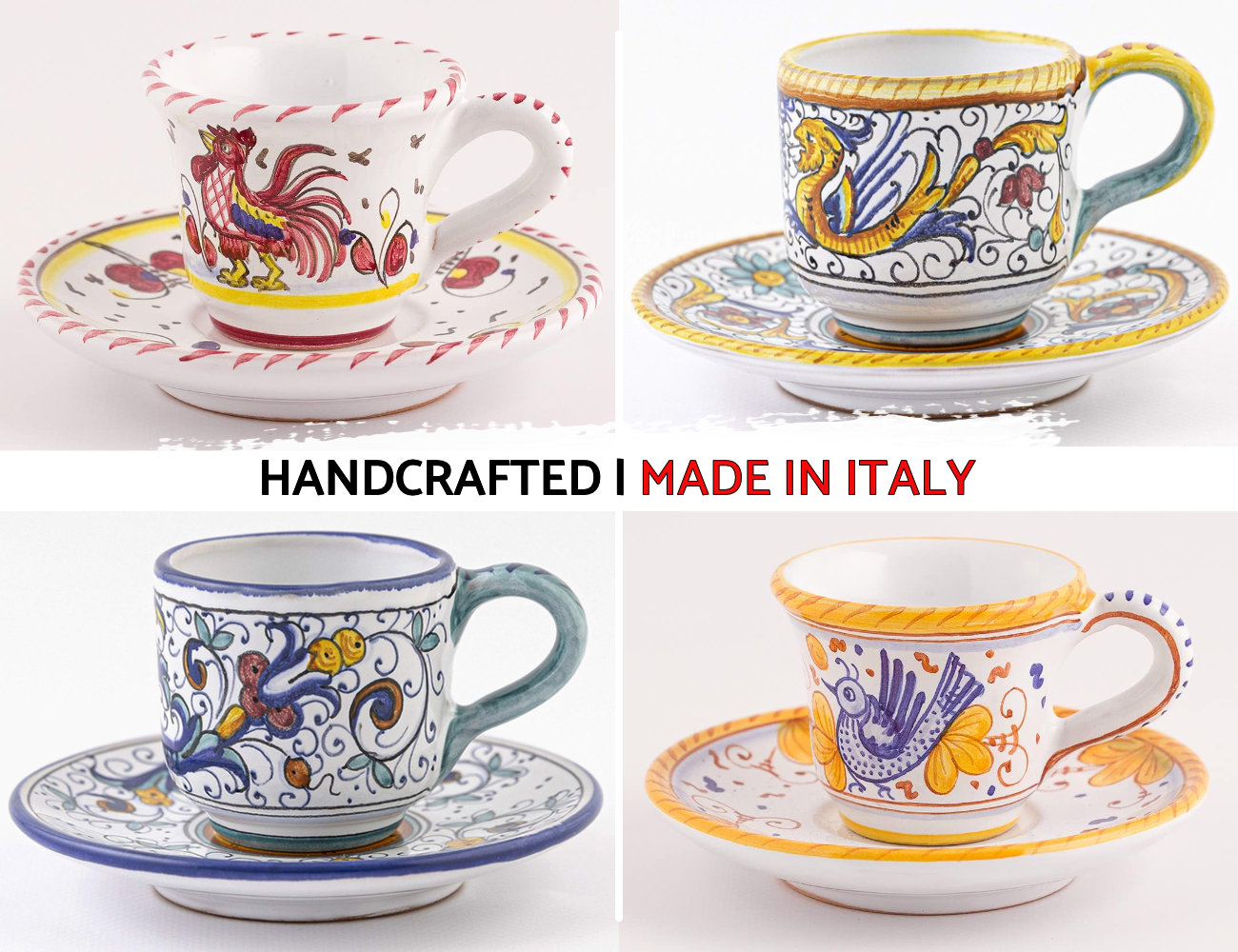 ---
Why We Think Deruta Makes the Best Espresso Cups!
Let's get one thing straight: the cup you choose for your espresso isn't just a vessel; it's an integral part of the experience. A good espresso cup retains heat, enhances aroma, and turns a simple coffee break into a luxurious ritual. And when it comes to espresso cups, Italy sets the gold standard. These Deruta espresso cups are:
Hand painted with food-safe glazes
Handmade by artisans
Made of ceramic: Keeps the espresso hot and preserves aroma and taste
Ergonomic handle and cup design
Safe for Microwaves and Dishwashers—though handwashing is recommended
Made in Italy!
SHOP the Deruta Espresso Cups Collection on Amazon
Made In Italy: This label on products (edible and non-edible) means that the product was wholly produced or has undergone its last substantial transformation in Italy. Learn more about the "Made in Italy" label and why it matters.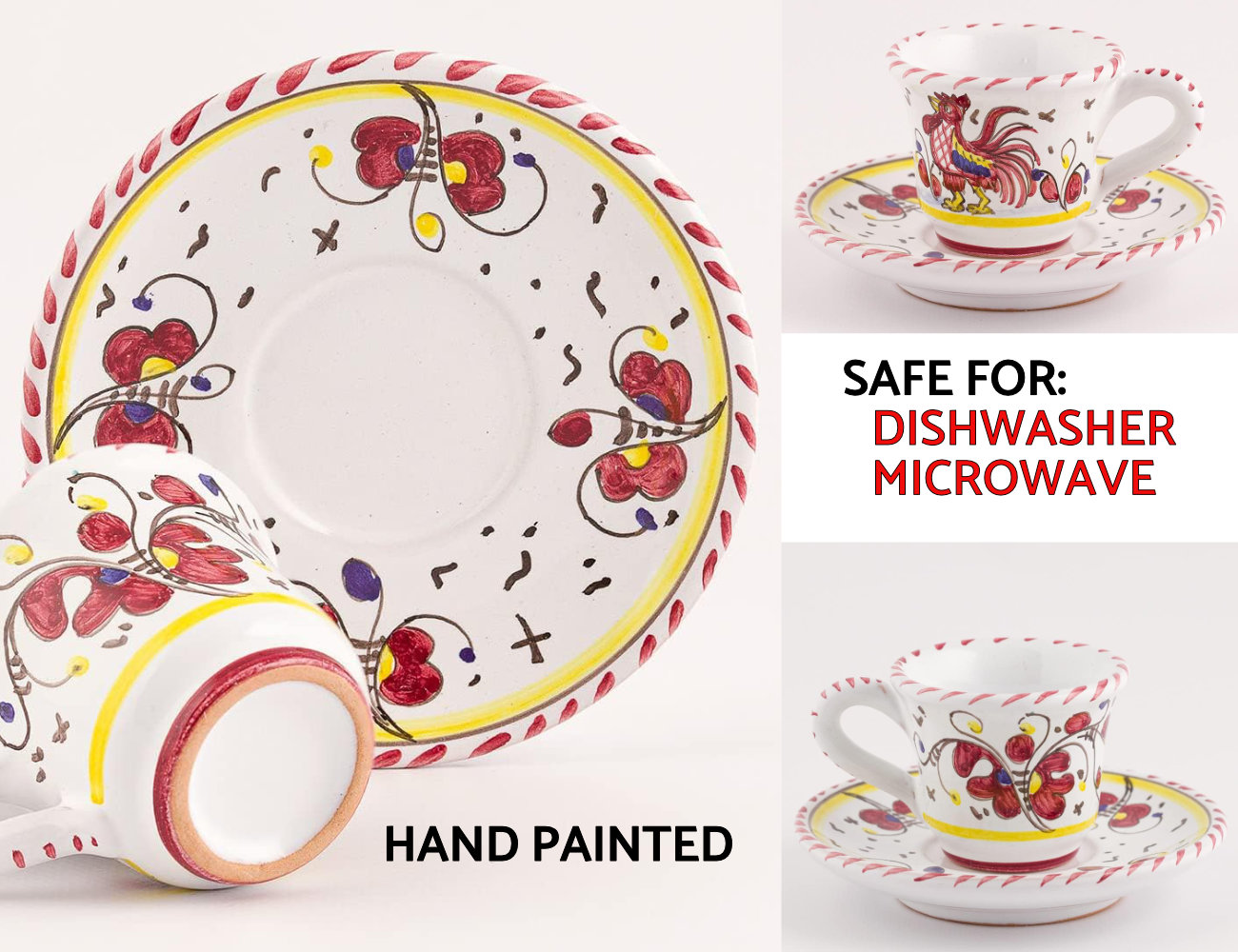 ---
Deruta Ceramics: A Legacy of Craftsmanship
Nestled in the heart of Italy, Deruta Ceramics has been crafting ceramic masterpieces since 1965. This esteemed company seamlessly blends traditional techniques with contemporary aesthetics—often with a Medieval Italian look. Each piece stands as a testament to the skill and artistry of its creators. With accolades for preserving Italy's intangible cultural heritage of ceramic-making, Deruta Ceramics is a brand that commands respect.
The city of Deruta has been known for centuries in Italy has a center for ceramic artistry. Located in the heart of Umbria, near Perugia, Deruta's ceramic legacy is likely directly a result of its proximity to Perugia which was an important Roman city requiring castle renovations and roadwork to support its bustling economy. Deruta's hills rich in clay provided the perfect place for ancient ceramic artisans to master their craft.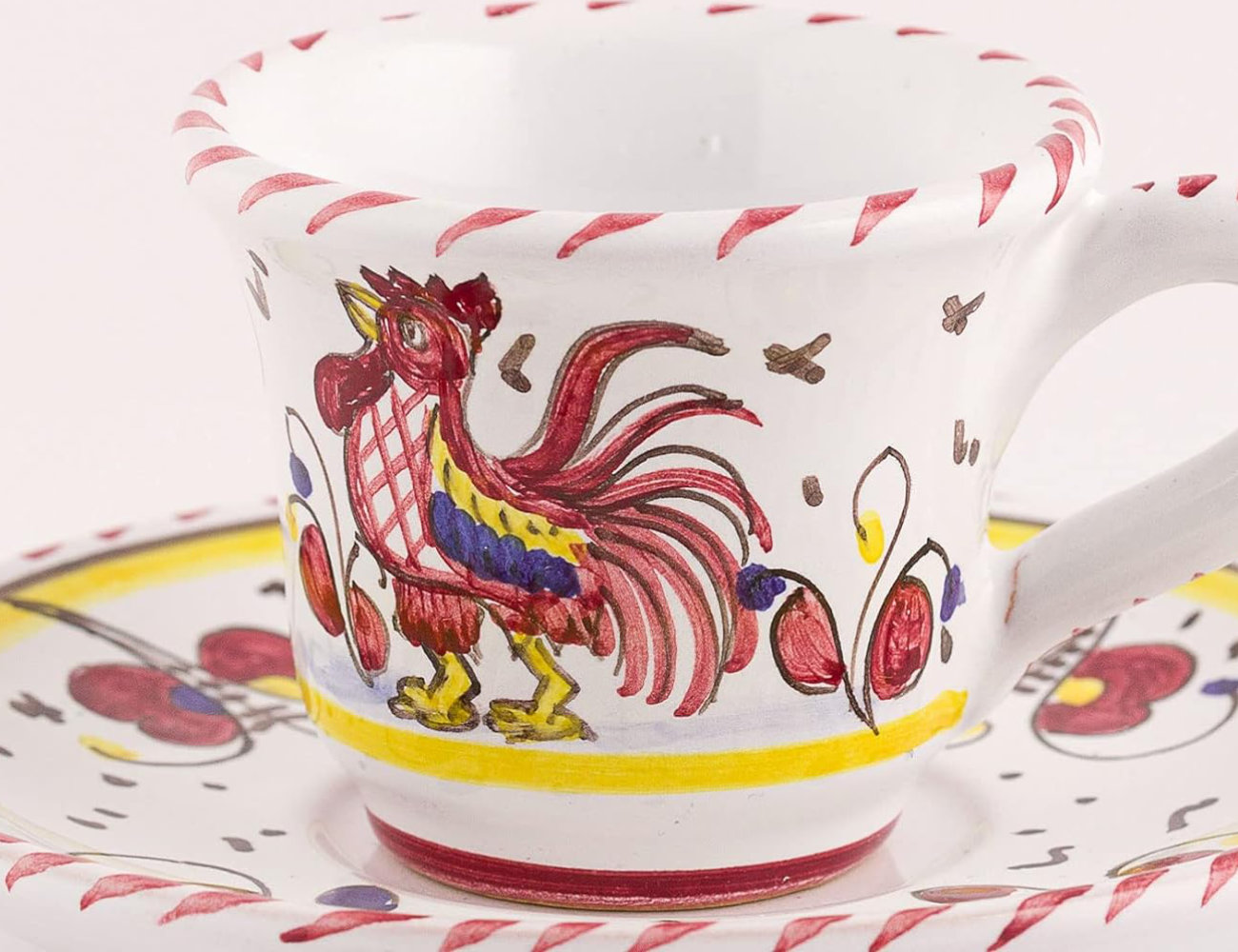 ---
The Art of the Cup
What sets Deruta Ceramics' espresso cups apart? It's all in the details. Each cup undergoes a meticulous crafting process, from shaping the clay to adding the final hand-painted touches. High firing temperatures ensure durability, while the glazes bring out vibrant, lasting colors. These cups are individual works of art, each with its unique character.
Design Features: More Than Just a Cup
Prepare to be captivated by the intricate designs that adorn these espresso cups. From geometric patterns that echo Italy's rich artistic history to delicate floral motifs, each cup is a masterpiece. The hand-painting process allows for nuanced details, making each piece unique. The result? An espresso cup that's a conversation starter.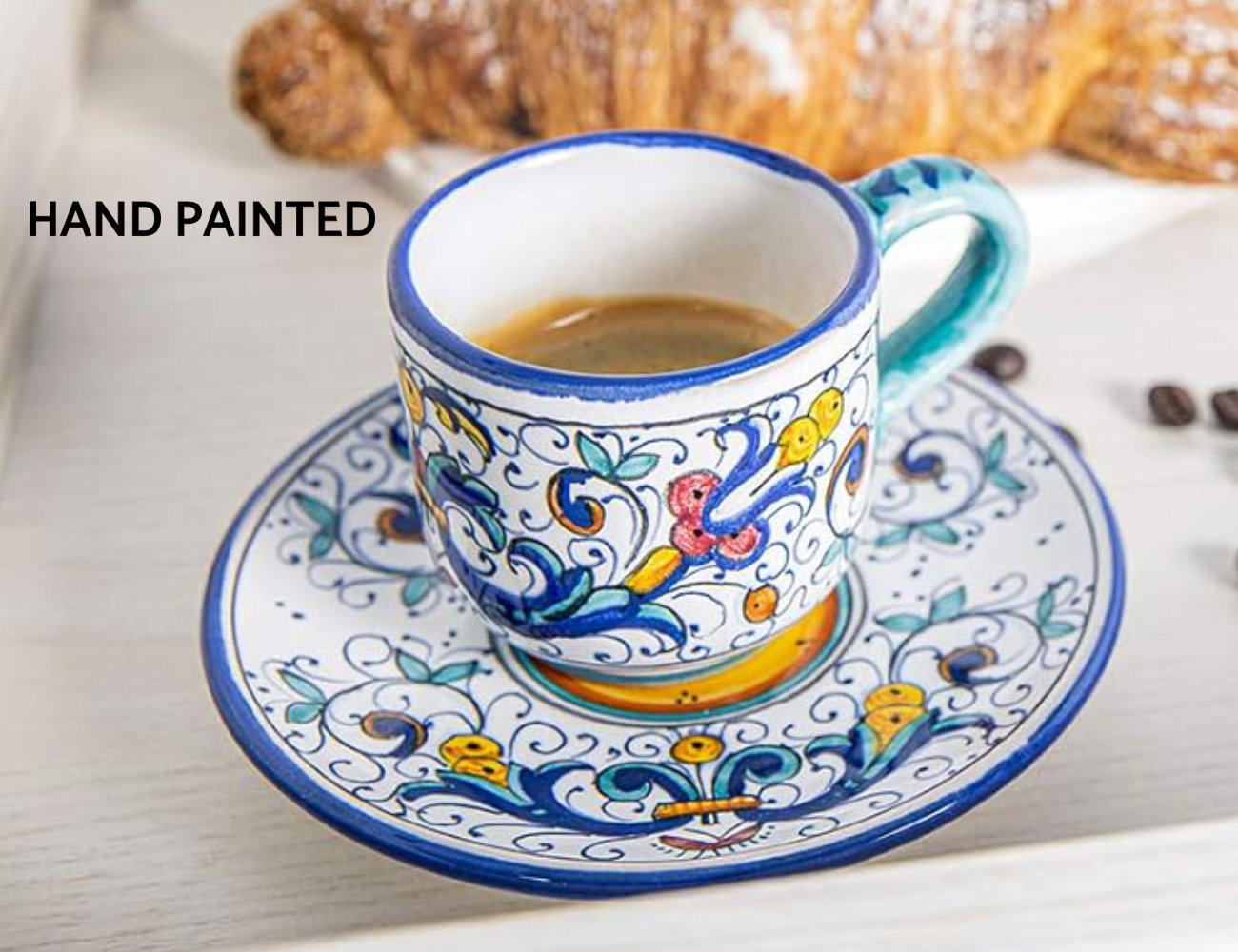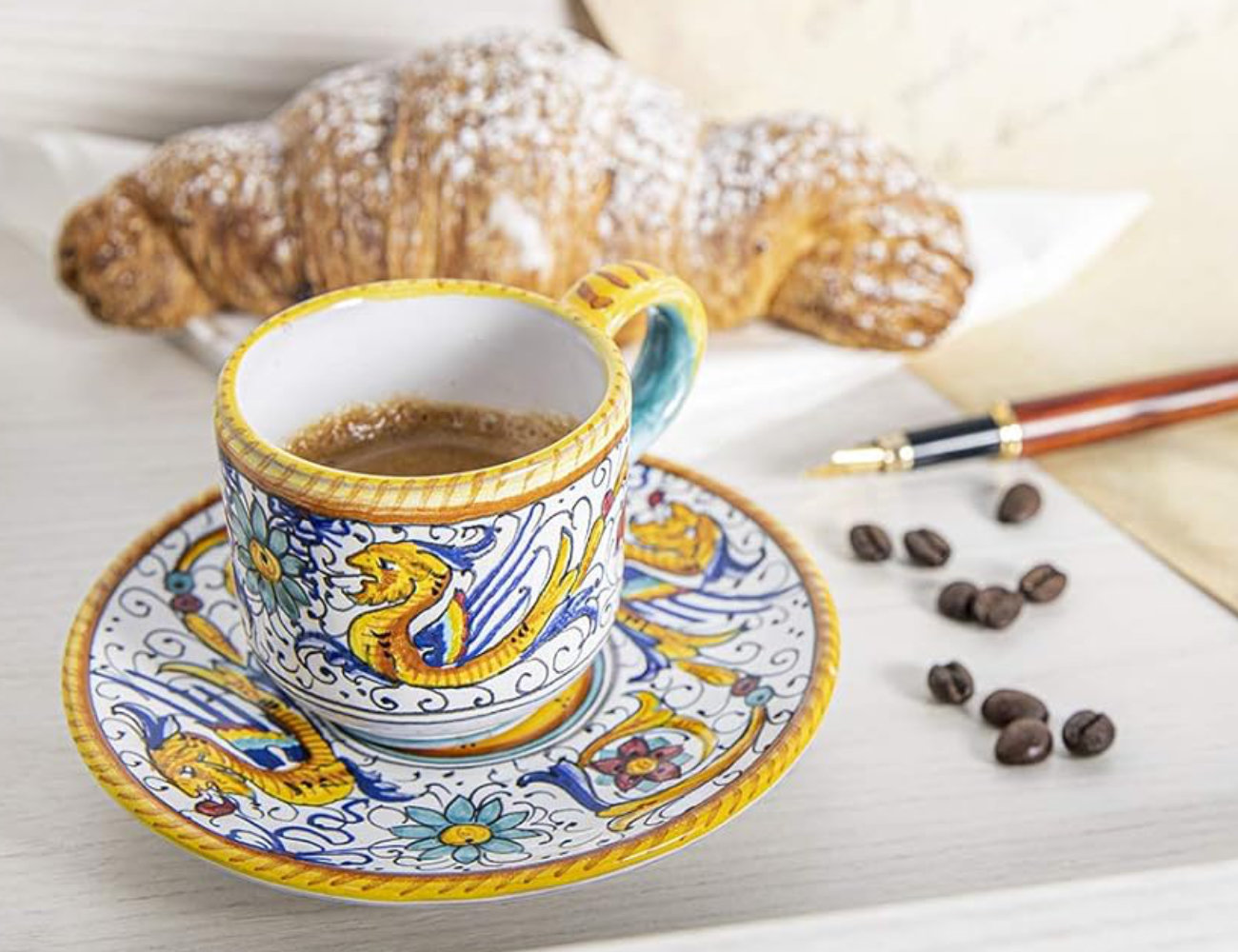 ---
The Perfect Gift or Holiday Present for the Coffee Lover
If you know someone who's passionate about coffee and appreciates fine craftsmanship, these espresso cups make the ideal gift. They're more than just cups; they're keepsakes that will be cherished for years to come. Gift a piece of Italy, steeped in tradition and artistry.
Ceramic Espresso Cups For the Discerning Collector
For those who collect espresso cups, a handcrafted piece from Deruta Ceramics is a must-have. The brand's reputation for quality and artistry makes these cups a valuable addition to any collection.
Like any of the best espresso cups, these little works of art are entirely handmade and hand-painted by L'Antica in Deruta, Italy—a prestigious Bottega d'Arte making fine Italian pottery since the 1950's. And just like a work of art, the artisan's signature is hand-painted on the bottom of each saucer!
Don't settle for ordinary when you can have extraordinary. Experience the luxury and artistry of Italy every time you sip your espresso. With handcrafted, hand-painted espresso cups from Deruta Ceramics, you're not just buying a cup; you're investing in a piece of art that elevates your daily rituals.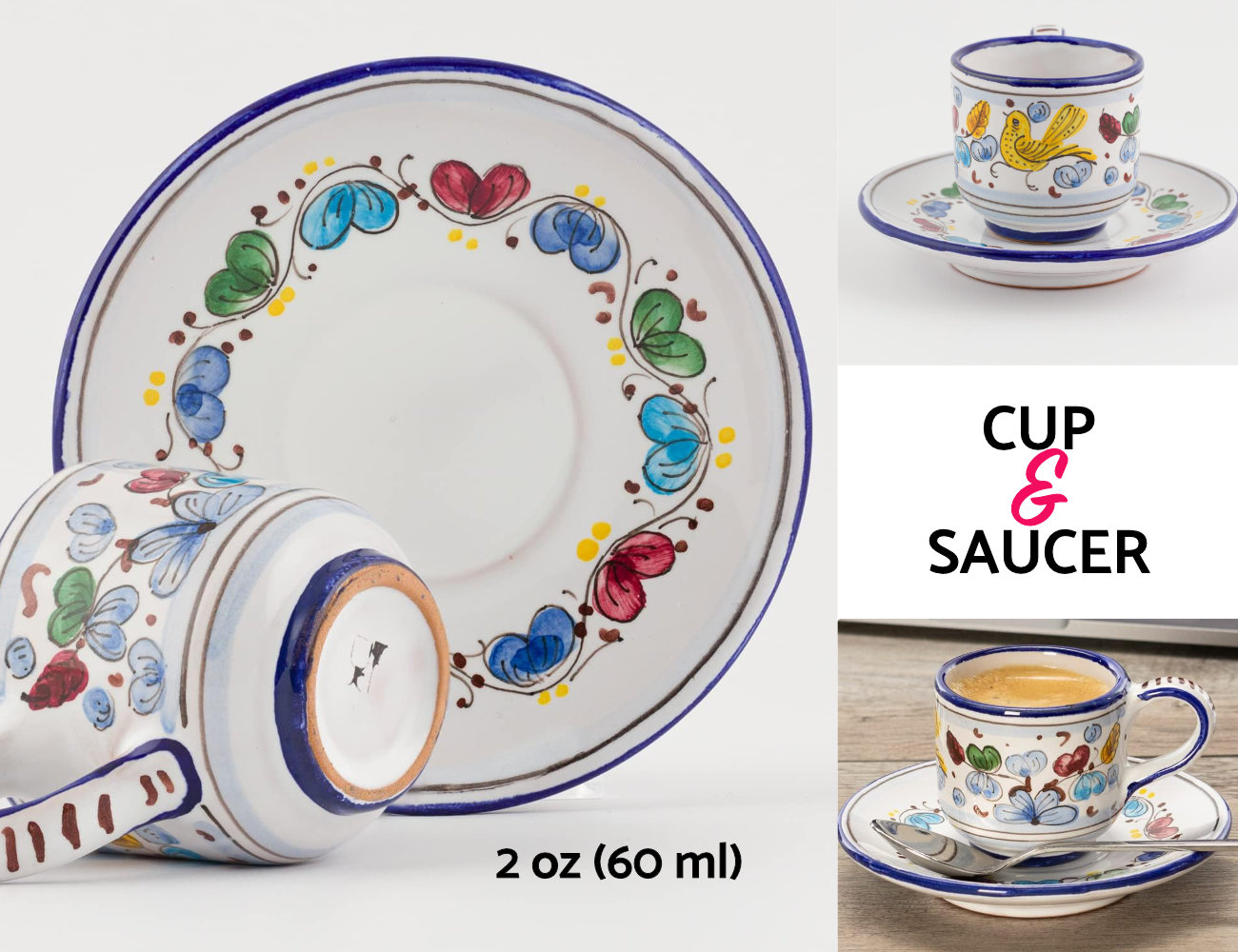 Explore the Deruta Ceramics Espresso Cup Collection Now
---
More Gift Ideas!