Imagine a buttery, chocolate hazelnut cookie, each bite resonating with notes of richness akin to Nutella. A treat so perfect it doesn't just satisfy your tastebuds but your soul—each nibble choreographed to the celestial notes of Tchaikovsky's "Dance of the Sugar Plum Fairy." Welcome to our PIATTO™ masterpiece: the ultimate Chocolate Hazelnut Cookies Recipe.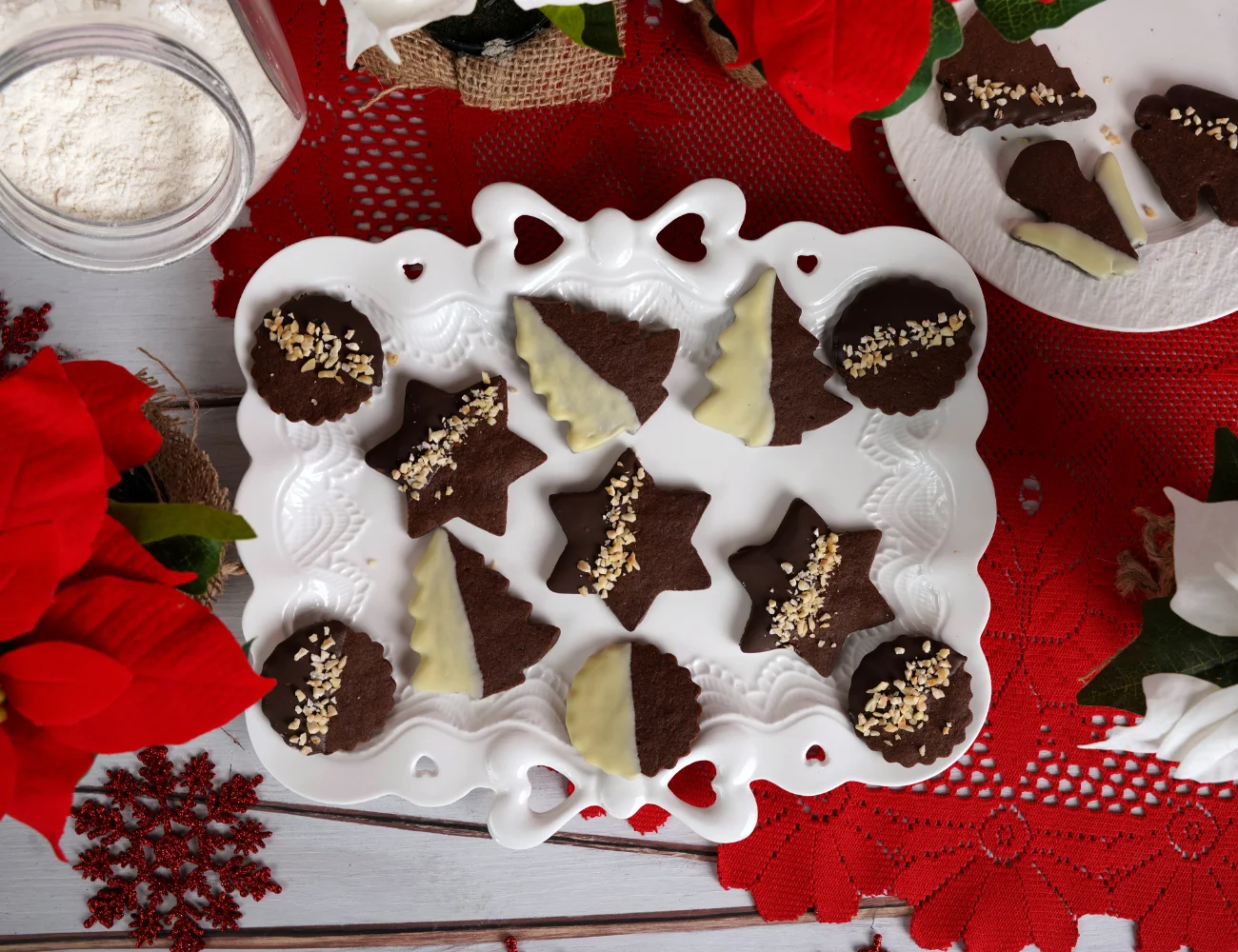 ---
Watch the Video Recipe!
Watch our video tutorial and learn how to make this Chocolate Hazelnut Cookie recipe like a pro!
---
Subscribe to our YouTube Channel
More video recipes? Subscribe to our YouTube Channel (it's FREE) and click the bell to get notifications when we release a new video recipe!
---
Crafting the Perfect Chocolate Hazelnut Cookies
Jump to the recipe at the bottom of this article for the complete step-by-step guide to making this Chocolate Hazelnut Cookies recipe—with photos! Here are some tips to make your cooking making a success:
Ingredients We Use
As always, quality ingredients make the difference between ho-hum chocolate hazelnut cookies and cookies your friends and family will be thinking about all year round. Most of the ingredients —sugar, butter, flour and hazelnuts—are easy to find in the local grocery. However, a key ingredient in these holiday cookies are dark chocolate—we need it for both the cookies and the glaze! Since not all dark chocolates are created equal, we'll share some brands we use to make this recipe its best:
Dark Chocolate (affiliate links)
Perugina 70% Dark Italian Chocolate: https://amzn.to/48x3qlj
Guittard Semi-Sweet Chocolate Chips: https://amzn.to/3PDUP7B

Pure Natural Vanilla Extract (affiliate links)
We reach for Nielsen-Massey Extracts whenever we can find them! From vanilla to almond to rose, these guys deliver truly amazing pure extracts
Neilson Massey Pure Vanilla Extract: https://amzn.to/3LHLNp9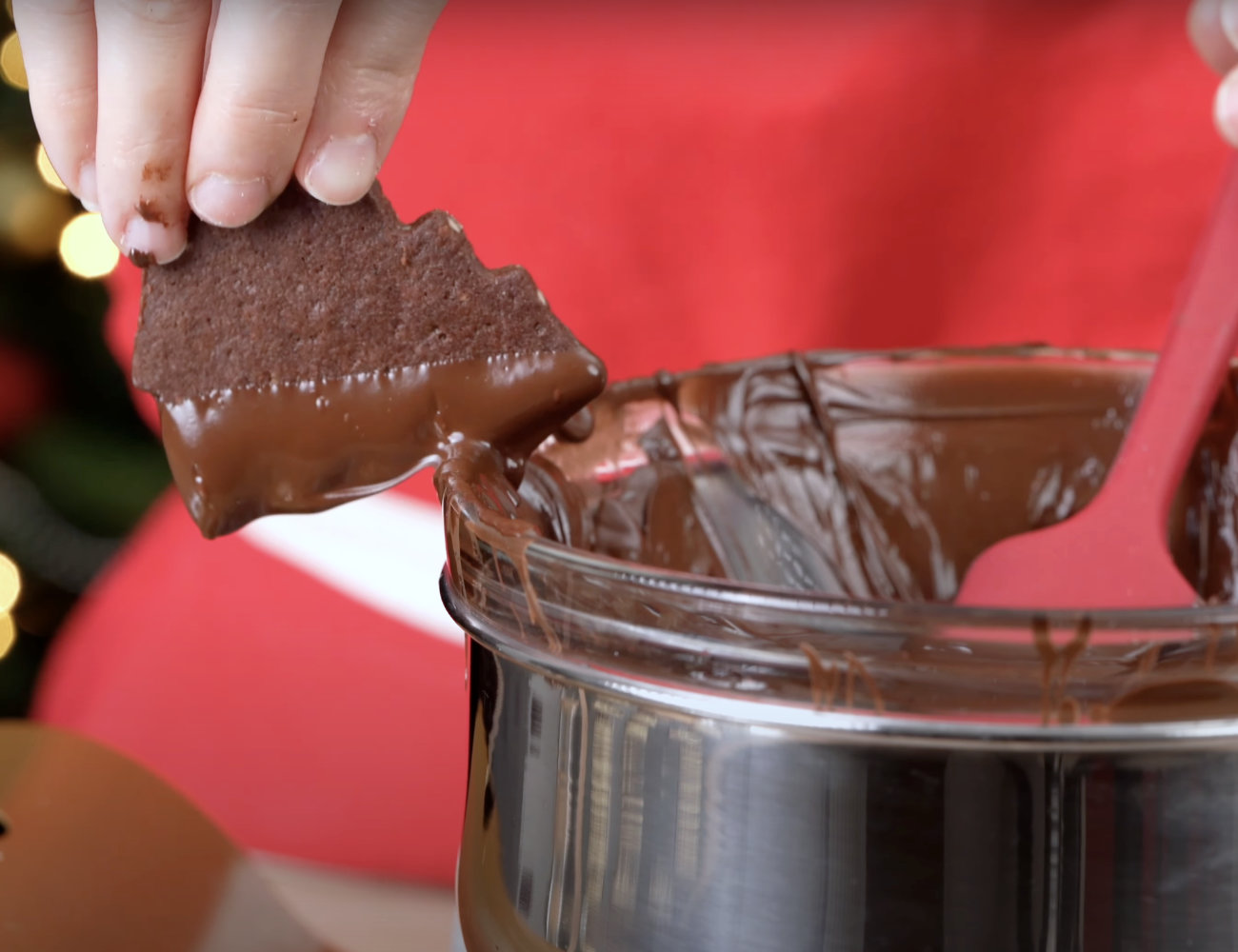 ---
Tools We Use
Stand Mixer (We Use KitchenAid)
A stand mixer makes mixing up cookie dough a breeze. You can use the paddle attachment throughout the entire process. Unlike some recipes that require a large bowl—we are talking to you, Angel Food Cake!— these cookies can be made with an entry level stand mixer unless you plan to make double or triple batches.
That said, we make a wide range of desserts and doughs in the PIATTO™ studio, and so we invested in a KitchenAid Heavy Duty stand mixer—which we use also to make these cookies. This is comparable to the 'Commercial' model sold in the United States. Need some excuses to buy a stand mixer or upgrade to this beast? Check out our article on 10 Reasons Why You Need a KitchenAid Stand Mixer!
You can find the KitchenAid Commercial stand mixer on Amazon: https://amzn.to/3EWqcFx (affiliate link)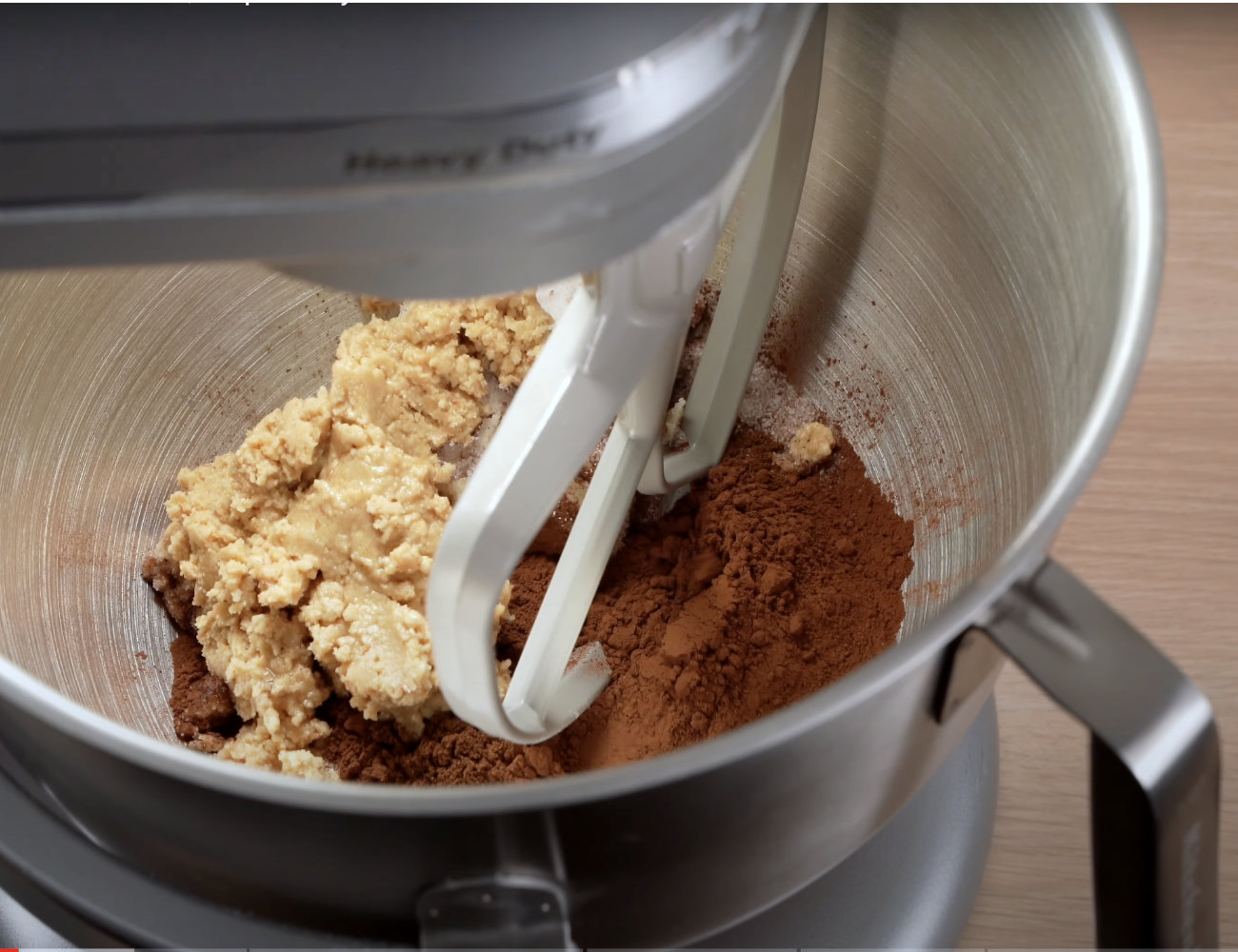 Food Processor (for Blending Hazelnuts)
The toasted hazelnuts need to be blended for this recipe. A food processor is perfect for the job, provided it is capable of handling nuts. We use either our Kenmore Food Processor (purchased in Europe) or our Vitamix to do the job of blending nuts.
Here's a quality food processor comparable to our Kenmore (below): https://amzn.to/3t9Nwx3 (affiliate link)

Vitamix is also an excellent choice for grinding nuts: https://amzn.to/3EYGi1G (affiliate link)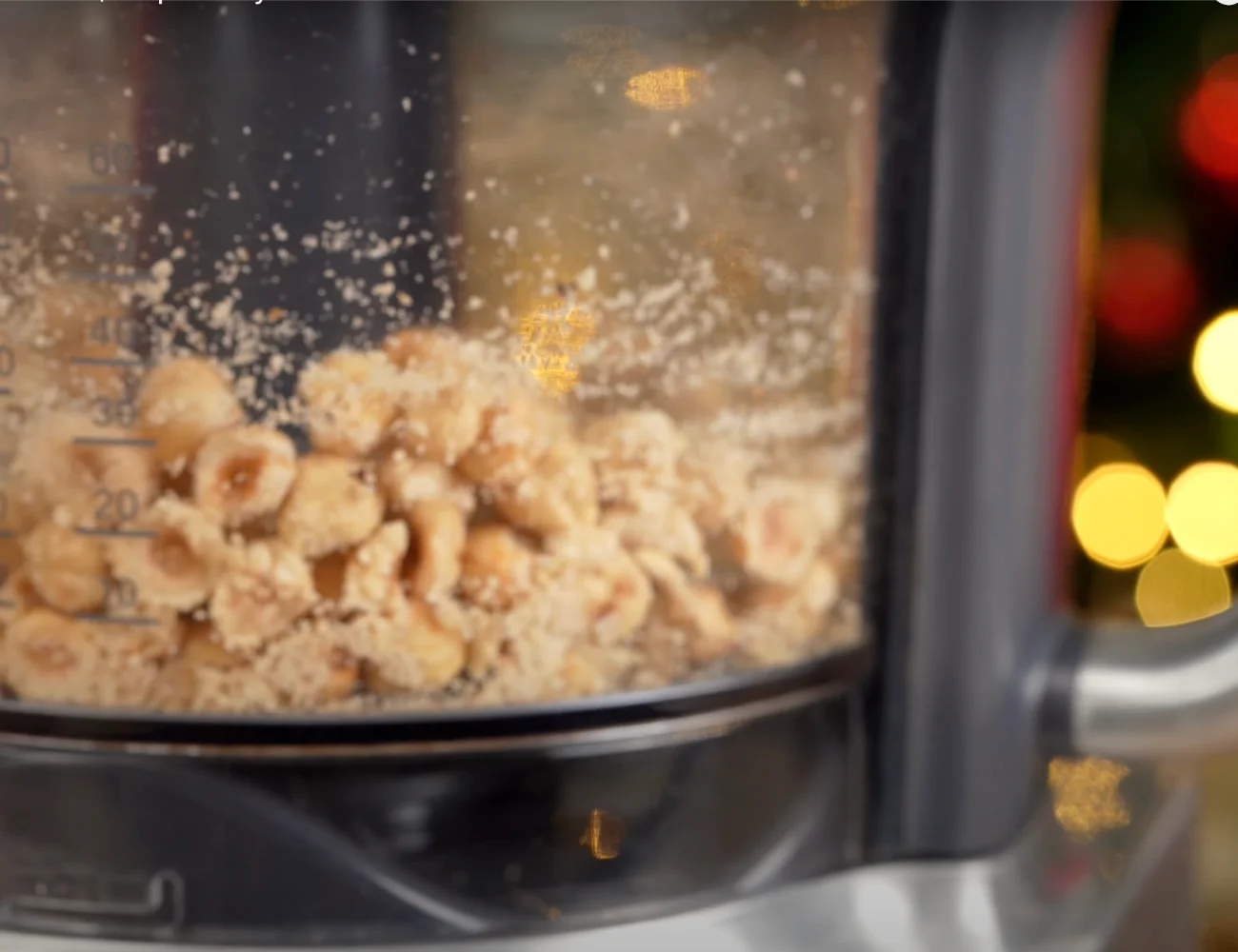 Space Saver Stackable Drying Racks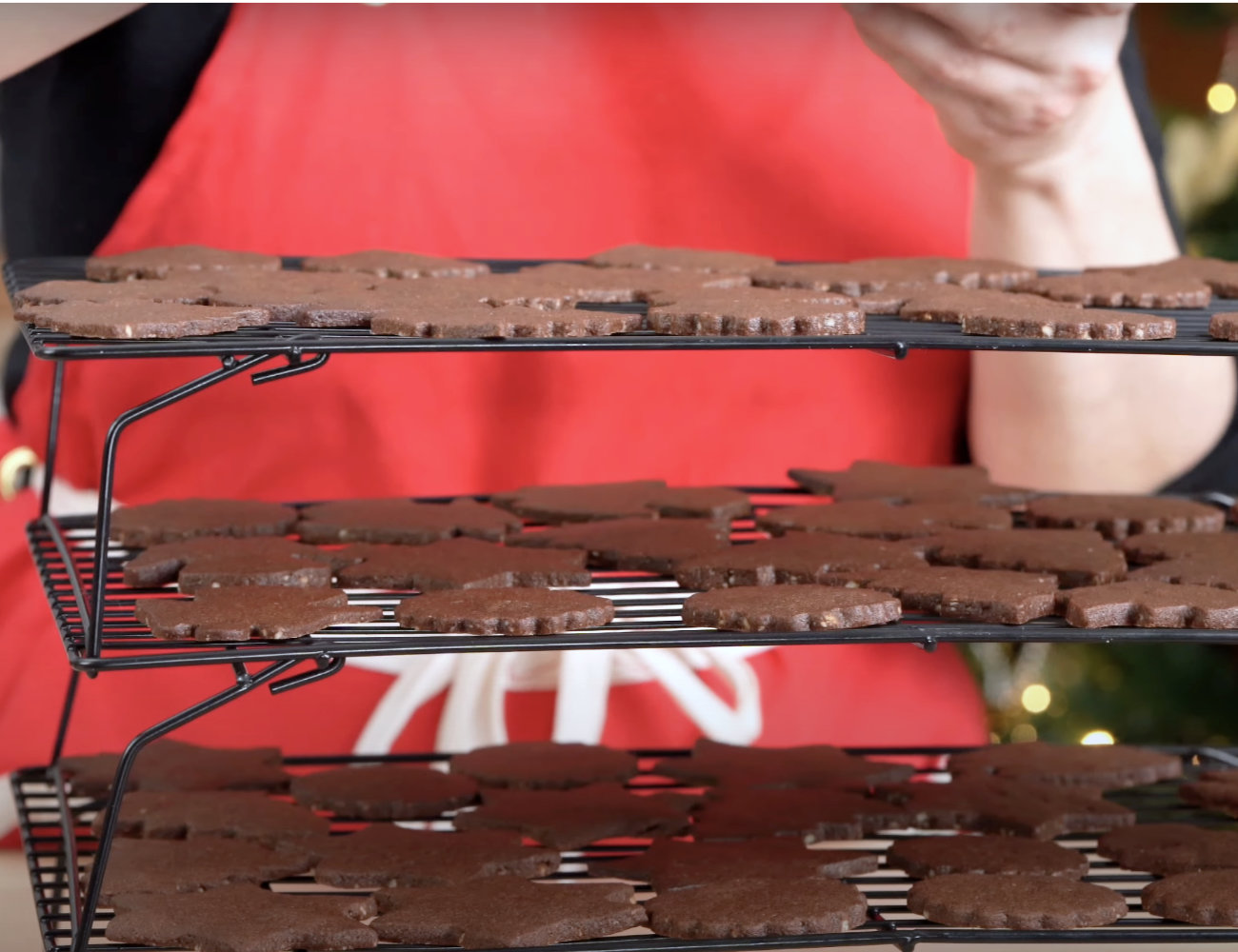 ---
As the cookies cool, pop on Tchaikovsky's "Dance of the Sugar Plum Fairy" and let every note accentuate each ingredient in your creation.
Not only do these make for a divine personal treat, but they also present beautifully as edible holiday gifts. So, package them in seasonal wrapping for a truly immersive festive experience.
Indulge, enjoy, and may your holidays be as sweet and refined as these Chocolate Hazelnut Cookies.
---
As an Amazon Associate, we earn from qualifying purchases. This means at no extra cost to you, PIATTO may earn a small commission if you click the links and make a qualifying purchase.
---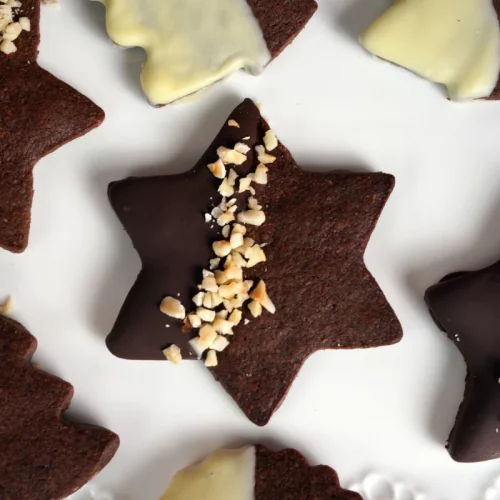 Chocolate Hazelnut Cookie Recipe | Butter Cookies for the Holiday
Who can resist the sublime union of chocolate and hazelnuts in a cookie that melts in your mouth? Dive into this mouthwatering guide and let's create a batch of cookies that would make even Nutella envious.
Equipment
stand mixer

(optional)—ideal for making these cookies

food processor

if blending the toasted hazelnuts; Alternatively, purchase hazelnut butter.

homemade double broiler

a small pot and a bowl to fit inside it; for melting the chocolate glaze
Ingredients
Cookie Dough
10

tbsp

butter

unsalted; softened

¾

cup

granulated sugar

3 ½

tbsp

cocoa powder

1 ½

tsp

espresso powder

(optional) or instant coffee

5

oz

hazelnuts

toasted and blended to a paste

1

whole

egg

1 ½

tsp

vanilla extract

pure

2

cups

white flour

all-purpose

3

oz

dark or semisweet chocolate

chips, shaved or coarsely chopped

¼

tsp

fine salt
Chocolate Glaze
16

oz

chocolate

dark or semisweet chocolate or white; chips, shaved or coarsely chopped

1

tbsp

vegetable oil

hazelnuts or decorative sprinkles

(optional) Use chopped hazelnuts or decorative sprinkles to add an extra pop of color to the cookies
Instructions
Make the Hazelnut Paste
Toast Your Hazelnuts: Place hazelnuts on a baking sheet and toast them in a preheated oven at 350℉ (175℃) for 8-10 minutes, or until golden brown. While still warm, wrap them in a tea towel and rub vigorously to remove any skins.

Blend to Perfection: Transfer the cooled hazelnuts to a food processor and blend until they form a smooth paste.
Melt the Chocolate
Melt your choice of chocolate in the microwave at 30-second intervals, stirring each time, until smooth. Let it cool slightly.

3 oz dark or semisweet chocolate
Make the Cooke Dough
Whip It Good: In a stand mixer with a paddle attachment, beat together: the butter, sugar, cocoa powder, and hazelnut butter at medium speed until it's airy and well-blended—about 2 minutes.

10 tbsp butter,

¾ cup granulated sugar,

3 ½ tbsp cocoa powder,

1 ½ tsp espresso powder

Spice It Up: Add in the egg, vanilla, and a pinch of salt. Mix until the mixture is uniform and smooth.

1 whole egg,

1 ½ tsp vanilla extract,

¼ tsp fine salt

Half the Flour + Chocolate: Incorporate half of the flour to the mixture, and then pour in the melted chocolate.

Rest of the Flour: Add the remaining flour. If the mixer struggles, switch to hand-mixing until all ingredients are well-incorporated.

Time to Chill: Let the dough rest in a cool environment—like your fridge—for at least 10 minutes.
Divide and Roll the Dough
Divide: Divide the dough into 3 parts for easy handling.

Roll: Roll each piece of dough between sandwiched between a large, folded piece of parchment paper. The final dough should be about ⅛-inch thick.

Freeze or Fridge: Store the rolled dough (still sandwiched between parchment paper) in the fridge for an hour or in the freezer for 20 minutes to firm it up.
Shape and Bake
Cookie Cutter Fun: Cut out cookies using your desired shape and place them on a cookie sheet. Re-roll any leftover dough and repeat the chilling process before cutting out cookies from that dough.

Oven Time: Bake the cookies (while still cold) in a preheated oven at 350℉ (175℃) for 8-10 minutes. They should appear dry and almost firm.

Let the cookies cool on the cookie sheet to firm up slightly before transferring them. Transfer the cookies to baking racks to cool thoroughly.
Glaze the Chocolate Hazelnut Cookies
Melt & Mix: Make a double broiler with a metal or glass bowl set over a saucepan of simmering water. In the bowl, combine the chocolate and oil. Stir until the chocolate is completely melted.

16 oz chocolate,

1 tbsp vegetable oil

Dip & Drip: Dip half of each cookie into the chocolate pool. Lift it out, shake off the excess, and scrape the bottom against the side of the bowl to remove any excess chocolate. Set the glazed cookies on parchment paper or aluminum foil until the glaze is set.

hazelnuts or decorative sprinkles

If you like, add some finely chopped hazelnuts or other decorative sprinkles to the newly glazed cookies while the chocolate is still warm.
Notes
Bake Cookies Cold
It's important to put the cookies while they are still cold into the oven to bake. 
Alternative? Hazelnut or Peanut Butter
In a pinch, you can use a natural hazelnut butter or even peanut butter for this recipe. The cookies will still be delicious, but will likely not be as crispy.