We've lightened up this healthy Pasta Aglio e Olio recipe for those wanting a healthy Mediterranean diet recipe! Made with just 5 ingredients—garlic, olive oil, chili pepper and spaghetti—this deliciously creamy Spaghetti Aglio e Olio is just 300 calories! Keep reading to learn how to make this fast delicious pasta recipe that can be ready in just about 10 minutes.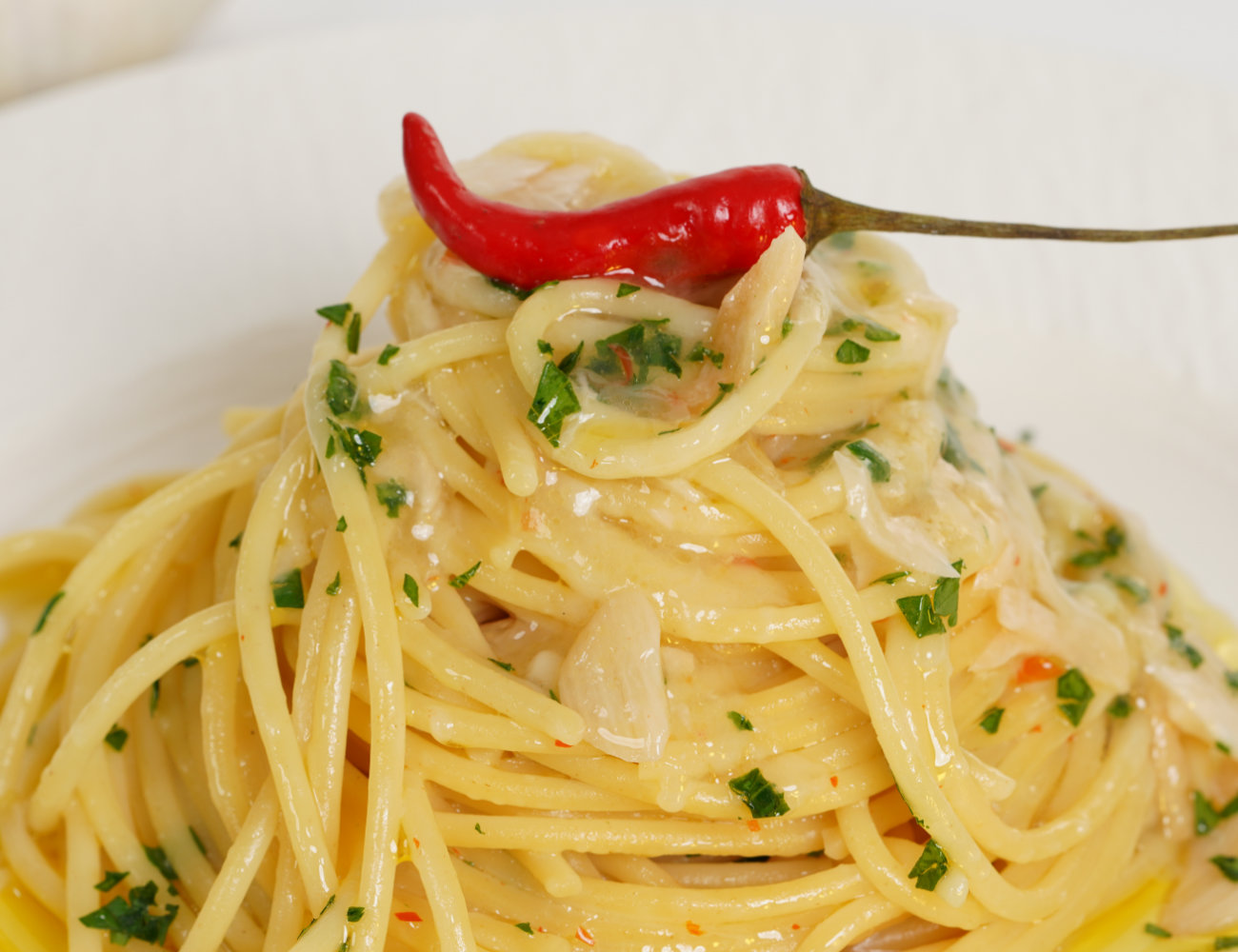 ---
Watch the Video Recipe!
Learn how to make the full fat version of Aglio and Olio recipe in this video recipe, filmed in Italy:
Subscribe to our YouTube Channel
More video recipes? Subscribe to our YouTube Channel (it's FREE) and click the bell to get notifications when we release a new video recipe!
---
---
What Makes this a Healthy Pasta Aglio e Olio?
By definition, Spaghetti Aglio e Olio is a healthy pasta recipe. Garlic, chili pepper, heart-healthy olive oil and quality pasta are all healthy ingredients. However, despite olive oil being a healthy, unsaturated fat—it is still fat and so it has a lot of calories!
We've lightened up the traditional Pasta Aglio e Olio recipe in two ways: by reducing the amount of olive oil in the recipe and reducing the pasta portion sizes. A healthy pasta recipe designed to help you lose or maintain your weight in accordance with common recommendations should be around 300 calories.
Why is this Pasta Healthy? Smaller portions, less olive oil!
Three meals a day of around 300 calories will take you to 900 calories. Since experts commonly recommend a 1200-1300 calorie a day diet for sensible weight loss, meals of around 300 calories will help you stay within these guidelines while leaving calories to spare for snacks throughout the day!
Prefer the full fat version? Check out the authentic Aglio e Olio recipe on our website!
Best Spaghetti Aglio Olio Recipe (Garlic and Oil Pasta)
The fastest pasta dish in Italy! This simple pasta dish is nonetheless packed with flavor. It is a favorite in Italy for lunch breaks or for a midnight snack. Spaghetti Aglio e Olio is popular throughout Italy, but originated in Naples.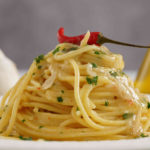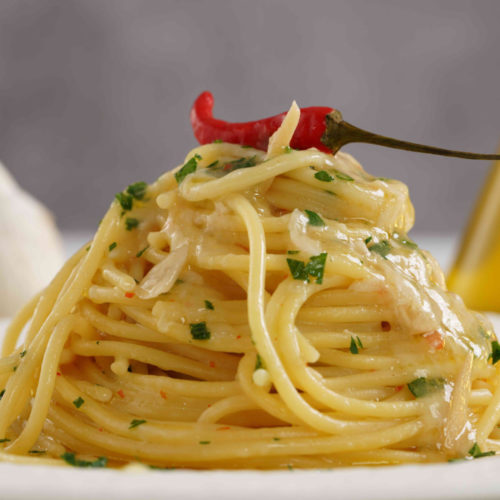 ---
By definition, most recipes from Italy are 'Mediterranean diet recipes'! Outside of Italy, this term has come to refer to the eating habits traditionally followed in the Mediterranean countries of Italy, Greece and Spain—countries that top the world's lists again and again on measures related to population health and longevity.
Practically speaking, if you are looking for Mediterranean Diet recipes because your doctor has recommended those eating habits for your health or wellbeing, you'll want to read our article on the topic: What is the Mediterranean Diet?
If you are wondering Is Pasta Healthy?— you'll want to read our article on that topic as well!
---
Is this an Authentic Aglio Olio Recipe? Yes!
Yes! This authentic Aglio e Olio recipe is based on the variation of this dish common in the Lazio region of Italy. This is the region where Rome is located, for those unfamiliar with Italian geography. In this region, pepper is often added to the garlic to make the Agio Olio sauce.
Add Anchovies
For an extra nutrient boost, add anchovies to this recipe as they often do in Abruzzo, Italy! Rich in protein, iron, omega-3 fatty acids and more, anchovies are a powerhouse of nutrition.
---
Tips for Making Healthy Pasta Aglio e Olio
Garlic digestion problems?
Halve pieces of garlic and add these halves to the olive oil instead of sliced or minced garlic. After the garlic has infused the oil, discard the pieces of garlic. This same strategy can be used with the chili pepper.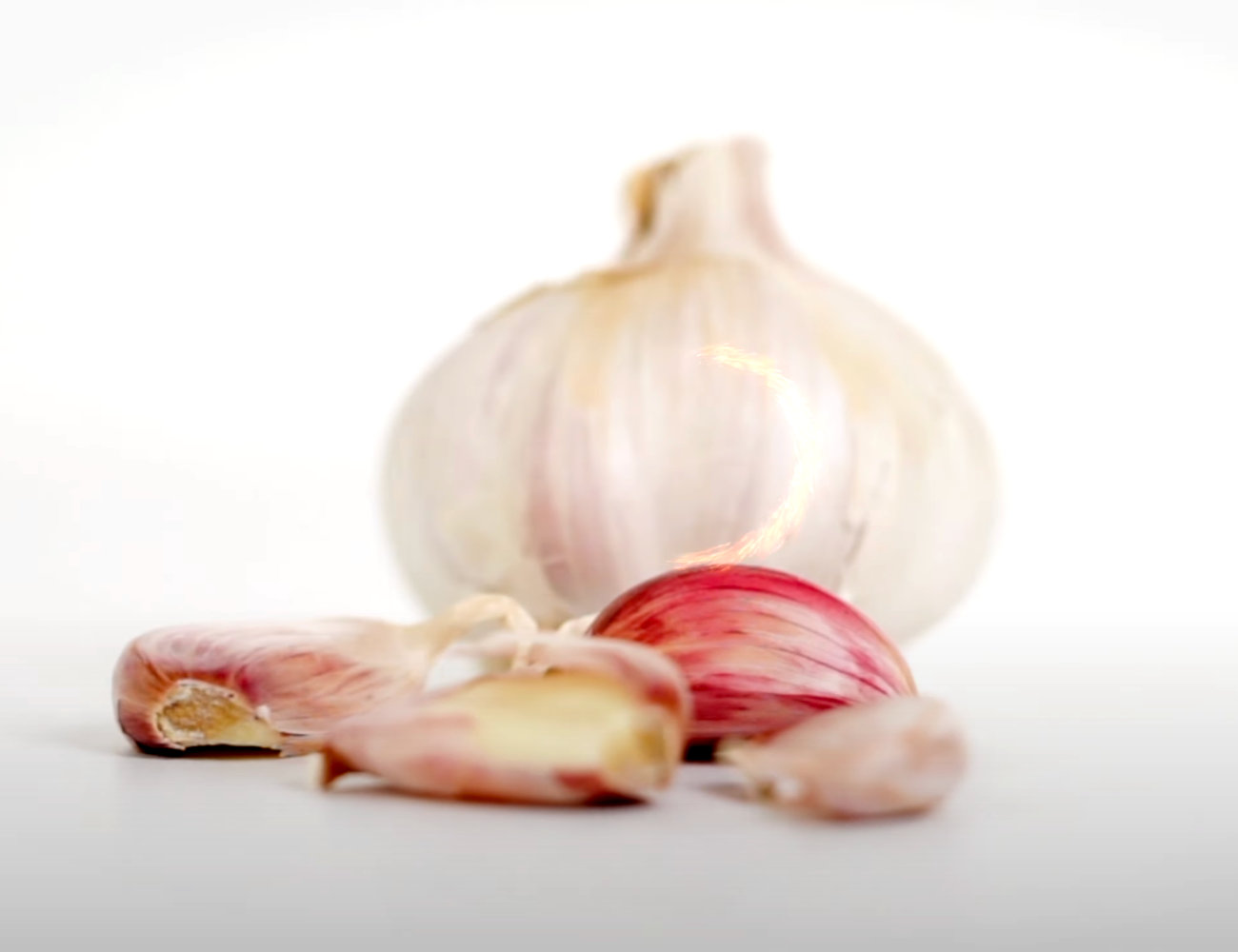 Which Chili Pepper?
We typically use common red 'thai' chili peppers (rawit or birds eye) to make garlic and oil pasta. Technically, chili pepper is a variation on this dish and so this ingredient is optional. Leave it out, decrease or increase the amount of pepper to suit your taste! In a pinch, you could use pepper flakes or a pinch of ground cayenne pepper!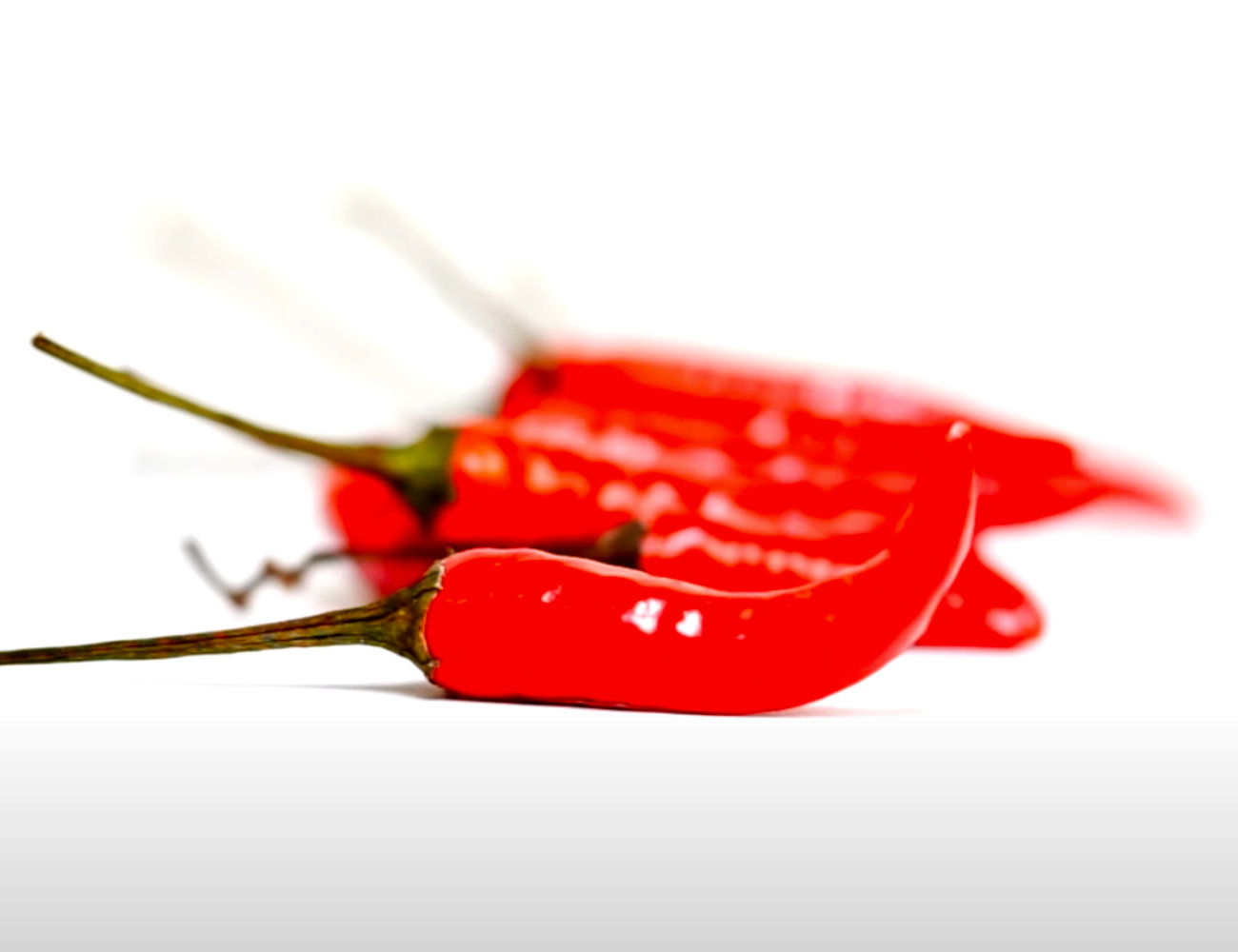 Choosing Quality Pasta
For a Pasta Aglio e Olio with the creamiest sauce, you want to select a pasta that will release a lot of starch while cooking.
Look for pasta that says it is 'bronze drawn' (trafilato al bronzo). This means what it says: the pasta has literally been cut with a bronze pasta stamp or cutter. This creates a more porous texture to the pasta which has many advantages—such as allowing the pasta to release more starch! Learn why quality spaghetti is better for your tastebuds—and your health— in our article: Best Pasta Brand in Italy!
Spaghetti We Use: We prefer La Molisana or Rummo Spaghetti (affiliate links)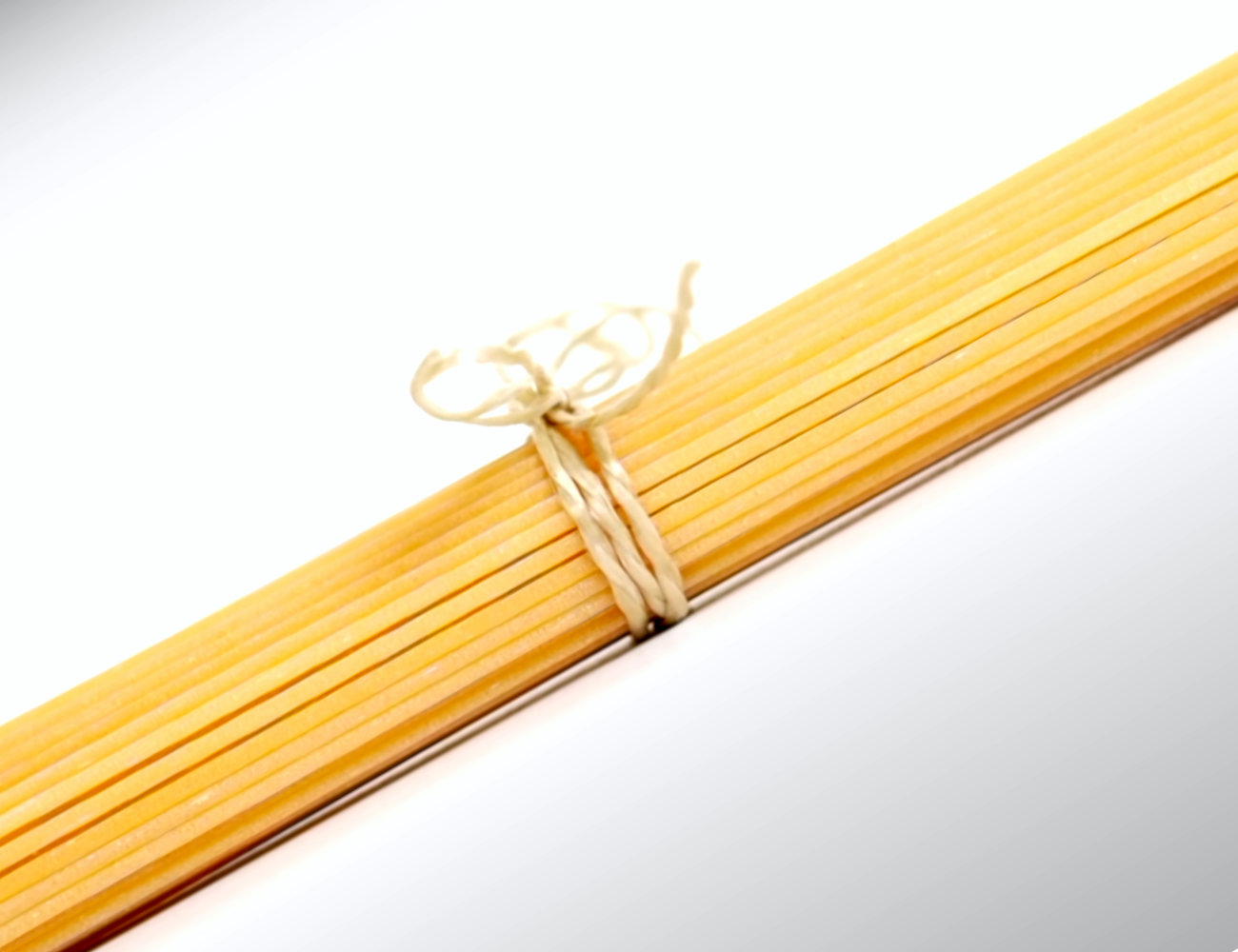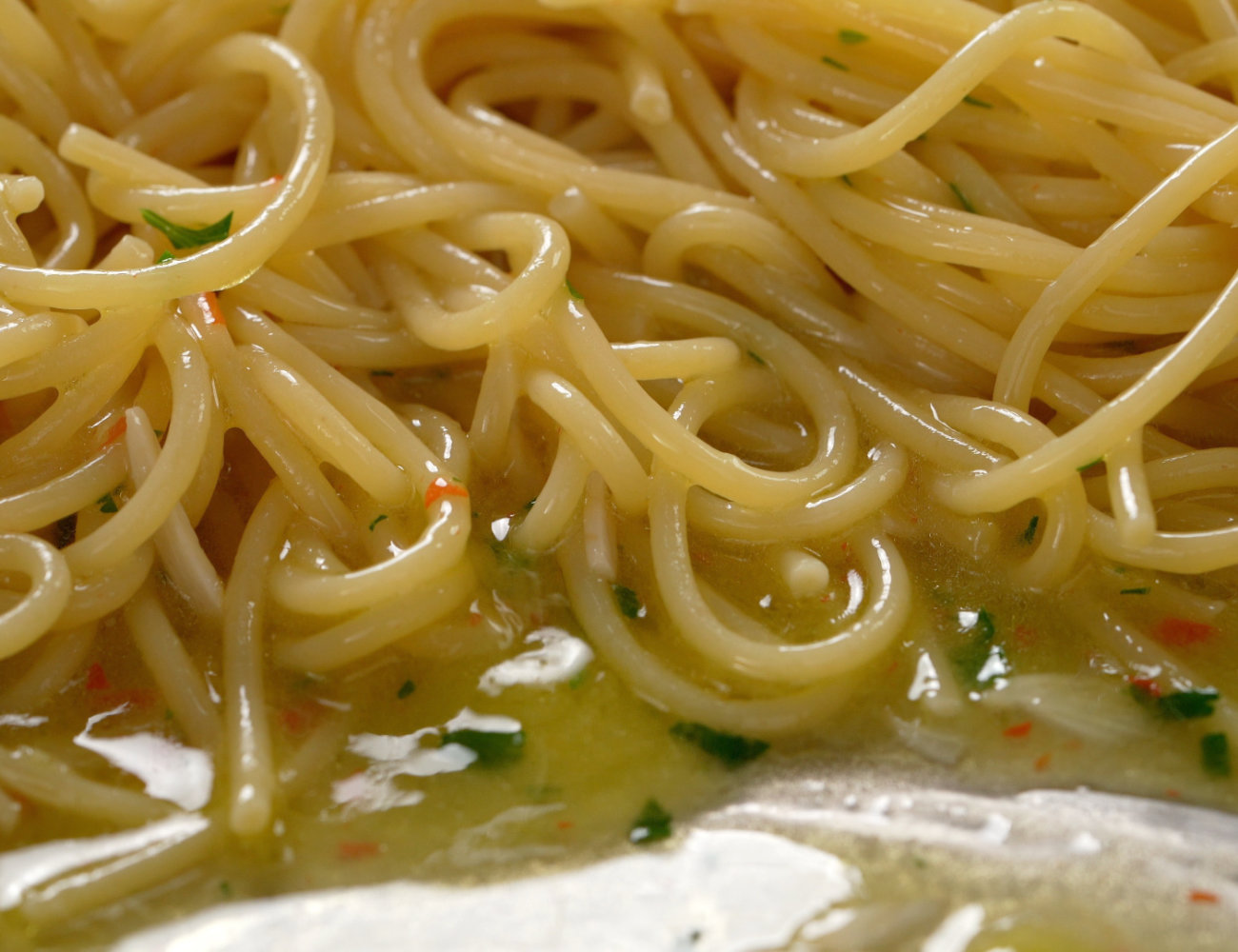 ---
As an Amazon Associate, we earn from qualifying purchases. This means at no extra cost to you, PIATTO may earn a small commission if you click the links and make a qualifying purchase.
---
Healthy Pasta Aglio Olio Recipe (Garlic and Oil)— Just 300 Calories!
The fastest pasta dish in Italy just got healthier! A favorite in Italy for lunch breaks or for a midnight snack. This is a healthy Pasta Aglio e Olio recipe, perfect for those looking for healthy pasta recipes or wanting to follow a Mediterranean diet!
Ingredients
4

cloves

fresh garlic

4

red chili pepper

fresh, minced; or to taste

¼

cup

olive oil

1

handful

flat leaf Italian parsley

optional

fine salt

to taste

8

oz

spaghetti

or vermicelli or linguine
Instructions
Partially Cook the Pasta
Bring a pot of water to a boil. Do not add salt to the water.

We will be adding ladles of this hot water to a skillet to finish cooking the spaghetti. If you add salty water to cook the pasta, the water will evaporate in the skillet leaving too much salt in our dish.

When the water is boiling, cook the pasta for just 2 minutes. In the meantime…
Prepare the Ingredients
Thinly slice the cloves of fresh garlic. Remove the seeds from and mince the red chili peppers. Mince a handful of parsley and set it aside. Save the parsley stems for flavoring the oil!

4 cloves fresh garlic,

4 red chili pepper
Prepare the Soffritto
Cover the bottom of a large skillet with the olive oil (use the amount of olive oil in the ingredients, not the full fat version shown in the photo). Over medium heat, add: the garlic, chili pepper and some parsley stems.

Cook for about 2 minutes or until the garlic has turned golden.

When the pasta has cooked for 2 minutes…

¼ cup olive oil,

1 handful flat leaf Italian parsley
Finish Cooking the Pasta in the Pan
Transfer the spaghetti immediately to the infused olive oil along with 2 ladles of hot pasta water. Save the hot pasta water—we will continue adding it to the skillet to cook the pasta!

Cook the pasta like a risotto over medium heat. Set your timer for the rest of the cooking time required on the pasta package instructions for al dente pasta.

Total cooking time for the average spaghetti brand is about 11 minutes. In this case, you'd set your timer for 9 minutes since we already cooked the pasta for 2 minutes.

When the first ladles of pasta water have been mostly absorbed, add a few ladles more. Continue adding water a few ladles at a time until the pasta is cooked to al dente. 

When the pasta is cooked, salt to taste and add some minced parsley for freshness and color. Buon appetito!
Video
Notes
Do NOT salt the pasta water.
Unlike other pasta recipes, in this recipe calls for cooking the pasta mostly in the pan with ladles of hot pasta water. We cook the pasta in this way to help us concentrate the starch coming from the pasta in order to create the creamy sauce. 
If you salt the pasta water, you will likely have too much concentrated salt left in your skillet when the water evaporates.
For this reason, we treat this pasta dish as we would a dish with salty seafood broth: salt at the end (if needed)!
Nutrition
Fiber:
2.7
g
Potassium:
360
mg
Cholesterol:
6.9
mg
Calories:
283
kcal
Monounsaturated Fat:
9.9
g
Polyunsaturated Fat:
1.5
g
Saturated Fat:
2
g
Fat:
14.2
g
Protein:
6
g
Carbohydrates:
27.6
g