It's so easy to turn the authentic Spaghetti alla Puttanesca into a healthy Spaghetti Puttanesca recipe! The classic Puttanesca sauce ingredients are already healthy: tomatoes, garlic, pepper, olives, capers and even anchovies.
We've simply adjusted the portion sizes and reduced the amount of olive oil to make this Puttanesca just 325 calories/serving! It's an incredibly tasty dish for lunch or dinner and a fine example of a Mediterranean Diet recipe.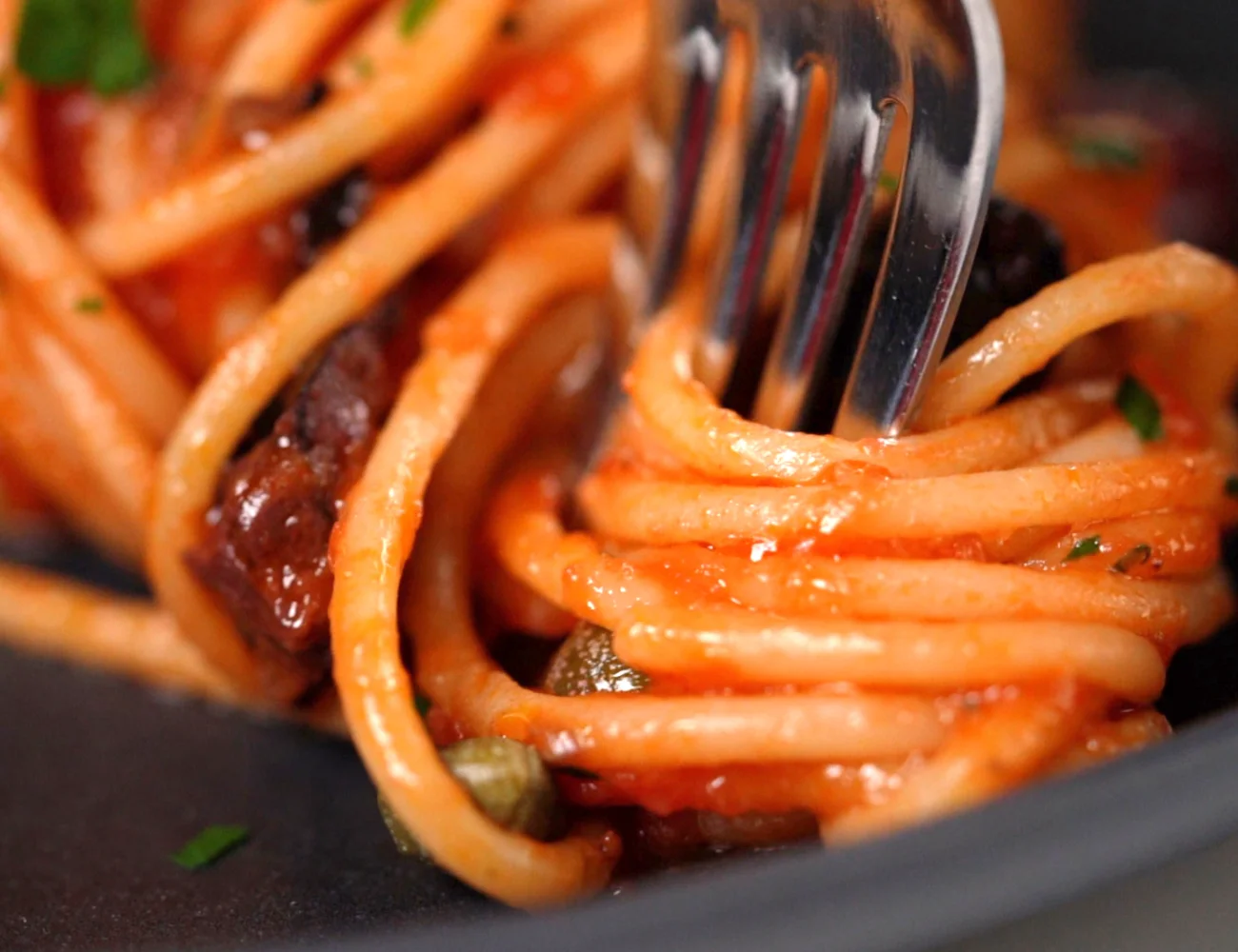 ---
Watch the Video Recipe!
Watch how to make the full fat version of Spaghetti alla Puttanesca in this video, filmed in Italy. The process for making this healthy version of the dish is the same.
Subscribe to our YouTube Channel
More video recipes? Subscribe to our YouTube Channel (it's FREE) and click the bell to get notifications when we release a new video recipe!
---
What Makes this a Healthy Spaghetti Puttanesca Recipe?
We've lightened up this Spaghetti Puttanesca with sensible portion sizes (reducing the pasta) and by using less olive oil for the classic soffritto (sauté) used to make the sauce. While olive oil is heart-healthy and incredibly nutritious, it's important to measure it carefully when trying to lose or maintain weight. It's the single easiest ingredient to adjust in order to make an authentic Italian pasta recipe healthier.
A healthy pasta recipe designed to help you lose or maintain your weight in accordance with common recommendations should be 300-400 calories. This recipe clocks in at 325.
Why is this Pasta Healthy? Smaller portions, less olive oil!
Three meals a day of around 300 calories will take you to 900 calories. Since experts commonly recommend a 1200-1300 calorie a day diet for sensible weight loss, meals of around 300 calories will help you stay well within these guidelines.
Prefer the full fat version? Check out the classic Spaghetti alla Puttanesca recipe on our website!
Spaghetti alla Puttanesca Recipe: Authentic Italian!
A classic pasta dish from Naples, this traditional Spaghetti alla Puttanesca recipe is so satisfying and easy to whip up in minutes.
Check out this recipe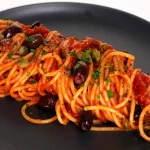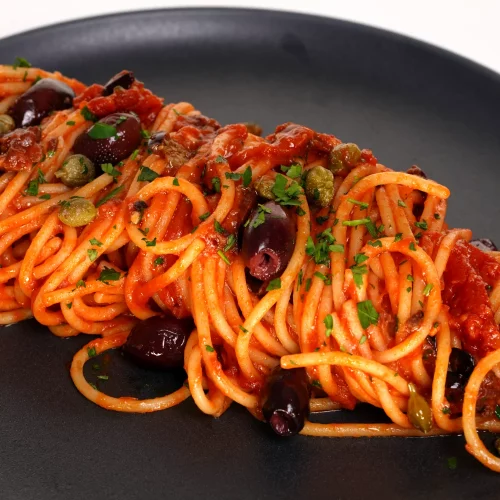 ---
By definition, most recipes from Italy are 'Mediterranean diet recipes'! Outside of Italy, this term has come to refer to the eating habits traditionally followed in the Mediterranean countries of Italy, Greece and Spain—countries that top the world's lists again and again on measures related to population health and longevity.
Practically speaking, if you are looking for Mediterranean Diet recipes because your doctor has recommended those eating habits for your health or wellbeing, you'll want to read our article on the topic: What is the Mediterranean Diet?
If you are wondering Is Pasta Healthy?— you'll want to read our article on that topic as well!
---
Tips for Making Healthy Spaghetti Puttanesca
Make this a vegetarian Puttanesca!
The only ingredient preventing this healthy Spaghetti Puttanesca recipe from also being vegetarian are the anchovies. Leave them out if you want this dish to be vegetarian (or you just don't like anchovies).
Choosing Quality Pasta
For a healthy Spaghetti Puttanesca recipe, you'll want to choose quality spaghetti made with semolina flour.
Look for pasta that says it is 'bronze drawn' (trafilato al bronzo). This means what it says: the pasta has literally been cut with a bronze pasta stamp or cutter. This creates a more porous texture to the pasta which has many advantages—such as allowing the pasta to release more starch! Learn why quality pasta is better for your tastebuds—and your health— in our article: Best Pasta Brand in Italy!
Spaghetti We Use: We prefer La Molisana or Rummo Spaghetti (affiliate links)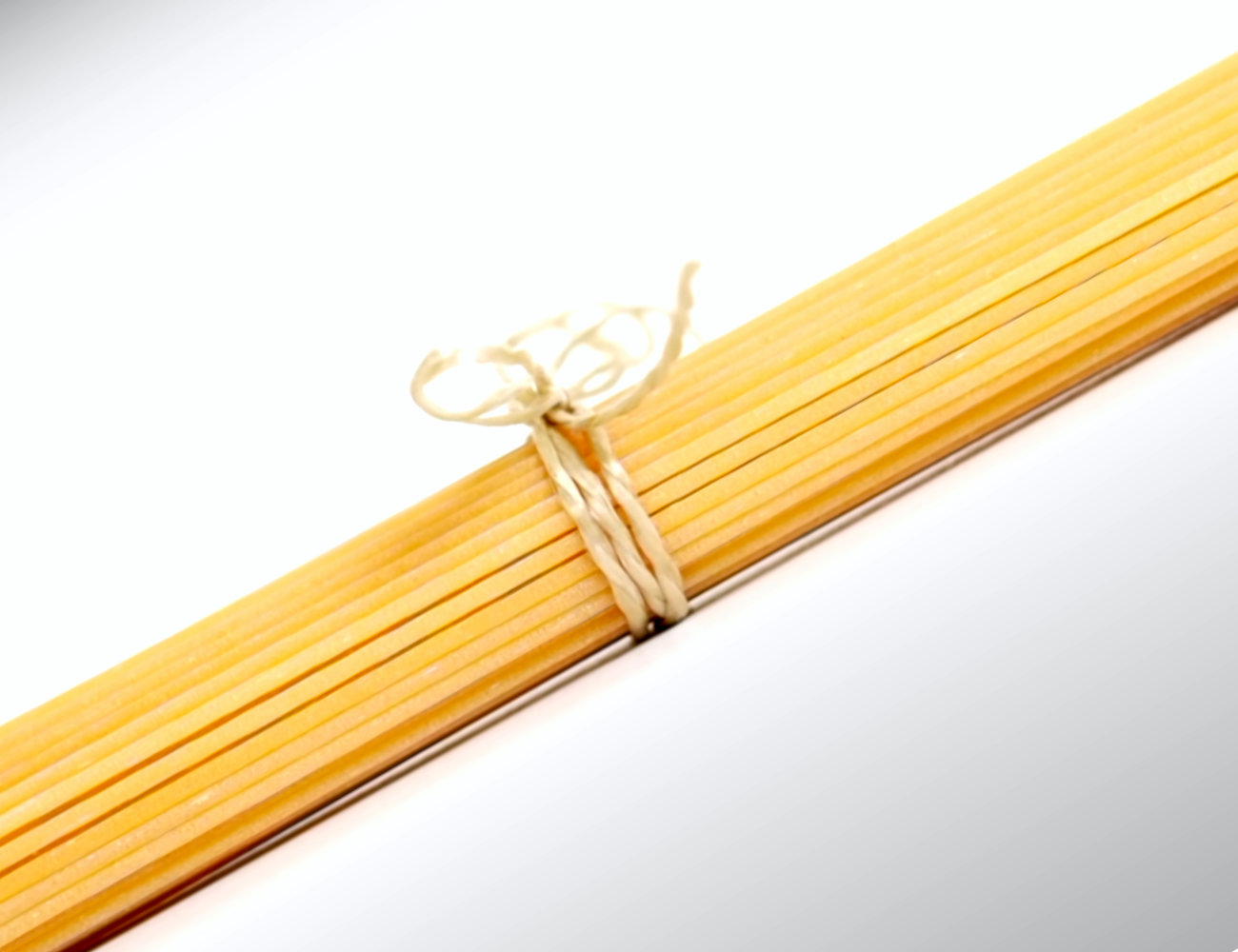 Where do I find good capers?
In Italy, non pareil capers cured in sea salt are considered especially good. Here's an example:
Capers (Sea Salt, Non Pareil): https://amzn.to/44WlW3H (affiliate link)
---
As an Amazon Associate, we earn from qualifying purchases. This means at no extra cost to you, PIATTO may earn a small commission if you click the links and make a qualifying purchase.
---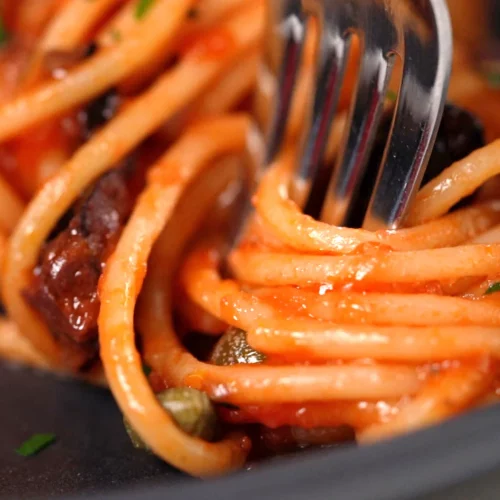 Healthy Spaghetti Puttanesca Recipe: Just 325 Calories
We've lightened up the classic Spaghetti Puttanesca with sensible pasta portions and less fat! Still delicious and oh so nutritious.
Ingredients
3

oz

olives

black—gaeta or kalamata are best

5

tbsp

capers

4

filets

anchovies

spine removed (if necessary)

2

cloves

garlic

1

whole

fresh red chili pepper

or to taste

1

handful

flat leaf Italian parsley

minced

14

oz

whole peeled tomatoes

crushed

1

tbsp

olive oil

extra virgin

fine salt

if needed to taste

8

oz

pasta

spaghetti, vermicelli or penne
Instructions
Rinse or Soak Olives and Capers
Rinse the olives and capers well. Better yet, let them soak in water for 30 minutes to remove excess salt and/or vinegar.

3 oz olives,

5 tbsp capers
Prepare the Ingredients
Mince the garlic and red chili pepper.

2 cloves garlic,

1 whole fresh red chili pepper

Remove the seeds from the inside of whole peeled tomatoes. Mash or purée the tomato pulp until it is the consistency of crushed tomatoes.

14 oz whole peeled tomatoes

1 handful flat leaf Italian parsley
Make a Soffritto
Cover the bottom of a large skillet with olive oil. Over medium heat, add the minced garlic, pepper and anchovy filets.

Mash the anchovy filets with a fork or back of a spoon to help it dissolve into the oil.

Sauté until the garlic is golden.

NOTE: This photo is from the full-fat version of the recipe. You'll have less olive oil than shown here.

4 filets anchovies,

1 tbsp olive oil
Add the Tomato, Olives, Capers
Stir in the capers and olives—leaving aside some of each for decorating the finished dish.

Simmer the sauce for a few minutes. Then salt to taste (only if needed). In the meantime…
Cook the Pasta
Cook the pasta a minute less than the time required for al dente pasta on the package instructions.
Finish with Pasta and Parsley
Drain and transfer the pasta to the sauce along with ½ ladle of hot pasta water.

Cook the pasta with the sauce for about a minute until the pasta is al dente.

Add the minced parsley and stir to combine.
Notes
Rinse or Soak the Olives and Capers!
Olives and capers are very salt and may also be strong in vinegar depending on the product you purchase. 
Give the olives and capers a good rinse before adding them to the sauce. Better yet? Soak them for about 30 minutes in filtered water to remove excess salt and vinegar. 
Taste Before Adding Salt!
Anchovies, olives and capers all bring quite a bit of salt to this pasta sauce. Taste before adding salt to the finished sauce. 
You may even want to salt the pasta water less than usual to account for these salty ingredients!
Nutrition
Sodium:
752
mg
Sugar:
5.5
g
Potassium:
365
mg
Cholesterol:
3.8
mg
Calories:
322
kcal
Monounsaturated Fat:
3.8
g
Polyunsaturated Fat:
0.5
g
Saturated Fat:
1
g
Fat:
10
g
Protein:
10
g
Carbohydrates:
49
g