Rich and meaty, the traditional Ragù Bolognese sauce is a hearty meal when paired with pasta. To make this healthy Pasta Bolognese recipe, we've started with the classic Italian recipe and made a few tweaks to reduce the fat (and calories)! Since we were already using lean ground beef for the original recipe, we didn't feel the need to change that. As you'll see, the amount of saturated in a portion of this amazing pasta is still well within the standard daily recommendations.
How did we do it? We've reduced the pancetta and butter by half, and used 2% instead of whole milk. We've also recommended a sensible portion size for the pasta—in this case tagliatelle but you can also make it Spaghetti Bolognese with spaghetti. The result? A 400 calorie/serving meal fit for the meat lover in your family.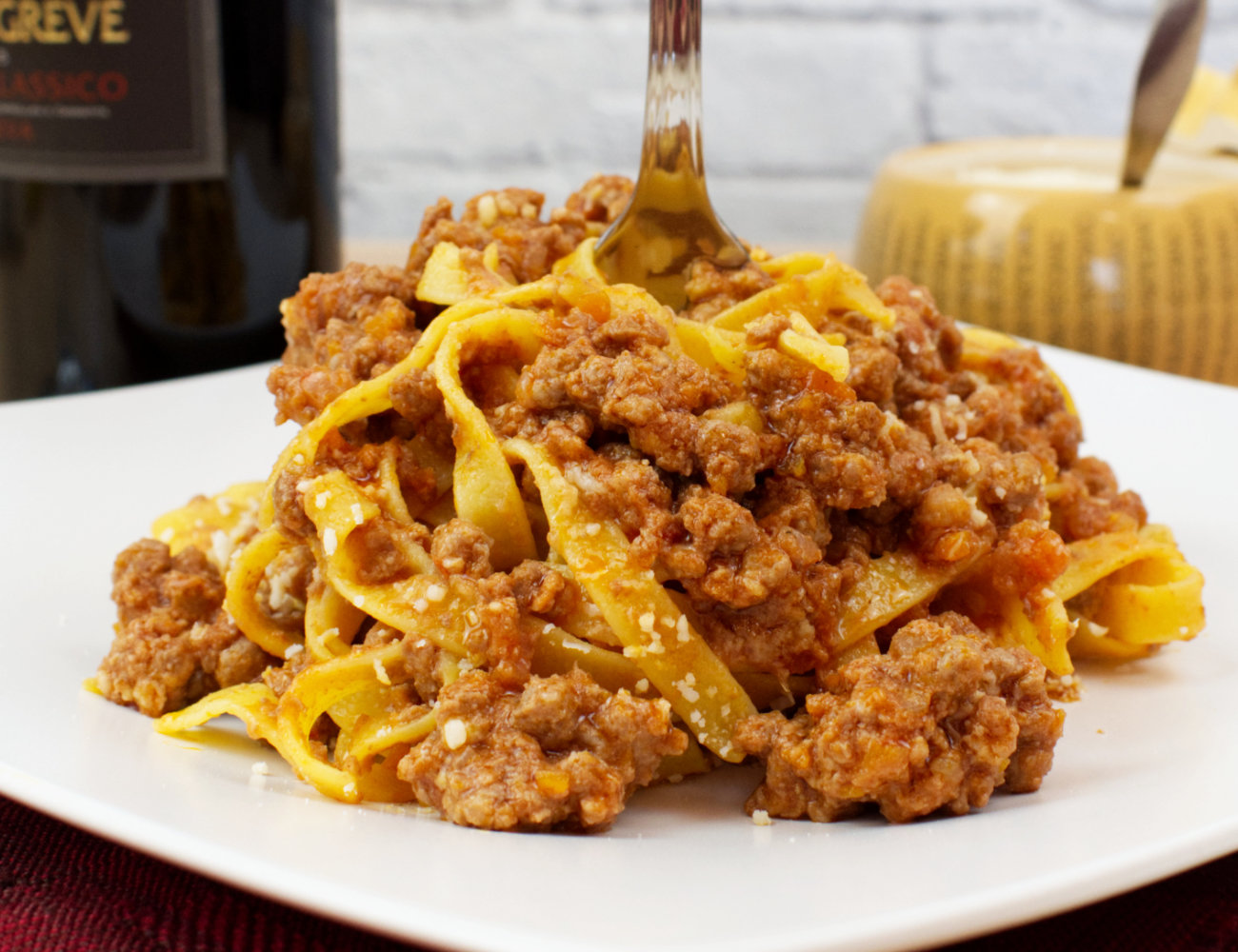 ---
Watch the Video Recipe!
Watch how to make the full fat version of Ragù alla Bolognese in this video, filmed in Italy. The process for making this healthy version of the dish is the same.
Subscribe to our YouTube Channel
More video recipes? Subscribe to our YouTube Channel (it's FREE) and click the bell to get notifications when we release a new video recipe!
---
What Makes this a Healthy Pasta Bolognese recipe?
Here, we've taken the traditional Bolognese ingredients and reduced the caloric ingredients with lots of saturated fat: butter, pancetta and whole milk. We've also recommended a sensible pasta portion that we ourselves eat daily.
A healthy pasta recipe designed to help you lose or maintain your weight in accordance with common recommendations should be 300-400 calories. This recipe clocks in at 400.
Why is this Pasta Healthy? Smaller portions, less fat and saturated fat.
Three meals a day of around 400 calories will take you to 1200 calories. Since experts commonly recommend a 1200-1300 calorie a day diet for sensible weight loss, meals of around 400 calories will help you stay within these guidelines.
Prefer the full fat version? Check out the traditional Ragù Bolognese sauce on our website!
Authentic Ragu Bolognese Sauce Recipe
This Ragù Bolognese Sauce recipe is the traditional recipe that originated in Bologna, Italy. It is used in many beloved Italian dishes such as a Tagliatelle Bolognese, Spaghetti Bolognese, as a sauce for polenta and as an ingredient in the Sunday classic: Lasagna Bolognese. 
Check out this recipe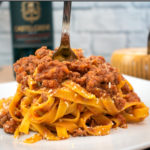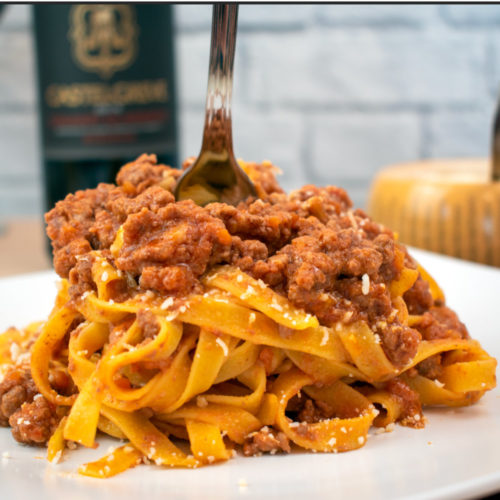 Does this recipe have too much saturated fat?
Many ingredient in this recipe contain saturated fat. However, the amount of saturated fat in a portion is well below the expert recommendations.
Why? Experts recommend that no more than 10% of our daily calories come from saturated fat. For a 1300 calorie a day diet, we calculate that at around 14 grams of saturated fat. This recipe has 6 grams of saturated fat in total for a portion size.
---
By definition, most recipes from Italy are 'Mediterranean diet recipes'! Outside of Italy, this term has come to refer to the eating habits traditionally followed in the Mediterranean countries of Italy, Greece and Spain—countries that top the world's lists again and again on measures related to population health and longevity.
Practically speaking, if you are looking for Mediterranean Diet recipes because your doctor has recommended those eating habits for your health or wellbeing, you'll want to read our article on the topic: What is the Mediterranean Diet?
If you are wondering Is Pasta Healthy?— you'll want to read our article on that topic as well!
---
Tips for Making Healthy Pasta Bolognese
The Sweetest Tomato Purée
The reason why Pasta alla Bolognese sauce is so highly regarded is that it is not only rich and meaty, but sweet with a velvety mouthfeel. There are several reasons for this including the milk and butter added to the sauce. However, Italians also use the sweetest tomato purée they can find: products made from San Marzano tomatoes. For more on how we pick the best tomato products, read our article!
Sweetest Tomato Purée (what we use): https://amzn.to/48JNXP8 (affiliate link)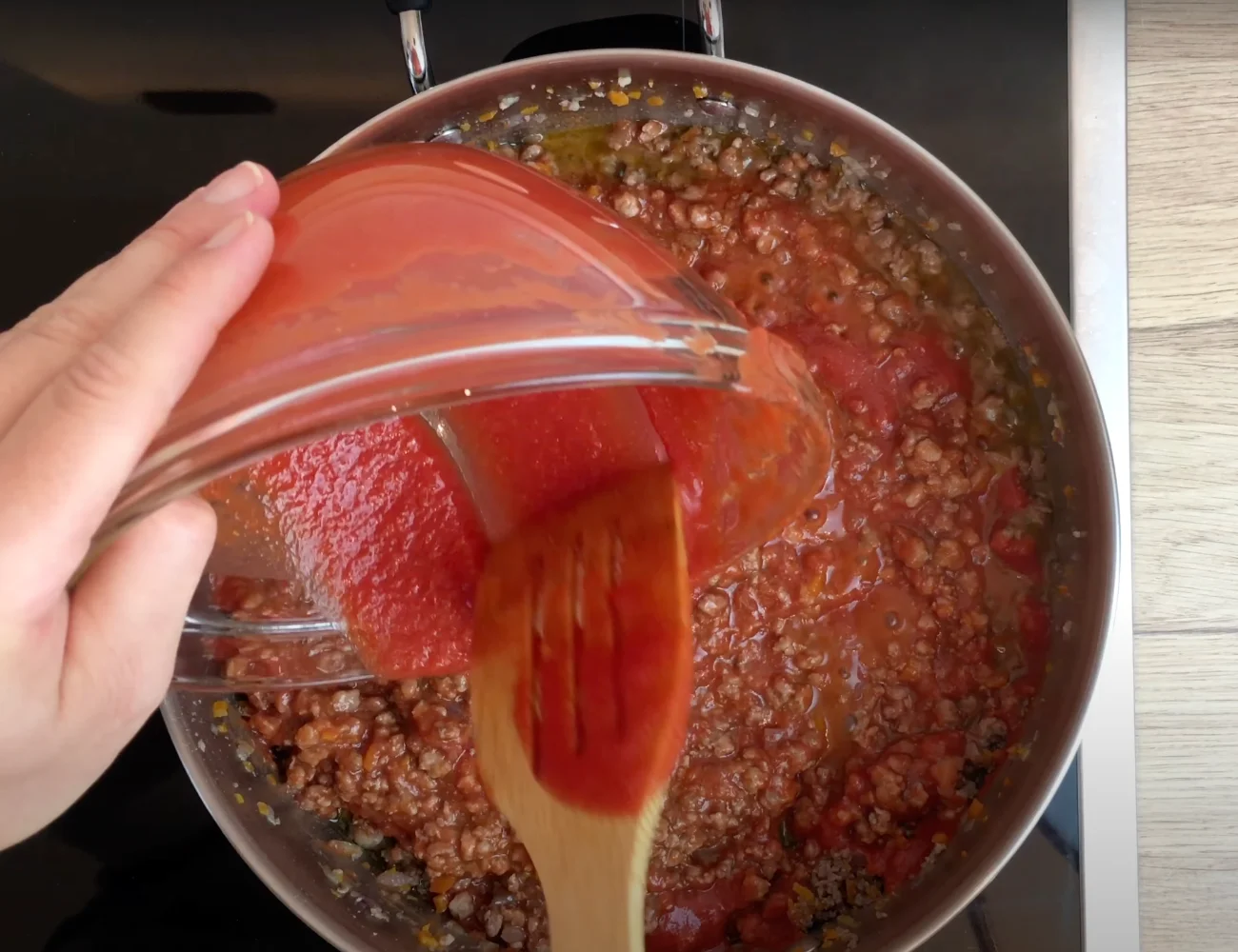 Choosing Quality Pasta
For a healthy Pasta Bolognese recipe, you'll want to choose quality pasta made with semolina flour.
Look for pasta that says it is 'bronze drawn' (trafilato al bronzo). This means what it says: the pasta has literally been cut with a bronze pasta stamp or cutter. This creates a more porous texture to the pasta which has many advantages—such as allowing the pasta to release more starch! Learn why quality pasta is better for your tastebuds—and your health— in our article: Best Pasta Brand in Italy!
Spaghetti We Use: We prefer La Molisana or Rummo Spaghetti (affiliate links)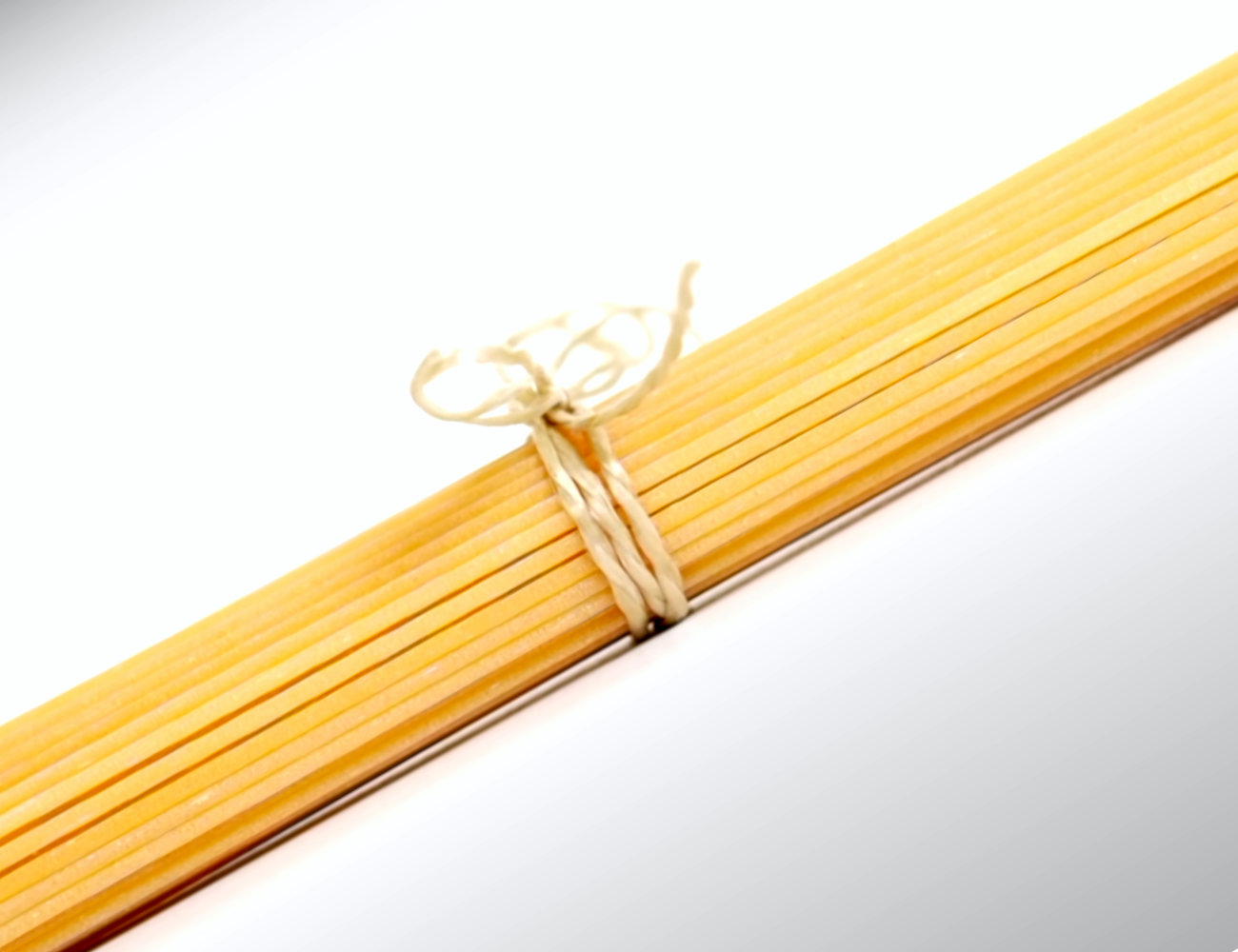 ---
As an Amazon Associate, we earn from qualifying purchases. This means at no extra cost to you, PIATTO may earn a small commission if you click the links and make a qualifying purchase.
---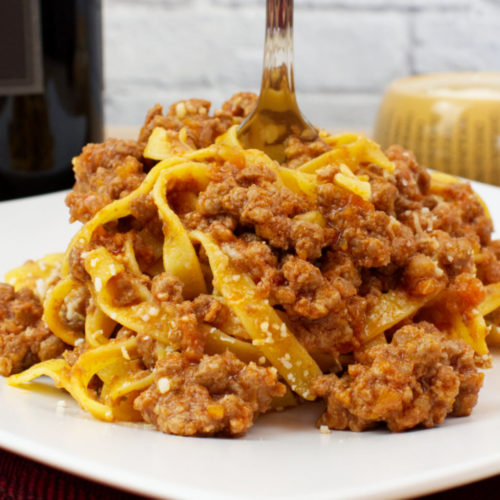 Healthy Pasta Bolognese Recipe—400 Calories
Just 400 calories/serving! A guilt-free healthy Pasta Bolognese recipe—all the traditional ingredients and the same rich taste in one hearty dish you'll love!
Ingredients
1 ¼

lb

ground beef

lean

.3

lb

pancetta

finely chopped

1

carrot

3

ribs

celery

1

onion

medium

21

oz

tomato puree

1

cup

red wine

chianti

2

cups

2% milk

1

cup

beef broth

as needed during simmer (or water)

fine salt

to taste

black pepper

to taste

3

tbsp

butter

16

oz

pasta

tagliatelle or spaghetti
Instructions
Make the Sauce
Finely chop the pork belly/pancetta. Mince the onion, carrot and celery. 

.3 lb pancetta,

3 ribs celery,

1 onion,

1 carrot

Melt the butter in a large sauce pan or skillet.

Sauté the vegetables until tender and translucent.

Make a well in the center of the vegetables. Add the pancetta and cook until no longer red. 

Make a well and add the ground beef. Cook until no longer red.

Slowly add the red wine a little at a time. Let the wine reduce and continue adding slowly until all of the wine has been added. 

Add the tomato puree. Stir. Cover and simmer on low heat for 2 hours. 

After two hours, slowly add the whole milk over the course of an hour. Simmer over medium-low heat and stir frequently. Salt and pepper to taste!

2 cups 2% milk,

1 cup beef broth,

fine salt,

black pepper
Nutrition
Sodium:
430
mg
Calcium:
126
mg
Vitamin C:
10
mg
Sugar:
9
g
Fiber:
4
g
Potassium:
399
mg
Cholesterol:
52.6
mg
Calories:
401
kcal
Trans Fat:
0.4
g
Monounsaturated Fat:
1.3
g
Polyunsaturated Fat:
0.2
g
Saturated Fat:
5.9
g
Fat:
18
g
Protein:
23
g
Carbohydrates:
29.4
g